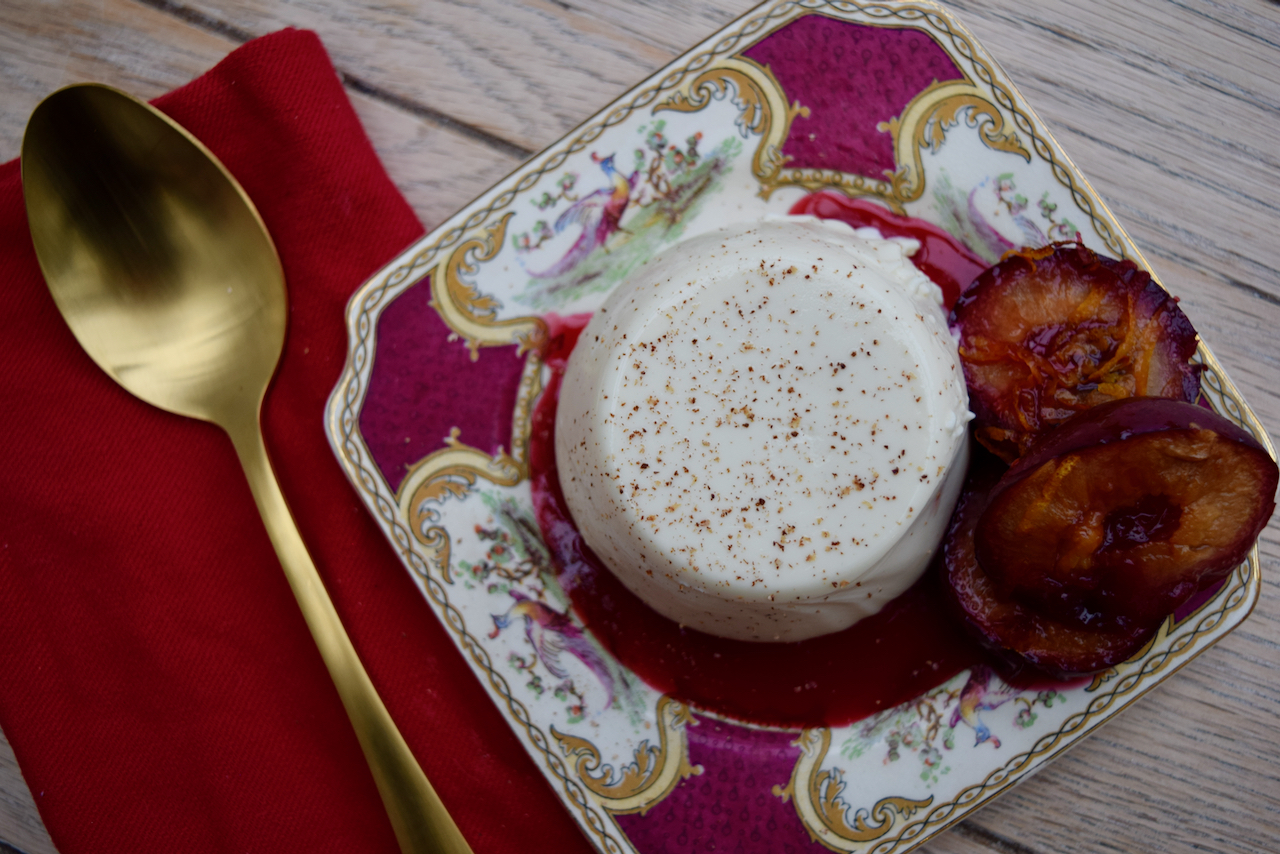 Eggnog Panna Cotta recipe
Christmas is now creeping up on me like a stalker and I should be writing lists instead of recipes. But when this Eggnog Panna Cotta popped up on my Pinterest feed, I knew I had to make it. It's simple, filled with festive joy and bloody delicious and it won't take you all day to make, and unlike me at the moment, it chills quietly, while you get on with the rest of your festive prep.
Panna Cottas are one of my best desserts to make for a gathering. They only involve a bit of mild heating of cream and milk, the no effort it takes to squeeze out a couple of gelatine leaves and some gentle pouring. This Christmassy affair has all the joys of a glass of eggnog but in wobbly form; golden rum sits alongside cinnamon and just a touch of nutmeg to finish it off. These go so well with my roasted orange plums, it would be a shame not to whip up a batch to accompany your effortless dessert.
If you're feeling a little balls to the wall, then Eggnog Panna Cotta is the pud for you. And given the enormous addition of rum, it will make the rest of the evening go with a swing.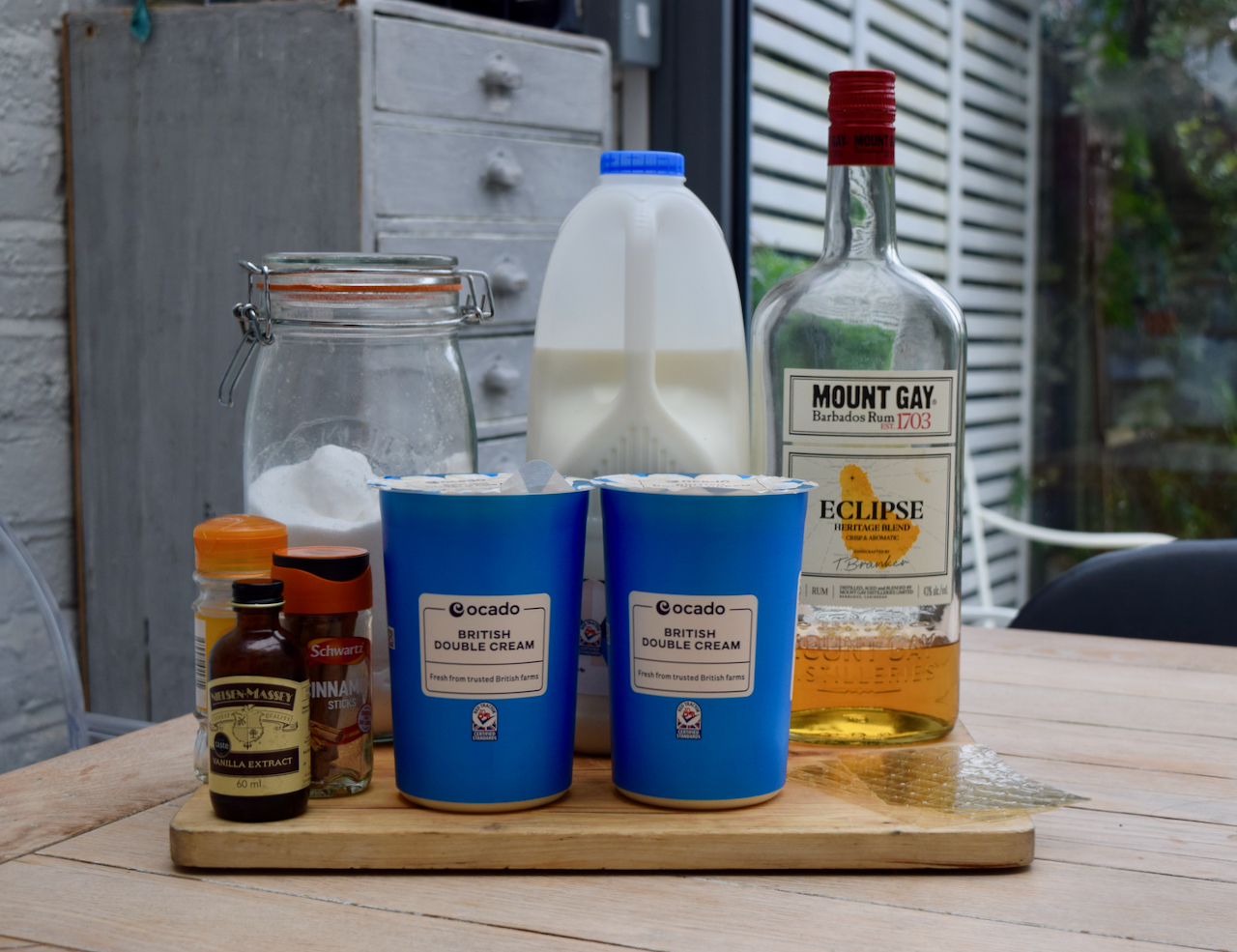 I mean, I know this is a lot of cream, but fear not, this makes 8 generous panna cotta to wow your guests *or just eat yourself*. RIP by lovely bottle of Mount Gay rum which has survived since we got back from Barbados in January, but what a lovely way to go, in this festive pud.
Make a start by soaking your gelatine leaves in a small bowl of cold water. They can sit quietly while you heat the cream and milk.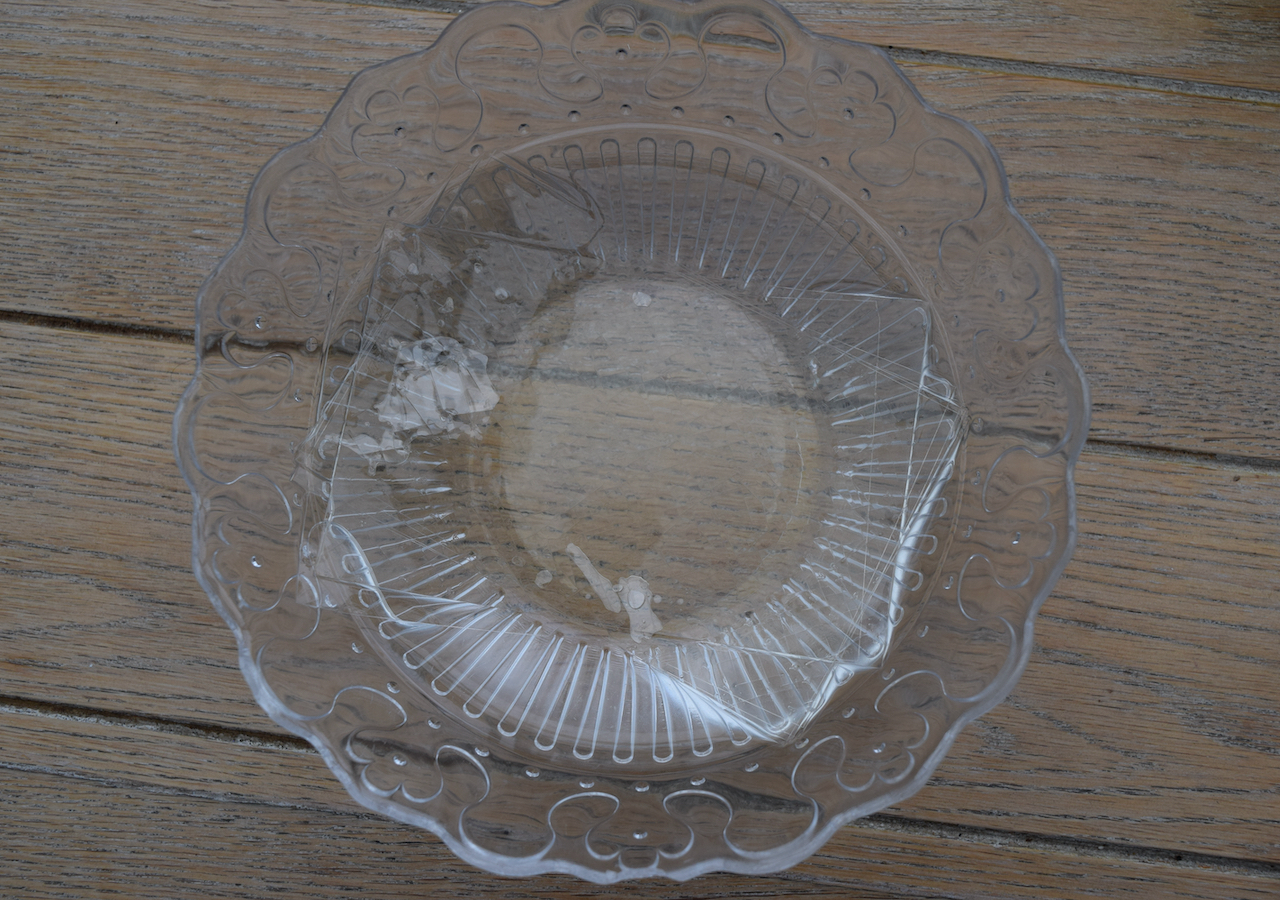 Now for the main event. Pour the milk and cream into a large pan. Stir in the sugar, rum and cinnamon sticks then heat over a medium flame, stirring as you go, until the beautiful mixture just comes up to the simmer. Turn off the heat.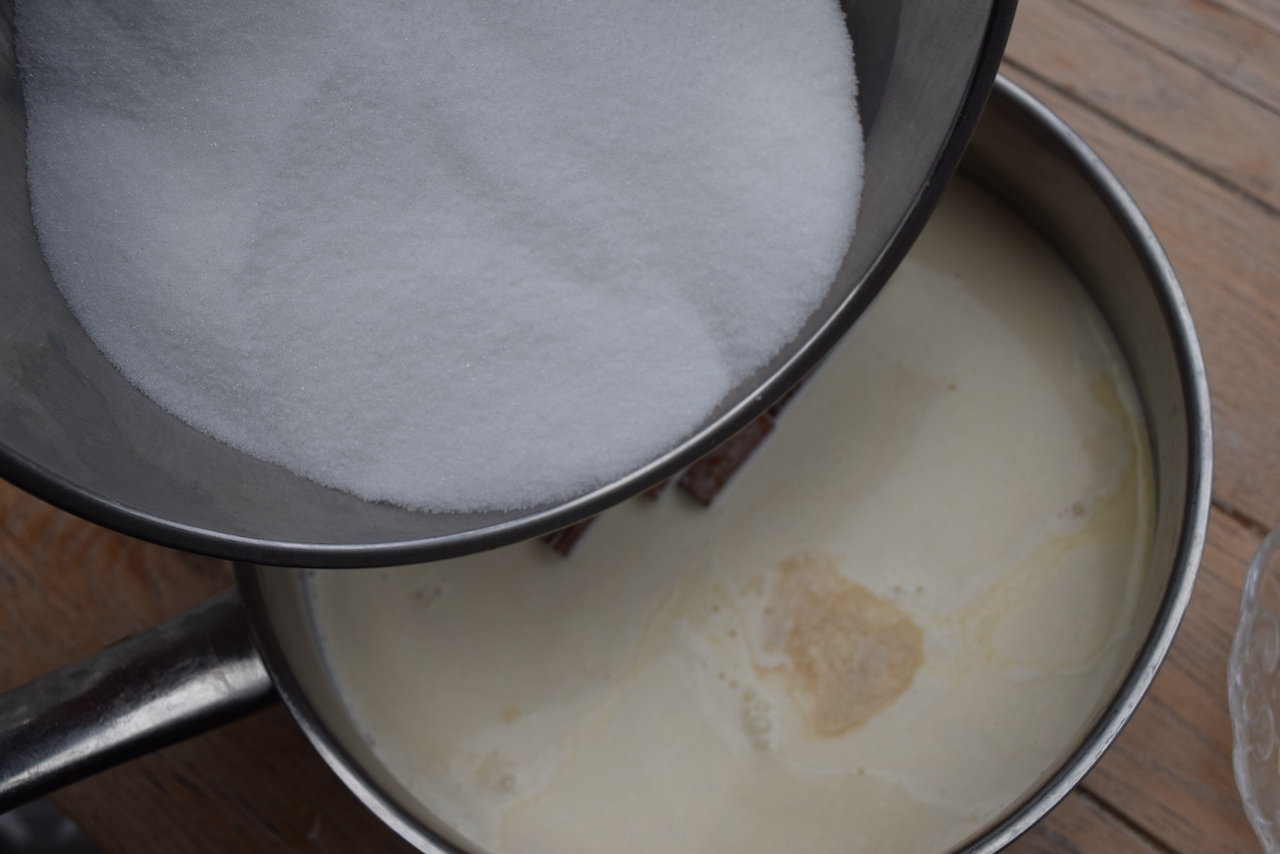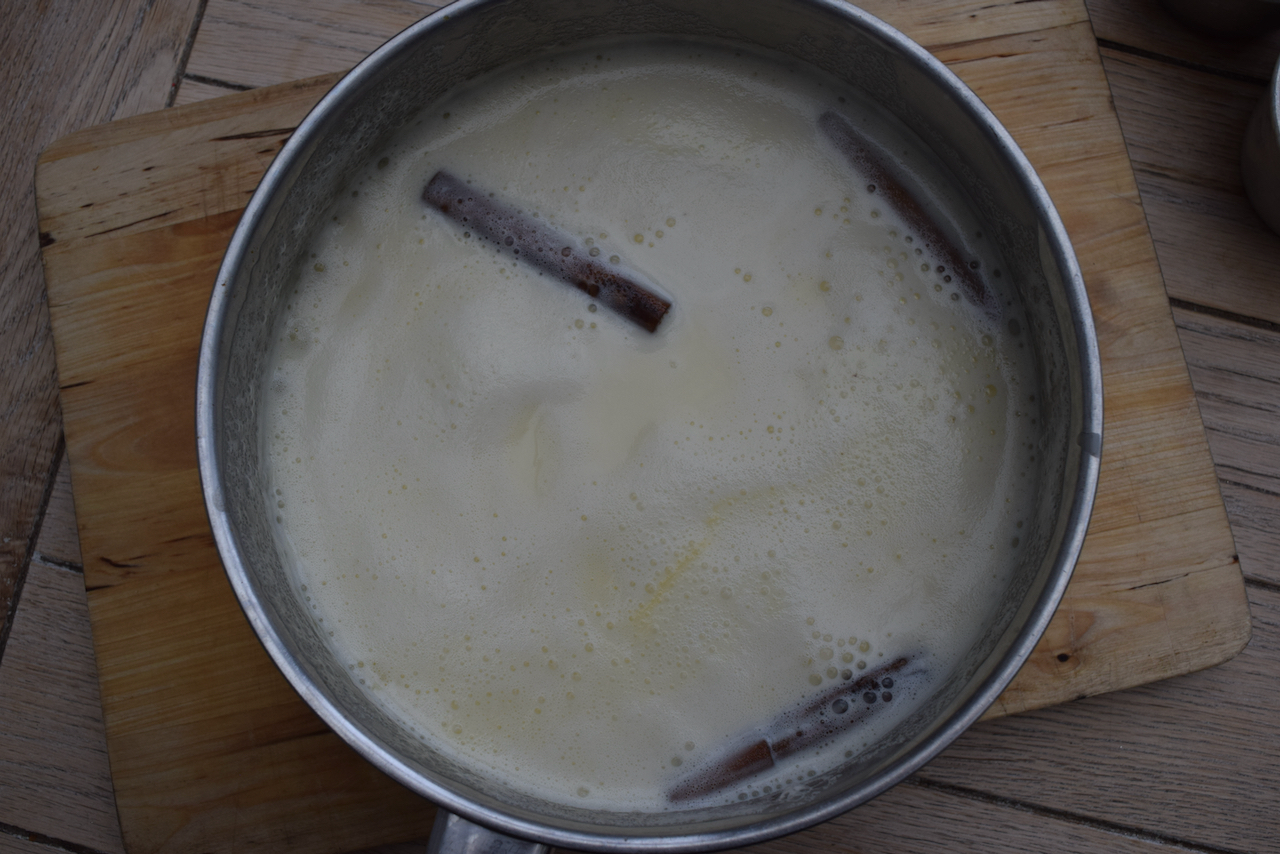 Stir in the vanilla extract and whip out the cinnamon sticks. Squeeze the excess water out of the gelatine sheets then whisk them into the hot boozy cream until they've dissolved.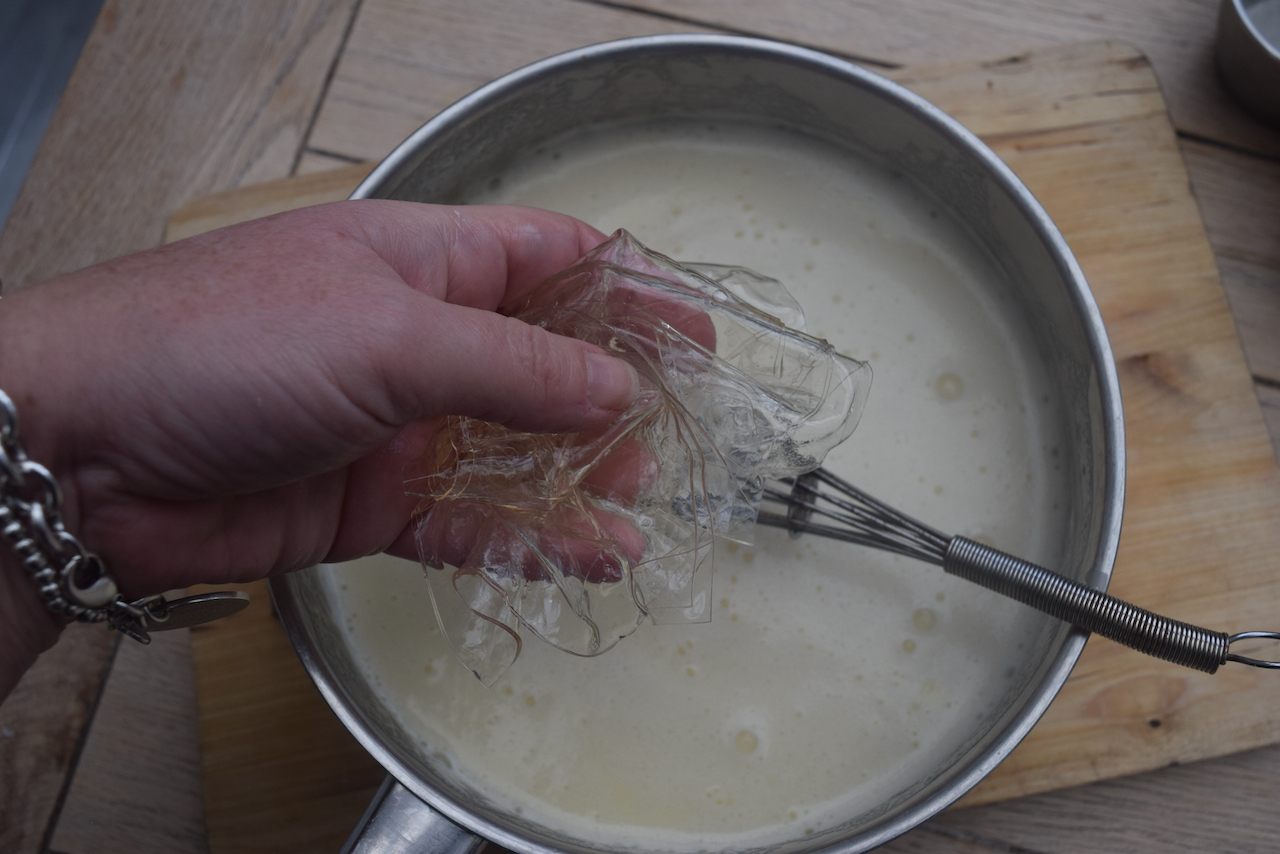 Don't let my pudgy hand put you off.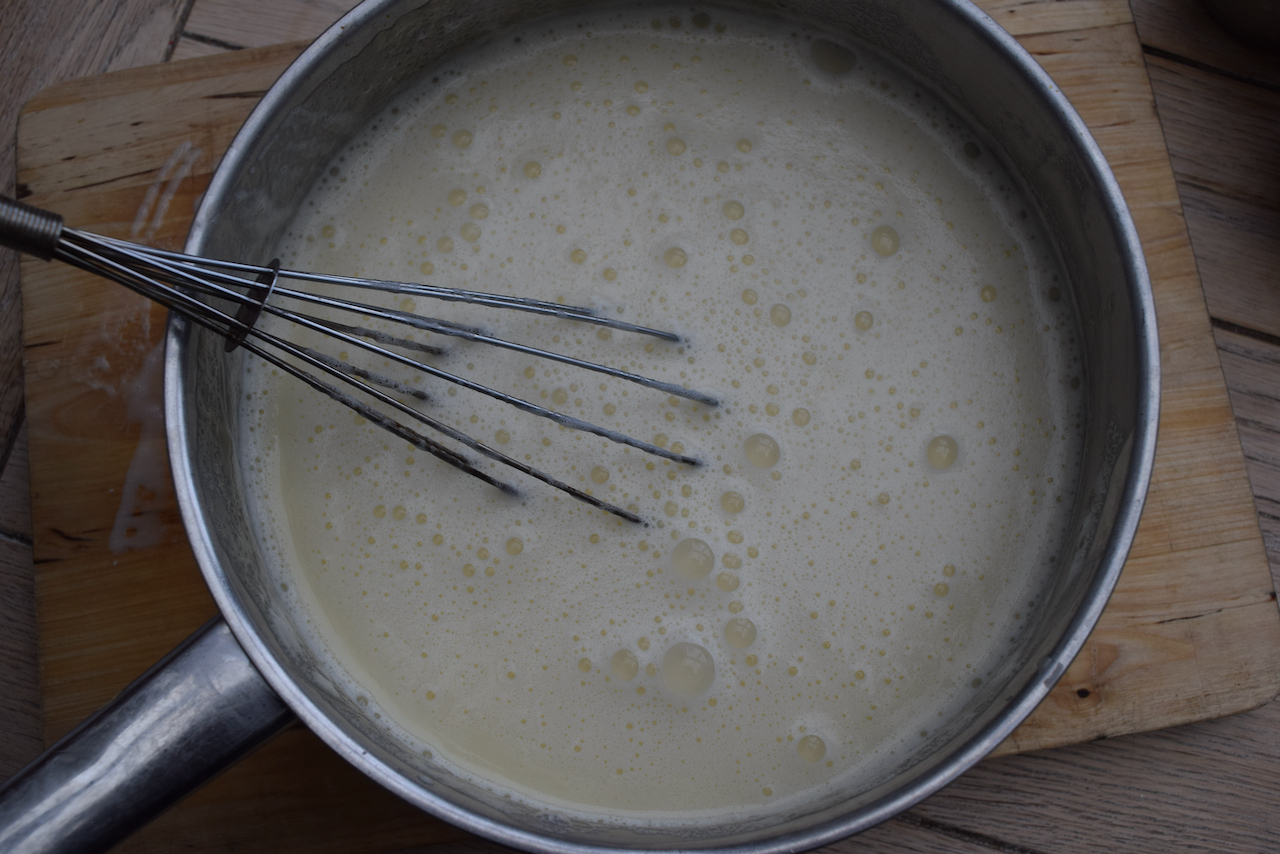 Now, for ease, pour the mixture into a jug and pour into 8 well oiled/sprayed pudding basins or glasses if you like.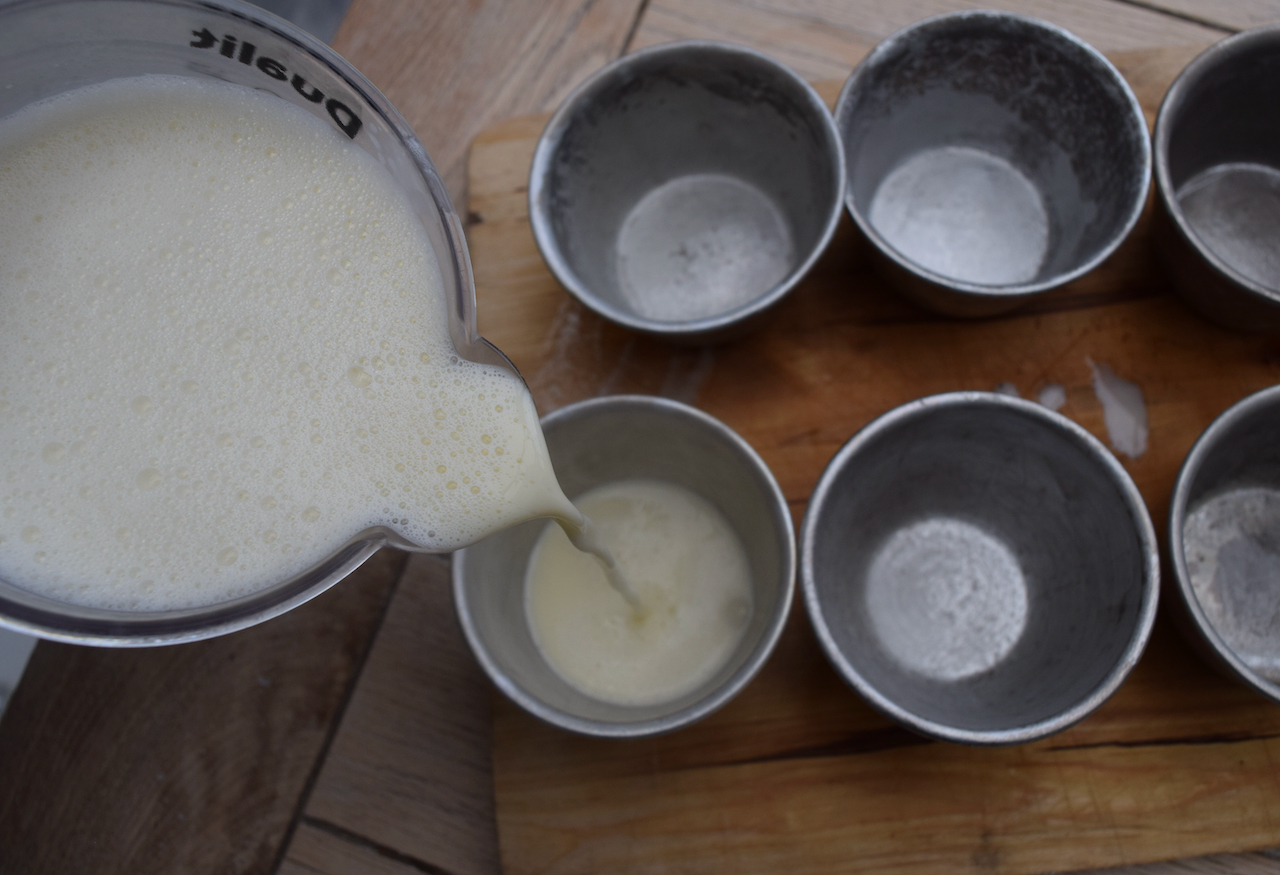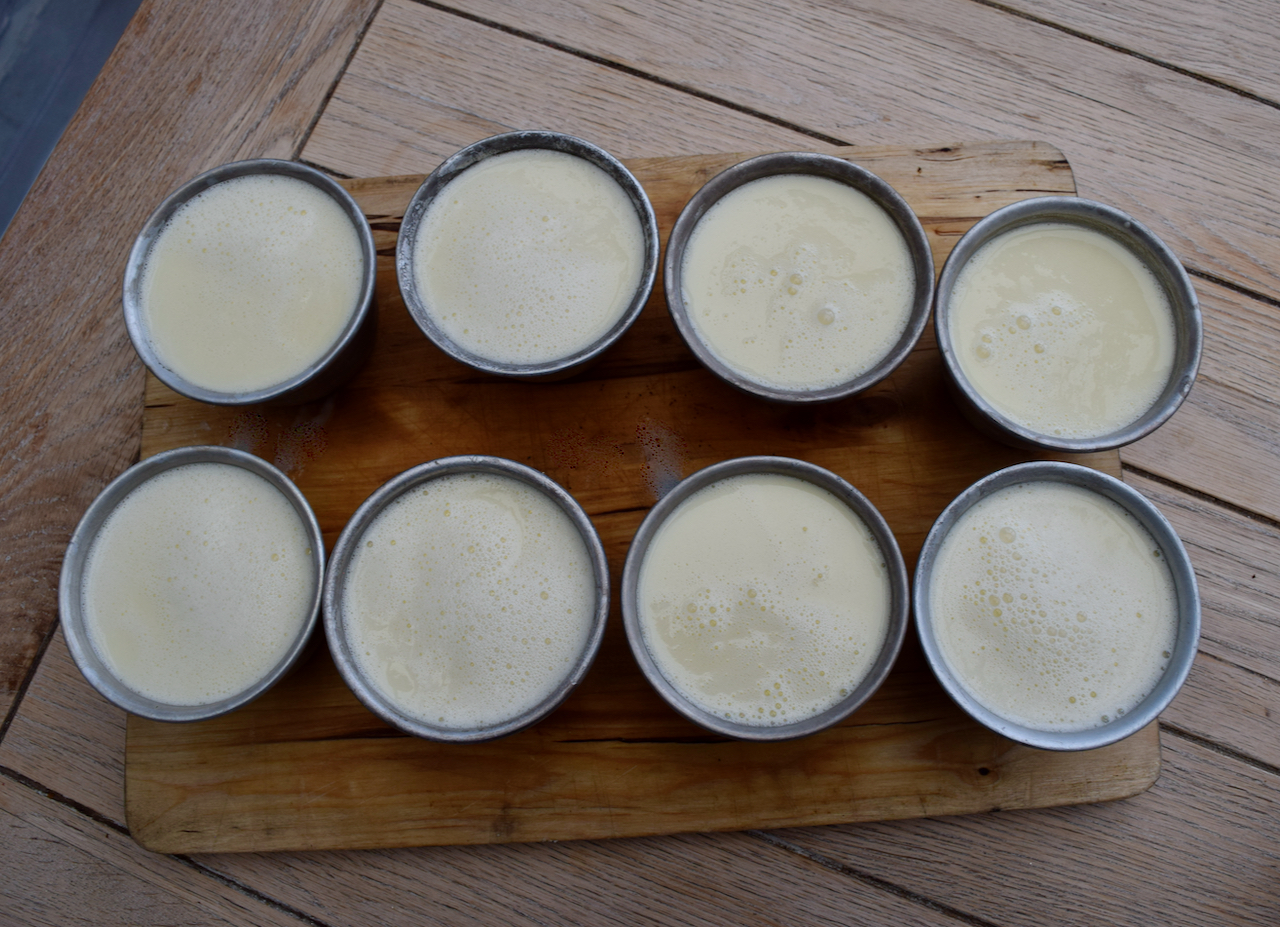 Now leave to cool slightly on the counter before, carefully, putting the panna cotta into the fridge to set. This will take 4 to 6 hours.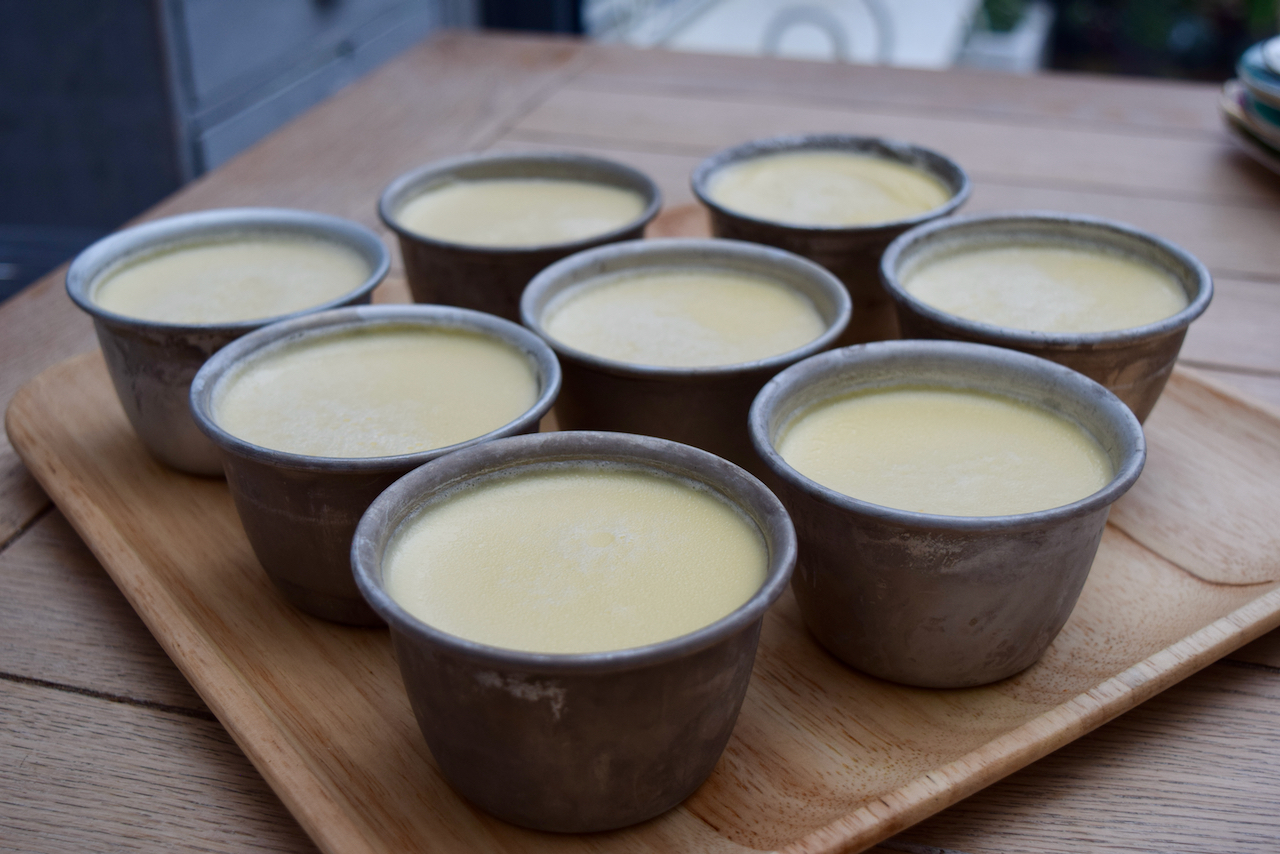 These can happily sit in the fridge for a couple of days, if you're forward thinking. When you're ready to serve, run a knife around the edge of the puddings and turn out onto plates. Grate some fresh nutmeg onto the tops, to complete the whole eggnog experience. Spoon on some roasted plums too, for colour and rich sourness.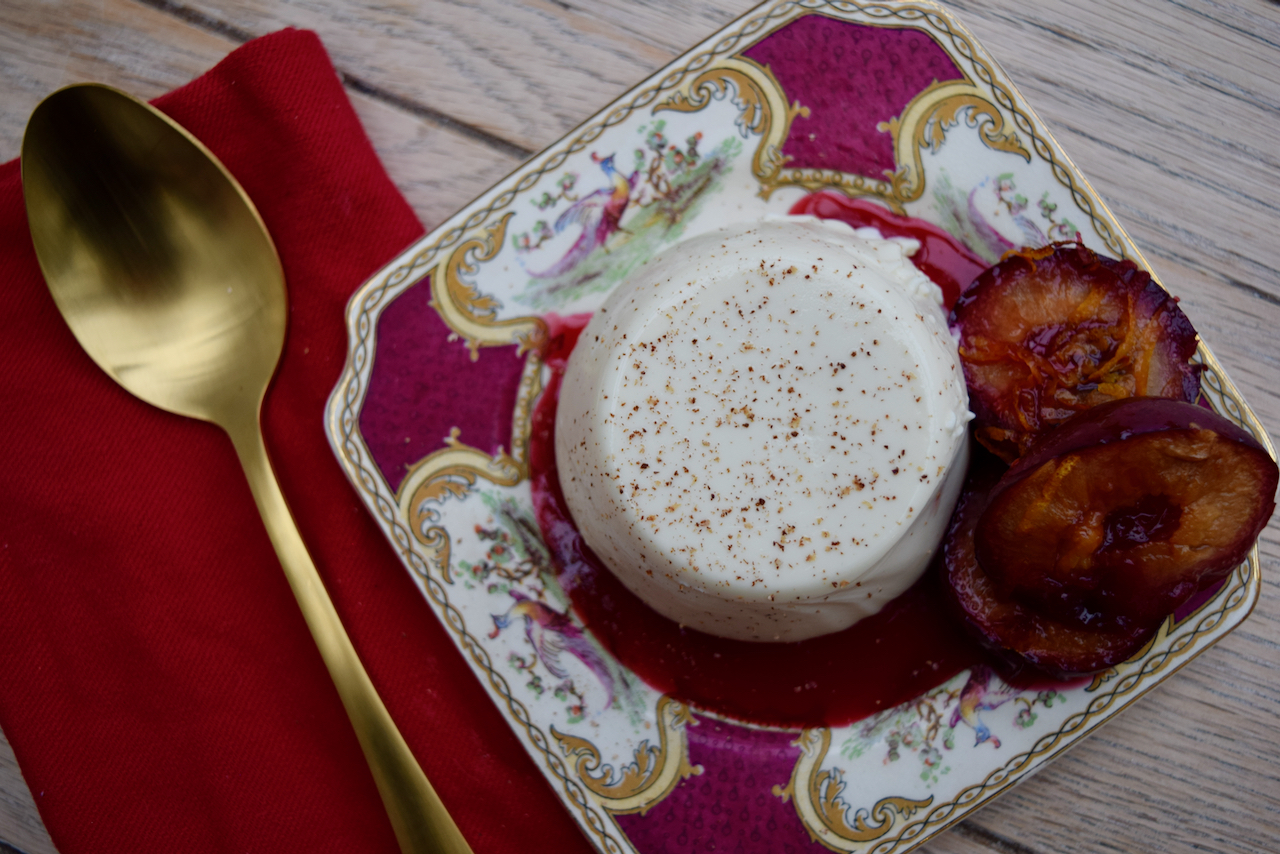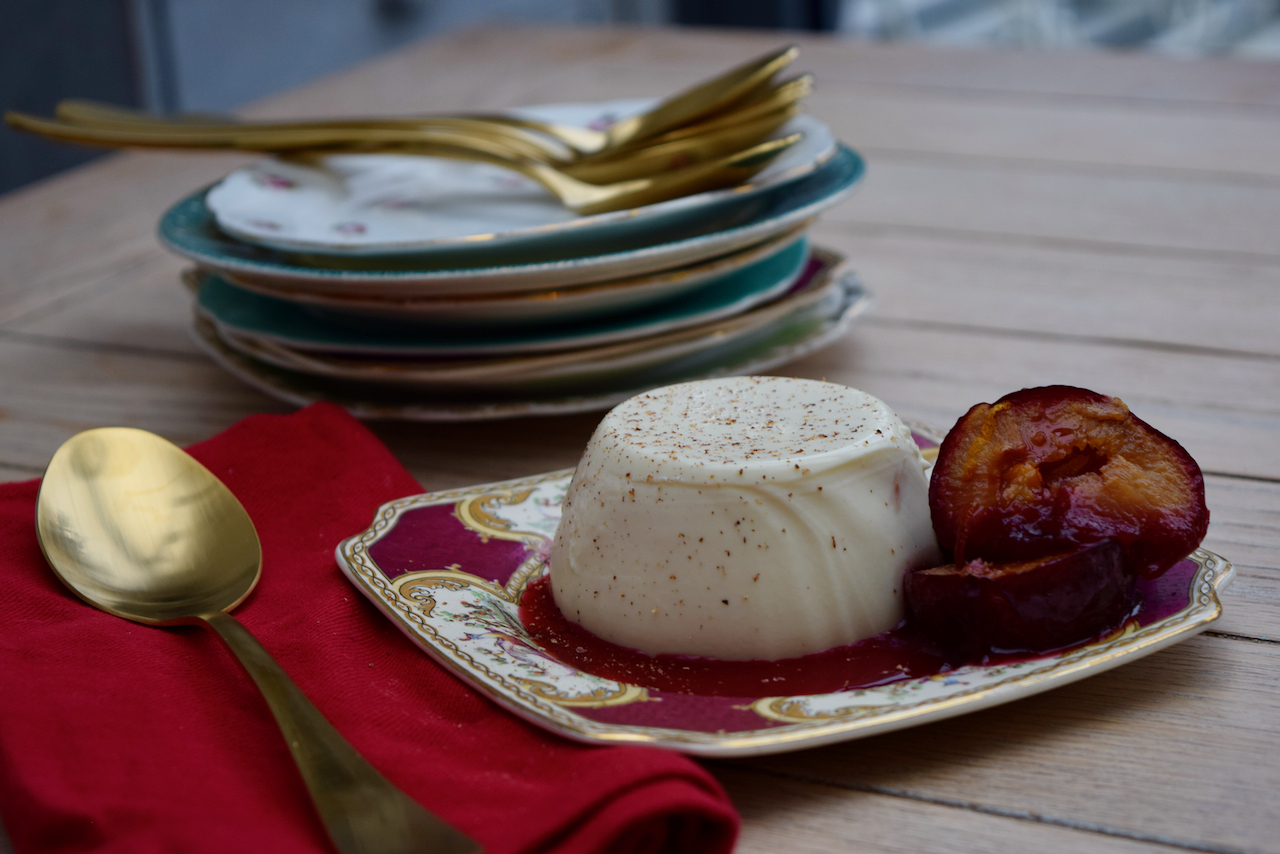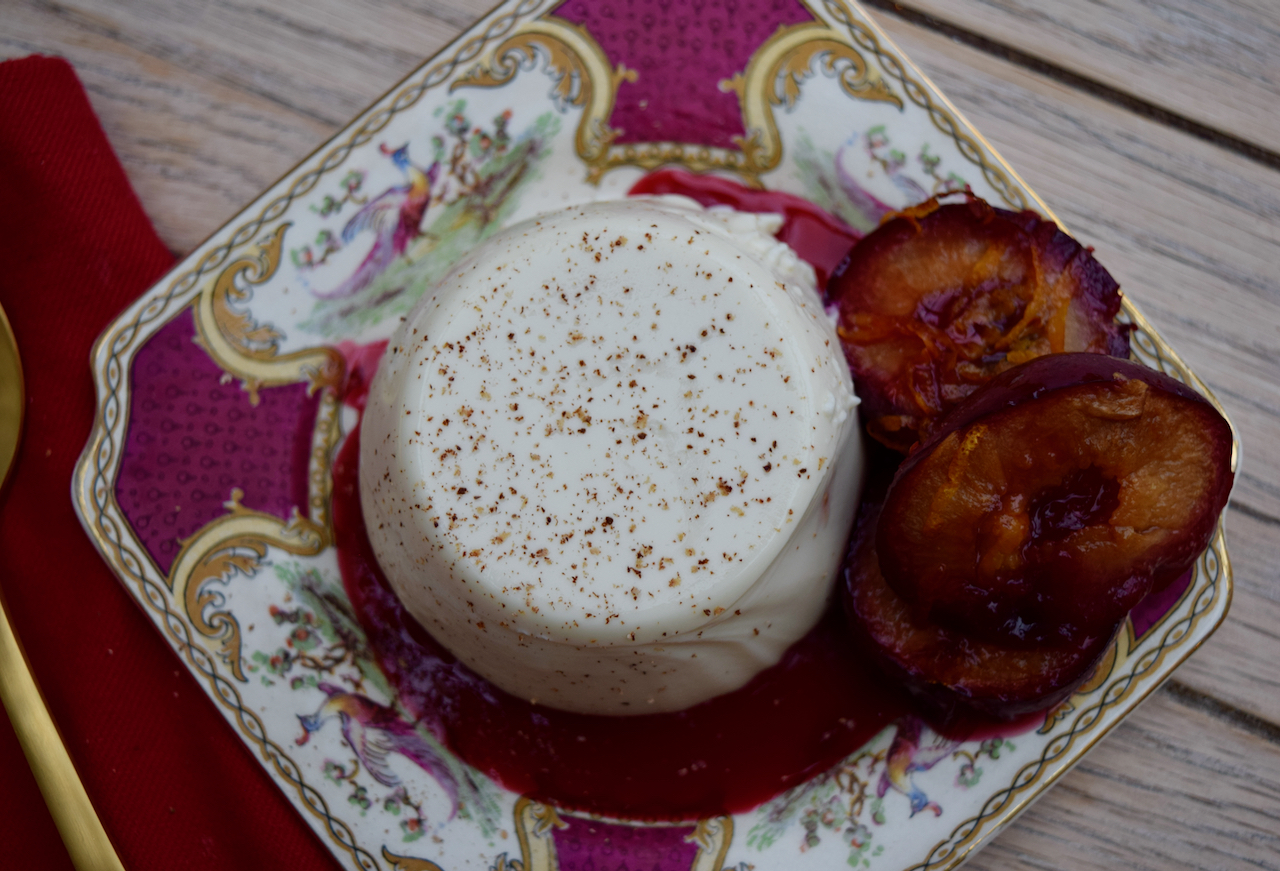 Soft, boozy, easy, this is a classic Lucy Loves recipe. Perfect for Christmas feasting with friends and family.
Lucy x
Eggnog Panna Cotta recipe
Makes 8, for a festive crowd, halve for a smaller group
You will just need a pan and buttered pudding basins or glasses for this
6 sheets gelatine
800ml double cream
250ml whole milk
150ml golden rum, mine was Mount Gay
3 cinnamon sticks
2 teaspoons vanilla extract
300g caster sugar
Grated nutmeg, to serve, and maybe some Roasted Orange Plums on the side
Butter or spray your pudding basins or glasses. Next, soak the 6 leaves of gelatine in cold water until soft. While this happens, measure the cream, milk, sugar, rum and cinnamon sticks into a large pan and bring up to the simmer, over a medium heat, stirring well as you go to ensure the sugar melts.
Turn off the heat as soon as the cream comes to the boil and remove the cinnamon sticks. Stir in the vanilla extract then squeeze the water out of the gelatine leaves and whisk them into the hot cream until they've dissolved.
Transfer to a jug for ease of pouring purposes, then fill each glass or pudding basin. Allow to cool a little before putting in the fridge to chill until set, around 4 to 6 hours.
When you're ready to serve the panna cotta, run a knife around the edge then turn out onto a plate and grate on some nutmeg to garnish. Spoon some baked plums, or other winter fruit, around the edge and enjoy all the festive flavours.