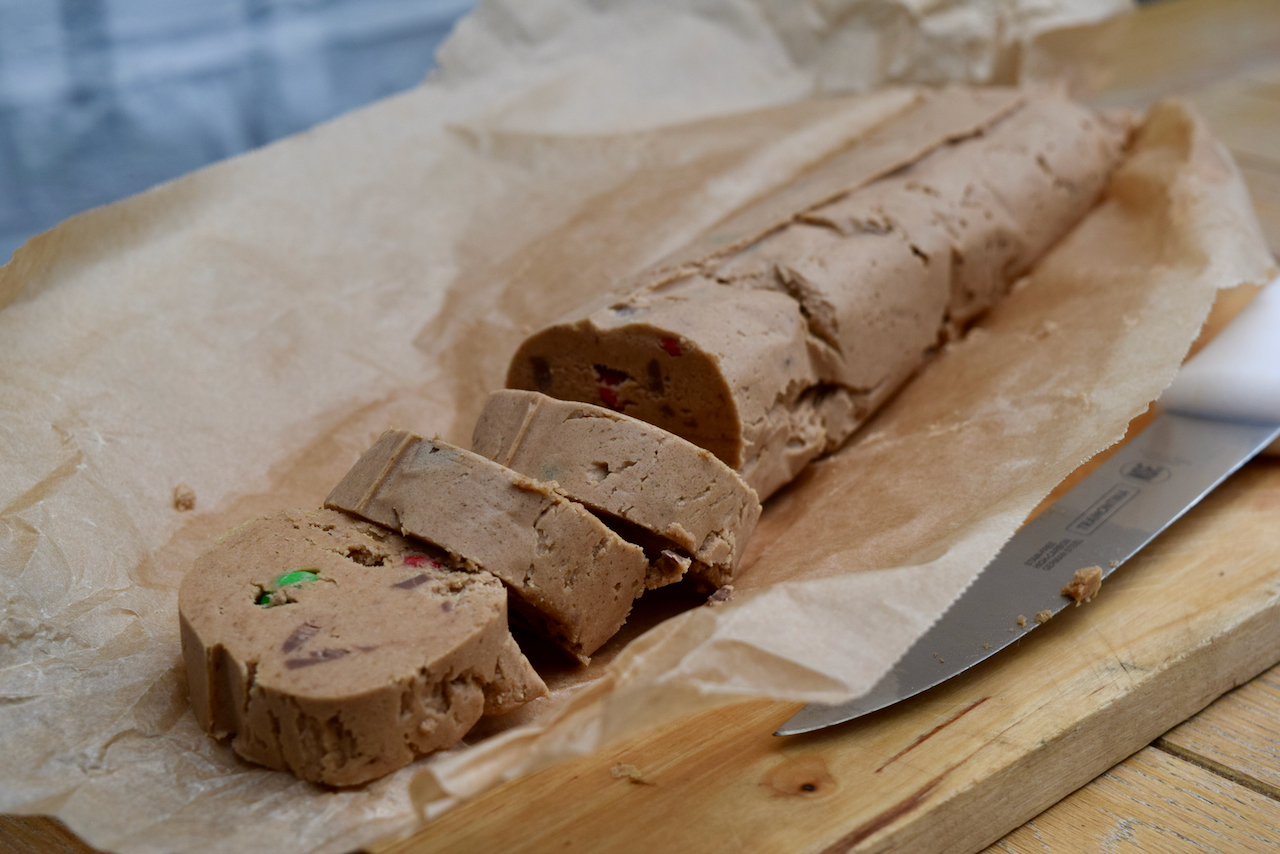 Loaded Slice and Bake Cookies recipe
I can't even remember the last time George went to school. I think it was sometime in March, but given I barely know what day it is, I could be wrong. It's a scary time for everyone, but he's so ready to go back, to have some structure in his life and to see all his friends. If your little darlings *pain in the arses* are heading back to school in the next couple of weeks then ease their worries by having a batch of Loaded Slice and Bake Cookies waiting for them on their return.
This recipe is based on one from an inspirational food blogger, The Pioneer Woman. Her amazing blog inspired me to start Lucy Loves many moons ago and I have loved her ever since. These Loaded Slice and Bake Cookies are a genius recipe. They're loaded with M&M's and giant chocolate buttons, a touch of peanut butter and a blob of chocolate spread, but you can pack them with nuts, white chocolate or whatever you want. The dough is made, wrapped in paper then chilled in the fridge until needed. You can freeze it too, for such times when nothing other than a freshly baked cookie will do. They get a scant 10 minutes in the oven, because who doesn't love a soft baked cookie. And quickly.
Slice and Bake Cookies are such a great treat to have on hand. Even if you don't have back to school worries, what chocolate packed, soft baked cookie doesn't improve any scary situation?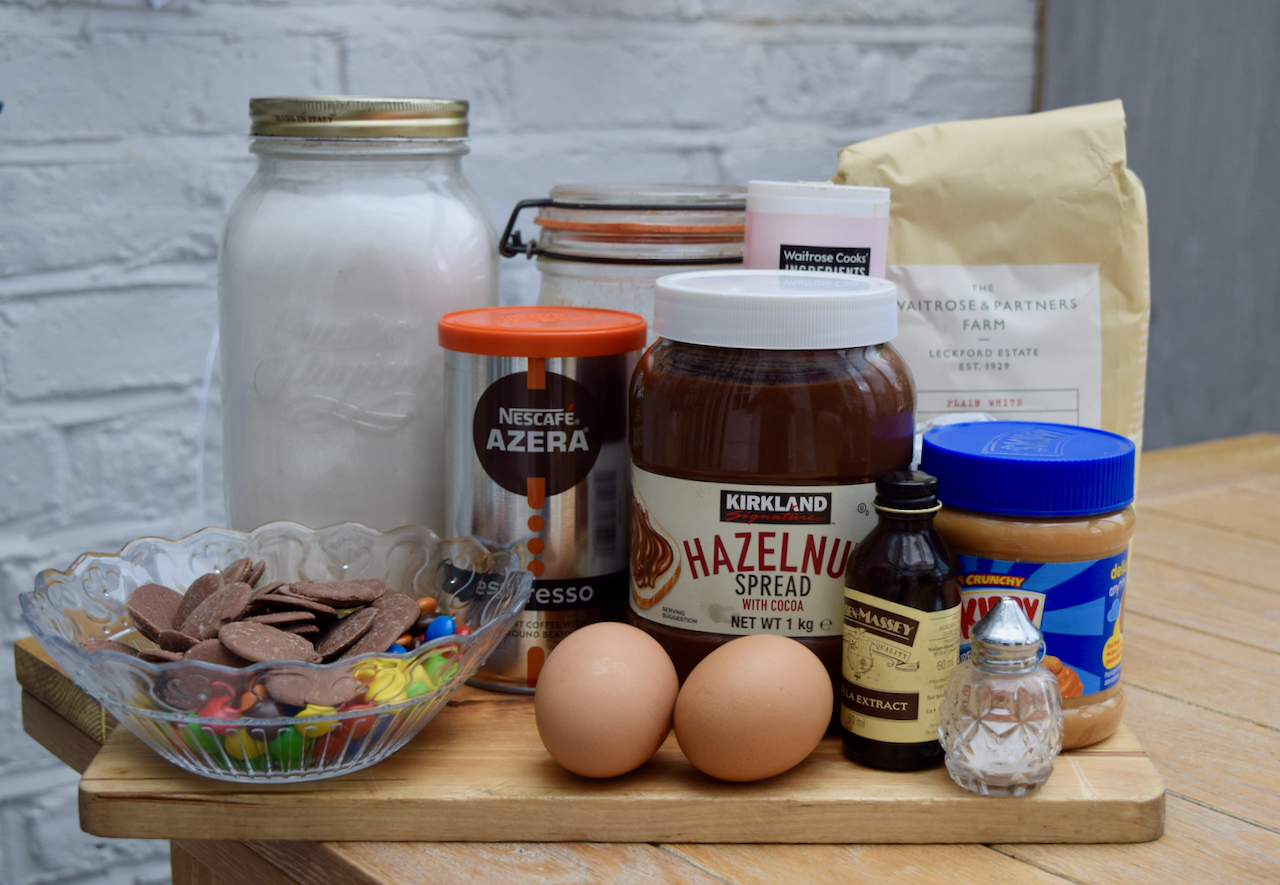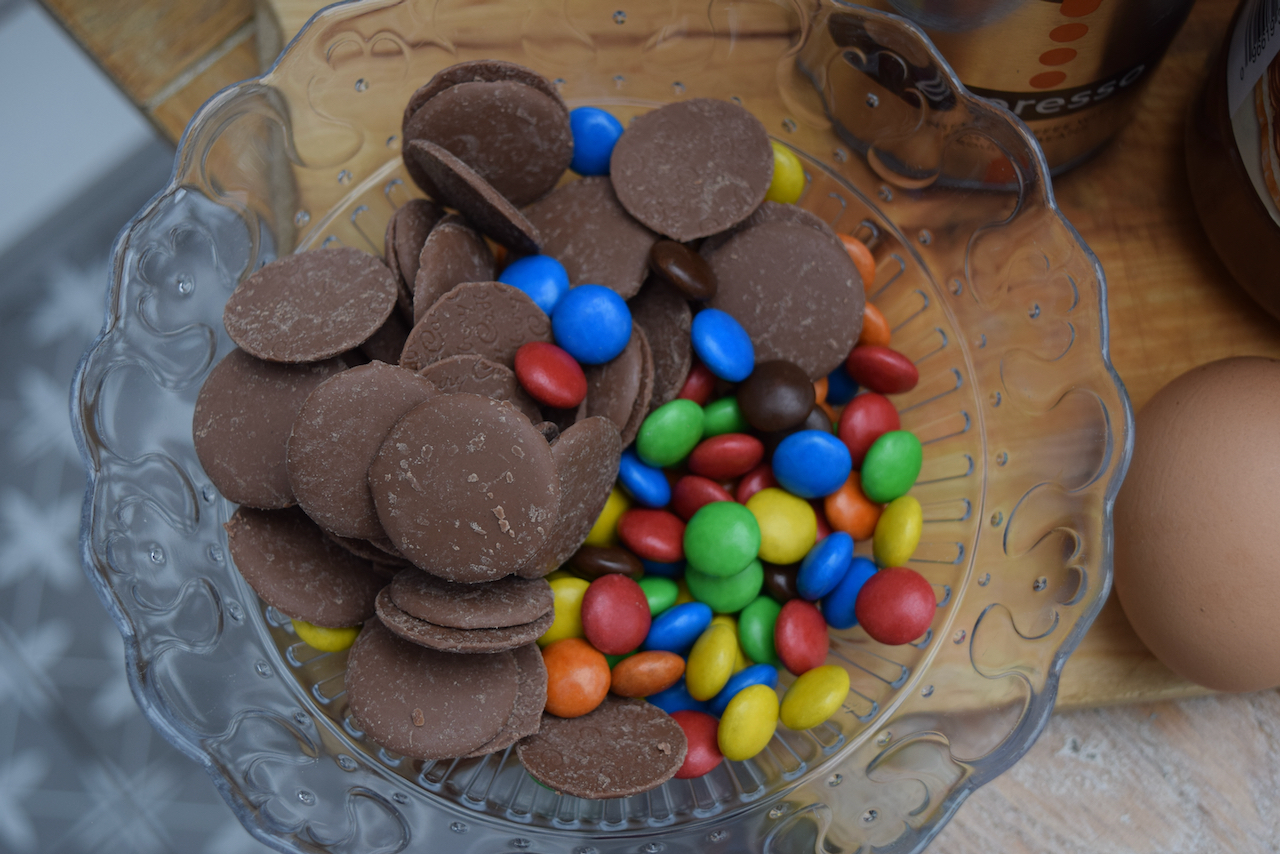 What a divine line up, I could eat all these ingredients straight from the bowl, but I really shouldn't, given my lockdown weight gain. But hey, some things are worth it.
Make a start by weighing out the flour, salt, bicarb and coffee powder.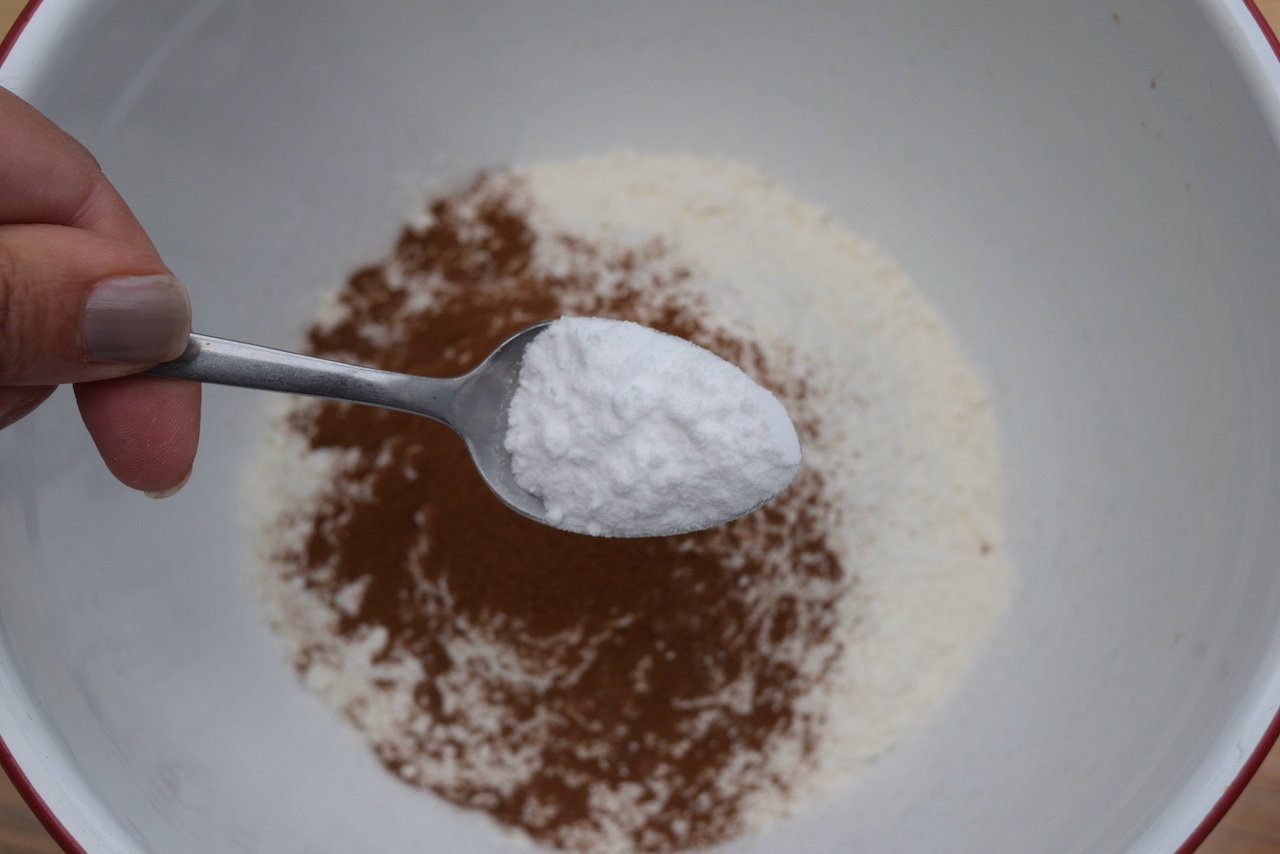 Give this a little mix then pop to one side. Now, add the soft butter, light brown sugar and caster sugar to a large bowl or bowl of your stand mixer. Beat until lighter in colour and texture.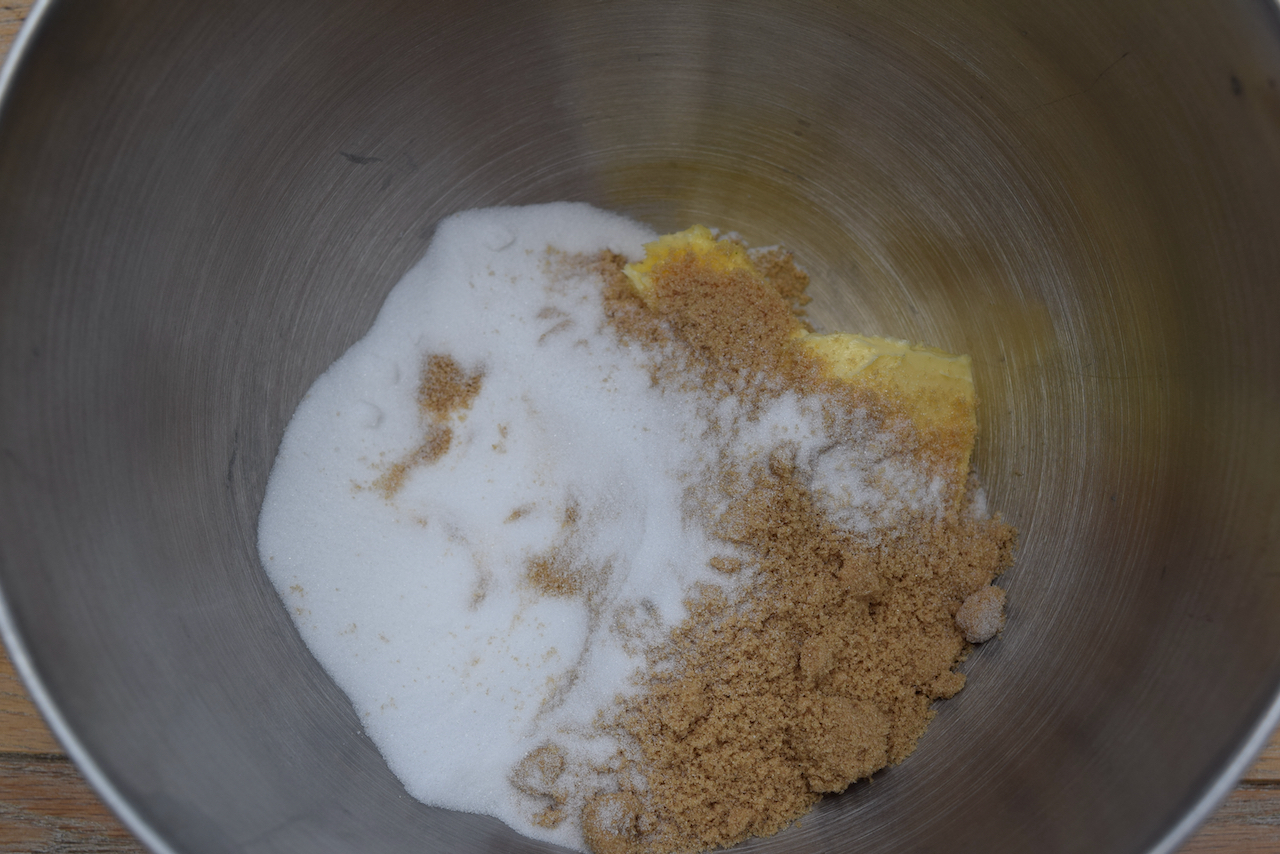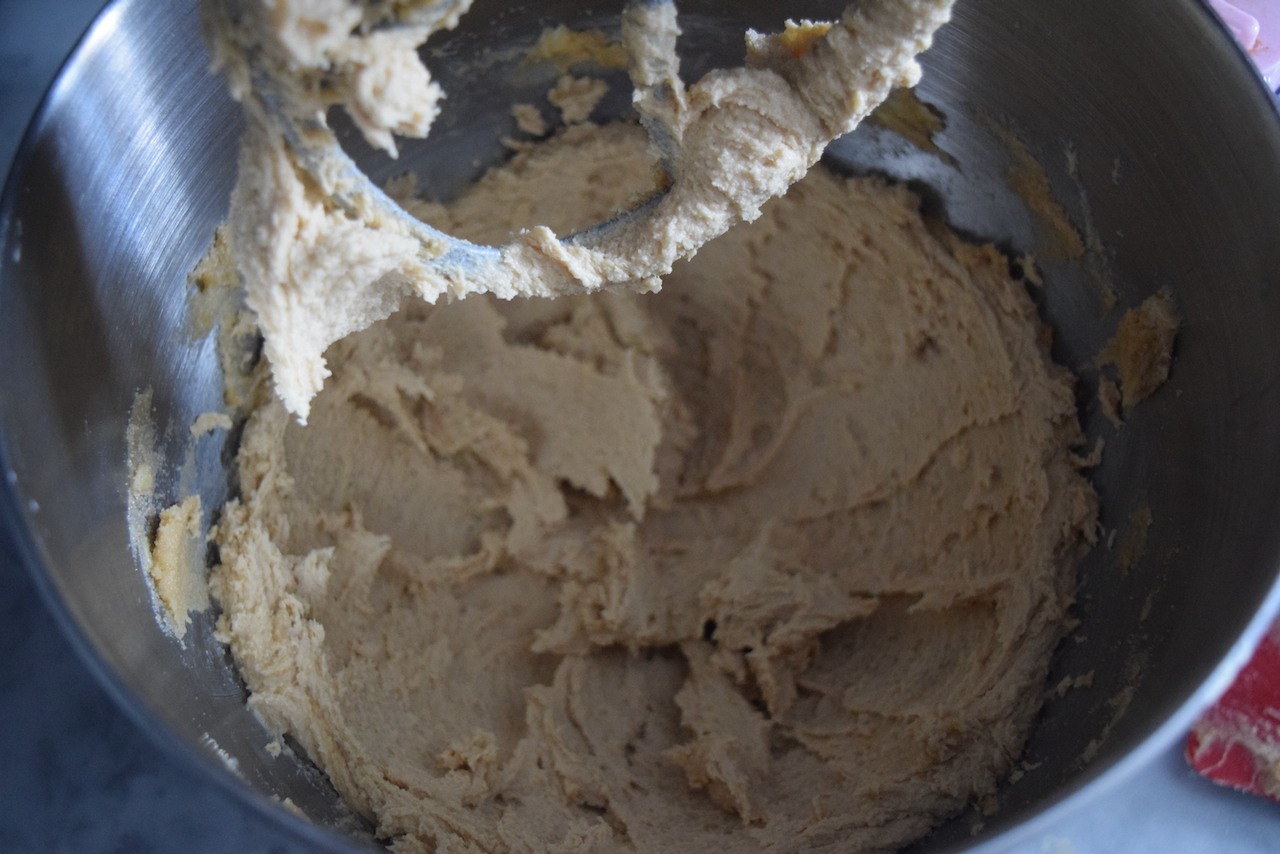 Next, drop in the eggs, one at a time, with the vanilla, and beat until smooth.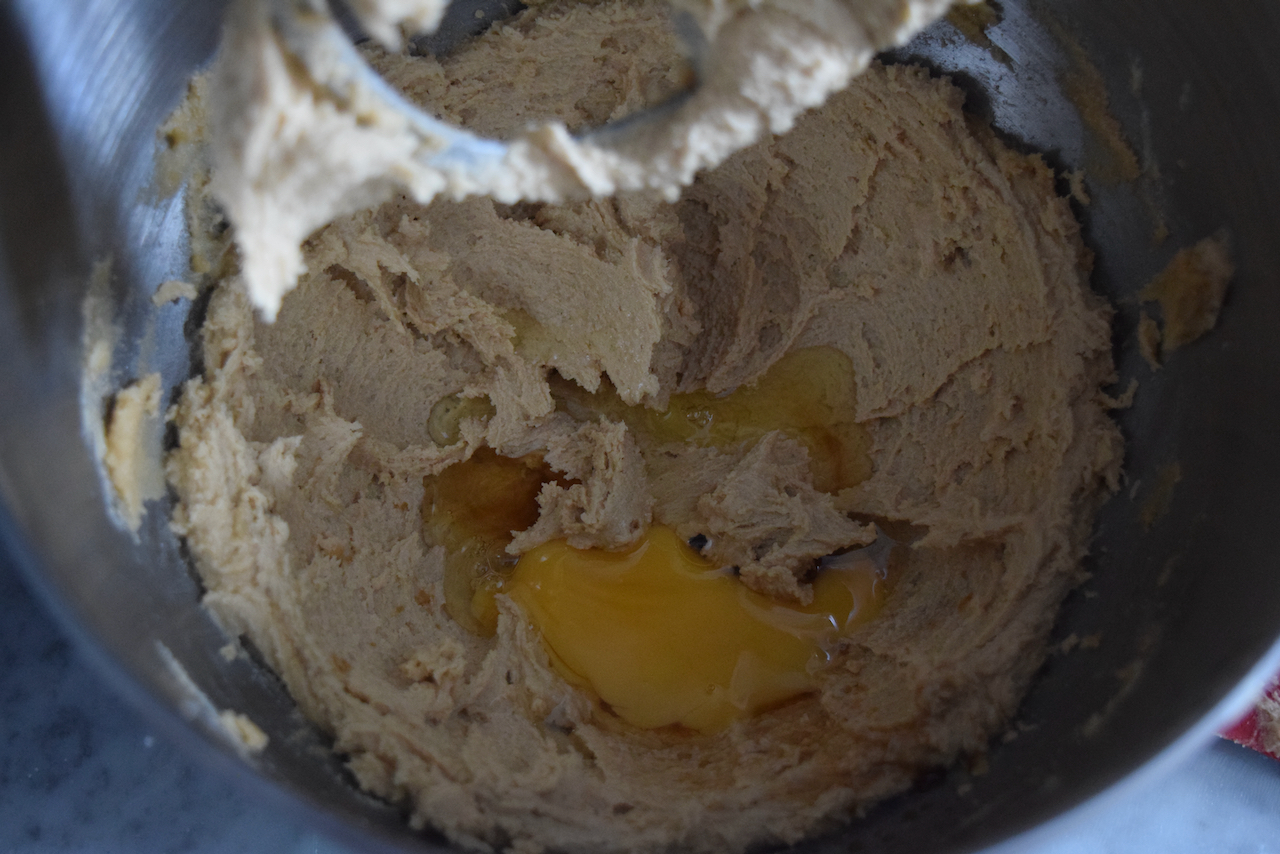 Follow in with two heaped tablespoons of peanut butter and chocolate hazelnut spread and beat again.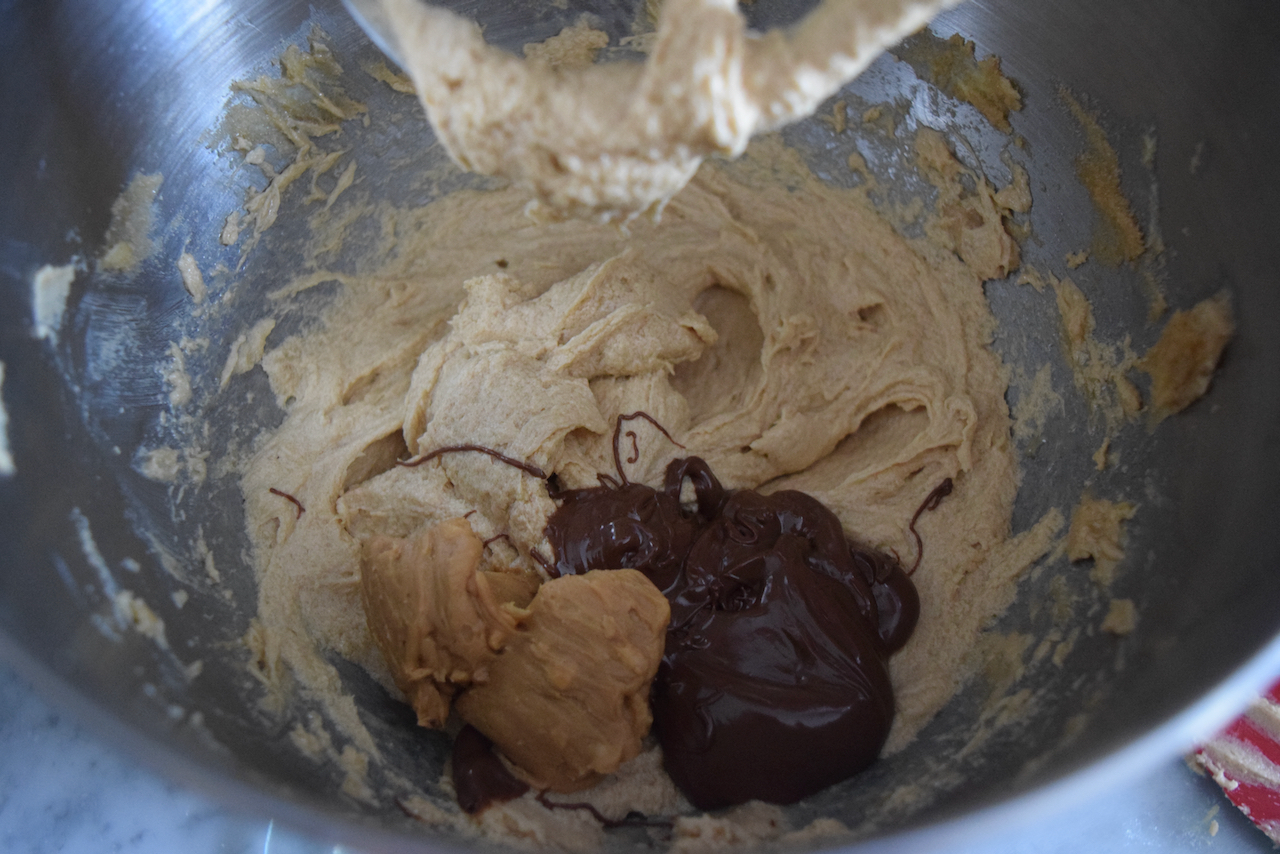 Beat, then fold in the flour/coffee mix, a little at a time until you have a soft dough.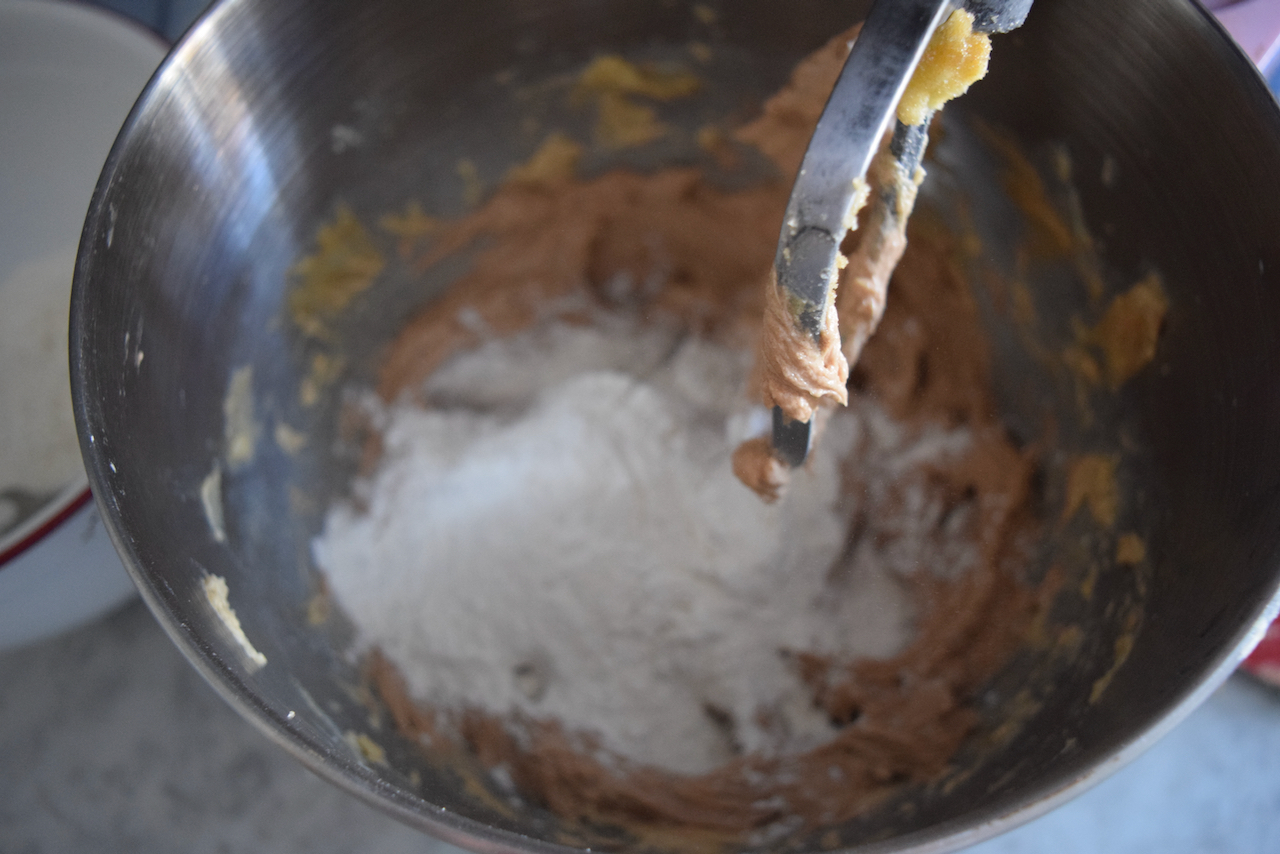 Finally, roughly chop your M&M's and chocolate buttons, or the add ins of your choice, and fold these into the dough.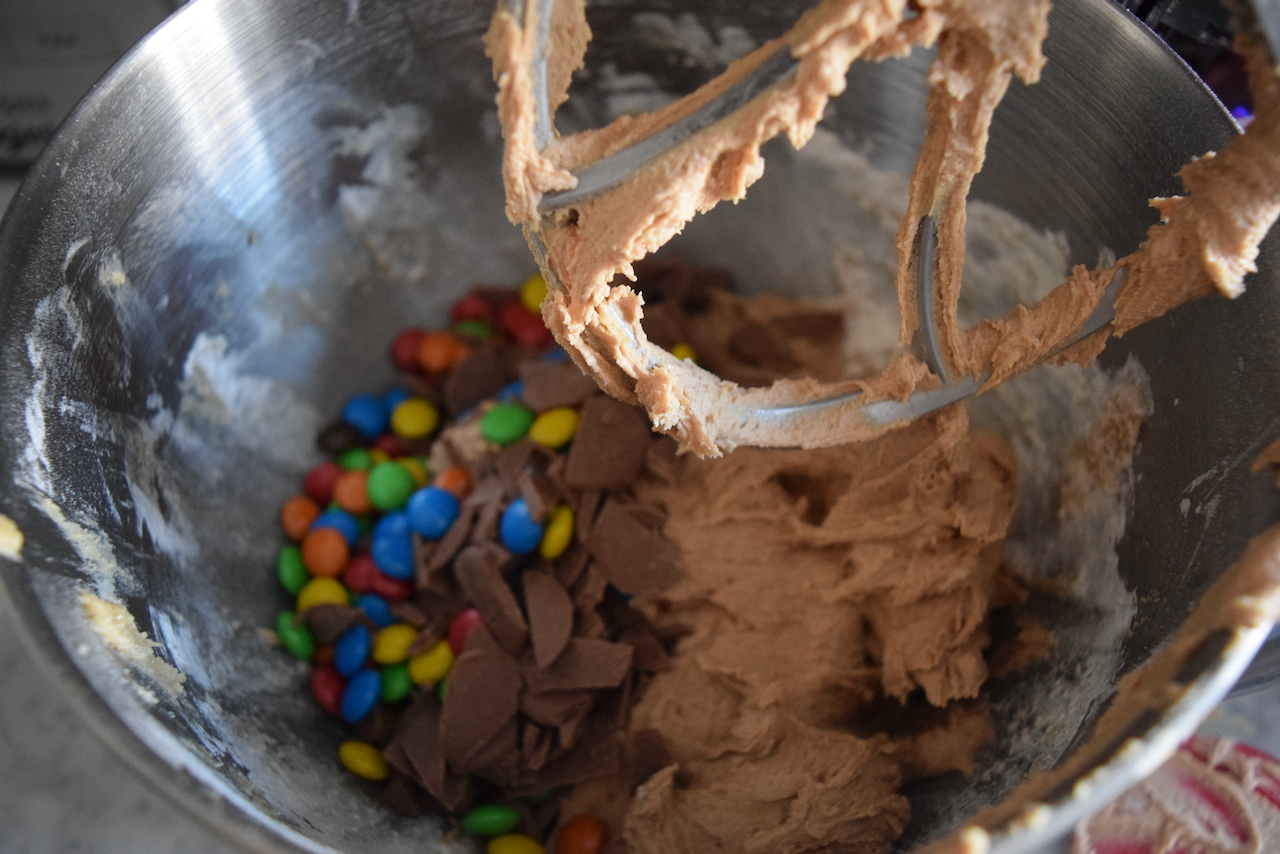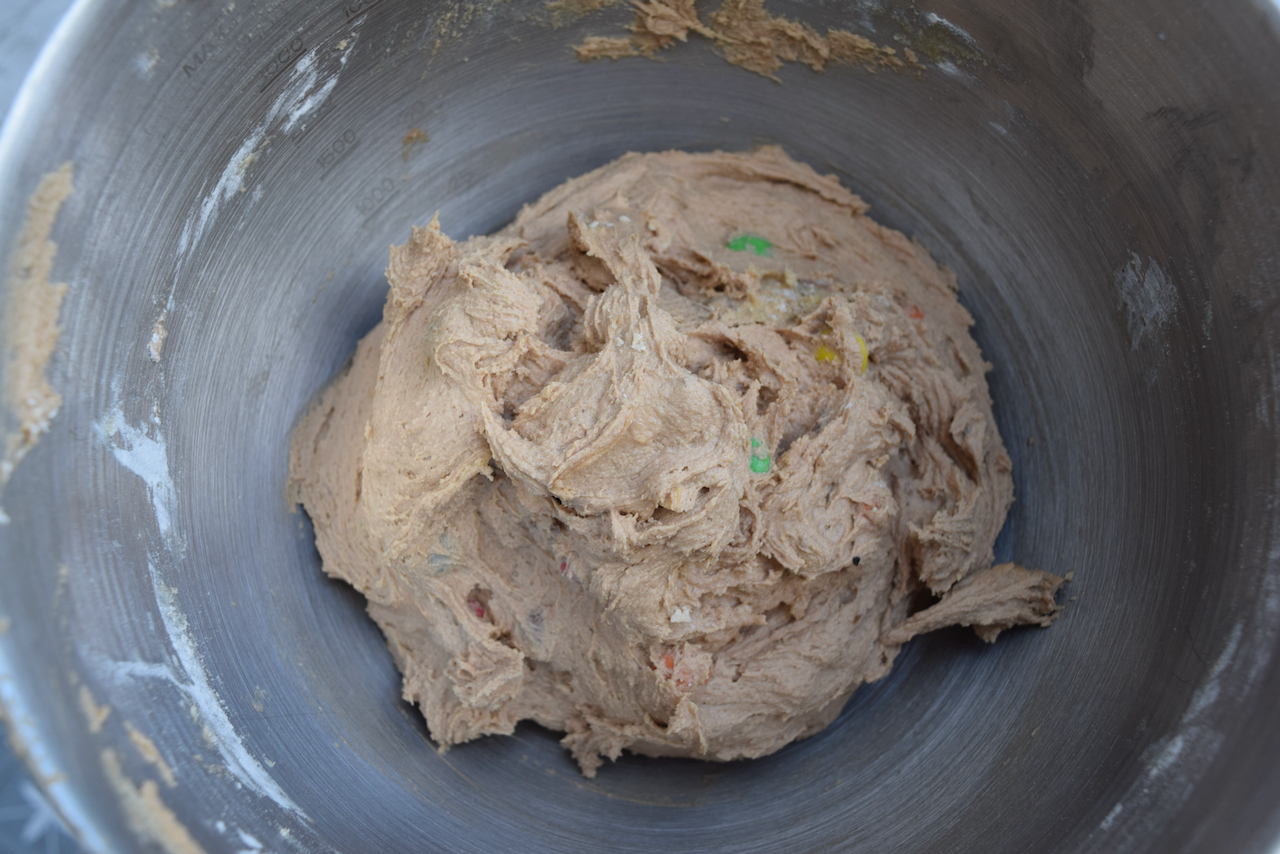 Lay out two sheets of greaseproof paper or cling film. Halve the cookie dough and lay in log shapes along the middle of the cling or paper.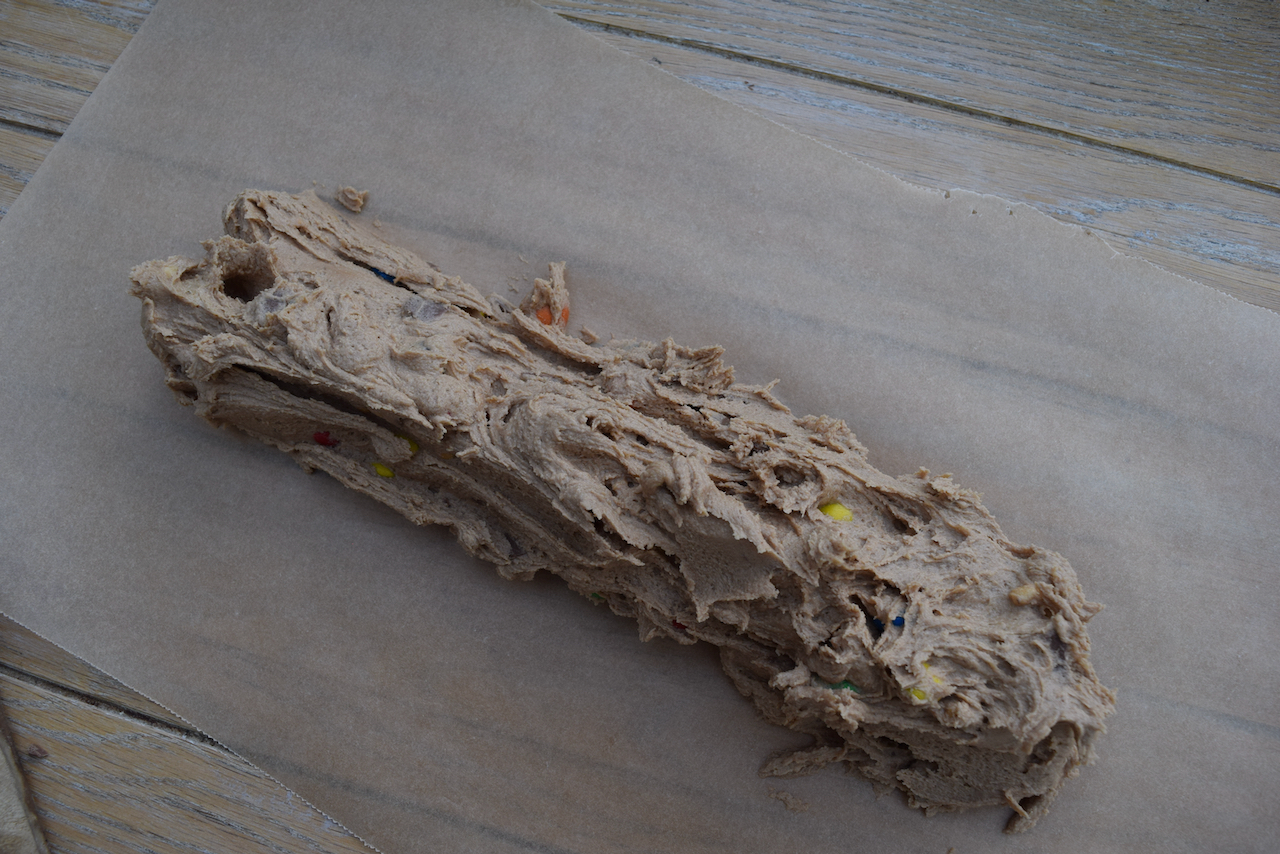 Roll the wrapping around the cookie dough, fashioning it into a tight sausage shape as you go. Twist the ends to seal this tube of cookie heaven.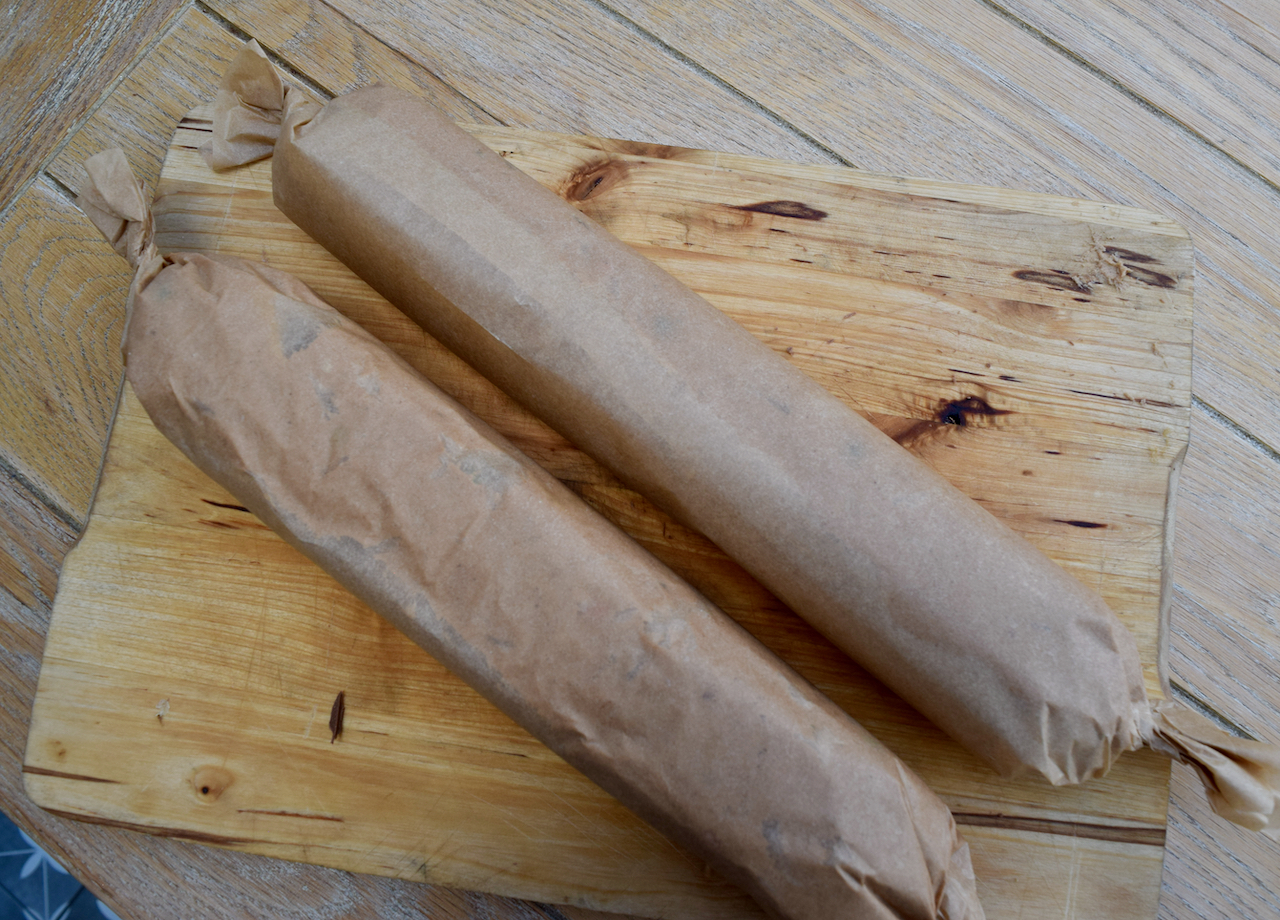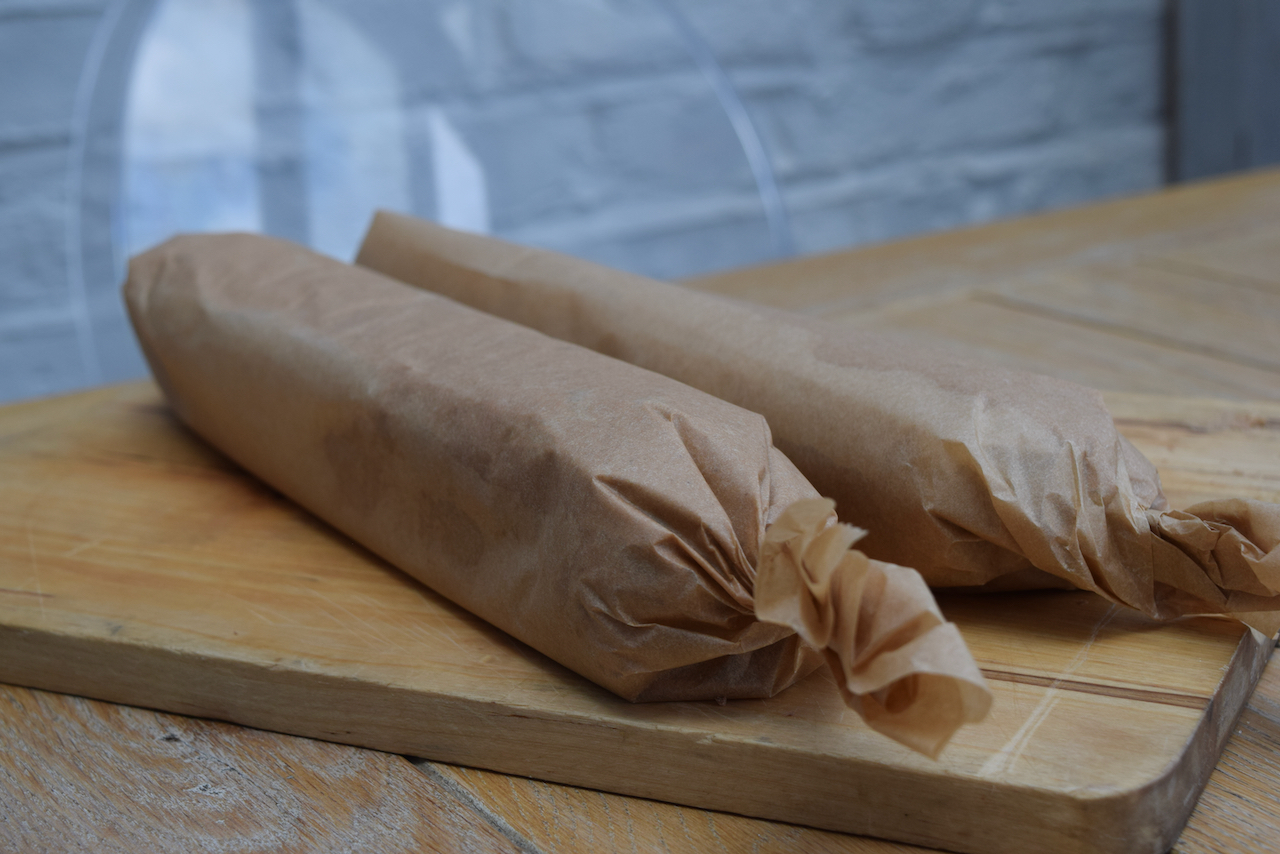 You have a couple of choices now. You can place the dough in the fridge until it's chilled, around 4 hours, then slice and bake. Or pop the cylinders in the freezer, to store, for around a month and slice cookies on demand.
I popped one in the fridge and one in the freezer. For fridge ready cookies. slice off as many as you want, around an inch thick, space them out on a lined baking sheet and place into your 160 degrees fan assisted pre heated oven for a scant 10 minutes. It's the same for the frozen dough, just use a super sharp knife and add an extra minute onto the cooking time.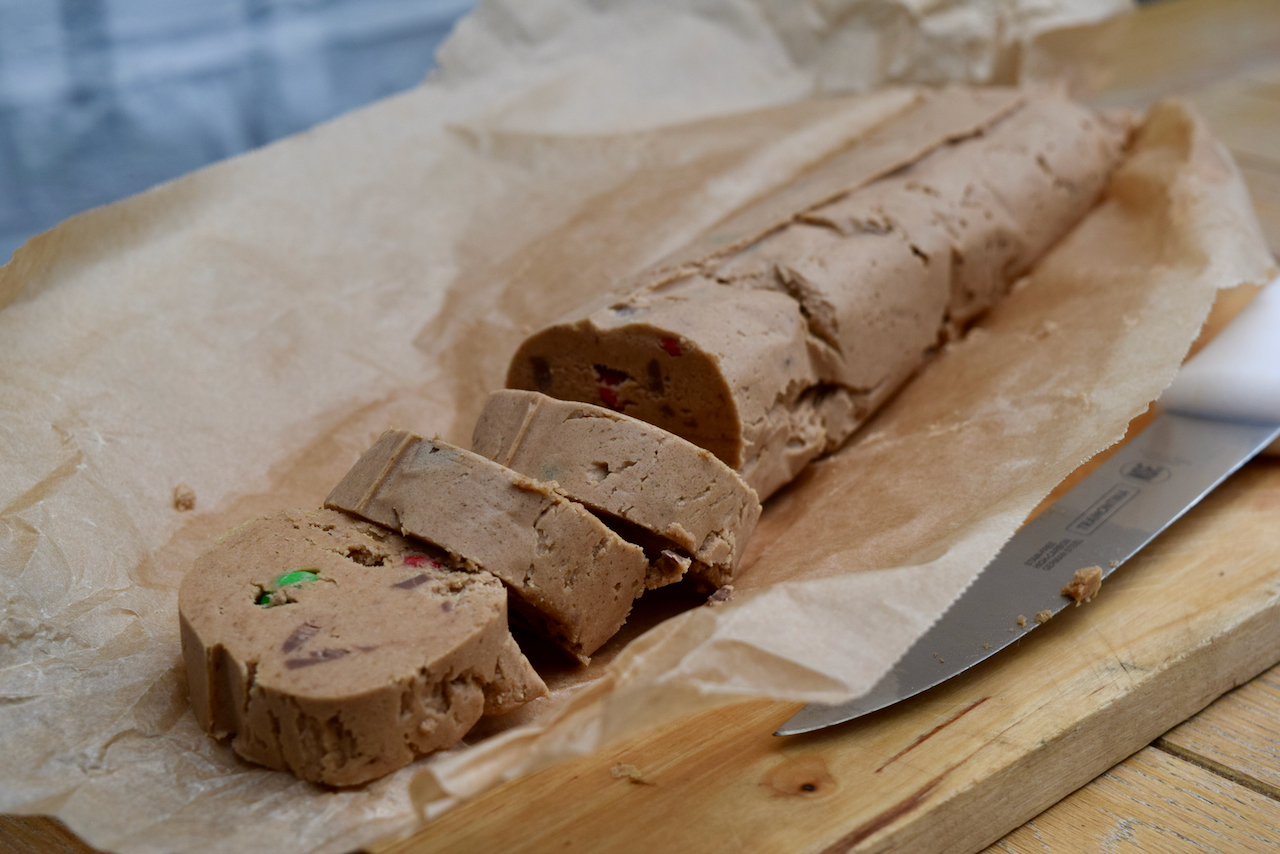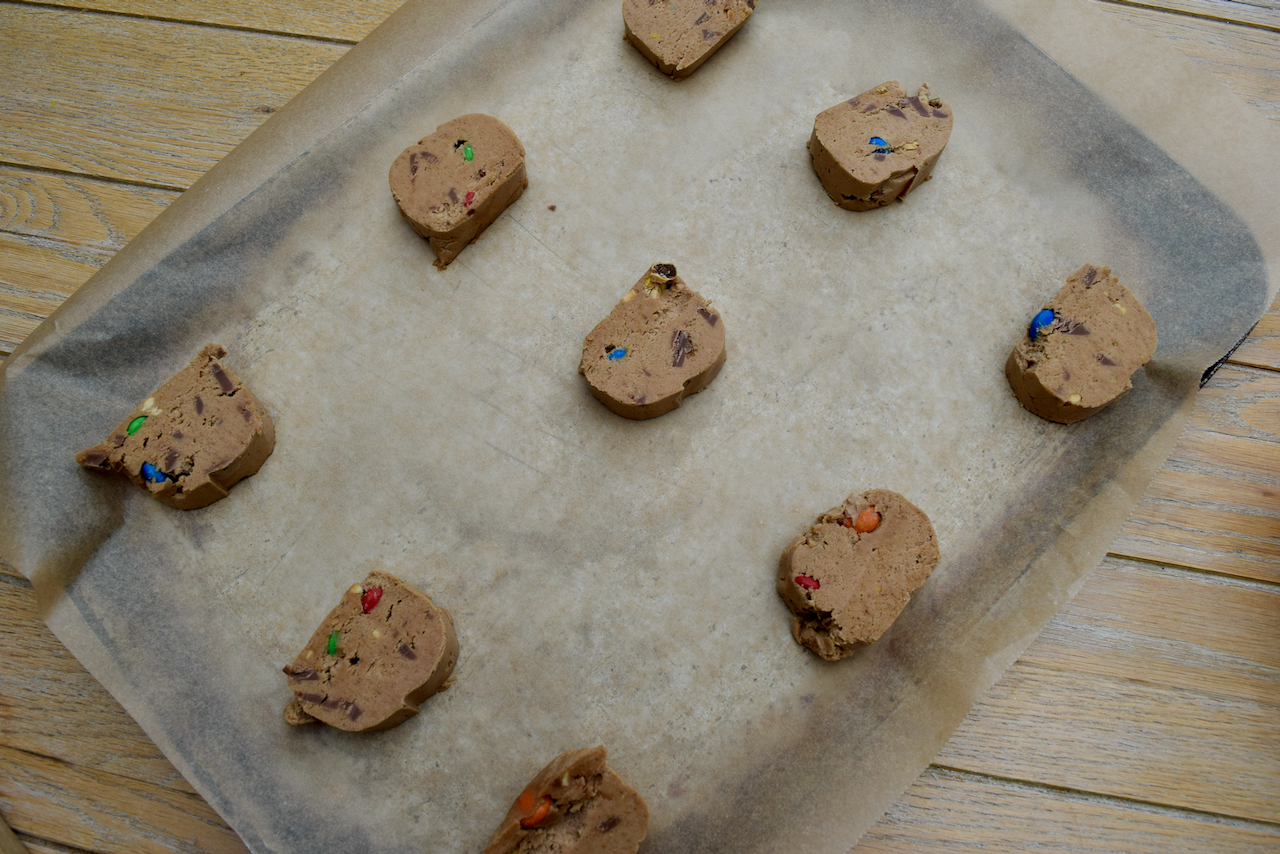 The cookies are ready when they're just golden, still soft and smelling divine. Leave them to cool slightly before removing to a wire rack. Wait for as long as you can bear before tucking right in. Or share them with your friends and family, or pretend I didn't say that.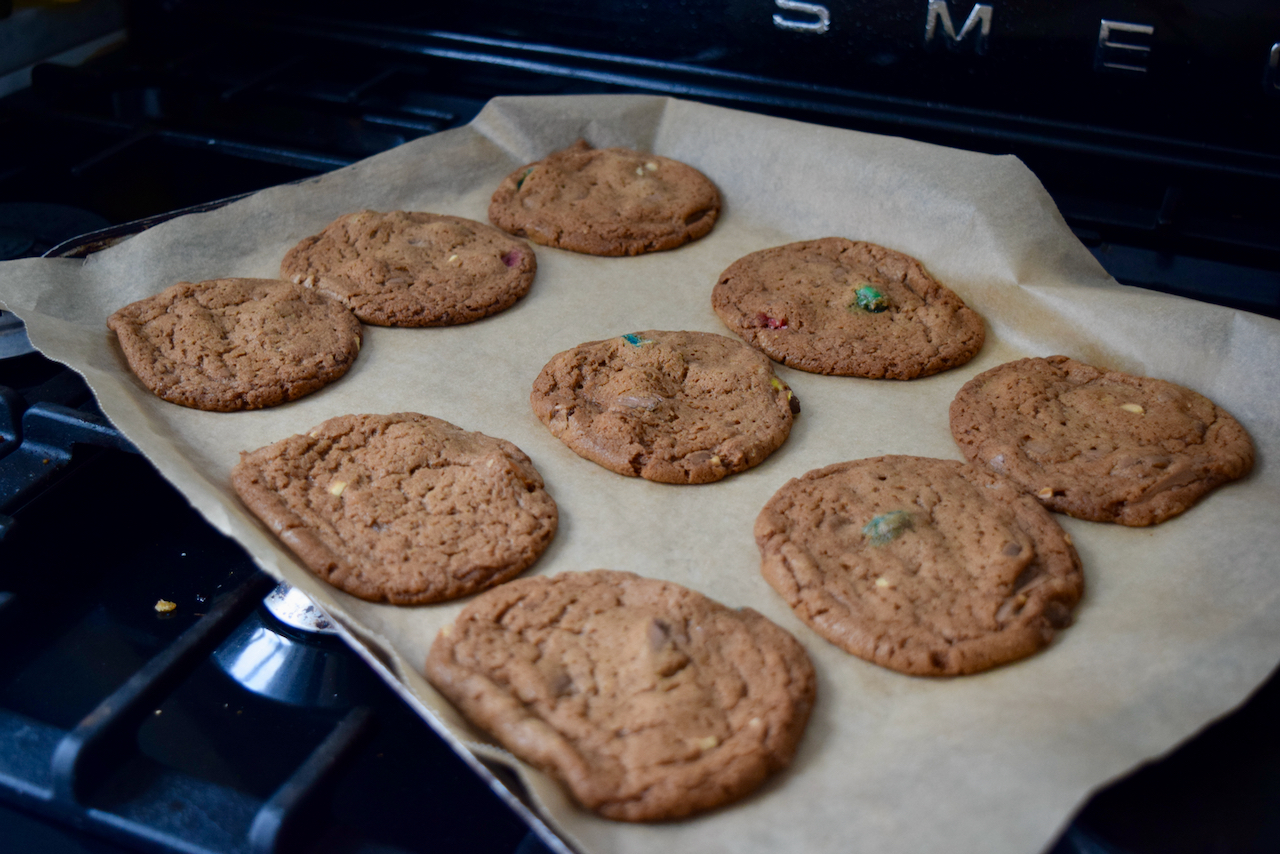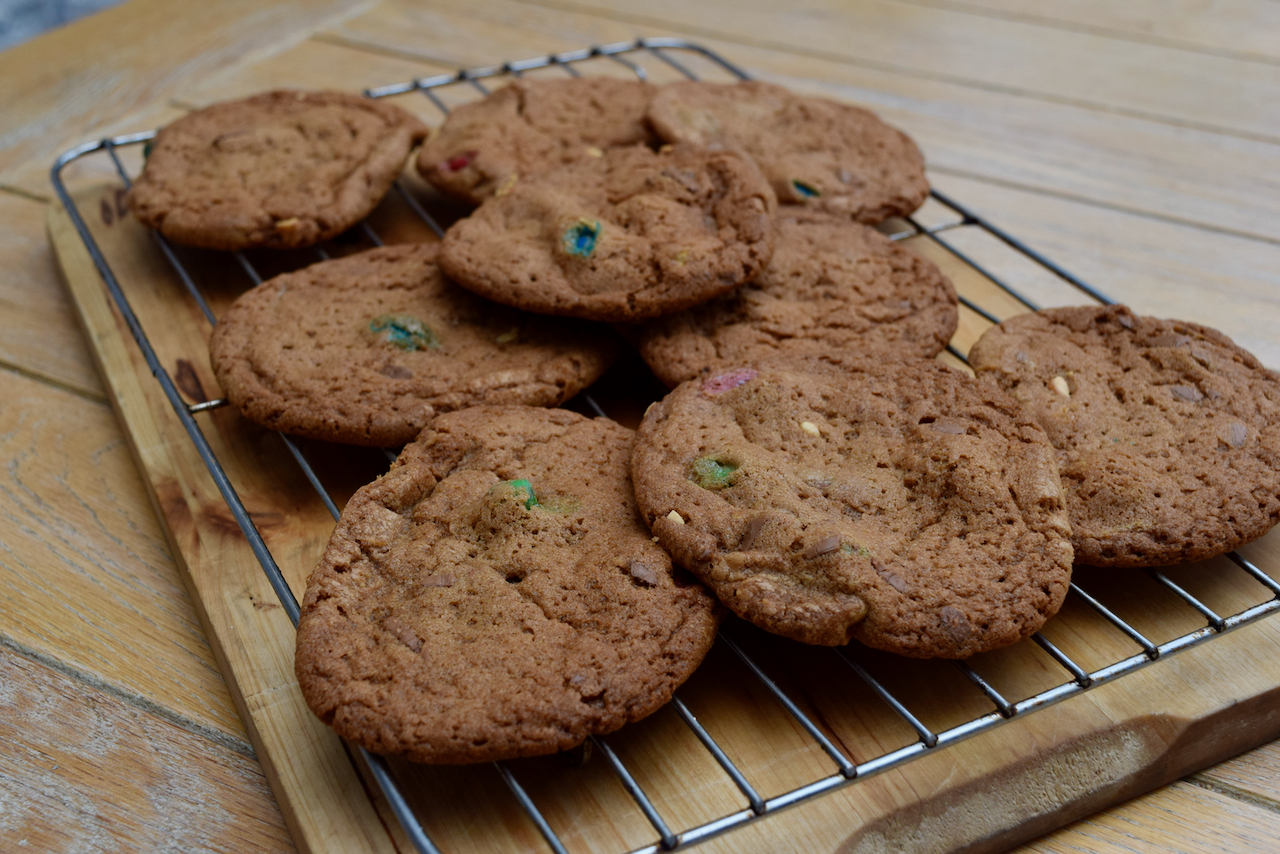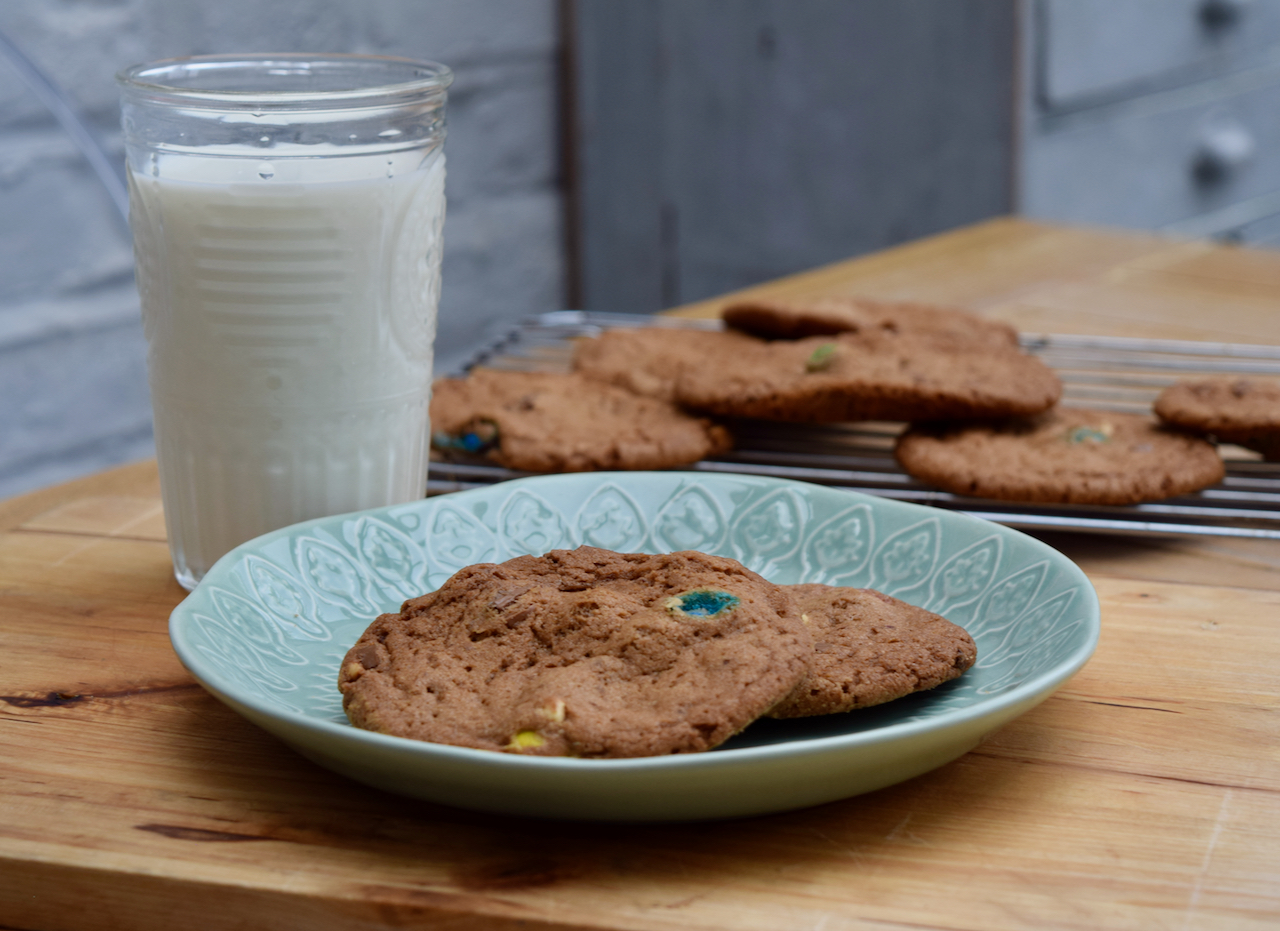 Everytime I discover a new cookie recipe, I proclaim them to be my favourite. This time, these really are my favourites; soft with just a teeny hint of coffee, chocolate bits and best of all, they're ready when you are.
Lucy x
Loaded Slice and Bake Cookies recipe
Makes around 36 cookies, size dependent
You will need a stand mixer or bowls and a spoon for this
300g plain flour
1 teaspoon instant coffee powder, I used an espresso one
1 teaspoon bicarbonate of soda
1 teaspoon salt
220g soft butter
250g light brown sugar
50g caster sugar
2 eggs
1 tablespoon vanilla extract
2 tablespoons peanut butter, smooth or crunchy, it doesn't seem to matter
2 tablespoons chocolate hazelnut spread
125g M&M's or Smarties, roughly chopped
100g chocolate buttons or chopped chocolate
In a bowl weigh out the flour, coffee, bicarbonate of soda and salt and give it a little mix. Pop to one side.
In the bowl of your stand mixer or in a large bowl with a hand whisk or spoon, beat the soft butter with the brown and caster sugars. Beat until the mixture is lighter in colour and texture.
Beat in the eggs, one at a time, along with the vanilla. Add the peanut butter and chocolate hazelnut spread, mix again until smooth. Then fold in the flour/coffee mixture, a bit at a time, until you have a soft, slightly sticky, dough. Finally fold through your M&M's and chocolate until well mixed.
Lay out two large sheets of greaseproof paper or cling film. Divide the mixture into two and spread each portion into a log shape onto the paper. Roll the paper around the cookie dough, fashioning each package into a sausage shape, then twist the ends to seal.
Put the cookie dough into the fridge and it will be ready to use after 3 to 4 hours, or leave for around a week. You can also freeze at this stage for at least a month.
When you're ready to cook your cookies. pre heat the oven to around 160 degrees fan assisted and line a large baking sheet. Slice inch thick rounds of cookies and place each one, well spaced for spreading, on the baking tray. Bake for a scant 10 minutes, you want them to be just golden, and still soft. Leave on the tray to cool slightly before cooling on a wire rack.
Devour, and then cook some more.
If the dough is frozen allow another minute cooking time in the oven.