Big Pork and Prosciutto Meatballs Recipe
I know, I know, we should be eating some salad and keeping the carbs down to a dull roar in the run up to Christmas. But, I am now of the opinion, for me at least, it's too little too late. Also, it's bloody freezing outside, so salad is no one's friend. We had a big family lunch this weekend for George's birthday and it was all about the meat, potatoes and comforting puddings. All served alongside a huge bowl of purple sprouting broccoli, may I add, so all was not lost. And this is just the sort of food I feel like eating at this time of the year. I also love an exciting new recipe and my mouth started watering the minute I found this one for Big Pork and Prosciutto Meatballs.
This is such a simple, but tasty dish. Which is me all over, easy delicious recipes that is, I am neither simple nor tasty. The tomato sauce is made in a blender or food processor so no need to even chop an onion. The meatballs just involve a bit of mixing with your hands, don't be squeamish, just get stuck in as this is the best way to mix then roll your lovely big meatballs. These are then wrapped in some prosciutto, adding a crisp saltiness, before a final simmer in the herby, wine laced tomato sauce. I love a meatballs and spaghetti based supper, but I have pretty much exhausted all my recipes. These Big Pork and Prosciutto Meatballs make a great family dish, but I also think these are special enough to serve to guests. It's a rustic dish, but no one will be able to resist how amazingly tasty it is. A huge thank you to Gourmet Traveller for the inspiration for this recipe.
This big individual meatball with salty prosciutto and flavourful tomato sauce is what winter evenings are crying out for. They take no time to whip up and make a interesting change from the usual smaller, less impressive meatball based dinners.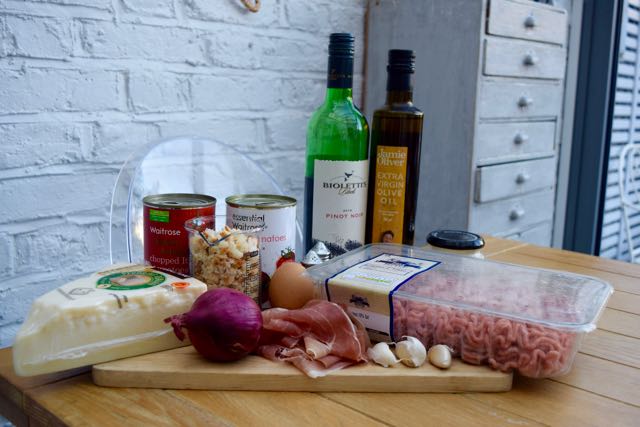 Colourful and wholesome are the words of the day. Along with simple and balls. These lovely ingredients are all readily available and pork mince is amazing value for money. I had some sourdough breadcrumbs in the freezer from where I had blitzed an overpriced loaf which had gone stale, as I do hate waste.
Make a start on these by making the sauce. Put the onion and garlic into a blender or NutriBullet along with a tablespoon of oregano, basil or any other Italian style dried herbs.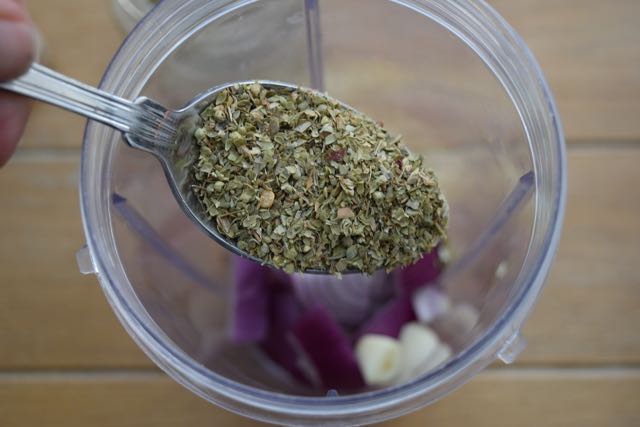 Next, add the tinned tomatoes and red wine to the blender. I only had room in my NutriBullet for one of the tins of tomatoes so I added the second to the pan later. If you have a bigger blender than me, do feel free to add both tins at this stage. Then blitz this all together until smooth-ish.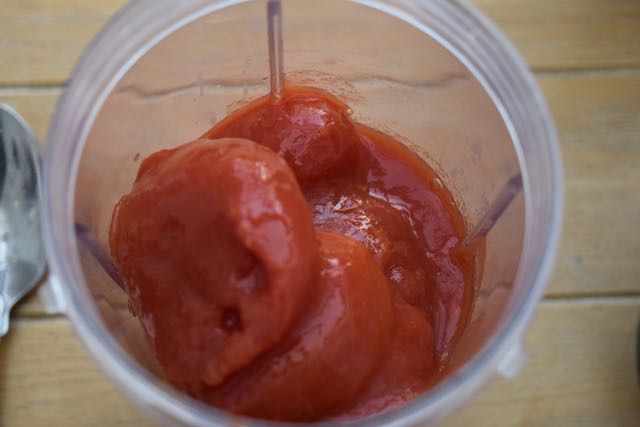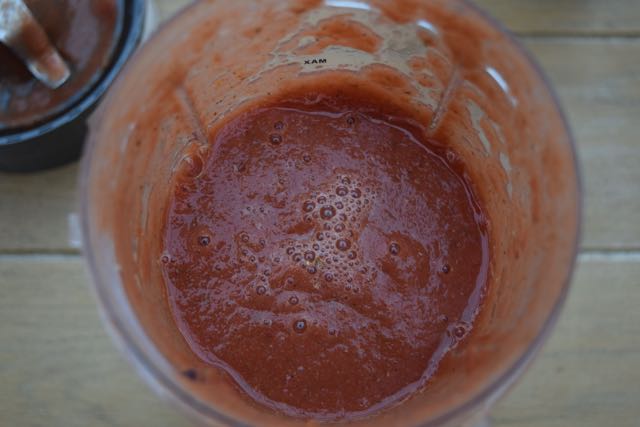 Pop this to one side while you get on with the balls *sniggers like a 14 year old boy*.
In a large bowl mix together the pork mince, breadcrumbs and cheese of your choice. I had parmesan and this is best if you do have it to hand.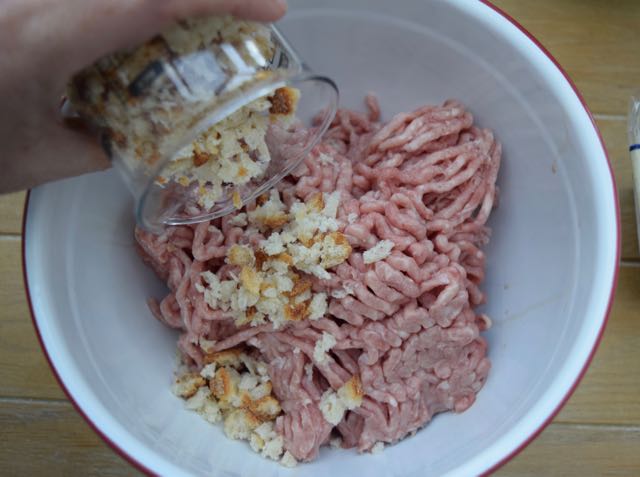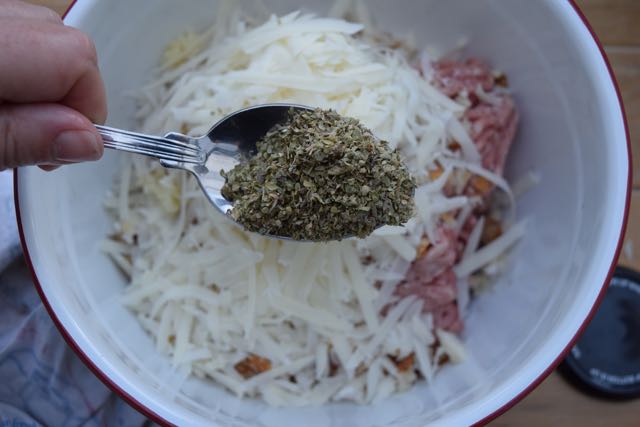 Add the chopped garlic and the egg then either with a spoon if you're squeamish or your hands if you're not, get stuck in and mix the ingredients until well blended.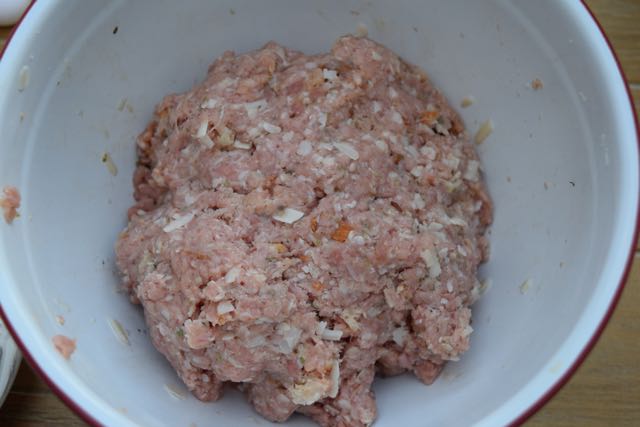 Now, divide this mixture into four quarters then roll each quarter into a large ball.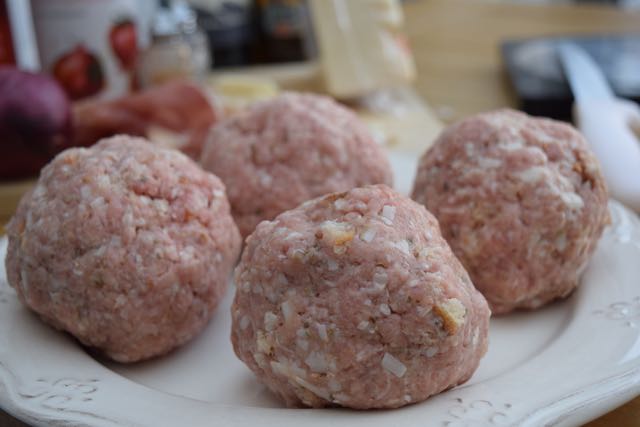 Carefully wrap each ball in a slice of prosciutto, fashioning it around the ball as best you can. The prosciutto was quite delicate but you can press it into the meatball and it won't fall off.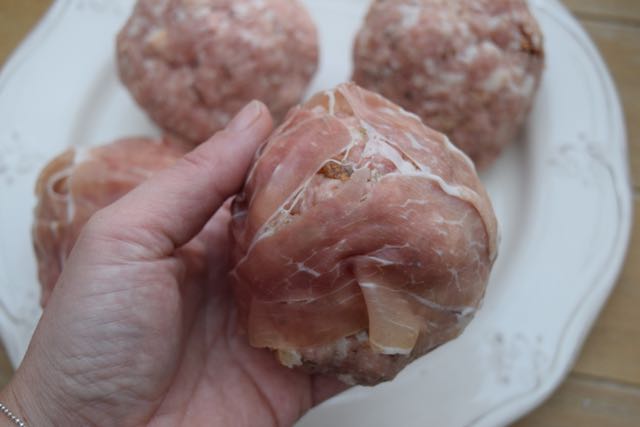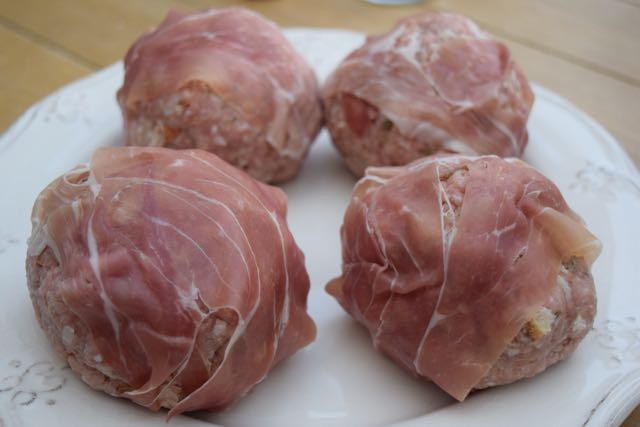 Take a large frying pan and add a couple of tablespoons of oil. Heat over a medium heat then add the balls for browning. Keep them moving so they brown evenly.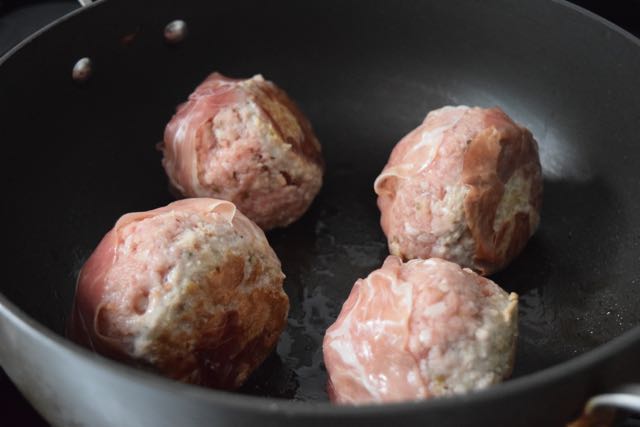 Once the balls are browned all over, pour in the tomato sauce, spoon in the 2 tablespoons of olive oil and pour in the extra tin of tomatoes if you didn't have room to fit it in your blender.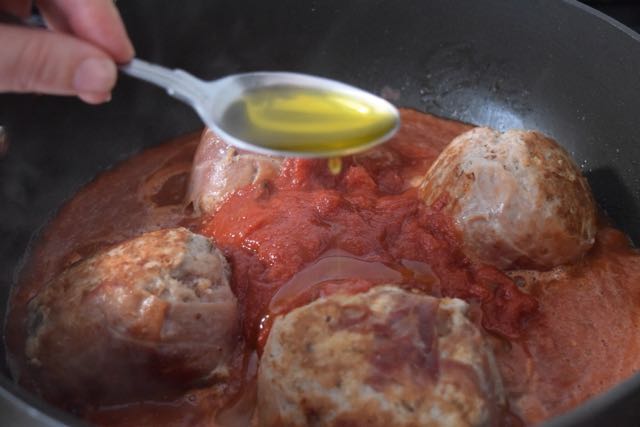 Stir the meatballs into the sauce, bring the whole beautiful lot up to the simmer, pop on the lid and cook the dish for around 20 minutes or until the pork balls are cooked through and the whole lot is piping hot.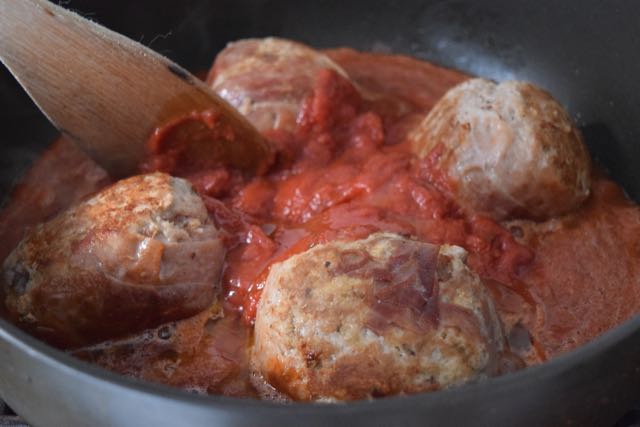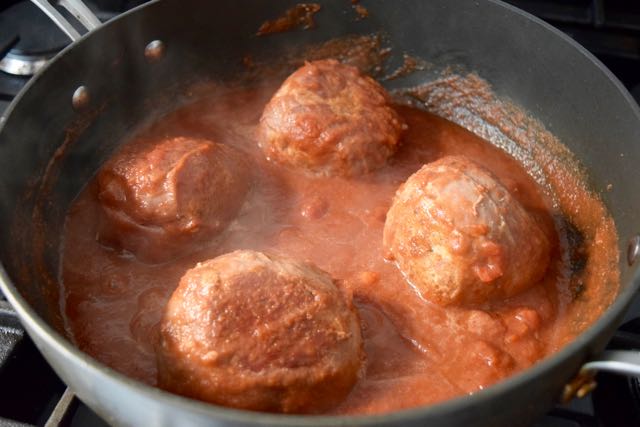 Garnish with some fresh basil leaves and serve on a pile of spaghetti with large amounts of torn mozzarella scattered artistically.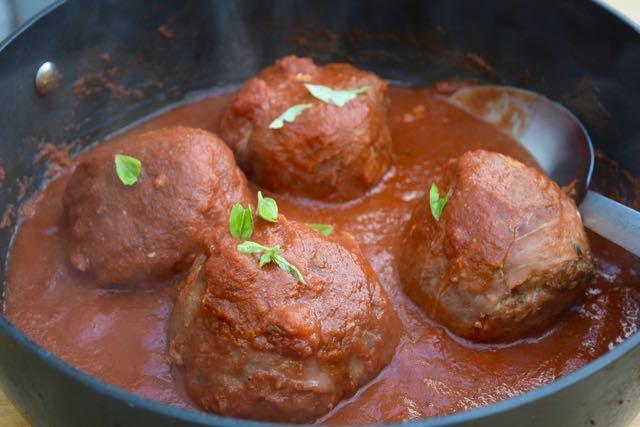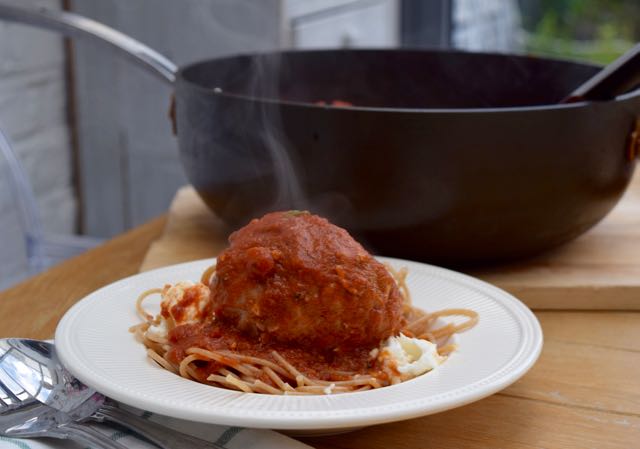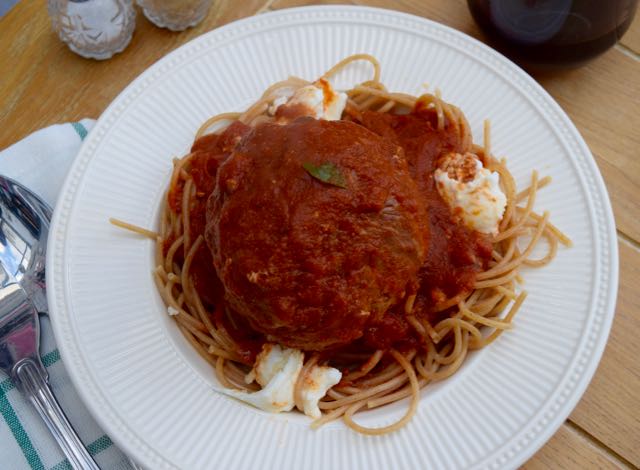 You don't get too many of these Big Pork and Prosciutto Meatballs to the pound. One is definitely enough, especially with a bloody great big serving of pasta alongside it. However, this is the stuff winter food is made of, lets just embrace it from now until June.
Lucy x
Big Pork and Prosciutto Meatballs Recipe
Serves 4, generously 
You will need a blender and a large saucepan, nothing too taxing
Tomato Sauce
2 x 400g tins tomatoes, chopped or whole, whichever you have to hand
1 onion, roughly chopped
2 garlic cloves
150ml red wine
1 tablespoon herbs, oregano, basil or Italian seasoning would be great
2 tablespoons olive oil
Meatballs
750g pork mince
100g parmesan cheese, grated, or other strong cheese if you don't have parmesan
60g breadcrumbs, just blitz up a some sliced bread for these
1 clove garlic, chopped
1 1/2 tablespoons dried mixed herbs, as above
1 egg
4 slices proscuitto
1 to 2 tablespoons oil
Cooked spaghetti, fresh basil and torn mozzarella to serve
For the sauce, take your blender and add the chopped onion, garlic, red wine and herbs. Now, my blender only had enough room for one of the tins of tomatoes, so add either one or two of the tins of tomatoes then blitz the whole business until smooth. Pop this to one side while you make the big balls.
In a large bowl, mix together the pork mince, grated cheese, breadcrumbs, chopped garlic, herbs and the egg. Start with a spoon if you like but best go in with your hands to mix thoroughly. Divide the mixture into 4 portions then roll into 4 large balls.  Carefully wrap each ball in a slice of prosciutto and pop to one side.
Take a large high sided frying pan and heat a tablespoon or 2 of oil. Add your big meatballs to the oil and brown on all sides. Keep them moving so they colour evenly. Now, pour in the blended tomato sauce, plus the extra tin of tomatoes if you didn't have room to blend these, along with the extra 2 tablespoons of olive oil and stir well around the meatballs. Put the lid on, turn down the heat and cook the balls and sauce for around 20 minutes or until fully cooked through.
Serve with a pile of spaghetti garnished with some fresh basil and lots of torn mozzarella.
SaveSave
SaveSaveSaveSave
SaveSave
SaveSave
SaveSave