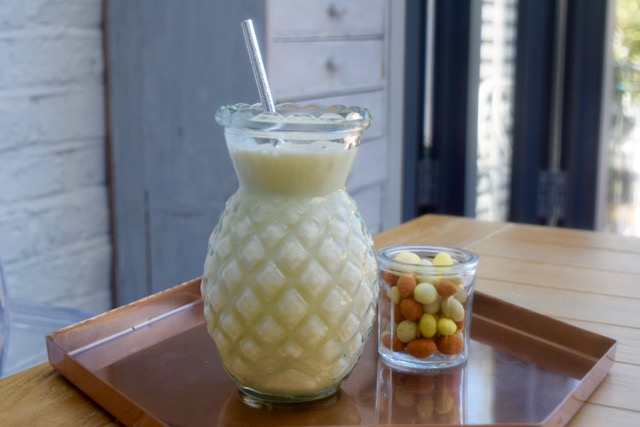 Homemade Coconut Rum Recipe
I love Coconut Rum. It has such a holiday flavour to it and is quite the staple in our drinks cabinet. The large jar I use to fashion my homemade spirits had frankly, been empty for long enough. So, courtesy of my lovely friends at Aldi and their delicious Old Hopking premium white rum, the jar is full of my Homemade Coconut Rum.
Coconut Rum is delicious and any drink which can transport you to a sun kissed beach with one sip is just the drink for me. I have made this recipe into a simple Lucy Loves version by using pre packed coconut, but do feel free to use a whole coconut either won at a fair or bought from the supermarket. Mix this with a homemade sugar syrup and your wonderful Old Hopking White Rum then let it steep for one to two weeks, dependent on how coconut dependent you are. I left mine for 2 weeks as I adore the nutty flavour, but it's your call. Then there's just some sieving and bottling and it's ready to use. I decided to showcase mine in a Pina Colada Milkshake which is my new drink of choice, but this dream Coconut Rum would grace any glass of pineapple juice if you can't be arsed. But believe me when I say a boozy milkshake made with your own Homemade Coconut Rum is just the drink you need for this warm, hazy summer we're having.
Dig out your liqueur making jar and get cracking on this and you too can be in the Caribbean via South West London.
Here's the simple line up for this homemade taste of paradise. As I mentioned, I lazily bought pre cut coconut, but if you have a whole one to hand, just extract the flesh accordingly *Google it*. I used my delicious Aldi Hopking White Rum, it's great value and so perfect for this recipe.
Make a start by bringing your sugar and water up to the simmer ensuring the sugar dissolves. Tip in the coconut then simmer for a couple of minutes.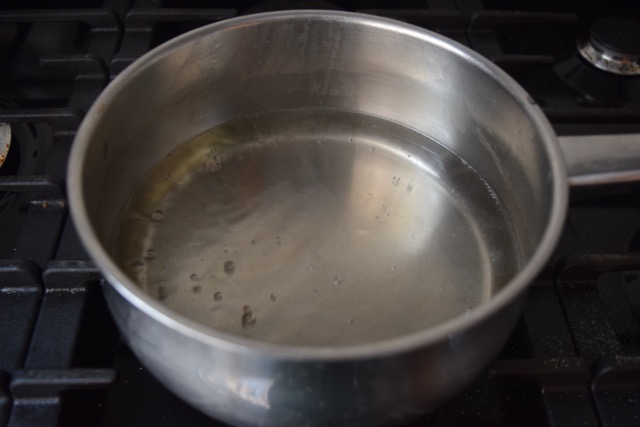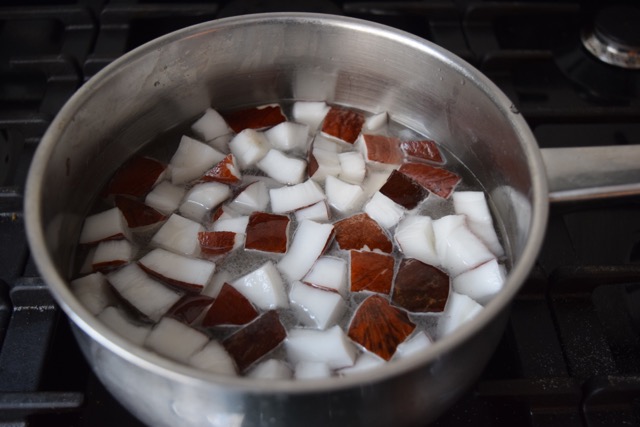 Leave to cool then pour into your large jar. Top up with your whole bottle of Hopking White Rum, pop the lid on then shake to combine. Leave to steep for 1 to 2 weeks.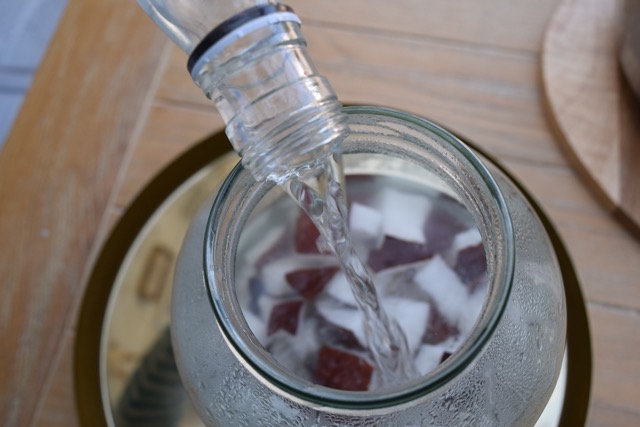 I left mine for 2 weeks for maximum flavour and value for money as the coconut was quite pricey.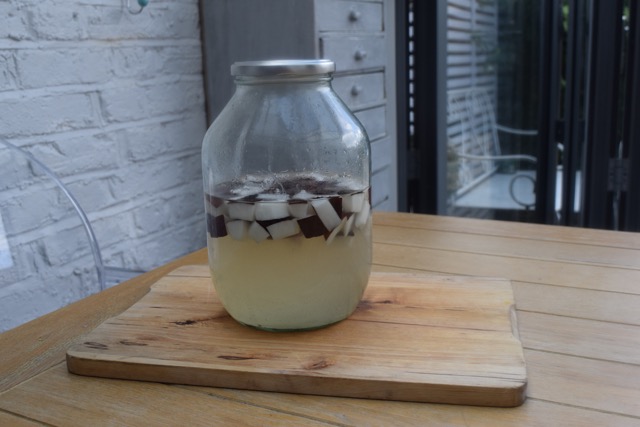 Ta-dah. The agonising wait is over. Strain the wonderful fragrant rum using a coffee filter or a muslin into a jug for ease of pouring.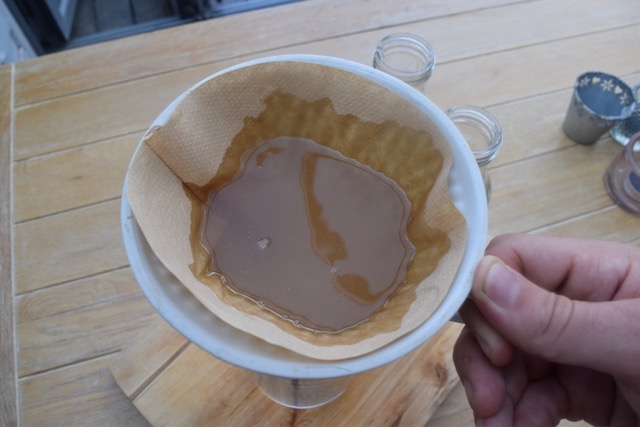 Ps that's not my ugly hand it's Ben's.
Now, what you do with the rum soaked coconut is up to you. I ate quite a substantial amount of mine and felt a little pissed. It's done it's job, however, so don't feel too guilty about throwing it away. Or just eat it like me.
Bottle your fresh Homemade Coconut Rum in 1 large or 2 smaller bottles and pop in the fridge if you have room, if not this should be fine in your drinks cabinet until needed.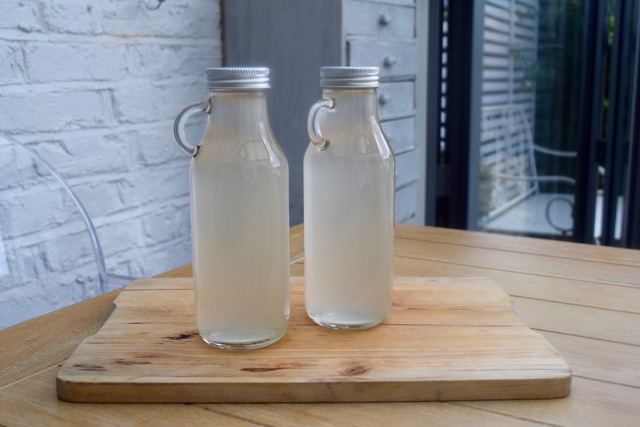 Pina Colada Milkshake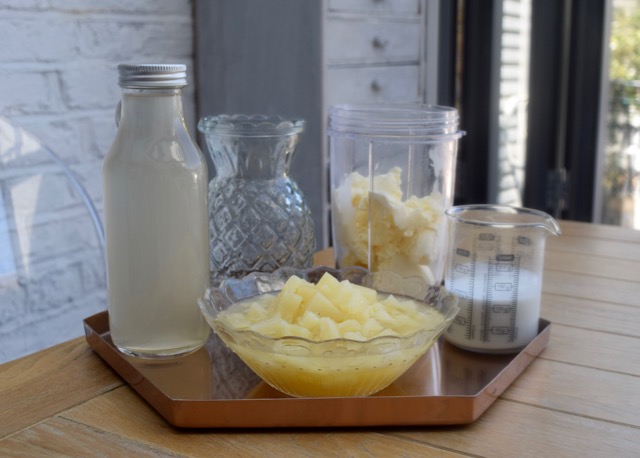 This is a supremely delicious way to utilise your brand new Homemade Coconut Rum, which Clyde and I inhaled. It has the feel of a healthy smoothie, but don't be fooled, this has a tasty whiff of booze and a couple of scoops of ice cream, so not totally health based.
I made this in stages as my NutriBullet couldn't accommodate the whole recipe, if your blender is bigger, just add all the ingredients and blend. If not, start by blending the vanilla ice cream and can of pineapple pieces, including the juice.
Once this is smooth and well blended, measure in the Homemade Coconut Rum and the coconut milk and stir well.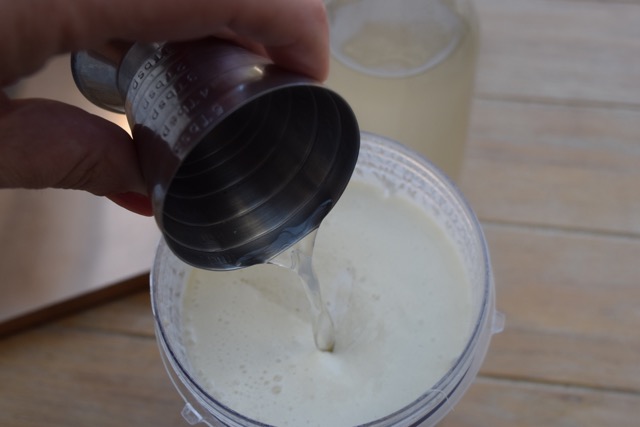 Pour into an amusing glass, pineapple shaped if possible, and garnish with a cocktail cherry, even though mine sank to the bottom of the glass as soon as I let go, and a paper straw if you like.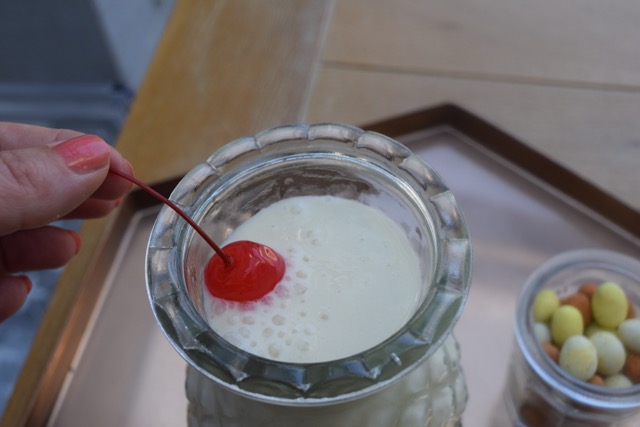 This makes 1 large milkshake for sharing, or 2 smaller ones, not for sharing, Try not to drink it straight from the blender, it's bloody tempting.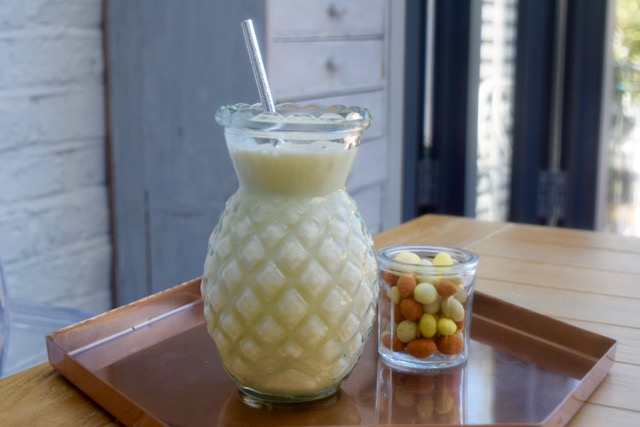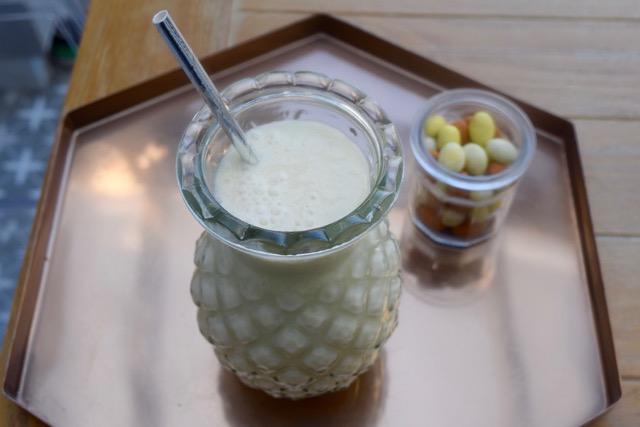 However, you utilise your Homemade Coconut Rum, this will make such a summery addition to your drinks cabinet. On a side note, as it's been infused with coconut, it may *or may not* be one of your 5 a day.
Happy summer holidays to you all if you're heading off soon, have a restful time.
Lucy x
Aldi kindly gave me a bottle of their Hopking White Rum, however, all opinions and ramblings are, as always, my own.
Homemade Coconut Rum Recipe
Makes approx 1.25 litres
You will need a large jar, two bottles to store and a sieve, muslin or coffee filter to filter
Coconut Rum
400ml water
300g caster sugar
300g fresh coconut, I used the pre cut pieces and didn't bother to remove the brown outer layer
750ml Hopking White Rum
Pina Colada Milkshake
Makes 2 small or 1 large milkshake
You will need a blender or NutriBullet
500g vanilla ice cream
250g tin pineapple pieces, with juice
120ml coconut milk
75ml Coconut Rum
A cherry to garnish
For the rum, make a start 2 weeks in advance. Take a large saucepan and add the sugar and water and bring up to the simmer, stirring to ensure the sugar dissolves. Tip in the coconut and simmer for a couple of minutes. Remove from the heat and leave to cool.
In a large jar with a lid, pour in the cooled coconut with the syrup then pour on your whole bottle of rum. Put on the lid and give it a good shake to mix everything together then leave in a cool dark place for 1 to 2 weeks. Taste after a week, but I left mine for 2 for maximum coconut flavour.
When you are ready to bottle your coconut rum, sieve either through a muslin or a coffee paper into a jug then decant into 1 large or 2 smaller bottles. Keep in a cool place and use in all your favourite cocktail recipes. You can eat the coconut or discard as you wish. I ate quite of a bit of mine, then felt a little tipsy.
For a Pina Colada Milkshake take your blender and add the vanilla ice cream. Tip in the pineapple pieces, with the juice and blend until smooth. Stir in the coconut milk and your Homemade Coconut Rum then pour into one large glass or 2 smaller ones. Garnish with a cherry then gulp through a paper straw.
SaveSave
SaveSave
SaveSave