Almond Slow Cooker Rice Pudding Recipe
The temperature is dropping as we speak and it's bloody freezing. We have our new boiler jacked up, a fire going and I am still wearing my bobble hat indoors. The kitchen is coming along nicely now, thank you for asking *you weren't* but I am still loving my slow cooker kindly sent to me by the lovely people at Crockpot. It's just so convenient, great value and produces delicious results regardless of the state of your kitchen. What with Christmas now officially hurtling towards us, I decided to meddle with a traditional Scandinavian festive dessert and create this Almond Slow Cooker Rice Pudding.
I love rice pudding, I have mentioned before I am sure, and my oven Rice Pudding, is a well used recipe in our house, in both the summer and winter months. So, when I stumbled upon this recipe from those Hairy Bikers, with thanks to them, for Almond Rice Pudding, I decided it could be just as easily adapted to be made in my new slow cooker. The addition of almonds is a Scandinavian tradition, one nut is left whole, while the others are chopped, and the finder of the whole almond gets an extra present. Result. The extra present for you is this nutty, slow cooked dessert authentically served with cherry compote and extra cream. The pudding is rich, creamy, has a bit of a bite to it and the cherries easily take it into a different realm. Serve with some double cream for added luxury and Scandi authenticity.
It's the start of December so we can officially embrace the Christmas madness from here on in. I've made my Christmas cake, given it it's first nip of brandy and I have even bought a couple of pressies. To have an Almond Slow Cooker Rice Pudding waiting for you when you get home is a wonderful gift as far as I am concerned. A big thank you to the Scandinavians for being so clever and inventing another super Christmas food tradition.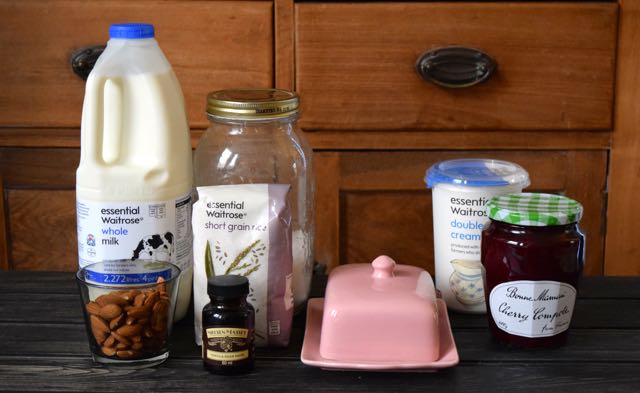 Super simple and super delicious. All you need to add is your slow cooker, although if you don't have one I can imagine this would also cook well in a standard oven. I love this Bonne Maman Cherry Compote, it's not too sweet and is the perfect accompaniment to this creamy pudding. Or with Greek Yoghurt, or a slice of sponge or even straight from the jar.
Make a start on this slow cooker treat by buttering the inside of your Crockpot bowl.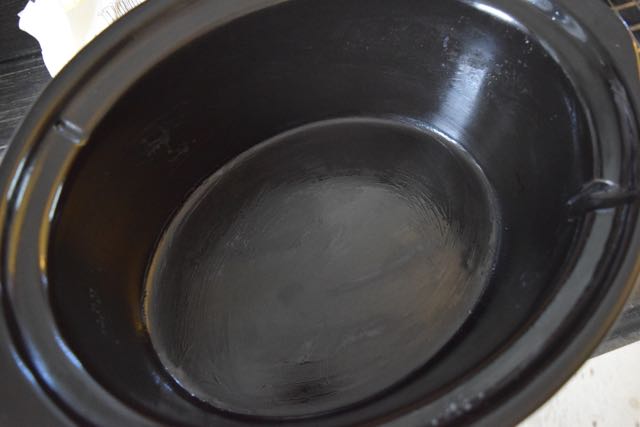 Next, tip in the rice, caster sugar, dots of butter and vanilla paste or extract.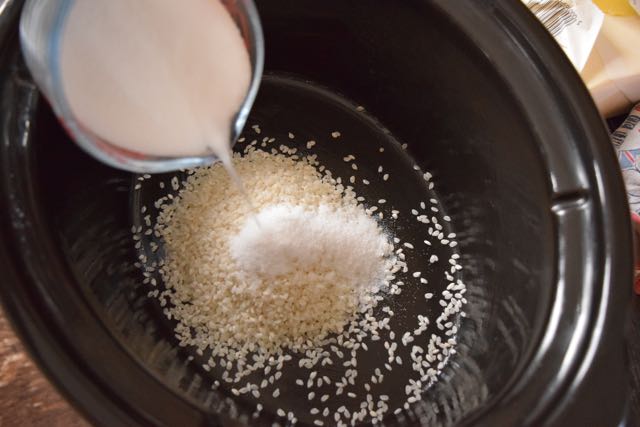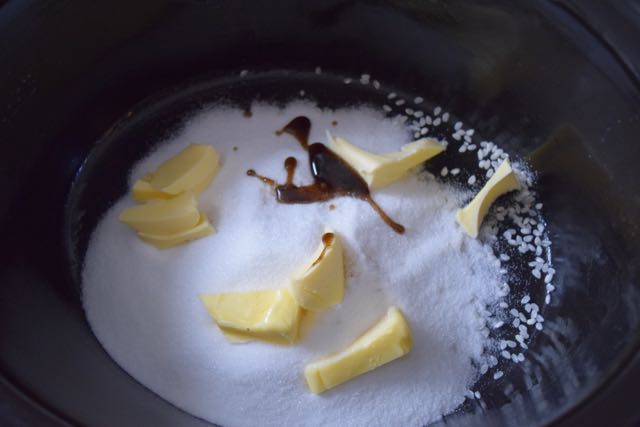 Pour on the milk then stir through the chopped almonds. Keep one almond whole, the lucky recipient of this nut gets an extra Christmas present.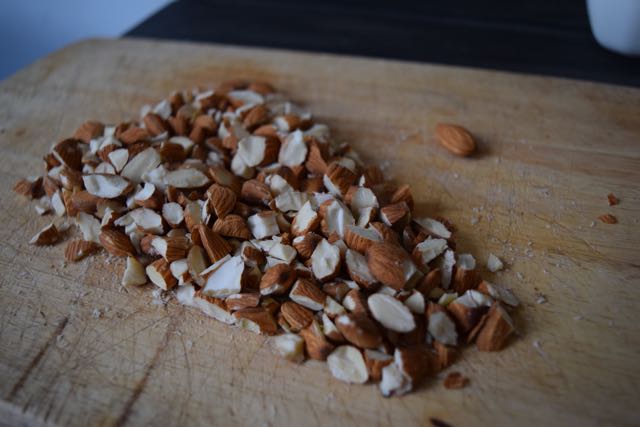 Make a bit more of an effort with your nuts, mine weren't that finely chopped *slack*.
Turn your slow cooker on to low, put the lid on and cook for 4 to 6 hours. Give the glorious rice an occasional stir during the cooking time.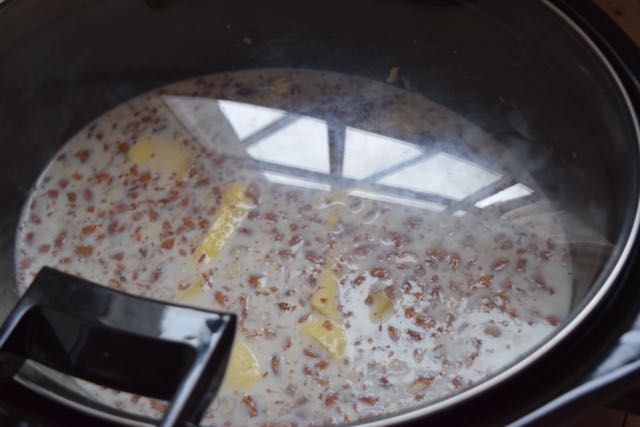 My rice pudding was ready after 3 hours on low and 1 on high. I got impatient towards the end and turned up my slow cooker, but do feel free to leave on low for the whole time if that suits your schedule.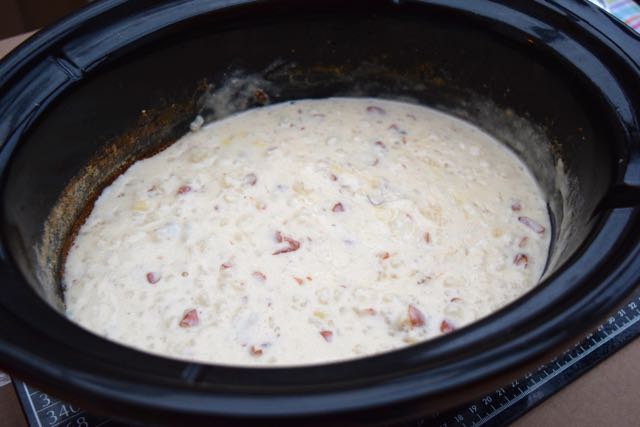 Serve this creamy treat by the bowlful with cherry compote and double cream, to stick to tradition.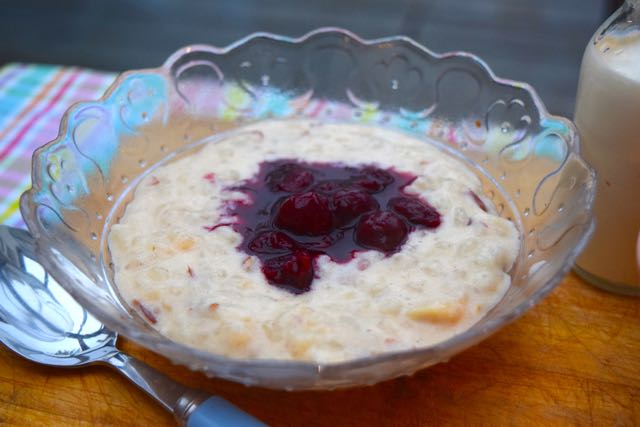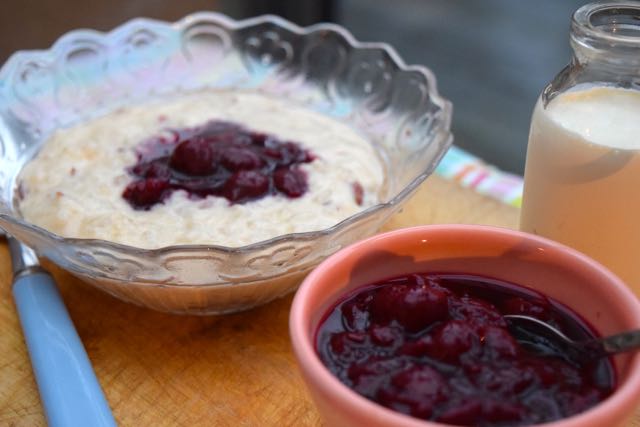 I didn't get the whole almond, well not as far as I know. I may have just chomped right through it in my haste to eat bowl after bowl of this creamy rice pudding. So simple, comfort food at it's best in my mind. As rib sticking desserts go, this is the winner for me.
Lucy x
Almond Slow Cooker Rice Pudding Recipe
You will need a slow cooker
Serves 6 to 8
150g pudding rice
40g butter, cubed, plus a little to to butter your slow cooker
125g caster sugar
2 teaspoons vanilla extract or paste
1.25 litres full fat milk
100g finely chopped almonds, keeping one almond whole
Cherry compote and double cream to serve
Take your slow cooker dish and butter well to stop sticking. Pour in the rice, butter, sugar, vanilla and full fat milk.
Finely chop the almonds then stir into the pudding mixture. Put the lid on and switch the slow cooker onto low for 4 to 6 hours. I cooked mine for 3 hours on low and an hour on high. Stir every couple of hours.
When the rice pudding is good and thick, serve with cherry compote and double cream. Any left overs keep well in the fridge for a couple of days, reheat or just serve them cold.