Baklava Recipe
Well that's it, my holiday is over again for another year. I love to holiday, but then, briefly, I love to come home. The pre holiday build up and all it's manic-ness often leads me to wonder why we go away at all. Only to arrive, feel blissfully relaxed with warm, comforting sunshine on my face and, as my shoulders remove themselves from up around my ears, I realise I love, love, love holidays and actually never want to come home. How I made it to 46 and 50 weeks before visiting Greece seems bizarre, but now, try stopping me from racing back. Corfu is divine, and quite the friendliest place I have come across. We have all bought home some beautiful memories, as well as a rather pretty charm bracelet, the most overriding for us all being huge, sweet slices of Baklava. So much so, we've only been back less than a week and already I have fashioned this version to share with you today.
I dread to think how many litres of rosé we have imbibed over the last 10 days, that in combination with various souvlaki based skewers, Saganaki cheese and bottles of Mythos beer have led to a super tight waistband on my jeans. I do fear the main offender on the weight gain stakes may well be the giant slabs of Baklava we felt compelled to sample at the end of each meal. Each taverna we dined at had their own Baklava offerings. Some with custard, some with tons of nuts, some with less, but our favourite version is pretty much a perfect match with my Baklava recipe I am sharing with you today. Crisp filo pastry, rich nuts all doused lightly in a syrup fragranced with orange and cinnamon. I haven't had great experiences with shop Baklava in the past, but this recipe, based on one from the completely un-Greek God, Jamie Oliver, with thanks, is a total winner.  There's no sogginess, it's sweet but you don't feel although you're about to lose all your teeth and it has just the correct amount of spice. Bloody brilliant Baklava.
We genuinely loved Corfu and are already planning a return trip such was our love of the landscape, wonderful folk serving wonderful food and clear blue sea. Next year, however, I will ensure I pack a few more elasticated waists.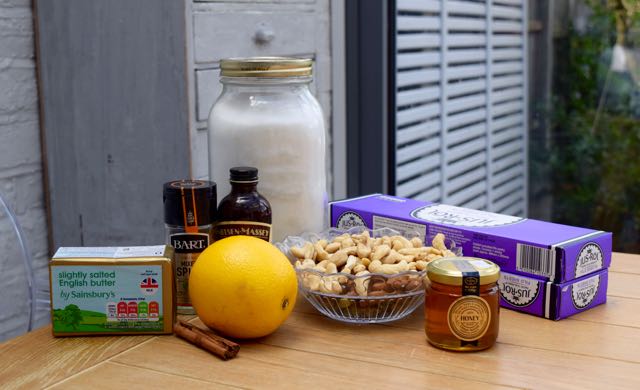 Quite a sweet line up, but tempered by the creamy nuts and a slight tang of orange. There's my pot of Greek honey I popped in my suitcase after much tutting from Clyde who gets cross with me when I bring home holiday tat. The honey was just right for my Baklava though, not too sweet, and with a great flavour.
Make a start by pre heating your oven and buttering a large rectangular baking tray, butter it using some of the melted butter allocation.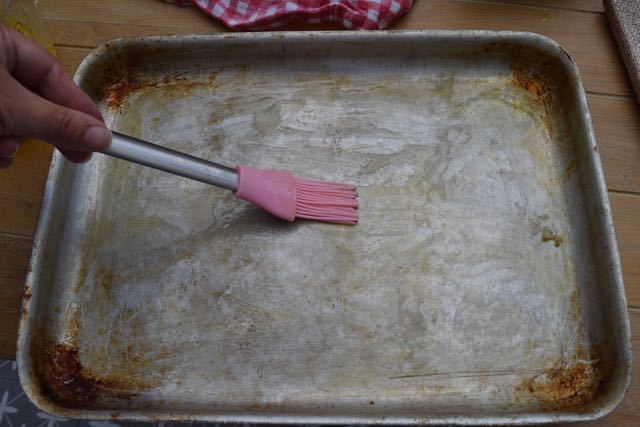 Don't dwell on my slightly crusty old baking tray, it has character and adds flavour.
Now, get to work on the fragrant syrup. Place the sugar, cinnamon stick and orange peel in a medium sized saucepan. Pour on the honey of your choice. Use a good quality one as it adds huge flavours the syrup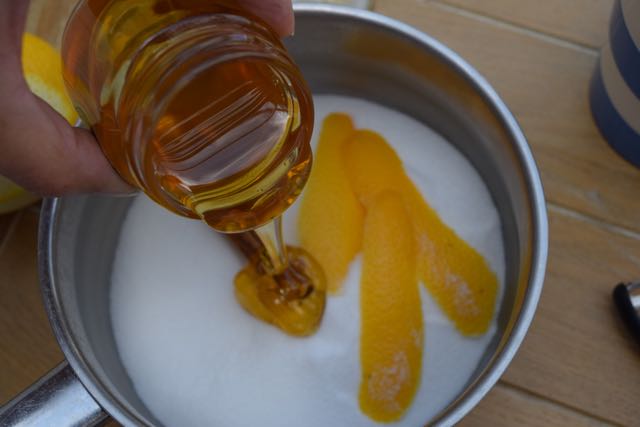 Pour on the water then bring it to the simmer over a low heat on the hob.
Stir well to ensure the sugar has dissolved then simmer for around 15 minutes or until the liquid has reduced by about a third.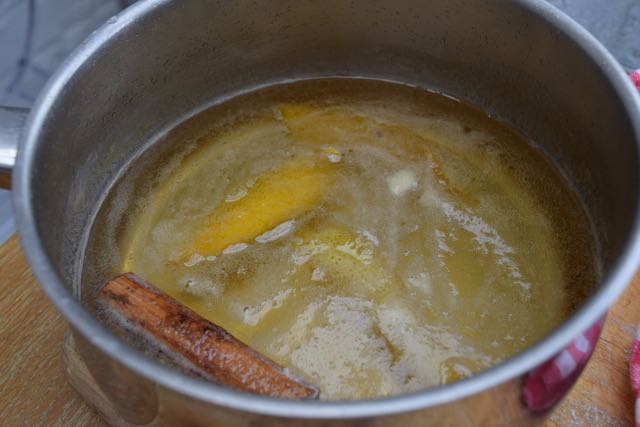 Stir through an optional teaspoon of vanilla extract which I added because it adds a softness. Then leave to cool completely while you crack on with the actual Baklava.
Chop your nut selection into a nutty rubble using a food processor or small chopper or a bloody sharp knife. You don't want dust here, just a good sized chop. I forgot to order walnuts from Ocado this week, so used a selection of almonds, pistachios and cashews, but I presume any selection of nuts would work well.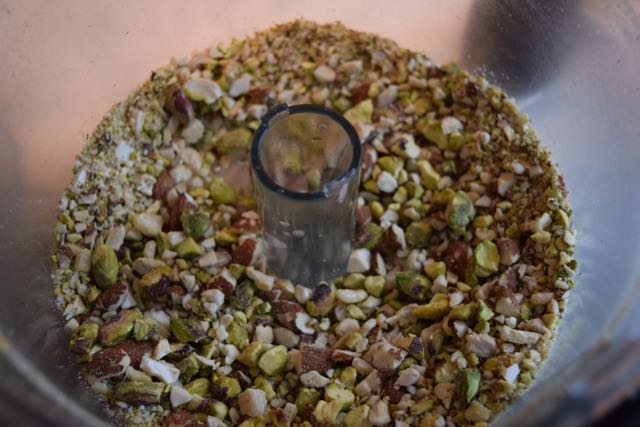 Stir through the spices, then put to one side. I used mixed spice but the original recipe called for a little ground cloves and some cinnamon, so use your personal favourites.
Take your melted butter and your filo pastry. Unwrap the pastry and place under a damp tea towel or kitchen roll to stop it from drying out whilst you prepare the dish.
Take your buttered baking tray and layer four layers of filo pastry. Well butter each one between layers.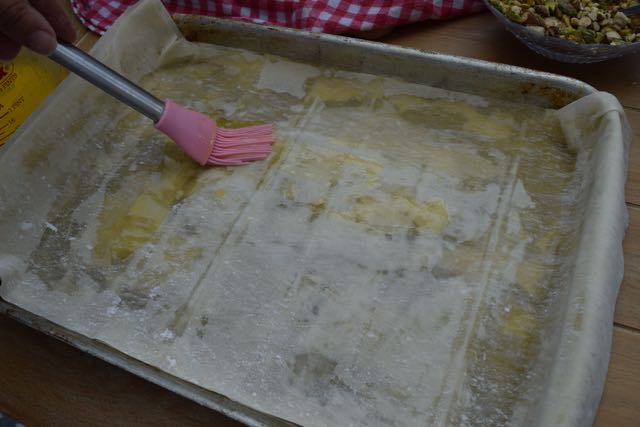 Don't worry about any overhang, you can trim that afterwards. Once you have four layers, sprinkle on half the nuts and fashion them into an even-ish layer.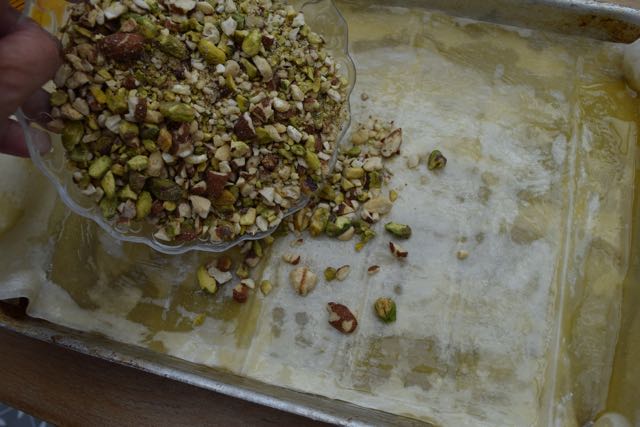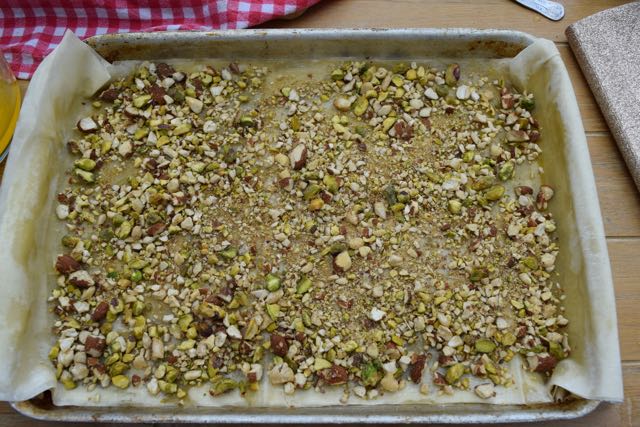 Layer on another four sheets, again buttering each one, then tip on the final half of nuts and spread out. Top off with the final four buttered sheets of filo, buttering the last one really well. You will probably have a couple of sheets spare, use them as the base for a small quiche with summer courgettes, parmesan, tomatoes and basil. Or throw away, if you aren't a food hoarder like me.
Trim any tatty edges and then cut into squares. I cut mine on the diagonal to make diamond shapes. It is quite hard to cut, but make sure you cut all the way through the layers using a sharp knife.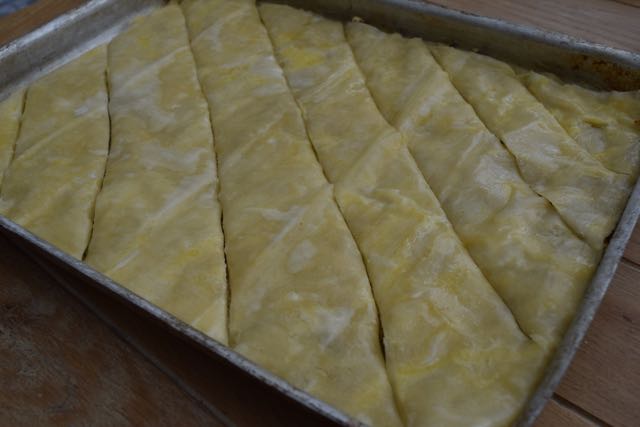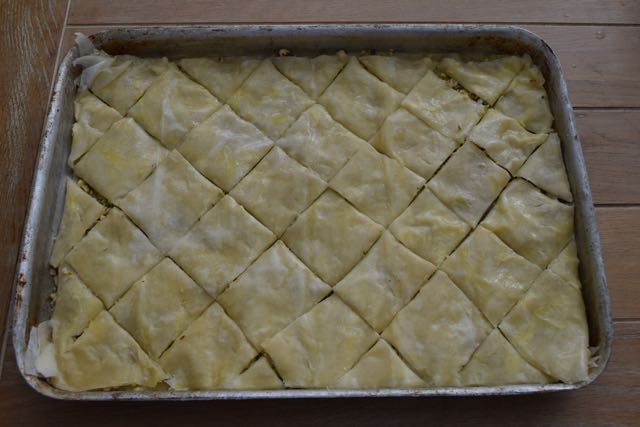 Bake this beauty in your pre heated oven for around 3o minutes. If it gets too brown too quickly, turn the oven down by 10 degrees. Your Baklava is ready when it's golden, crisp and the layers are cooked through.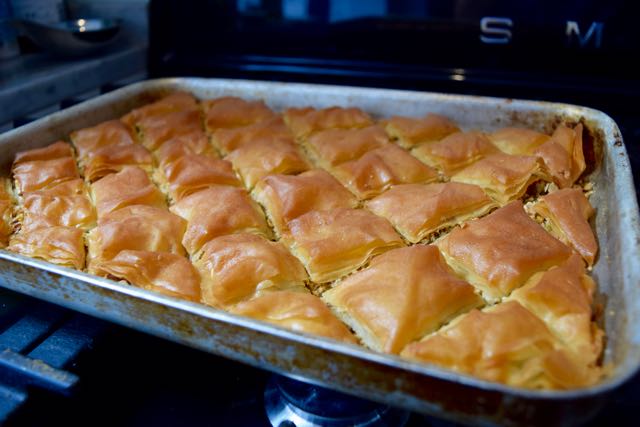 Try not to burn your hands snaffling a piece straight from the pan as you still have work to do. Drizzle over half the now cold syrup then wait for 5 minutes before spooning over the rest. Do make sure the syrup is cold, if it's warm the pasty will be soggy.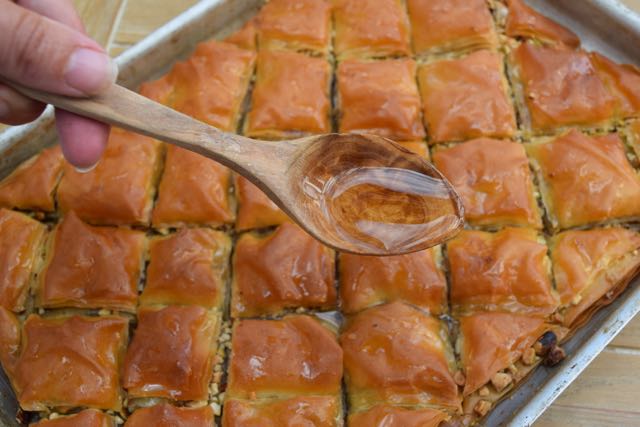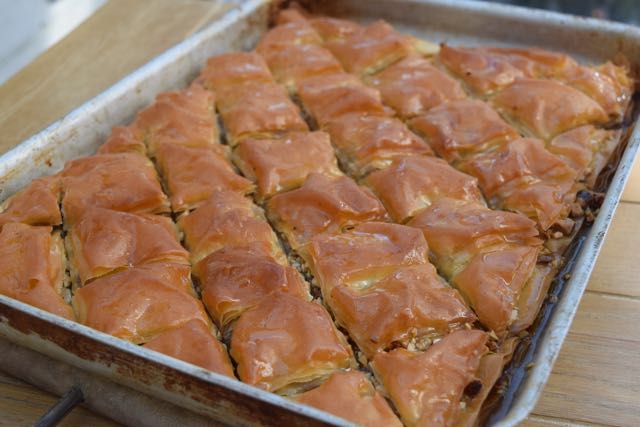 Leave to cool completely before devouring. Have with tea or as a pud with ice cream, cream and crushed pistachios.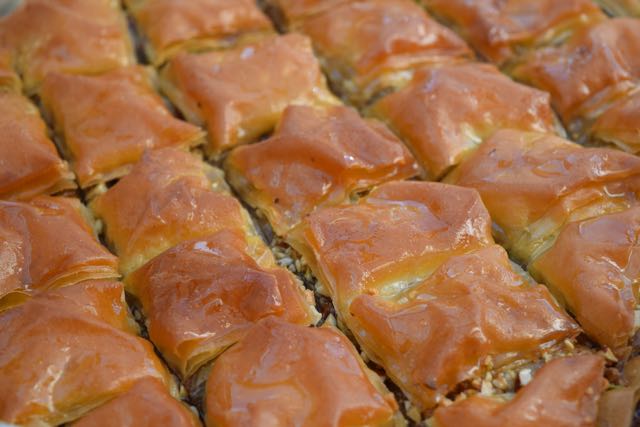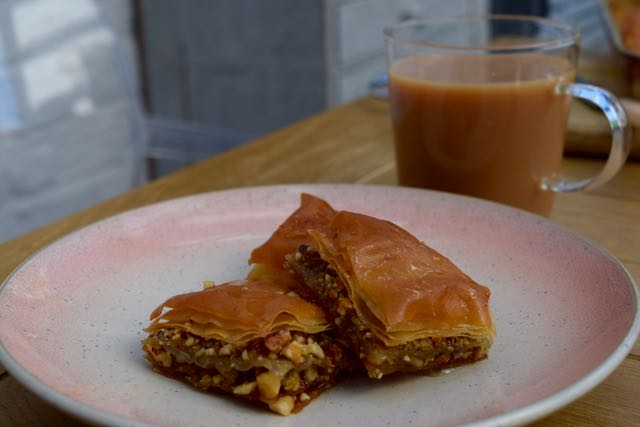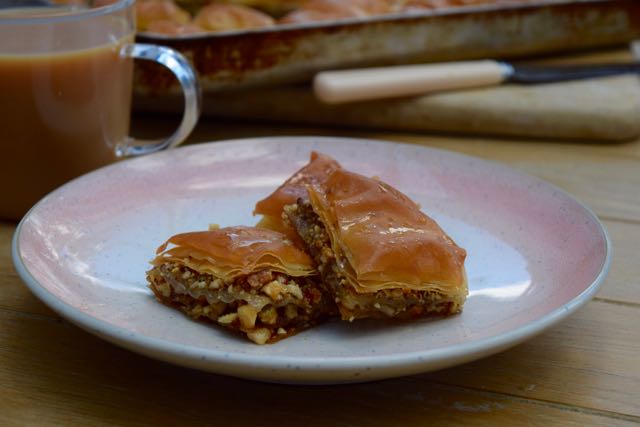 I ate so much of this batch, I can barely look it in the eye now. That doesn't mean to say I've had enough of Baklava, that would never happen. I am sure there's an expression, those who tire of Baklava, tire of life. Or something similar.
It's good to be home. Kind of. Apart from the pouring rain. Ok, it's rubbish to be home, but there's always next year.
Lucy x
Baklava Recipe
You will need a large rectangular, shallow, baking tray and some sort of nut chopping implement
This recipes makes a big tray, around 25 pieces
300g caster sugar
3 strips orange peel
1 cinnamon stick
100ml honey
300ml water
1 teaspoon vanilla extract, optional
100g almonds
100g pistachios
100g walnuts, I used cashews as that was what I had
2 teaspoons mixed spice, or the original recipe called for ground cloves and cinnamon, so you could use these
2 x 270g packets filo pastry, you will have a couple of sheets spare
200g butter, melted
Pre heat your oven to 160 degrees fan assisted and butter your baking tray really well with some of your melted butter.
Take a medium saucepan and add the caster sugar, orange peel and cinnamon stick. Pour in the honey then top up with 300ml water. Bring to the simmer and then turn right down and cook for around 15 minutes or until the syrup has reduced by around a third. Leave to cool completely.
Take your chosen nuts and chop them finely, either in a food processor or chopper. Leave them relatively chunky, you don't want nut dust. Stir through the mixed spice and pop to one side for a moment.
Take your filo pastry and remove from the packaging. Place the pastry under a damp towel so it doesn't dry out and crack. Lay your first layer of filo pastry in the tray and brush generously with your melted butter. Add another 3 layers of pastry, brushing each with melted butter. Tip half the crushed nuts on the fourth layer, then lay on and brush with butter another 4 layers of pastry. Add the final layer of nuts followed by another 4 layers of filo brushed with butter. Generously butter the top layer then cut the baklava into squares using a very sharp knife. Trim any overhanging edges, then bake in your pre heated oven for around 25 to 30 minutes. Keep an eye on the pastry, if it is browning too quickly, turn the oven down to a touch. The Baklava is ready with the pastry is golden and crisp.
Once out of the oven, spoon on half of the cooled syrup, drizzling evenly over the top. Leave for 5 minutes then pour on the rest of the syrup.
Leave to cool completely before removing the Baklava squares from the tin. Serve with ice cream and more sprinkled nuts or with a lovely cup of tea or coffee.
Store in an airtight tin for a couple of days.
SaveSave
SaveSave
SaveSave
SaveSave
SaveSave
SaveSave
SaveSave