Teddy's Dog Treats Recipe
March is birthday central for me. It's a non-stop round of card writing and cake baking with my Mother, both my nephews and assorted friend's birthday's catching me out. And to top it all, it's our dog, Teddy's, birthday in March. So as I am up to my neck in birthday cakes, it's the dog I am baking for today.
I know, I can hear you saying it now – baking for the bloody dog, just buy a box of Bonio. Well, I thought is would be fun to make dog treats and at least this way you know what's going in them. And, I have to say, George and I did try these treats ourselves and they taste like quite nice crackers, albeit, a touch on the bland side. I actually had to wrestle them away George as he was eating more than Teddy. This wonderful recipe came from the stylish Wit and Whistle, so thanks goes to them.
Teddy, my friend's Spaniels and Retrievers and my sister's dog, Dotty, have all given these treats a huge seal of approval. In fact the jar is already three quarters eaten, and I am hoping it is Ted eating them, not George.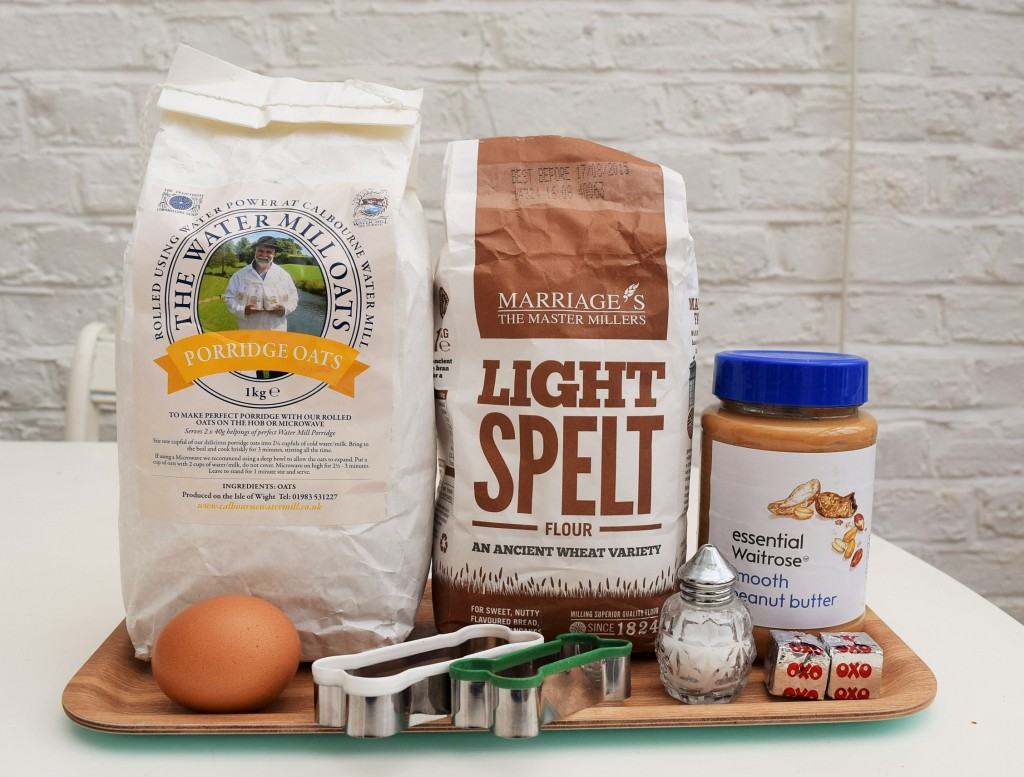 Quite a pretentious looking set of ingredients considering they're for the dog. But at least they are all also suitable for human consumption, unless you have peanut allergies to be taken into consideration. I over did the Oxo in the photo too, such is my love for Oxo. You only need a scant one cube.
So, start spoiling your mutt by taking a large bowl and adding the flour and oats.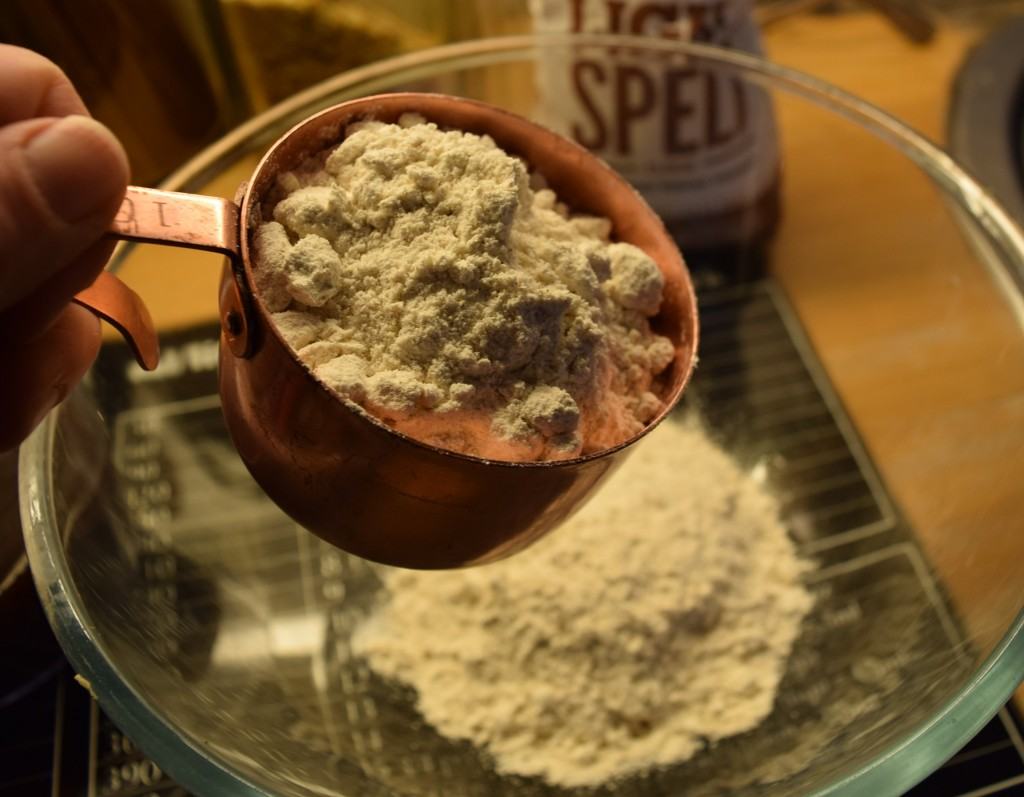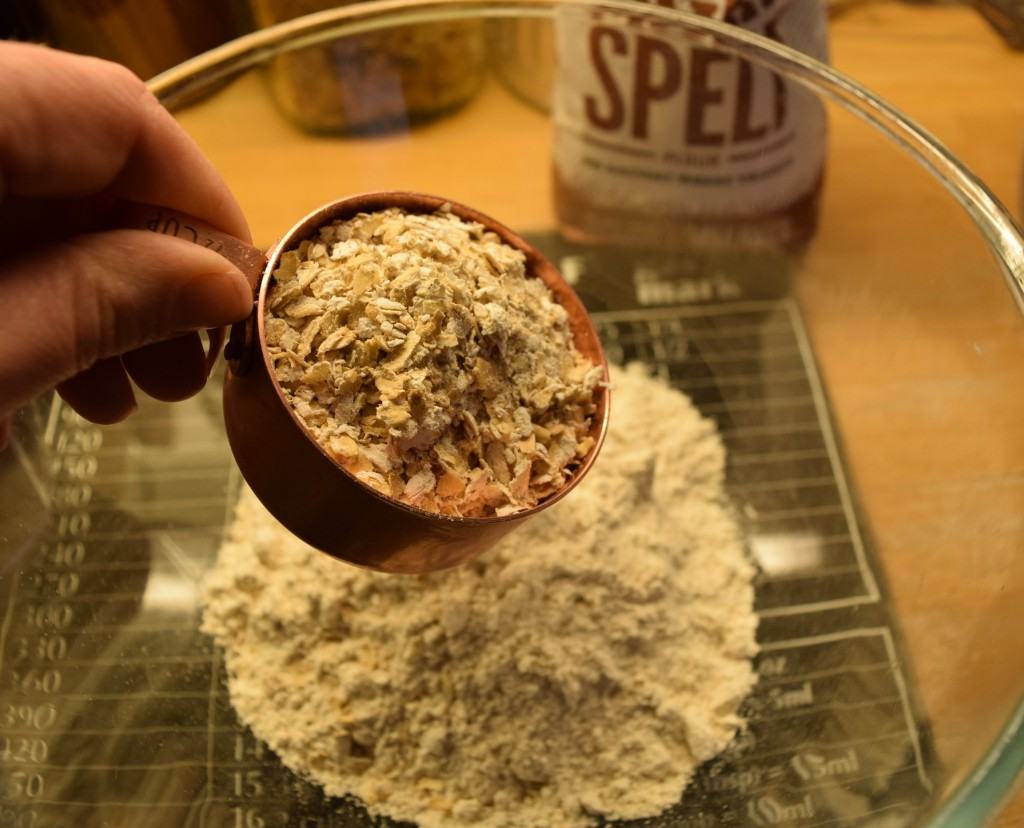 Spelt flour for the dog indeed. Spoilt brat. It was actually the only brown flour I had to hand, so do feel free to use whatever brown, or white flour you have in your cupboard.
Add a pinch of salt then crack in one egg and pour on the 125ml of Oxo beef or chicken stock.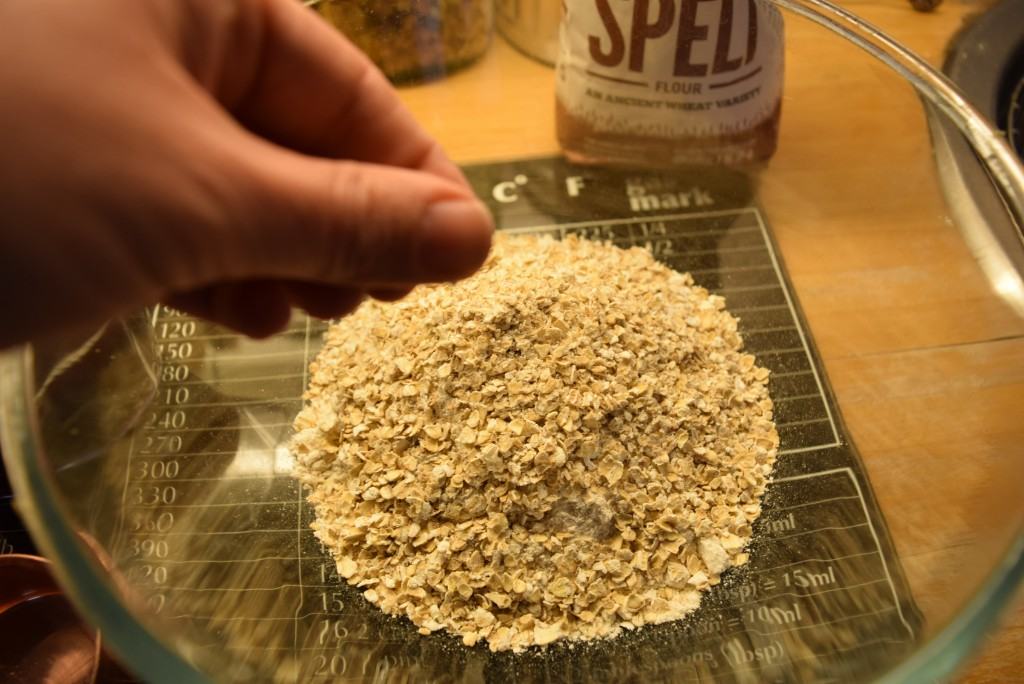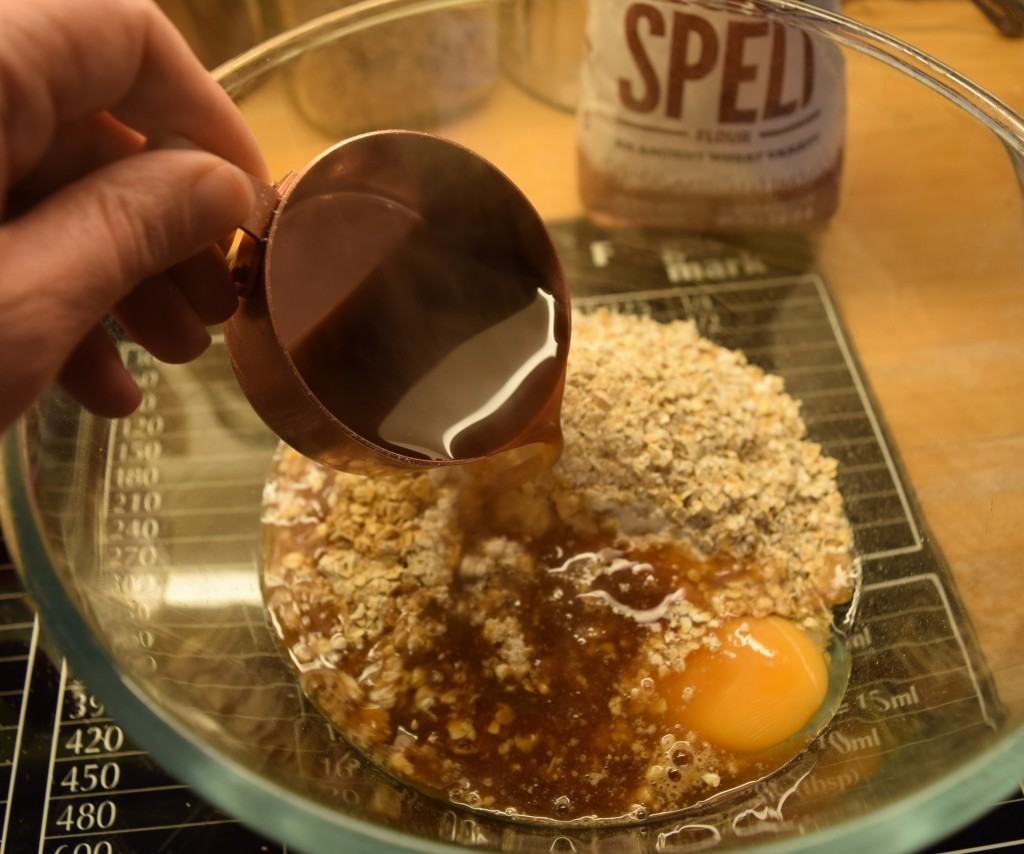 Add the peanut butter to this mix then stir together with a spoon at first, then man up and go in with your hands to create a soft dough. If it is a touch on the dry side, add a tablespoon or two of olive oil. Ted suffers with sensitive skin, and olive oil on his dog food helps ease this, so it won't do any harm to add a touch to these treats.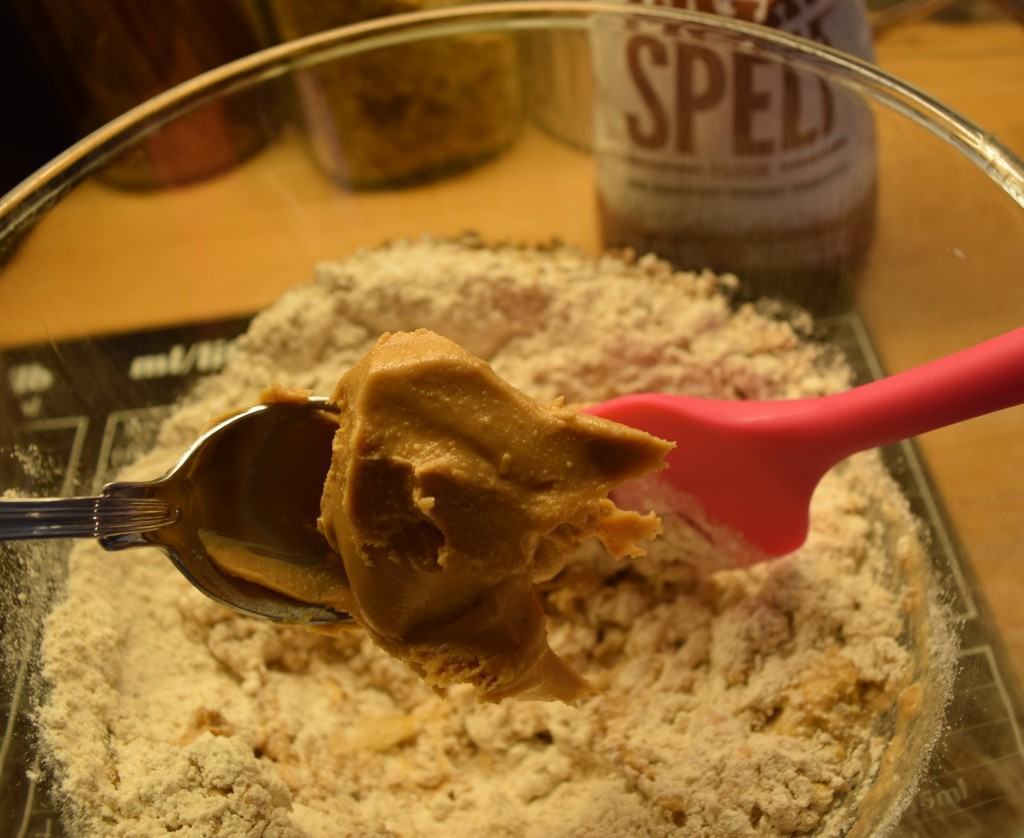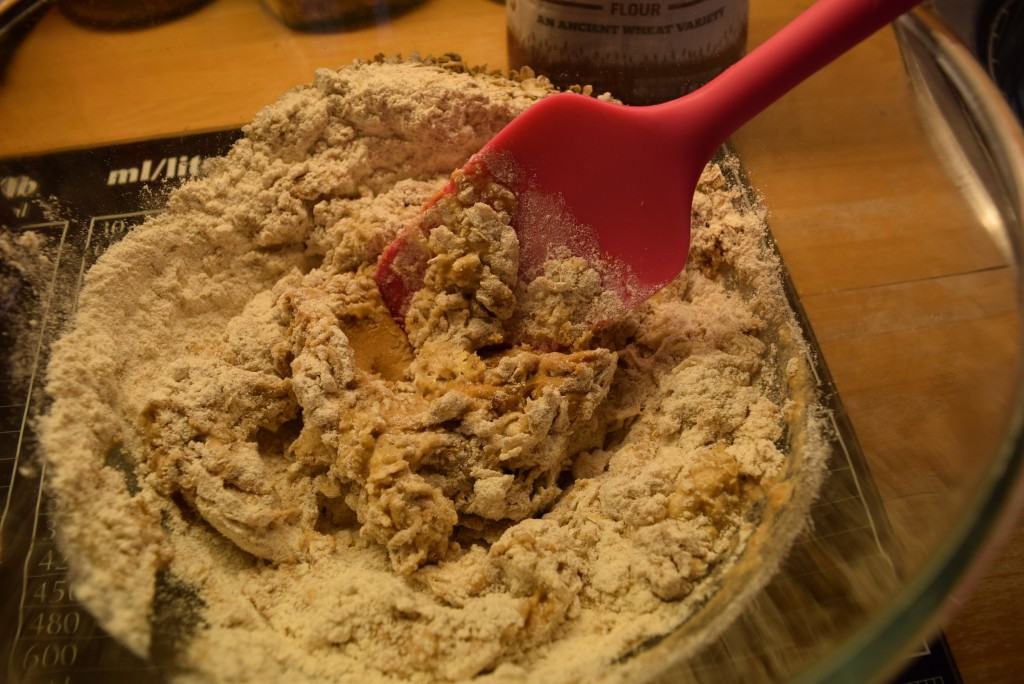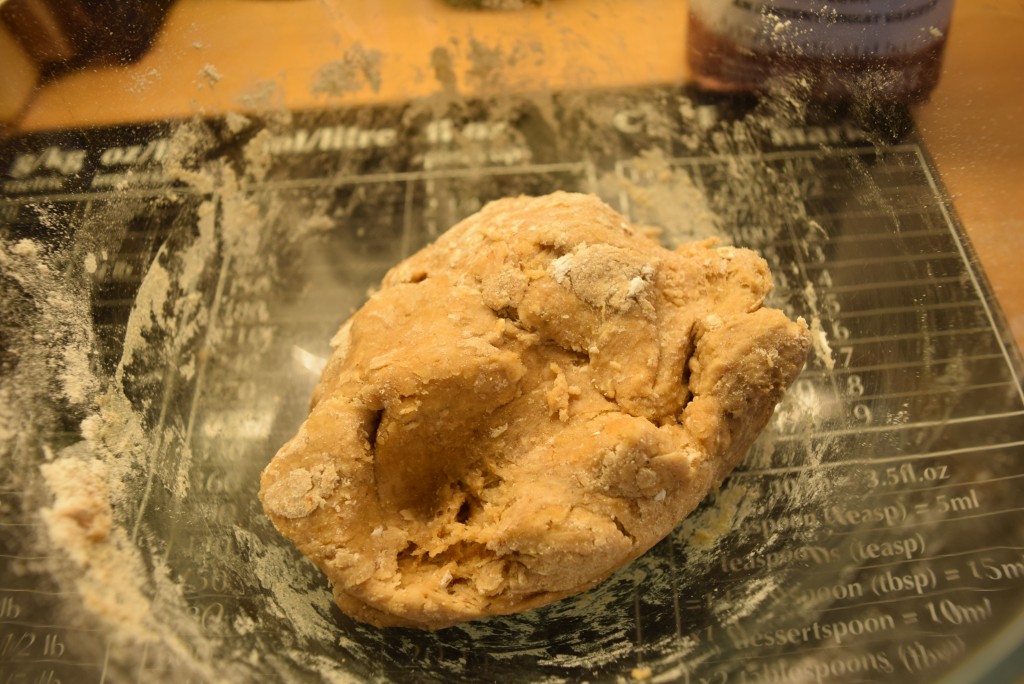 Roll this sturdy dough out to around 3/4 cm thick, but don't be too precise here, no rulers for goodness sake. Then choose a comedy cutter to cut it into shapes. I chose bones, for obvious reasons, and some small stars for a less filling treat.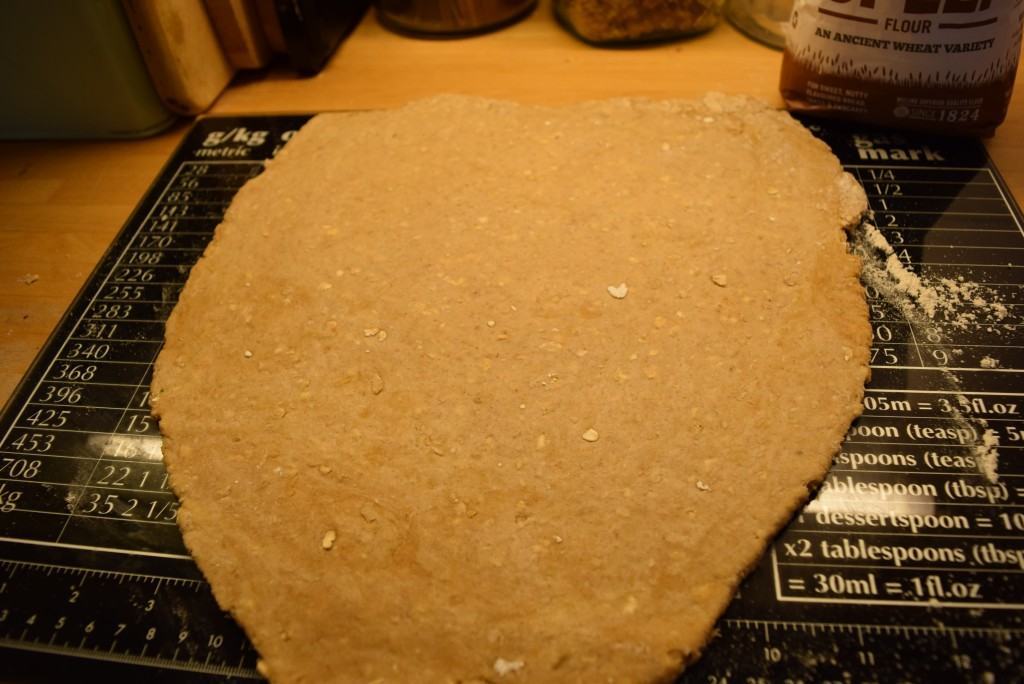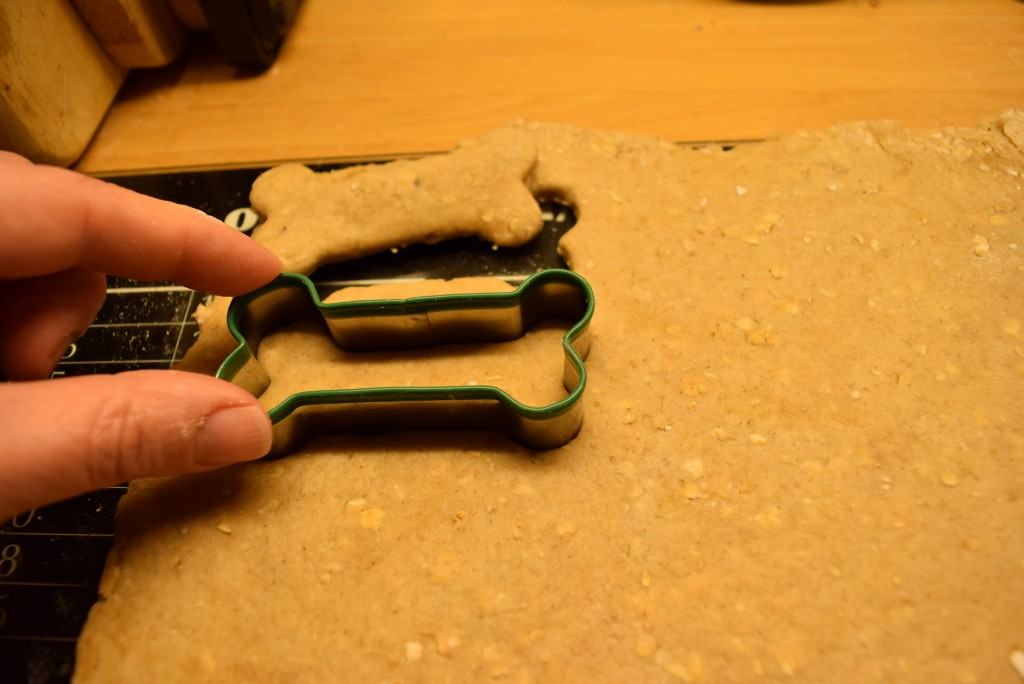 Pop the treats on a lined baking sheet and bake in a medium hot oven for around 30 minutes, depending on the size of cutter. The dog biscuits should be golden brown and crisp.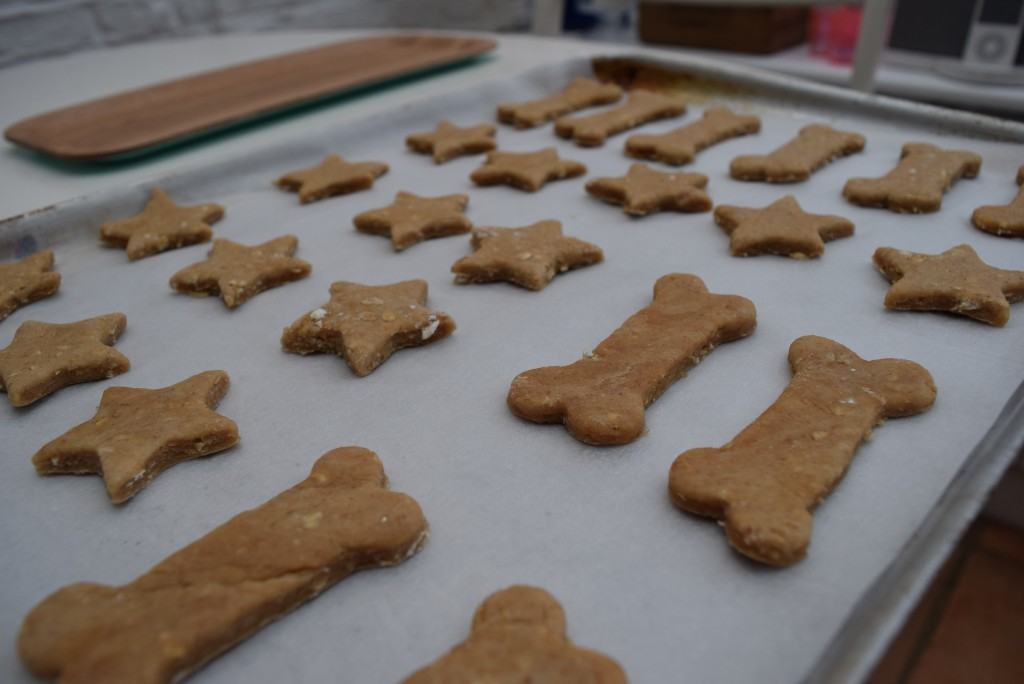 And here they are, crisp and smelling wonderful.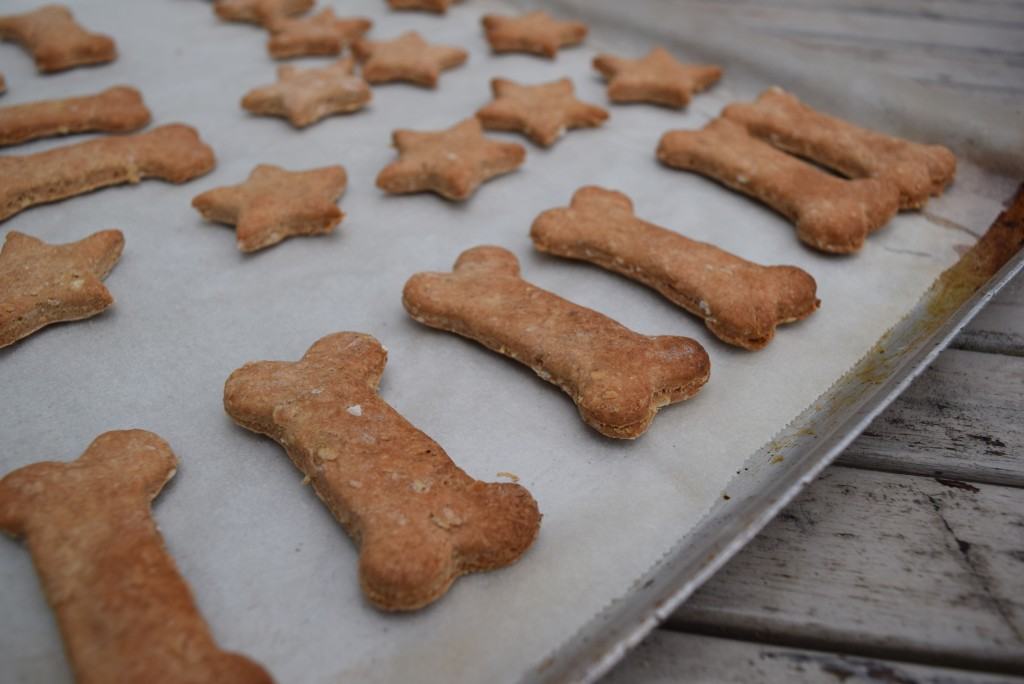 Ted couldn't even wait for them to cool before he got to quality control one.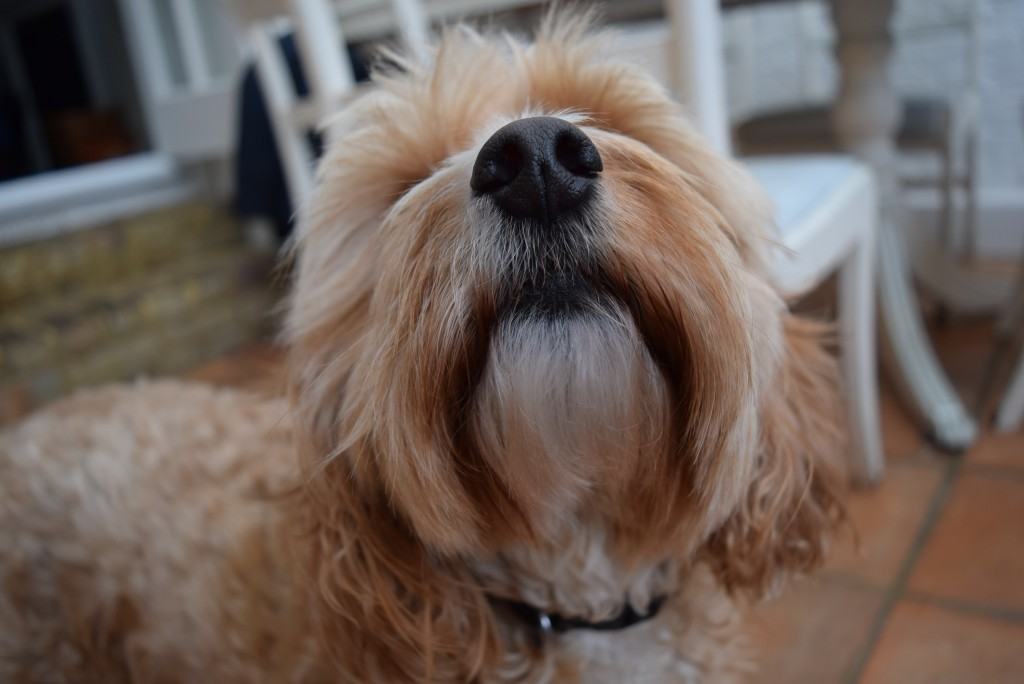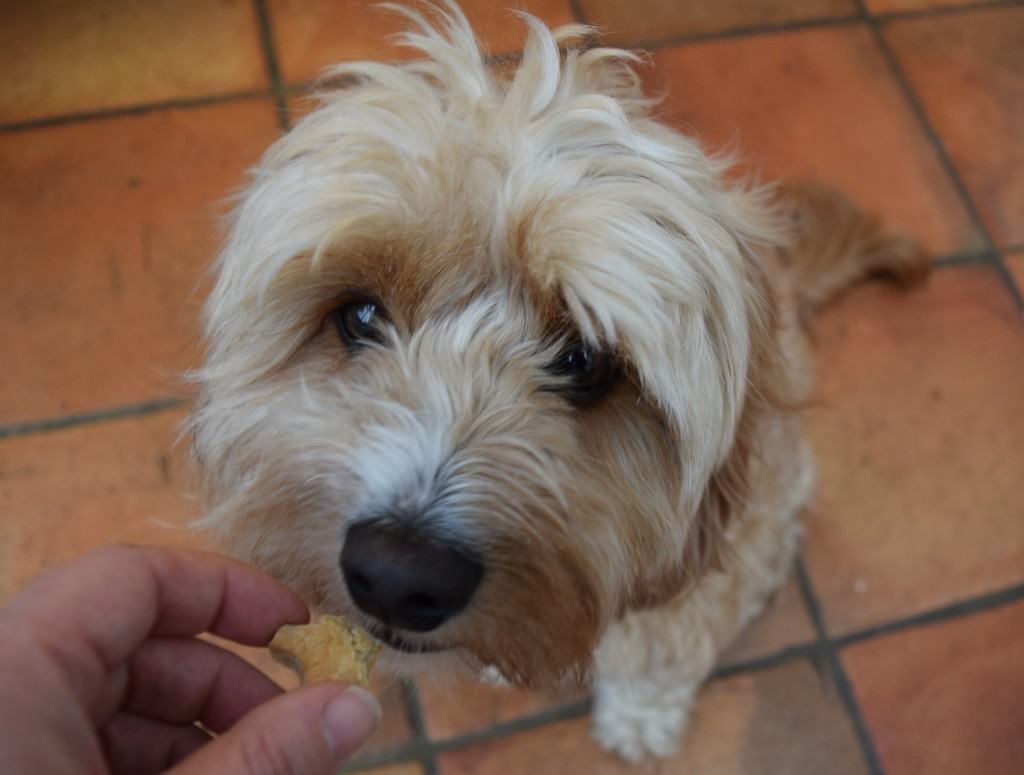 His fringe needs a trim.
Poor Pickles had a face like a cat's arse and was feeling very left out. Anyone know a good cat treat recipe?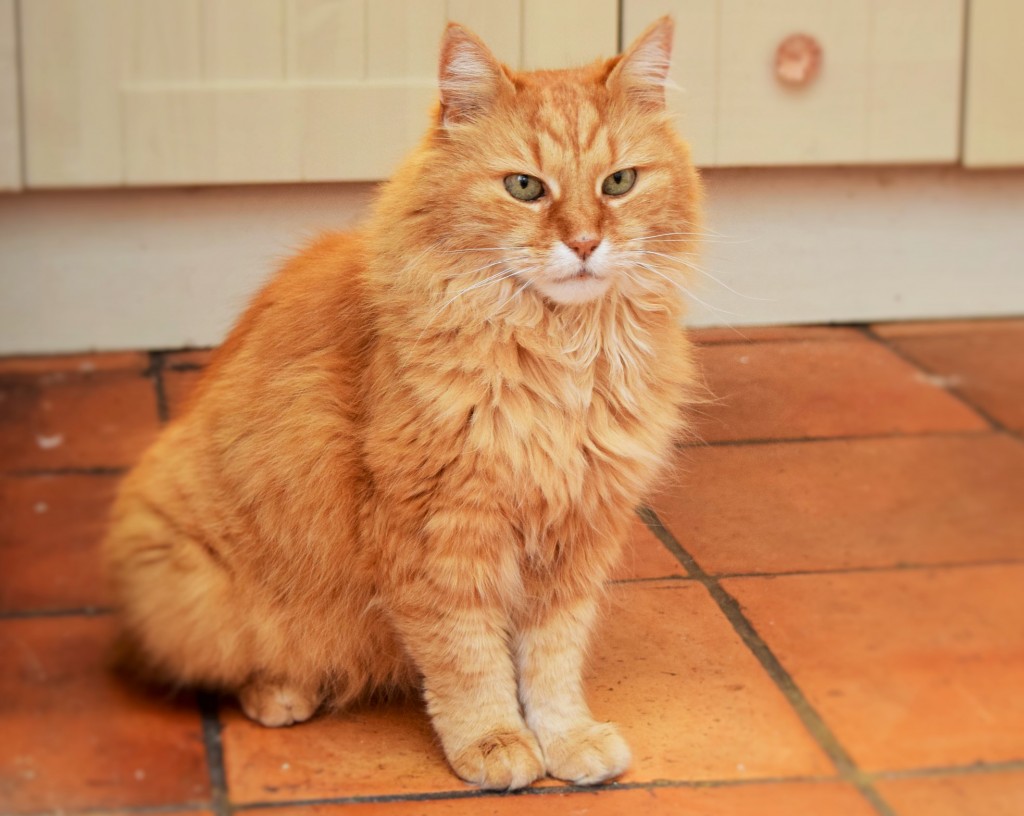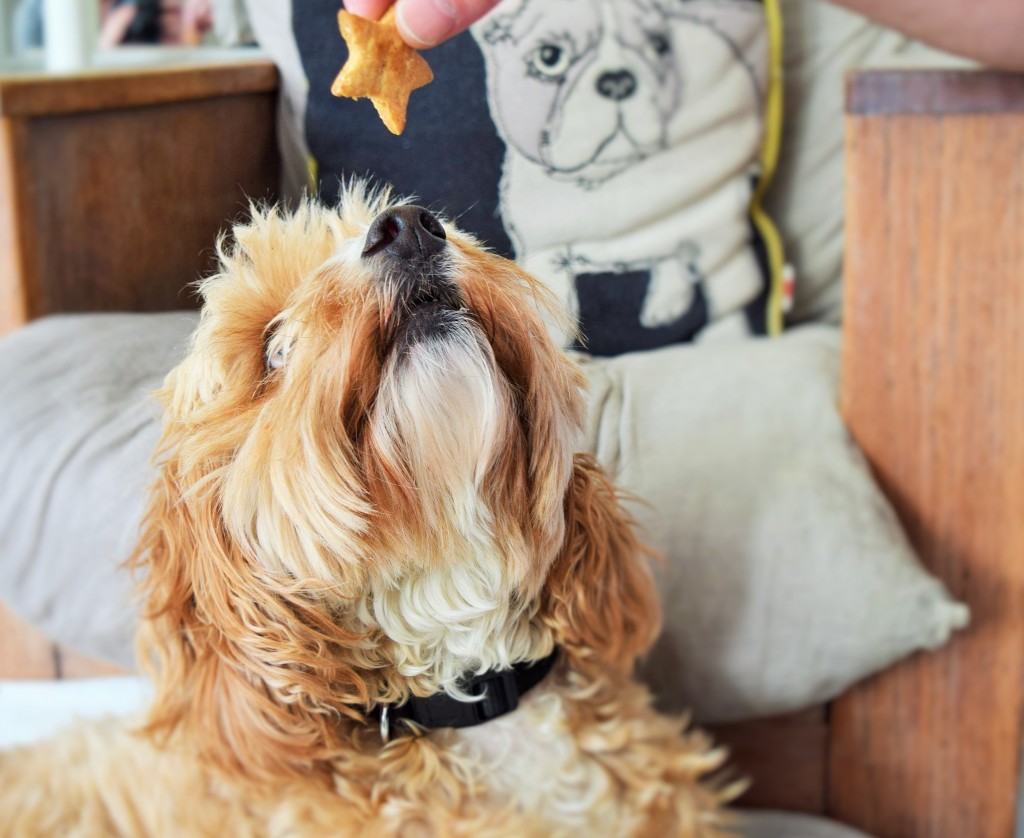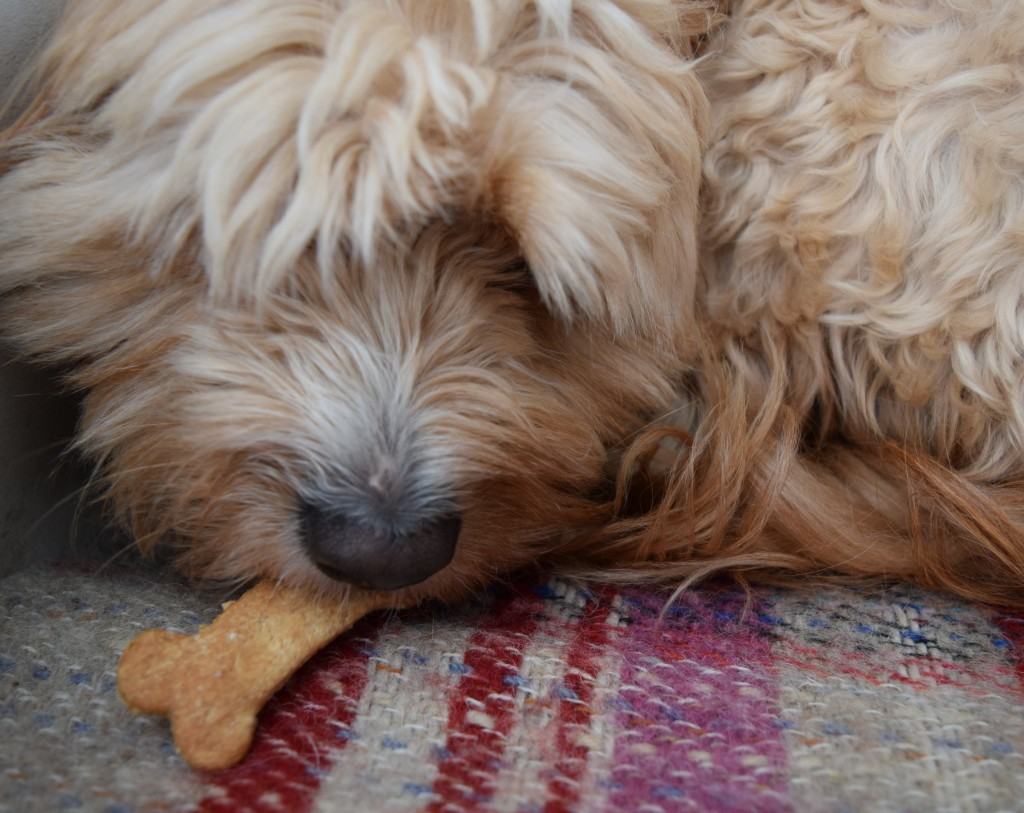 Keep these wonderful biscuits in a pretty jar by the front door, for any passing pooch who's in need of a treat.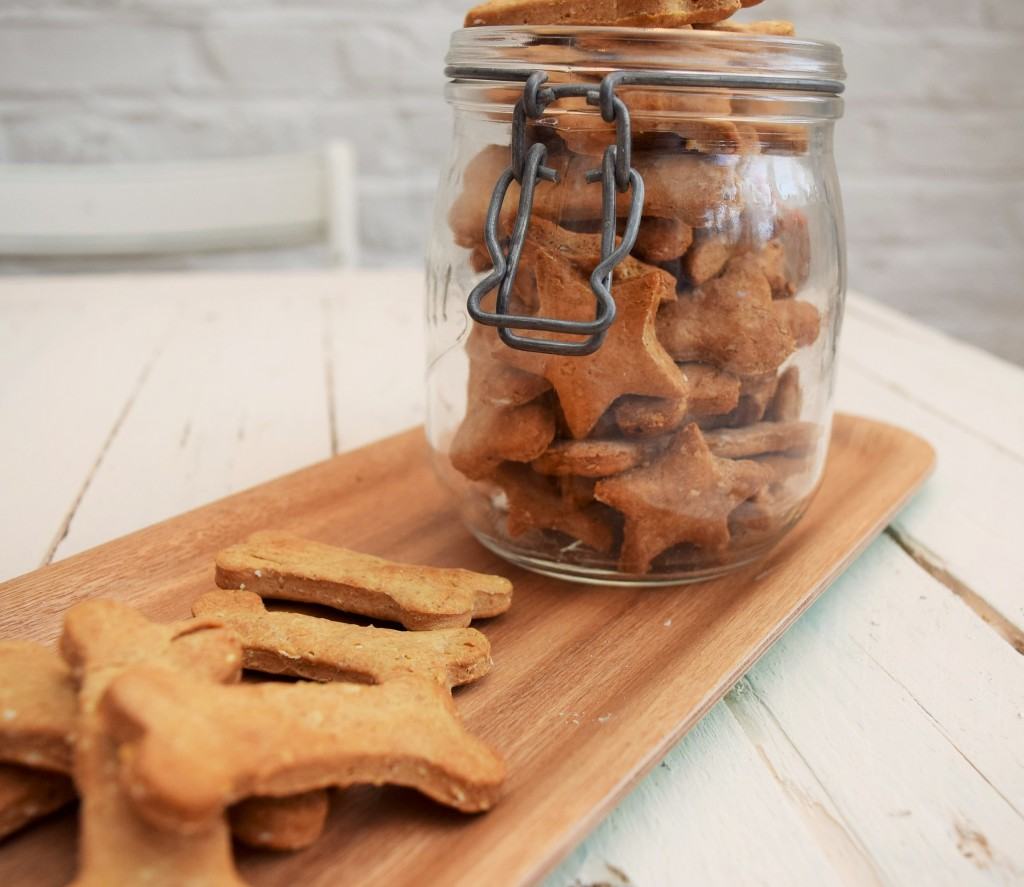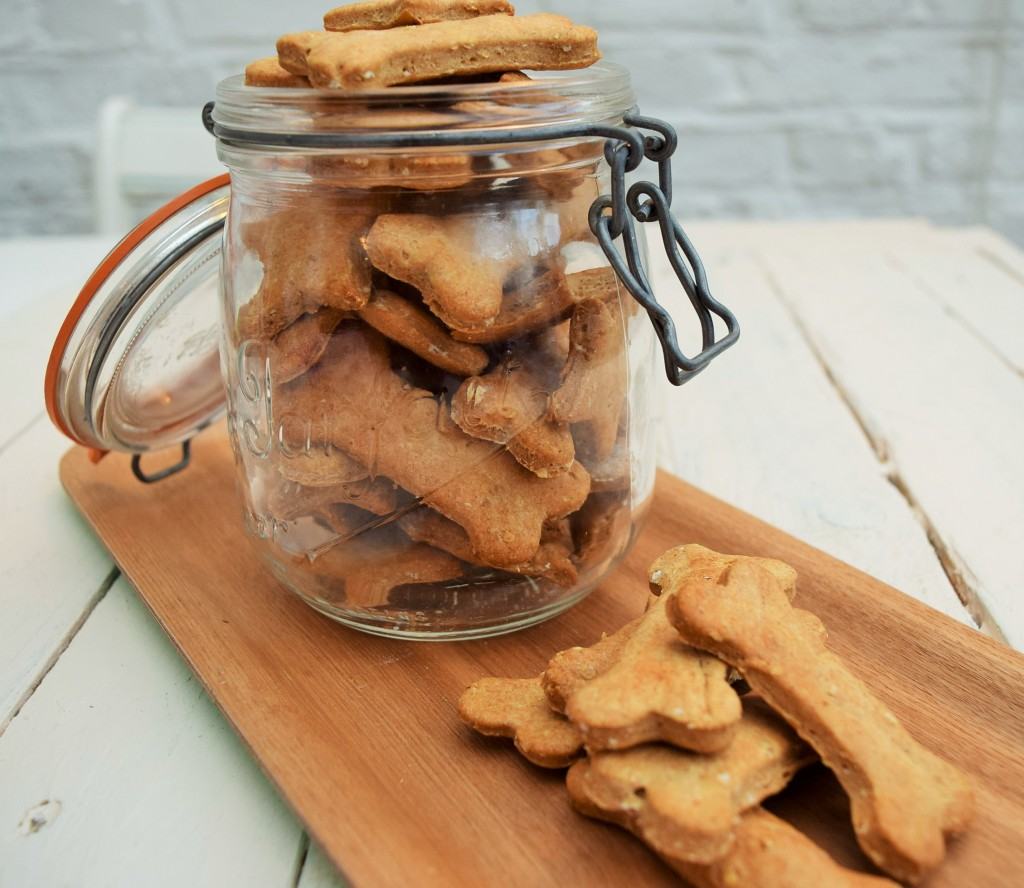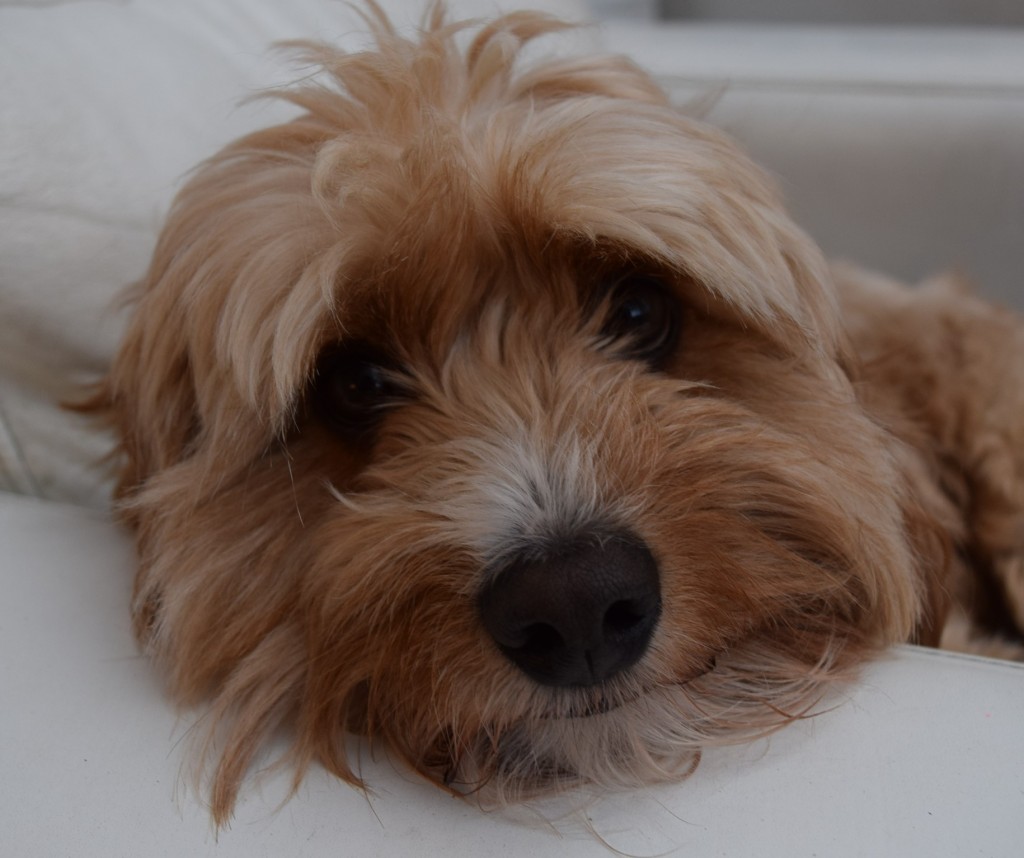 Although, judging by Ted's face, he doesn't feel like sharing these with anyone.
I hope your pampered pet gets to try these delicious goodies. And when they look at you with such love in their eyes, how can you resist making a bit of extra effort for them.
Lucy x
Teddy's Dog Treats Recipe
You will need a lined baking sheet, assorted cutters and a jar to store the treats
Makes around 35 to 45 treats, dependent on your cutter size
280g spelt or brown flour, whatever you have to hand
70g oats
a pinch of salt
1 egg
125ml chicken or beef stock
60g peanut butter
Pre heat your oven to around 160 to 170 degrees fan assisted
Take a large bowl and add in all the ingredients. Start out mixing with a spoon then go in with your hands to fashion the mix into a smooth dough. If the dough is a bit dry, add a tablespoon or 2 of olive oil. On a floured board, roll the dough out to around 3/4 of a centimetre thick. Then, using amusingly shaped cutters, cut the dough into shapes and place on a lined baking sheet. Bake until the treats are browning and feel quite crisp. Mine took around 25 to 30 minutes, but test yours for firmness as larger shapes will take longer. Leave to cool on the tray then store in a tin or jar. Hidden from your dog's prying eyes.