Black Sesame Fish with Lime Noodles Recipe
I have a terrible cookery book buying habit. I have piles of them, waiting to be given a new home in our yet to be finished new kitchen. I get wooed by food fads, feel I should keep up to date with all the latest chefs and I am often just blinded by a jazzy looking cover. With a rather lean January and February on my hands financially, I have had to clip my own cookery book buying wings. So, instead, I made the long journey *two roads away* to my sister's house to rifle though her collection and to borrow *steal* a few for research purposes. It was with utter joy I came across Lindsey Bareham's Dinner Tonight. This wonderful book is choc full of ideas I want to try, this Black Sesame Fish with Lime Noodles being just one of them.
Not being a regular Times reader, more due to finding the time to read a paper, rather than any other loyalties, I was not aware of Lindsey and her lovely work. This recipe is a brilliant find on so many levels. It's quick, suits most firm fish fillets, is full of flavour and oh so easy. It's clear Lindsey is a woman after my own heart. Your chosen fish, be it salmon, plaice or cod is coated in black sesame seeds and pan fried for a matter of moments, or until the fish is cooked through.Your cooked noodles are then dressed in fresh coriander, lime and sesame oil and that's pretty much it. Tasty and bloody quick. My family loved it, even George who I thought would be alarmed by the black sesame seeds, wolfed it down.
My tummy is rumbling just at the thought of this Black Sesame Fish with Lime Noodles. To be fair it is a 500 calorie day so it's just rumbling as a matter of course. However, this is a mouthwatering dish with fresh, simple flavours. I pepped mine up at the table with soy, sweet chilli and Sriracha sauces, which pleased Ben, who has embraced any chilli based spicy sauce as a sort of slightly cosmopolitan version of ketchup and slathers on it everything.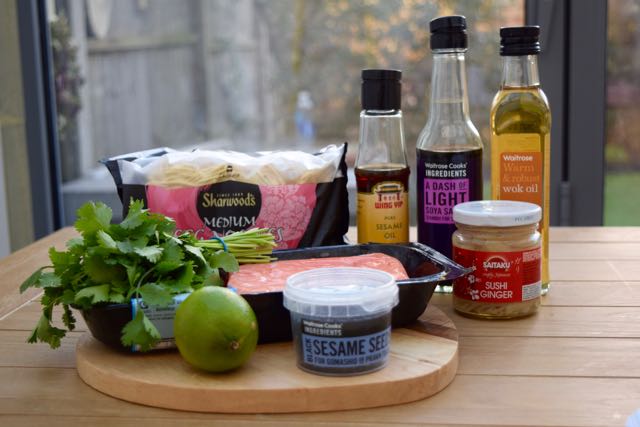 Look at these lovely fresh ingredients. Well, to be fair, I had the salmon in the freezer, but it's still fresh. Any firm fish works well in this recipe, with the sesame seeds adding a nutty flavour and a bit of bite. Waitrose had the black seeds readily available, but if you can't find them, regular sesame seeds will be fine. The sushi ginger adds a beautiful sweet warmth to the noodles, it's definitely worth buying a jar and keeping it to hand to pep up your noodle dishes.
Have all your ingredients ready as this is a really quick dish to prepare.  Boil a kettle of water to be ready to cook your noodles later whilst you cook the fish.
Start on the noodle dressing by roughly chopping the small bunch of fresh coriander and adding it to a bowl with the juice of a small lime.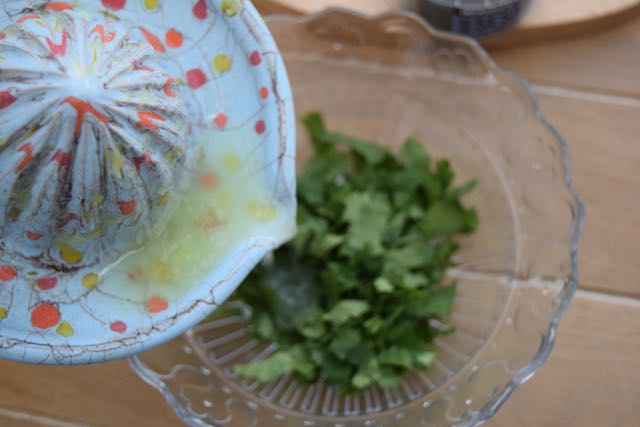 Stir in the sesame oil and chopped pickled ginger then pop this to one side for the moment.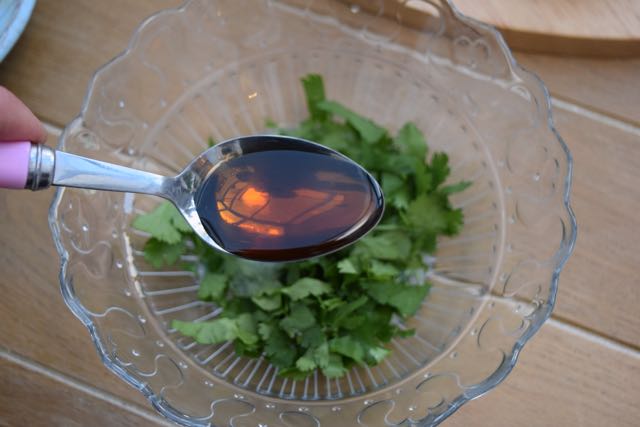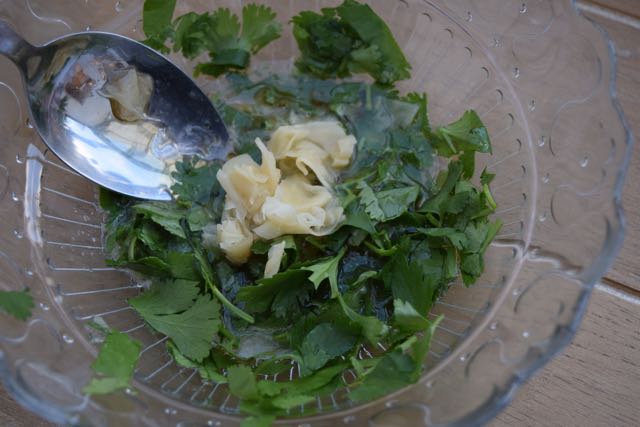 Next, take your fish fillets and coat, on all sides, with the sesame seeds.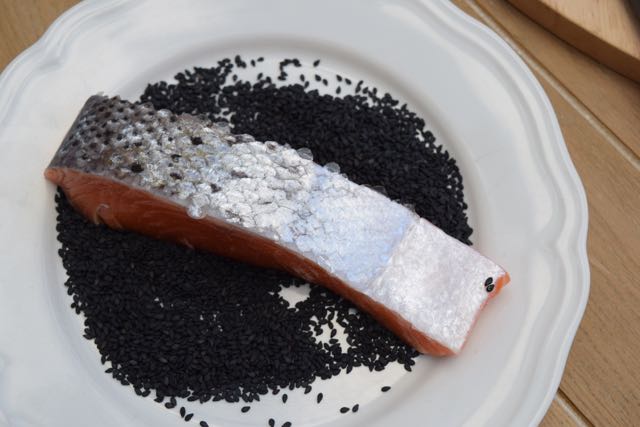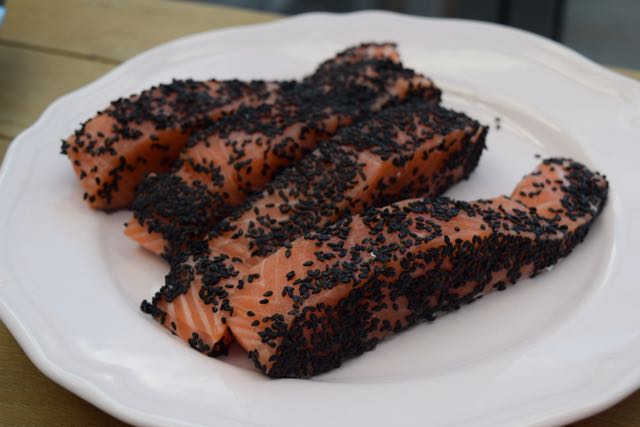 Salmon is not usually my first choice of fish, but I had it in the freezer and the simple addition of sesame seeds tarted it right up.
Heat the oil up in a large frying pan then add your fish, skin side down, if it has skin on it and cook for a couple of minutes or until the skin is browning.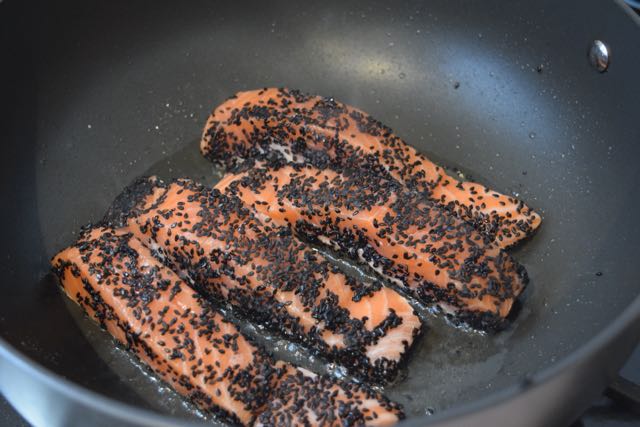 Cook on all sides until turning golden brown and crisp, but not overcooked. The time for cooking will all depend on how thick your fillets are. Definitely err on the undercooked side of the scale with fish in general.
While this is pan frying, cook your noodles according to the instructions on the packet. When they are cooked, drain and coat in the coriander lime dressing.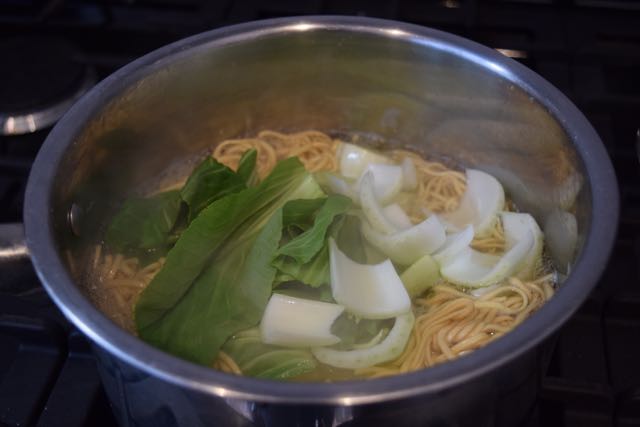 I slung in a couple of heads of pak choi whilst cooking the noods to add a bit of greenery to the dish.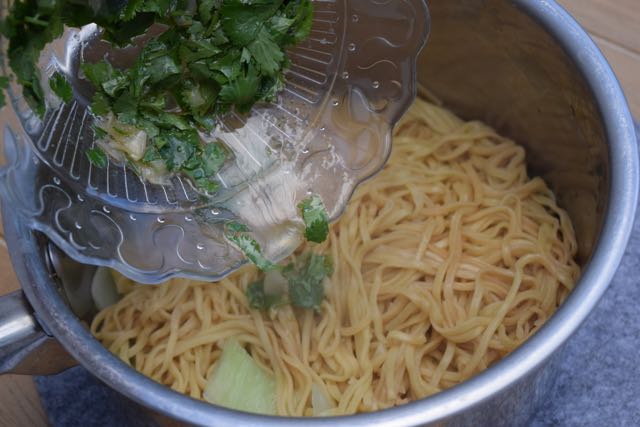 When the fish is cooked and your noodles are dressed add some soy to taste then serve in bowls topped with your sesame fish.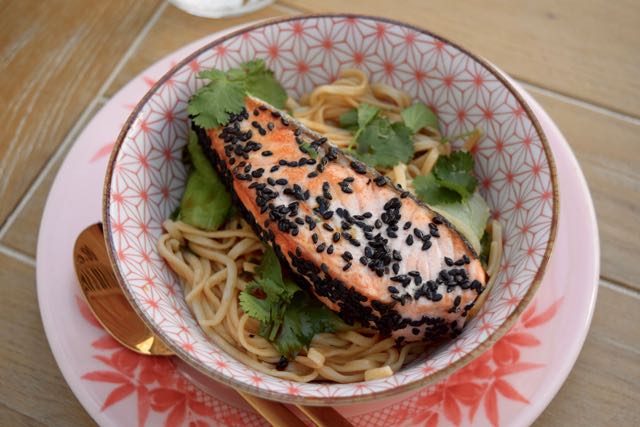 Devour, whilst this tempting dish is piping hot, adding spicy sauces of your choice.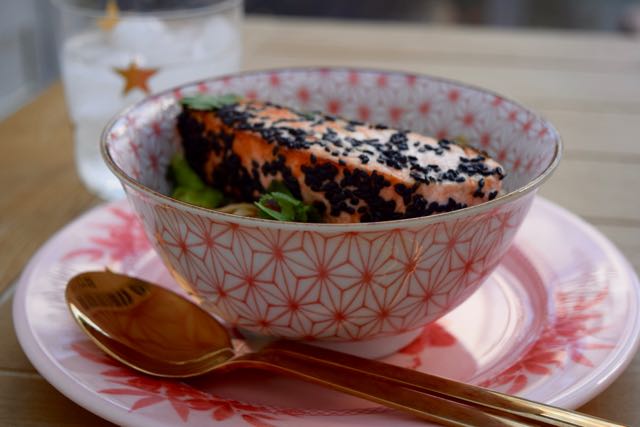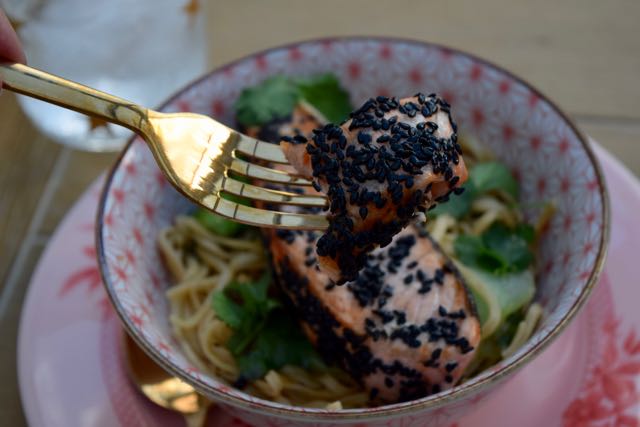 What a brilliant discovery this recipe was, having foraged though my sister's cookery book collection. She is not having Dinner Tonight back now, it's mine for keeps. Especially as I dropped lots of the noodle sauce all over it whilst I was cooking this dish. Oops.
Lucy x
This post contains an Amazon affiliate link which means if you buy through this link, at no extra cost to you, Lucy Loves will receive a tiny donation.
Black Sesame Fish with Lime Noodles Recipe
Serves 3 to 4
You will need no particularly exciting equipment
Small bunch coriander, roughly chopped
juice of a small lime
2 tablespoons sesame oil
2 tablespoons pickled sushi ginger, finely chopped
250g to 350g dried egg noodles, appetite dependent
4 tablespoons black sesame seeds, regular ones will be just fine if you have them
4 pieces fish, plaice fillets, cod loins, salmon, you decide
2 tablespoons oil, I used Wok oil
Pak choi, spinach, broccoli or a green of you choice, this can be cooked alongside the noodles if you like
Plenty of soy sauce, chill sauce, Sriracha to serve
Boil a kettle ready to cook your noodles later.
Roughly chop your small bunch of fresh coriander and add to a bowl. Squeeze in the juice of the lime and the sesame oil and stir together. Put to one side while you prepare the fish.
Take a plate and measure out the sesame seeds. Coat your chosen fish on all sides and place on a plate. Heat up the two tablespoons of oil over a medium high flame then add your fish, skin side down. Cook for a minute or two on each side, dependent on the size of your fillets. Turn the fish over as it turns golden and smells fragrant.
While the fish is cooking, cook your noodles according to the instructions on the packet. Add a green veg on to cook at the same time. Drain once cooked then stir in the herb/lime/sesame mixture until well combined.
Spoon a good portion of noodles into a bowl then top with your sesame coated fish. Season with plenty of soy, sweet chilli or Sriracha sauces to taste.