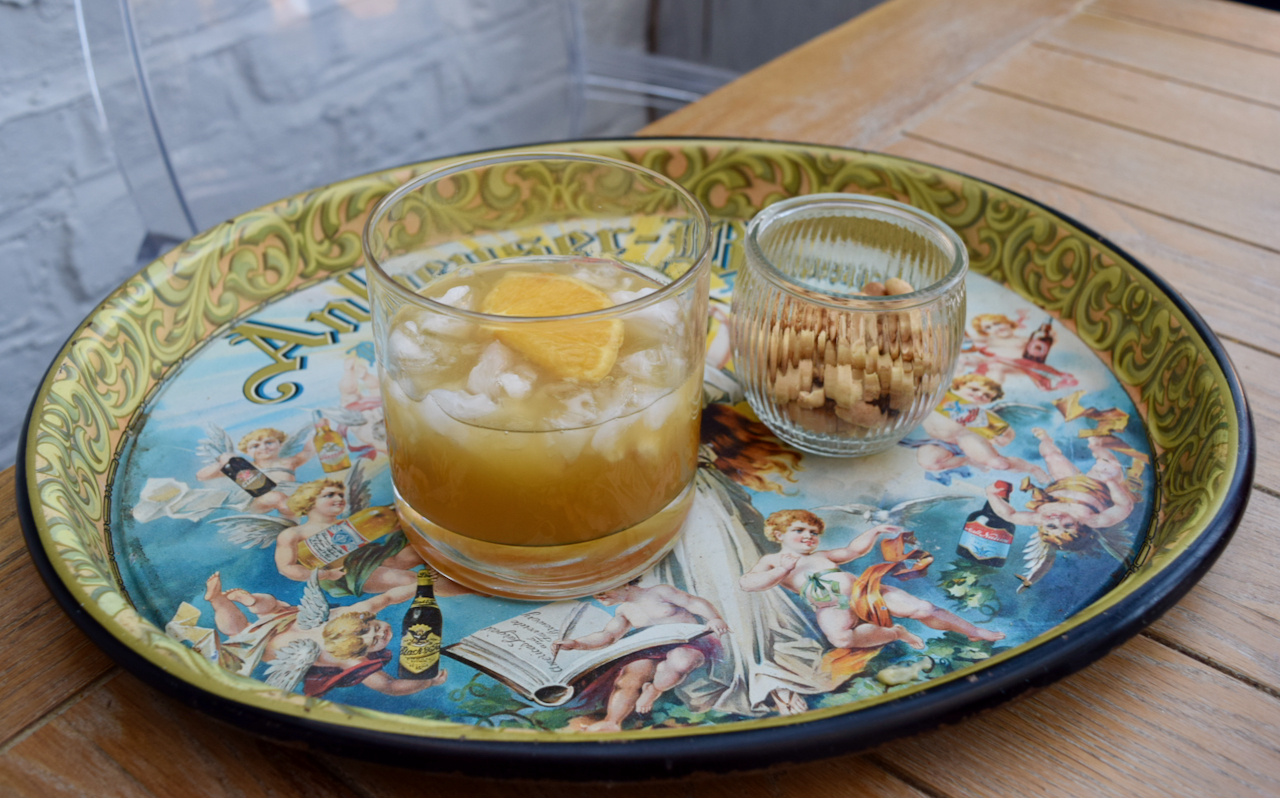 Bourbon, Orange and Ginger recipe
This week's really felt like a back to school sort of week. The traffic's shit again, not that I've been anywhere, I have 100 balls in the air but on the plus side the house is quiet and I haven't been asked 'what's for lunch' all week. I need a comforting drink, with warmth and freshness and this week, that drink is a Bourbon, Orange and Ginger.
Usually, I'm very much a kerfuffle free cocktail kind of person. 3 or 4 ingredients only, any more and I lose interest. However, this Bourbon, Orange and Ginger cocktail calls for making a delicious ginger syrup but I can totally guarantee it's worth it. This recipe makes enough for lots more cocktails, which is handy because once you've had one, you'll definitely want another. The other components are bourbon, orange liqueur and orange juice, adding freshness and a lovely warm hit; perfect for a frankly chilly and grey March Friday.
I think most of us are looking forward to life getting back to normal and it's happening, albeit in tiny steps. It won't be long until we can share a Friday cocktail with our friends and family, although I won't be keen to share this one, it's mine, all mine.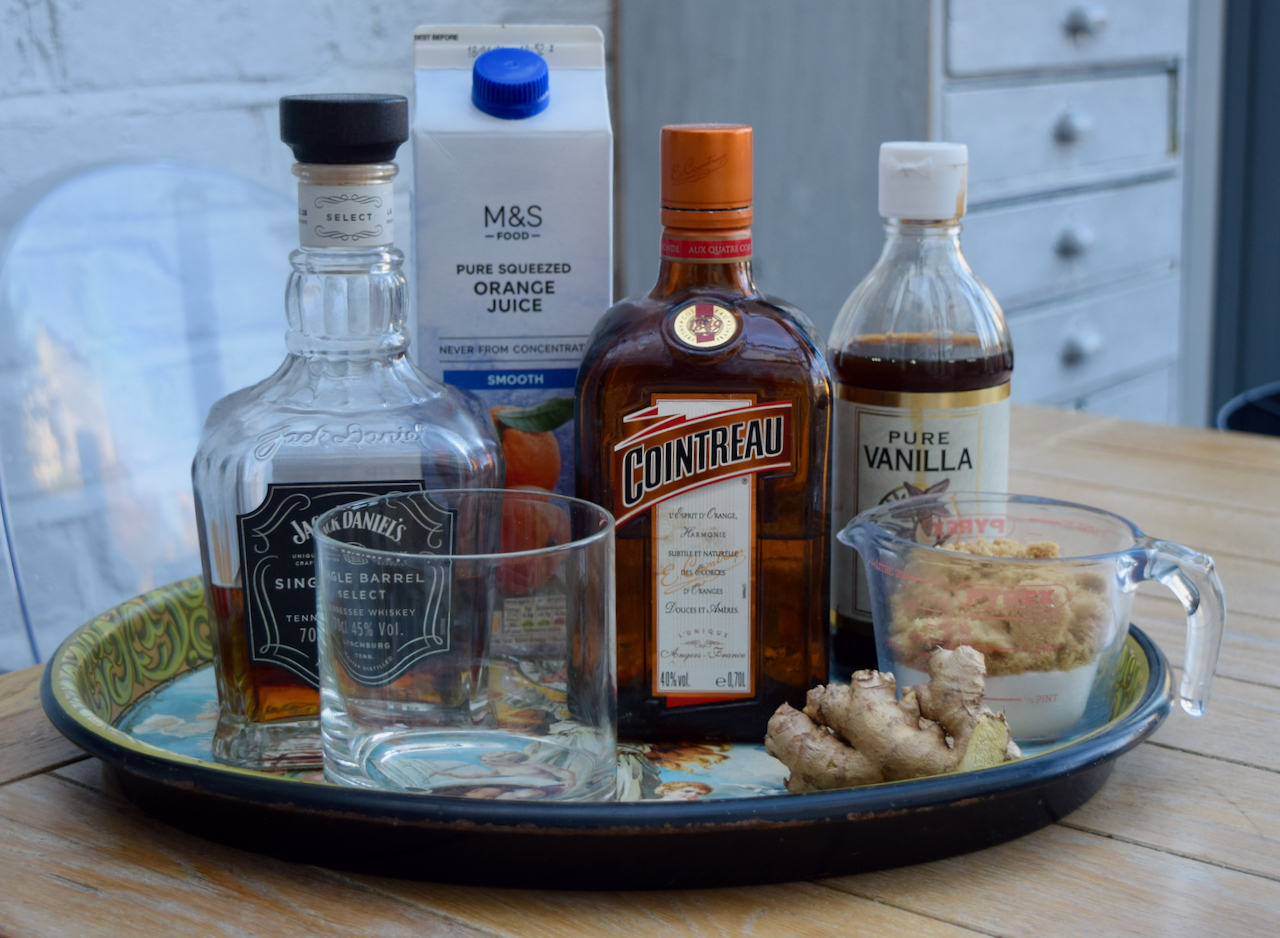 The ginger syrup for this Bourbon, Orange and Ginger is just fresh ginger, caster and brown sugar and vanilla. The original recipe called for peeling the ginger, but I absolutely couldn't be arsed; and it didn't seem to be a problem. Peel away if you have time on your hands.
Start with the ginger syrup as it needs time to cool. Add the ginger, peeled or unpeeled, and sliced to a medium pan along with both sugars and the water. Bring up to the boil and simmer for around 15 minutes, until it's reduced to about 250mls. Don't get a jug out, just eyeball it.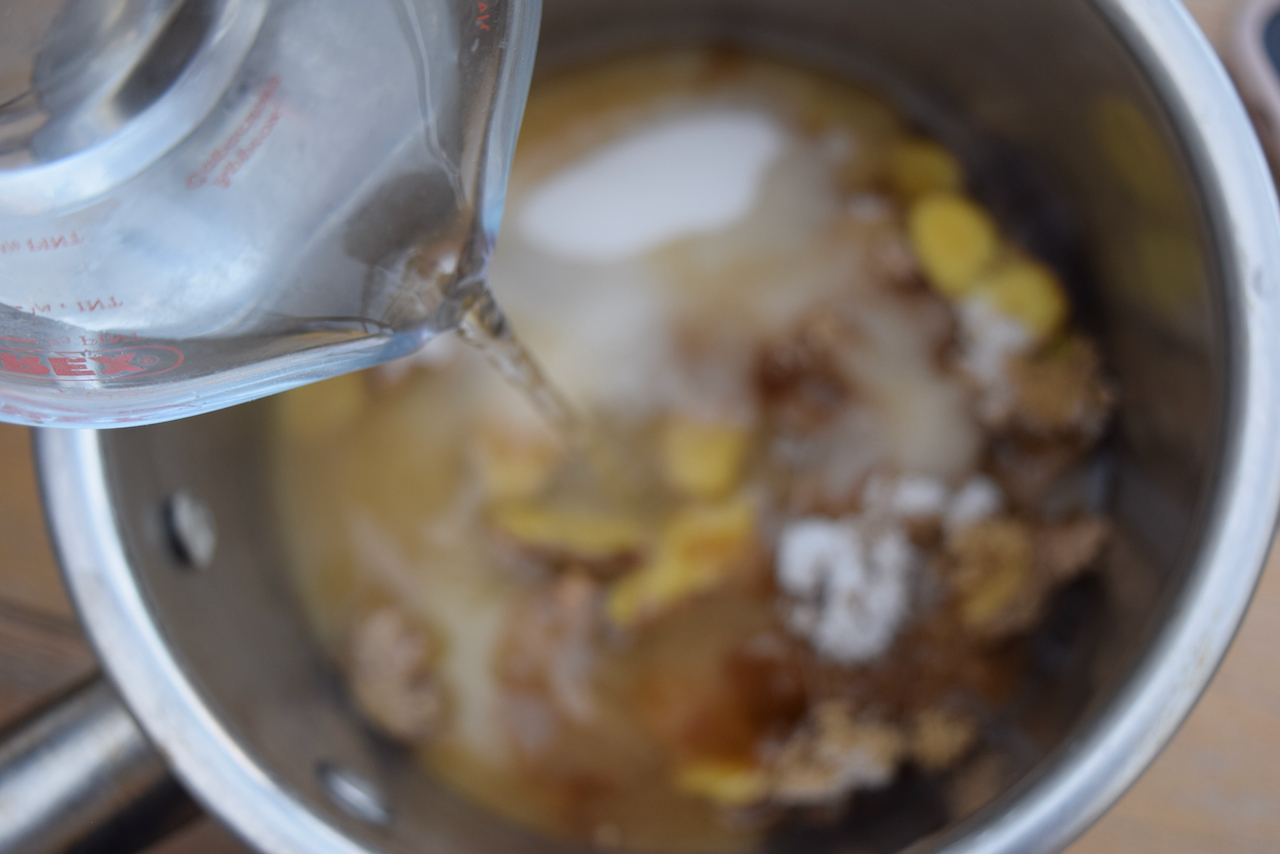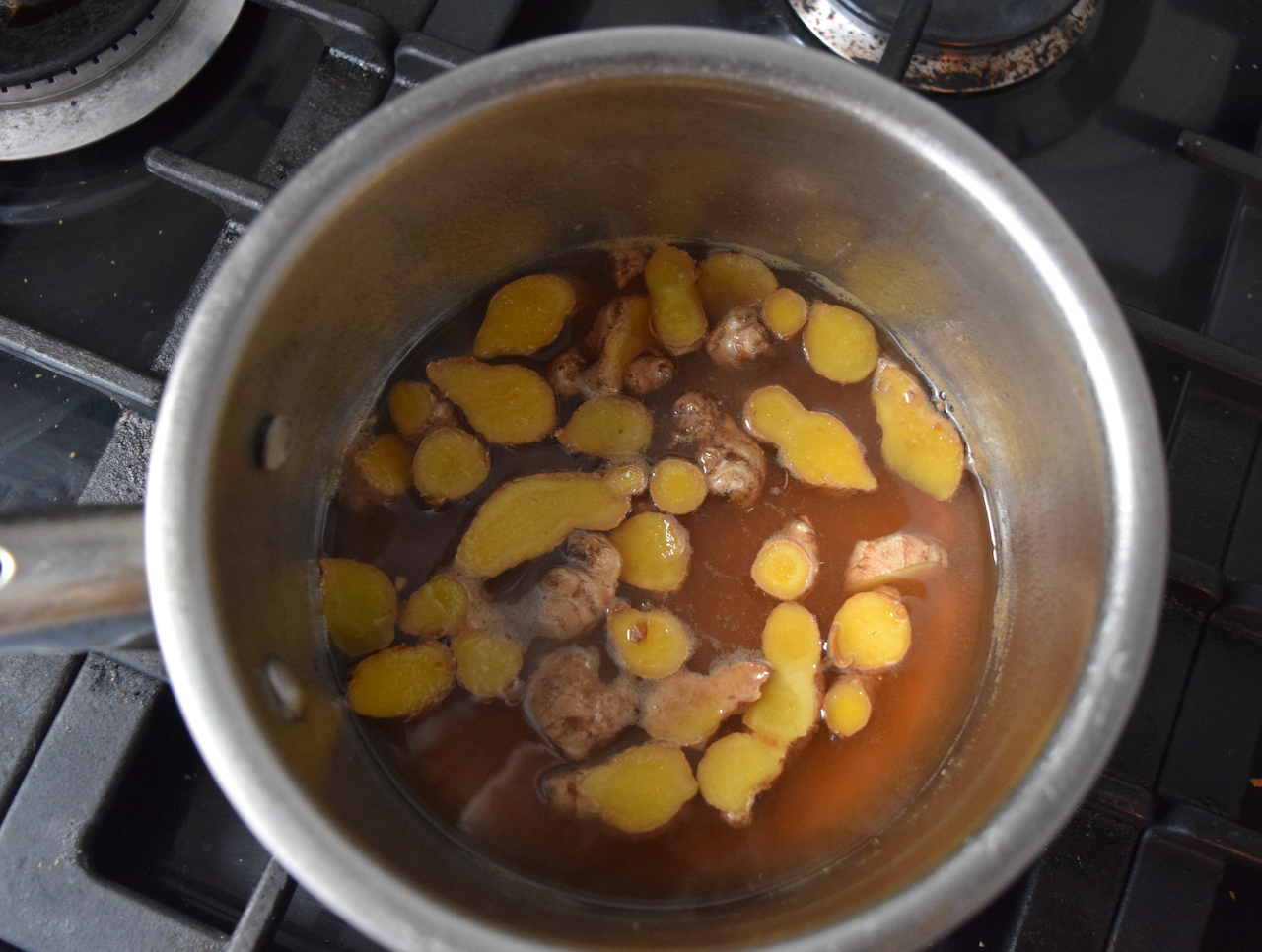 Strain the syrup into a jug and leave to cool.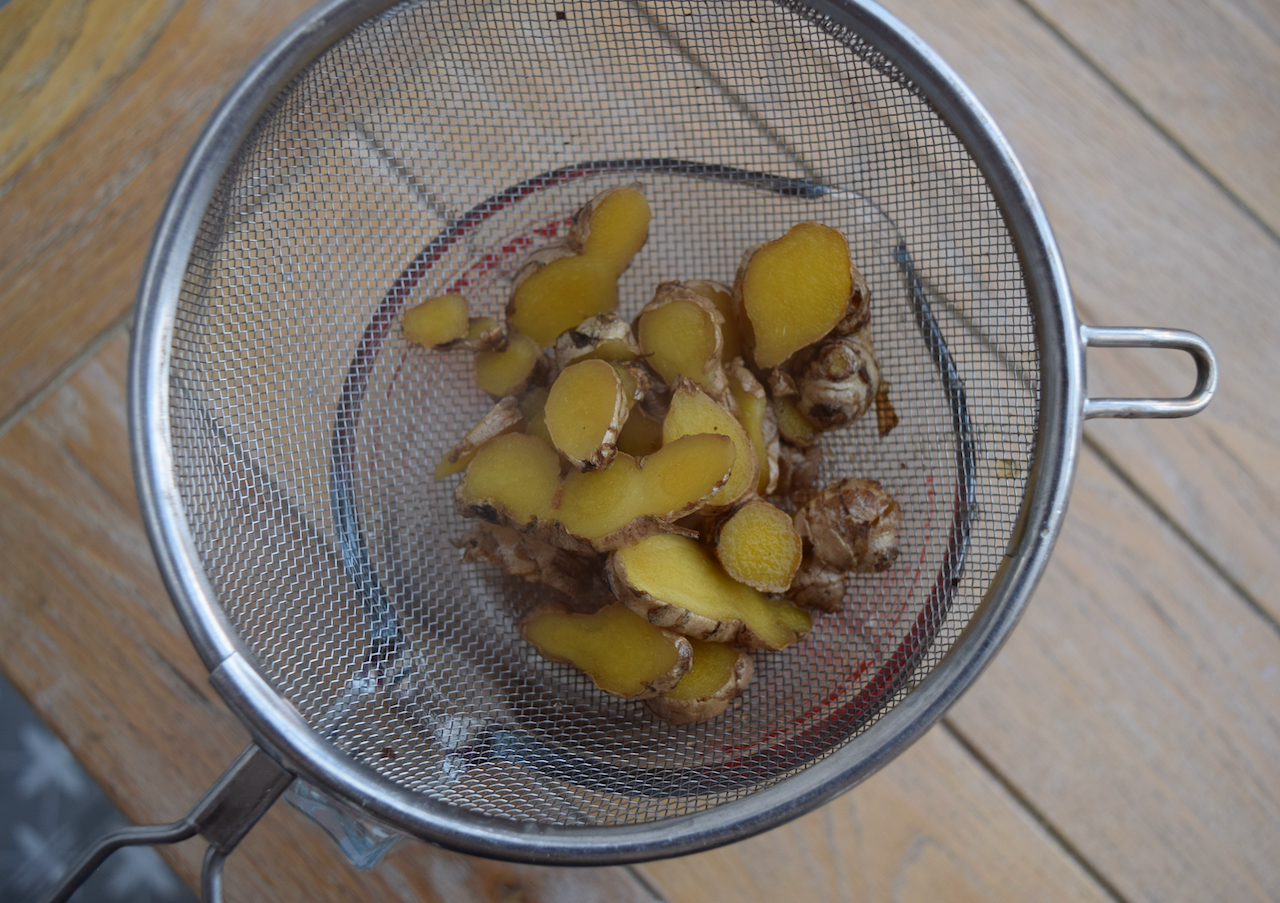 When the ginger syrup is cool, it's cocktail time. Measure your bourbon and orange liqueur into a mixing glass or jug.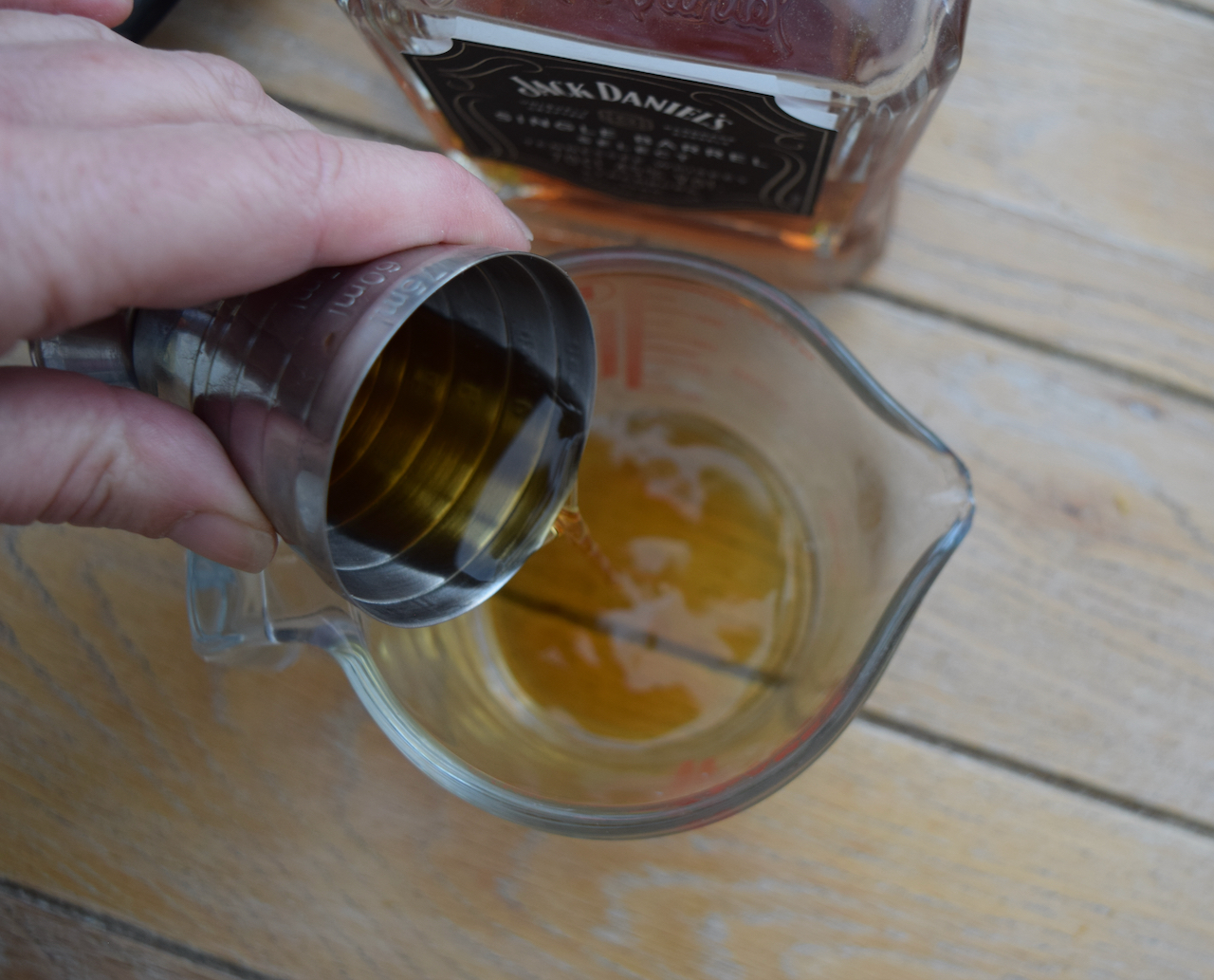 Add the ginger syrup and orange juice and stir to mix.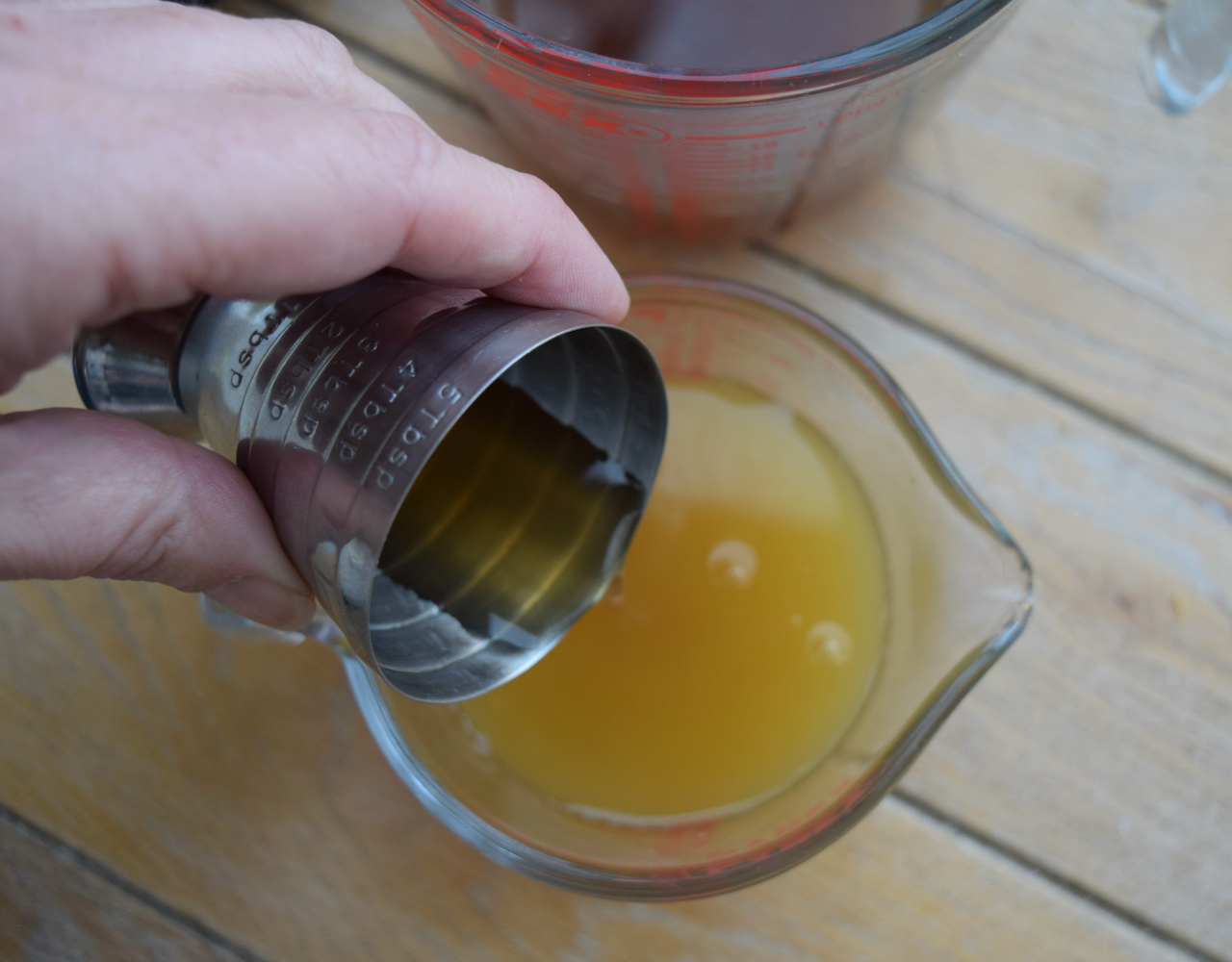 Pour over crushed ice and garnish with a slice of orange.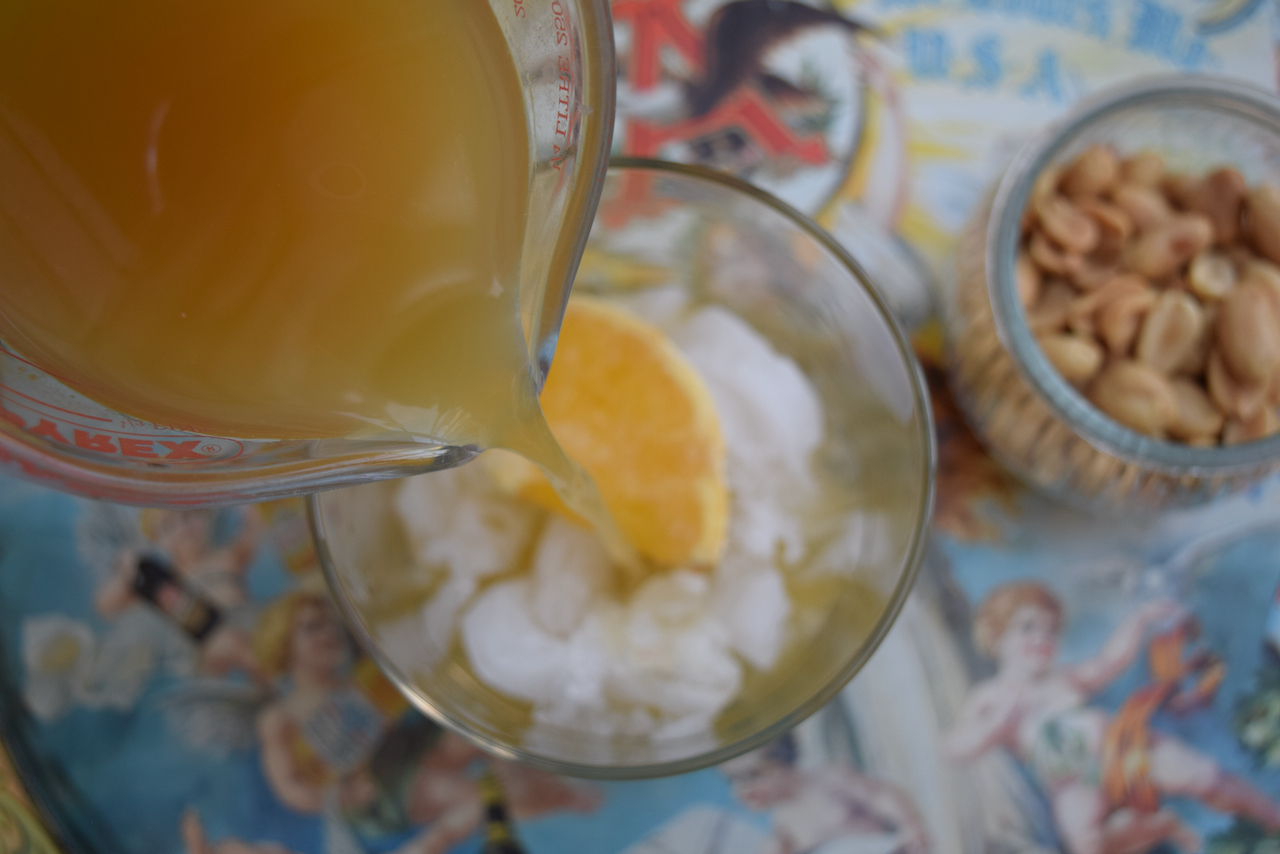 And that's it, until you make the next one.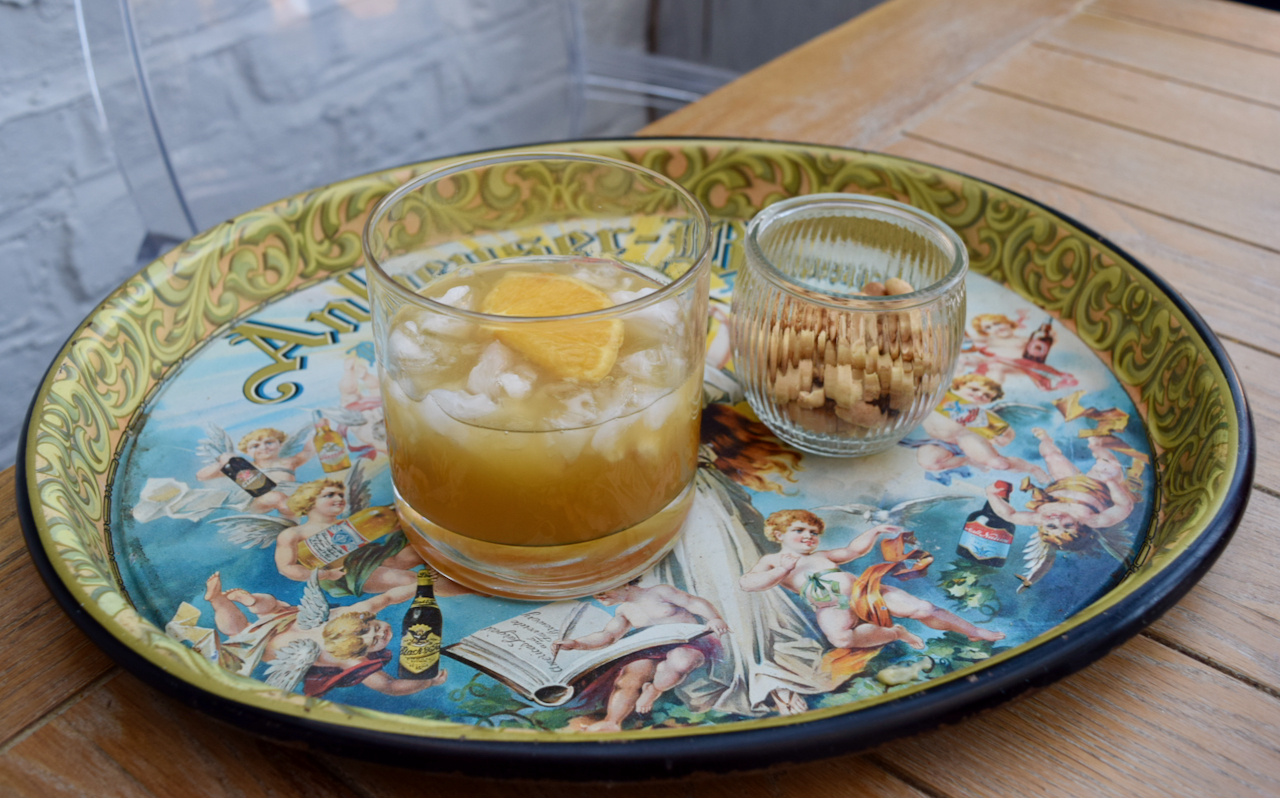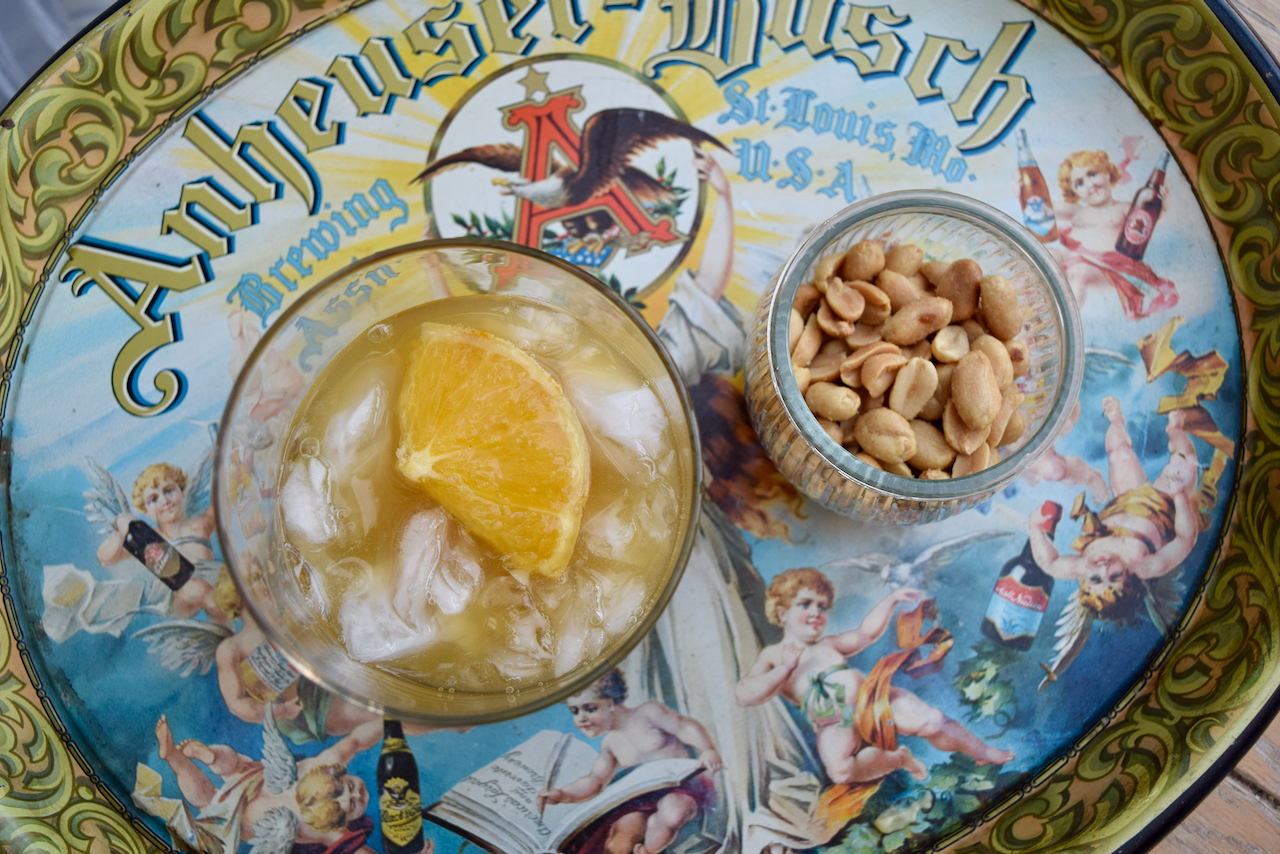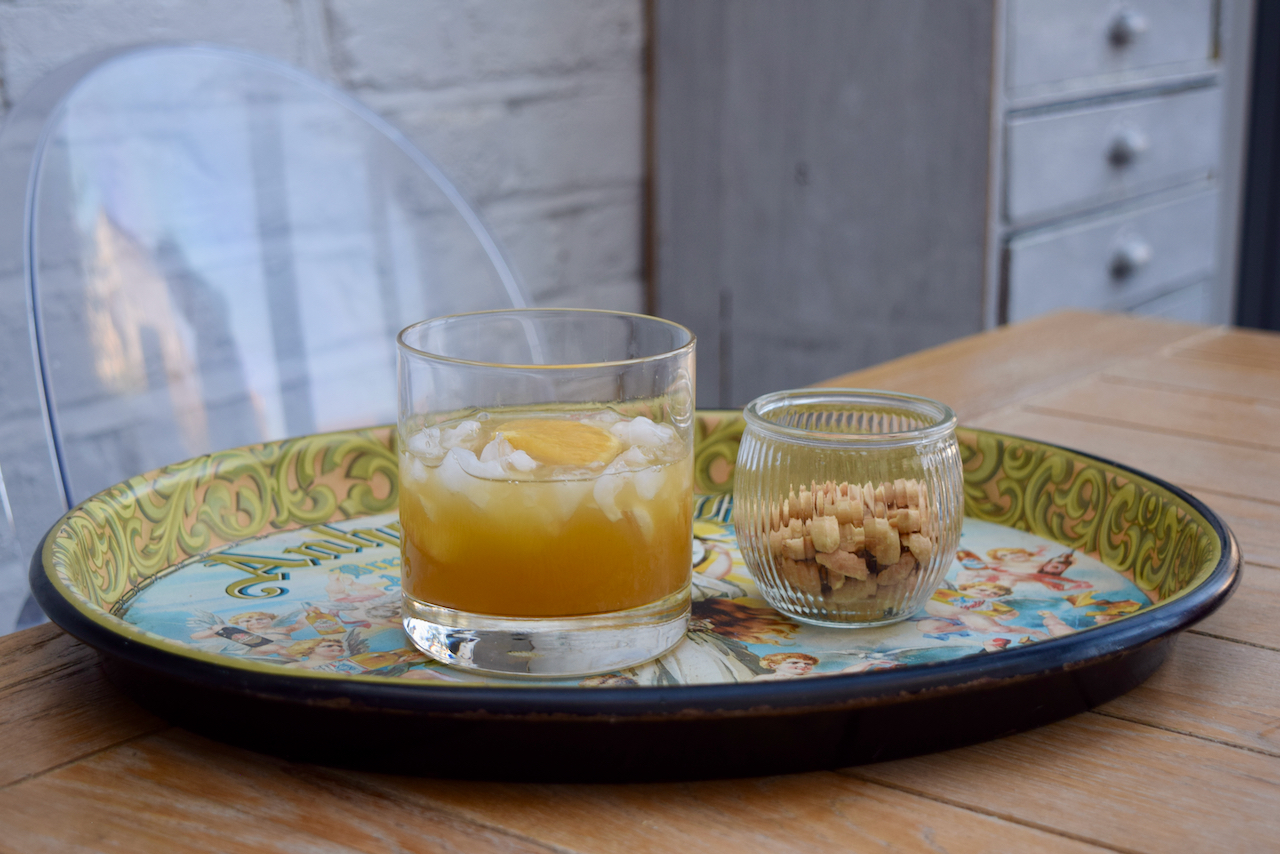 I can't help but think the ginger syrup element of this lovely cocktail is almost medicinal. Who knew your Friday cocktail would have health benefits on top of being delicious?
Have a relaxing weekend.
Lucy x
Bourbon Orange and Ginger recipe
Makes one cocktail with enough ginger syrup for plenty more
Ginger syrup
50g fresh root ginger, peeled if you like and thinly sliced
100g caster sugar
50g soft brown sugar
350ml water
1/4 teaspoon vanilla extract
Bourbon, Orange and Ginger Cocktail
40ml bourbon
25ml triple sec or orange liqueur
3 tablespoons homemade ginger syrup
75ml orange juice
Crushed ice and a slice of orange to serve
For the syrup add the ginger, peeled if you can face it, to a pan along with the caster sugar, soft brown sugar and water. Bring up to the boil then turn down and simmer for around 15 minutes until the syrup has reduced. Strain into a jug, stir in the vanilla extract and leave to cool.
For the cocktail measure the bourbon, orange liqueur, ginger syrup and orange juice into a mixing glass. Stir well then pour over crushed ice. Garnish with an orange slice, then sip and love.