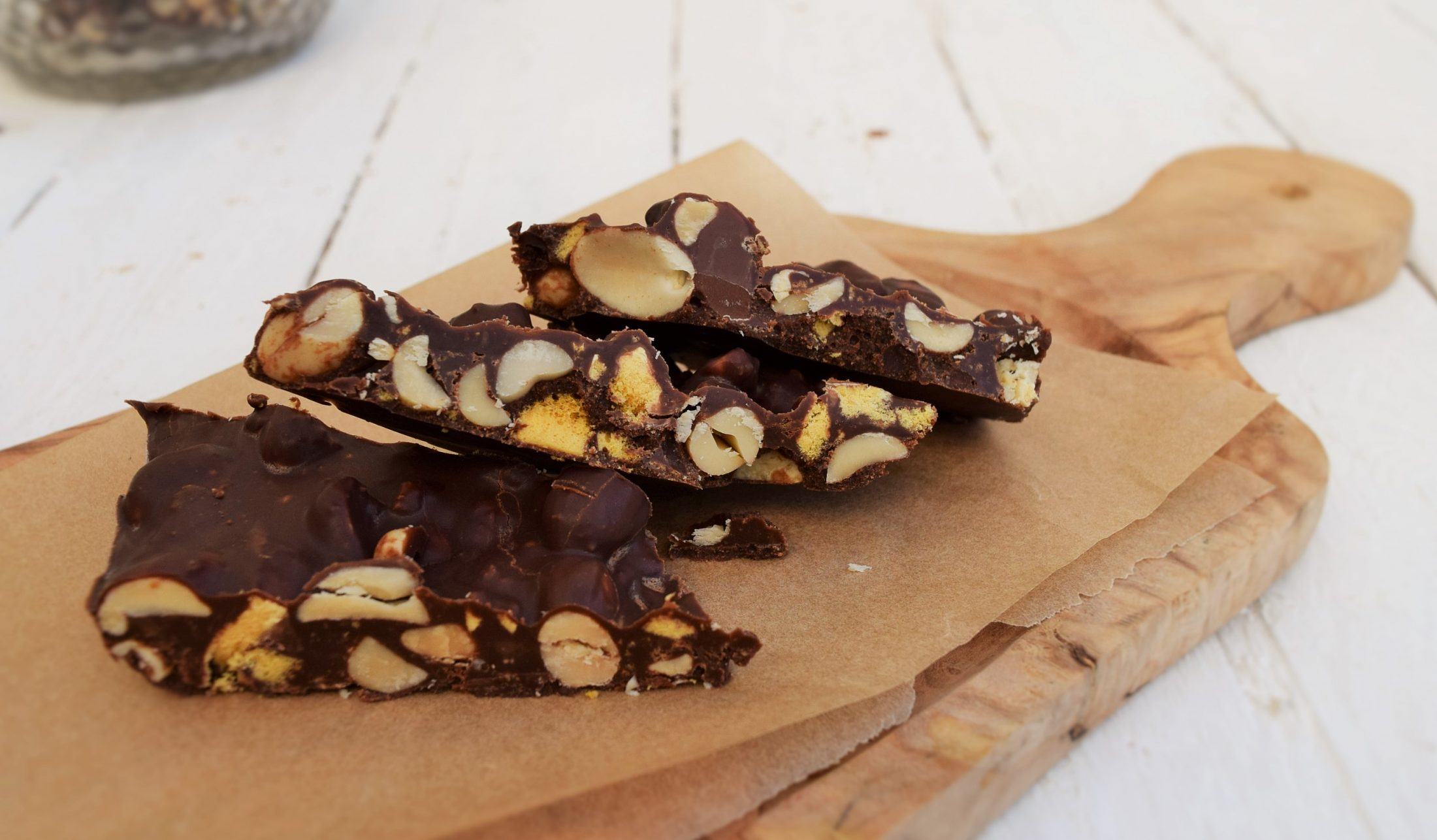 Chocolate, Peanut and Crunchie Slab Recipe
This truly is the most chocolatey of all chocolatey things I have ever made. And the most addictive. Clyde has actually said he can't settle if he knows we have this Chocolate, Peanut and Crunchie Slab in the fridge. The ingredients list reads like a sweet shop counter. With delicious salted peanuts because I have been having a love affair with sweet and salty things for many, many years.
This is a simple, no bake, fridge cake style slab, so apart from a few hours chilling (the slab, not you), it's really quick to make. And thank goodness, because I am guessing now you've got a whiff of this Chocolate, Peanut and Crunchie Slab, you'll be keen to get started. This is a wonderful Nigella Lawson creation from her book Kitchen, one of my personal favourites.
This treat has become a very regular feature in my repertoire, it is requested on almost a weekly basis. So be careful, you or your family may develop quite the habit for this sweet and salty chocolateyness. And on a side note, I am not sure if it's low calorie.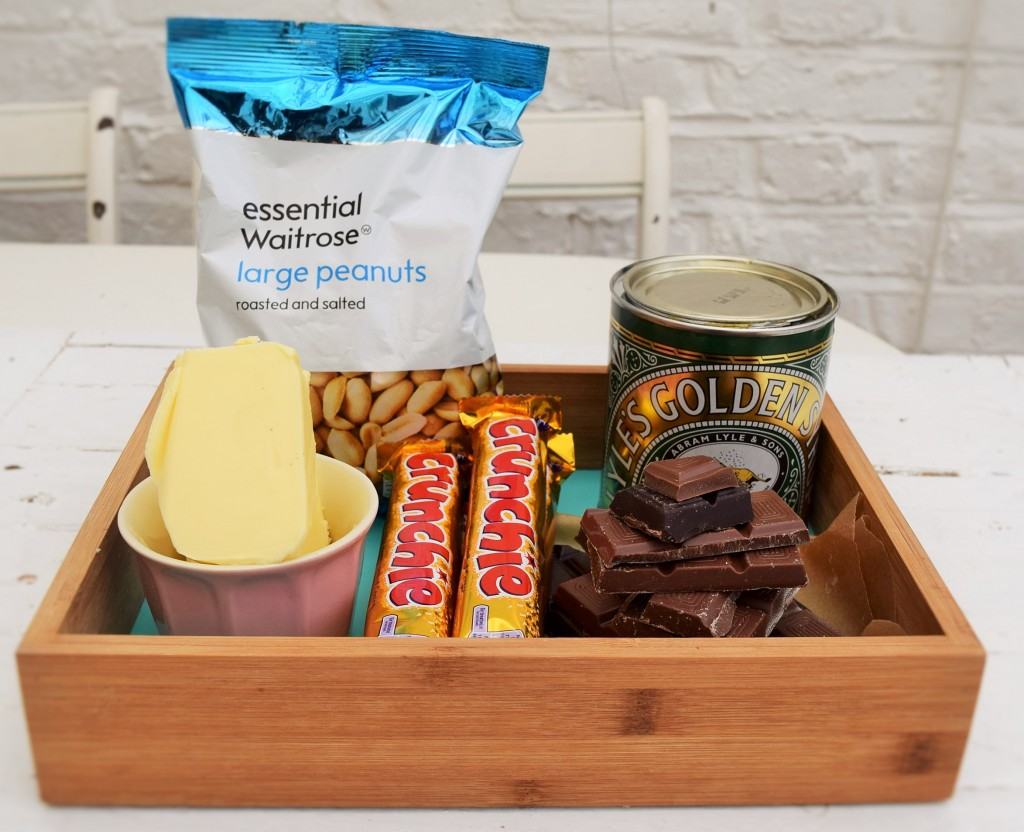 Here is the aforementioned cache of sweets for this amazing recipe. With the lusciousness that is golden syrup, butter and peanuts. All salty and sweet together.
Start by taking a microwaveable bowl or by putting a bowl over a pan of lightly simmering water. Add both milk and dark chocolate and the butter into the bowl, followed by the liquid gold that is the golden syrup.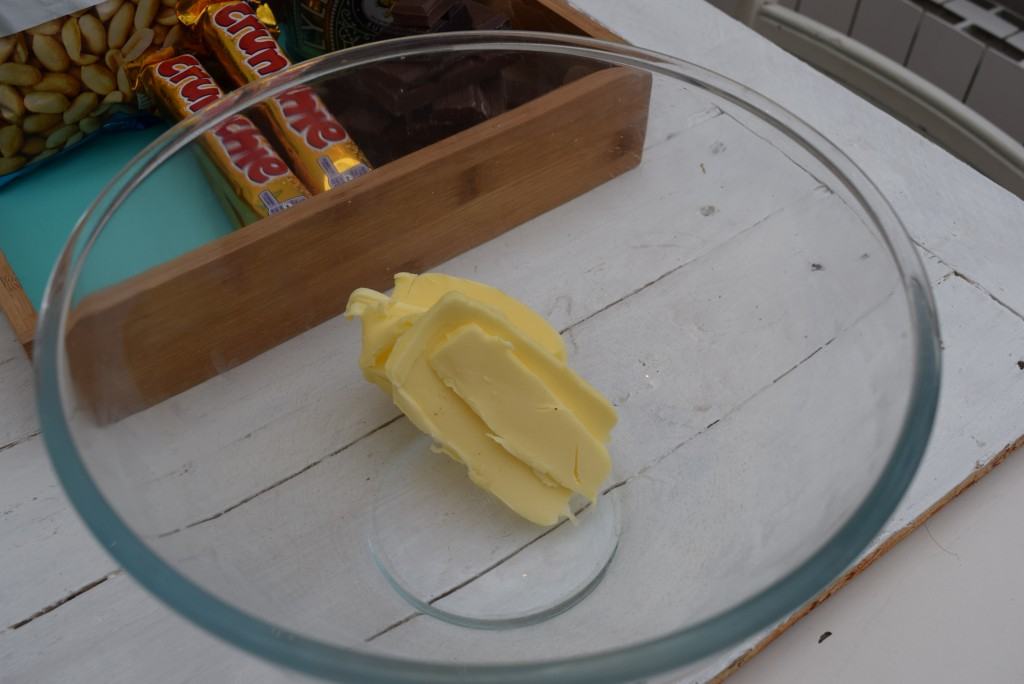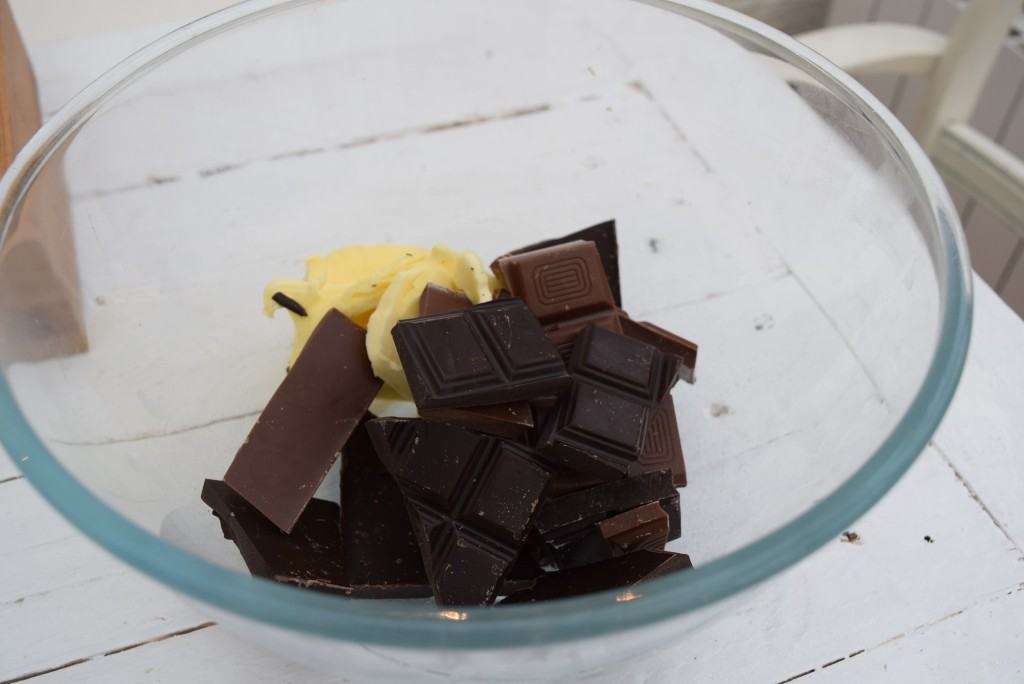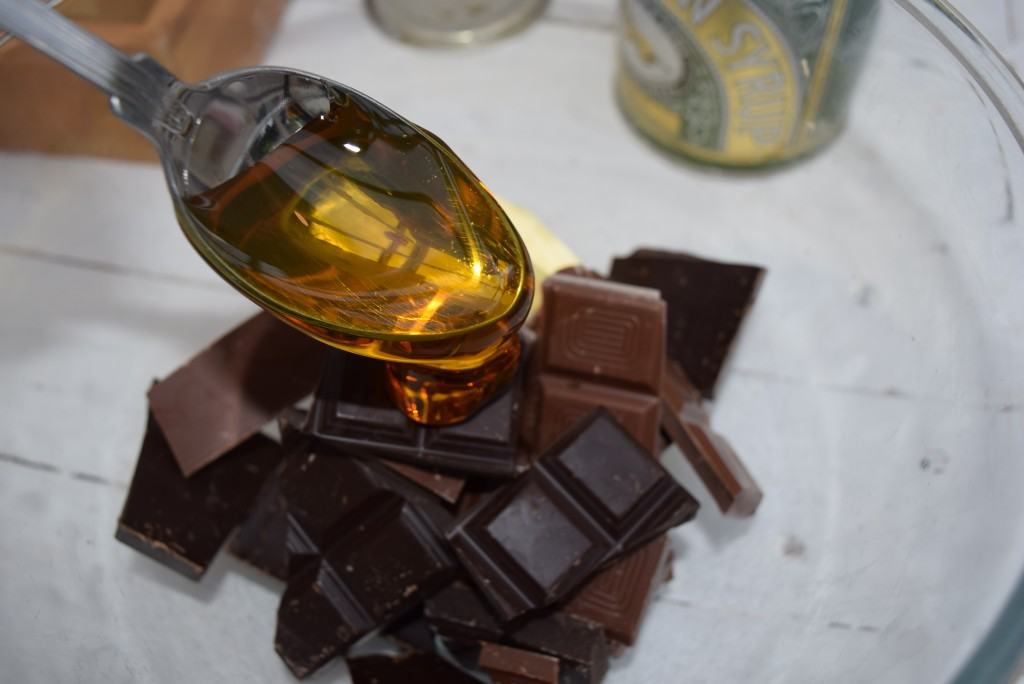 Microwave for approximately a minute and a half or leave over the simmering water until the ingredients are just starting to meld together. Leave for a minute or two before you mix them into make a smooth, velvety chocolate lava.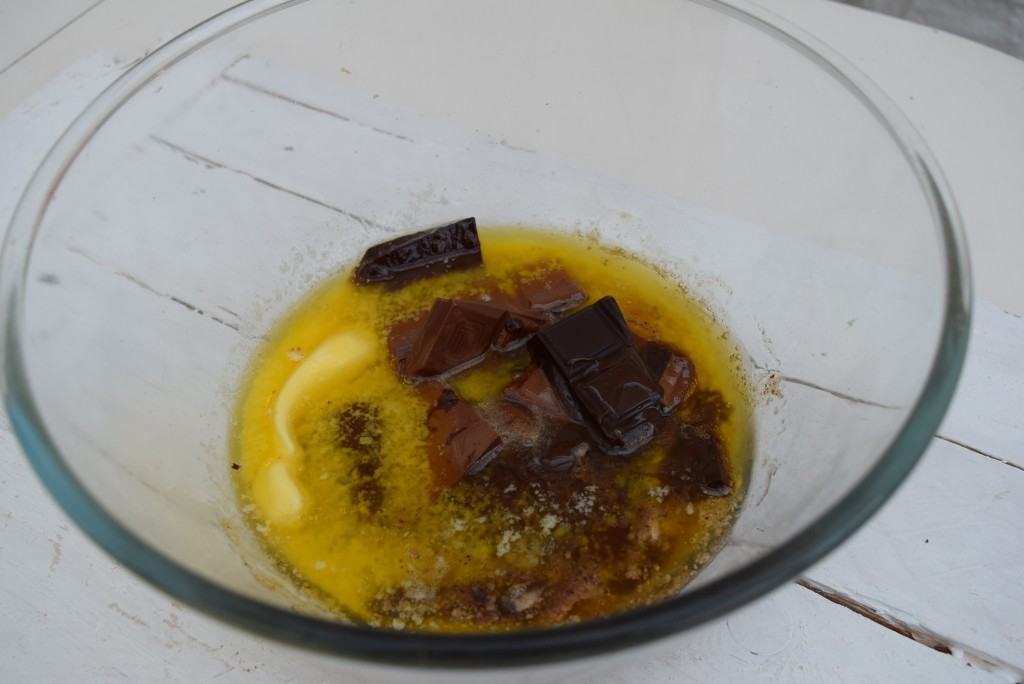 Not looking too good here.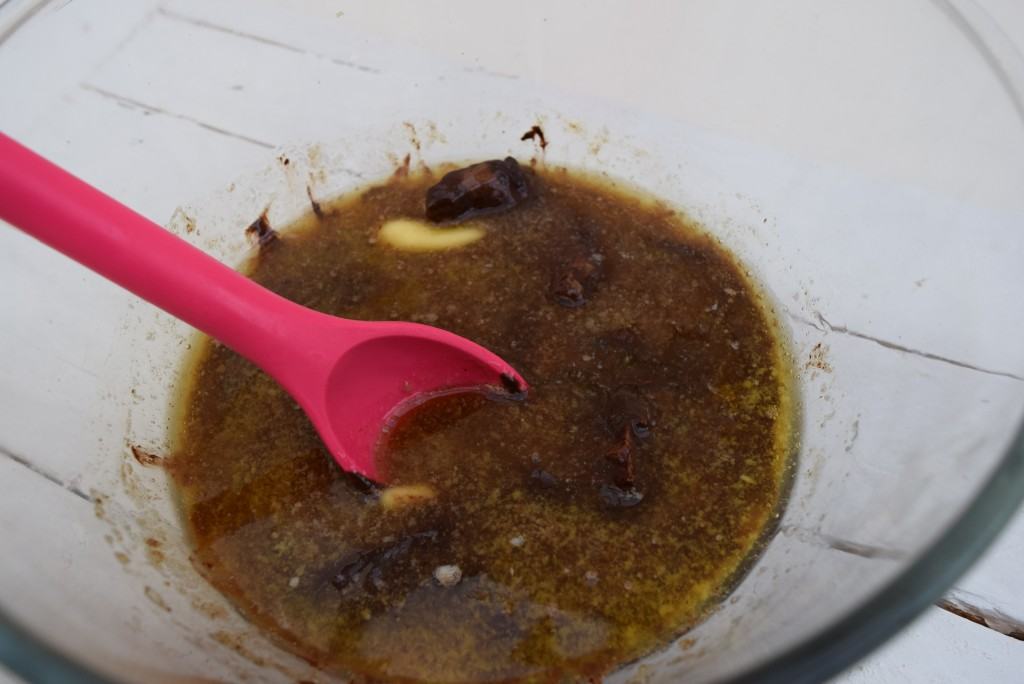 Or here really.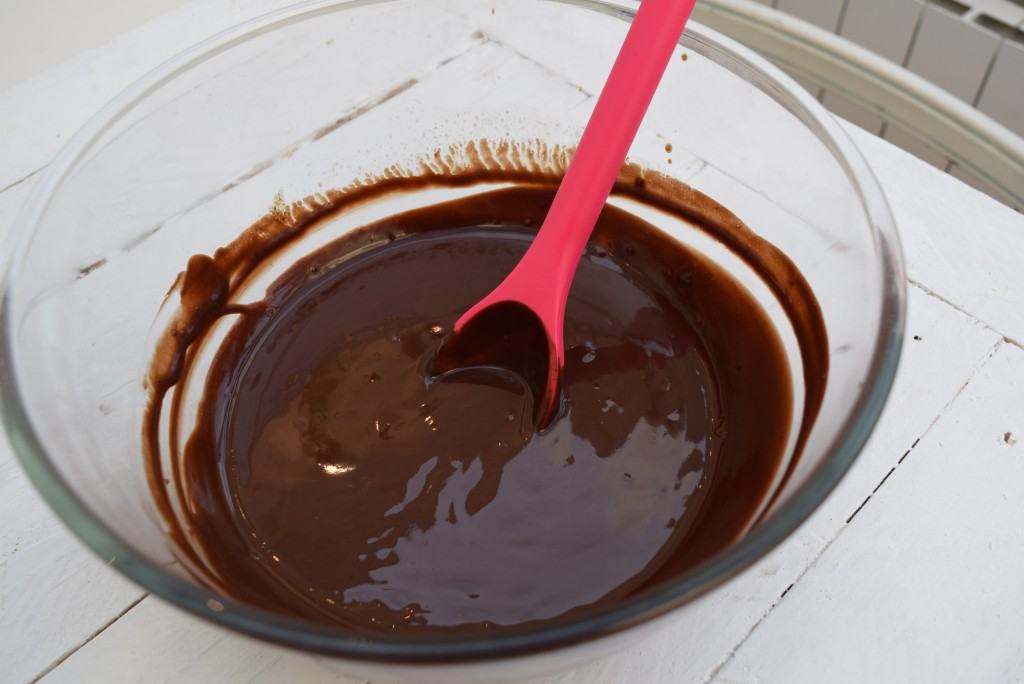 But here it looks completely wonderful. All smooth and shiny, just crying out for some salted peanuts and crushed up Crunchie bars. And by chance, that's what you add next. Give the Crunchies a bit of a whack with a rolling pin inside their wrappers to make them into honeycomb rubble. Weigh out the peanuts then pour them into the chocolate along with the Crunchie crumbs.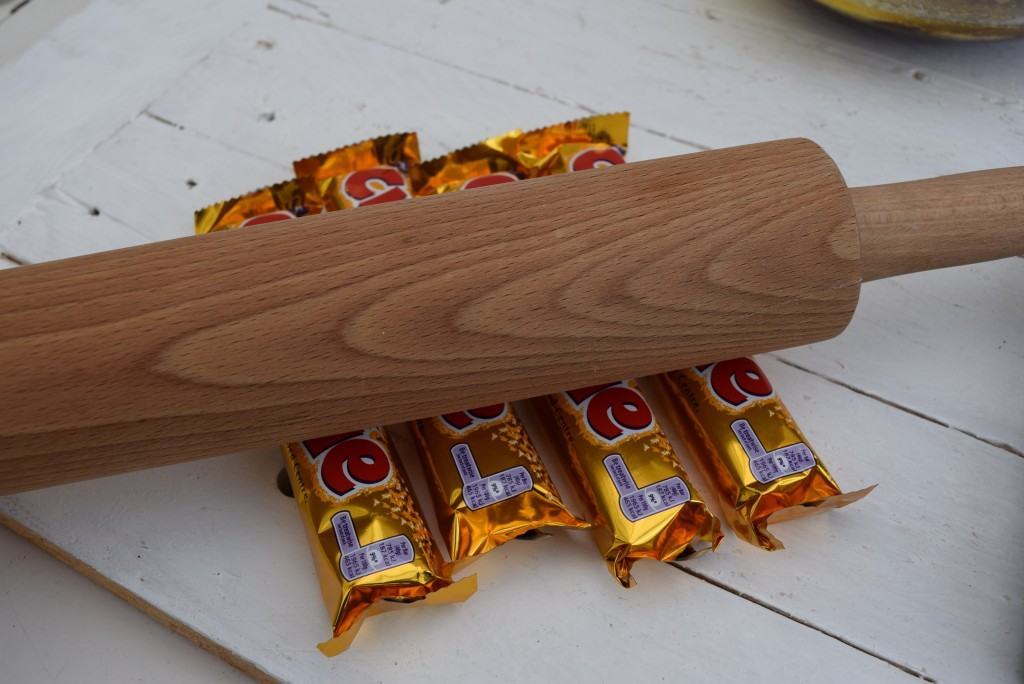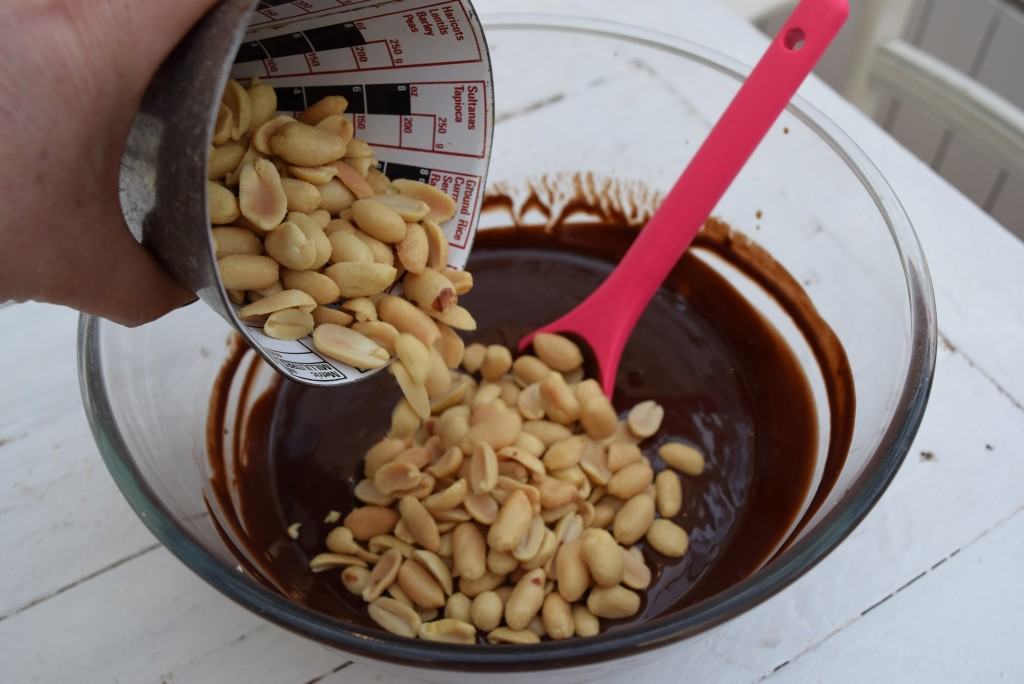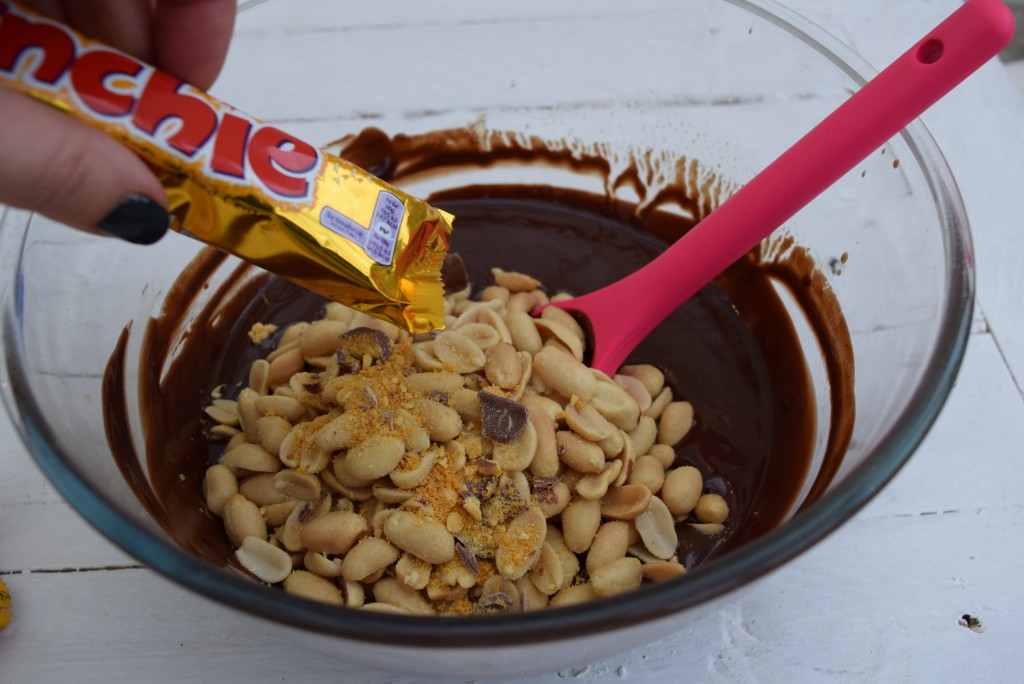 Try not to drool over this perfect mixture.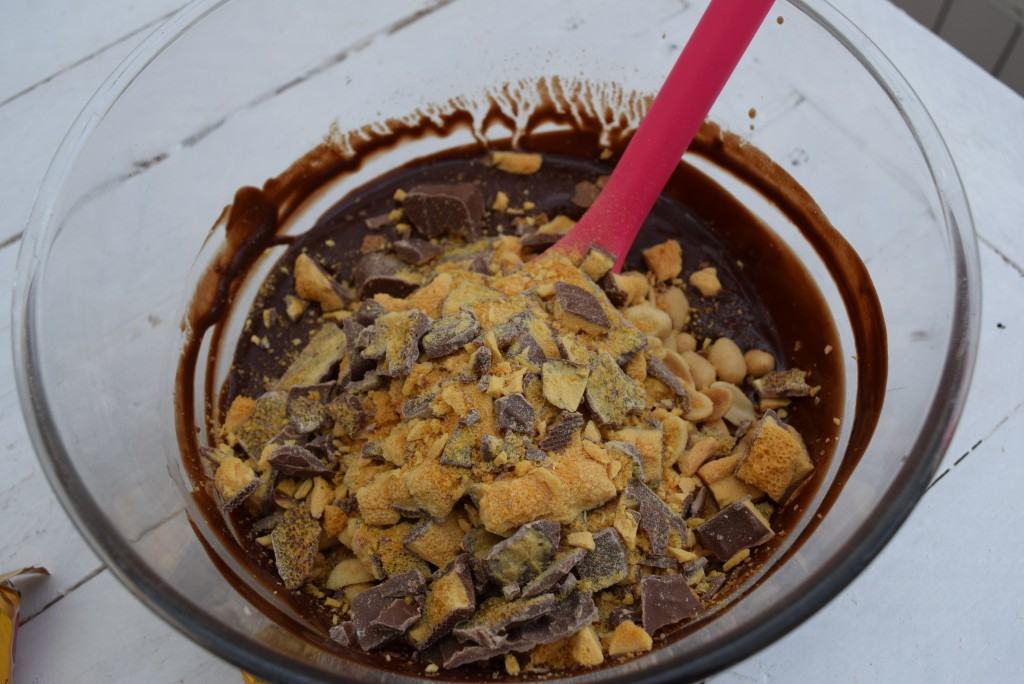 Give it a good stir then pour into your lined rectangular tray and level the top.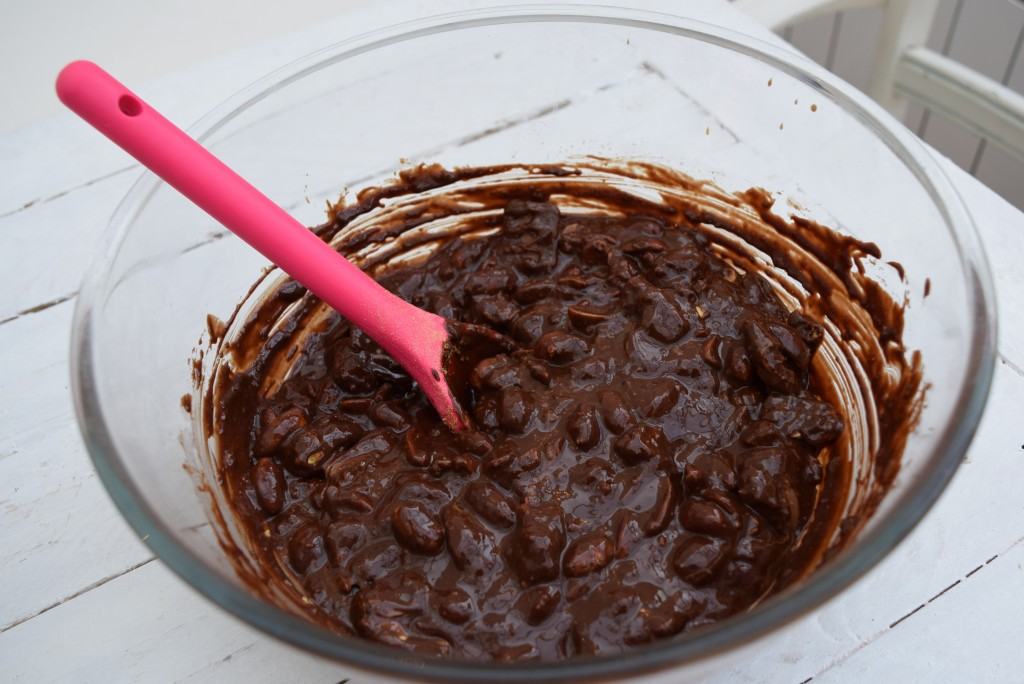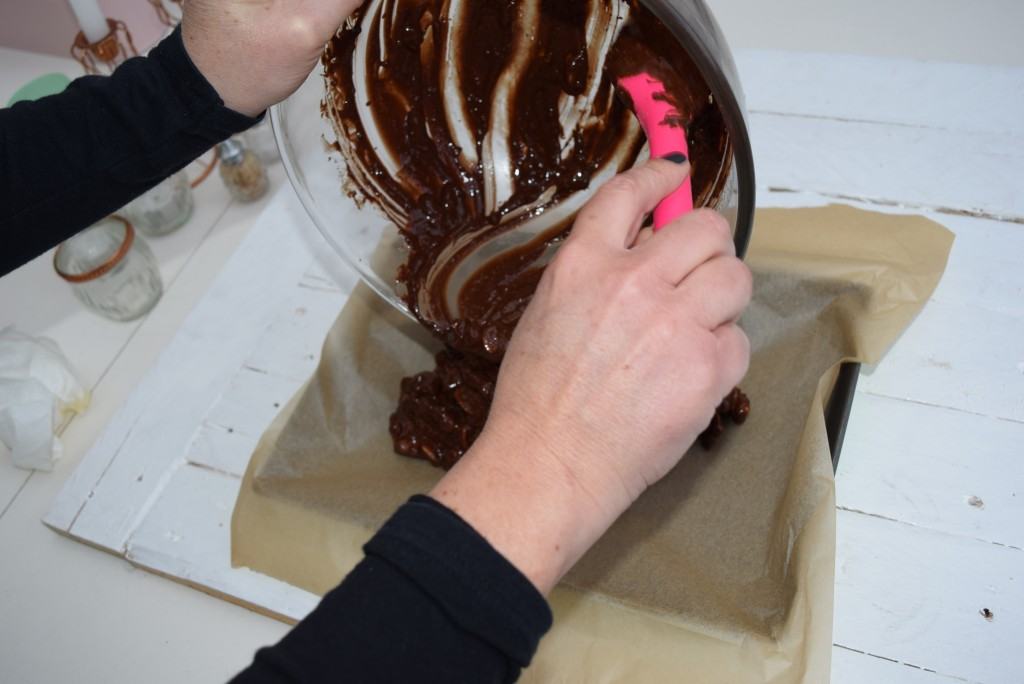 Don't mention the hands.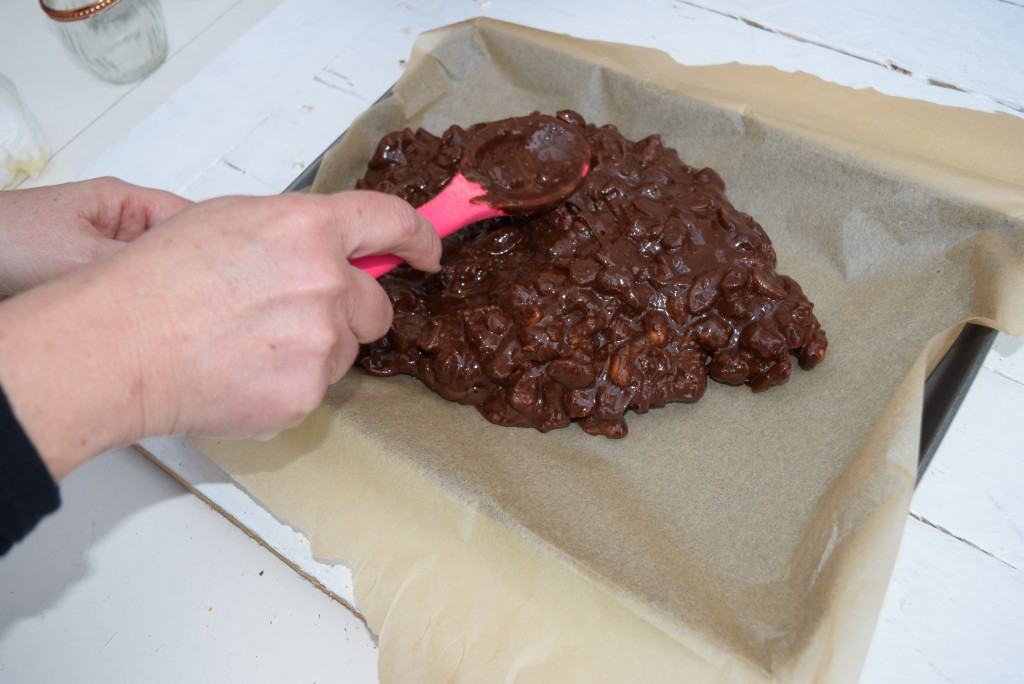 Sssshhhhh now.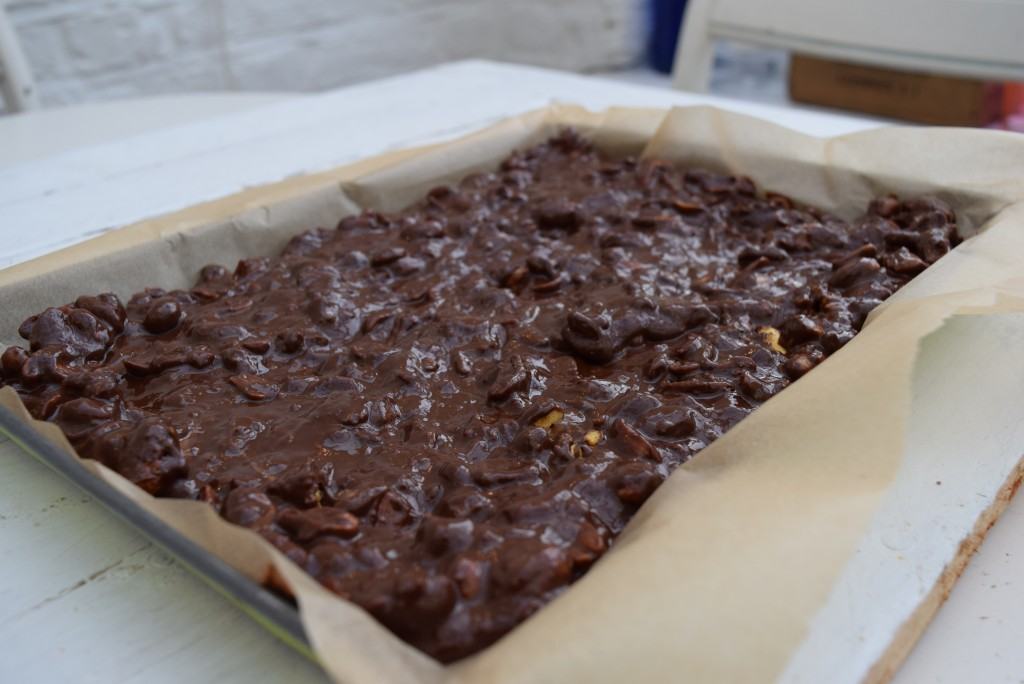 It will seem like an eternity, but pop this slab into the fridge to chill for about four hours. Set an alarm so you can get your hands on it as soon as it's ready. Then cut this nutty, sweet, salty treat into irregular wedges or uniform squares, depending on how sharp your knife is.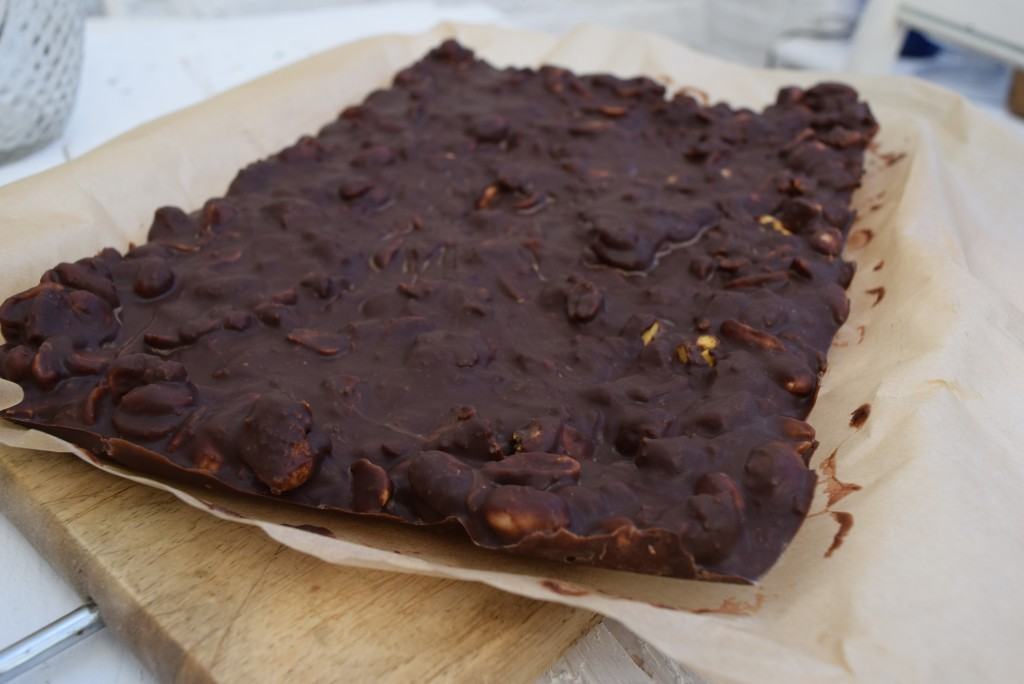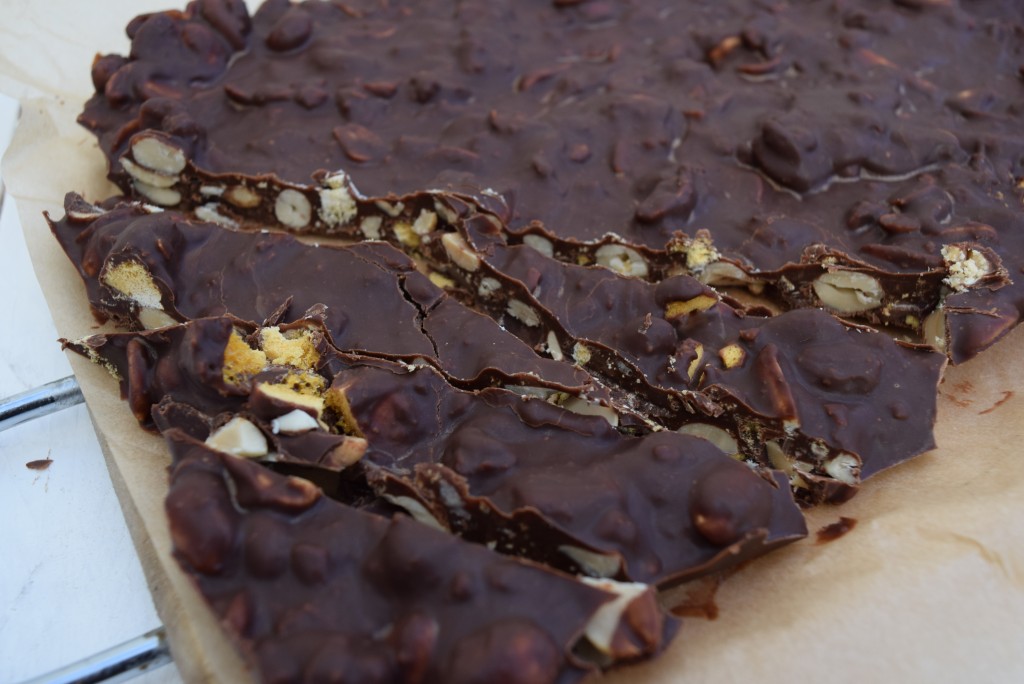 I went for irregular wedges, can you tell?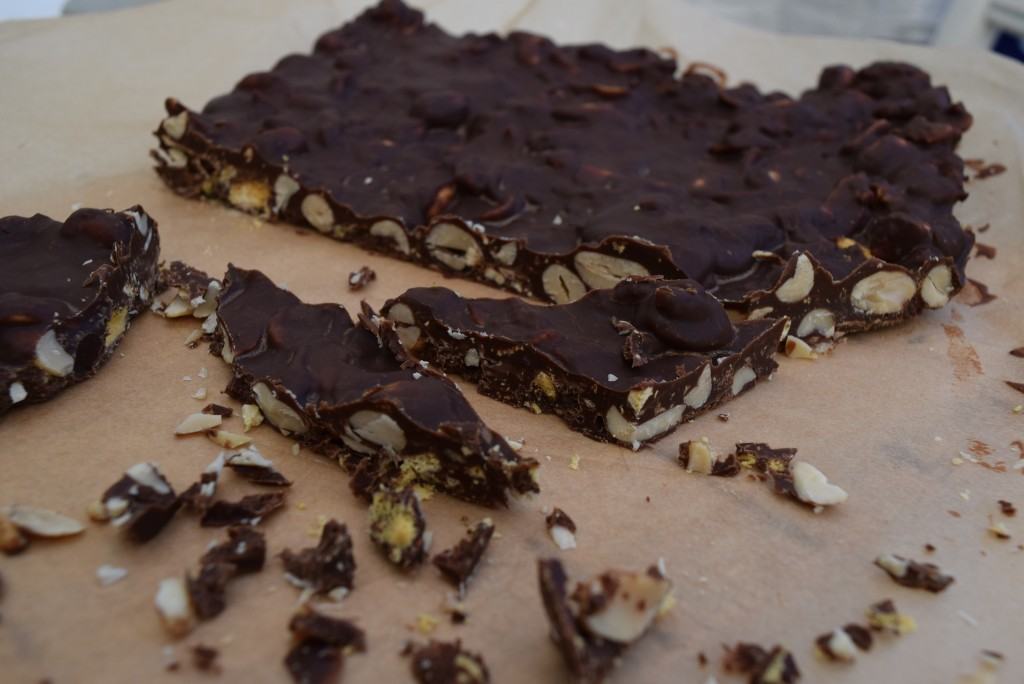 Store these wedges in a pretty jar for as long as you can hide them from the rest of the family.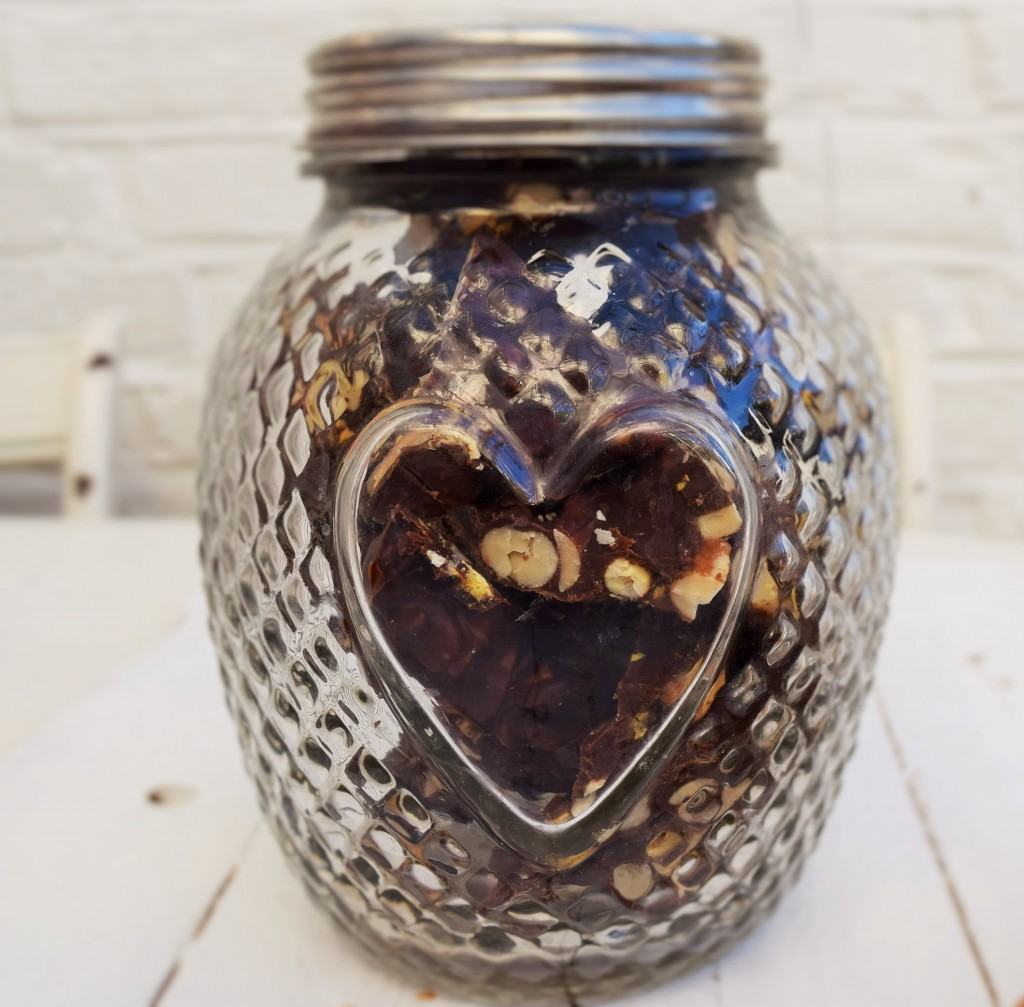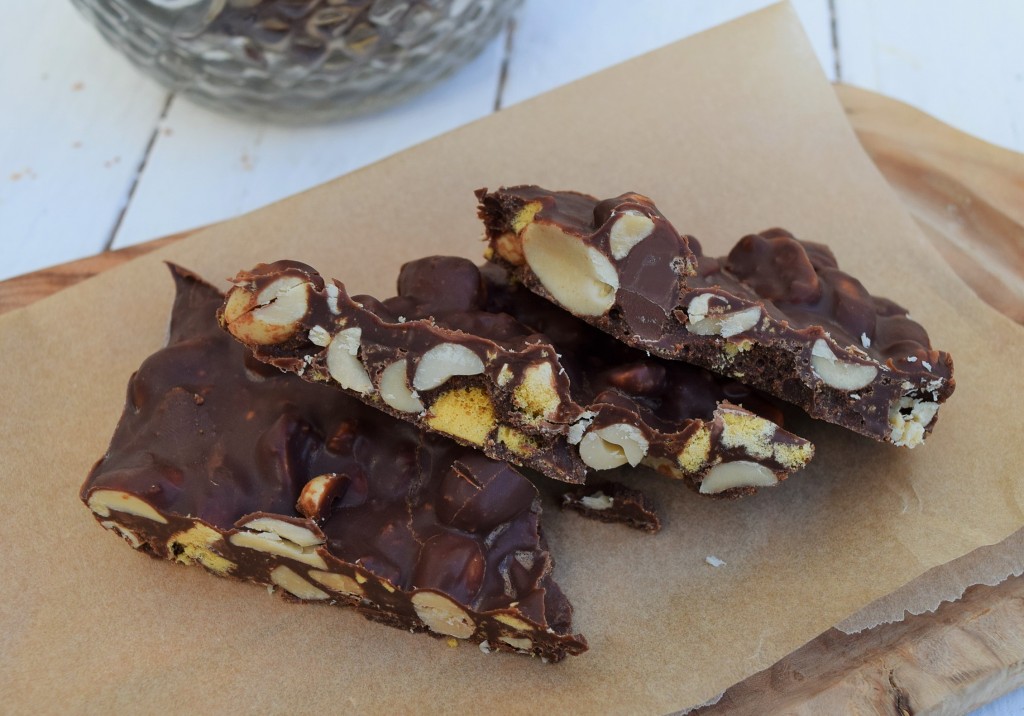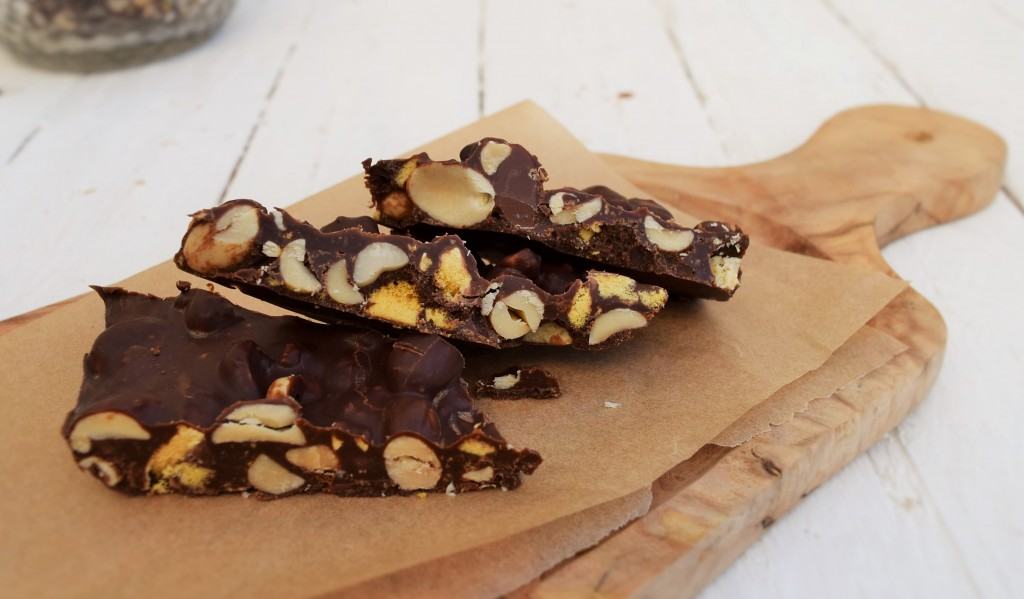 This wonderful slab can serve so many purposes. I love serving this with the coffees at a dinner party, but then it's also a brilliant home from school or work treat. Or don't look for an excuse to eat it, just eat it, whenever the mood takes you. I will warn you though, it is completely addictive and you will have to know your limits for fear of eating the whole tray whilst cutting it up.
Enjoy this treat, but you have been warned.
Lucy x
Chocolate, Peanut and Crunchie Slab Recipe
You will need a lined or well buttered rectangular shallow baking or foil tray
Makes one bloody great big slab which could feed one or more – and warning, this quite obviously contains peanuts

150g milk chocolate
150g dark chocolate
125g butter
3 tablespoons golden syrup
250g salted peanuts
4 full sized Crunchie bars – other own brand honeycomb chocolate bars are available
No need to pre-heat an oven for this. Take a microwavable bowl or a saucepan and add the dark and milk chocolate and the butter. Add the three tablespoons of golden syrup and microwave or simmer until the ingredients are just starting to melt. Leave the chocolate to meld into the butter and syrup then stir this all together to make a smooth chocolatey liquid. Take the Crunchie bars and, in their wrappers, give them a bash with a rolling pin to crush into a rubble. Mix the peanuts into the chocolate then tip in the crushed Crunchies. Mix it all together then pour into a lined shallow rectangular tin, level off, and leave in the fridge for around four hours until set. Once the slab is nice and firm, chop into odd shaped pieces or uniform squares and store in a jar in the fridge. Hidden from everyone.