Classic Hot Cross Buns Recipe
I love a Hot Cross Bun and hooray for it being Easter so time to whip up a big batch of them. I am a lover of an untoasted HCB, but it appears I am in the minority with this. I adore the slightly doughy middle, slathered with cold butter which doesn't melt on the cold bun. In an office poll, I was 4-2 down with my raw bun requirements, the majority love them toasted with sweet burnt edges and warm melty butter.
I did toy with the idea of making a Hot Cross Bun Loaf or one large Hot Cross Bun, but why mess with perfection. This recipe is care of my favourite Good Housekeeping Cookery Book, an oldie but goodie. These buns are not too sweet, lightly glazed, a good size and spiced to perfection. I popped one round to my sister, or Head of Quality Control, as I like to call her, and she proclaimed them the nicest she had ever eaten. And Good Lord,  she should know, she's eaten a few over the years.
Even though a yeasty recipe does seem like a bit of a kerfuffle with the kneading and rising and the like, it is so worth it I can assure you. When they are warm from the oven you will literally have to sellotape your hands behind your back to stop yourself from eating every single last one of them.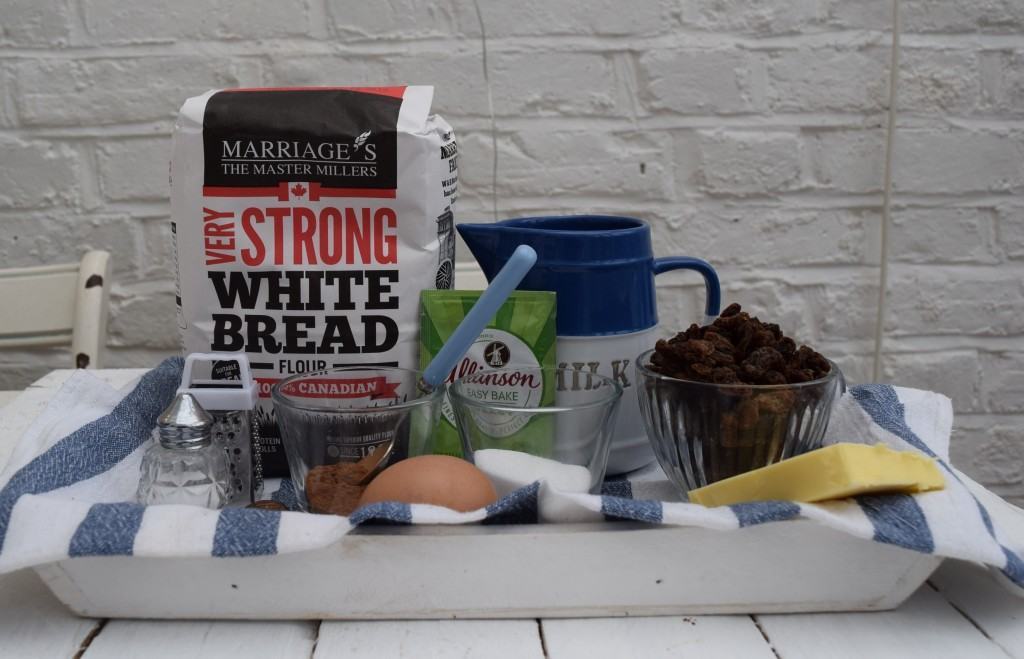 And here are the ingredients for these Classic Hot Cross Buns. I have omitted candied peel as I can't abide it, but do add it to your buns if you are a peel lover. I have also used sultanas not raisins, but go with currants or even dried cranberries if you prefer and like a bit of controversy.
So lets get this show on the road, take a big bowl and add the flour. Add mixed spice, cinnamon and nutmeg and salt then rub in the cut up butter until the mixture resembles fine breadcrumbs.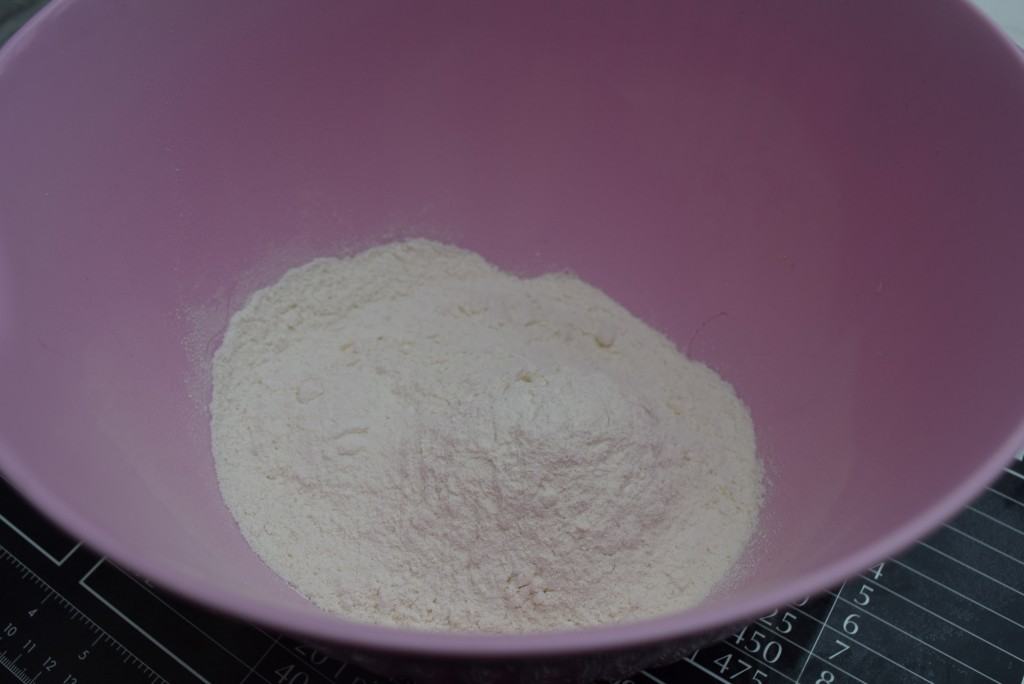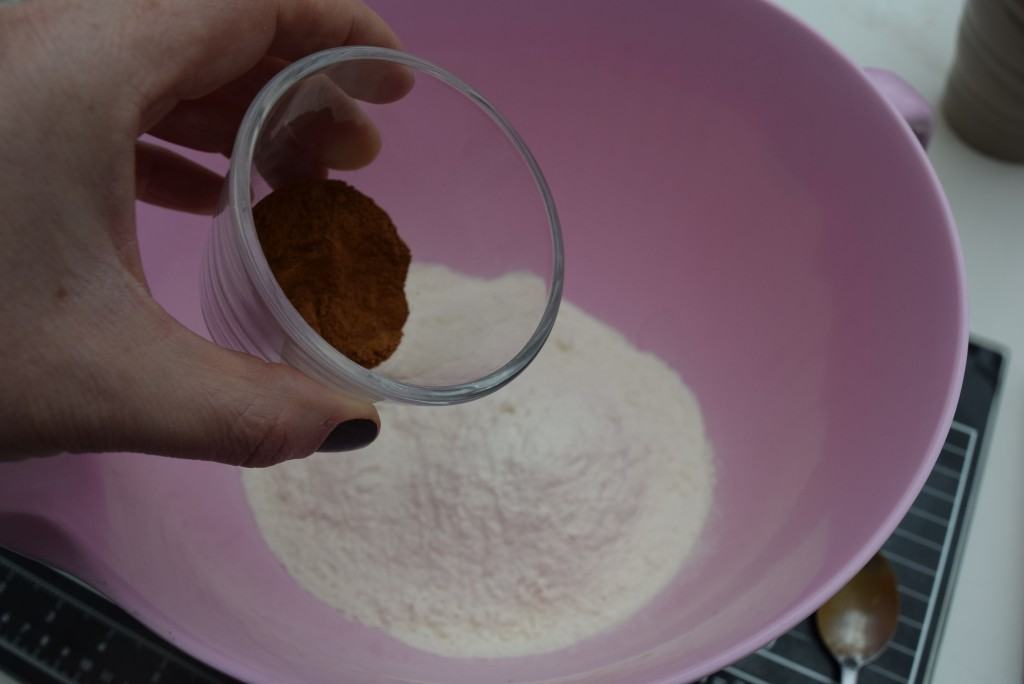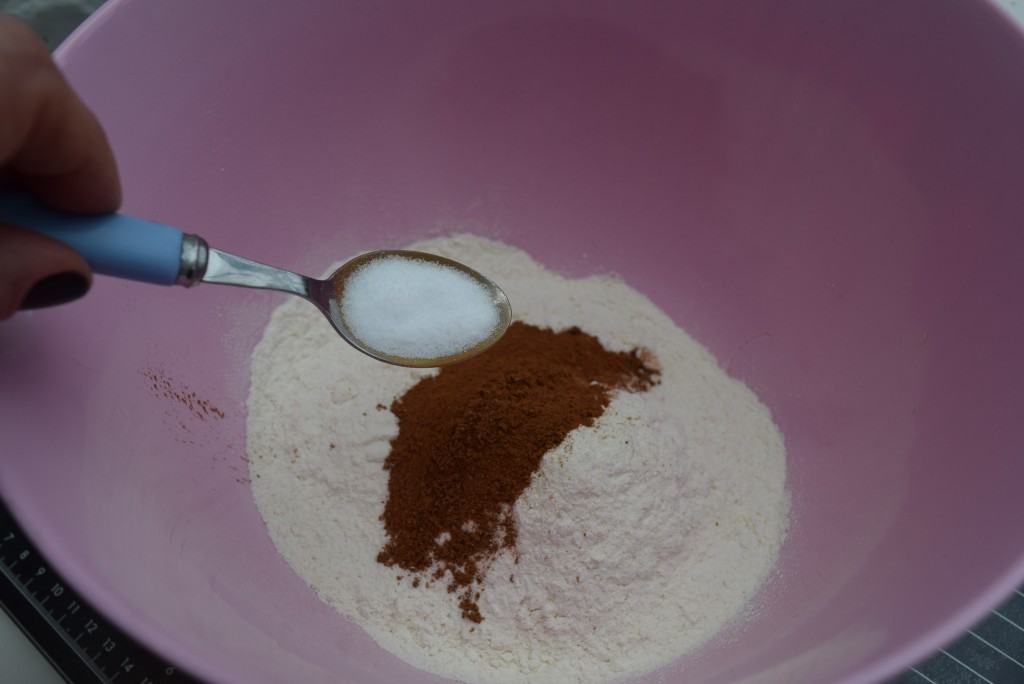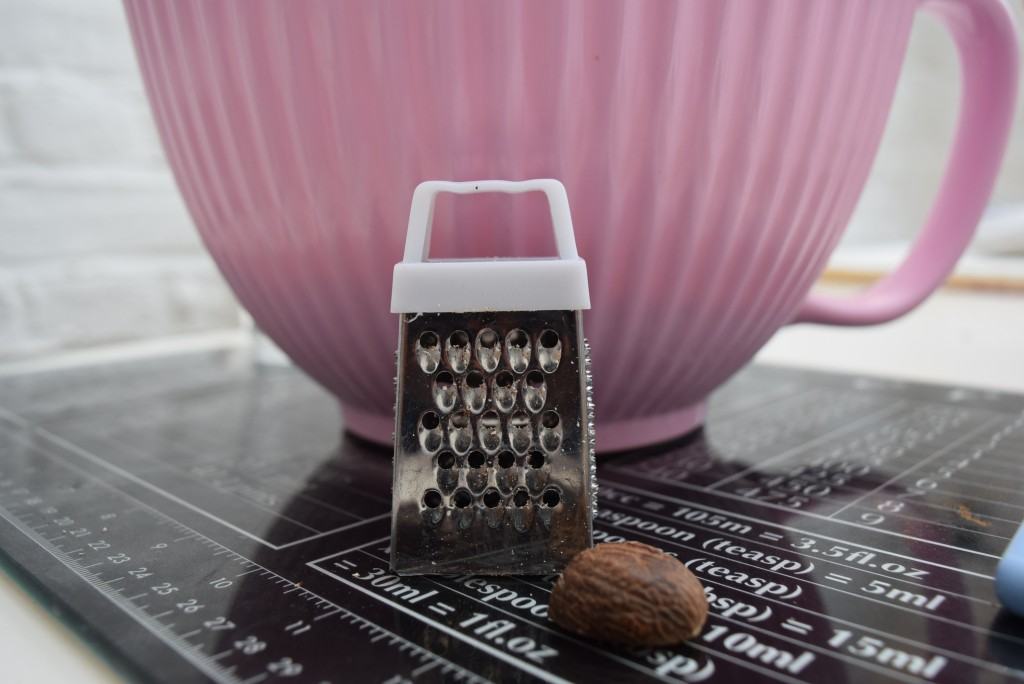 The tiny nutmeg grater makes another special guest appearance.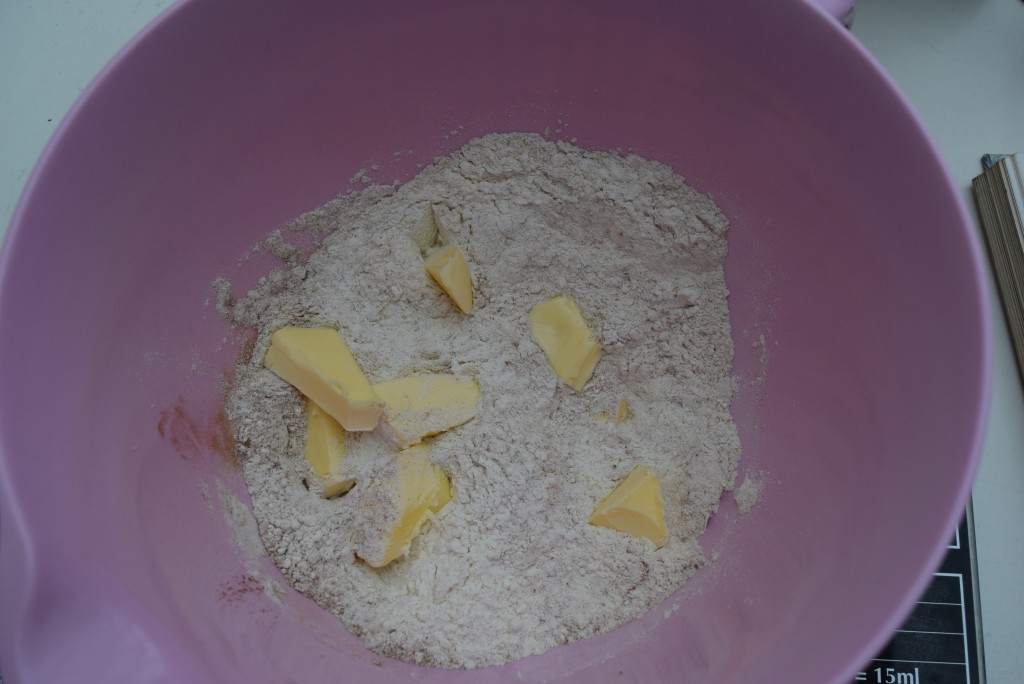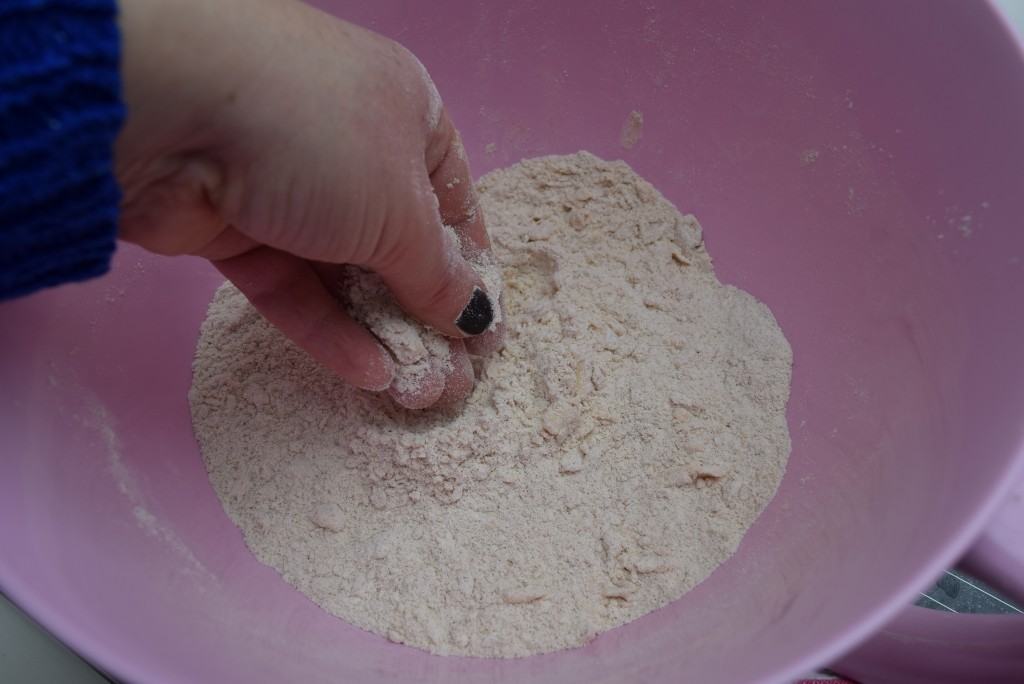 Some brilliant one handed rubbing in of butter and flour there as I was home alone with no one to help with my photography. Shake your bowl lightly so any large pieces of butter rise to the top then rub those in too.
Once you have reached the 'looking like breadcrumbs stage', stir in the sachet of yeast and the sugar.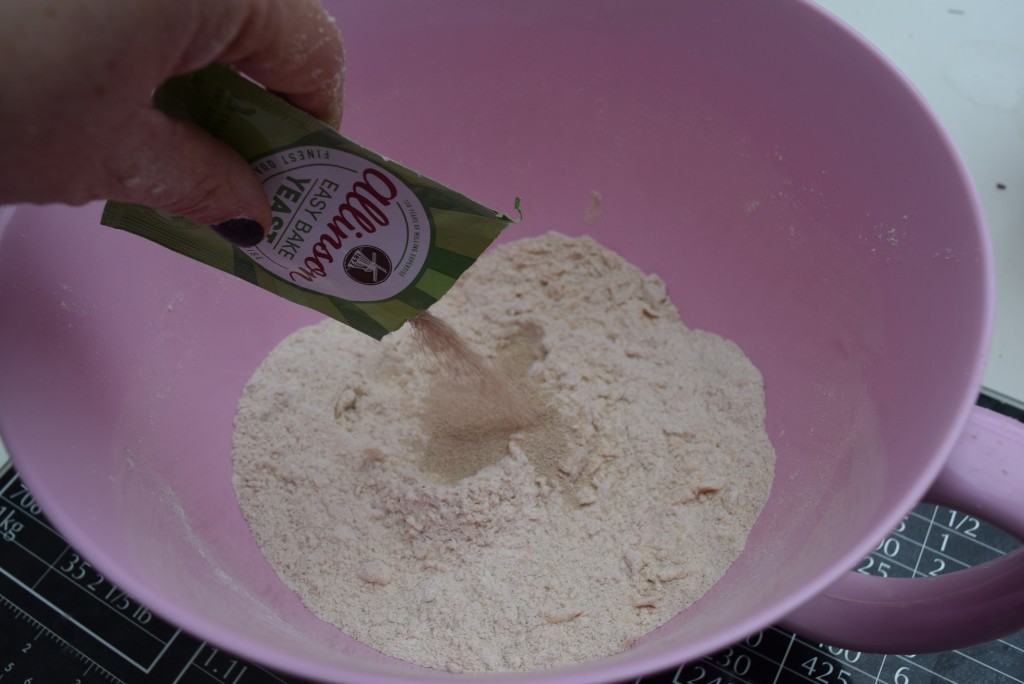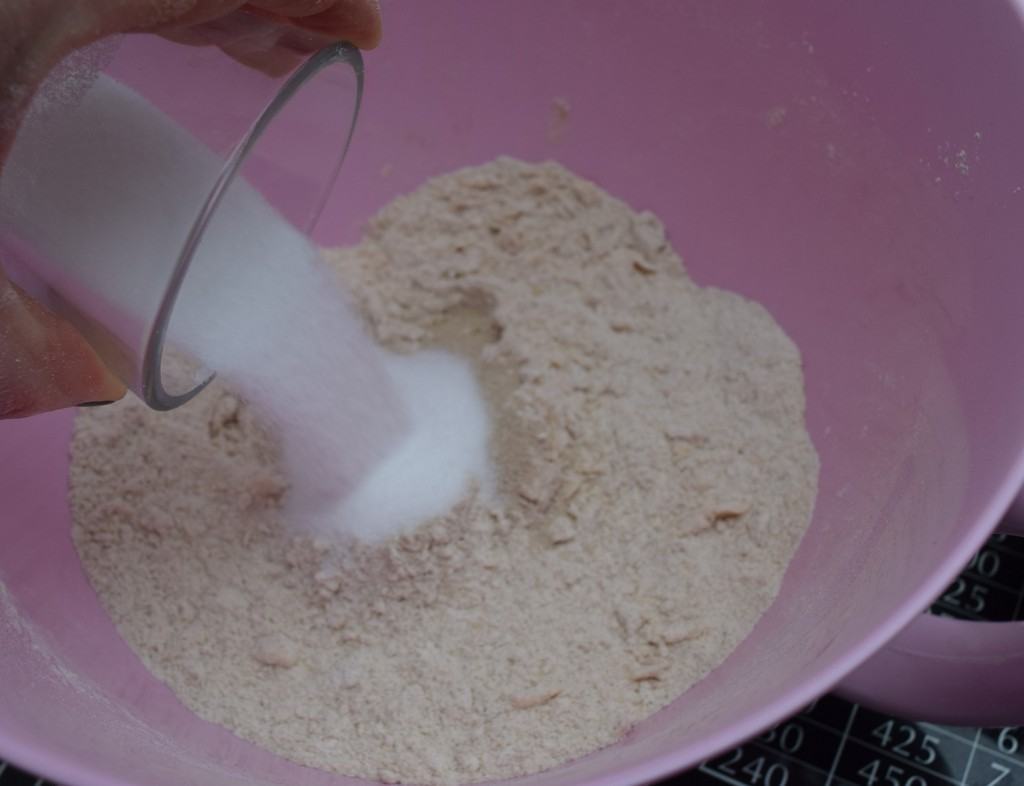 Then mix in the sultanas or dried fruit of your choosing, and yucky yuk peel if you are using it.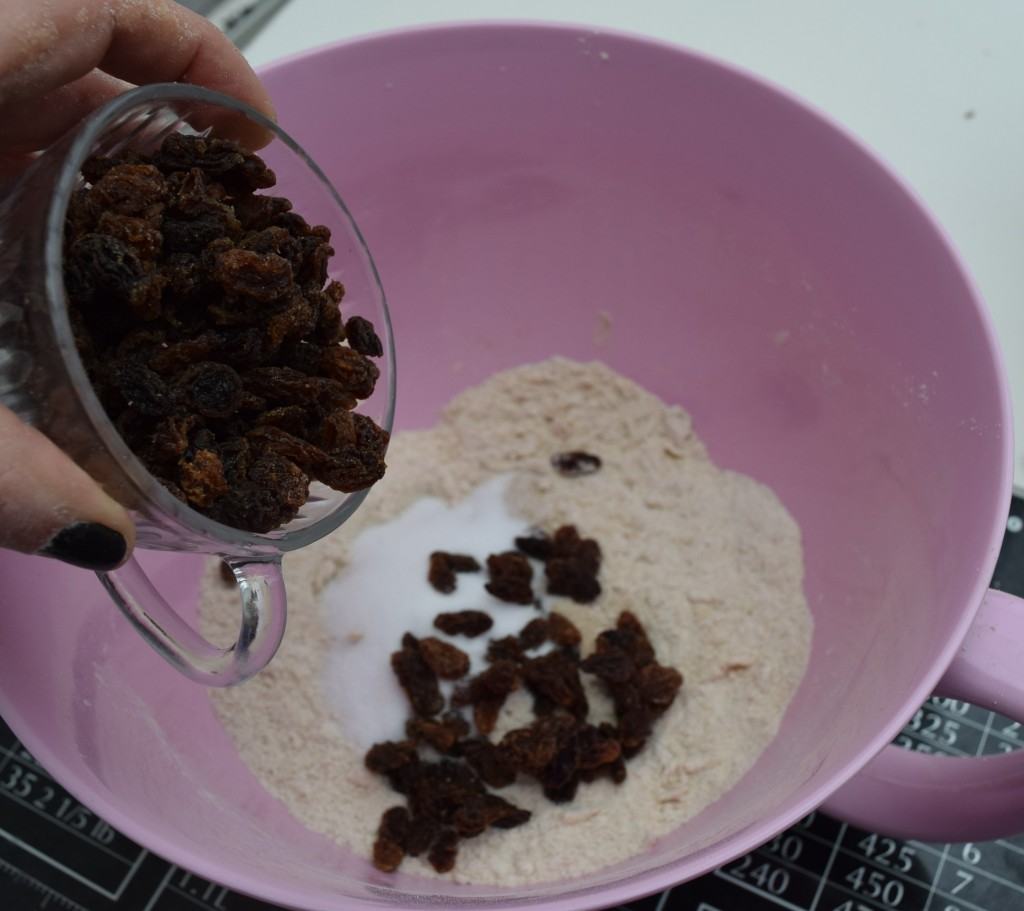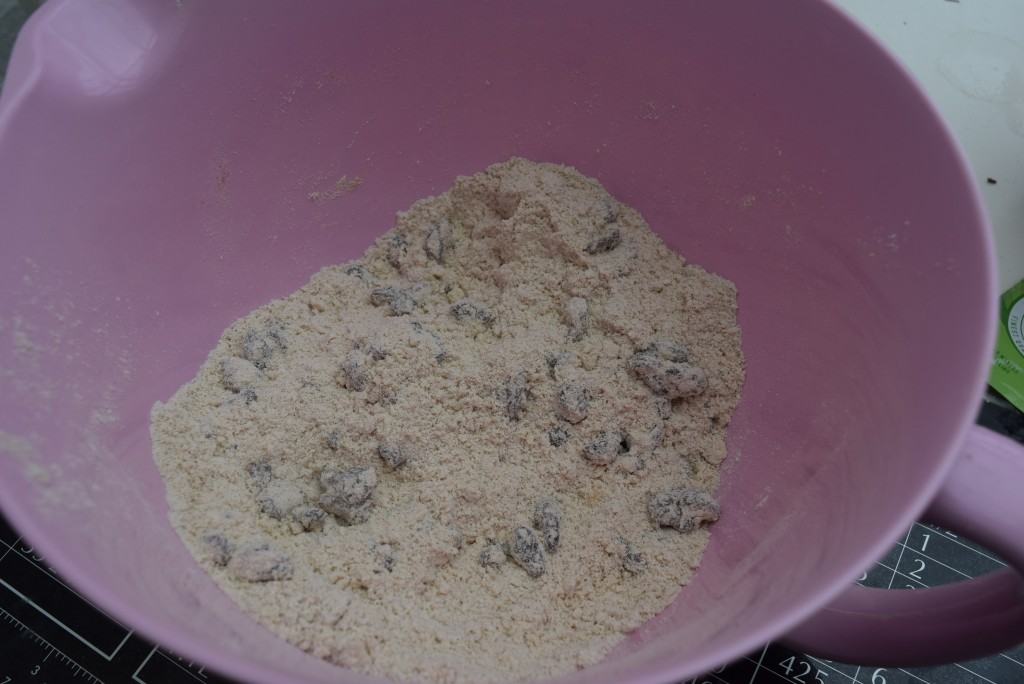 Next take your jug of milk and give it a quick burst in the microwave (or a saucepan) to bring it up to hand warm temperature. Add the egg to the flour and fruit mix, then stir through the warm milk, bringing it all together into a doughy ball.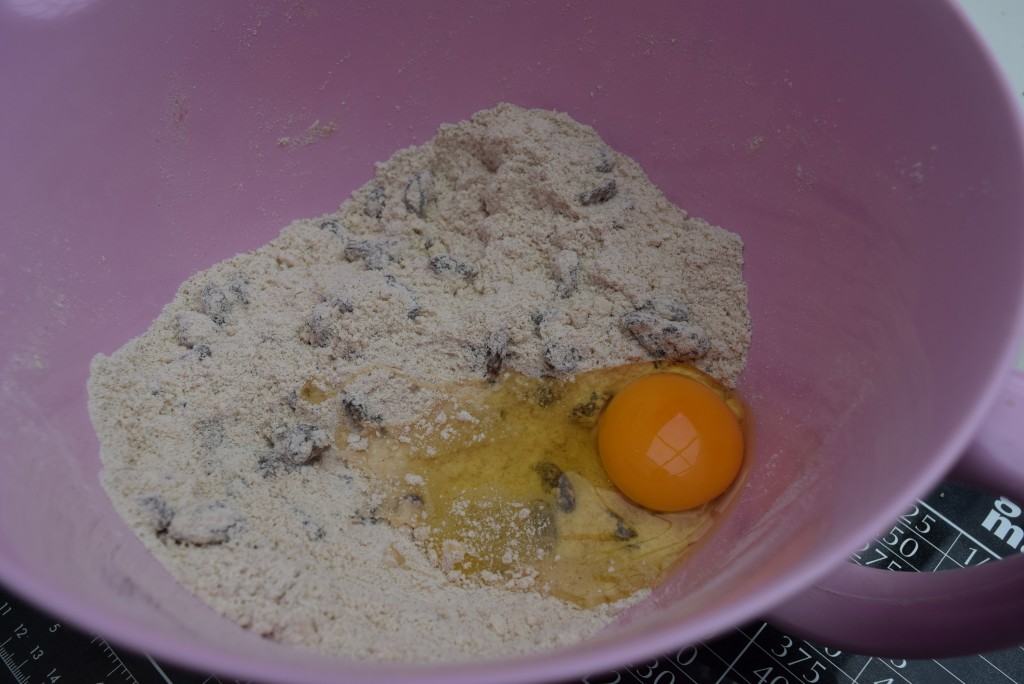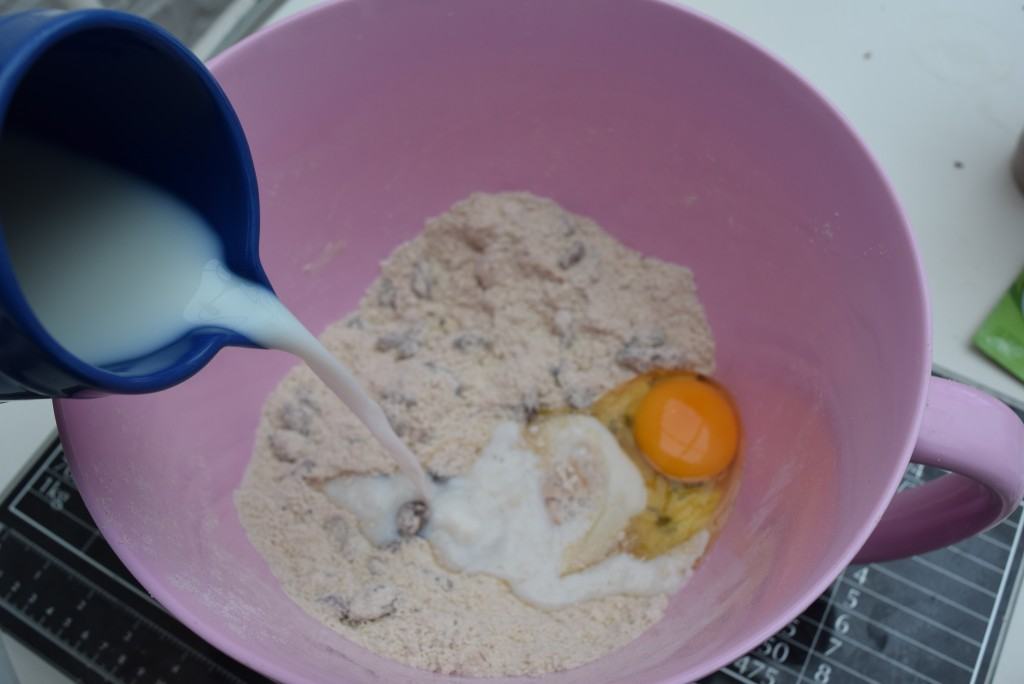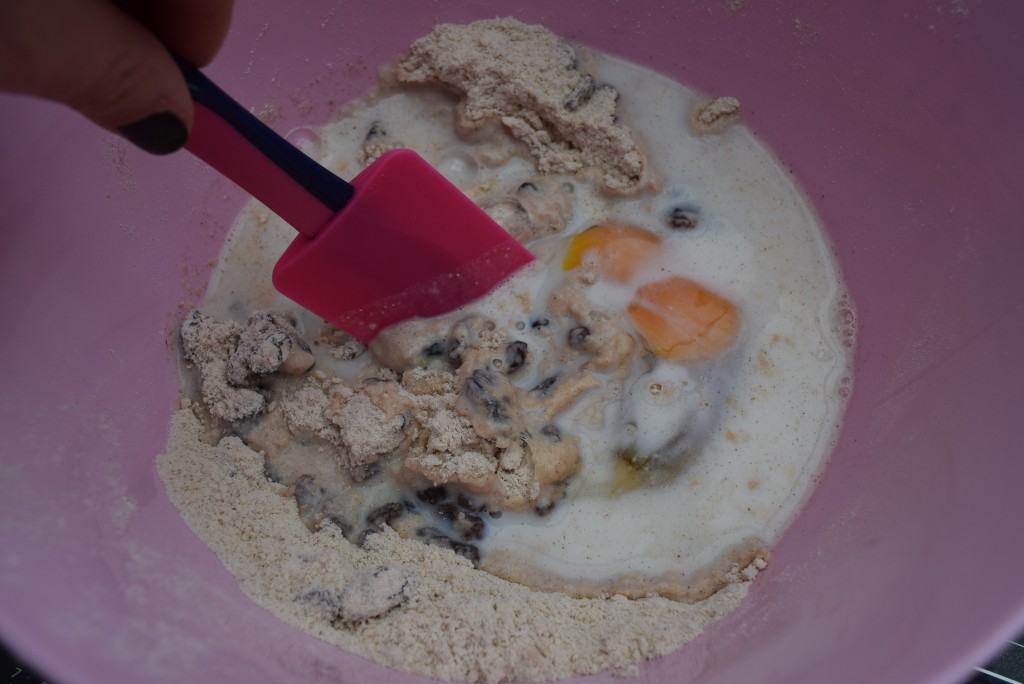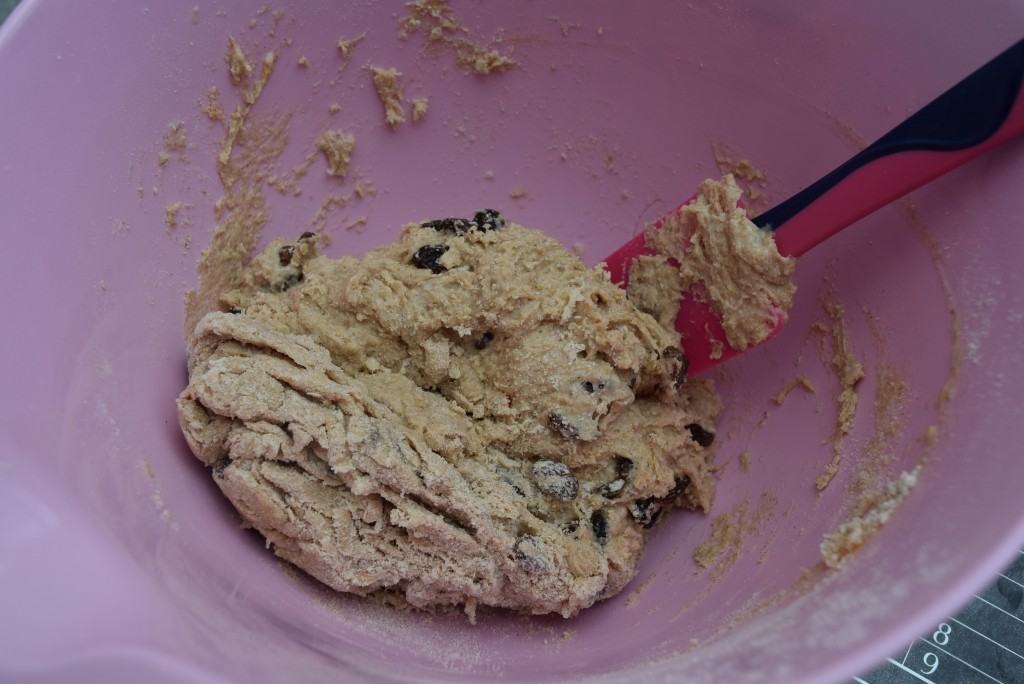 Flop your doughy ball onto a floured work surface and prepare to knead for around 8 to 10 minutes. I decided to do this by hand, because a) I'd paid a tenner for my manicure and thought I would show it off b) couldn't be arsed to get the Kitchen Aid out and c) I was hoping to burn off a few calories with the vigorous kneading. It's quite therapeutic really, just push the dough away with the palm of your hand and keep it moving until it goes from feeling sticky to smooth and elastic. Add more flour to your board if it's sticking, but not too much as you don't want it to be too stiff.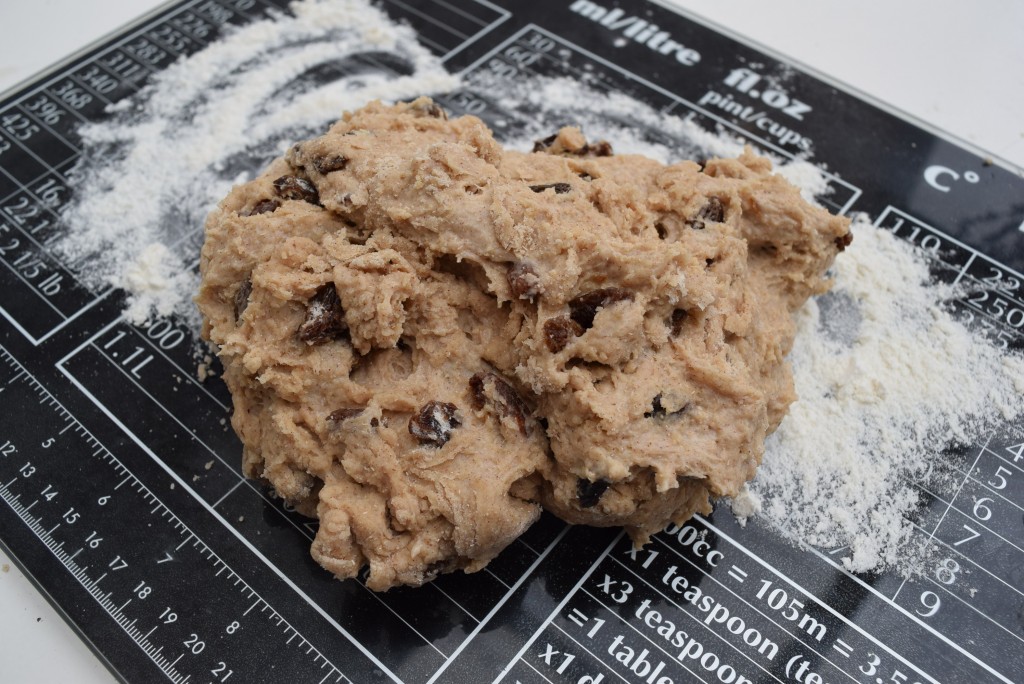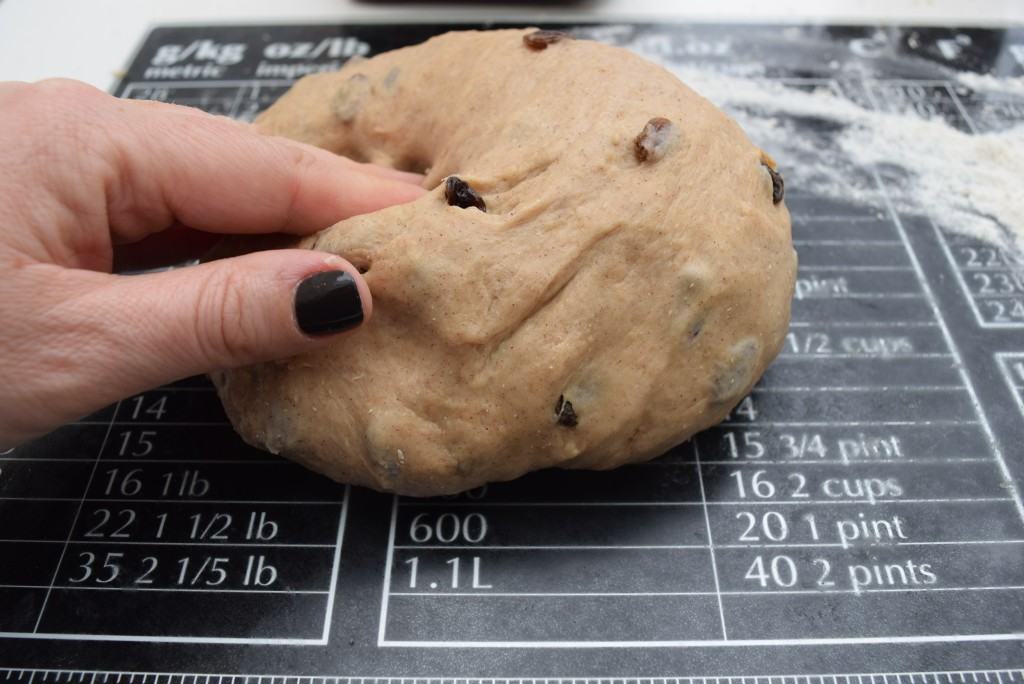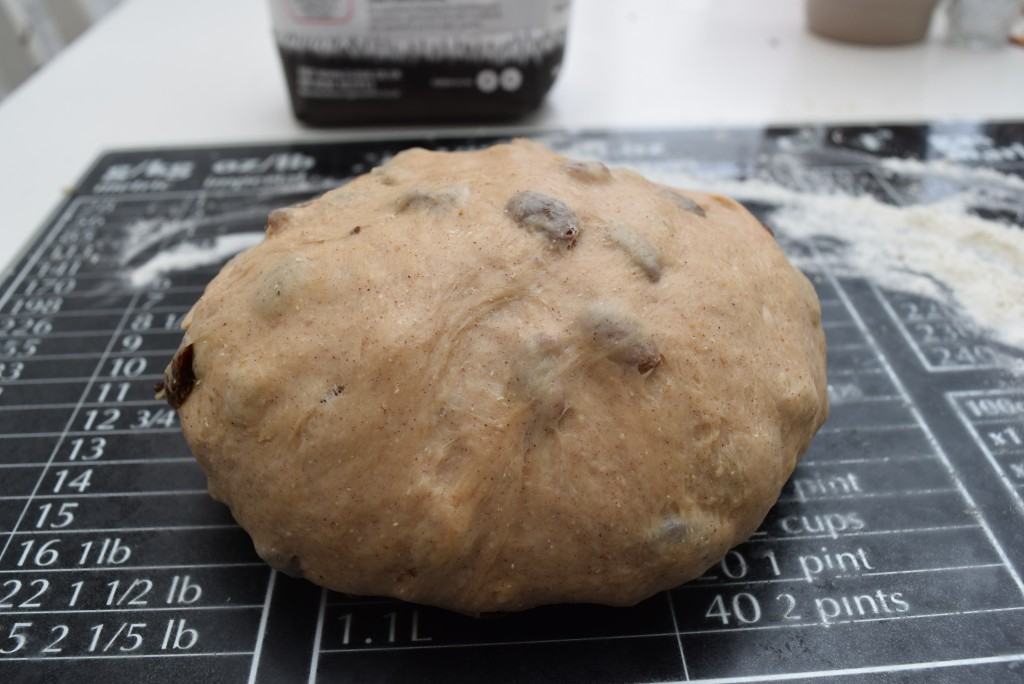 Take a clean bowl then oil it with a drop or two of oil so your dough doesn't stick. Pop the dough into the bowl and leave, covered in a cloth in a warm spot to rise for around an hour and a half to two hours. The dough should double in size.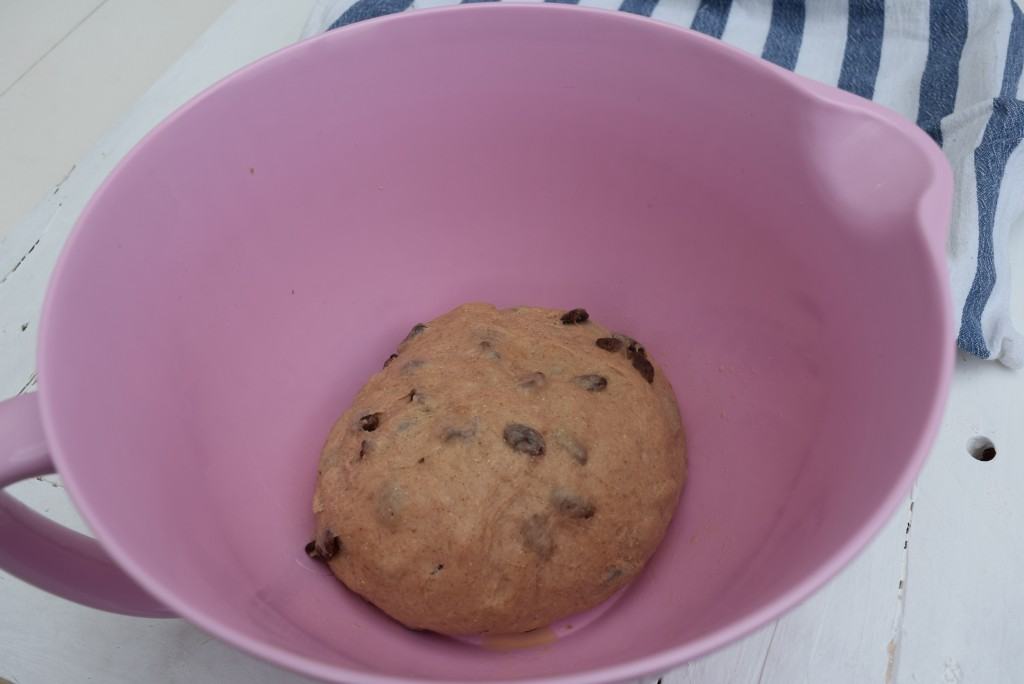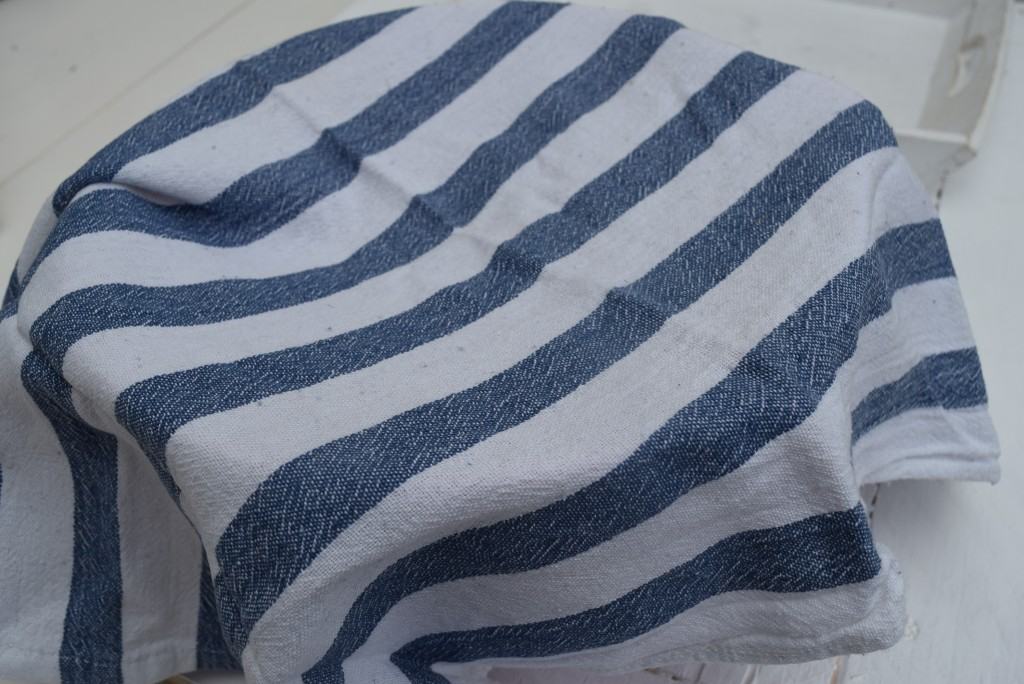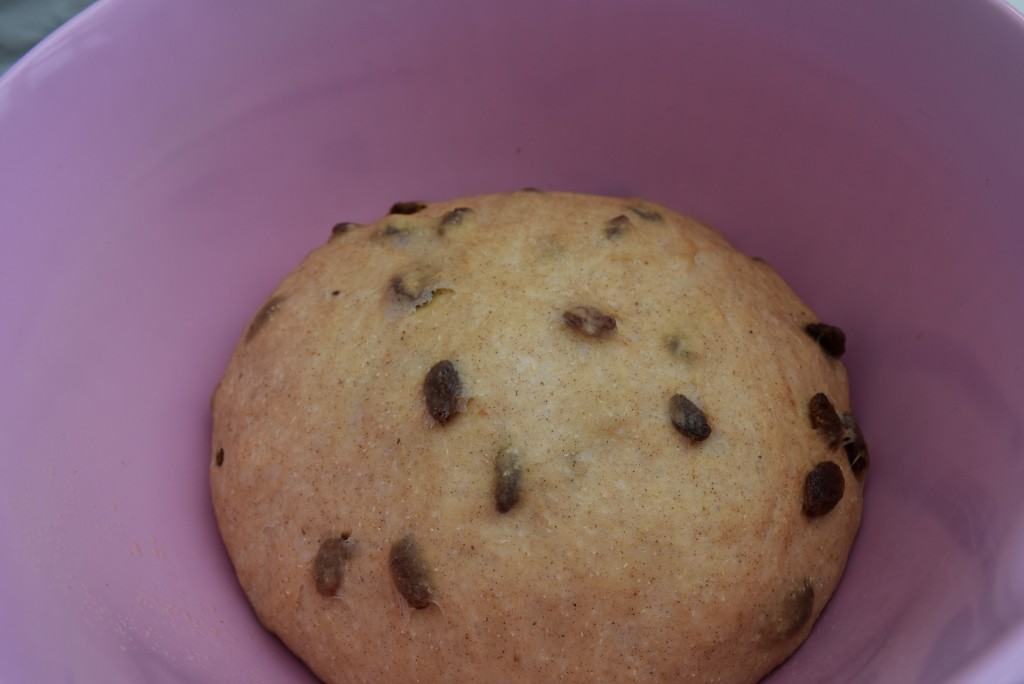 Knock this lovely inflated dough back, which basically means give it another knead. You then need to cut the dough into 12 pieces. They easiest way to do this is to halve it, then cut each half into three then halve each third. Did that make any sense at all?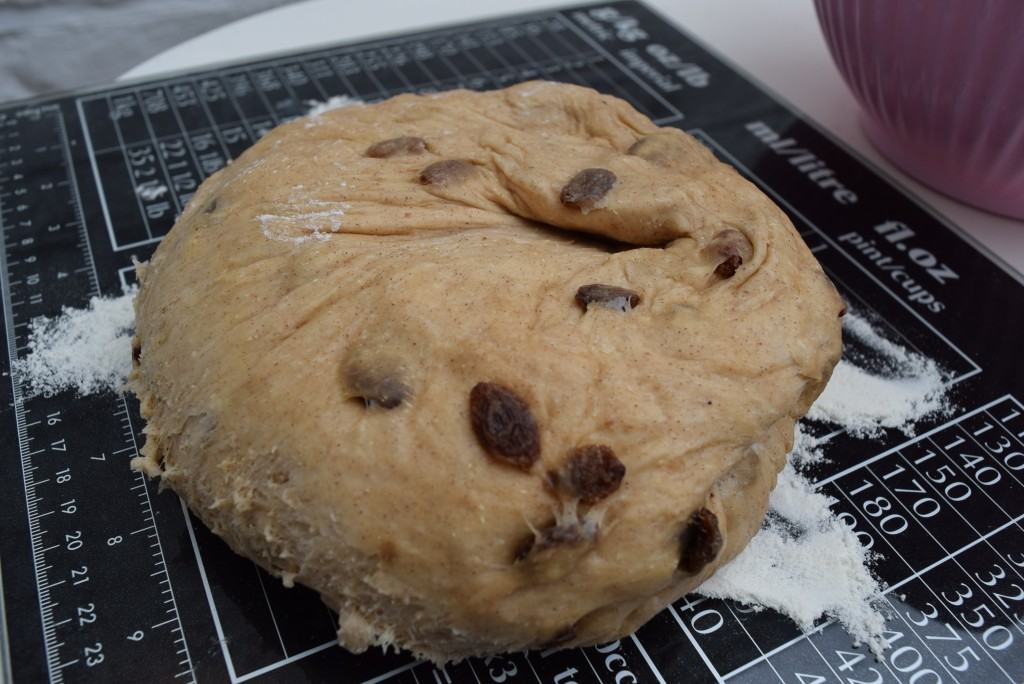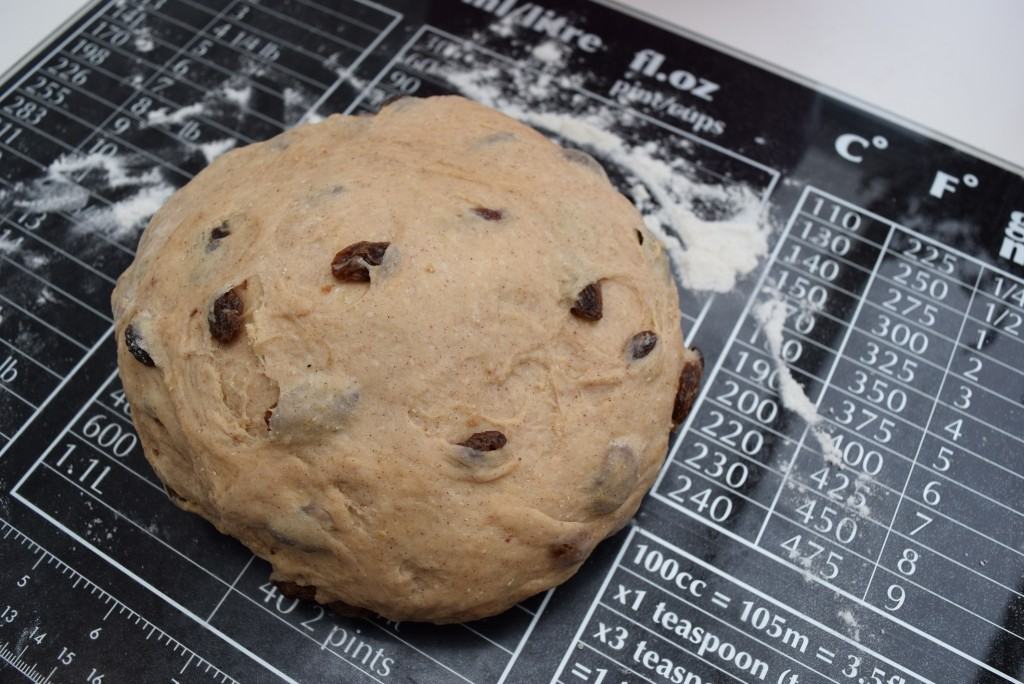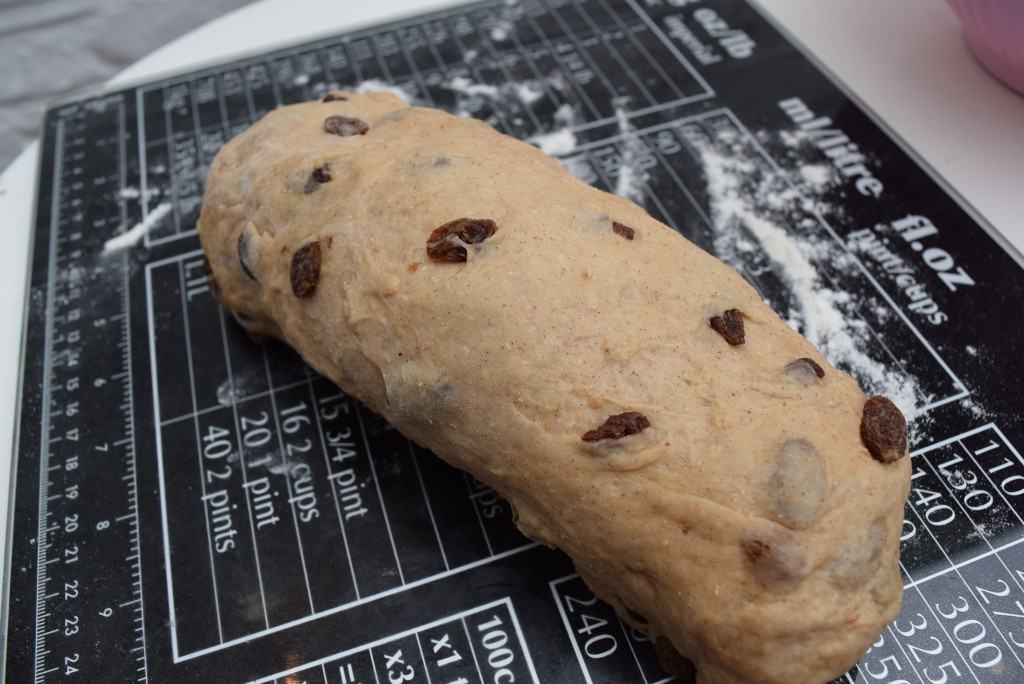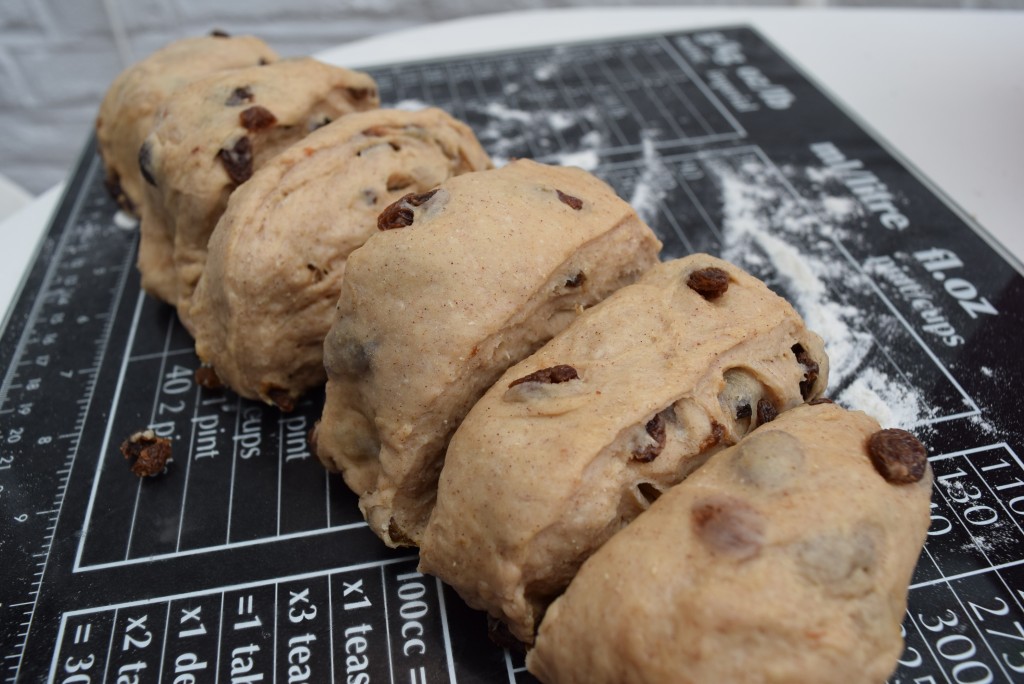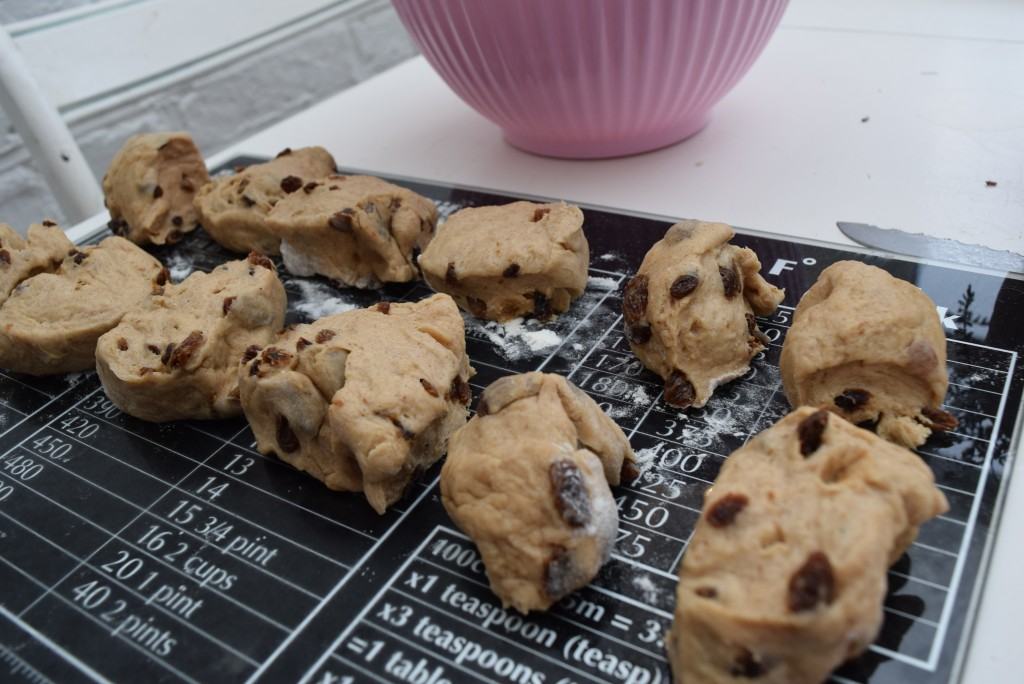 Roll each ball of dough around in your hand to make a nice even shape, folding it over so any seam is on the bottom. Place the shaped buns on a buttered baking sheet.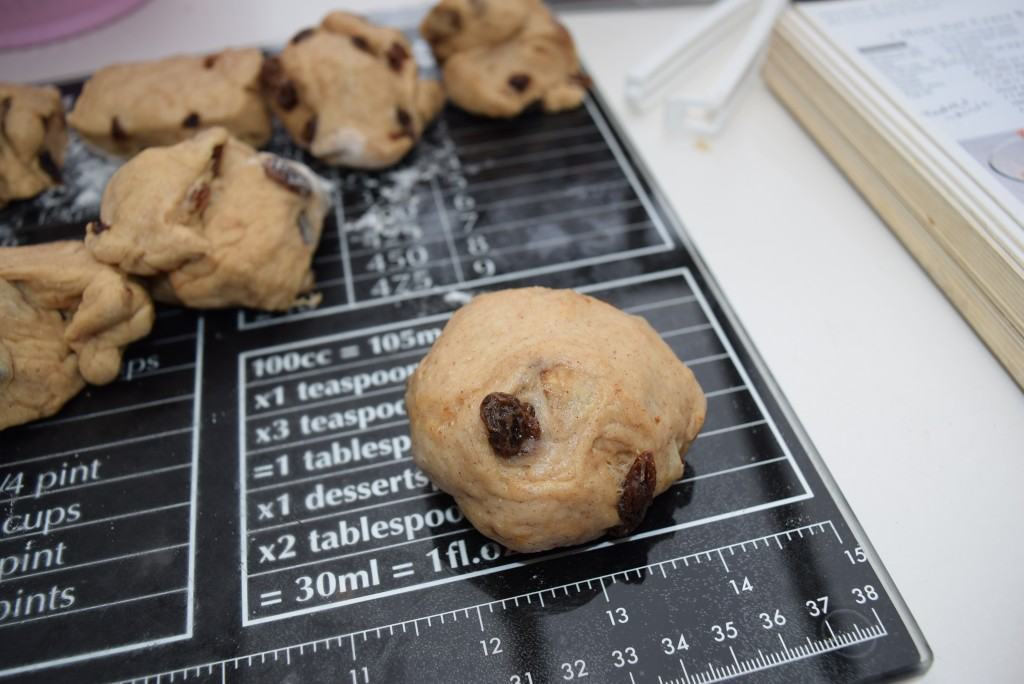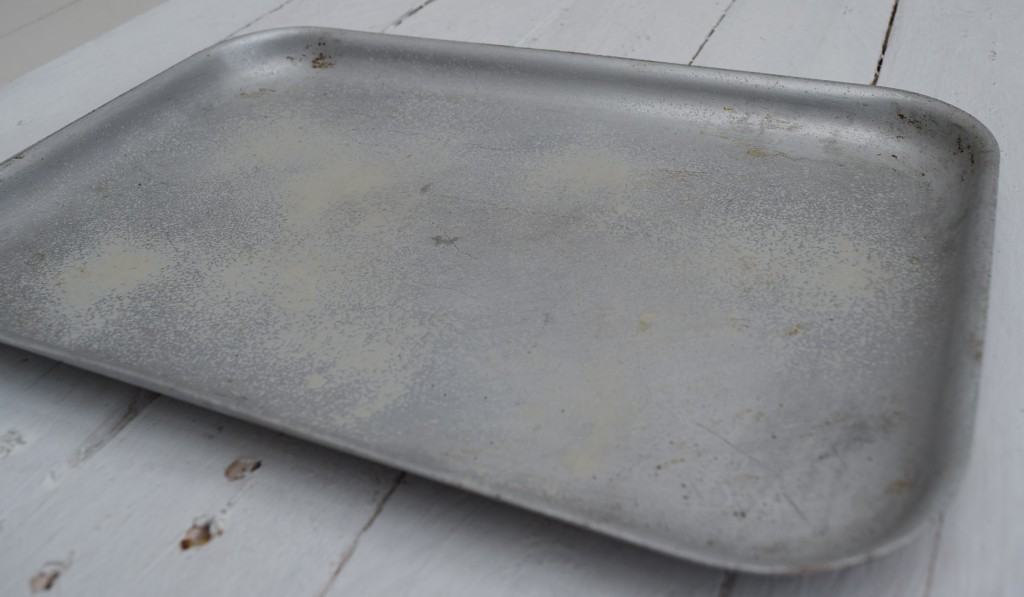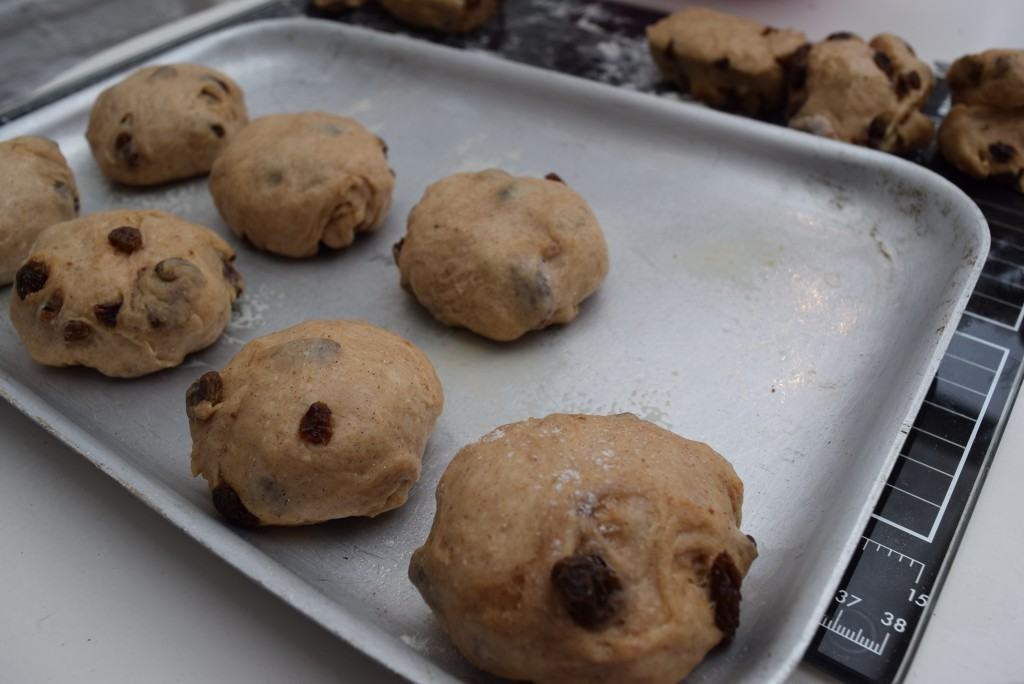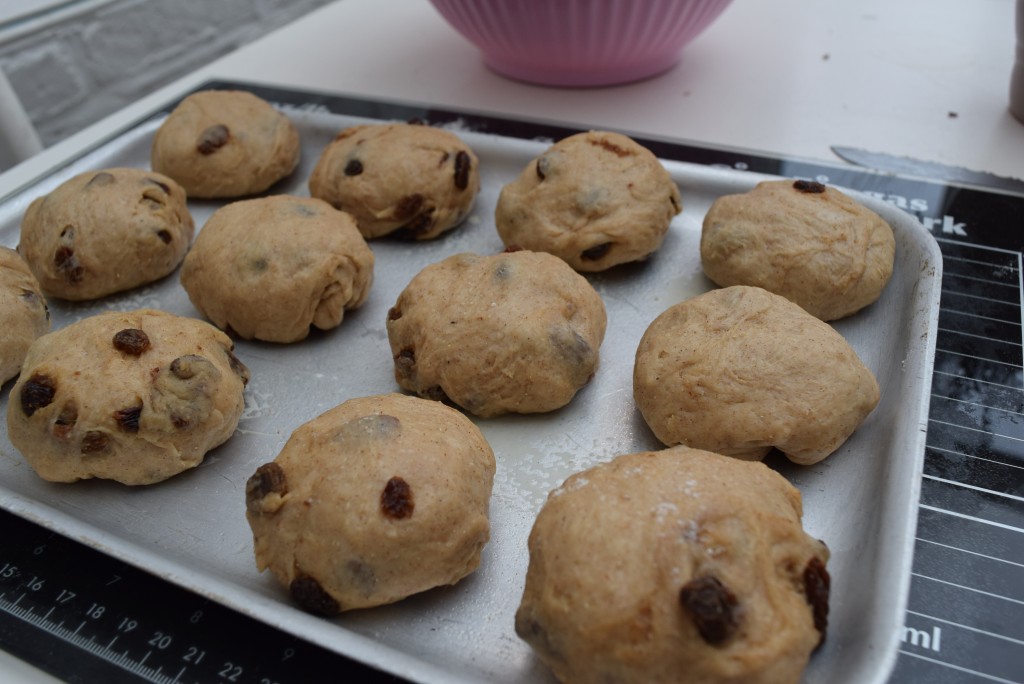 Next get on with the paste for the crosses. The original recipe called for strips of shortcrust pastry but I didn't have any to hand. So I used another recipe and mixed three tablespoons of flour with approx 9 tablespoons water, but just add enough until you have a smooth paste.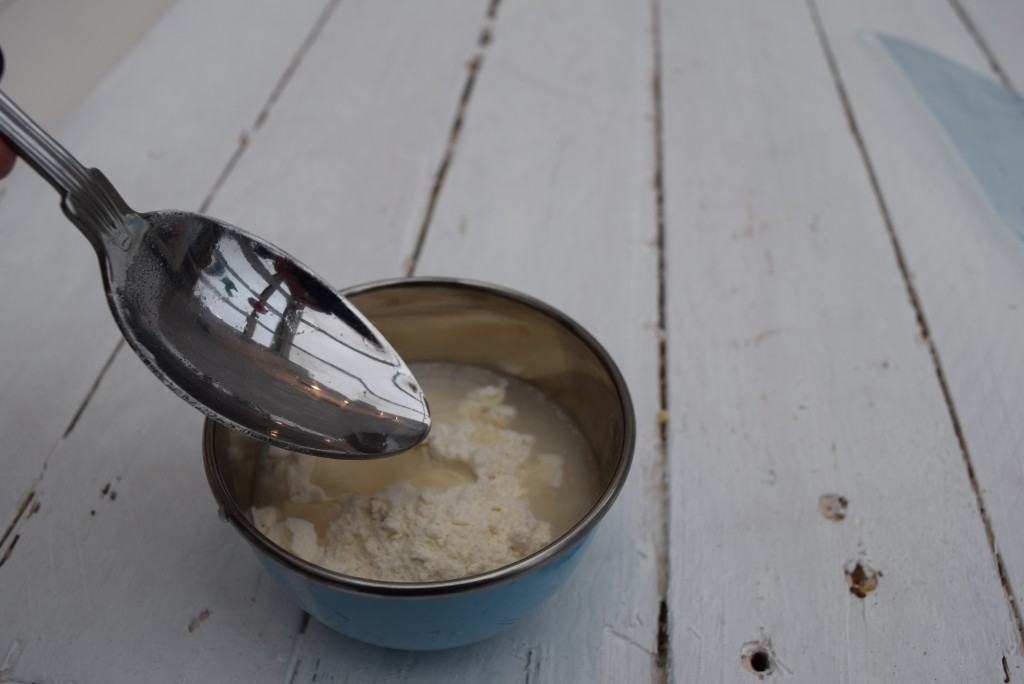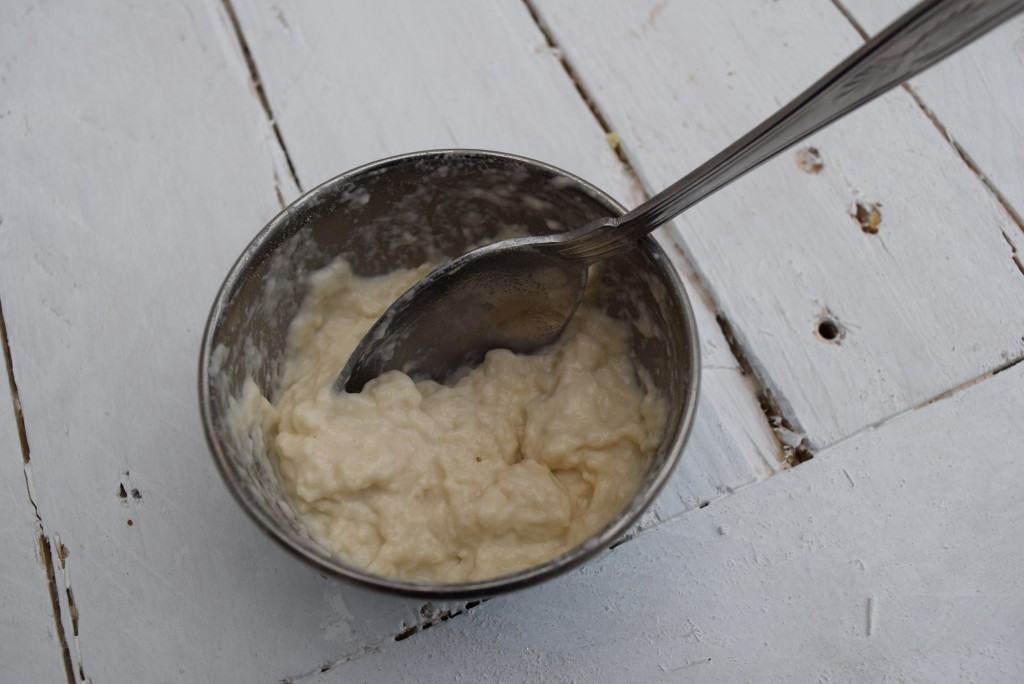 My paste was a touch on the lumpy side so do try harder than me. Spoon this paste into a small piping bag or a food bag with the corner cut off and pipe crosses onto the top of your buns *tee hee*.
It is a bit tricky to pipe as the paste is slightly slippery – but persevere as it gets easier the more you do.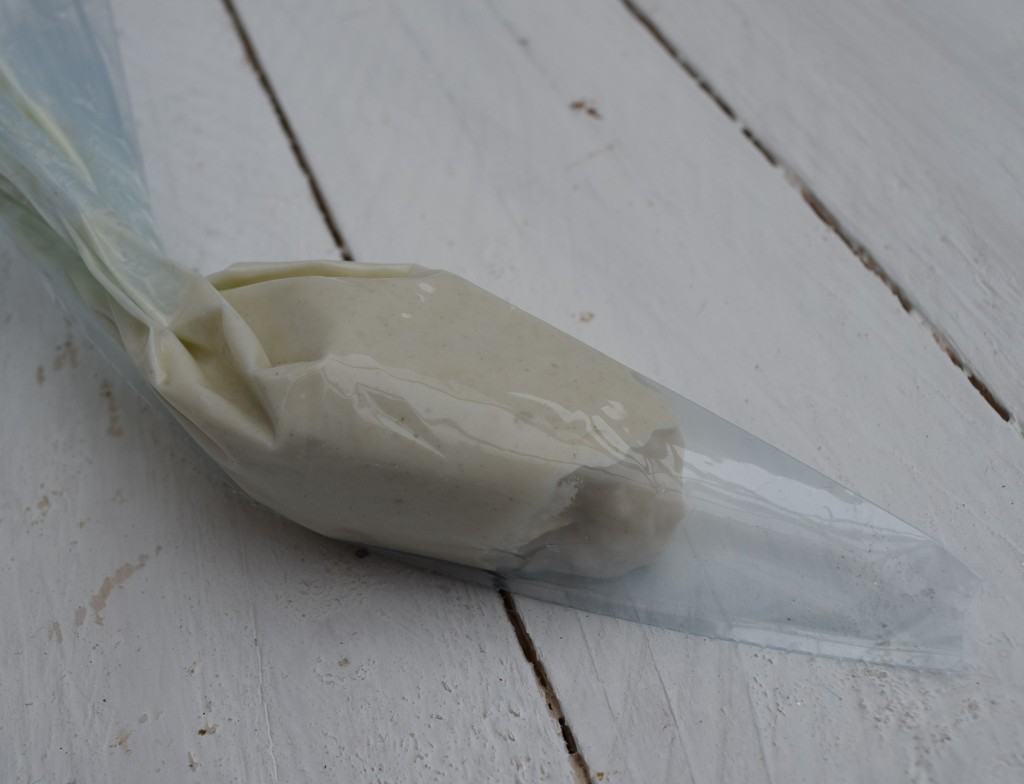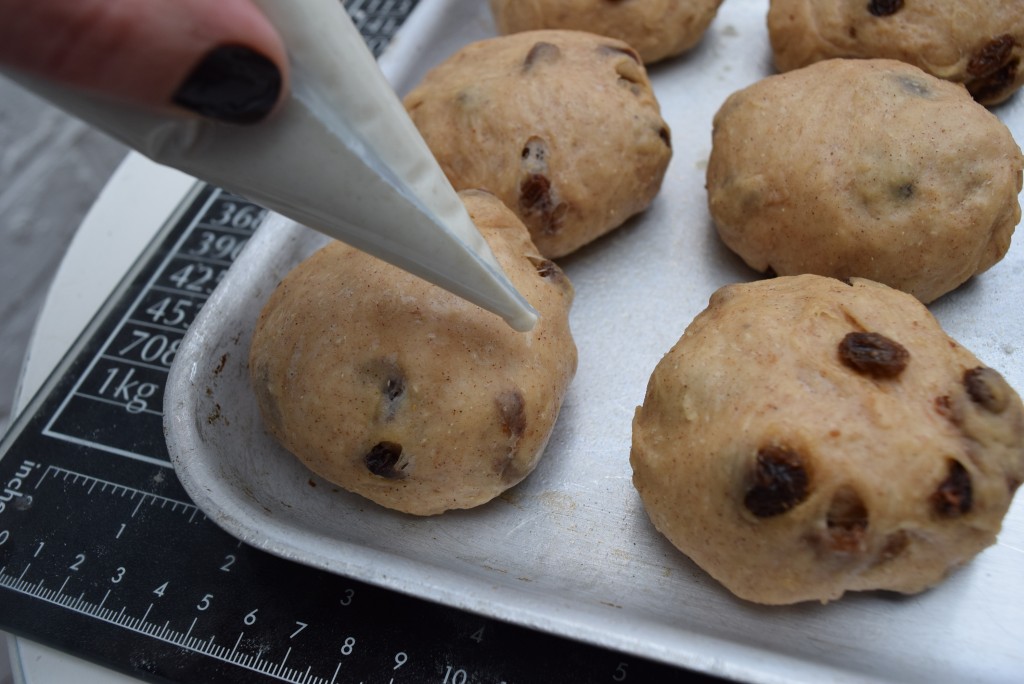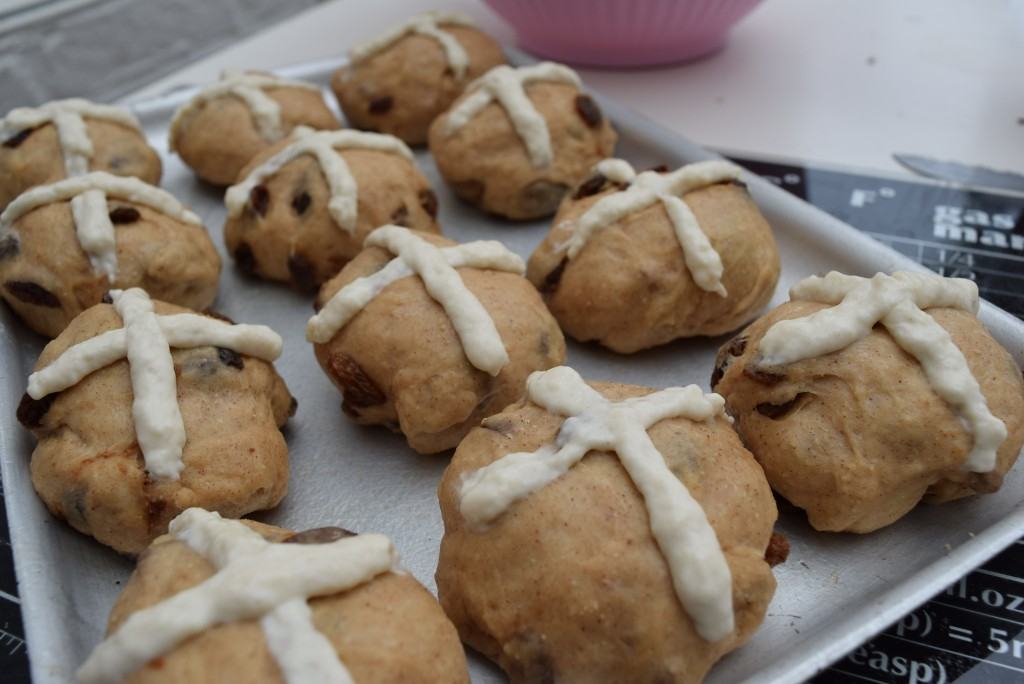 Switch your oven on to pre heat at around 160 to 170 degrees and leave those babies somewhere warm and draft free to rise again for a further half an hour.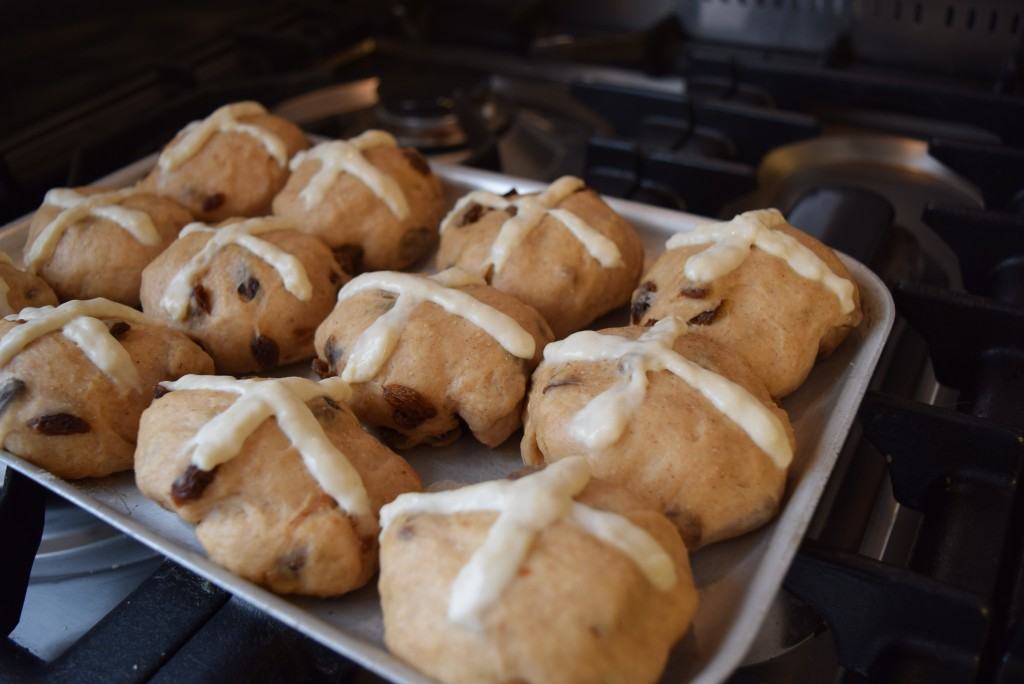 Then after this time pop them into the oven for 20 to 25 minutes until golden and when you tap their bottoms they sound hollow.
While the buns are cooking, take two tablespoons of caster sugar and mix it with two tablespoons of warm water. Give this a stir until the sugar dissolves.
Once your kitchen is filled with the warm scent of mixed spice and your mouth is watering, take the Hot Cross Buns out of the oven and glaze them with the sugar and water mix.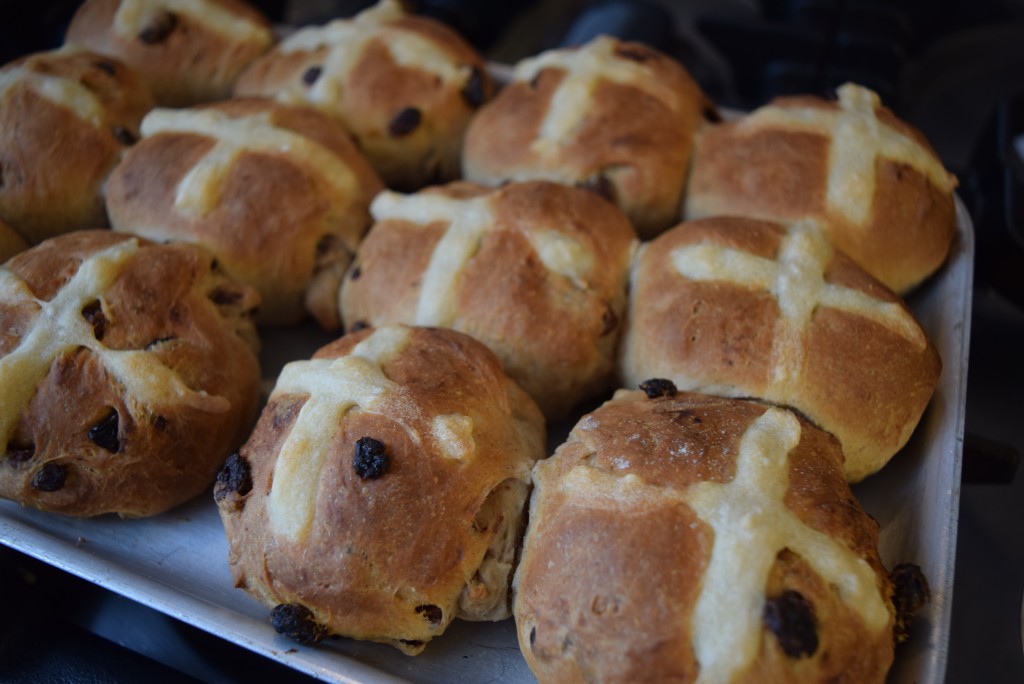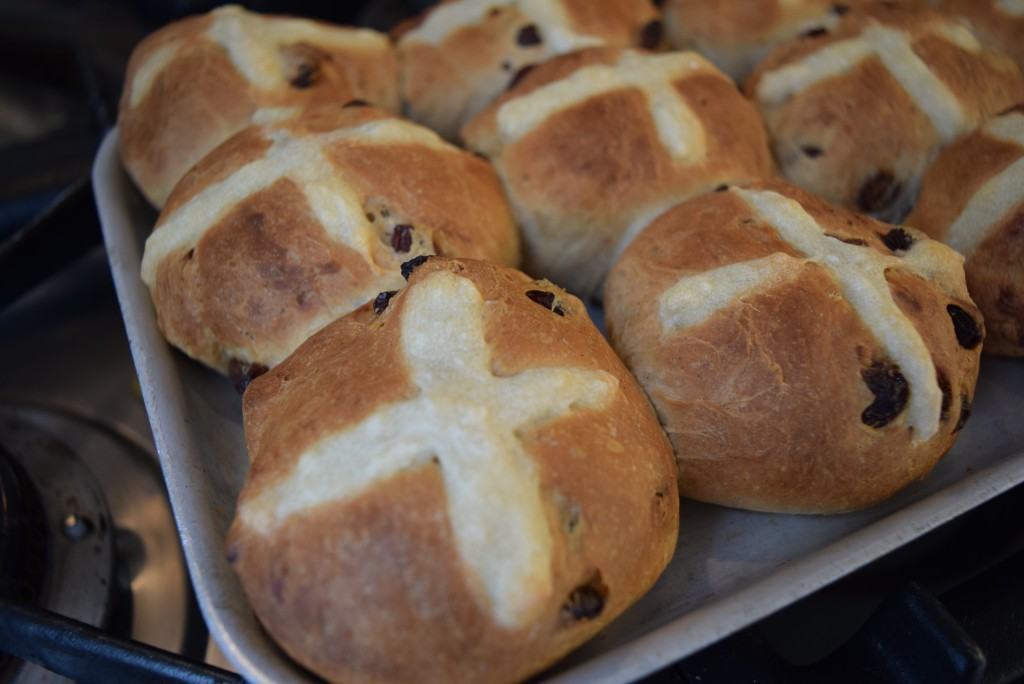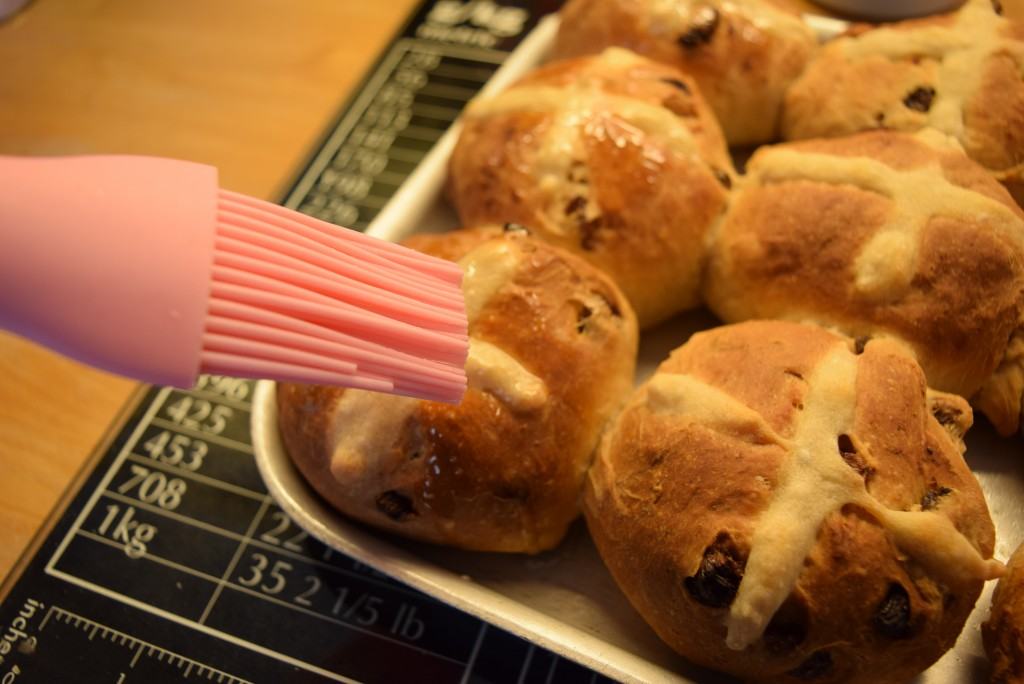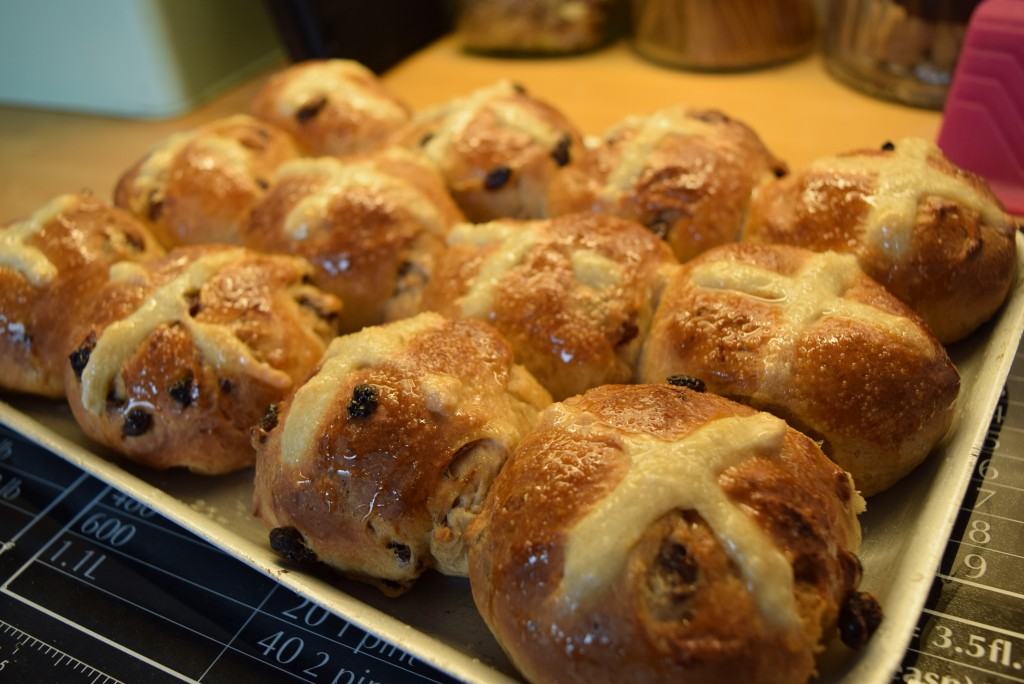 And there you have them, Classic Hot Cross Buns, all 12 of them. Inhale them warm from the oven, buttered with far too much butter, or let them cool and toast them until golden.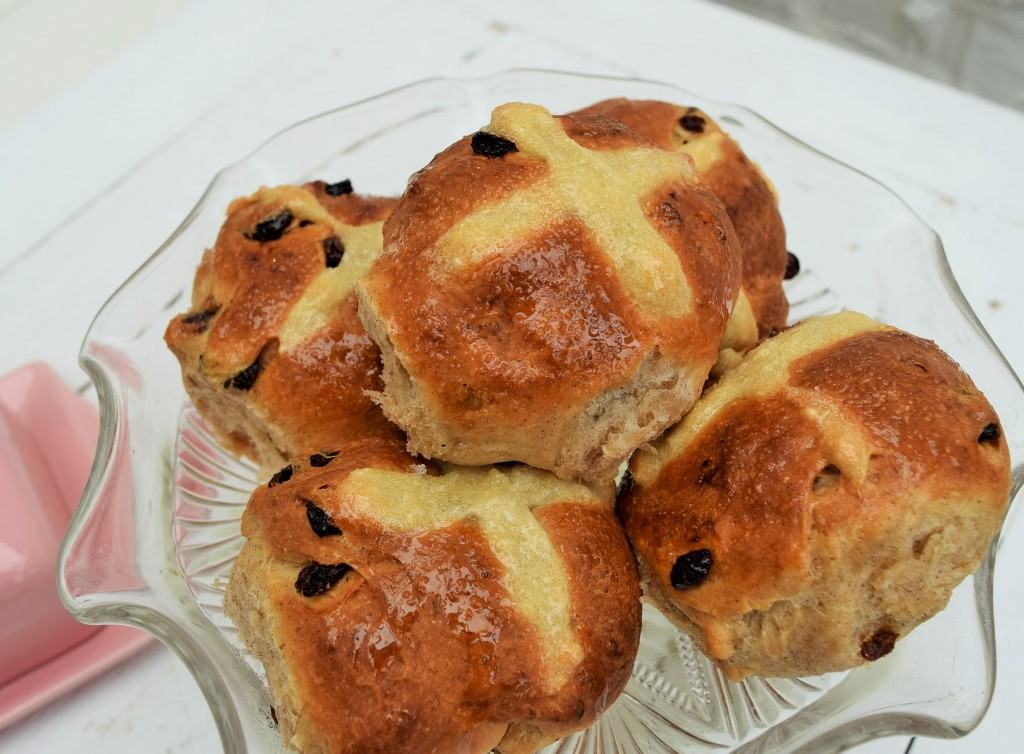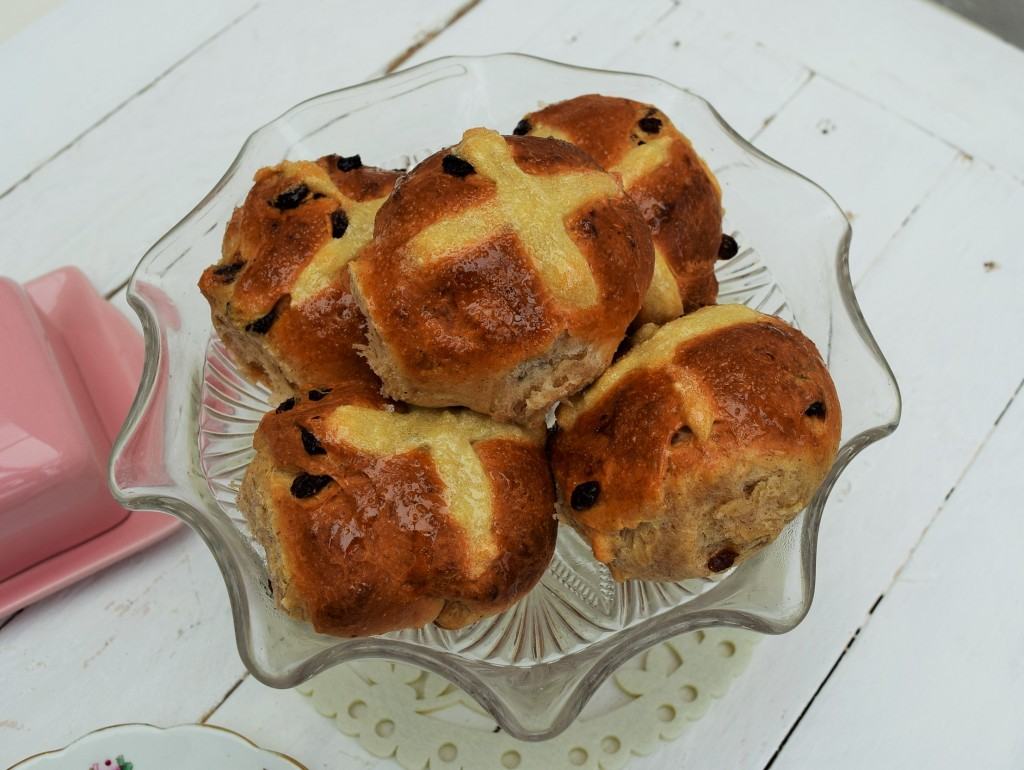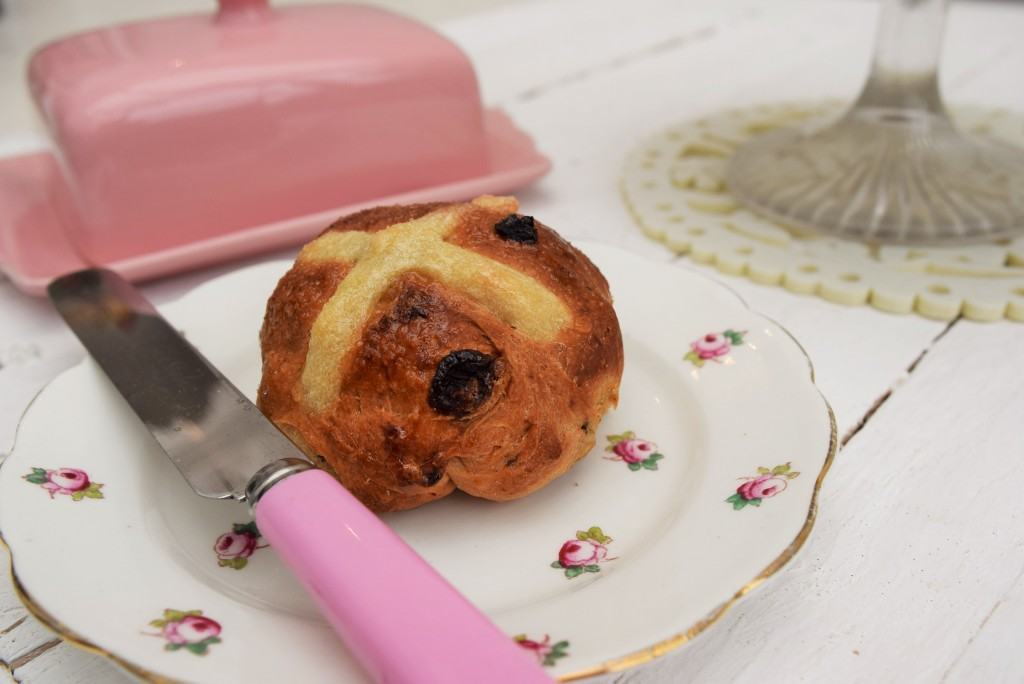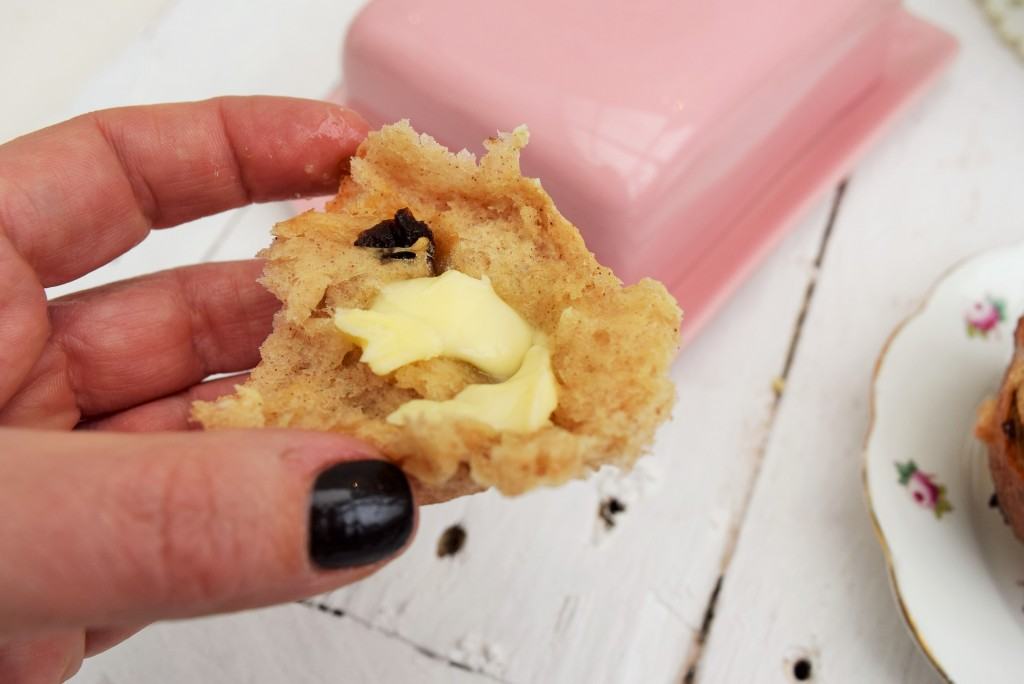 There's the manicure again, it survived the 8 minutes of dough kneading.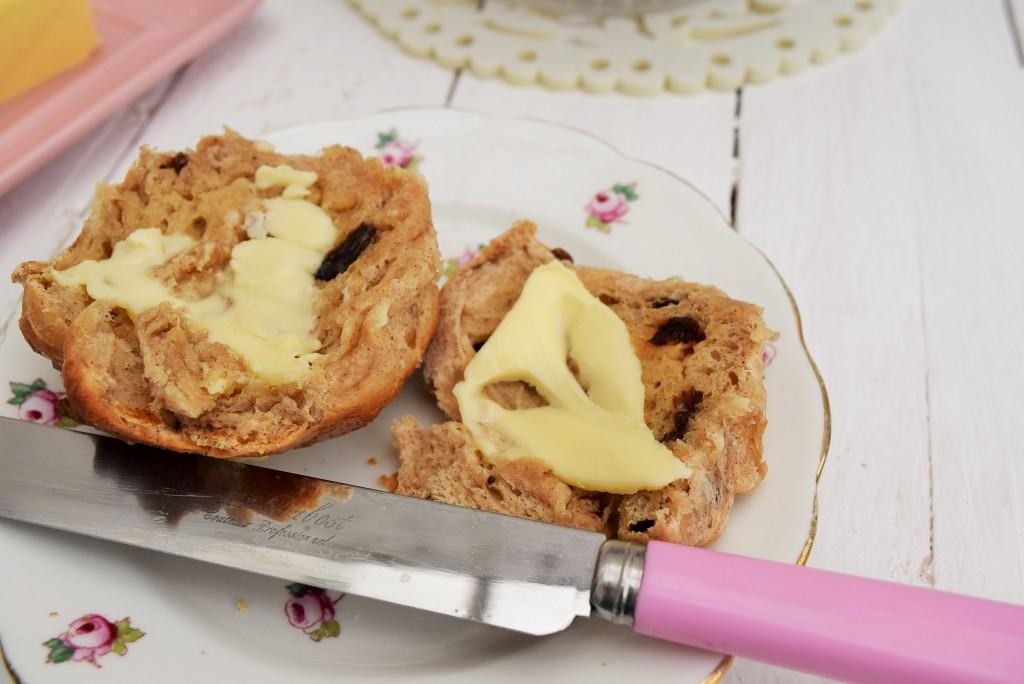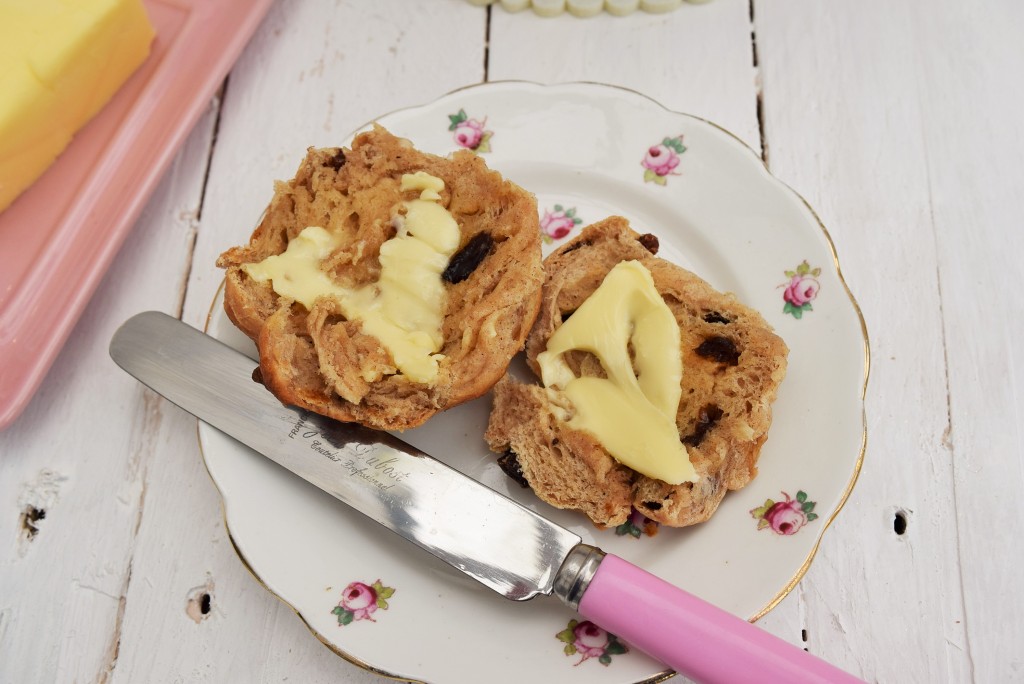 These are worth making this Good Friday. I have already had an order placed from my family for a batch or two. I have to say, with my lack of self control with these delicately spiced buns fresh from the oven, it will almost certainly be two, if not three batches.
Happy Easter to you and your lovely families.
Lucy x
Classic Hot Cross Buns Recipe
Makes 12 buns
You will need a baking sheet
7g sachet fast action dried yeast
175ml warm milk (40 seconds in the microwave should do it)
350g white bread flour, plus more for kneading
1 teaspoon salt
1 teaspoon mixed spice
1 teaspoon cinnamon
1 teaspoon freshly grated nutmeg
50g butter, chopped into pieces
25g caster sugar
130g sultanas or raisins (you can add an additional 25g mixed peel but I cannot abide it)
1 egg
For crosses
3 tablespoons plain flour
9 tablespoons water, add a tablespoon at a time until a pipeable consistency
For glaze
2 tablespoons caster sugar
2 tablespoons warm water
Pre heat the oven to 160 to 170 degrees fan assisted once the buns are on their second rise
Take a large bowl and add the bread flour, salt, mixed spice, cinnamon and nutmeg. Give this a stir then add the butter and rub into the flour until the mixture resembles breadcrumbs. Stir in the sultanas and peel if using, caster sugar and sachet of yeast then crack in the egg. Heat the milk until warm but not hot, then add this to the mixture. Stir well until you have a ragged ball of dough.
Turn this out onto a floured work surface and knead for 8 to 10 minutes. The dough will go from being sticky to being smooth and elastic. Put the dough in an oiled bowl and leave, covered, for around an hour and a half to two hours, or until doubled in size. After this time, give the dough another quick knead then divide into 12 equal sized balls. Roll each piece of dough into a nice smooth ball and place on a buttered baking sheet. To make the crosses, spoon 3 tablespoons of flour into a bowl and add enough water (about 9 tablespoons) to make a smooth pipeable paste. Spoon the flour and water paste into a small piping bag or a food bag with the corner cut off and carefully pipe crosses onto the top of each bun. Put the oven on to pre heat then leave the tray of buns in a warm, draft free spot for a further half an hour to rise again.
Put the twice risen buns in the pre heated oven for around 20 to 25 minutes, until golden brown and they sound hollow when tapped on the bottom. For the glaze, add two tablespoons of caster sugar to two tablespoons of warm water and stir to dissolve. Brush this mixture onto your warm buns and leave to cool, if you can bear to. If not, wolf them down, slathered in butter while still warm. Store them in an airtight tin, but they are best eaten within a day or two of baking, although on day two, toasting them would be best.