Cod with Champagne Sauce Recipe
This week I am feeling a little flat. I spent a wonderful weekend in the Isle of Wight with one of my best friends, drinking, cooking, drinking, doing yoga and talking non-stop for 48 hours. Subsequently Monday has rocked up and slapped me round the face with it's grey tedium. Escaping from the norm for two days is such a treat and I am beyond lucky to have a sister with a beautiful holiday home on the Isle of Wight to bugger off to. In between sun salutations and Prosecco consumption I did take the opportunity to do some blogging. I decided this week I would fashion something simple to present to your dinner guests this autumn. So, here is my Cod with Champagne Sauce recipe for your/their delectation.
My kitchen is about to be dismantled, so entertaining is now off the menu until at least Christmas. So with this luxurious Cod with Champagne Sauce, you can treat your guests without drama, just with tons of style and taste. I have always loved a Champagne Sauce, a phrase which makes me sound a bit pompous admittedly, but when we were younger there was a restaurant on holiday which served the most tasty fillets of sole, doused in the aforementioned sauce. It's light, dotted with mushrooms and the perfect compliment to the fish of your choice. Don't be limited to cod, I have used haddock too, in fact this brilliant sauce would also suit chicken as per the original recipe from Cafe Delites, with huge thanks to them for the inspiration.
Don't feel you have to open a bottle of your finest Dom Perignon for your Champagne Sauce, mine was just as flavoursome with Prosecco and Cava or even white wine would be as perfect. Serve this with sautéed potatoes for added tastiness and some samphire for an extra whiff of the salty seaside. You don't have to reserve this for special guests only, it's on the table in less than half an hour, so if you feel like treating your family too, this wonderful supper is suitable for weekdays too.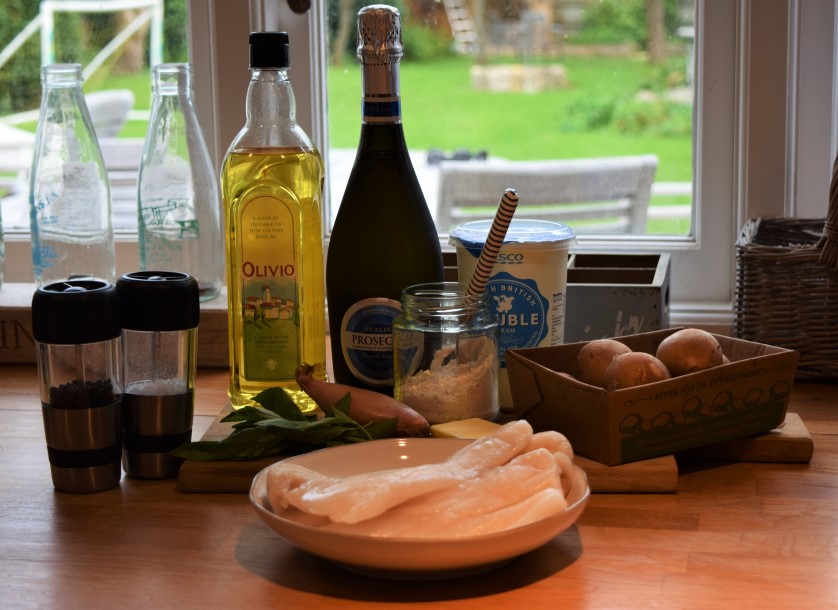 Fish and the Isle of Wight, the perfect pairing. And low and behold there is one of the couple of bottles of Prosecco my friend and I sipped this weekend. A glass of this enhanced our sauce perfectly.
Make a start by pre heating your oven to around 160 degrees fan assisted. Then take a large frying pan and add a tablespoon of olive oil and a slice of butter, heat until bubbling.
Next, place two tablespoons of flour onto a plate and season well with salt and pepper.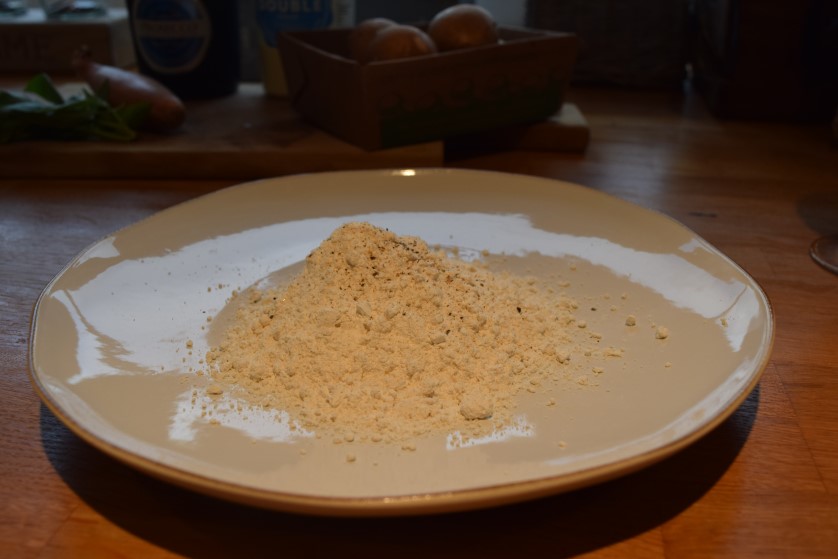 Lightly coat your fish fillets with this flour then place into the hot frying pan.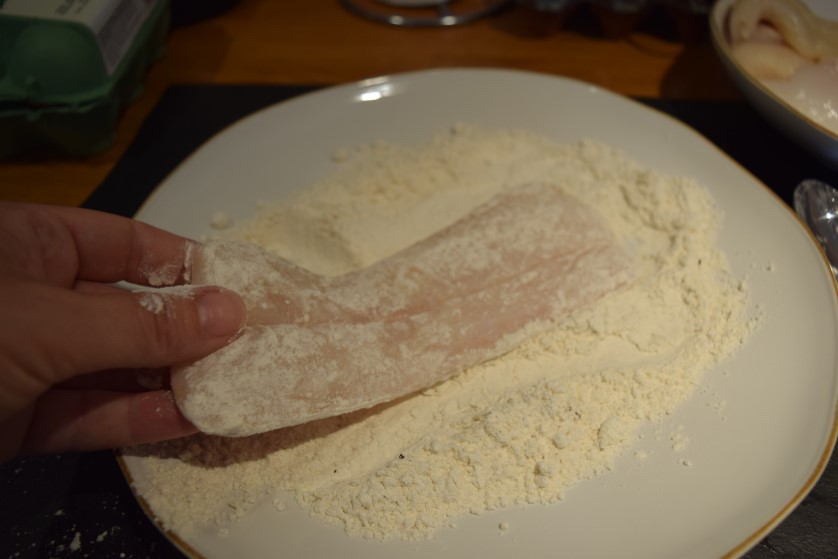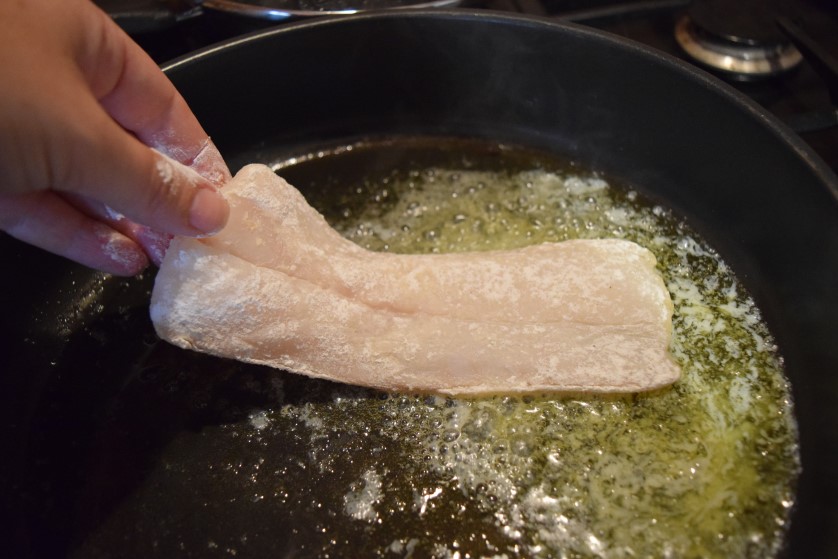 Let the fish sizzle away for a couple of minutes on each side, until just turning golden. Place the fillets onto a baking sheet while you finish cooking the rest of the fish.
When you've browned all the filets, place in the oven for 10 to 15 minutes to finish cooking while you make the sauce.
Finely chop a shallot and add to the same frying pan in which you cooked the fish and sauté until turning translucent *ooh get me*.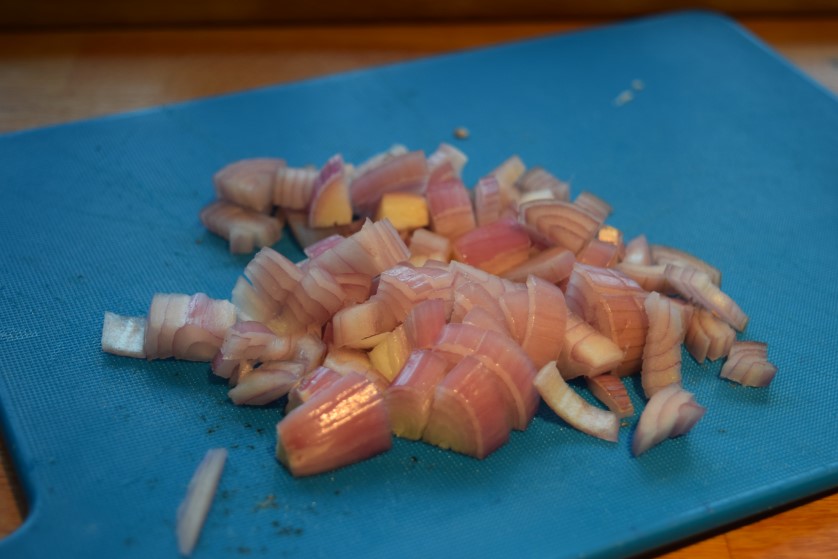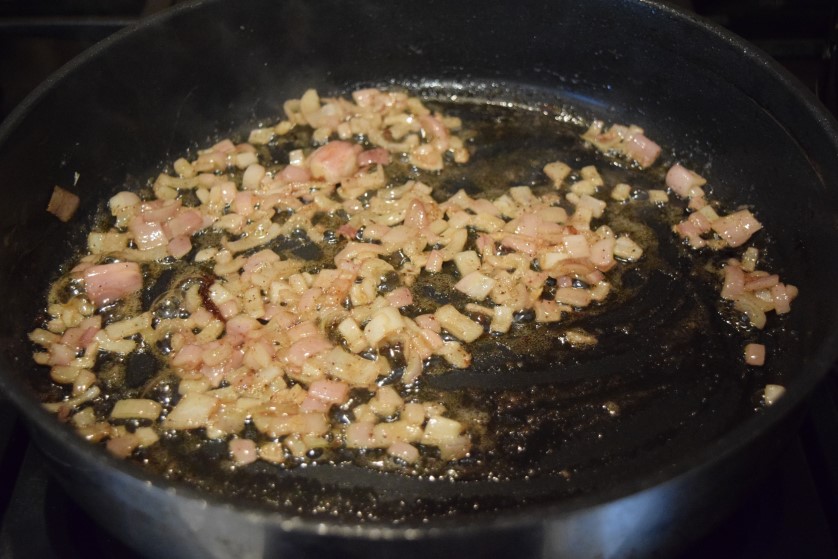 Tip the sliced mushrooms into the pan, along with an extra slab of butter and cook them until browning and smelling quite divine, for around 3 to 5 minutes.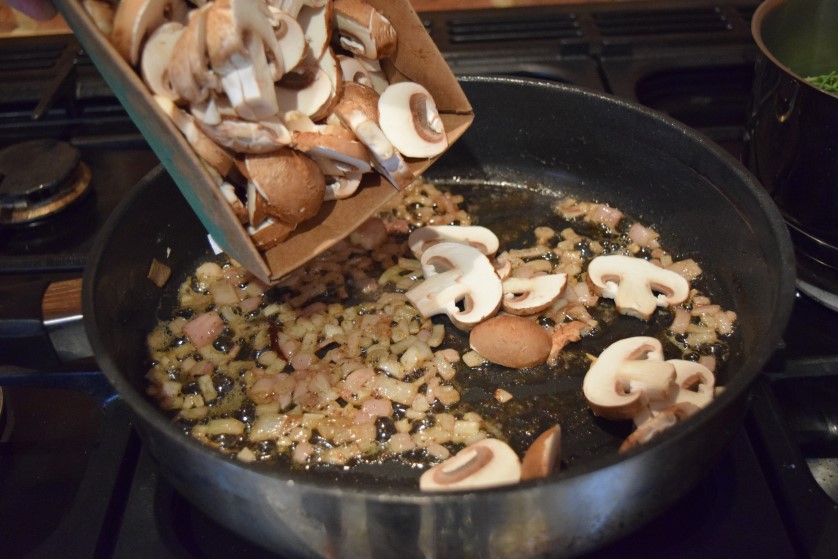 Next, pour in the star of the show and let the fizz bubble away for a another 3 minutes or so, before adding the cream.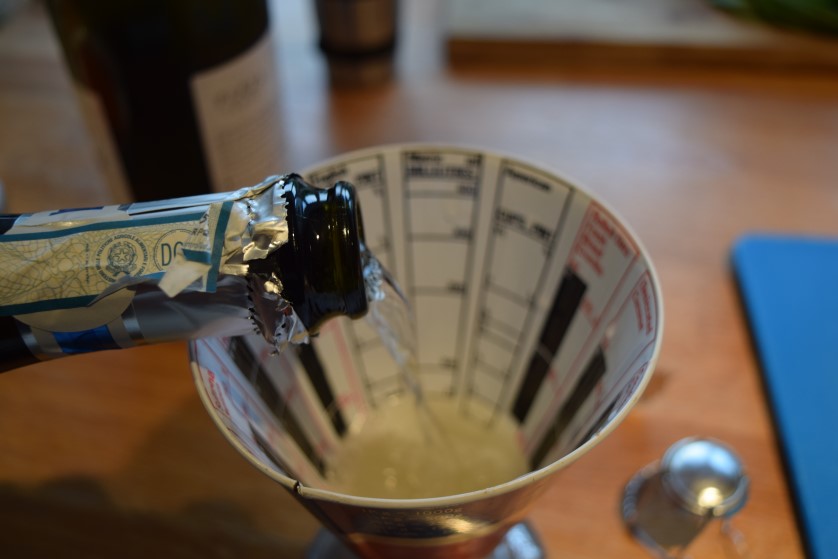 Allow this to come up to simmer, check for seasoning/eat a good couple of tablespoons then remove your now cooked fish from the oven and serve, adorned with this wonderful fizz sauce.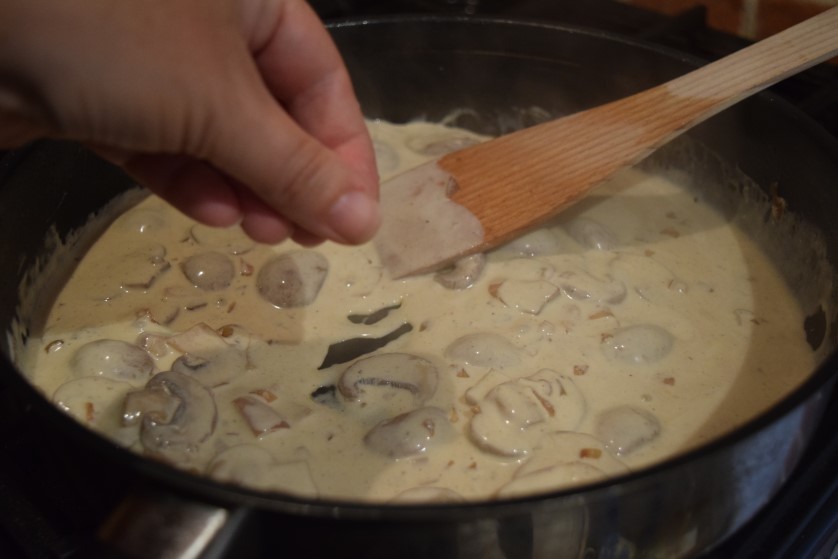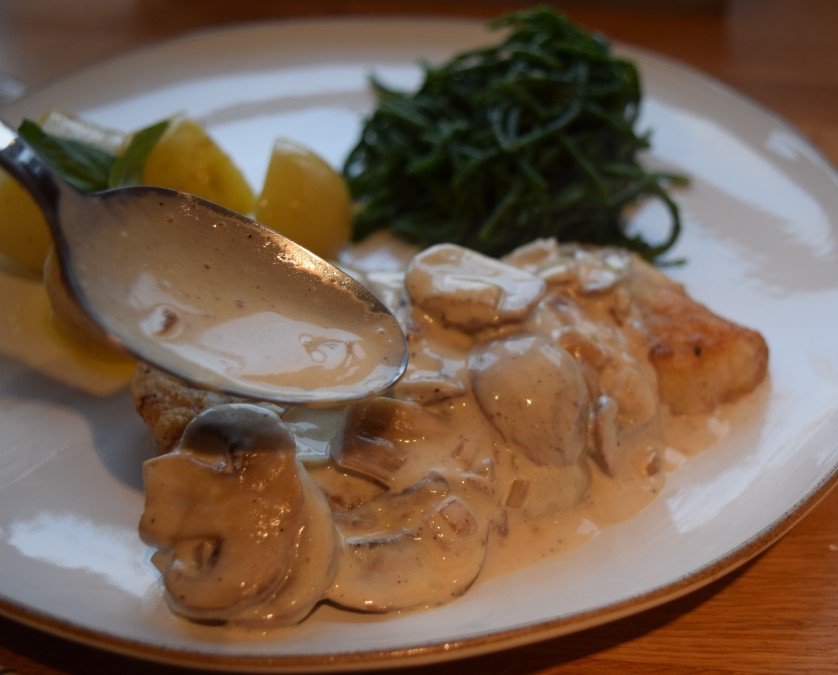 Now, just a generous garnish with some fresh herbs then this is your catch of the day.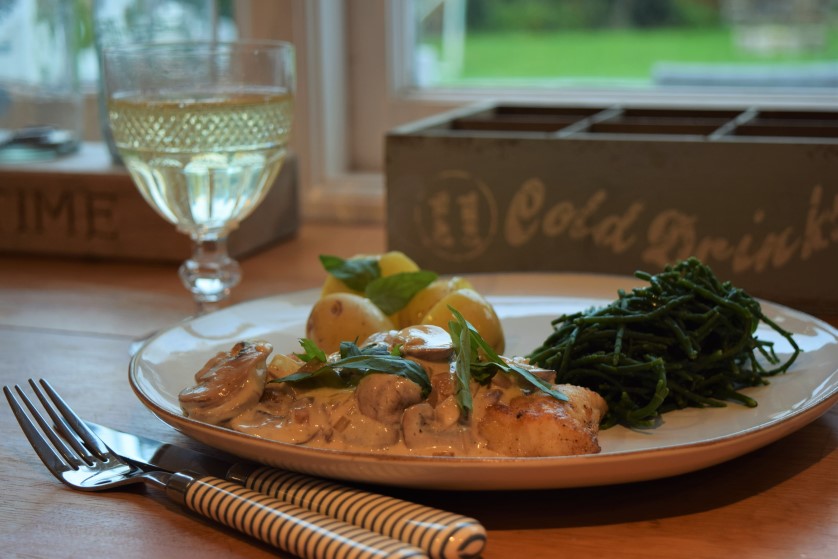 Accompanying glass of fizz, optional.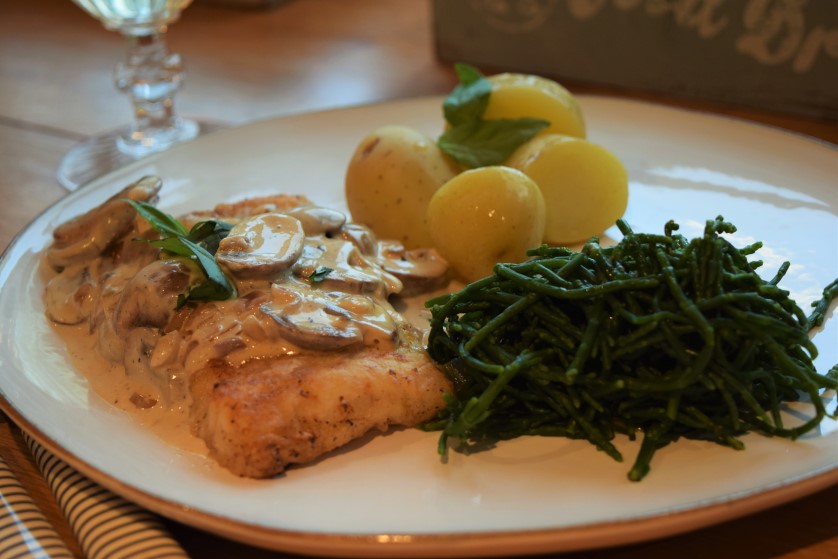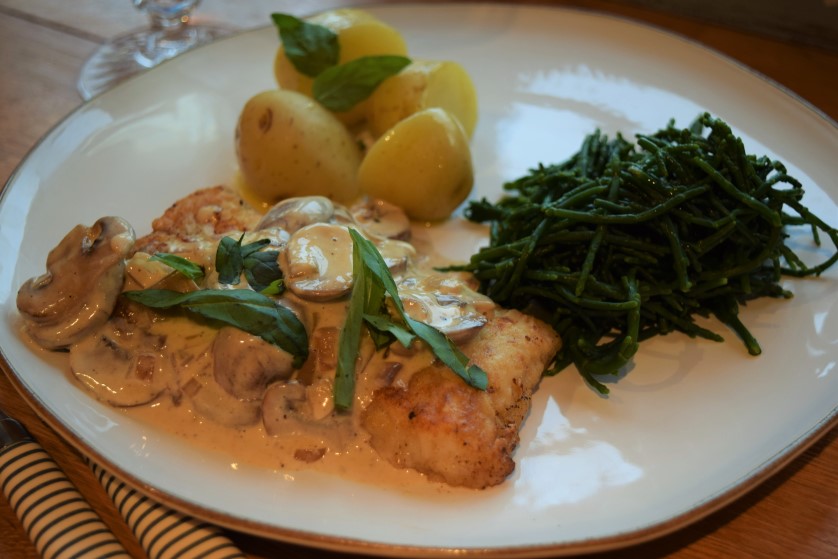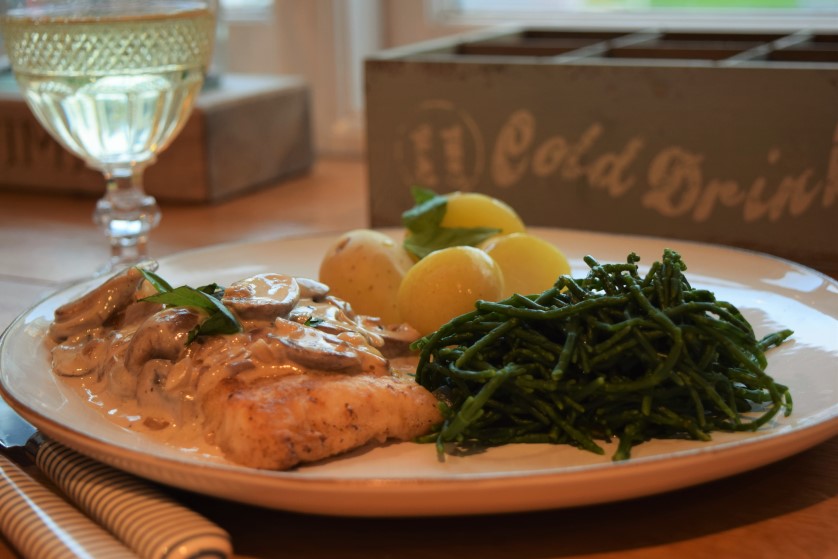 This is simple, but so filled with flavour. Golden, perfectly cooked fish complimented by the elegant fizz based sauce. This takes me back to a special holiday dish from my childhood, only without the need to jump on a plane or in a time machine.
Lucy x
Cod with Champagne Sauce Recipe
Serves 4
You will not need any exciting equipment
2 tablespoons plain flour
salt and pepper
approx 800g to 1000kg white fish fillets, cod, haddock something firm, allow around 200g per person
1 tablespoon olive oil
25g butter plus another 25g for later
1 large shallot, finely chopped
250g mushrooms, sliced
150ml champagne, prosecco, cava or white wine would work
150ml double cream
Chopped fresh herbs to taste, parsley, basil or tarragon would work
Seasoning to taste
A green vegetable and carb of some nature to serve
Pre heat your oven to 160 degrees fan assisted.
In a large frying pan pour in the olive oil and the first 25g butter and heat over a medium flame. On a plate measure out the plain flour and season with salt and pepper. Dip your fish fillets into the seasoned flour to lightly coat, then place, two at a time, into the frying pan. Cook for a couple of minutes on each side, until turning golden brown and starting to cook through. Place the fish on a baking sheet while you cook the other two fillets.
Once you have browned off all the fish, place the baking tray into the oven and bake for a further 10 to 15 minutes, or until thoroughly cooked through.
While the fish cooks, get on with the Champagne sauce. In the same pan with which you cooked the fish, sauté the finely chopped shallot until just turning translucent, then tip in the sliced mushrooms. Cook these, adding the extra 25g butter, until the mushrooms are starting to brown and smell wonderful.
Pour in the fizz or wine of your choice and cook for 2 to 3 minutes until the wine has reduced slightly then pour in the double cream. Taste, then season with salt and pepper. Once the sauce is simmering, remove the fish from the oven, place on a plate then spoon it on. Garnish generously with fresh herbs and serve with some crisp green vegetables and potatoes boiled, sautéed, mashed or none at all.