Courgette Cake Recipe
I am not usually a fan of unusual ingredients in recipes. The thought of eating a black bean brownie or avocado mousse make me want to run for the hills. However, we all know Carrot Cake is bloody scrumptious, so why shouldn't Courgette Cake be just as amazing? So here's my interpretation of this wonderful Bon Appetite bake recipe, with thanks to them.
If you are an allotment type of person or a bit of a grow your owner, then this is the recipe for you. I am led to believe that courgettes are ten a penny at this time of the year if you are green fingered, so the more courgette recipes the better to stop them from going to waste. Don't be put off by the inclusion of a bit of green in a cake, you can't even really taste them. The courgettes add a great *eeek* moistness to your cake and a brilliant dense texture. This joyful, summer cake is then slathered in a generous layer of smooth cream cheese icing, so to be fair, it doesn't really matter what the cake tastes like, because the icing is such a winner. I didn't think the original recipe made a sufficient enough layer of icing, so I doubled it. If you are not as greedy as me, do feel free to halve it.
The cake has a lightly spiced taste, soft but firm texture and pretty green flecks of courgettes. It's so summery and even if you don't grow your own veggies, courgettes are super cheap in the shops at the moment, so it's a brilliant seasonal baked treat. Give it a whirl and if you don't mention the inclusion of greenery, you can sneak a vegetable passed the more finicky members of the family without them even knowing.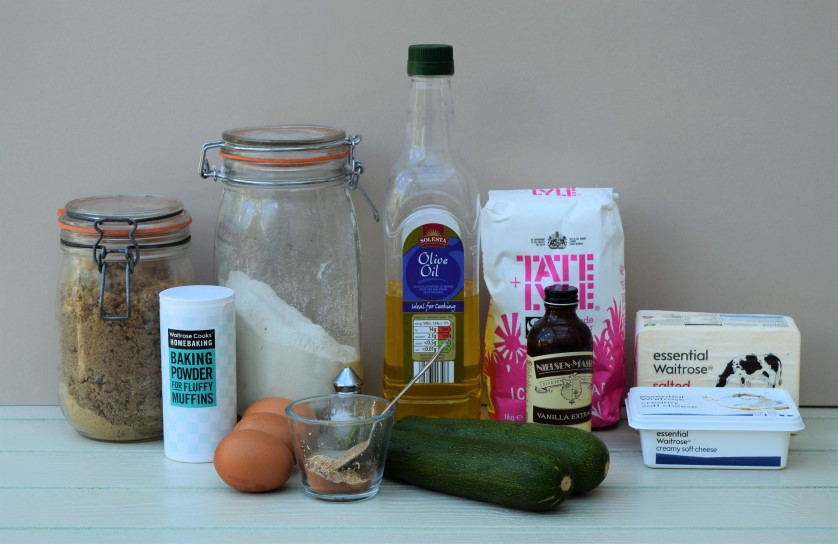 What a wonderful fresh looking line up for this Courgette Cake. And nothing forgotten today, a tick and a gold star for me.
Make a start on this super *aagghh* moist cake by pre heating the oven to 160 degrees fan and line or butter the tin of your choice. I had a lovely 8inch or 20cm square tin, but a same sized, deepish, round tin would also be good.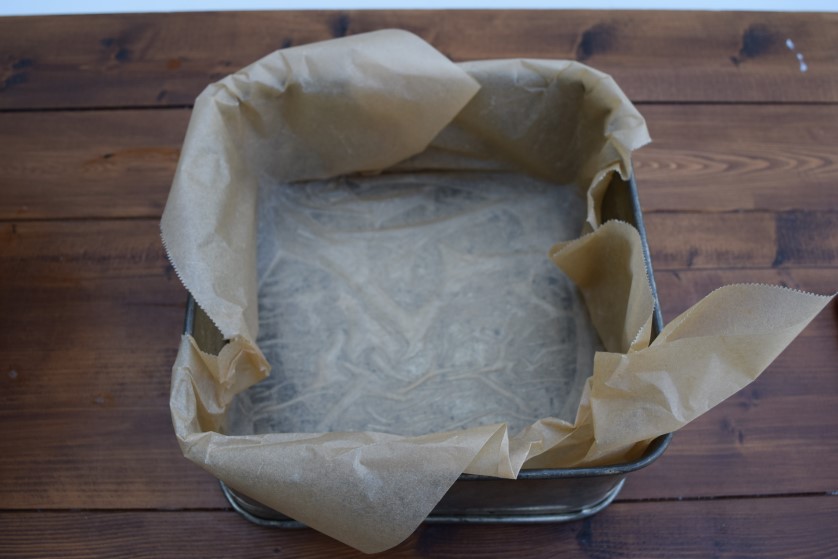 Make a better job of lining your tin than I did, I just can never be arsed to cut it to size so wing it with some ugly folding.
Next, in a medium sized bowl, weigh out the flour, baking powder, salt and spices.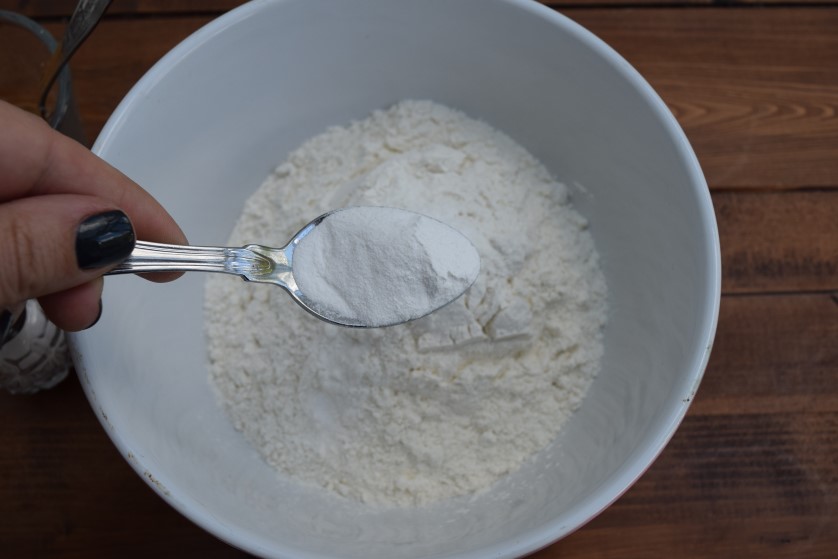 Ooh, nice manicure, I hear you cry. I had treated myself for my birthday this week.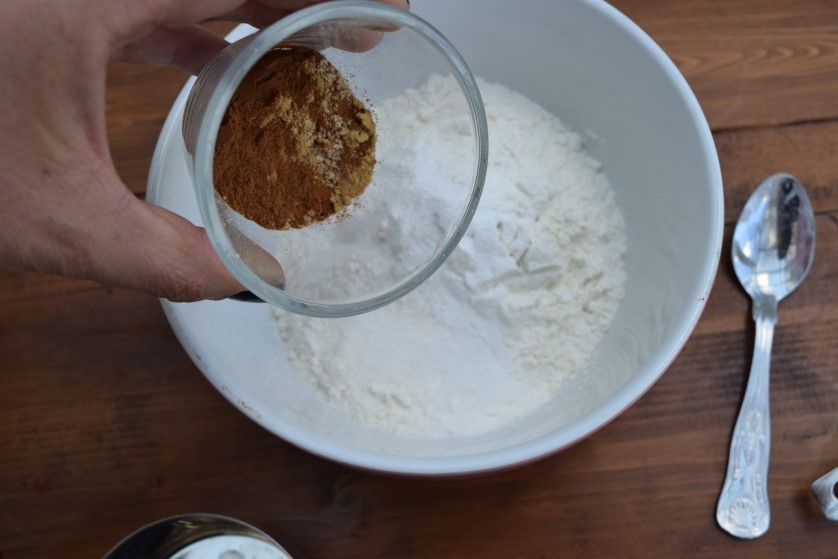 Give this a light stir then pop to one side while you deal with the liquid ingredients.
In a large bowl, pour in the olive oil, add the brown sugar and vanilla and give that all a good whisk to combine.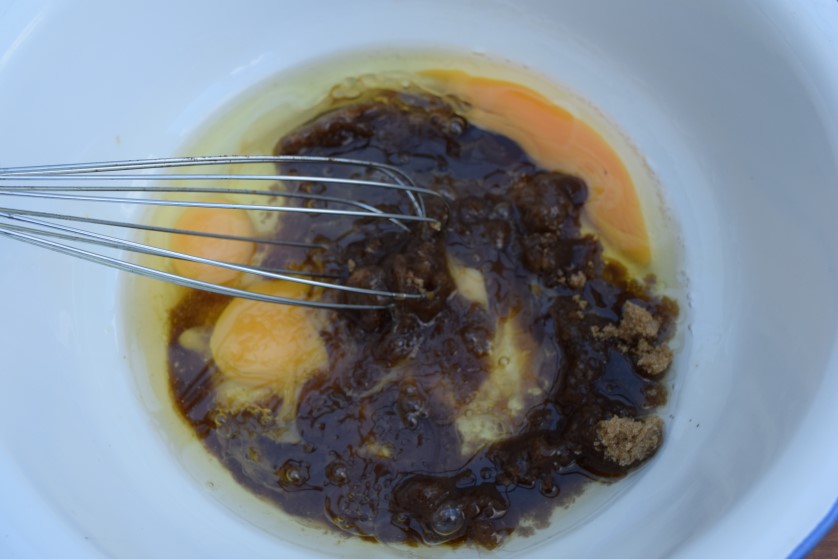 Grate in your fresh, green courgettes, fold into the sugar and oil, mix then fold in the flour and spice combo.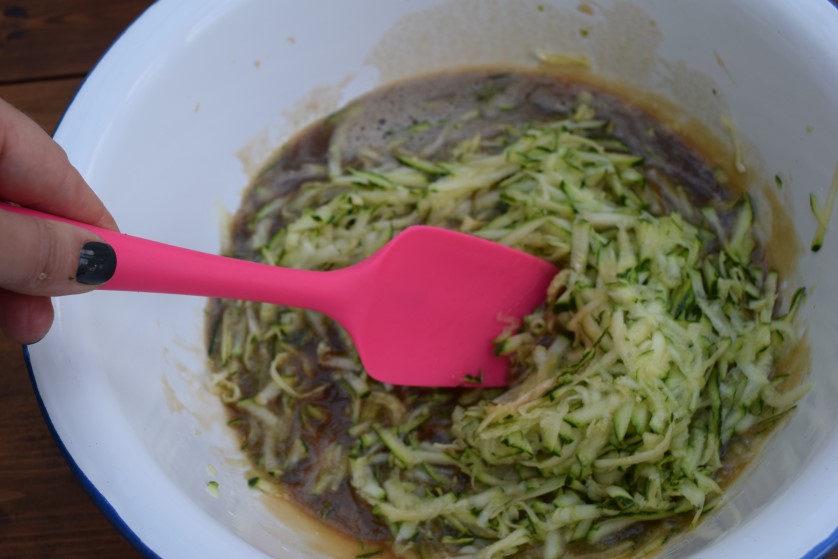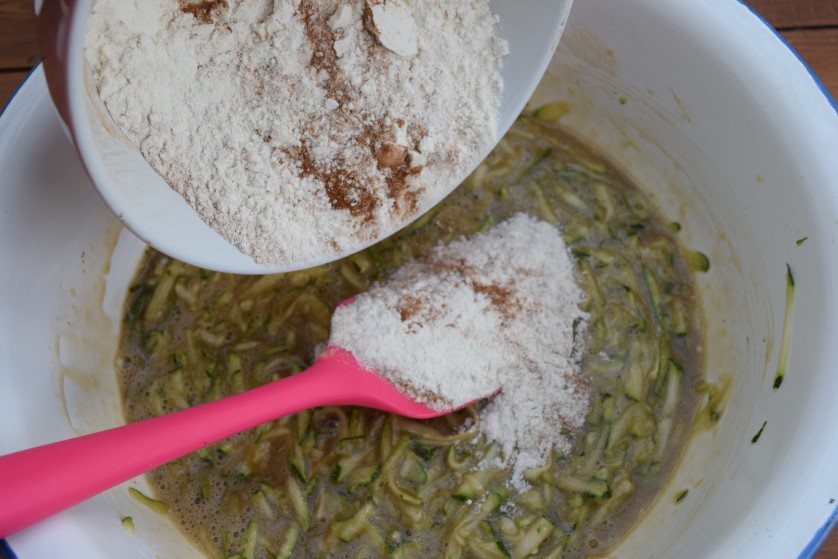 Lightly fold this together then pour into your *badly* lined tin.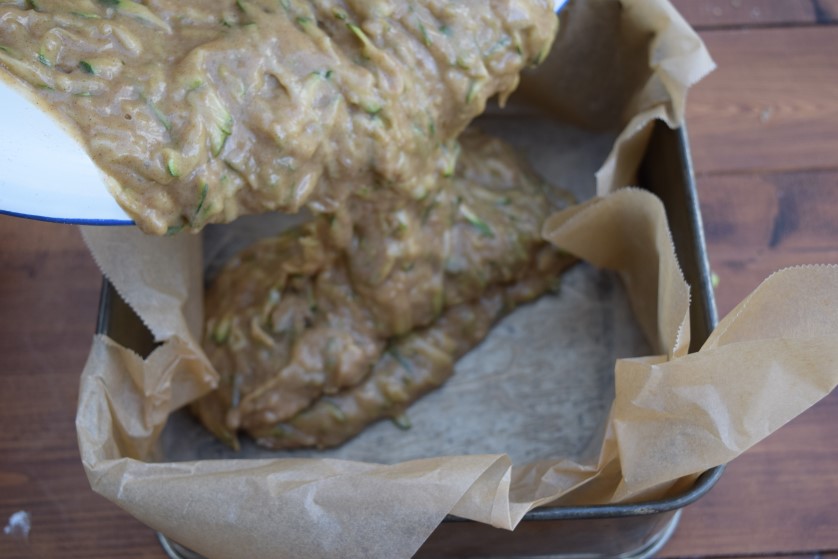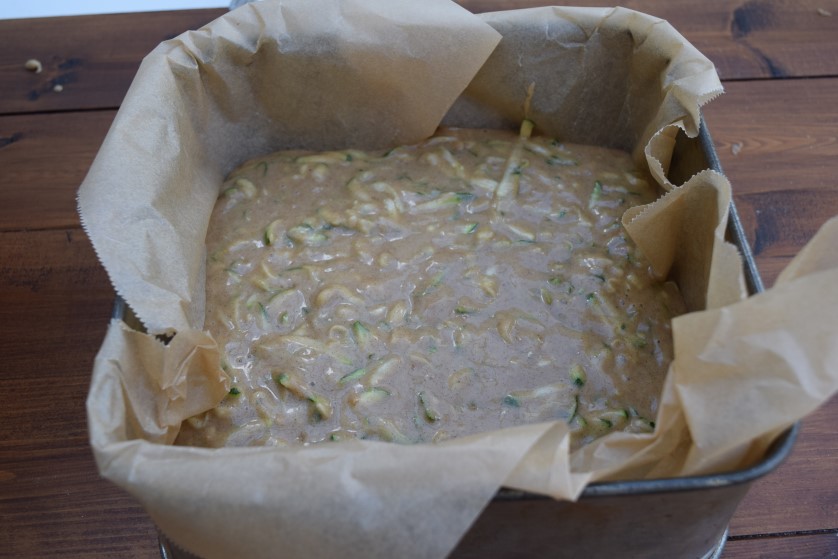 Pop this one of your five a day cake into your pre heated oven for between 45 and 55 minutes, this really depends on how hot your oven is. The cake is done when it's golden brown, firm to the touch and a skewer comes out clean when inserted into the middle of the cake.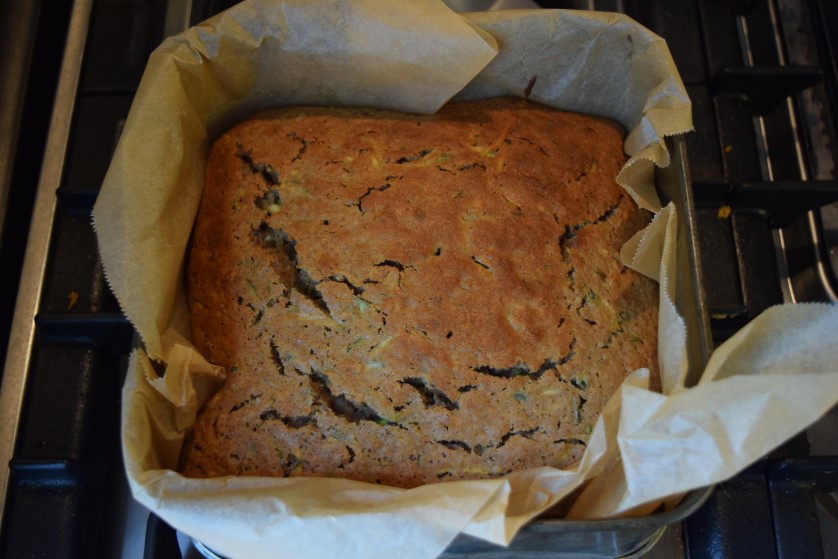 Leave this to cool while you fashion the all important cream cheese icing. Make this by creaming the room temperature cream cheese and v soft butter together briefly.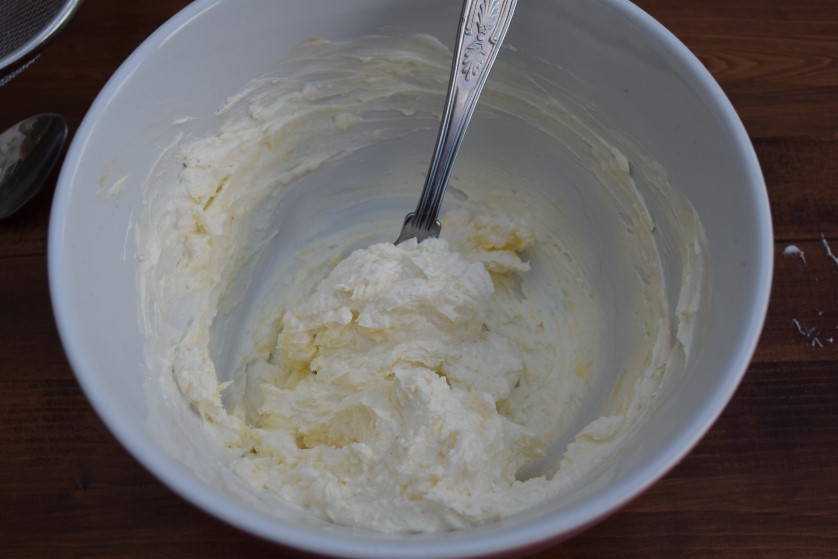 Make sure your butter is really soft and your cream cheese is room temperature or it will go a bit lumpy. Like mine did and you will end up having to put it in the bloody Magimix.
Sift in the icing sugar, vanilla extract and optional cinnamon then fold in until well mixed. I hate sieving things, but it prevents yet more lumps and more Magimix washing up. This is such a simple icing, but so completely delicious.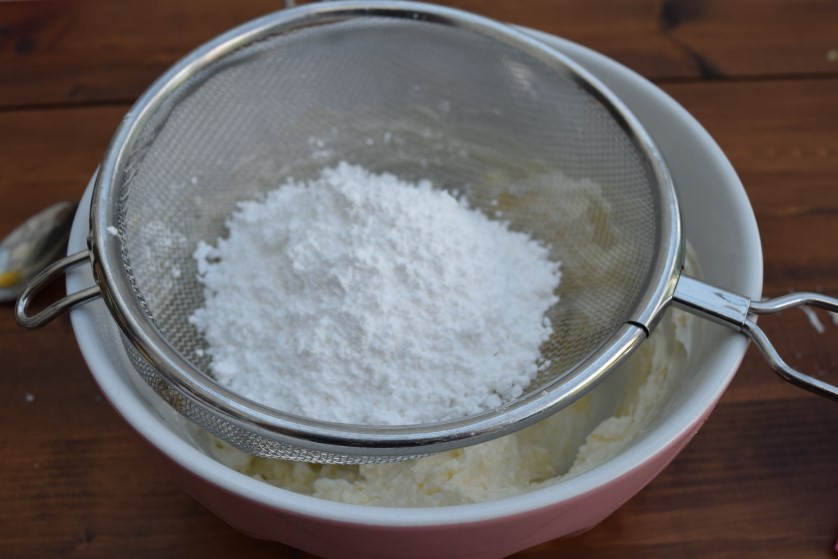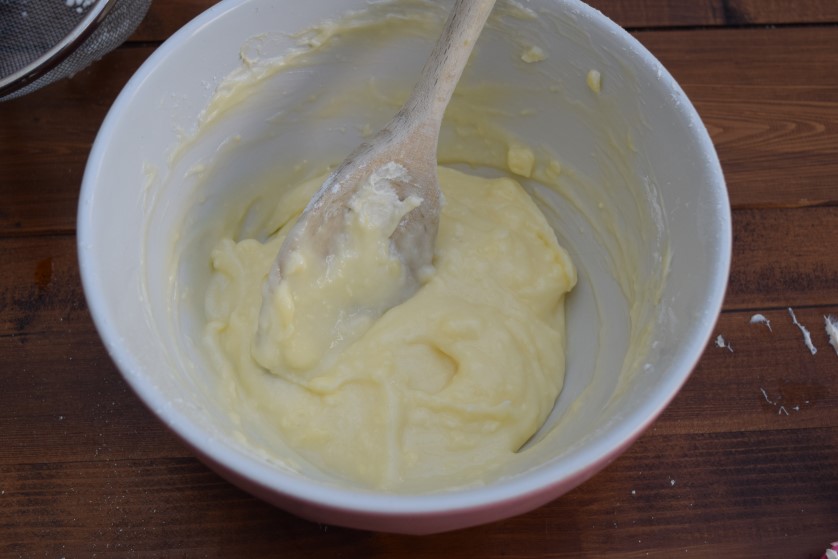 Once your cake has cooled, slather on the cream cheese icing then grate on a little lime zest just for colour and a touch of decoration.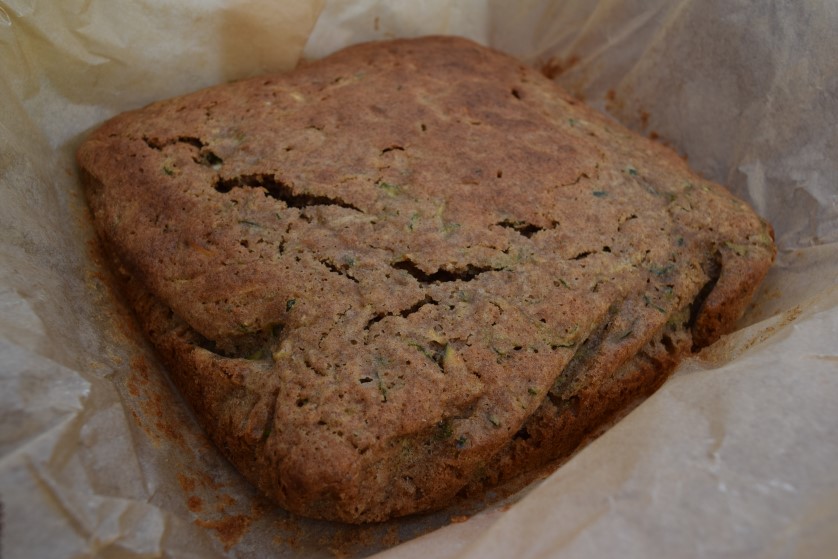 Look how smooth my icing was. In the end. Effortless. Cut this cake into modest slabs and bury your face in it.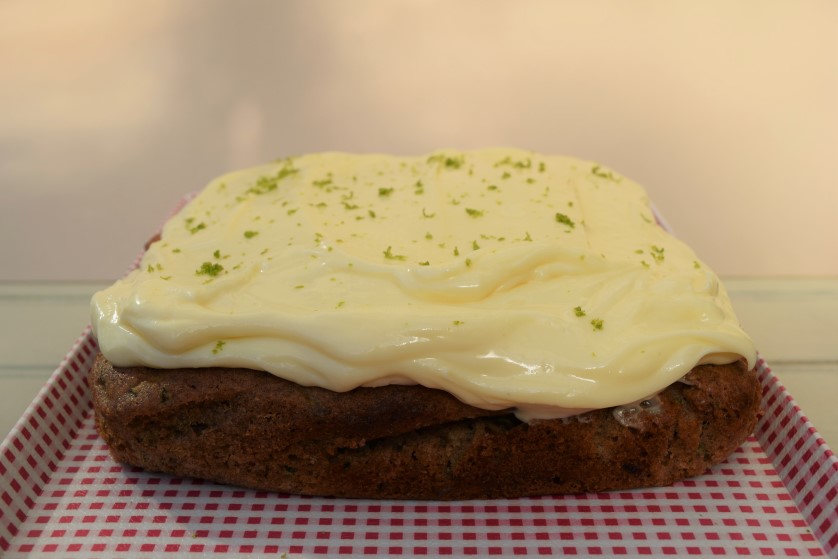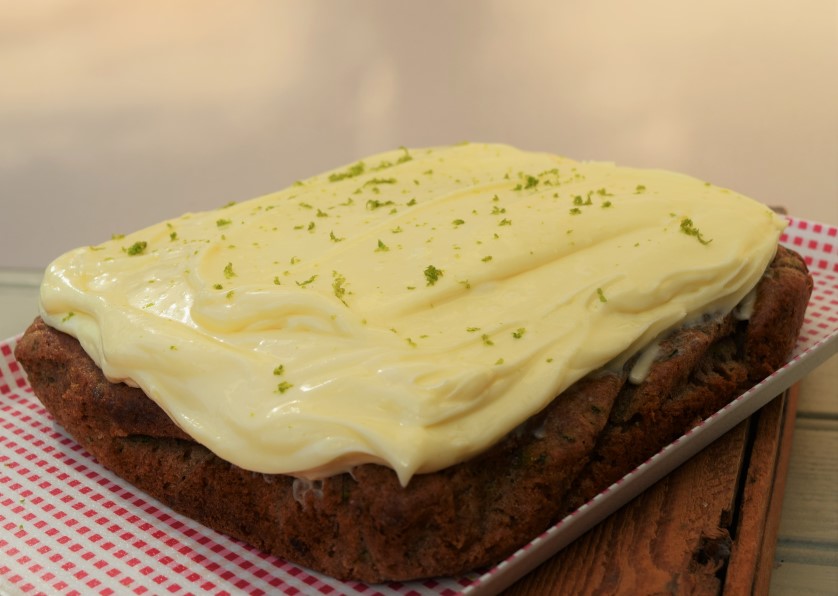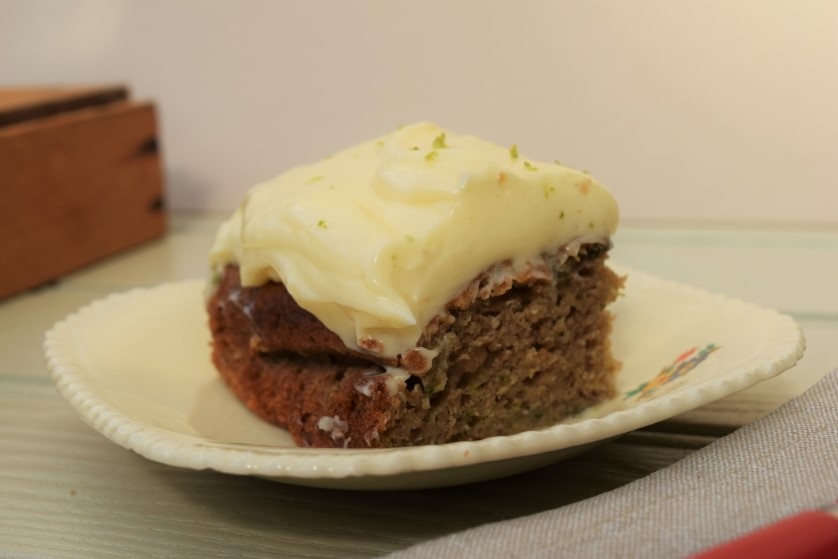 You could almost convince yourself this Courgette Cake is a health food. Almost. If it wasn't for the double portion of cream cheese icing, that is.
Lucy x
Courgette Cake Recipe
Makes one 20cm x 20cm square or 20cm round cake, line or grease the tins well
You will only need bowls for this recipe
180g plain flour
1 1/2 teaspoons baking powder
1 teaspoon salt
1 teaspoon ground cinnamon
1/2 teaspoon ground ginger
a good grating fresh nutmeg
180ml olive oil, not extra virgin apparently
200g soft brown sugar
3 eggs
1 teaspoon vanilla extract
approx 250g grated courgettes, I used two medium sized ones
100g chopped nuts, pecans, walnuts, if you like, if not leave out
Cream Cheese Icing
250g cream cheese, full fat is best, at room temperature
100g soft butter
200g icing sugar
1 teaspoon vanilla extract
1 teaspoon cinnamon, optional
A little grated lime zest to garnish
Pre heat your oven to around 160 degrees fan assisted and line or butter your chosen tin.
In a small bowl combine the flour, baking powder, salt, cinnamon, ginger and nutmeg then put to one side.
In another bowl pour in the olive oil, soft brown sugar, eggs and vanilla. Whisk this until well blended then stir in the grated courgettes and chopped nuts if you are using.
Finally, fold in the flour and spices mixture, don't over mix, then pour into your lined cake tin. Put in the pre heated oven for 45 to 55 minutes. The cake is cooked when well risen, golden and a skewer comes out clean when poked into the middle of the cake. Leave to cool while you make the icing.
In a large bowl cream together the soft butter and cream cheese then fold in the vanilla and icing sugar and optional cinnamon, until smooth. If it's a bit lumpy, give the icing a spin in the food processor. Pop in the fridge until needed.
Slather your cooled cake with the icing and devour in giant slabs. Keep in the fridge for up to 5 days, if you don't eat in one sitting.