Curry Pasties with Homemade Mango Chutney Recipes
This week, my New Best Friends, and now, frankly, stalkers, at Aldi UK asked me to work with their lovely products to create a new recipe for them. I gladly accepted because a) I love a challenge, and b) any excuse to go to Aldi and stock up on a selection of treats. I always go way over any allocated budget when I pop to Aldi because everything is such good value, I just buy more. This week two bunches of beautiful pale pink roses and two bottles of their super delicious Gavi white wine accidentally on purpose landed in my trolley.
So, enough rambling about my lack of shopping skills, and onto the important issues of the day. I decided, with the second May bank holiday on the horizon, to create a wonderful picnic style recipe for sharing. These Curry Pasties with Homemade Mango Chutney are just perfect for popping in a tin, shoving into a bag with a bottle of water *wine* and nipping off the countryside for an al fresco lunch. Or, on a more realistic note, eat them in the kitchen, wearing a cardigan, as you watch the traditional bank holiday rain pour down outside.
Staying positive, these tiny puff pastry pasties are so scrumptious, you will be finding any excuse to make them, picnic or no picnic. Coupled with a large dollop of my versatile Homemade Mango Chutney, this sweet and spicy combination is a complete winner. I used Aldi's pre rolled puff pastry but feel free to make your own *as if* or substitute shortcrust if you'd prefer. Again, I went with some low fat beef mince but if you'd rather use lamb, tuck right in. The pasty recipe comes from one of my Mother's lovely friends who has been making these tasty treats for years, with thanks to him, and the chutney is care of the amusingly named the Flavour Bender, with additional thanks.
These little spiced pasties are filled with curry flavour, portable and complimented so brilliantly by the sweet, fresh Mango Chutney. Make sure you add these ingredients to your shopping list for this bank holiday weekend, and don't forget the Gavi, it's a total must.
Here is my Aldi haul, top shopping skills by me. These are the pasty ingredients in their full glory.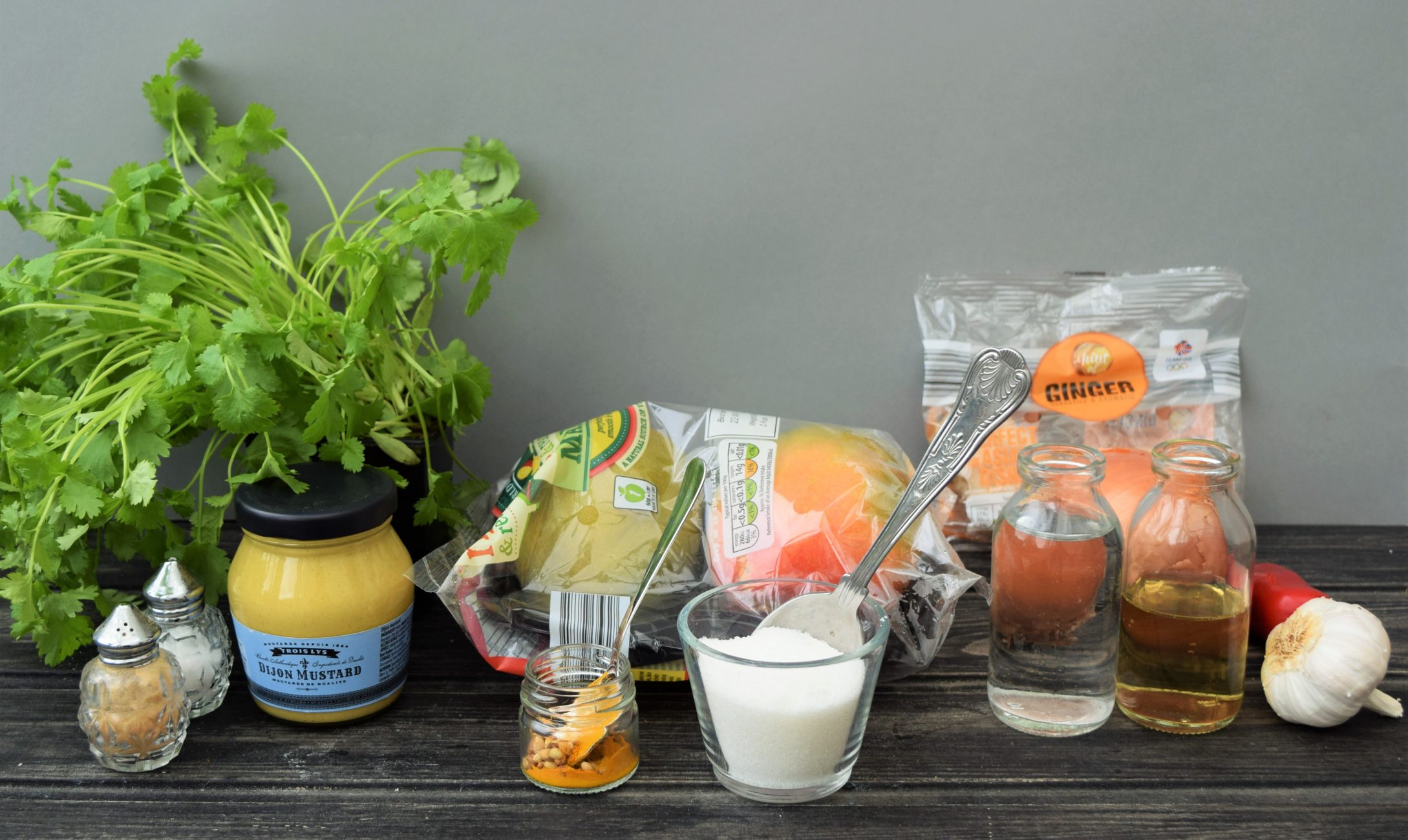 And here are the Homemade Mango Chutney ingredients courtesy of my pals at Aldi. With something of a first for me, I have included an ingredient not in the actual recipe, instead of forgetting one. The fresh coriander looked so lush and green, it stayed in the shot for a second moment of glory.
Don't be put off by the amount of ingredients here, it looks like a lot but both recipes are super simple and filled with wonderful flavours. Make a start with the Curry Pasties and their spicy filling. Heat a medium sized frying pan with a tablespoon of oil. Add the chopped onion and diced potatoes and cook until starting to soften and brown a little.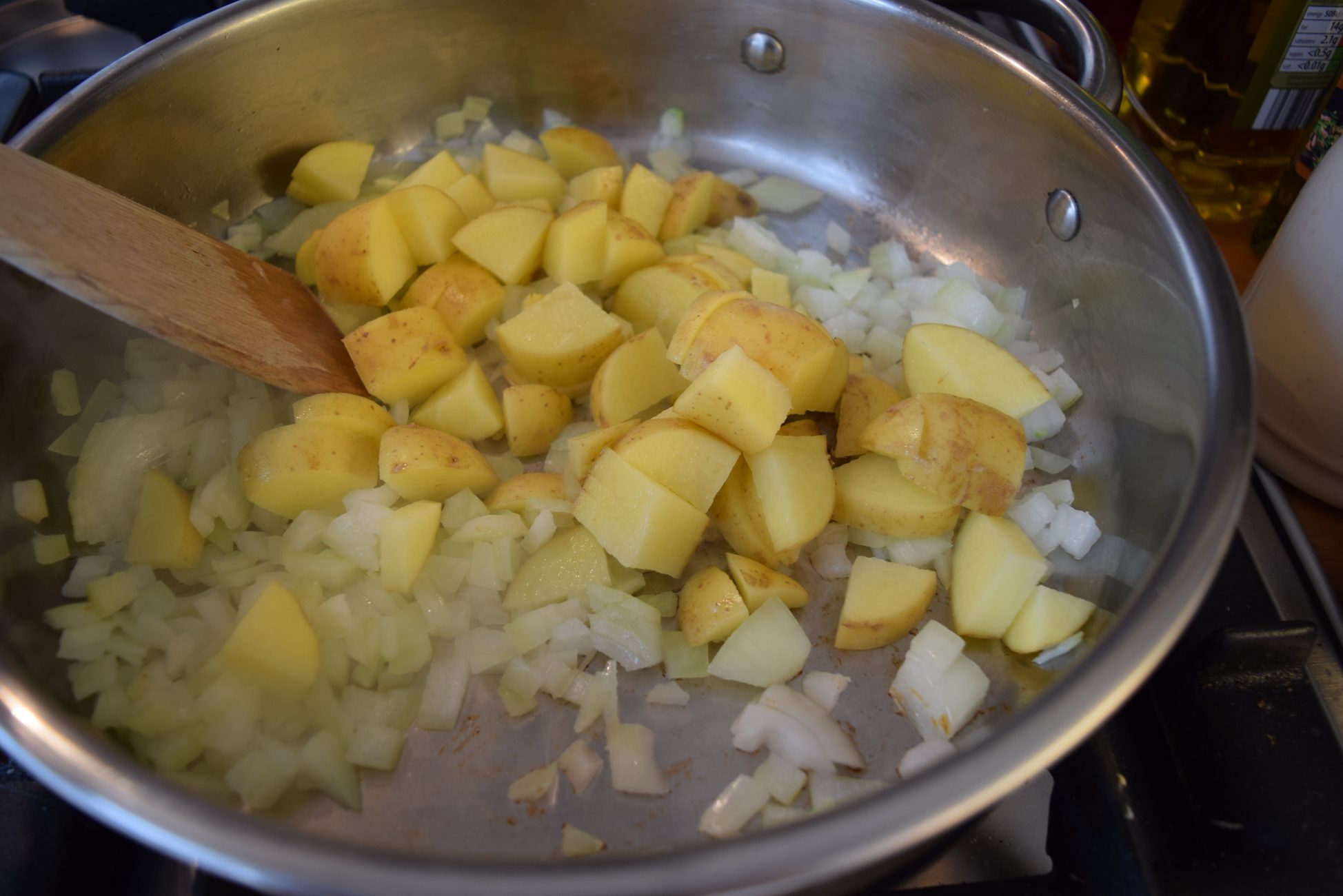 Next, add in the tasty minced beef or lamb and cook until starting to brown off.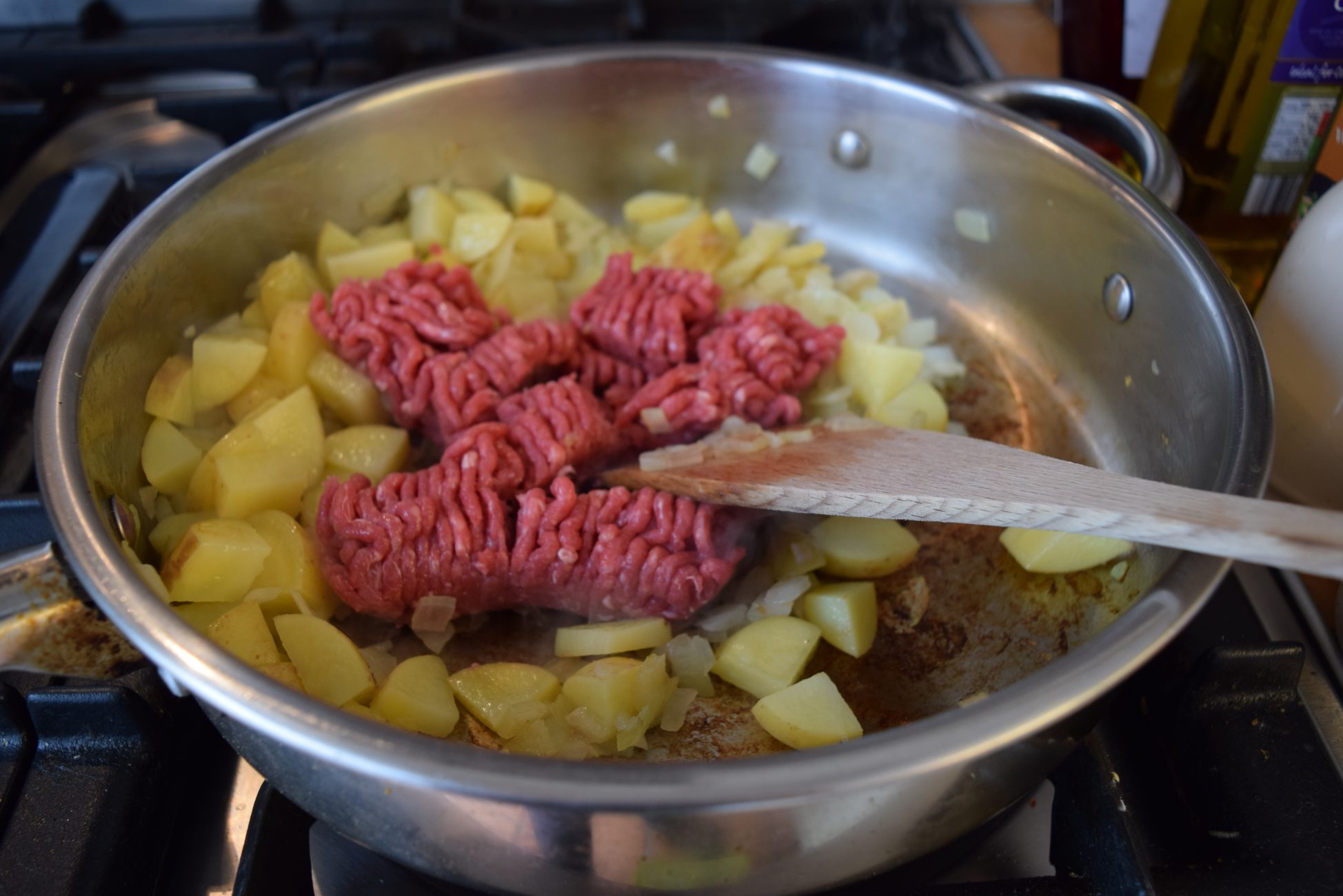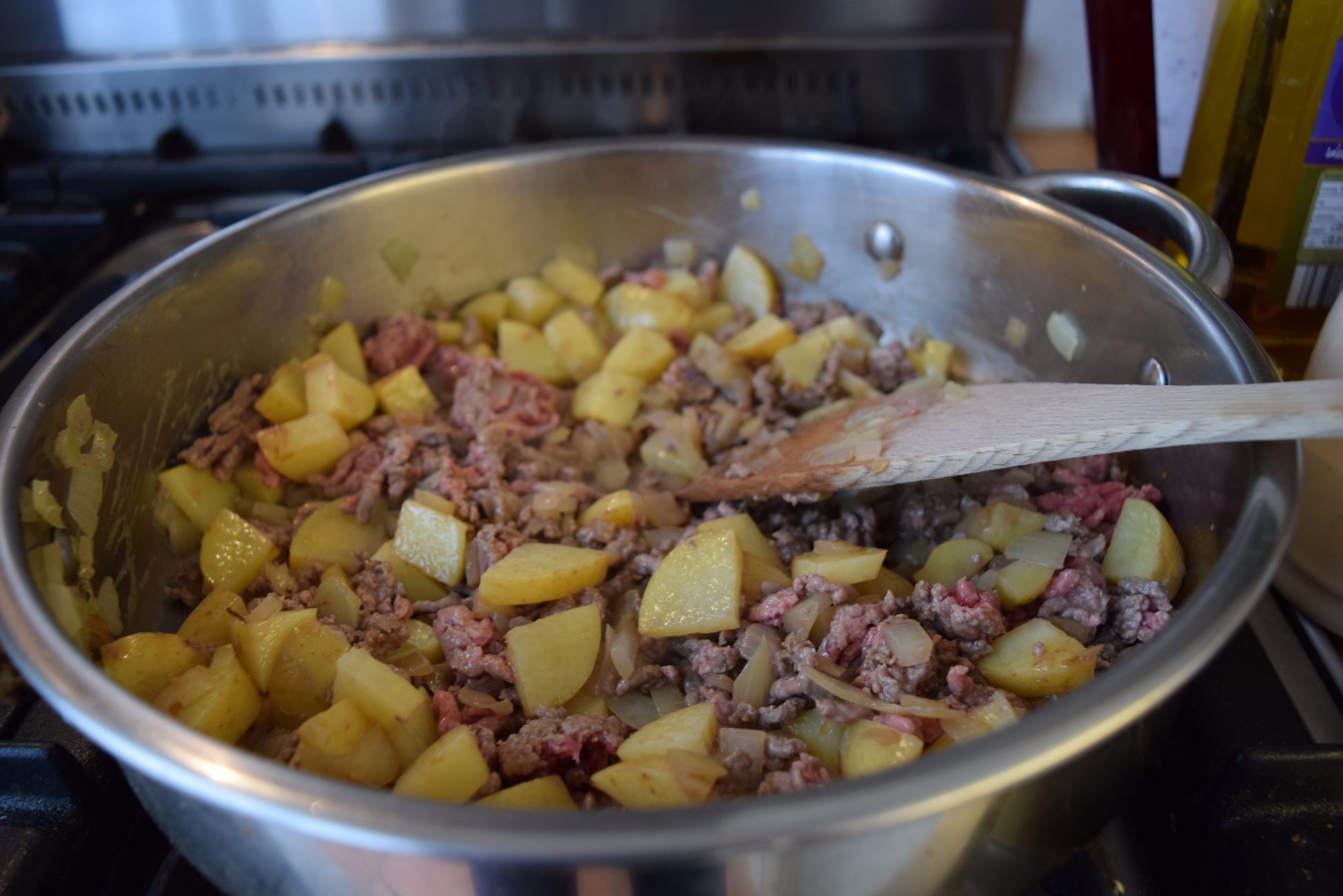 At this stage stir in the grated fresh ginger and crushed garlic cloves. Adding them now will stop them burning and tasting horrid. Stir well then tip in the curry powder. I went for Madras, but choose your favourite dependent on your spice tolerance levels.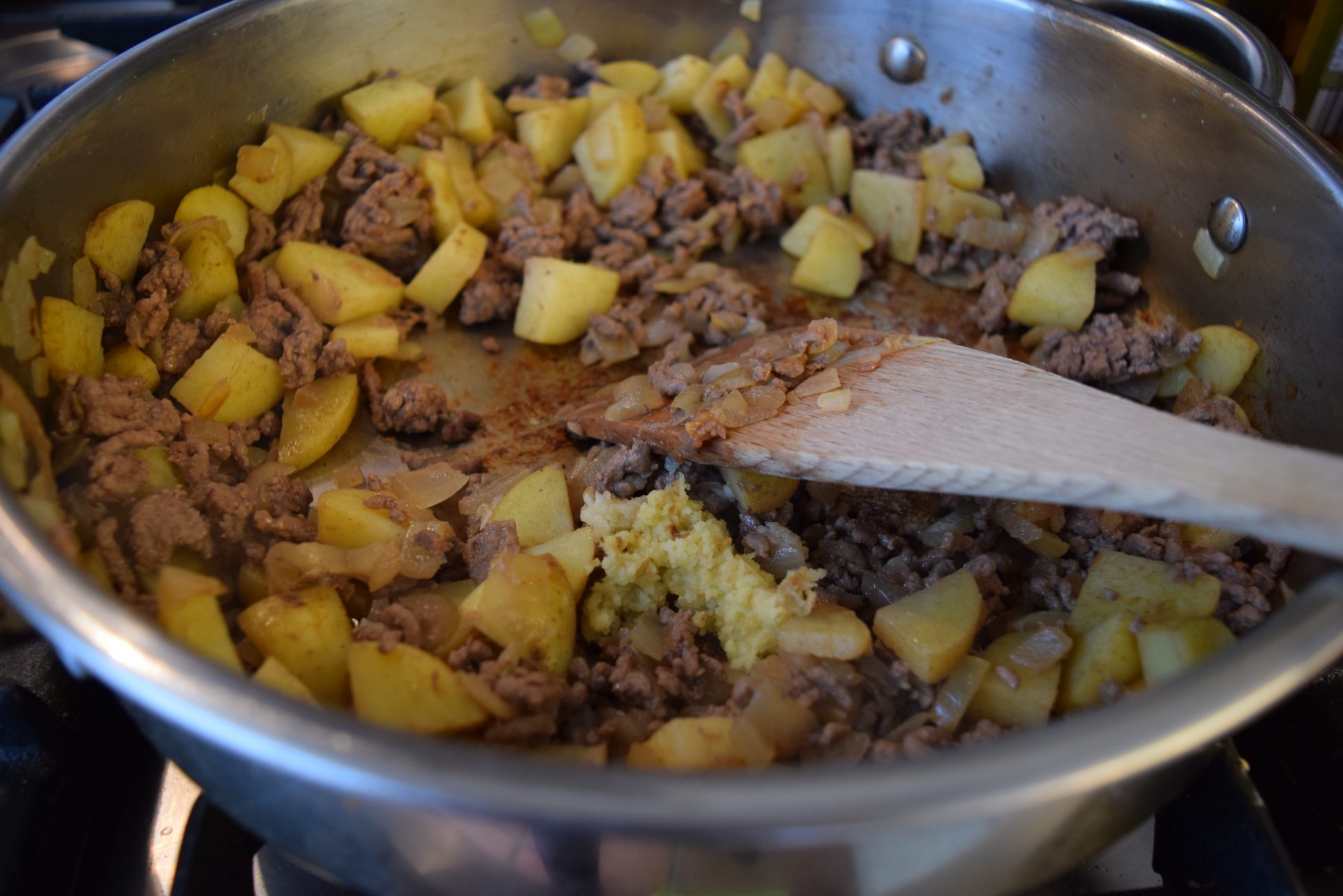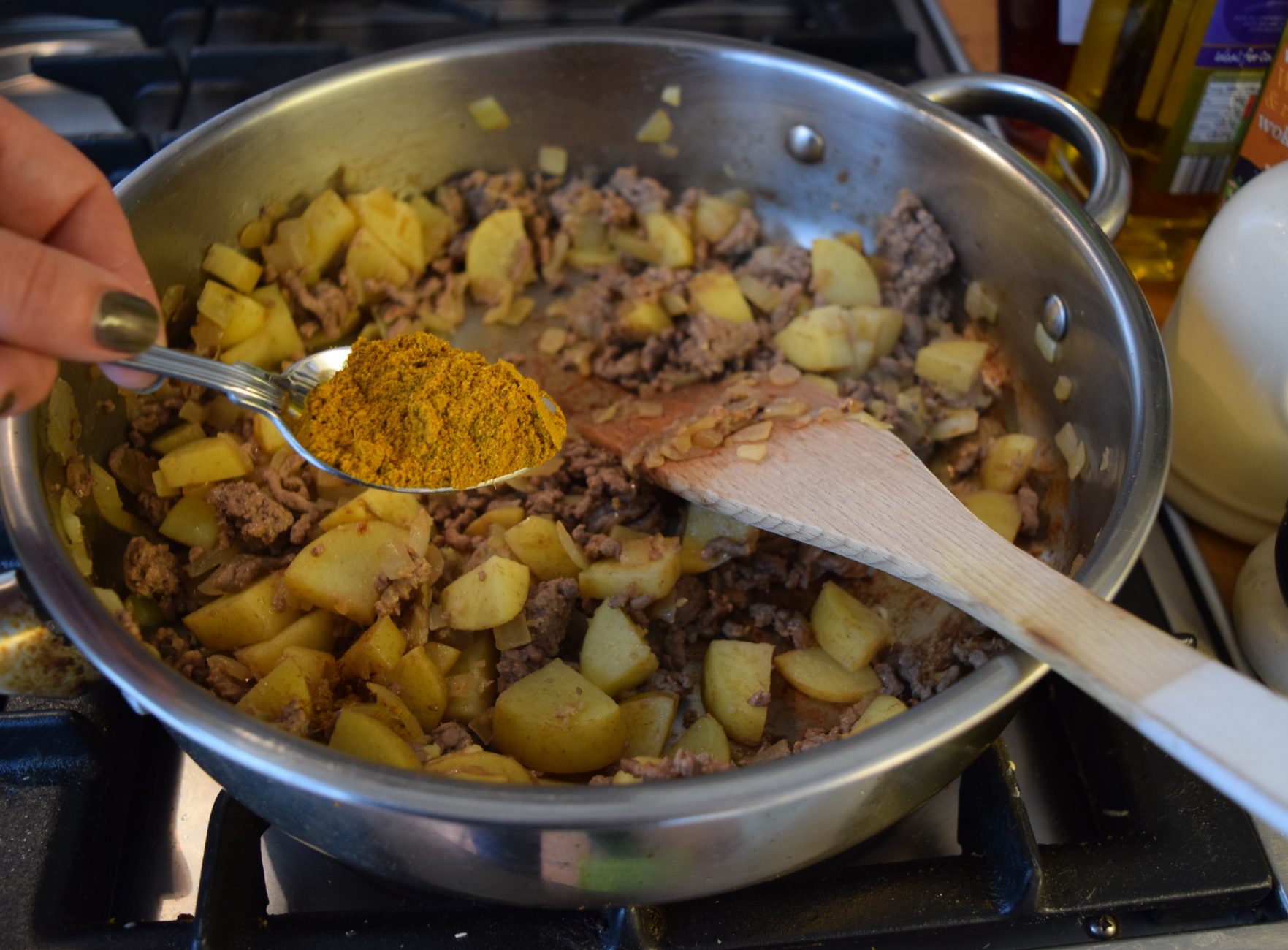 Finally, pour in the soy sauce *a bit fusion I know but it works*, peas, water, sugar and seasoning. Leave this top combination of ingredients to simmer for 10 to 15 minutes, without a lid, until *eek* moist but not sloppy. At this stage, stir through some freshly chopped coriander and then leave to cool, out of harms way.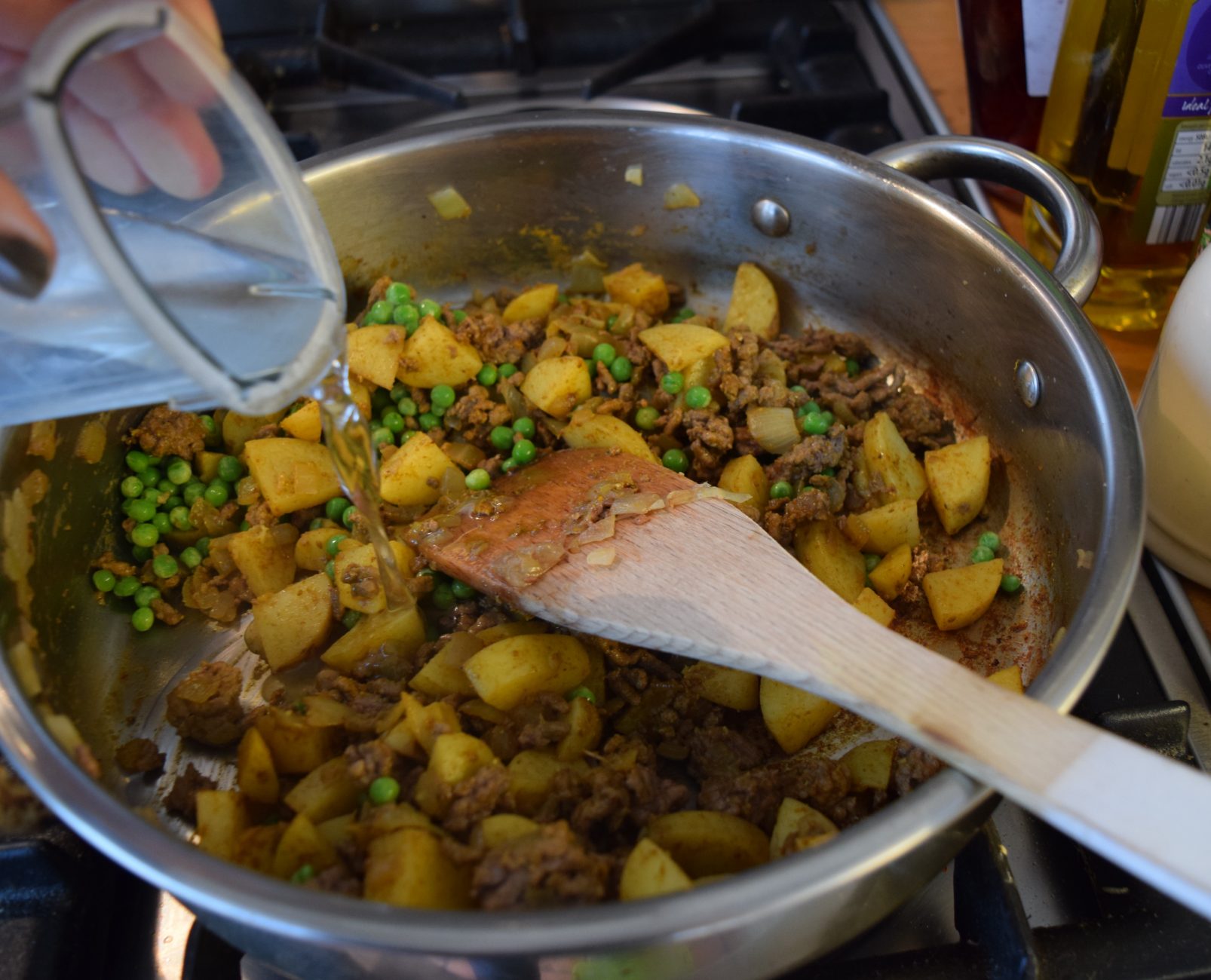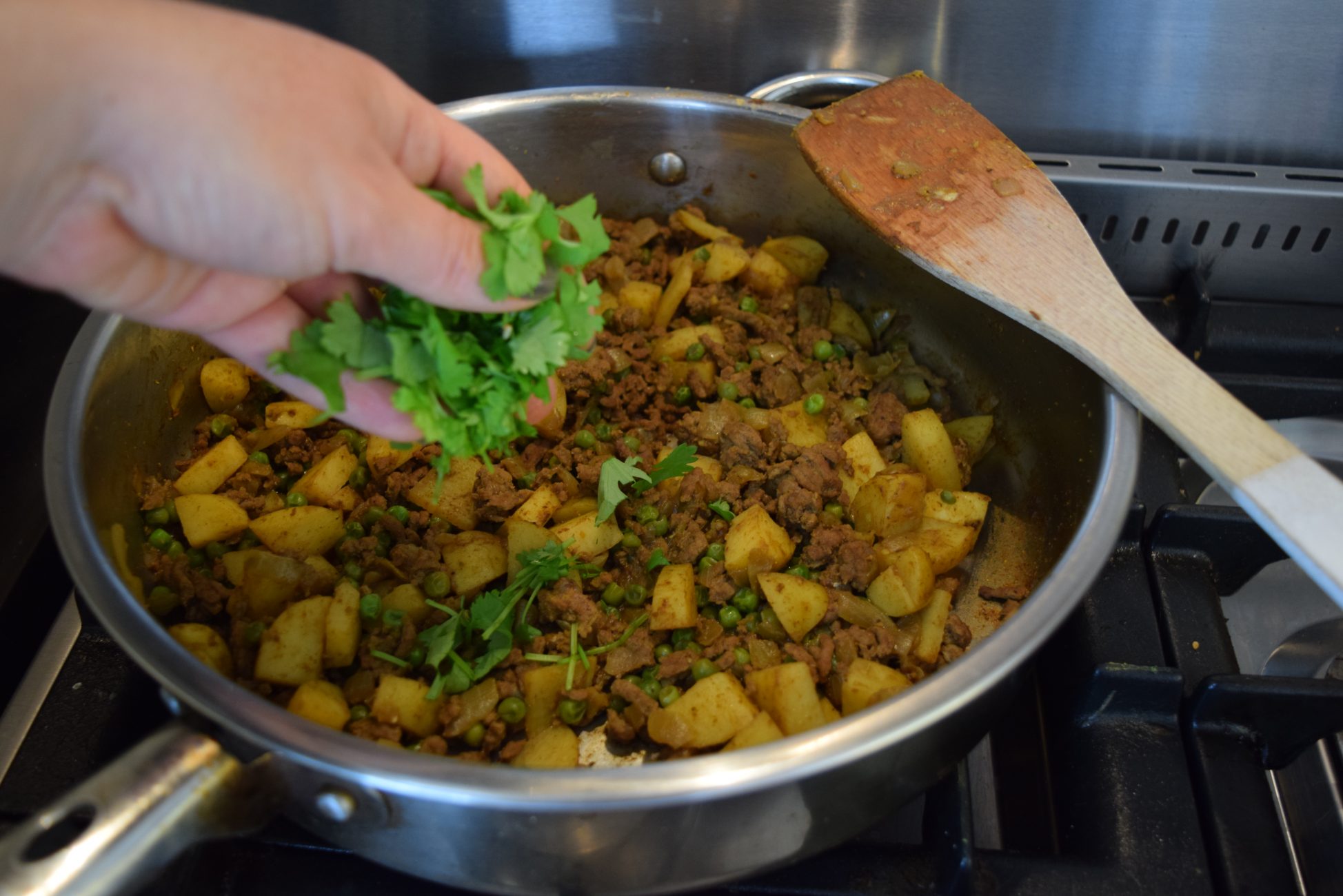 While this is simmering then cooling, start preparing your ingredients for the Homemade Mango Chutney. Finely chop the onions and red chilli and add these to a medium sized saucepan containing a splash of oil.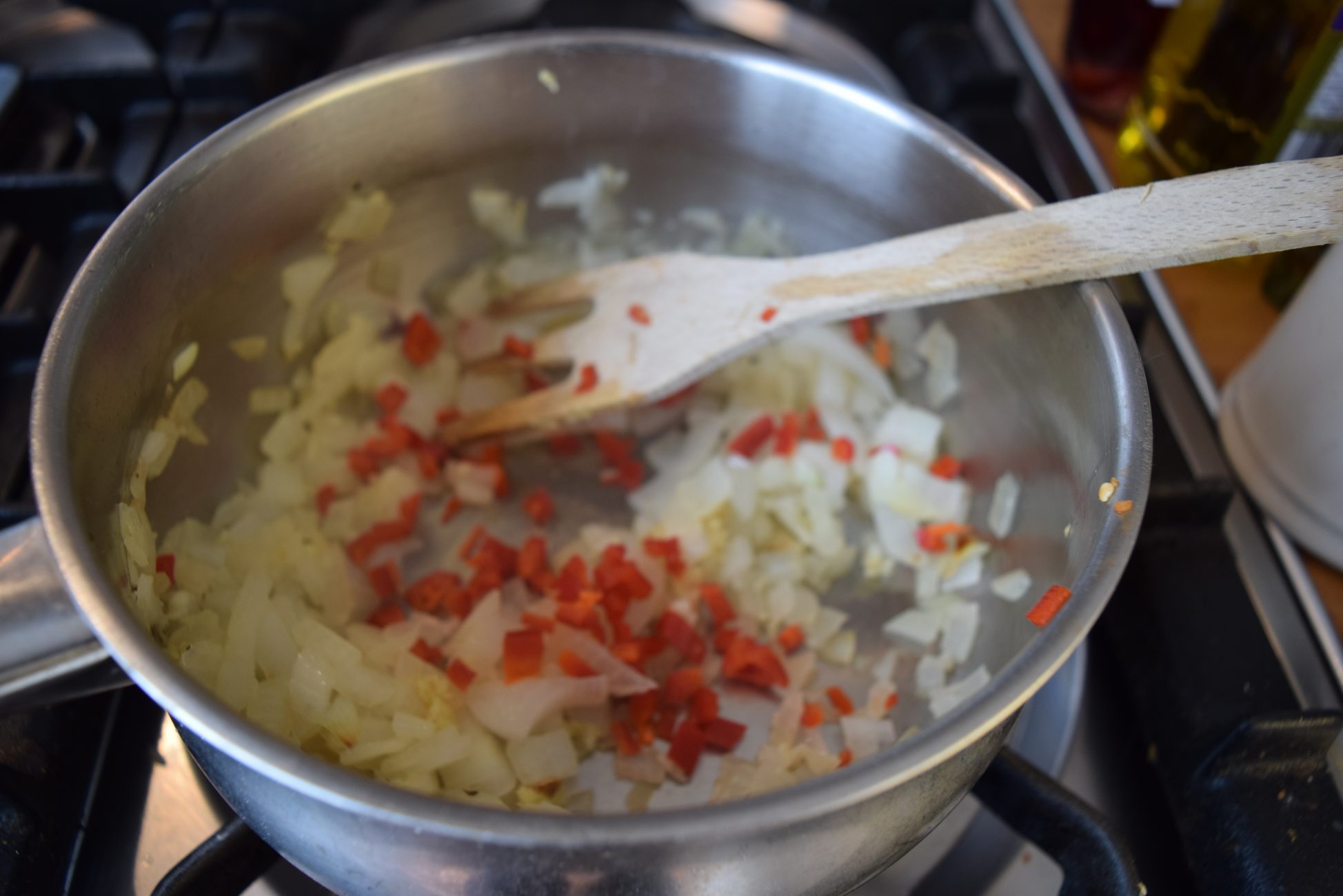 Cook this for a minute or two until starting to soften then add in the juicy cubed mango with both the crushed garlic and ginger and stir well.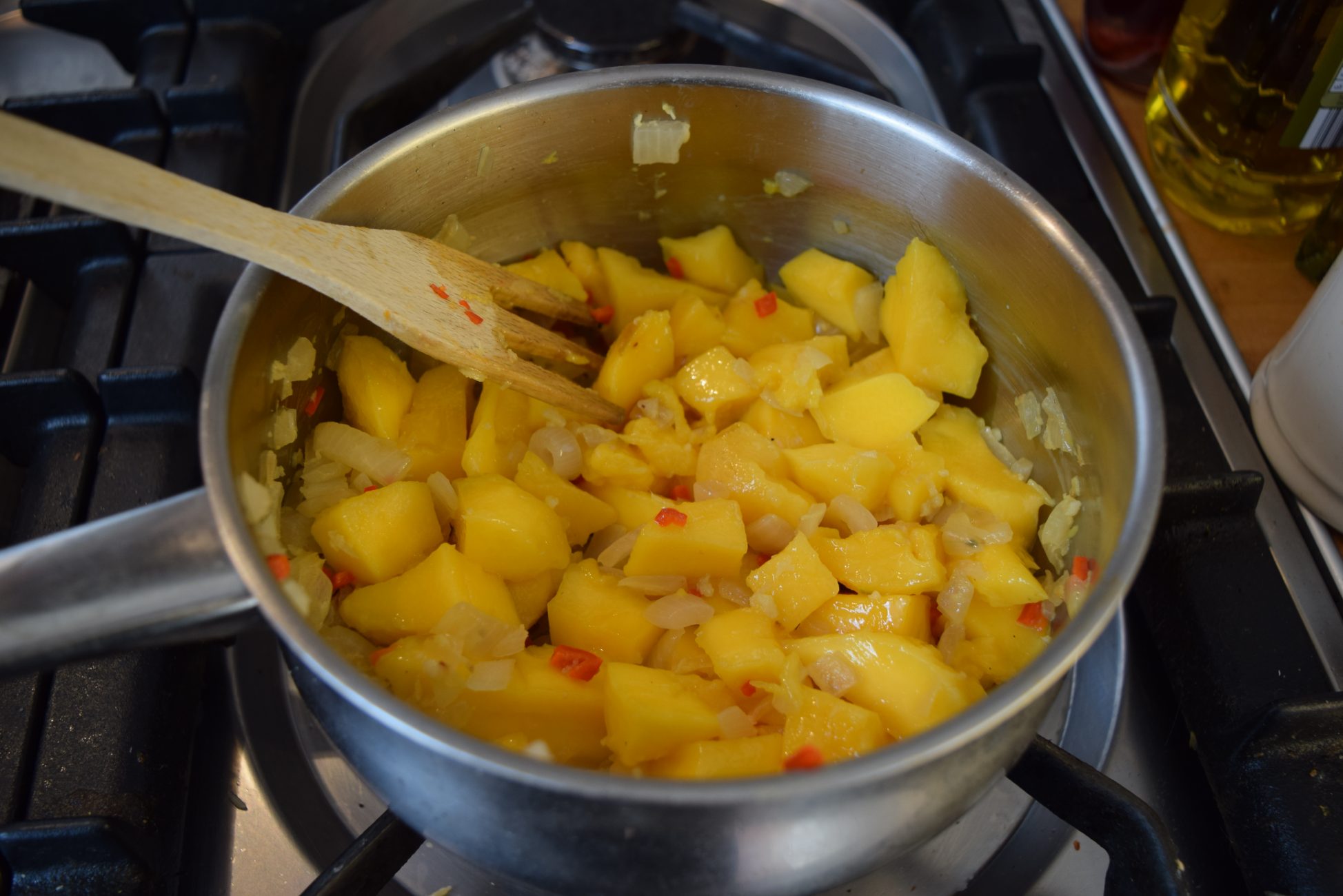 Next into this colourful collection spoon in the mustard of your choice. I went for wholegrain but Dijon is also brilliant here. Add the pinch of turmeric for colour, sugar, vinegar, salt and pepper and water then bring the whole pan up to the simmer. Leave this to bubble away for 30 to 35 minutes, keeping an eye on the chutney, making sure it doesn't stick to the bottom on the pan.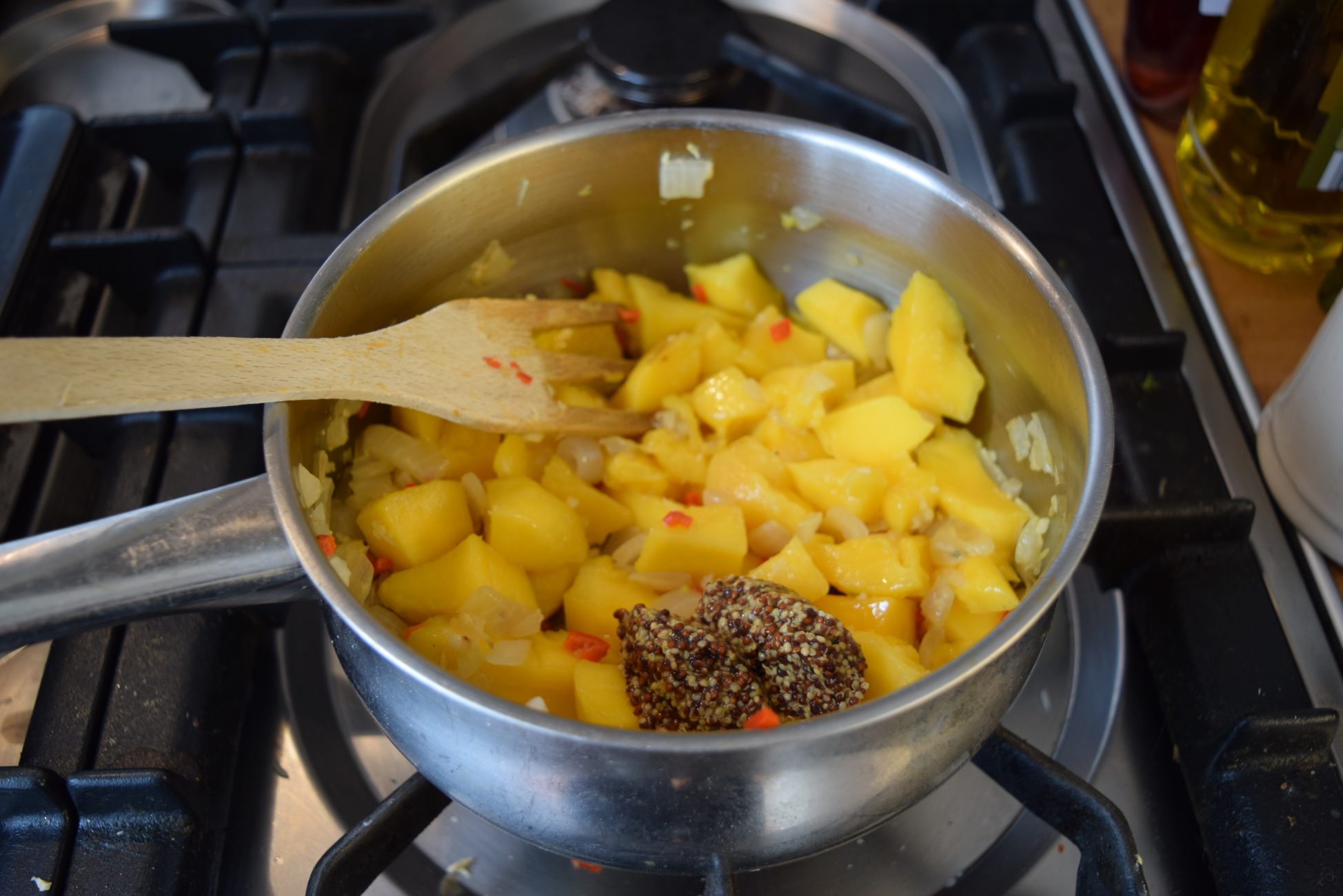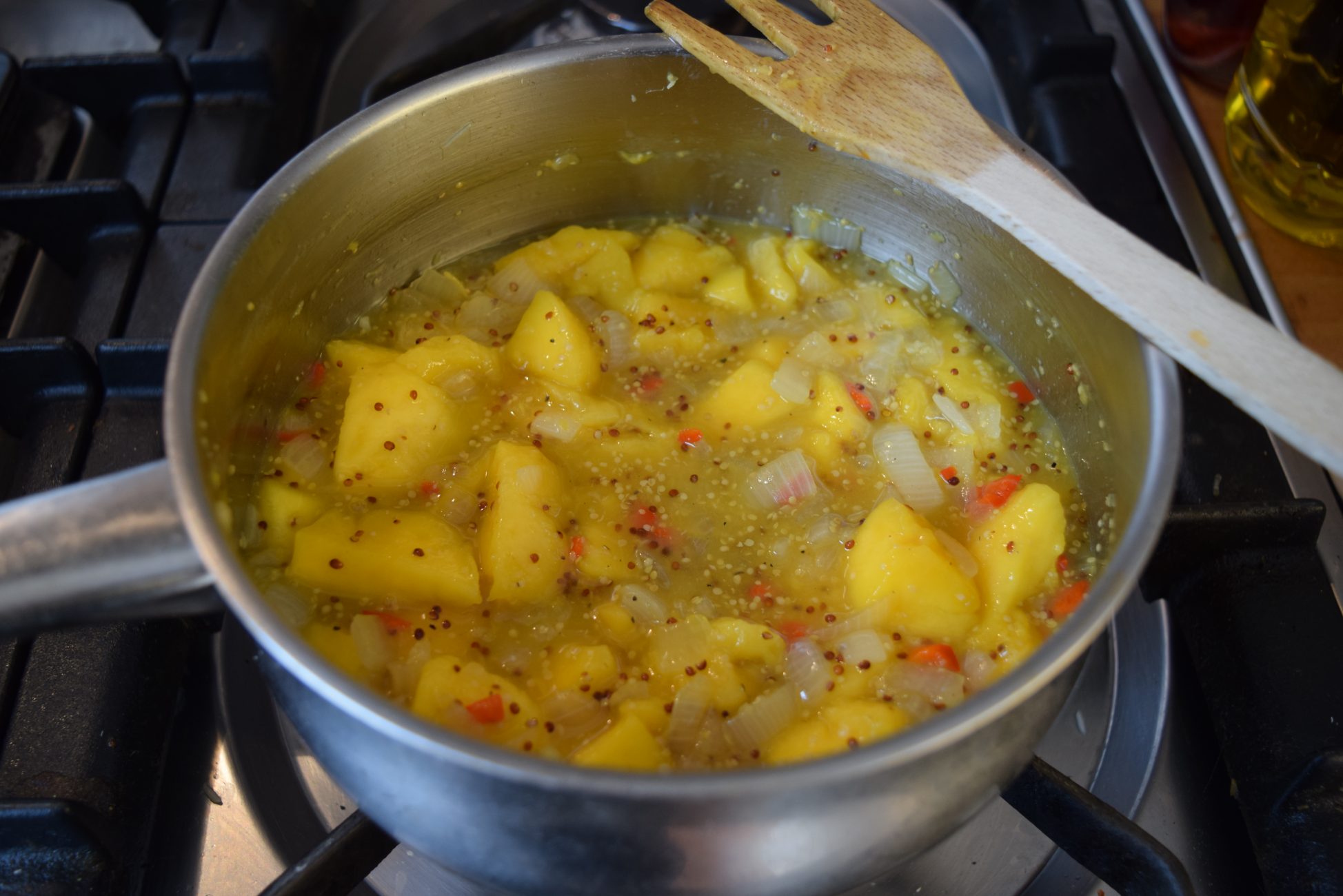 Once the simmering time is up pour the mango chutney into a clean jar and leave to cool. It will be thickened and all the ingredients will have melded together.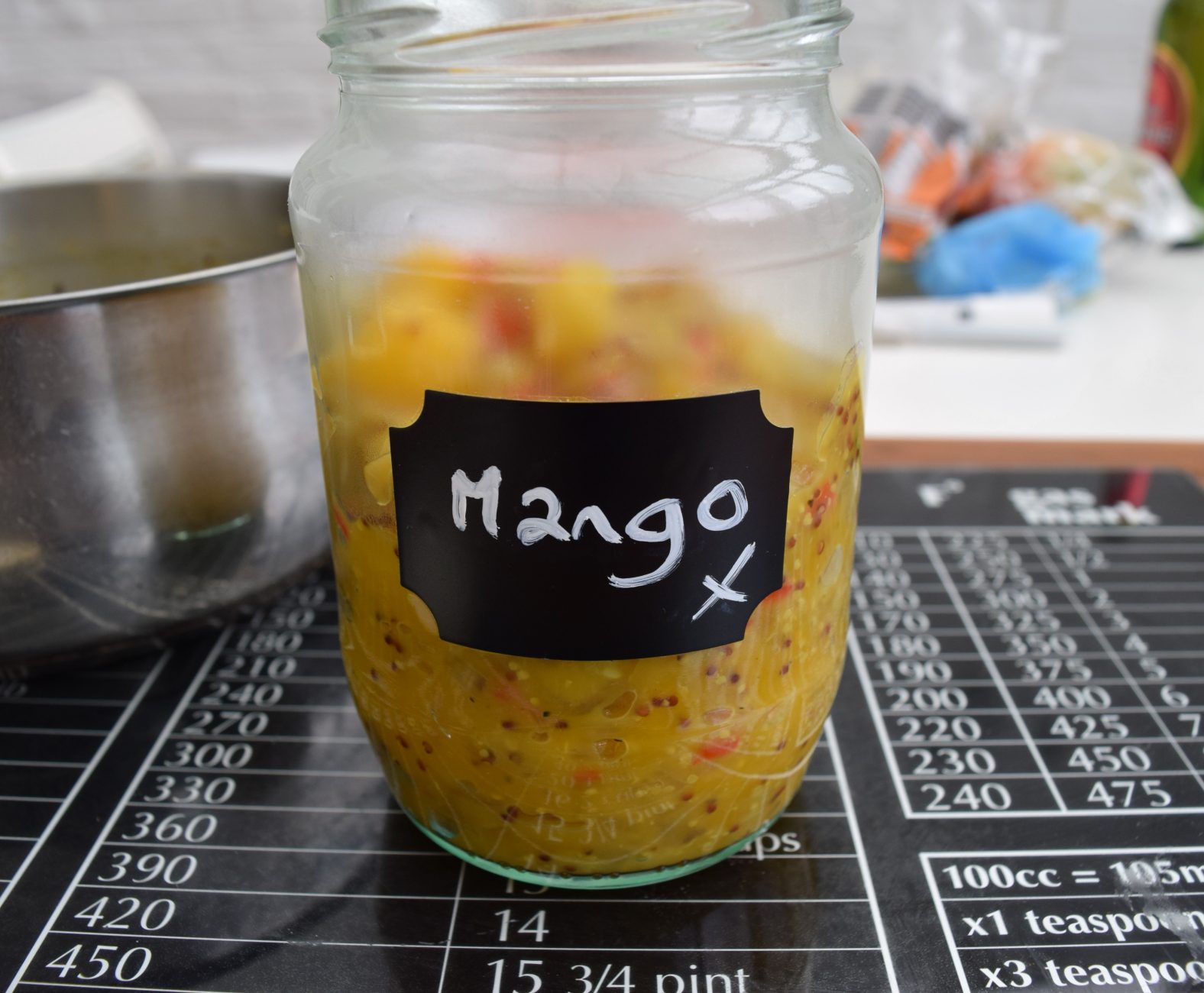 Once the pasty filling is cool, take your pastry and if pre rolled, give it another quick roll just to flatter it further. Take a 10cm round cutter or use an upturned glass if you don't have the right size, then cut out circles of pastry.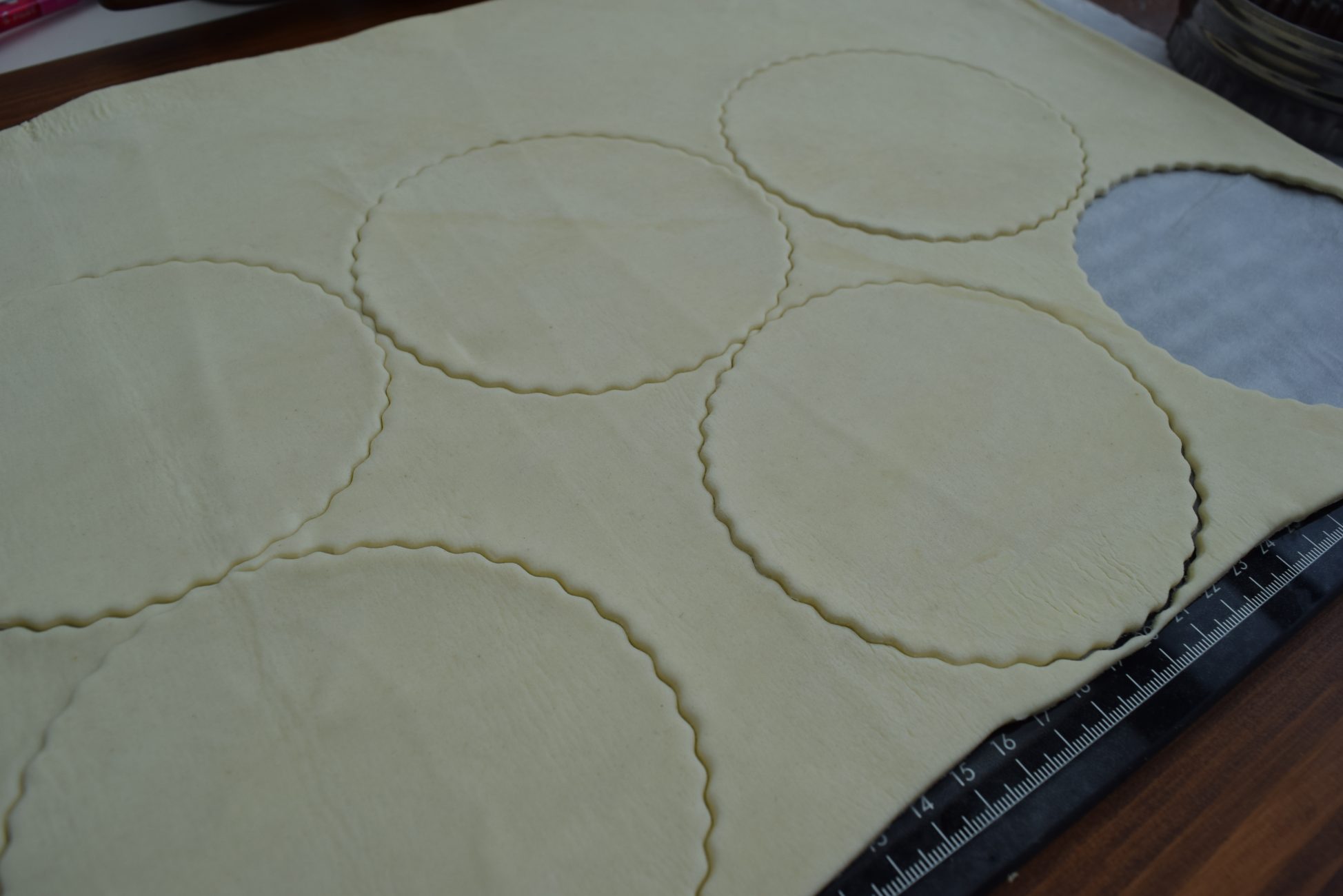 Spoon a tablespoon of the curry mix into the middle of each circle then brush the edges with beaten egg. Don't over fill the pasties or they will burst open in the oven *lots of mine did*.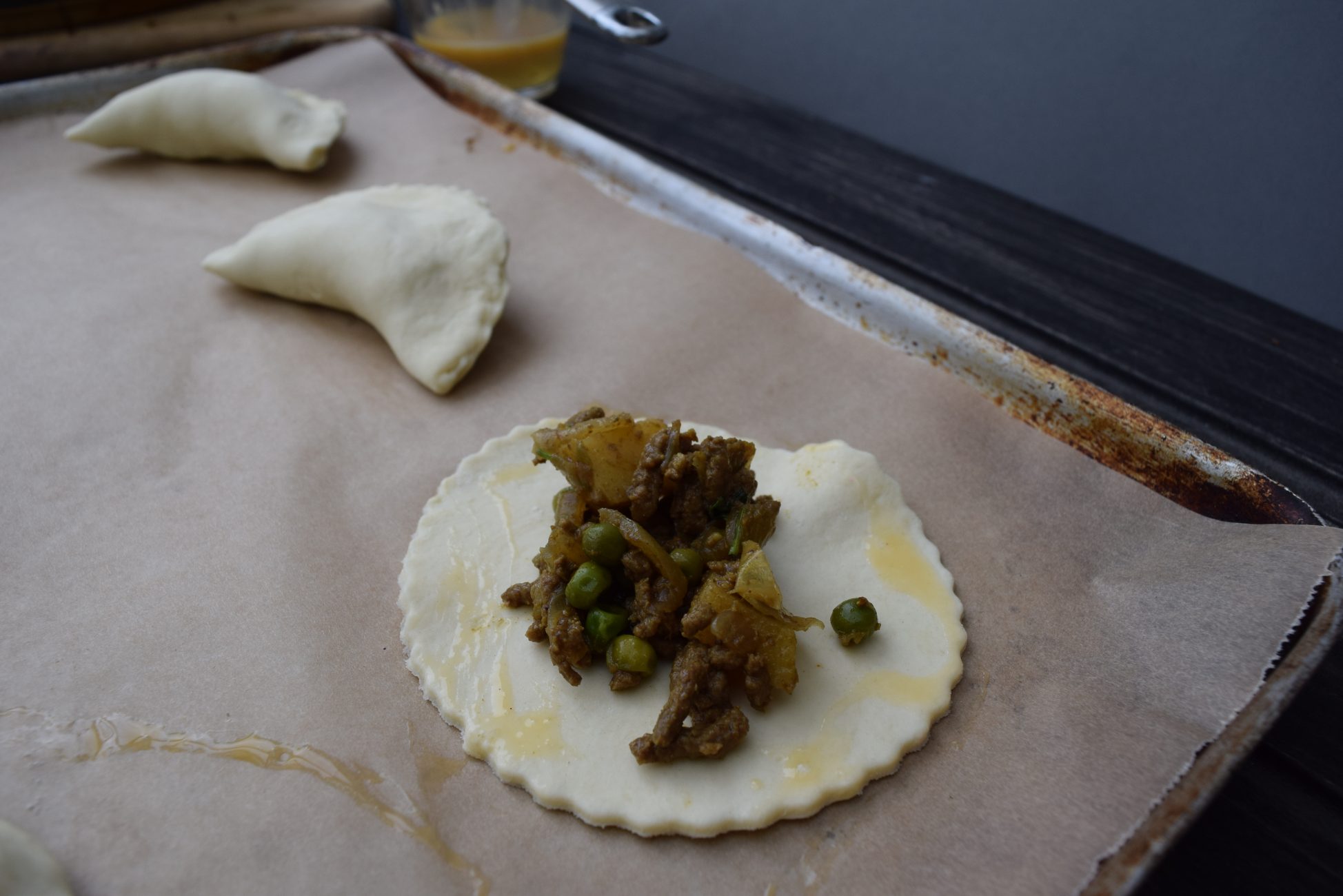 Fold the circles over and press the edges together. Brush each pasty with beaten egg and place onto a lined baking sheet.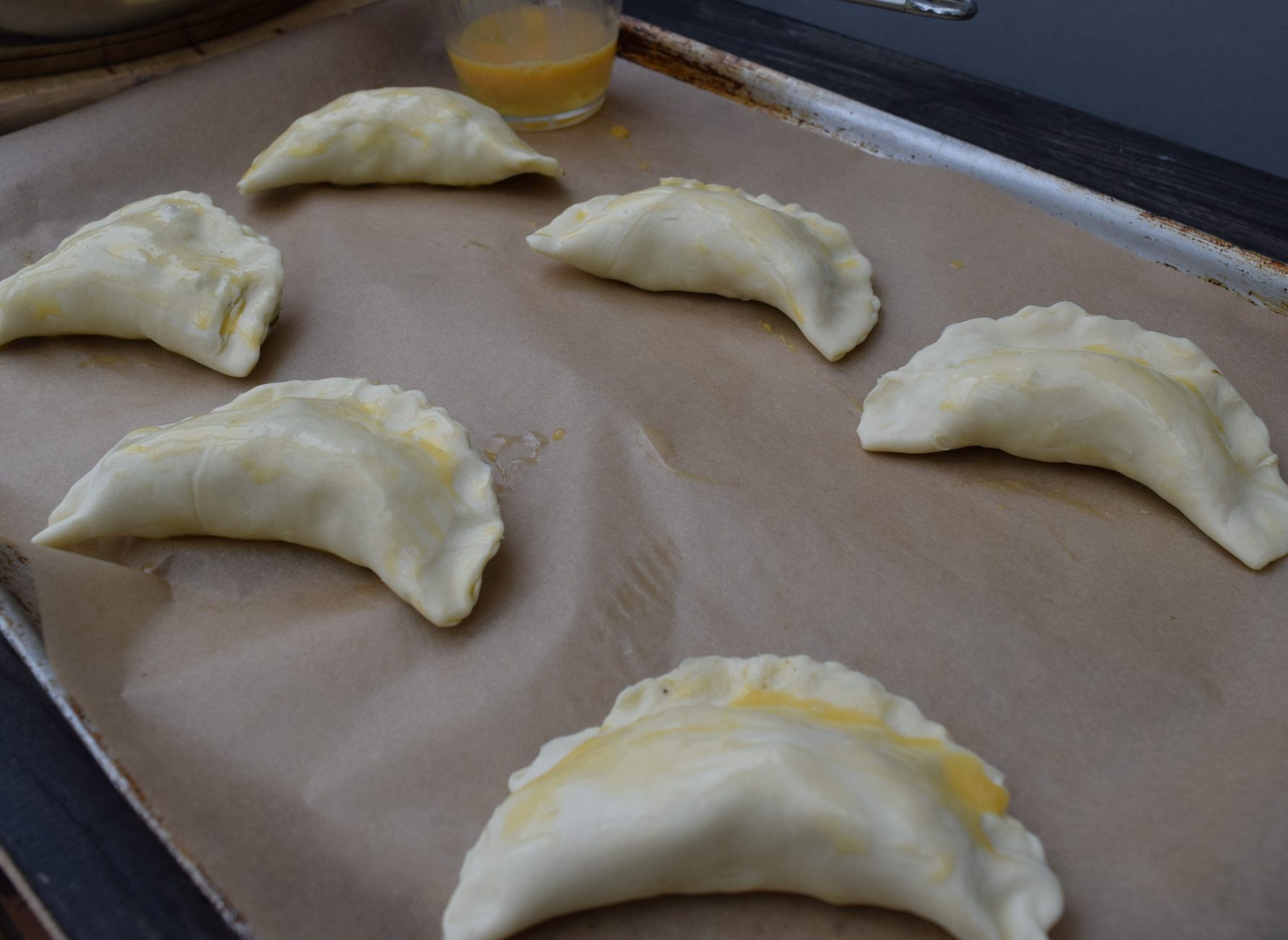 Re roll the pastry scraps carefully, cut out more circles and fill with more curry filling. If you'd prefer, just use half the filling and half the pastry and freeze the rest to use later. Or use all the filling and pastry to create around 20 to 24 small pasties.
Brush each pasty with beaten egg then put in the oven for around 20 to 25 minutes or until crisp, golden and piping hot.
If you don't eat them all burning hot from the tray, serve these tiny Curry Pasties with the spiced and colourful Homemade Mango Chutney.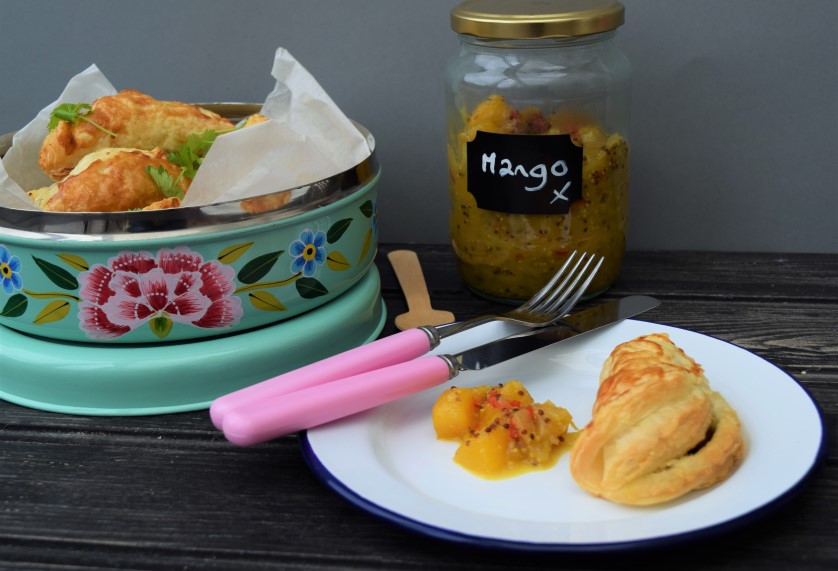 Audible stomach growl.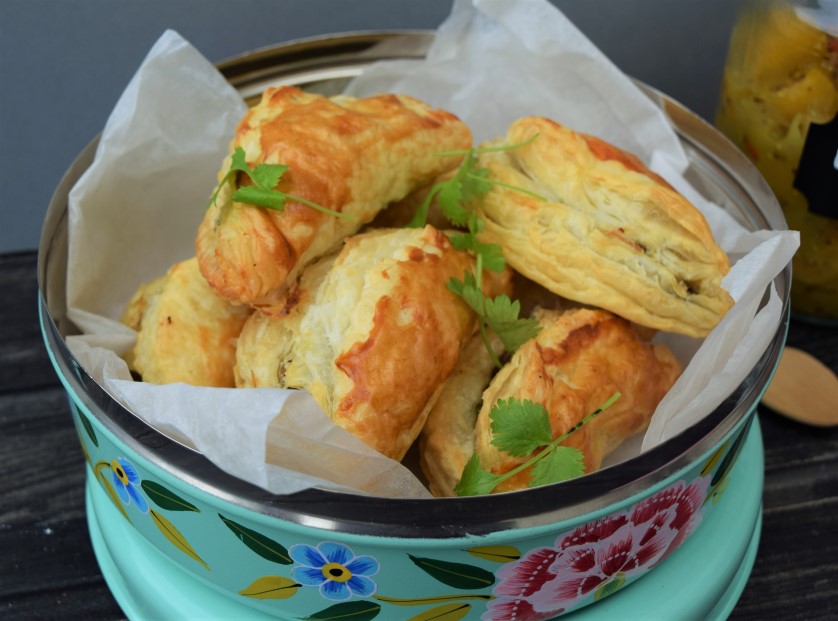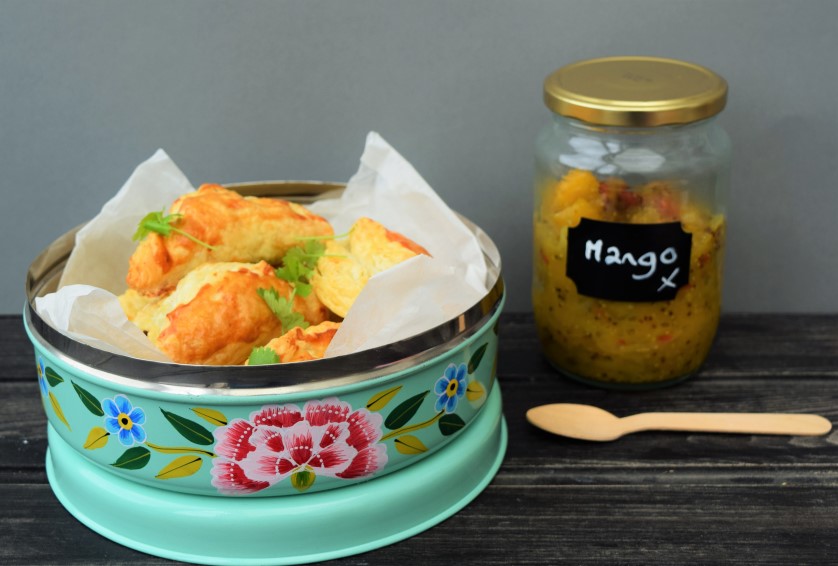 A huge thank you to Aldi for inspiring me to create these recipes. The Curry Pasties make a brilliant portable snack or super tasty lunch. With the versatile Homemade Mango Chutney which can be served alongside the pasties, with your favourite curry or even in a cheese sandwich. These recipes are great ideas to have to hand this Bank Holiday weekend, rain or shine *or more rain*.
Lucy x
Aldi kindly provided me with vouchers to buy the ingredients, however, all thoughts and ramblings are, as always, my own.
Curry Pasties with Homemade Mango Chutney Recipes
You will need no particularly exciting equipment
Curry Pasties
Makes up to 24 pasties, dependent on your cutter size
1 tablespoon olive oil
1 large onion, finely chopped
approx 200g potatoes, chopped into a small dice
250g mince, beef or lamb
1 tablespoon grated fresh ginger or lazy ginger from a jar
2 cloves garlic, crushed
1 tablespoon curry powder, I used Madras
2 tablespoons soy sauce
200ml water
a big pinch of sugar
1 teaspoon salt and a good grind/pinch of black pepper
100g peas
a handful of chopped fresh coriander
2 sheets or around 500g puff pastry or shortcrust pastry
1 egg, beaten, for egg wash
For the pasties, make a start by pouring the olive oil into a large saucepan and heating over a low heat. Add the finely chopped onion and diced potatoes. Cook these for five minutes or until the onions and potatoes are starting to soften. Add the minced beef or lamb and brown for another couple of minutes. Add in the crushed garlic and ginger, stir, then follow in with the curry powder, soy sauce and salt and pepper. Add in the water and peas then cook, without a lid, for 10 to 15 minutes or until the potatoes are cooked through and the mixture is moist but not sloppy. Stir through the fresh, chopped coriander then leave the mixture to cool in the pan.
Pre heat the oven to 170 to 180 degrees fan assisted then take the pastry and give it a little roll with your rolling pin to flatten further. Using a 10cm cutter, or a glass, cut out rounds of pastry. Place a tablespoon of the now cooled mixture into the centre of each pastry circle then egg wash the edges. Press together the edges, crimp closed then place on a lined baking tray. Continue until you have used up all the filling and re-rolled any pastry scraps.  If you prefer, just use half the mixture and one sheet of pastry, the rest of the mixture can be frozen for up to a month. Egg wash each pasty then bake for 20 to 25 minutes or until crisp, golden and piping hot.
These can be served straight from the oven or at room temperature. They freeze well or keep in the fridge for 2 to 3 days.
Mango Chutney
Makes one big jar
1 tablespoon olive oil
1 small chopped onion
1/2 or 1 fresh red chilli, finely chopped, dependent on how spiced you like things
2 cloves garlic, crushed
1 tablespoon freshly grated ginger or lazy ginger from a jar
2 to 3 fresh mangoes, dependent on their size, peeled, de-stoned and cut into cubes
2 tablespoons Dijon or wholegrain mustard
a pinch of turmeric
4 tablespoons caster sugar
5 tablespoons white wine vinegar
3 tablespoons water
Salt and pepper
Take a medium sized saucepan and add the olive oil. Heat over a medium heat then add the finely chopped onion and red chilli. Cook for a minute or 2 until starting to soften then add the ginger and garlic and cook for another minute. Add in the chopped mango, mustard, pinch of turmeric, sugar and vinegar. Season, stir together then add the water and simmer for 3o to 35 minutes. Keep an eye the mixture doesn't catch on the bottom of the pan towards the end of the cooking time. The chutney is ready when the mango is starting to break down and it's thickening nicely.  Pour into a clean jar and allow to cool before storing in the fridge.