Garlic and Honey Prawns Recipe
Speed is the key at the moment with me. Not the drug, that all sounds very scary, speed as in running hither and thither at all times due to having too much going on and not enough time to do it in. When I am in this sort of headless chicken mode, meals suffer the most. The boys have had their fair share of pasta and, dare I say it, breaded items with oven chips and beans *please don't unsubscribe*. And as for me, I seem to be living on crackers with cream cheese and strong tea.
So, for this weeks savoury offering I'll keep it short but sweet with these tempting Garlic and Honey Prawns. These are so easy and don't really require a moments thought as even the marinating element of the dish can be cut down to 15 minutes if you are completely balls to the wall. I have the relatively old school view that prawns are a bit of a treat. This probably stems back to the 70's when a prawn cocktail was the height of luxury *it frankly still is* and prawns were pretty pricey and seen as the reserve of dinner parties only. They are still quite expensive, but I do stockpile prawns when they are on offer and stuff them in the freezer alongside the chips and breaded items. This flavour filled supper time treat comes from the table of Sally's Baking Addiction, thank you Sally.
This is definitely the dish for you if you are eating too many cracker based suppers and time is of the essence. There's barely more effort required than a little light stirring, marinading, then more stirring. You could do this whilst hanging out washing or making tomorrows packed lunches or with half an eye on the tennis or football which is a constant on our television at the moment.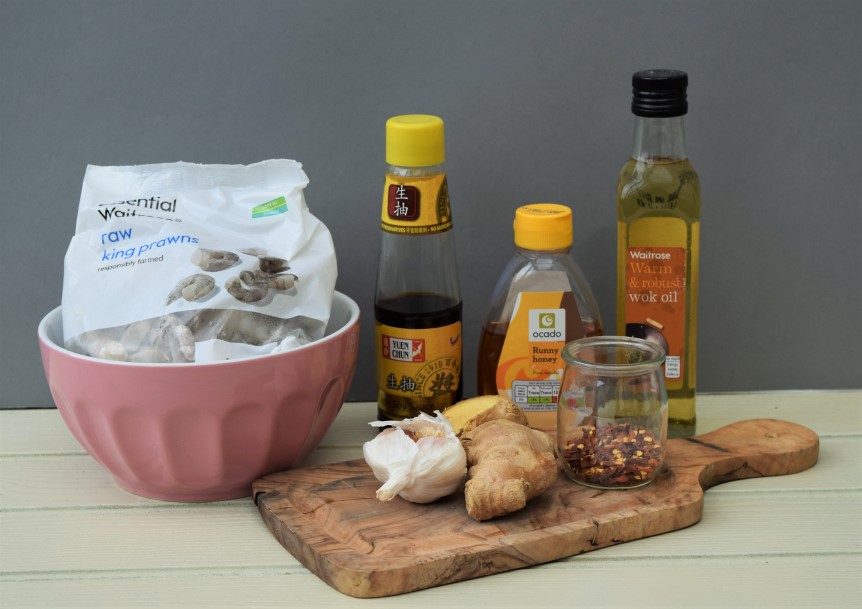 Ta-dah here's the line up for these wonderful Garlic and Honey Prawns. All the classic ingredients and flavours for a tasty little supper dish. The chilli flakes are optional, I love a hint of heat, but it's up to you.
Make a start on this by preparing the marinade. Add the garlic, ginger and chilli, if using, to a good sized bowl. Pour on some lovely, runny honey.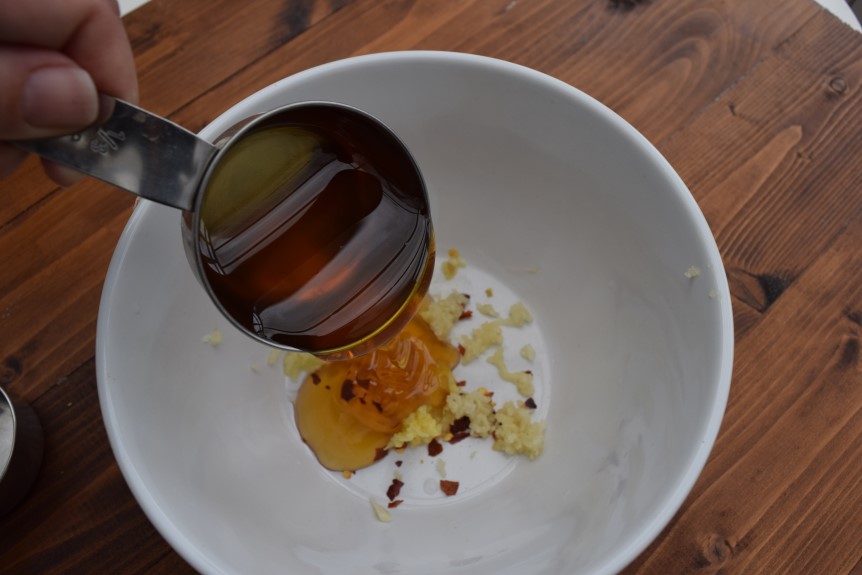 Pour in the soy and whisk this wonderful creation together.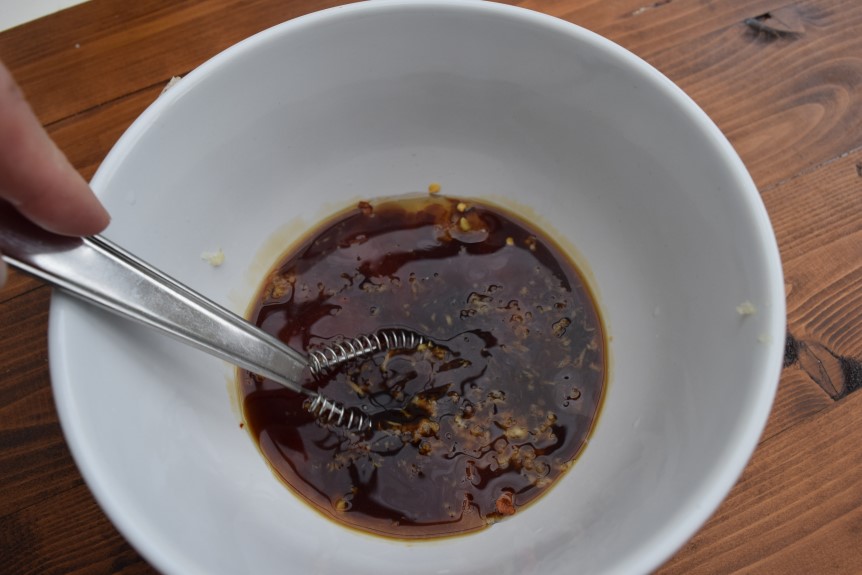 Pour half of the marinade into a jug, cover and keep for later. Then pour the remaining half onto your prawns. Mine were frozen so I rinsed and drained them first. Cover and refrigerate the prawns for anywhere from 15 minutes to 12 hours.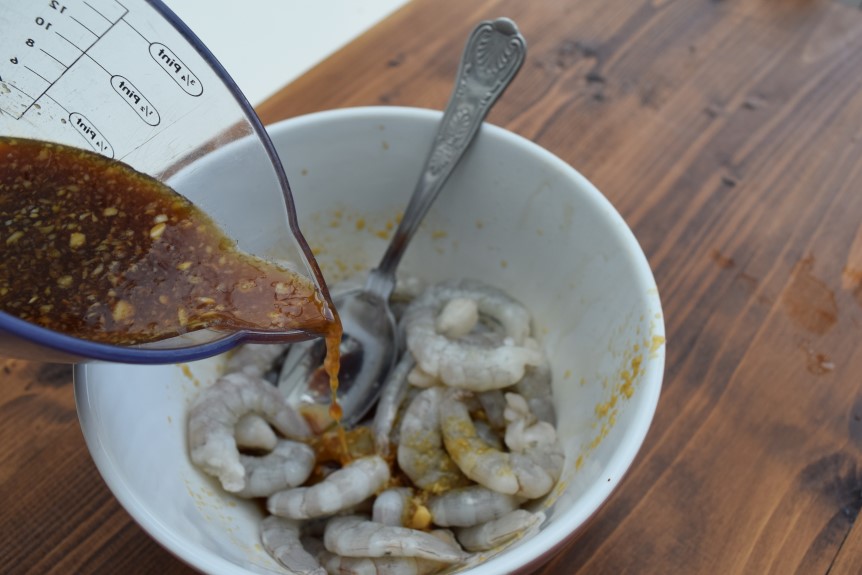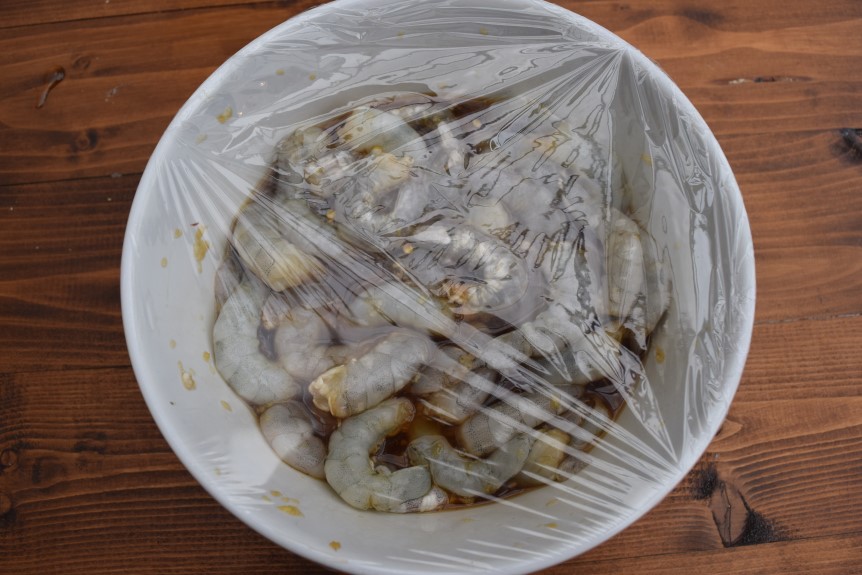 When you are ready to eat, get your rice, noodles or stir fried vegetables cooking. The prawns will take a scant 3 minutes or so to cook, so you need all your sides ready to go. I roasted some broccoli for 15 minutes in a hot oven which I'd drizzled in olive oil and sprinkled with some garlic powder and simmered some rice.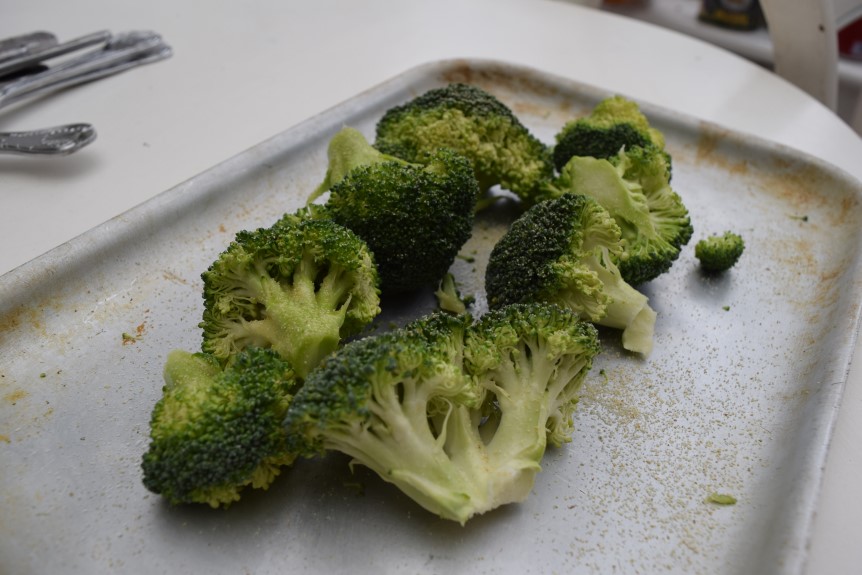 Once it's all systems go, add the oil of your choice to a hot wok or frying pan. Drain the marinade, discard, then pop the prawns into the sizzling oil and cook for a minute.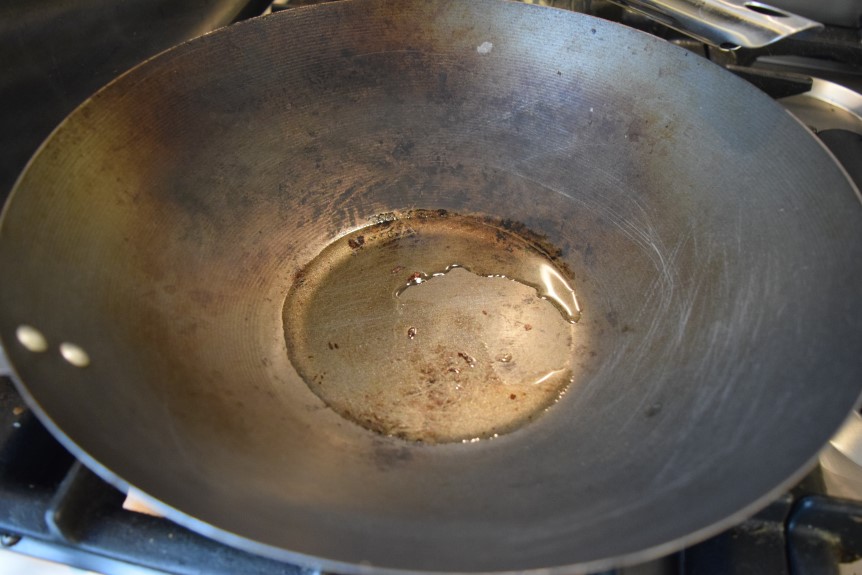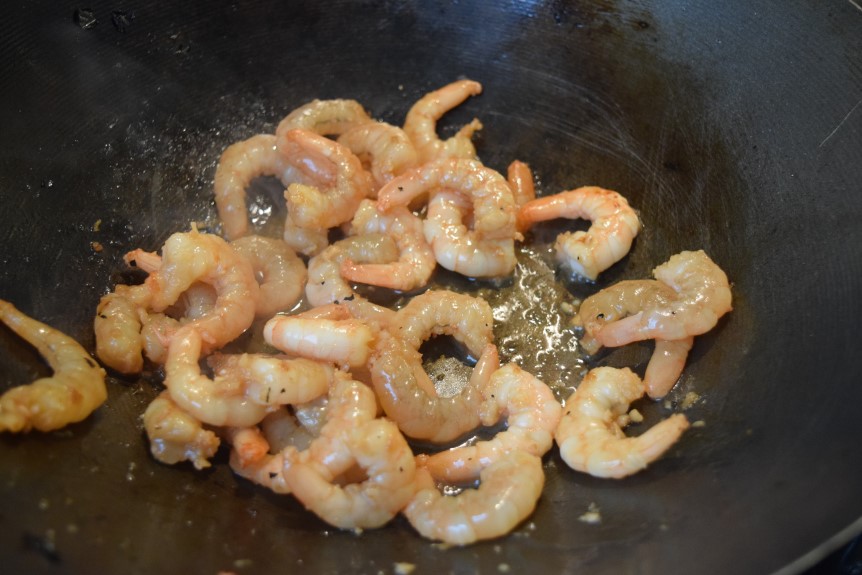 After that minute's up, pour in your reserved half of the marinade and cook for another minute or two until the prawns are cooked through and everything is sizzling and mouth wateringly fragrant.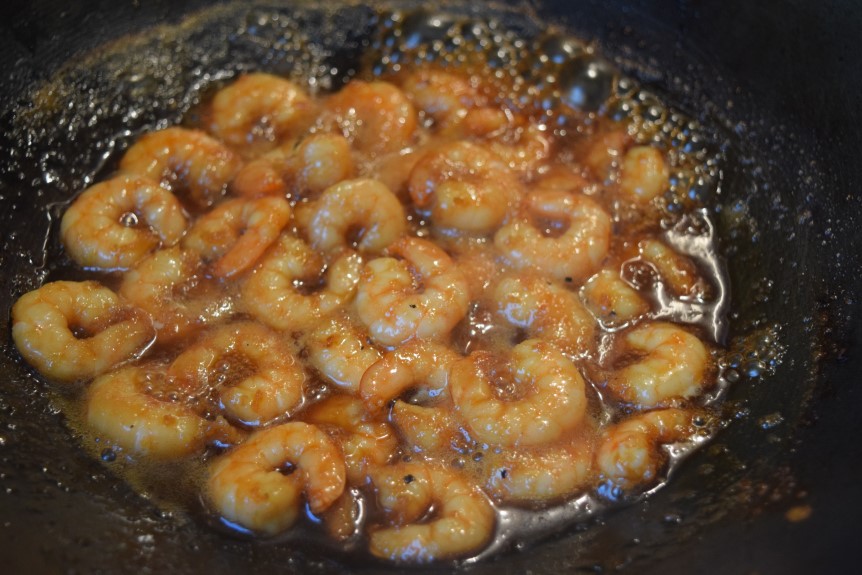 This tasty, super quick dish is ready to serve. If it even makes it to the plate, I forked a few mouthfuls in straight from the burning hot wok. Spoon the prawns over your rice or noodles and drizzle on the pan juices. Garnish with spring onions if you like them, I don't, so I didn't.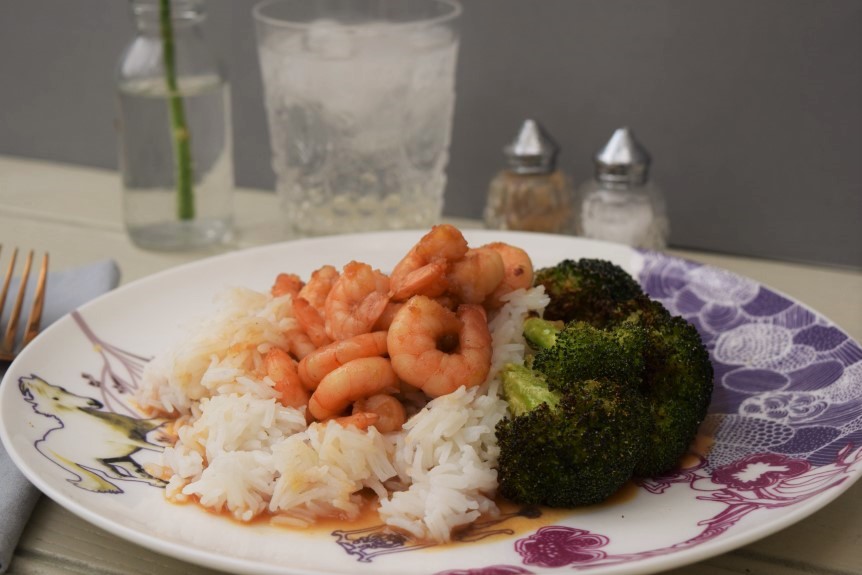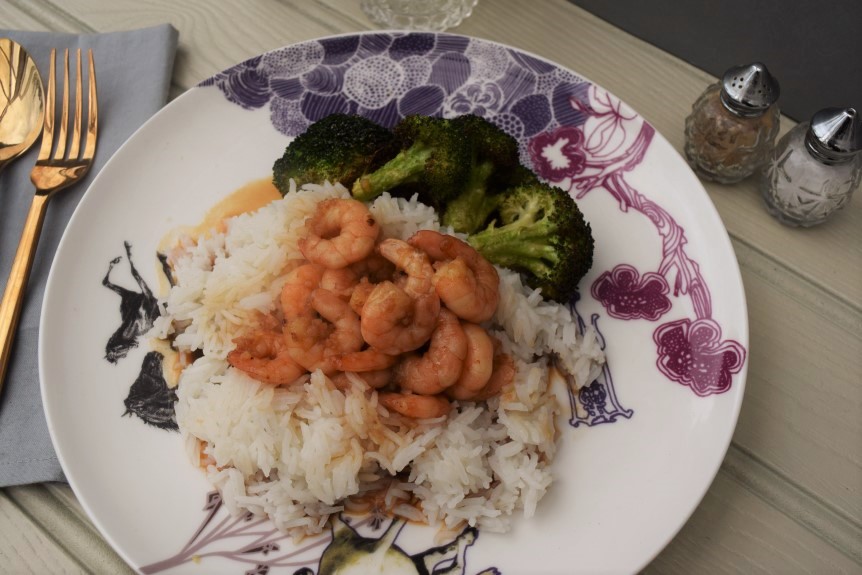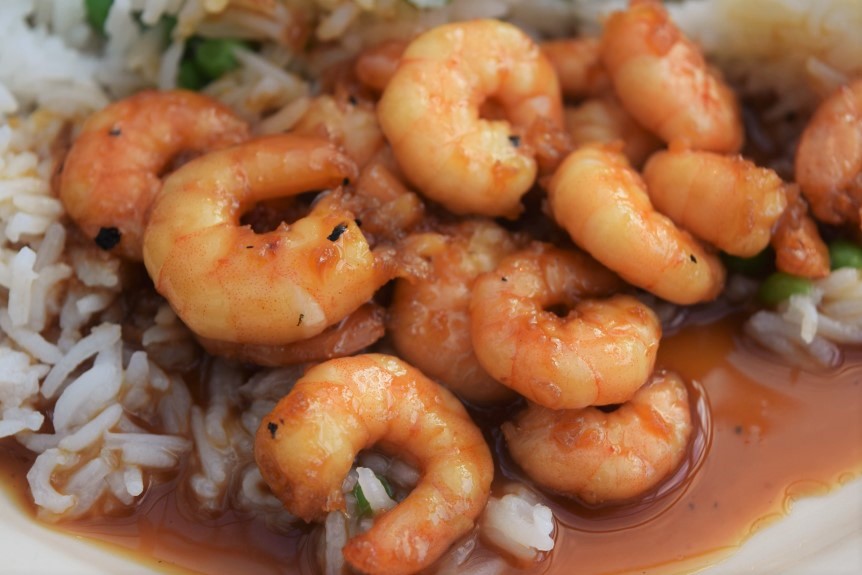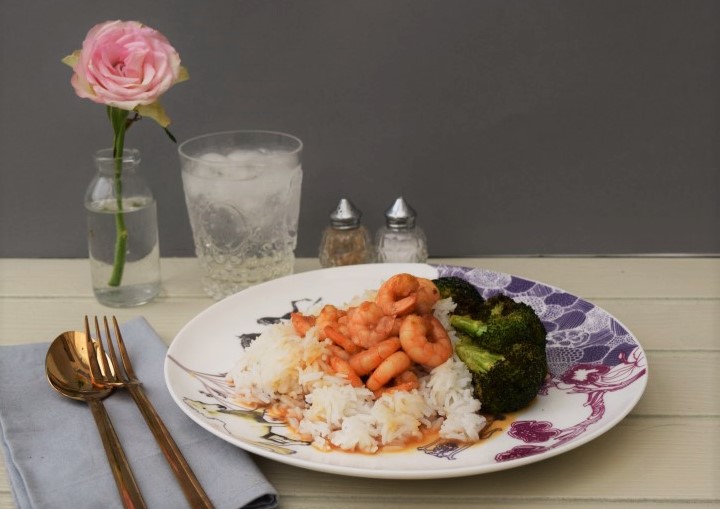 The single rose is optional, flavour isn't. I am not going to blather on about this, because time is of the essence. However, this dish is well worth a go if you are after a simple, tasty, clean-plates type of supper.
Lucy x
Garlic and Honey Prawns Recipe
Serves 3 to 4, hunger dependent
You won't need any exciting equipment for this
80ml honey
60ml soy sauce
2 to 3 cloves garlic, crushed, or a tablespoon from a jar
An optional big pinch of dried chilli flakes
1 teaspoon ginger, grated, or from a jar
500g-ish raw prawns, I used two bags of 235g, defrosted if frozen
1 tablespoon oil for frying, I used my flavoured Wok Oil
Rice and a green vegetable to serve, spring onions chopped for garnish 
In a bowl or jug add the ginger, crushed garlic and optional chilli flakes. Whisk in the honey and soy then pour half the marinade into food bag or bowl. Reserve the other half of the marinade, covered, for later.
Add the prawns to the marinade in your food bag or bowl and leave to marinate in the fridge for between 15 minutes and up to 12 hours.
When you are ready to eat, this only takes 2 to 3 minutes to cook so prepare your rice, noodles or vegetable sides in advance. Heat the tablespoon of oil in your wok or large frying pan. Strain the prawns, discarding the marinade,  then add them to the hot wok. Stir fry these for one minute or until the prawns are just turning pink then add the reserved half of marinade to the pan and let it bubble away for a further minute.
Served piping hot, piled onto your rice, noodles or stir fried vegetables. Garnish with spring onions if you like.