Giant Chocolate Chip Cookie Recipe
It's nearly two years since I started Lucy Loves. Oh how time flies when you're having fun. And I am having fun, I love sharing all the food we eat and love in our house with you. Yes, it has led to me piling on a few pounds from eating all the spoils, and yes, my hands are uglier than ever from all the time spent washing up the Magimix, but it's all worth it and I really hope to God you agree *anyone out there, hello….*
Randomly, I decided to mark this 2 year milestone with a Giant Chocolate Chip Cookie. And why wouldn't you. It seems the fashion for giant cookie cakes is back. I hadn't seen the likes of these since I bought one for Clyde in the 90's *he will not thank me for this photographic evidence*.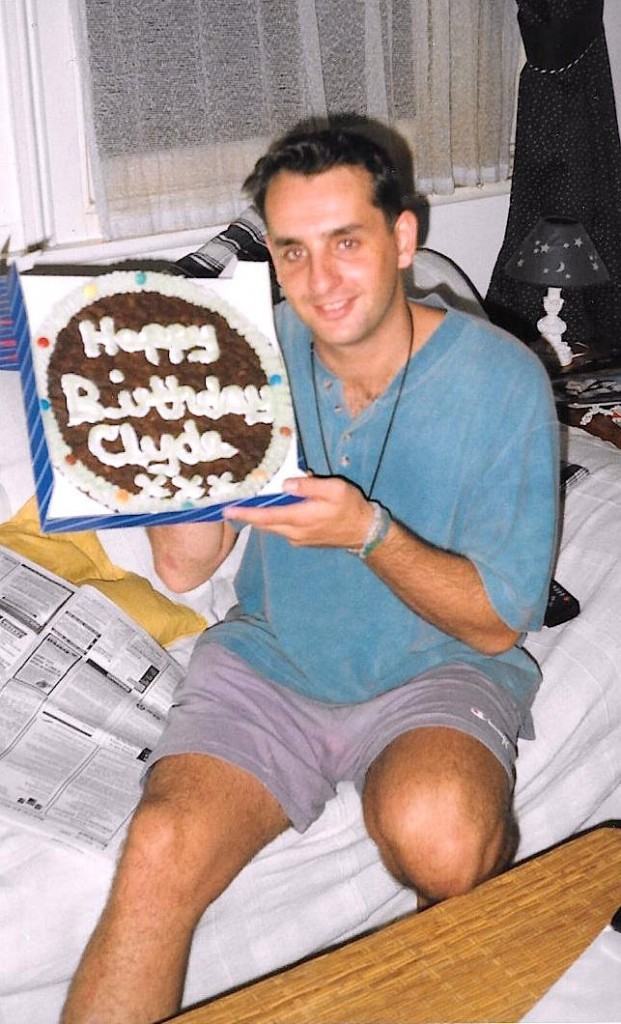 I remember this well, it was a double chocolate cookie with mint icing, I expect I ate most of it.
My nephews had Giant Chocolate Chip Cookies for their birthdays and they are at the cutting edge of trends, so I consider my choice of recipe today quite fashionable. I have to say this soft, enormous chocolate chip cookie does make a great excuse to celebrate anything, there's no need to reserve this for birthdays alone. Decorate with buttercream, sprinkles and glitter, the glitzier the better, this is not the time for class. This recipe comes via the Supper in the Suburbs blog, with huge thanks.
Hooray for two years of Lucy Loves, I can't believe we've made it this far. Do join me in a great big, delicious slice of this Giant Chocolate Chip Cookie. And maybe just a small glass of fizz.
This is a super simple cookie recipe, just a bloody great big one. I did forget to show you the decorating ingredients, but you know what a bag of icing sugar looks like by now I hope, or I have I taught you nothing. I bought a new glass dish to make this in, but it was only 8 inches in diameter instead of 9 or 10, so the final cookie was a bit thicker than I'd hoped.
Start by pre heating the oven to 160 degrees fan assisted and buttering and popping a couple of strips of baking paper in a cross on the base of your chosen pie type dish. This will help to lift the cookie out when it's cooked and cooled.
Next add to your bowl or food processor the soft butter and both caster and soft brown sugars. Beat with a wooden spoon or hand mixer or process until lighter in colour and texture.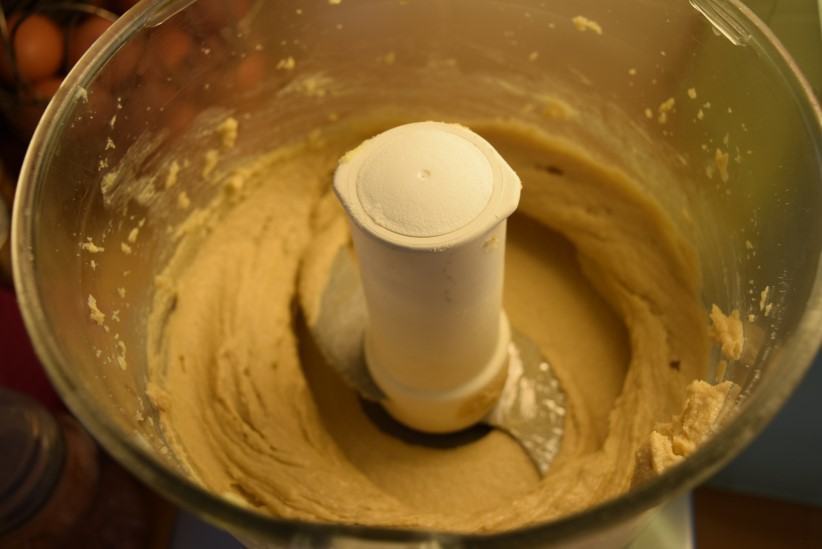 Next, mix in two eggs and some vanilla extract or paste.
Beat well then add the self raising flour, corn flour and a good pinch of salt. You will have a super soft dough at this stage. Do try a bit for quality control purposes, rest assured this cookie mixture is bloody delicious.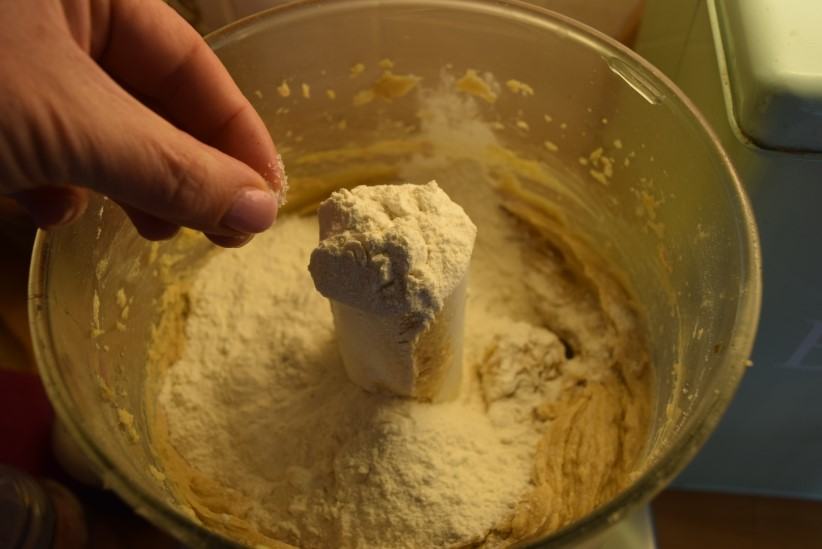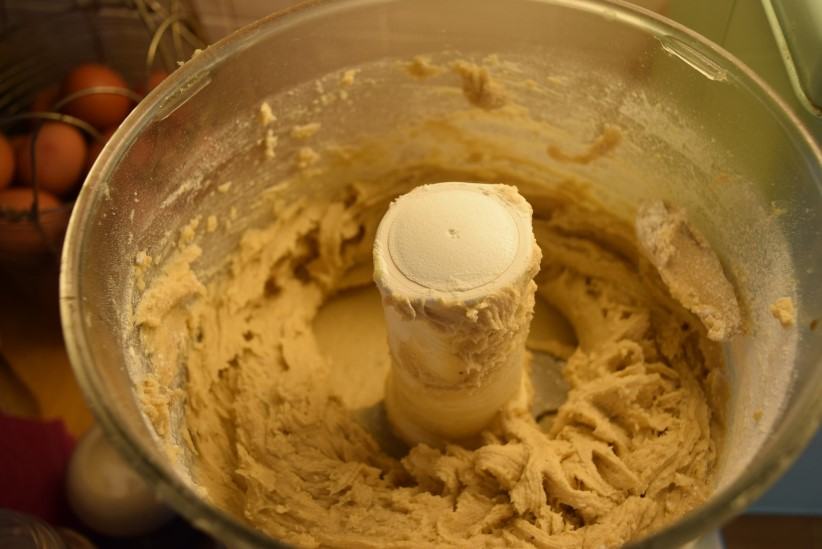 All that's needed now is some lovely chocolate chips. I went for dark chocolate chips to curb the sweetness of the cookie, but all chocolate is delicious, so you choose.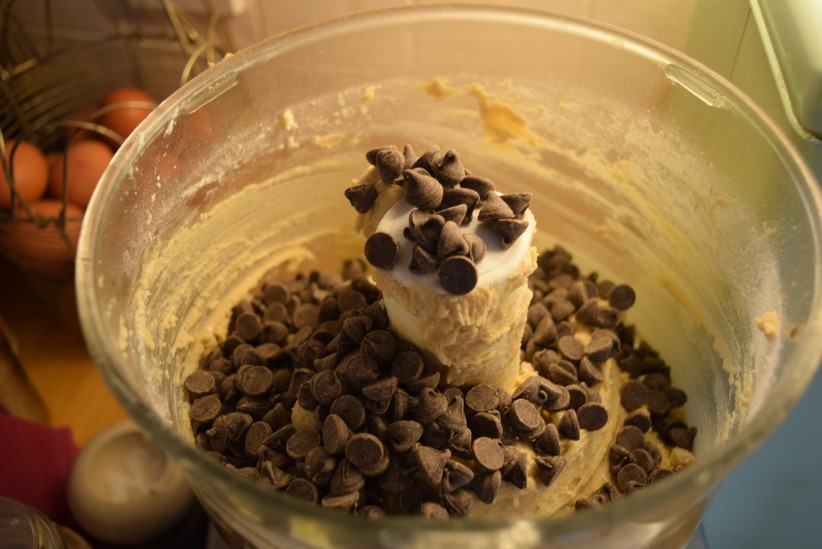 Spread this cookie dough into your buttered, lined dish and level the top with the back of a spoon.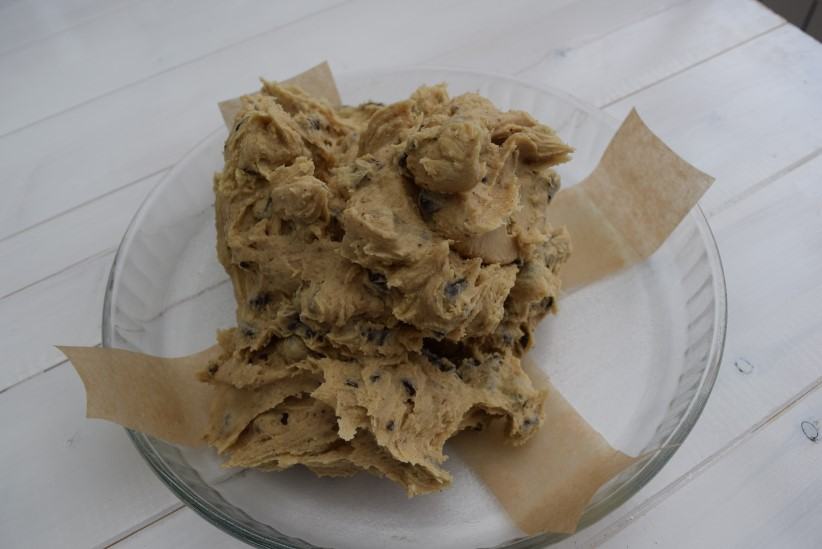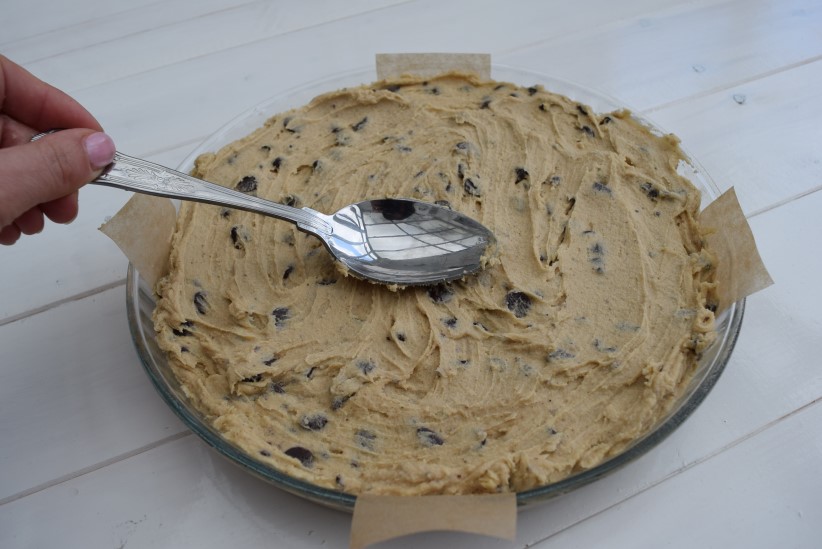 Carefully put this dish of joy in the oven and bake for between 45 to 60 minutes. Mine took an hour because the dish was smaller and cookie thicker. The cookie is cooked when it's golden and springs back in the middle when poked. You want crisp edges and a soft middle *insert joke about my soft middle where appropriate*.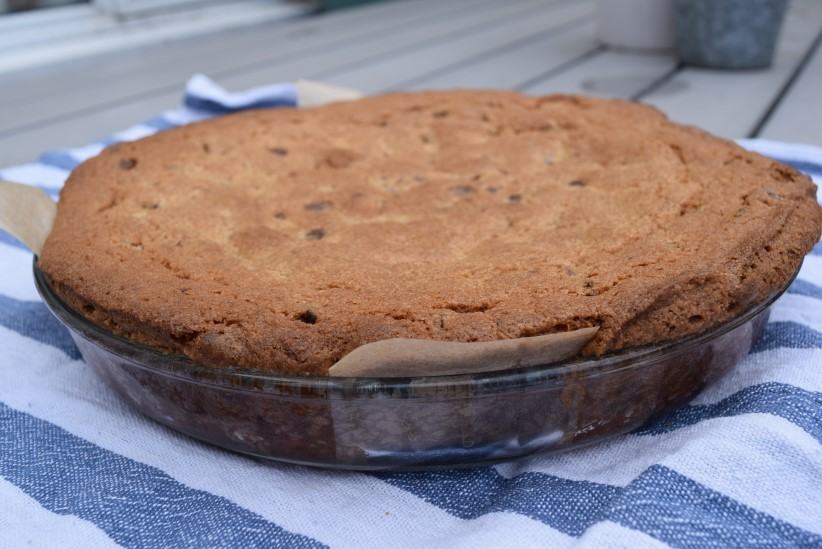 While this celebratory cookie is cooling, make some buttercream for decoration. Either by hand in a bowl with a spoon or in your mixer, beat the butter and icing sugar with some vanilla extract and food colouring if you are feeling garish.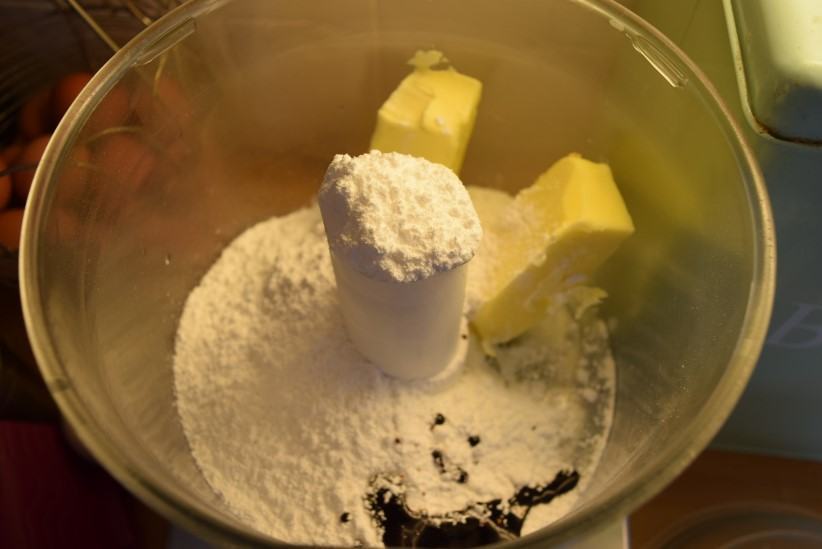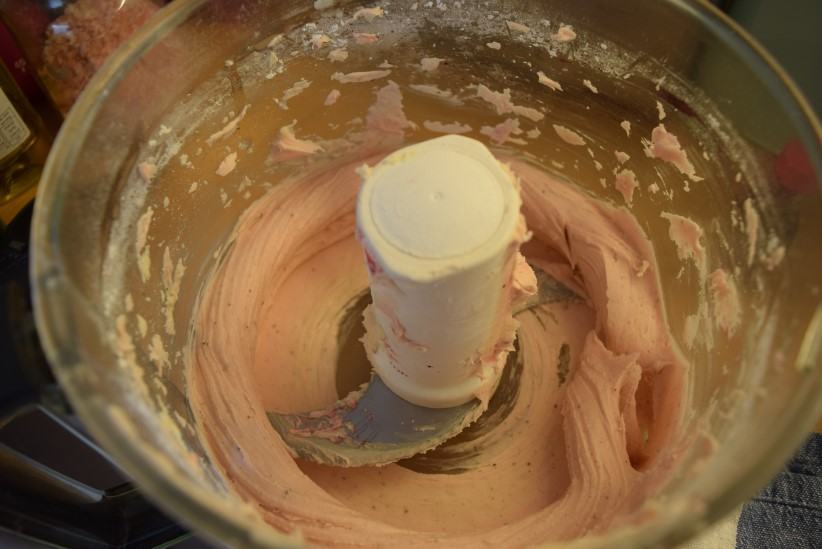 I don't think mine was quite garish enough. Put the buttercream in a piping bag with a nozzle or use a food bag with the corner cut off and prepare your sprinkles and glitter.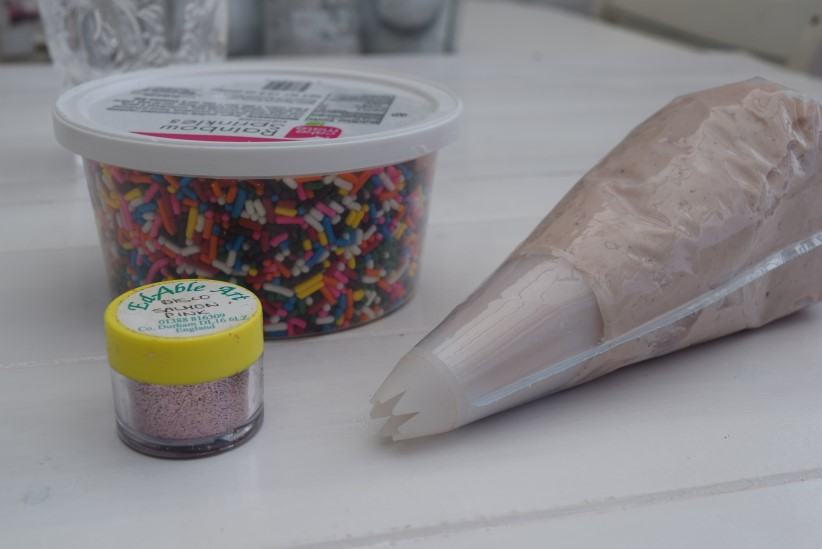 Decorate your completely cooled Giant Chocolate Chip Cookie in any way you wish. My piping skills leave a little to be desired but I pretend it's whimsical and endearing. Adorn with sprinkles and glitter.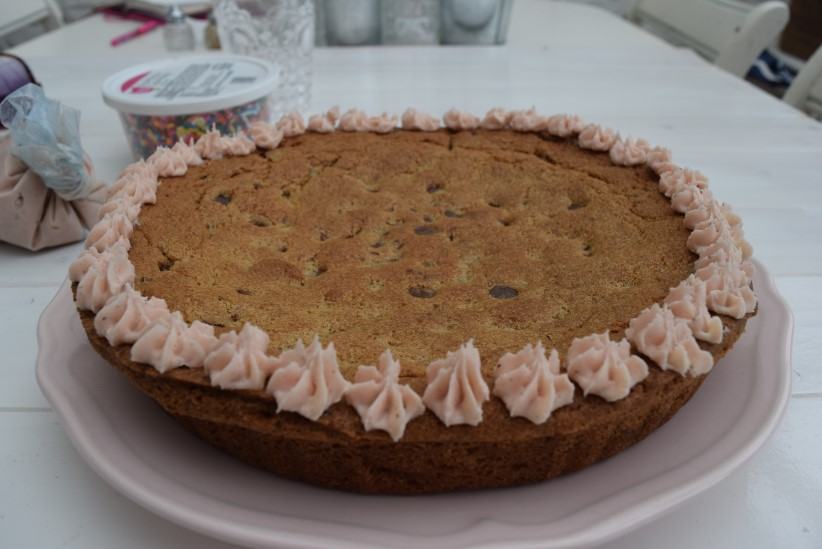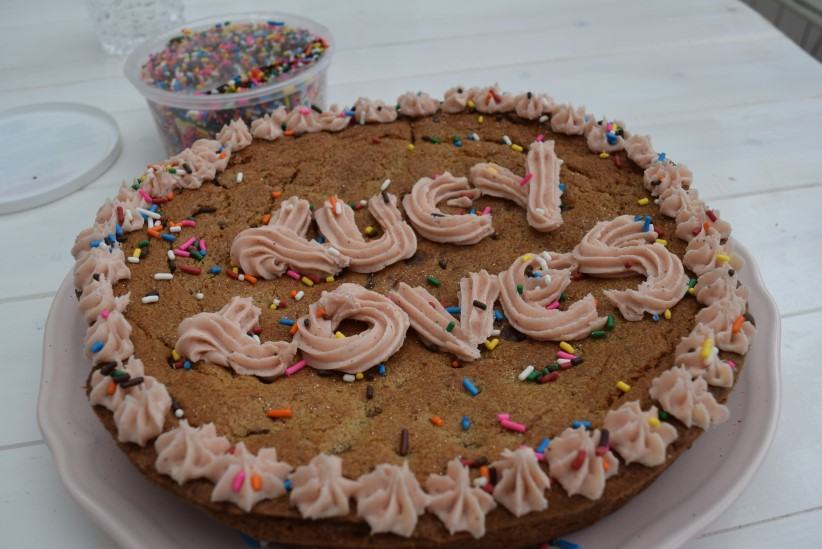 Serve in cake style slices with a glass of something celebratory, or at a push a lovely cup of builders.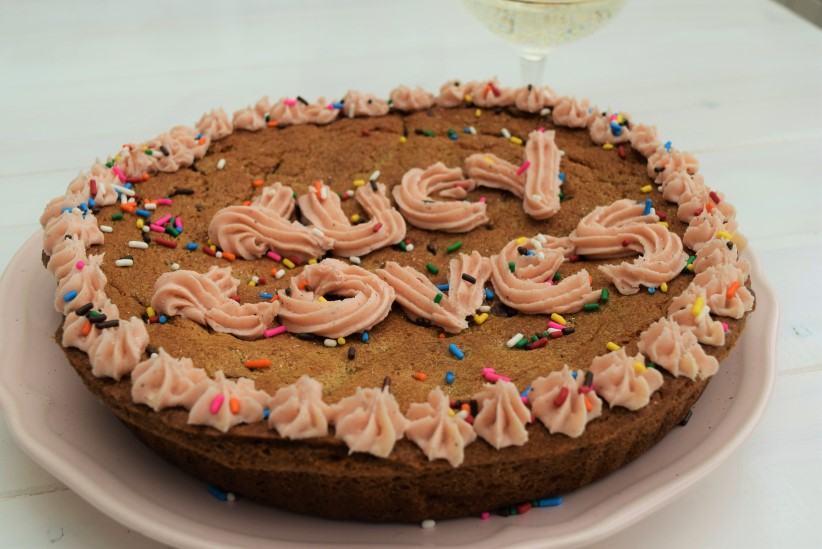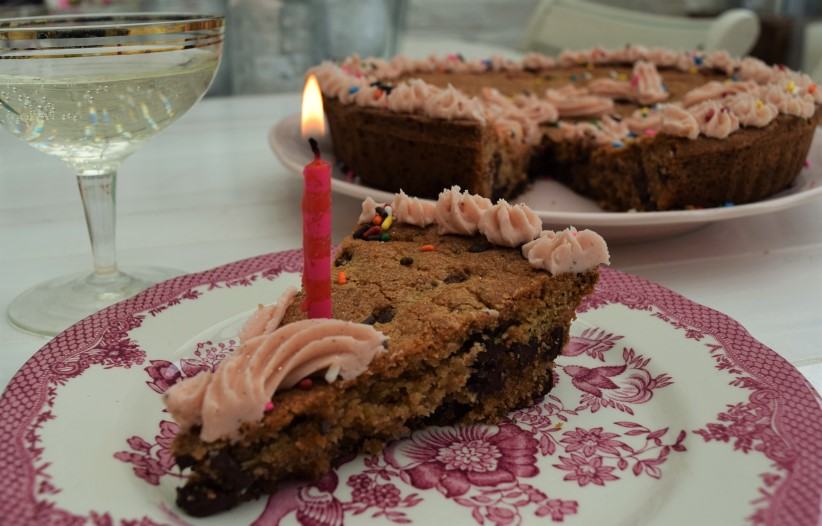 This cookie is super delicious, is choc full of chocolate chips and only lasted 36 hours in our house. It makes the perfect celebratory treat, make it for birthdays, anniversaries, even bloggerversaries. Thank you for sticking with me for the past two years, Lucy Loves you .
Lucy x
Giant Chocolate Chip Cookie Recipe
Makes 1 large cookie, serving at least 12
You will need a large bowl and wooden spoon or a food processor and an 8 to 10 inch oven proof pie dish or plate.
Cookie
225g butter, softened
100g caster sugar
150g light brown sugar
2 eggs
1 teaspoon vanilla extract
250g self raising flour
2 heaped tablespoons corn flour –if you don't have corn flour, just add more self raising flour
a pinch of salt
250g chocolate chips, I used dark, but you choose milk, white, a mixture, up to you
 Icing
75g butter, softened
125g icing sugar
1 teaspoon vanilla extract
1 to 2 tablespoons milk
Food colouring, a colour of your choice, a few drops
Sprinkles and glitter for decoration
Pre heat your oven to 160 degrees fan assisted.
In your food processor, stand mixer or a large bowl with a wooden spoon or hand mixer, beat the soft butter and sugars, until they are lighter in colour and texture. Add the two eggs and vanilla extract or paste then mix again. Fold in the flour and the corn flour with a pinch of salt then finally add the chocolate chips and mix briefly.
Butter your pie dish or plate then use two strips of baking paper to create a cross on the base of the dish. This will help to remove the cookie once it is cooked. Press the dough into the dish in an even layer and level with the back of a spoon. Put the cookie in the oven for between 45 minutes to an hour, depending on the size of your pie dish. It is ready when the cookie bounces back when pressed in the middle and it is firm and golden.
Leave this to cool completely while you make some buttercream for decoration. Cream the butter, vanilla, food colouring and icing sugar until smooth. Add 1 or 2 tablespoons of milk to loosen it up then scoop into a piping bag or food bag with the corner cup off. When the cookie is completely cold, ice with the buttercream in whichever fashion you wish. Add sprinkles and glitter where appropriate. Serve in elegant wedges. Store in an airtight tin for up to a week.