Ginger Scented Whisky Recipe
This is a winter staple drink in the Lucy Loves household. In fact, this very recipe hails from my parents, who are quite the purveyors of all things delicious and boozy so it comes from good stock. They make it every winter, with a view to enjoying it over the festive period, but it never seems to last that long. I have now joined in the tradition and have been making my own, so I feel it is high time I share with you, on this cocktail Friday, my highly drinkable Ginger Scented Whisky recipe.
This is not really a recipe, more of an infusion. Call it what you like, it's bloody wonderful and I have been giving out little nips of this tasty ginger spirit on many a dog walk over the last few years. It makes the perfect filler for your hip flask or can be served in a variety of tasty glass based ways. My particular favourite is to serve a large shot over ice topped up with ginger ale and a lemon slice. I challenge you not to swig it down and then have to stop yourself from immediately pouring another. Do try it with Stones Ginger Wine in a 2 ginger wine:1 ginger whisky ratio for a super gingery Whisky Mac or enjoy with soda water or just sip it on the rocks.
This is so warming and comforting. If you have a moment to sit in front of the fire in this manic run up to Christmas, try to ensure you have a glass of this Ginger Scented Whisky in your hand.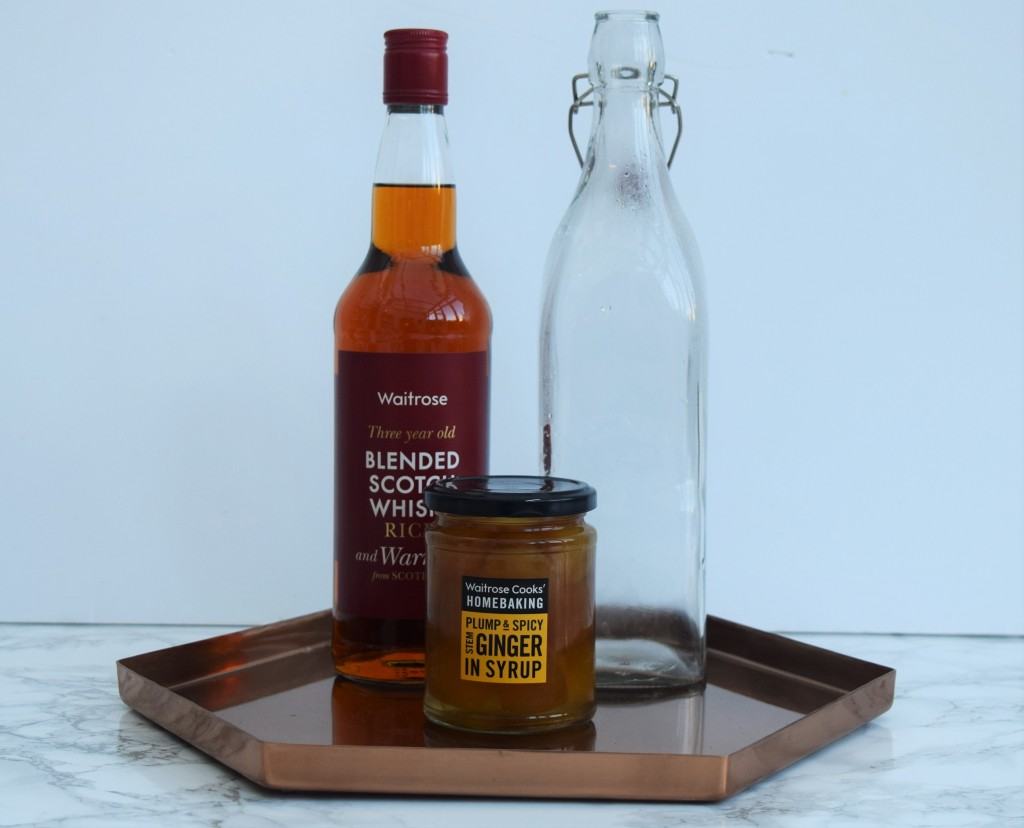 Here's the unchallenging line up for my Ginger Scented Whisky. You will need a 1 litre bottle or jar, or you could just decant some of the whisky from your bottle to make space for the stem ginger and it's syrup and then re-use your original bottle.
Make a start by draining the jar of stem ginger and retaining the gingery syrup.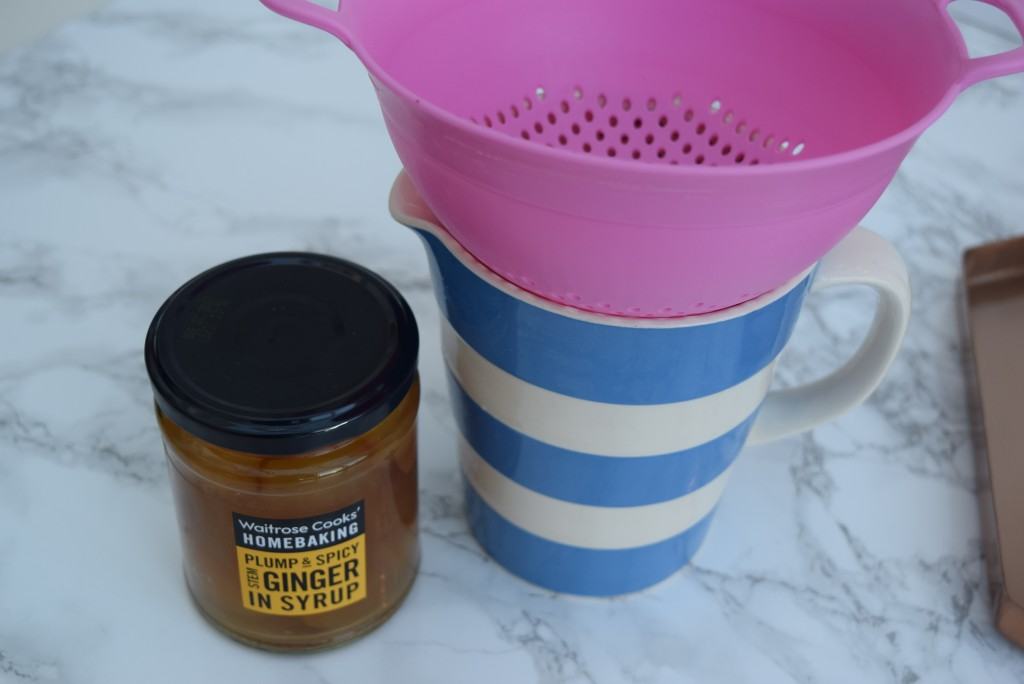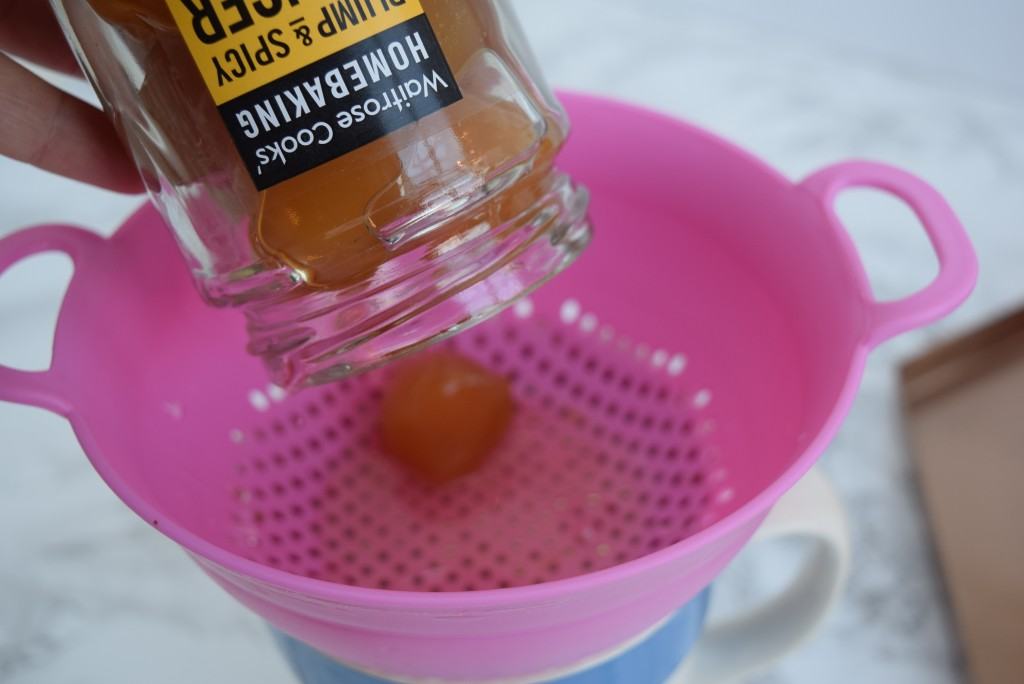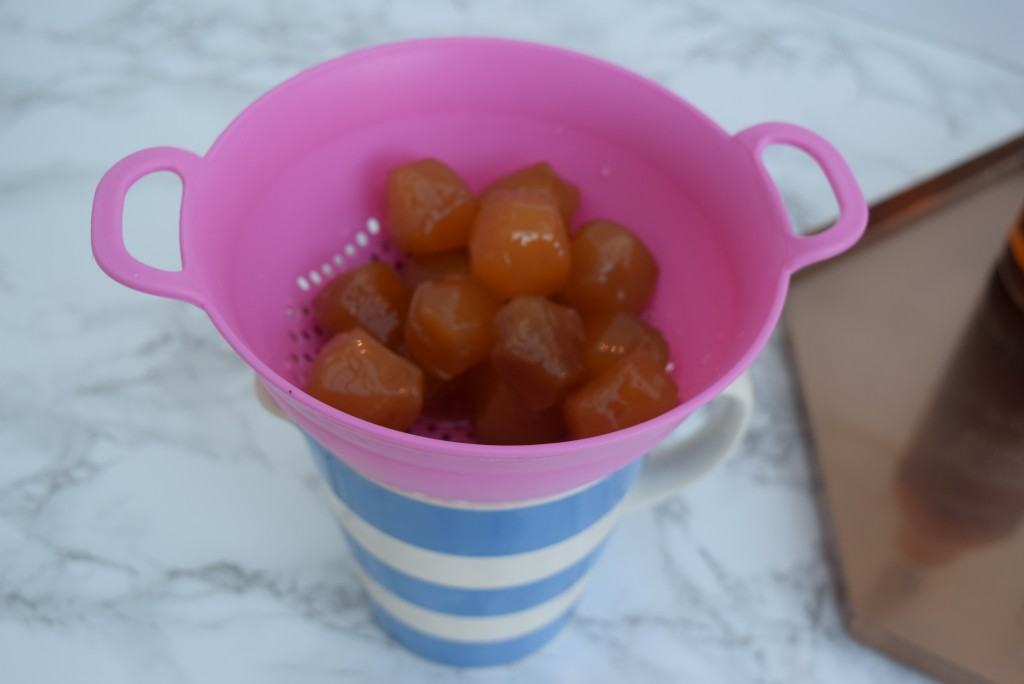 Making a bit of a sticky mess of yourself, cut the golden ginger globes into smaller pieces which will comfortably fit down the mouth of your bottle or into your jar. Add these to your chosen receptacle jiggling the bottle or jar so they settle at the bottom.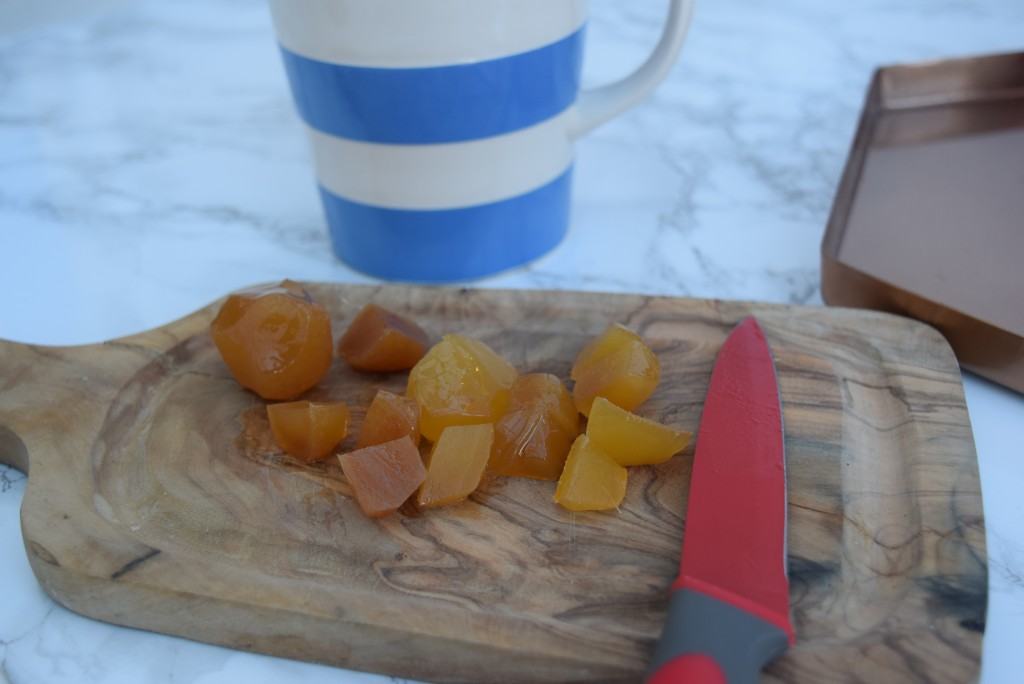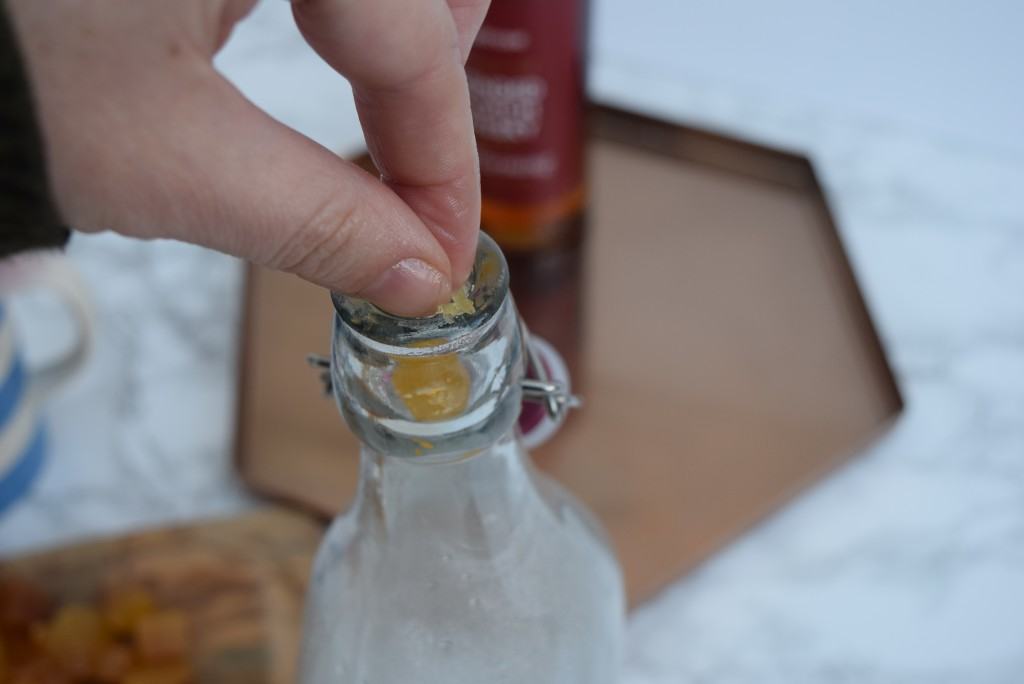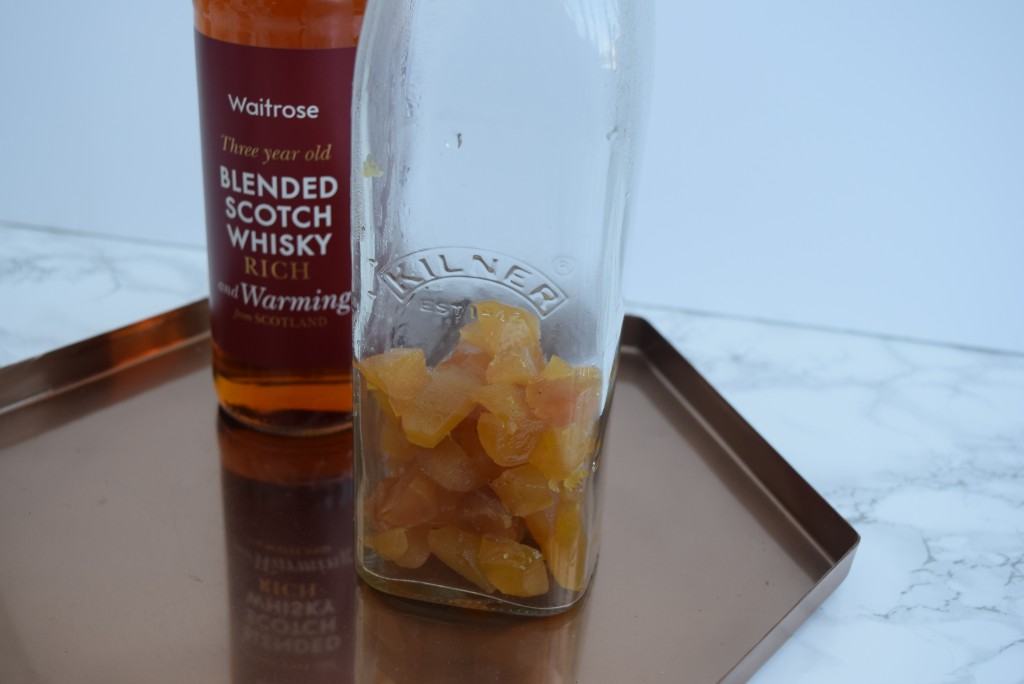 Measure out half the saved ginger syrup and pour this into your bottle.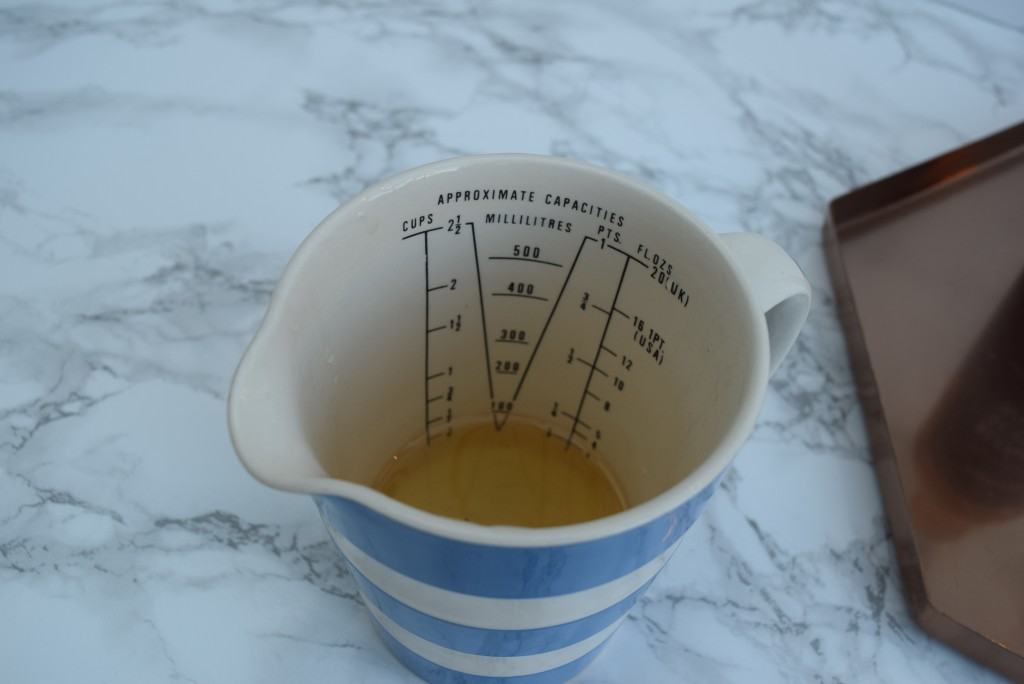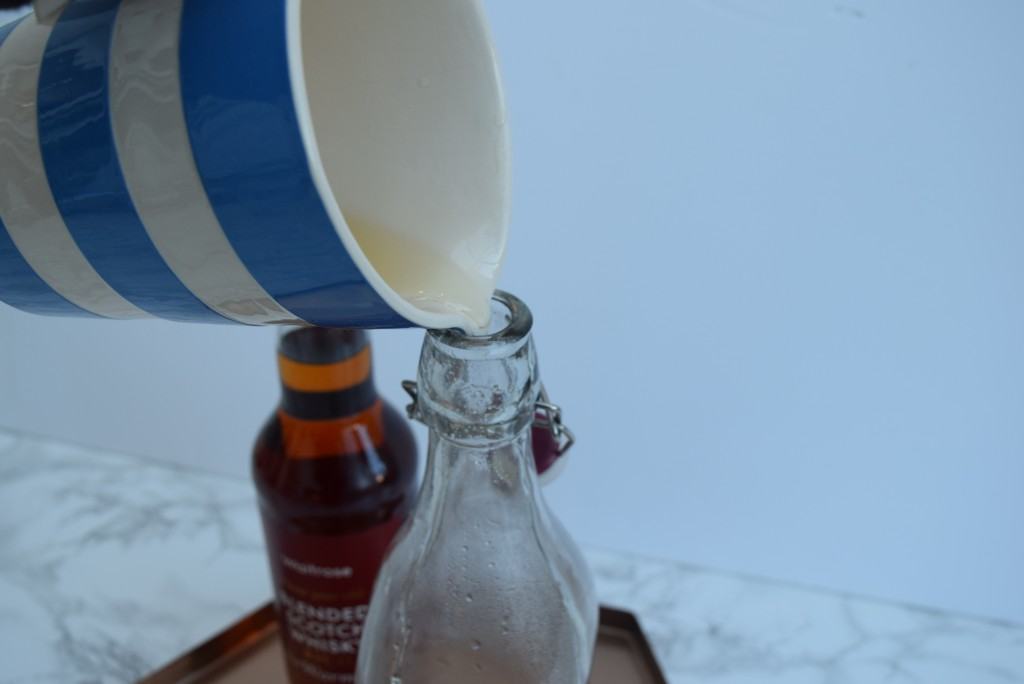 Follow in with the 70cl of whisky, put the lid on tightly then give the whole lot a damn good shake to mix thoroughly.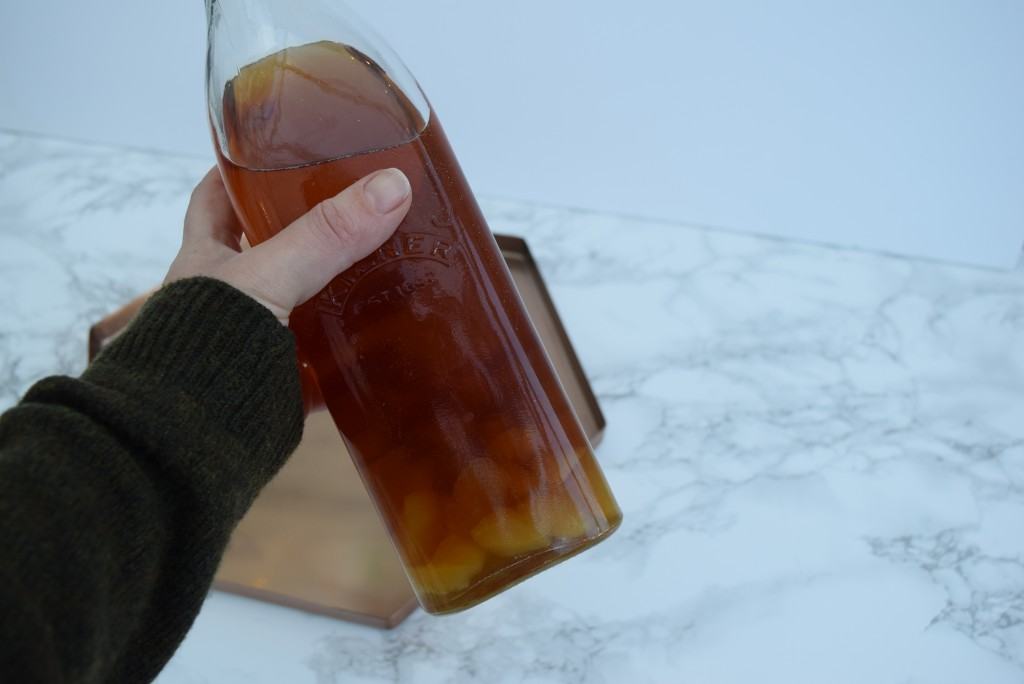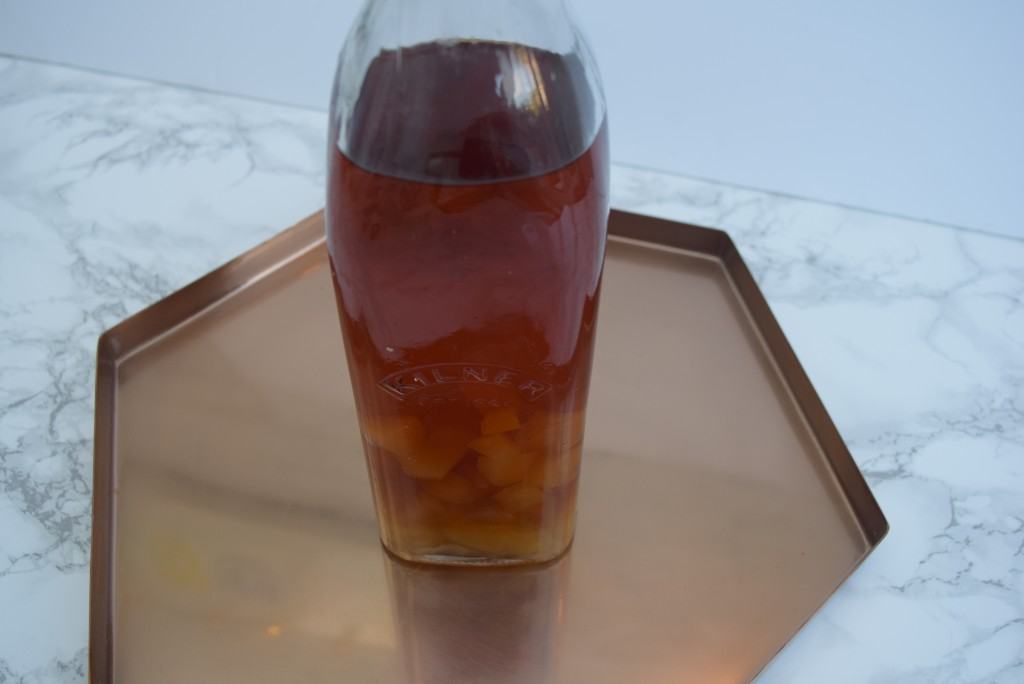 Then, in an unprecedented show of patience, leave this bottle of gingery loveliness to sit for at least two weeks. Every so often give it a shake or two to ensure its infusing nicely.
When the time comes to serve, and to be honest, I barely waited two days before I had a nip, let alone two weeks so don't be too restrained, pour a large shot into an ice filled glass.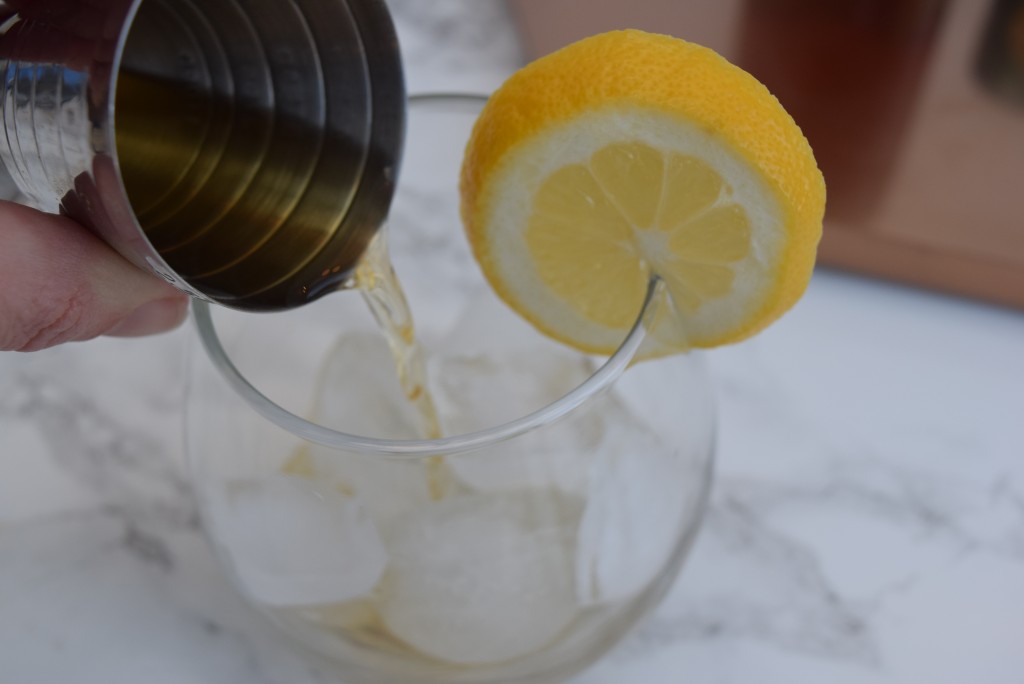 Top up with ginger ale, add a slice of lemon, stir, and enjoy.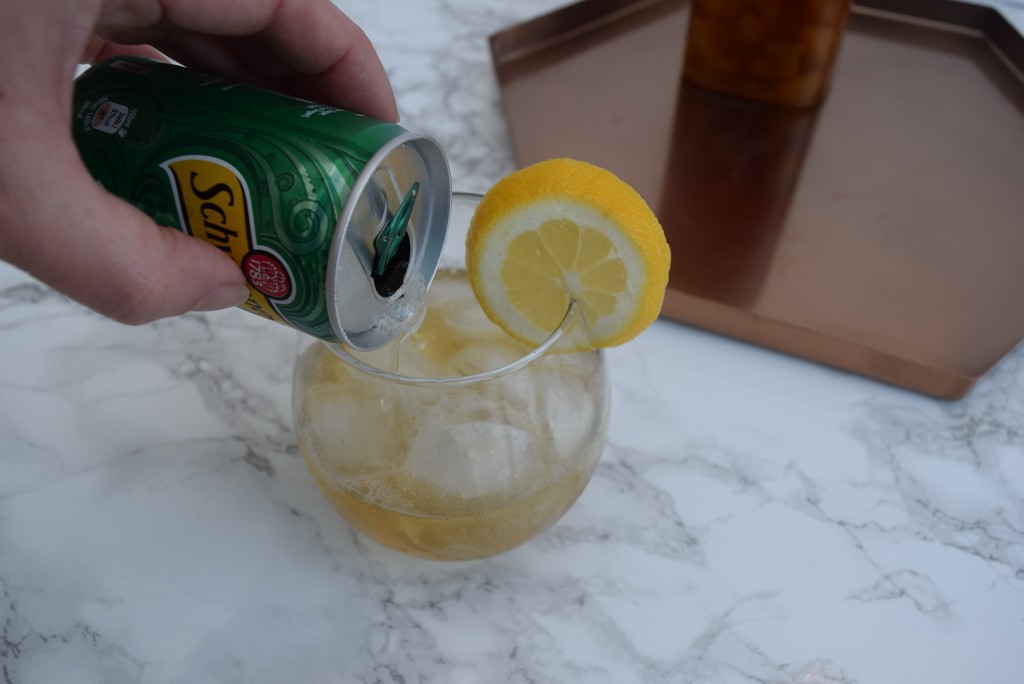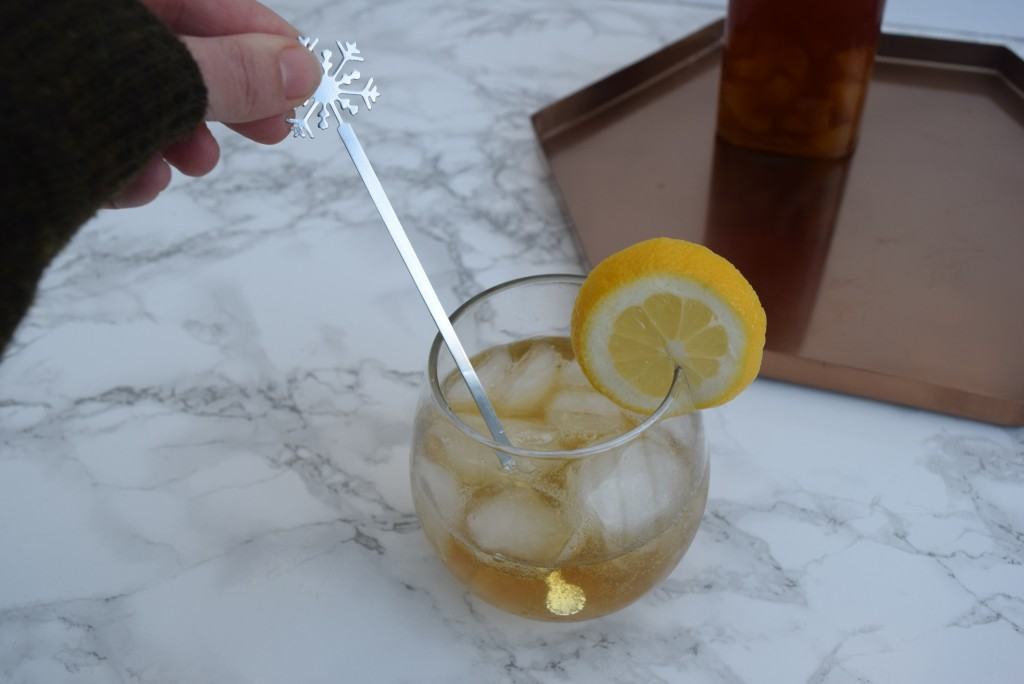 This fragrant whisky will keep for ages in your drinks cupboard *not ours*. Leave the ginger pieces in the bottom of the bottle, no need to strain, for extra gingeriness.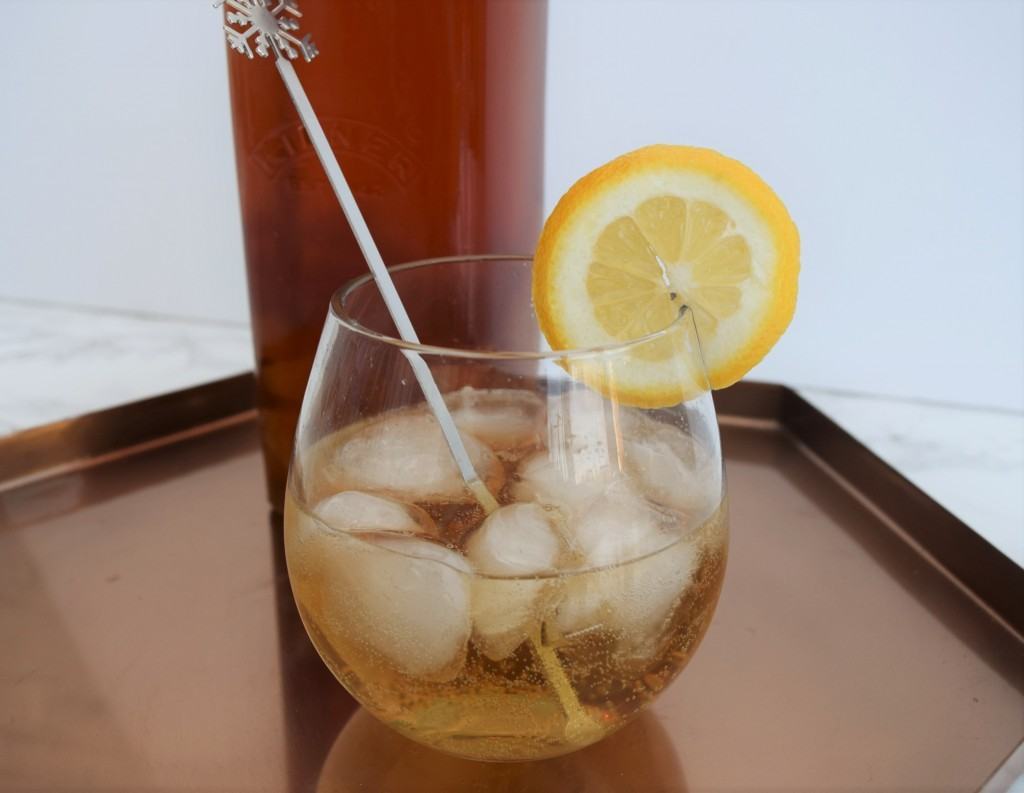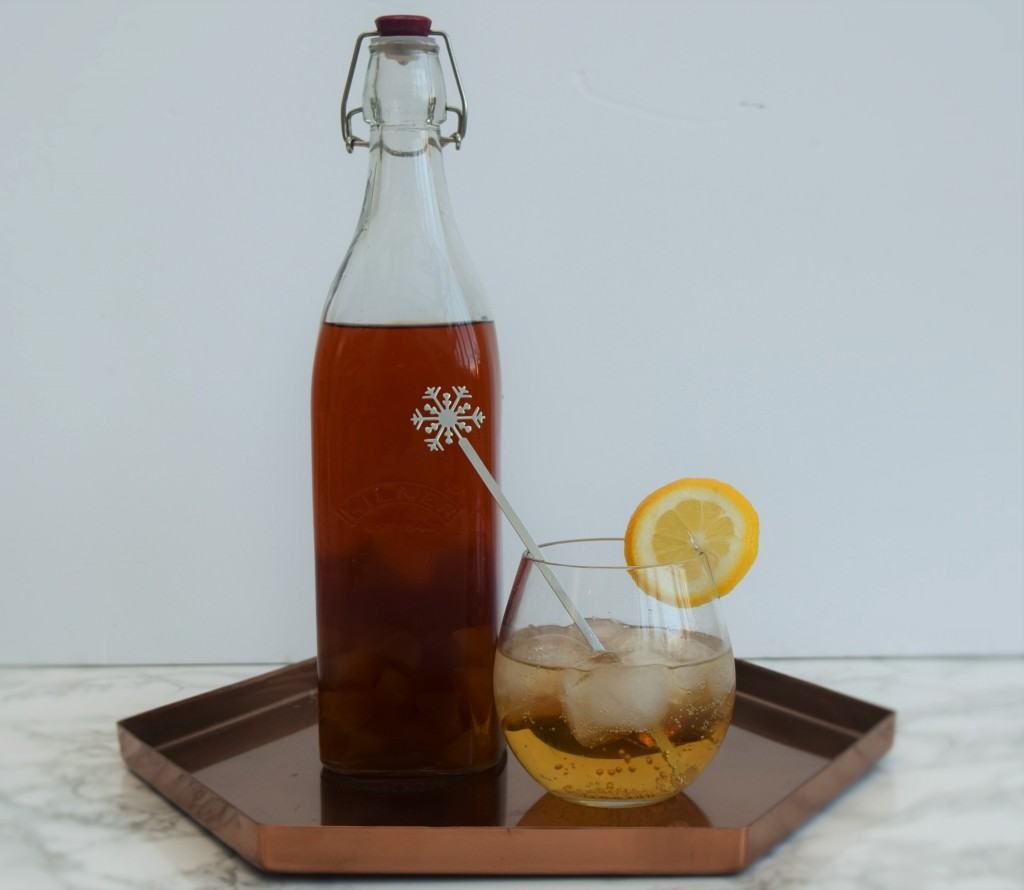 Any boozy treat created by my parents has to be good given their experience in this particular field, although they won't thank me for making them sound like alcoholics *love you both really*. However, they have excelled themselves with this treat. I have been enjoying this bottle far too liberally and will be making another one, if not two, before Christmas is finally upon us.
Happy Cocktail Friday to you, even though you will have to wait at least two Fridays before you can enjoy this one. Or not if you have a similar lack of patience to me.
Lucy x
Ginger Scented Whisky Recipe
You will need a large bottle or jar, around which holds around 1 litre
70cl bottle Whisky
350g jar stem ginger in syrup
Take the jar of stem ginger and drain but keep the ginger syrup. Chop the ginger into small pieces and put into your chosen bottle. Pour half the retained syrup into the bottle, around 50ml, then pour on the whole bottle of whisky.
Put the lid on the bottle or jar and give it all a good shake. Leave this mixture to infuse for two weeks before drinking, if you can bear to.
Serve this wonderful Ginger Scented Whiskey over ice with ginger ale or soda water, garnished with a lemon slice. Or enjoy neat, on the rocks and I can personally vouch for the fact this makes a great addition to any hip flask.