Halloumi Pancetta Bites Recipe
The holiday bubble has well and truly burst as I sit here with you tonight, still shivering after a rain soaked bootcamp class in the park this evening. It's August for pities sake and it's pissing with rain, I do feel I was far more suited to the 36 degree heat we left behind in Corfu. I am back at work, the tan's fading and I feel summer is over before it's barely even started. This week, I was hoping to regale you with recipes we enjoyed whilst on our first ever foray into Greek life, however, I ballsed up my stuffed vegetable recipe so instead you will have to sample my Halloumi Pancetta Bites. Handily, they are beyond easy to make and I don't have to ramble on too much about them as I am still feeling slightly post holiday lethargic.
I am sure these are Greek-ish, but probably not even remotely authentic. However, these Halloumi Pancetta Bites are certified, completely bloody delicious and make a lovely nibbly canapé or you can add them to a salad to add a bit of interest. What could be simpler than wrapping a chip shaped piece of everyones favourite squeaky cheese in either pancetta or thin streaky bacon and baking for a scant 10 to 15 minutes. The resulting reward is crisp, salty and so, so moreish. Washed down with a large glass my Greek Sangria, your spirits will be lifted, even though you may have to switch the heating on in order to achieve a half decent temperature. The inspiration for these came via the ever helpful BBC Good Food site, with thanks.
Simple is the key for me this week. I am miserable and suffering slightly from rosé and warmth withdrawal symptoms. These Halloumi Pancetta Bites really hit the spot, super comforting whilst being almost effortless.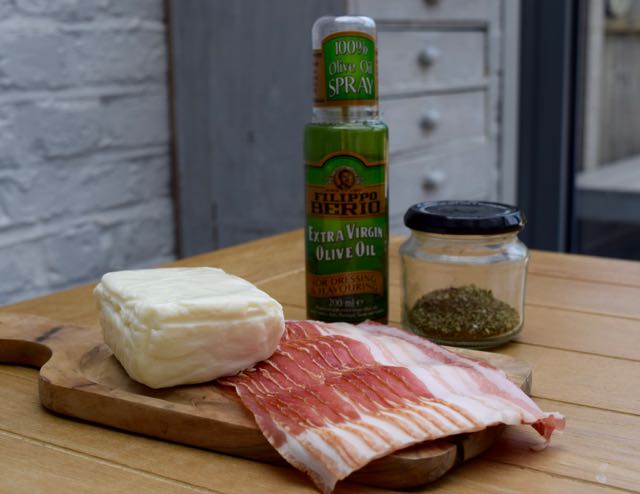 No real drama here, these couldn't be any simpler. They are almost embarrassingly easy, but well worth sharing with you. And besides, everyone loves Halloumi, so any Halloumi recipe is a good recipe.
Make a start by pre heating your oven to 170 degrees fan assisted and lining a large baking sheet. Next, take your block of Halloumi and cut it into long chip like shapes.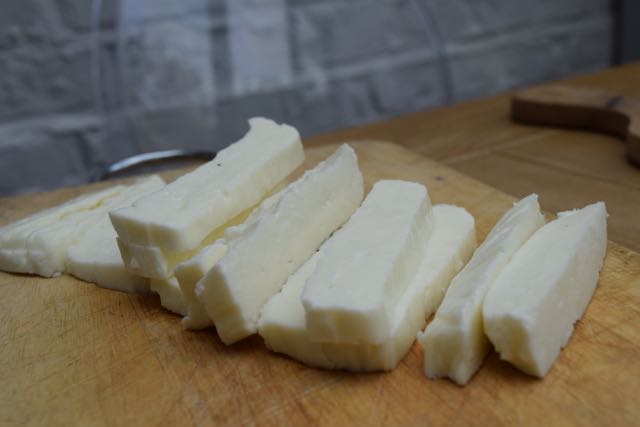 Dust the cheese chips with a herb of your choice. I went for dried oregano but the original recipe suggests chopped fresh chives, but basil or parsley would be lovely here too I imagine.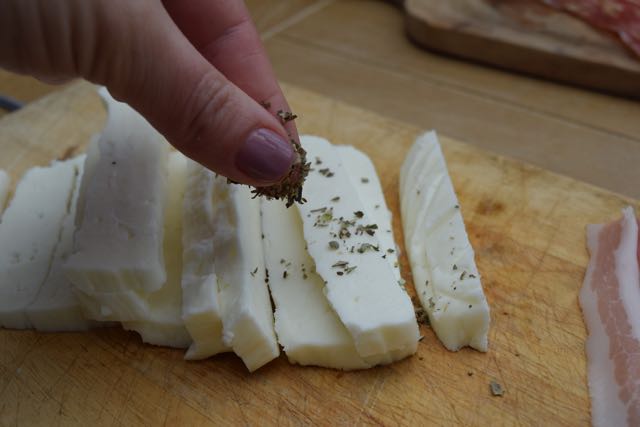 Now wrap each piece of Halloumi in a thin slice of pancetta or streaky bacon and lay on the lined baking tray.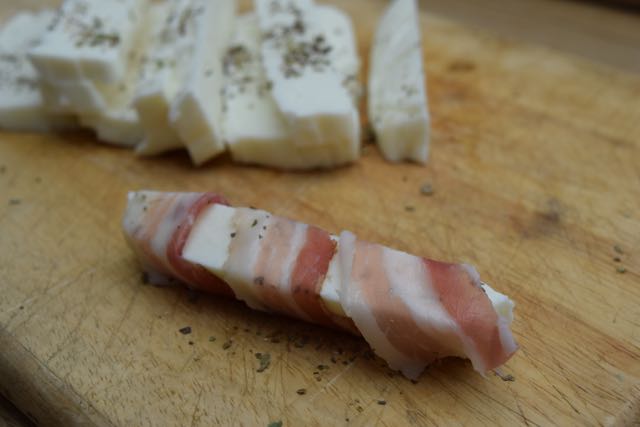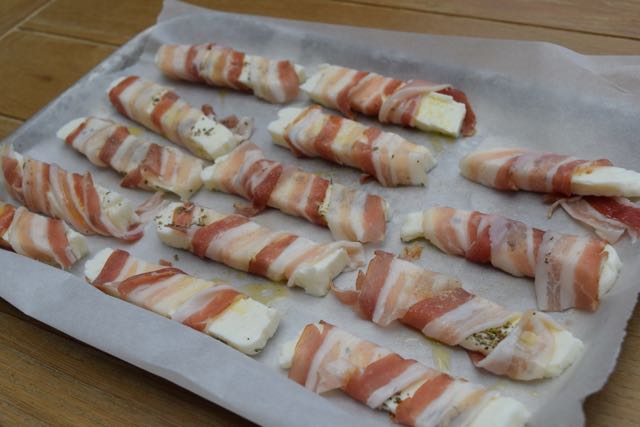 It's not exactly molecular gastronomy but who can be arsed with all that. Season with some black pepper, you won't need any additional salt then drizzle with a tiny splash of olive oil. Bake these Halloumi Pancetta Bites in your hot oven for 1o to 15 minutes or until golden, fragrant and the pancetta or bacon is crisp.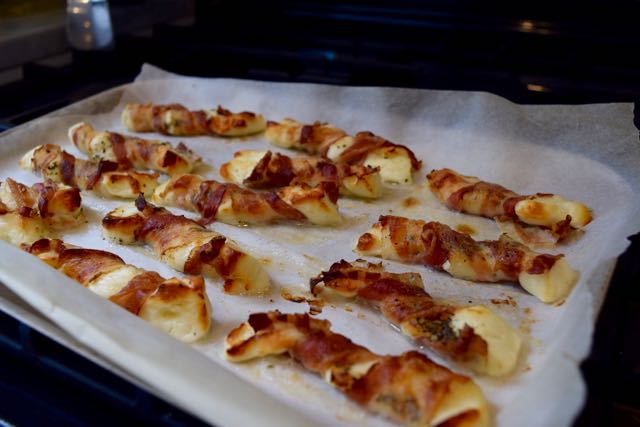 Serve as a nibble on a bed of leaves or as part of a salad or first course. Just try not to eat them all off the tray in one sitting.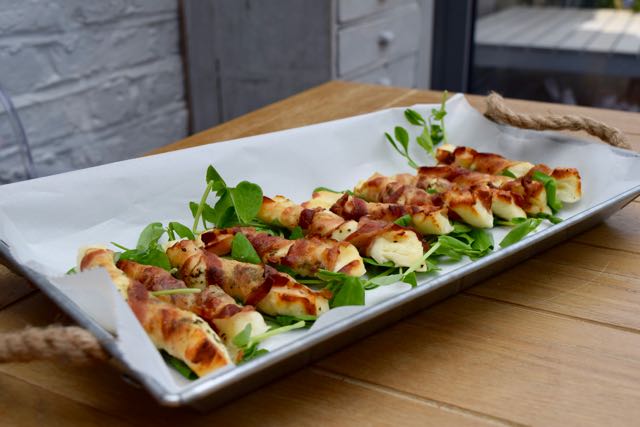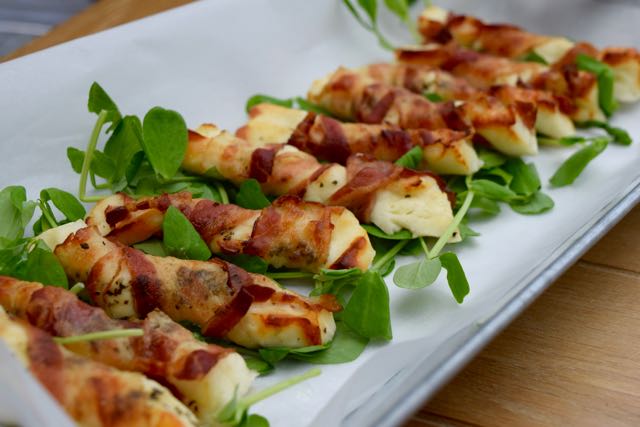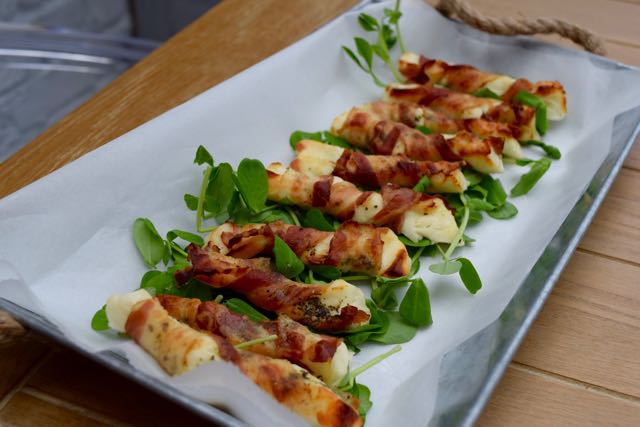 What these lack in effort they more than make up for in taste and crispy saltiness. And squeakiness, don't forget the squeak. We ate pounds of Halloumi in Corfu, but in my mind, there's no such thing as too much Halloumi. I hope to God you agree given the large amount of Halloumi based recipes here on Lucy Loves.
Lucy x
Halloumi Pancetta Bites Recipe
You will not need any challenging equipment for the recipe
Makes around 12 to 15 bites
1 packet Halloumi cheese, around 250g
100g thinly sliced pancetta or streaky bacon
A sprinkling dried herbs, I used dried oregano, but you could use fresh herbs too
A drizzle olive oil
Freshly ground black pepper
Pre heat your oven to around 170 degrees fan assisted and line a large baking sheet
Take your Halloumi cheese and cut into long chip like shapes. Sprinkle with the dried herb of your choice then wrap each stick of halloumi in a thin slice of pancetta or streaky bacon.
Place each wrapped cheese piece onto your lined baking tray, season with black pepper and a drizzle of olive oil, then place in the oven for 10 to 15 minutes or until the cheese is turning golden and the pancetta or bacon is crisp.
Serve immediately whilst piping hot on a bed of leaves as a nibble or a part of a salad dish or as a first course.
SaveSave
SaveSave
SaveSave
SaveSave
SaveSave
SaveSave