Hibiscus Syrup Recipe
When we were young, my sister Kate and I loved all things floral. We used to make our own rose water in tiny bottles with fresh rose petals to dab behind our ears like proper ladies. Kate had a flower press which she would use to preserve summer blooms and then stick them into books. Such simple, beautiful times, when summers lasted forever, were dusty and hot and it rarely rained. Unlike now when summer is 3 days in June and it pisses down and real life gets in the way of childhood fun. This week I have been trying to cling onto summer for just a tiny bit longer by buying some dried Hibiscus flowers. I had at first imagined I was going to fashion them into a sort of tea, but bugger that, I settled on Hibiscus Syrup which can be boozed up or down accordingly.
I have a terribly romantic view of things made from flowers. Even popping an edible flower as decoration on a dessert fills my heart with joy. So imagine how excited I was to find the inspiration for this versatile syrup via the wonderful Sprinkle Bakes, with huge thanks. This is a simple syrup, which can be used in tons of different ways. Use it to add a floral, fruity sweetness to Prosecco or a gin and tonic or pour over ice cream or add to a panna cotta for an exciting dessert.  The flowers also contain powerful antioxidants and allegedly lower blood pressure. So one splash of Hibiscus Syrup can effectively transform your g&t into a health tonic.
The recipe is just a simple sugar, water, flower infusion. Bottle it up and give as a dinner party gift or stash in the fridge for a miserable dark evening when spirits need lifting.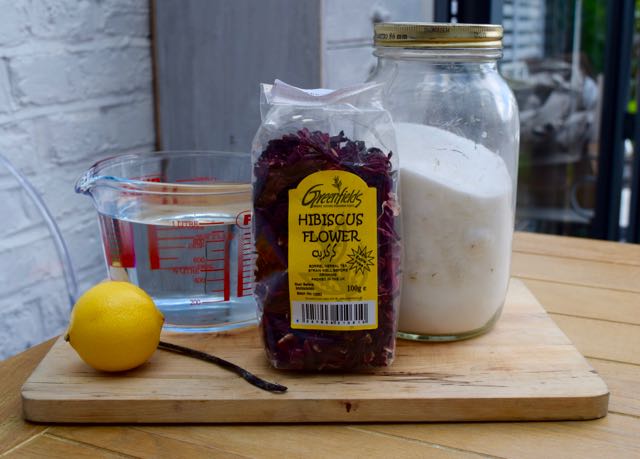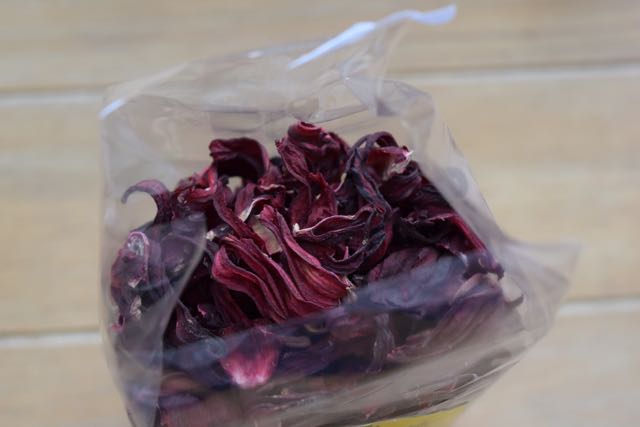 What a beautiful looking line up for this recipe. The flowers smell amazing, a sort of smokey, floral, sweet affair. Pick a couple of bottles or one big one to save this in. I had two 500ml bottles.
Make a start with a biggish sauce pan containing the caster sugar. Tip in the flowers.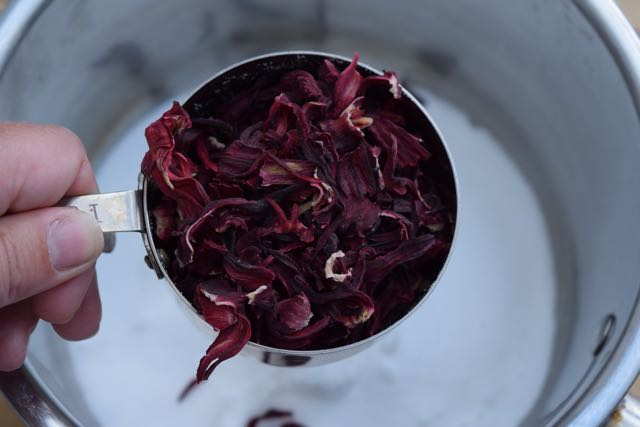 Now pour on the water and pop on the stove and bring to the simmer. Cut the vanilla pod in half and scrape the seeds into the pan and drop in the pod. Stir well.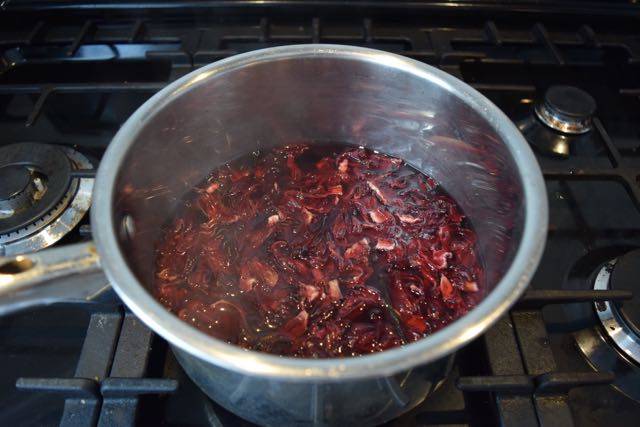 Once boiling, and all the sugar has dissolved, stir in the two teaspoons of lemon juice then turn out the heat and leave on the stove, lid on, to infuse for around 30 minutes.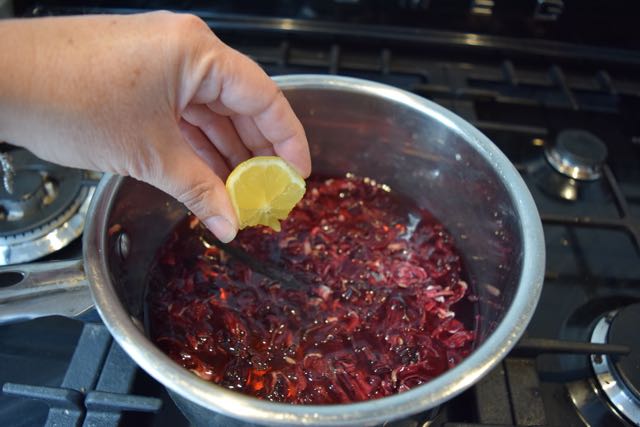 Once the time's up, take a sieve lined with muslin or a clean cloth or tea towel and put it over a large jug or bowl. Pour your ruby coloured syrup through the sieve.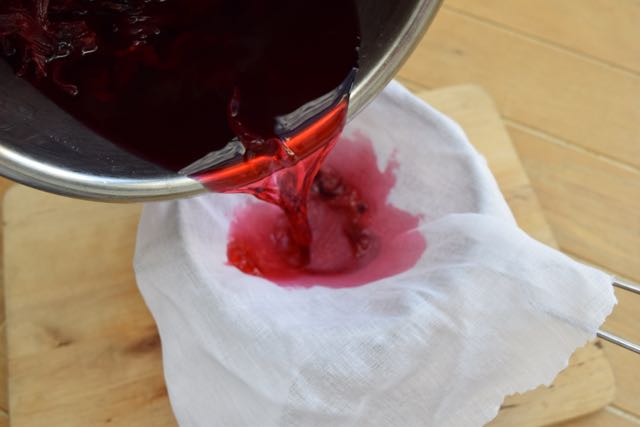 Pour your amazing syrup reward into your chosen bottles. I have the steady hands of a mother of a grown up boy well trained to pour vodka into water bottles and didn't spill a drop.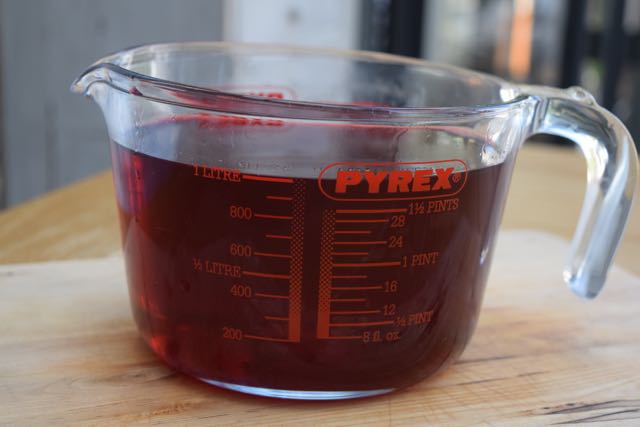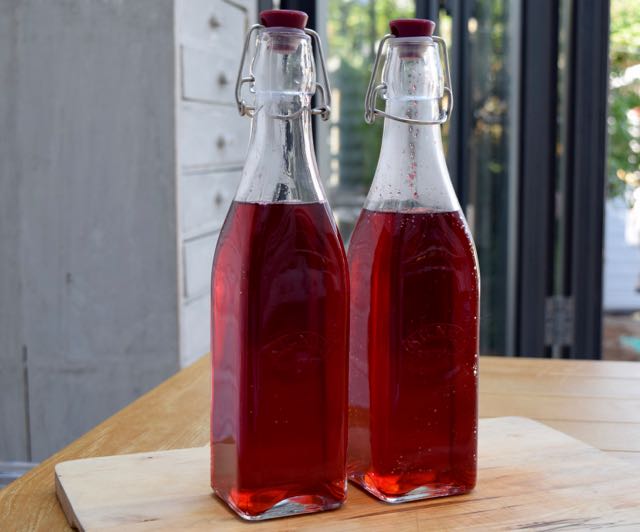 This is so beautiful, it makes a wonderful homemade gift if you can bear to be parted from it. If you can't, why don't you use it for an Hibiscus Fizz, as follows.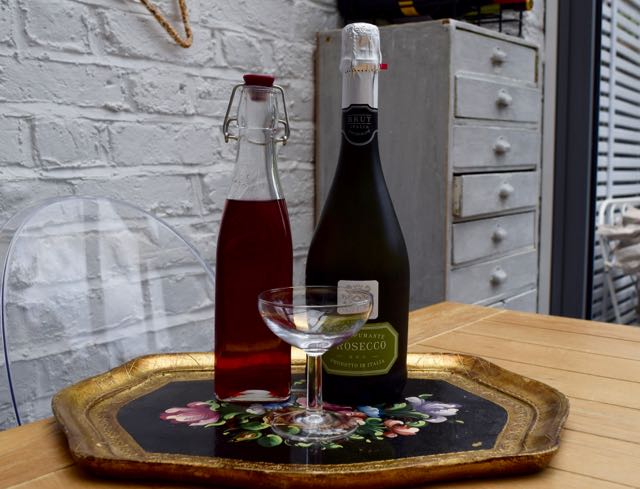 Add a tablespoon of your syrup to a fizz coup or flute and top up with Prosecco or Champagne.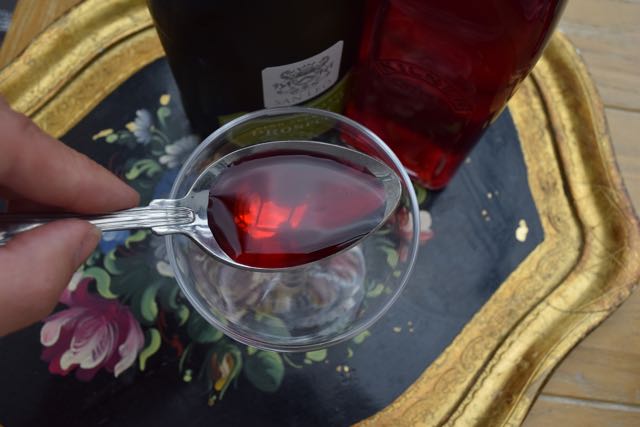 Decorate with some extra hibiscus flowers.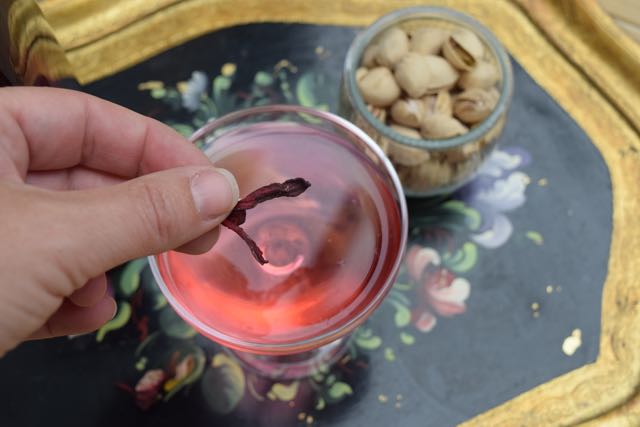 Sip and adore this tasty new addition to your drinks cabinet.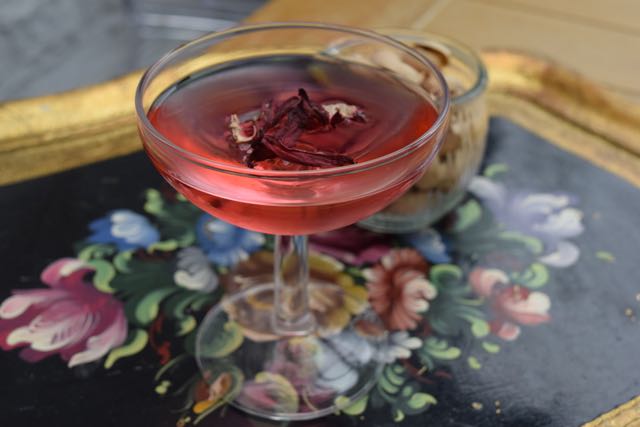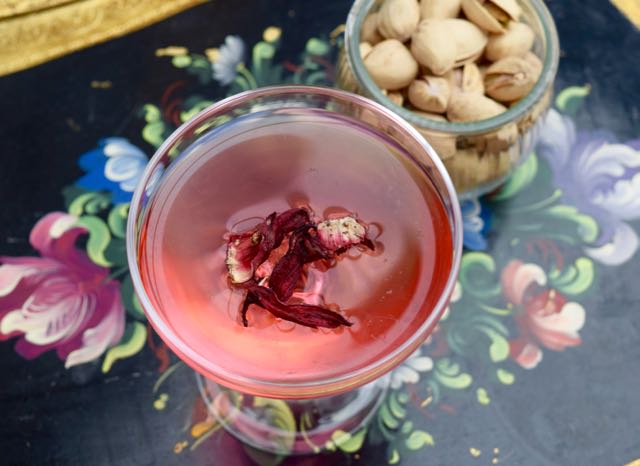 This divine botanical syrup keeps the sense of summer going for just a little while longer. Add to your cocktails or desserts wily nilly and love it.
Have a wonderful weekend.
Lucy x
This post contains an affiliate link to Amazon which, should you order via this link, Lucy Loves will receive a tiny commission to help fund my blog. Thank you. 
Hibiscus Syrup Recipe
Makes approximately 1 litre
You will need a 1 litre or 2 x 500ml bottles and a large saucepan
Hibiscus Syrup
960ml water
400g caster sugar
40g hibiscus flowers, dried
2 teaspoons lemon juice
half a vanilla pod, split
Hibiscus Fizz
1 tablespoon Hibiscus Syrup
Prosecco or Champagne to top up
Extra dried hibiscus flowers to decorate
Take your storage bottles and give them a good wash or rinse in boiling water and leave to dry.
In a good sized saucepan, add the caster sugar, hibiscus flowers and then pour on the water. Add the split vanilla pod, scraping  the seeds into the pan. Put this on the stove over a low heat and gradually bring up to the boil, stirring well to ensure the sugar has dissolved.
Once boiling, turn the syrup off, add the lemon juice, stir again then leave to infuse for around 30 minutes.
When the time is up, line a sieve with a piece of muslin or a fresh kitchen cloth and place it over a large bowl or jug. Pour in the syrup and let it drip through the cloth into the bowl or jug. Press the flowers into the sieve to ensure you have extracted all the flavour from them.
Pour the liquid into your serving bottle/bottles and keep in the fridge until needed.
For a Hibiscus Fizz, add a tablespoon of the syrup into a champagne coup or flute then carefully top up with Prosecco or Champagne. The Hibiscus Syrup will keep for at least 3 weeks in the fridge.
SaveSave
SaveSave
SaveSave
SaveSave