Nutella Chocolate Chip Slice Recipe
Yet another week starts with a prospect of me not eating so much. And then I post a recipe like this and I know I am doomed to fail. I just love food too much, and have the will power of a tiny flea. Not to worry, I live by the 'everything in moderation' motto, and I'm sticking to it. I usually post savoury treats early in the week, but this week I am mixing things up a little and honouring it being Pudding Week on the Great British Bake Off by posting this divine little Nutella Chocolate Chip Slice recipe.
We have yet to discuss the new series of Bake Off. I was a little late to the Bake Off party, but had loved the BBC2 version for several years and felt it's formula, along with the unbeatable humour of Mel and Sue made for comforting autumnal viewing. I was all ready to loathe the new format and it's presenters, but begrudgingly, I have to say I am loving the whole business. Even Noel Fielding is hilarious, having never once even chortled at the Mighty Boosh. Rambling aside, it's hurtling towards being hot pudding weather. It was lovely and warm today, however, the evenings are getting darker and the mornings chillier. It's definitely time to eat this Nutella Chocolate Chip Slice. This dish is an incredibly tempting combination of soft chocolate chip cookie dough layered with an indulgent slathering of Nutella. I am not the biggest Nutella fan, I find it a strange addition to toast, preferring Marmite or peanut butter, but straight from the jar with a spoon, I adore it. In a pudding, Nutella is a brilliant idea, however, as if cookie dough needed any adornment, a streak of thick chocolate spread is genius. A huge thank you to Alida from Simply Delicious for the inspiration.
Every week is Pudding Week in our house. Sunday's are made for a rib sticking dessert after a comforting lunch or dinner and this Nutella Chocolate Chip Slice is just that dessert. It's quite the multi tasker too, any leftovers can be reheated and served warm, or nibble on a slice with a cup of tea in the afternoon. I am, of course, imagining there will be leftovers, an unrealistic hope at chez Lucy Loves.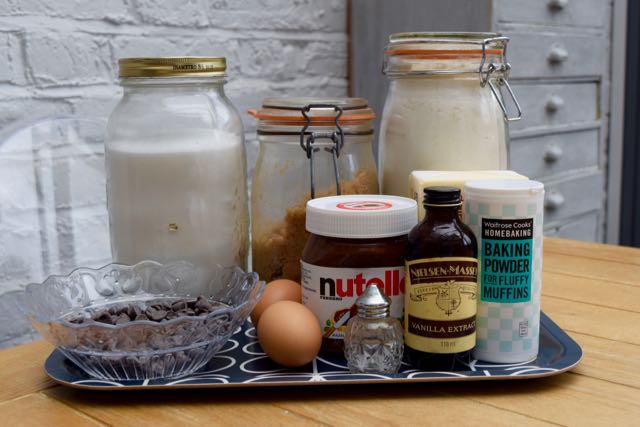 Tasty little line up for this pudding slice. All lovely and simple, and delicious. I was tempted to just get stuck into the jar of Nutella with a spoon but thought better of it.
Make a start on this by pre heating your oven to 150 degrees fan assisted and lining a 20cm square baking tin with greaseproof paper. Then if you're feeling lazy, pop the soft butter and both brown and caster sugars into your food processor or if you're all muscles use a large bowl and a wooden spoon or hand mixer. Process or beat until the mixture is light in both colour and texture.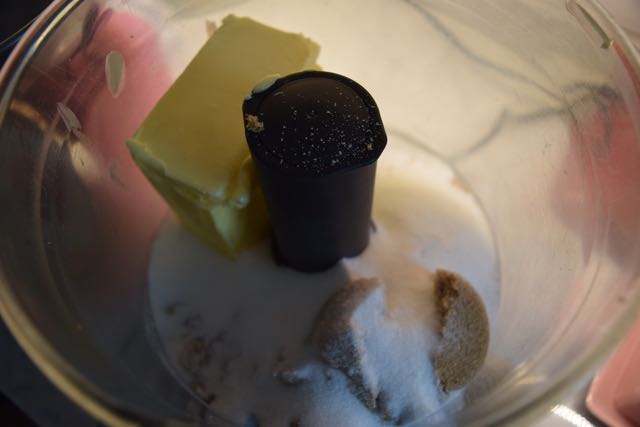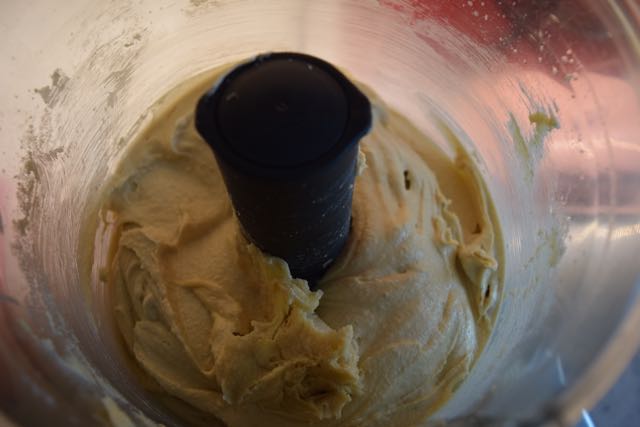 Next, beat in the eggs and vanilla then fold in the flour, baking powder and salt to create a lovely soft dough.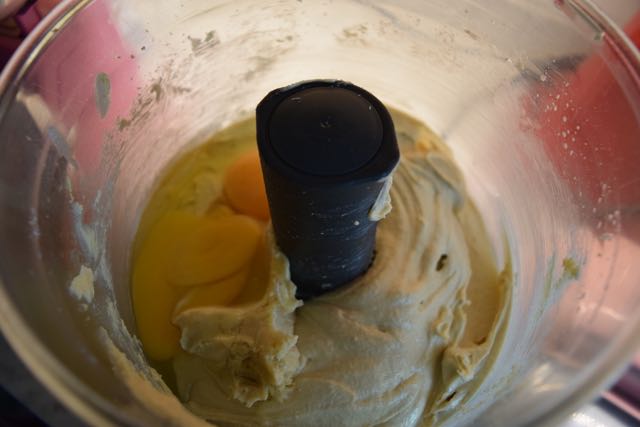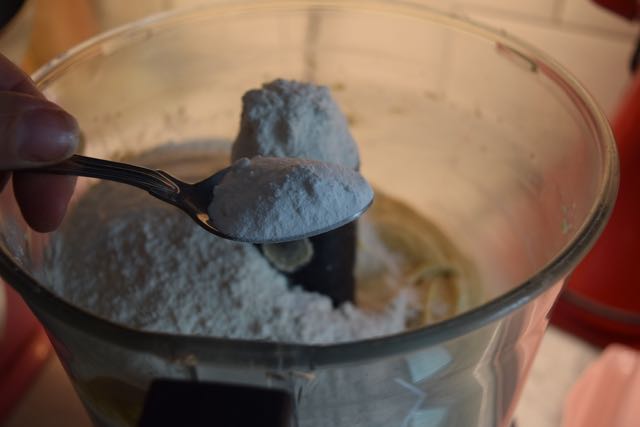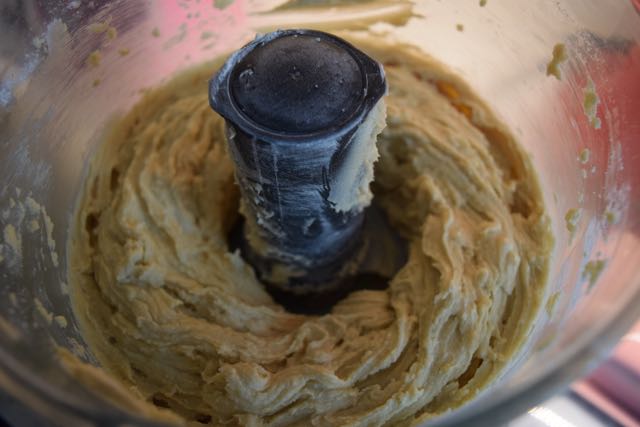 In a final delicious flourish add the chocolate chips. I used dark chips, but milk would work here too.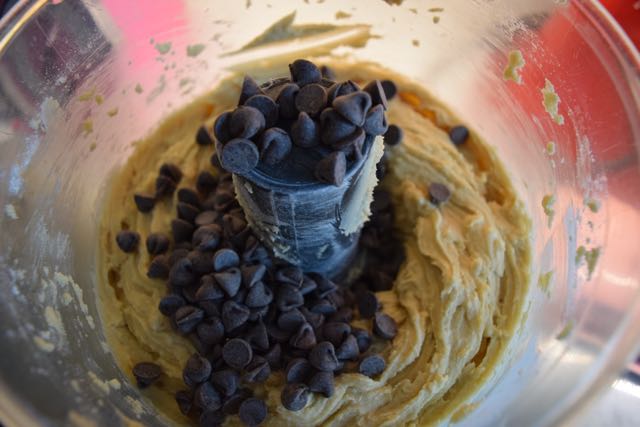 Add half the cookie dough to your lined tin, pressing it into the bottom and vaguely levelling the top. Try not to eat large mouthfuls as you do so *tough times*.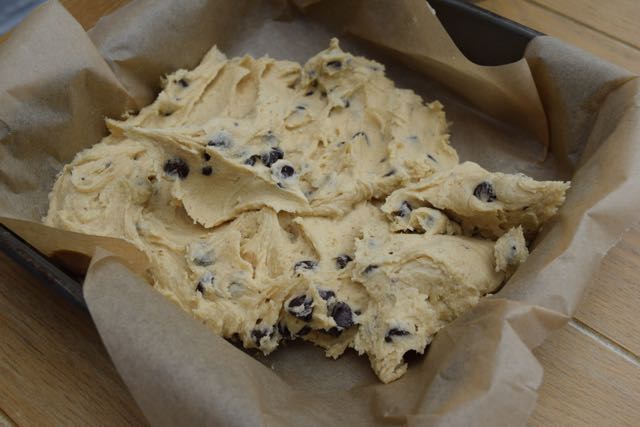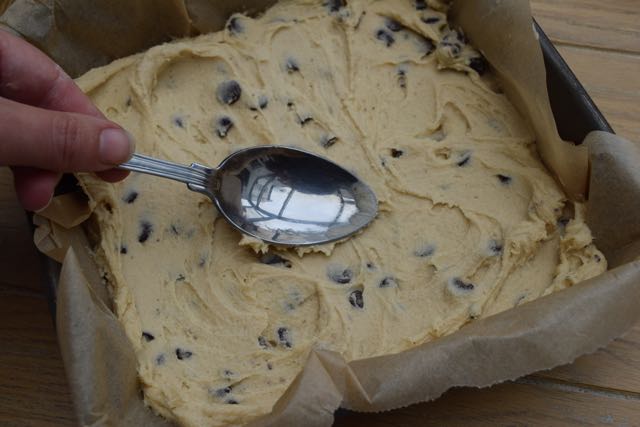 Now plop on the Nutella and spread into an indulgent layer.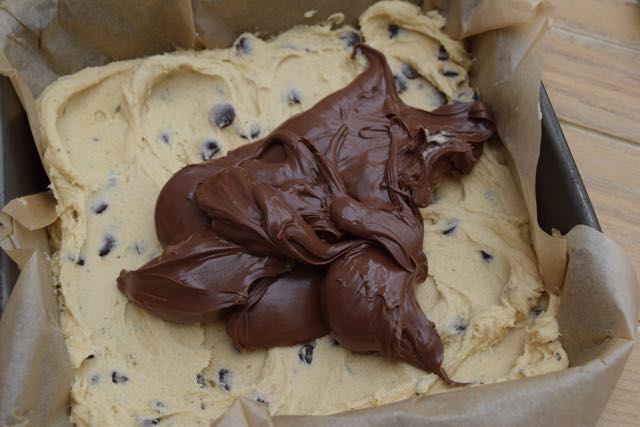 Press the rest of the dough onto the Nutella layer and flatten down the top. It is a great big bake, can I just point out at this stage, don't be alarmed.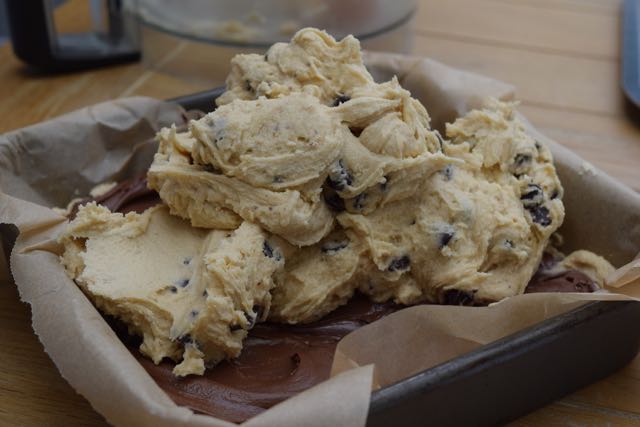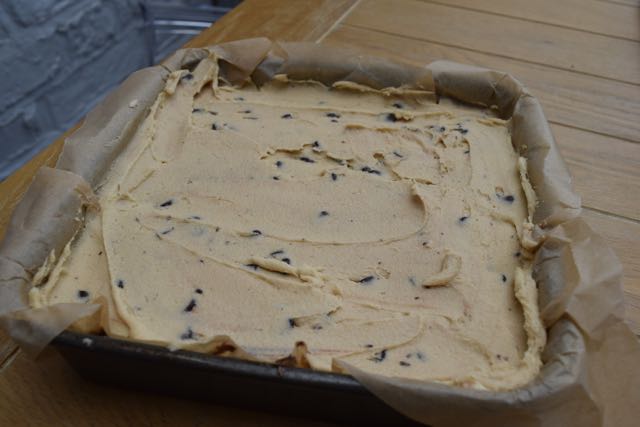 Put the tray in the oven for around 45 to 50 minutes. The original recipe only called for 30 minutes, but I found it took a lot longer than this. Keep an eye on your bake, if it's getting too brown too soon, loosely place a sheet of foil over the top. The slice is ready when it's golden, firm to touch and a skewer comes out clean when poked in the middle.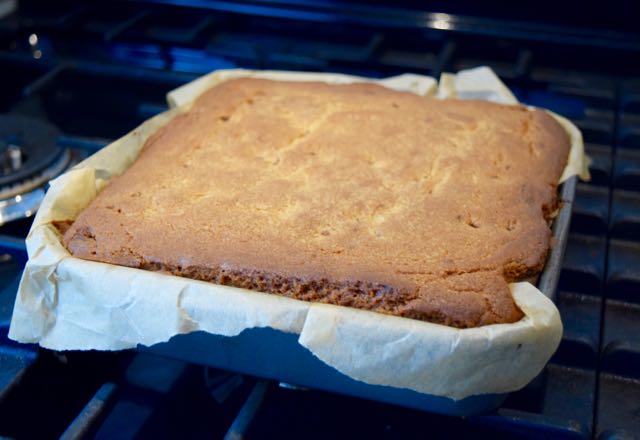 Leave your bake to cool for 10 to 15 minutes before serving. This will ensure it doesn't collapse when you cut it and it won't burn your mouth when you gobble down a slice.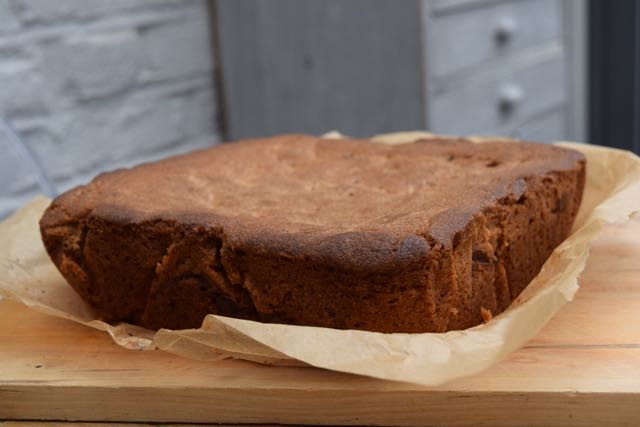 To serve, cut generous squares of this deep filled treat and serve with cream, ice cream or custard. Or all of them.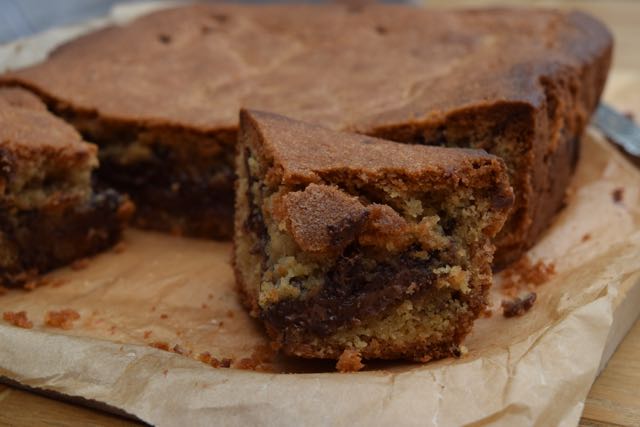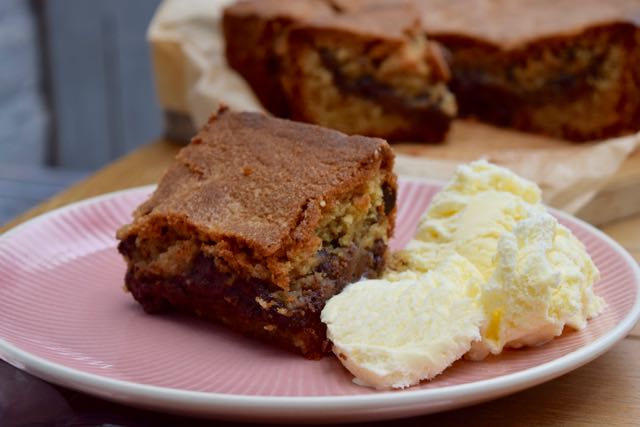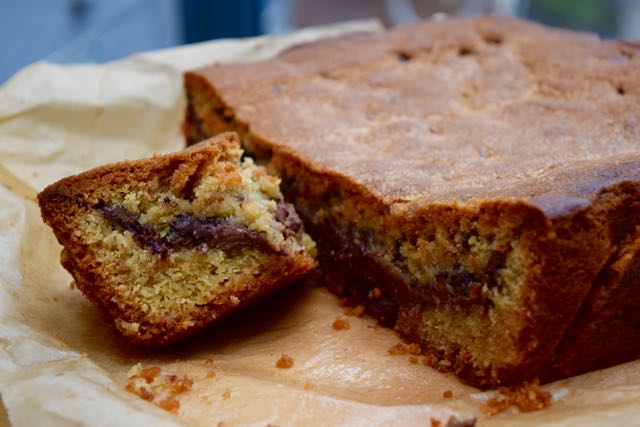 This is everything a pudding week classic in the making should be. Soft cookie base, a thick layer of Nutella slathered with cream based items. This is set to become a family favourite and I may well be taking a batch down to the university based Birthday boy later on this week. The Nutella Chocolate Chip Slice would look wonderful with a sprinkle of glitter and a candle in the top.
Lucy x
Nutella Chocolate Chip Slice Recipe
Makes around 16 pieces
You will need a food processor or a bowl and a wooden spoon or hand mixer and a lined 20cm x 20cm tin
345g butter, softened, I have used Stork too, the dough is softer but works out the same in the end
150g soft brown sugar
150g caster sugar
2 eggs
1 teaspoon vanilla extract
400g plain flour
2 teaspoons baking powder
1 scant teaspoon salt
150g chocolate chips
400g Nutella, or other chocolate based spread
Ice cream, custard and/or cream to serve
Pre heat your oven to 150 degrees, fan assisted and line your 20cm by 20cm square baking tray.
In a food processor, stand mixer or a large bowl with a hand whisk or wooden spoon, beat the soft butter and both sugars until lighter in colour and texture. Beat in the eggs and vanilla extract until smooth-ish then fold in the flour, baking powder and salt until you have a soft dough texture.
Mix in the chocolate chips then press half the mixture into your lined tin until you have a level-ish surface. Spread a thick layer of Nutella onto the dough then press down the rest of the dough on top of this until even. Pop in the oven for between 45 to 50 minutes. If it is browning too quickly, loosely cover the top with a piece of foil. The slice is cooked when the top is firm and golden and a skewer comes out clean when poked into the middle of the bake.
Leave to cool for 10 to 15 minutes or until firm enough to remove from the tin and slice into squares. Serve with ice cream, custard and/or cream. Any leftovers can be stored, well wrapped, in a tin for 3 to 4 days. Reheat to serve or eat cold as an afternoon treat.
SaveSave
SaveSave
SaveSave
SaveSave