Sausage and Apple Balls Recipe
If you feel anything like me, you don't care if you never cook another single thing ever again. No? Just me then. Perhaps I am being dramatic *me?* but I am just so done with forking up meals and drinks at the drop of a hat. So, with that in mind, I present my Sausage and Apple Balls. The name in itself makes me smile, the nibble even more so.
These Sausage and Apple Balls are filled with flavour, are simple and delicious. If you have been asked to provide the nibbles on New Years Eve, these may just be the answer to your lethargy laden cooking prowess. It's a one bowl recipe, low on yet more washing up and they are all done and dusted in 30 minutes. They compliment many a drink, *what doesn't* and can be served with the legions of jars of chutney and sauces you have left over from Boxing Day. This recipe is based on one from the whimsically titled Audrey's Apron, with thanks.
Simple, sausage based lovliness, and surely with the inclusion of apple they are almost a healthy option. I am sure if you arrive armed with a plate of these to your New Year's Eve celebration you will be the most popular person in the room. Just say Lucy sent you.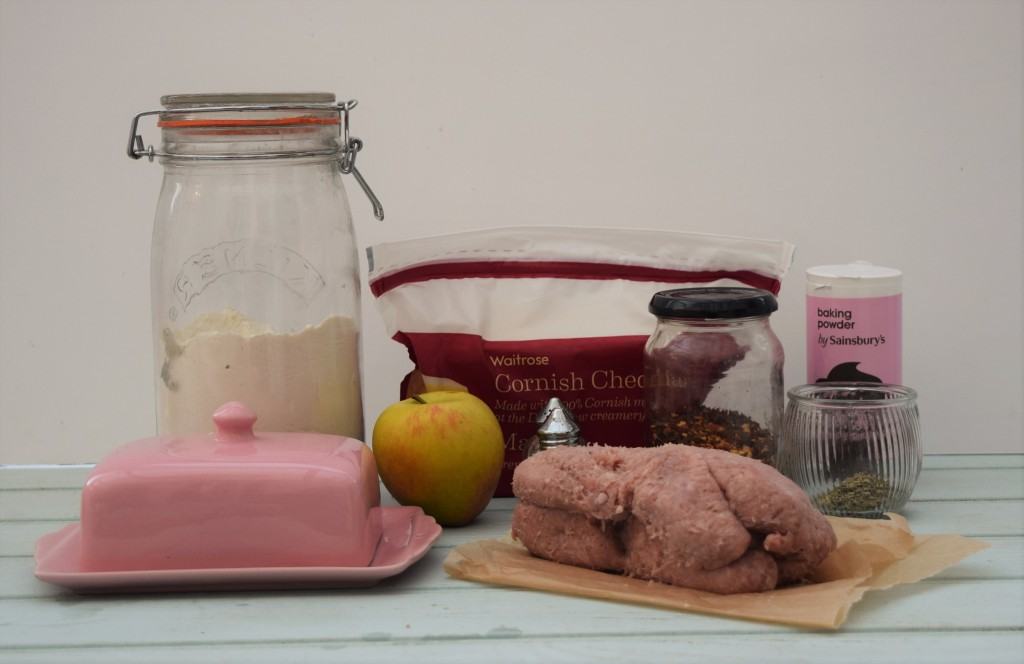 Not a terribly attractive line up for these tastier than tasty Sausage and Apple Balls. The butcher didn't have any sausage meat so he skinned a pound of herby pork sausages for me and these worked brilliantly.
Make a start by pre heating your oven to 160 degrees fan assisted, as standard. Then take a large bowl and weigh out the flour and baking powder.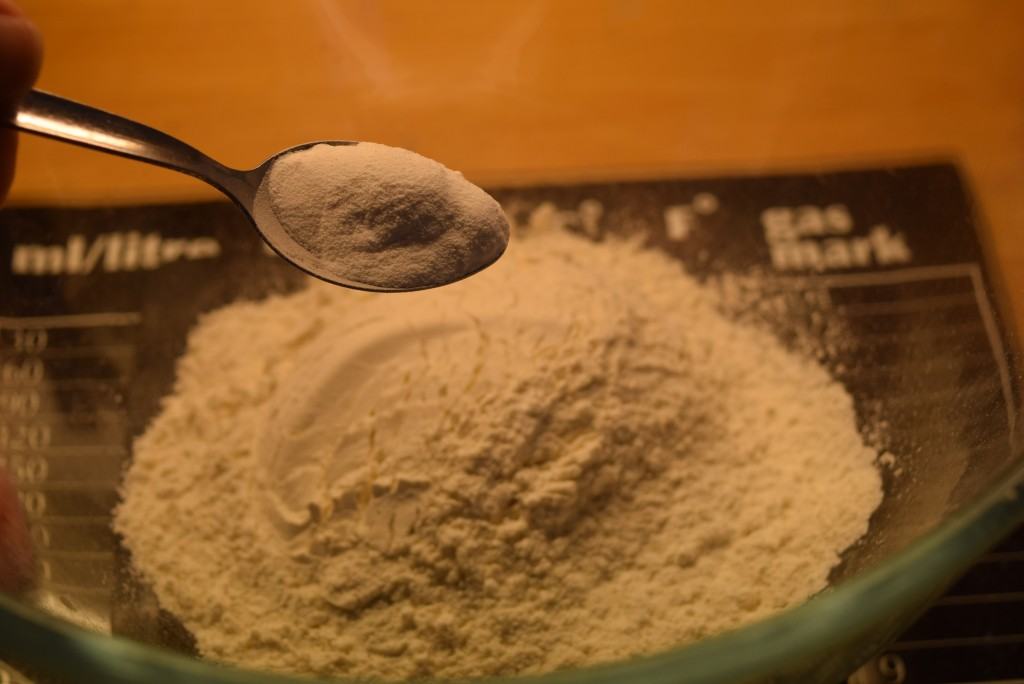 Follow in with the salt, chilli flakes and oregano and a good pinch of pepper. I chose these herbs as they are family faves, but choose your best ones, sage, thyme and parsley would all work here.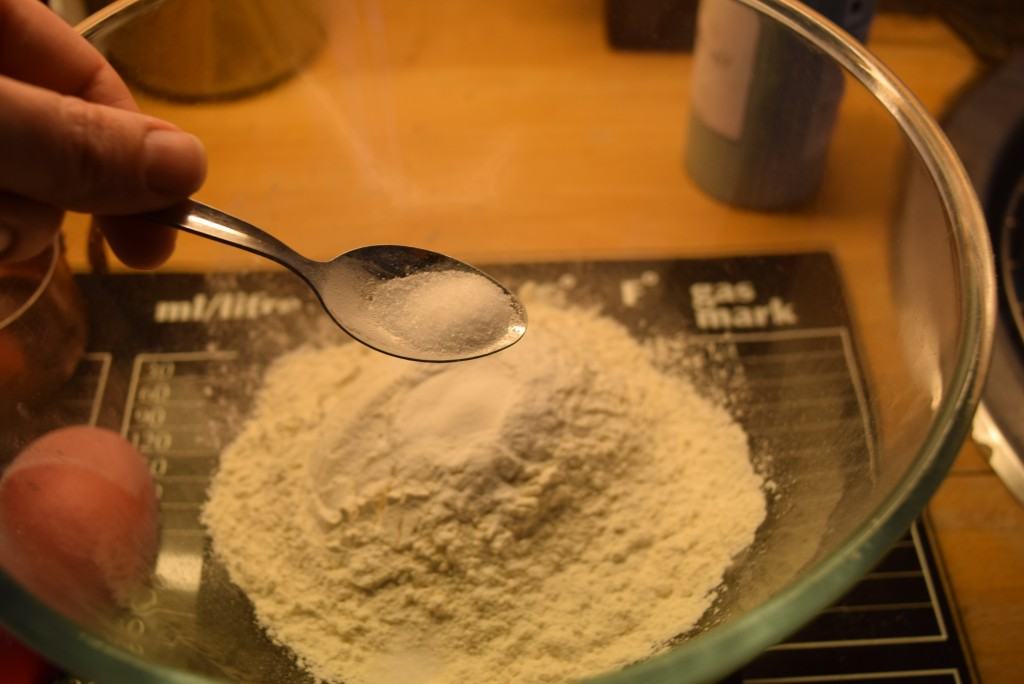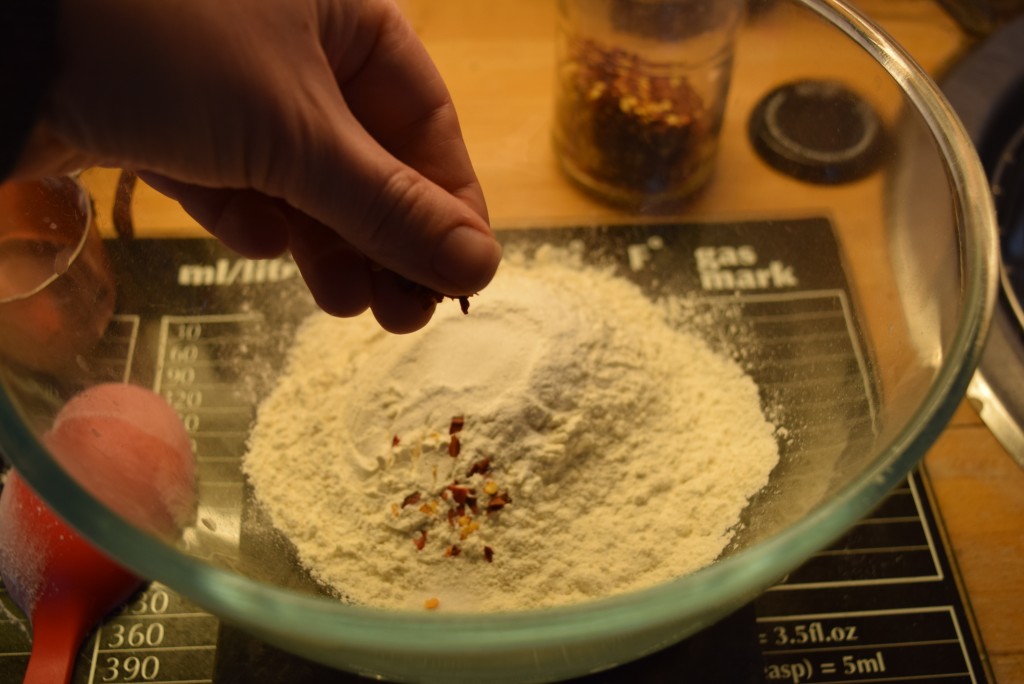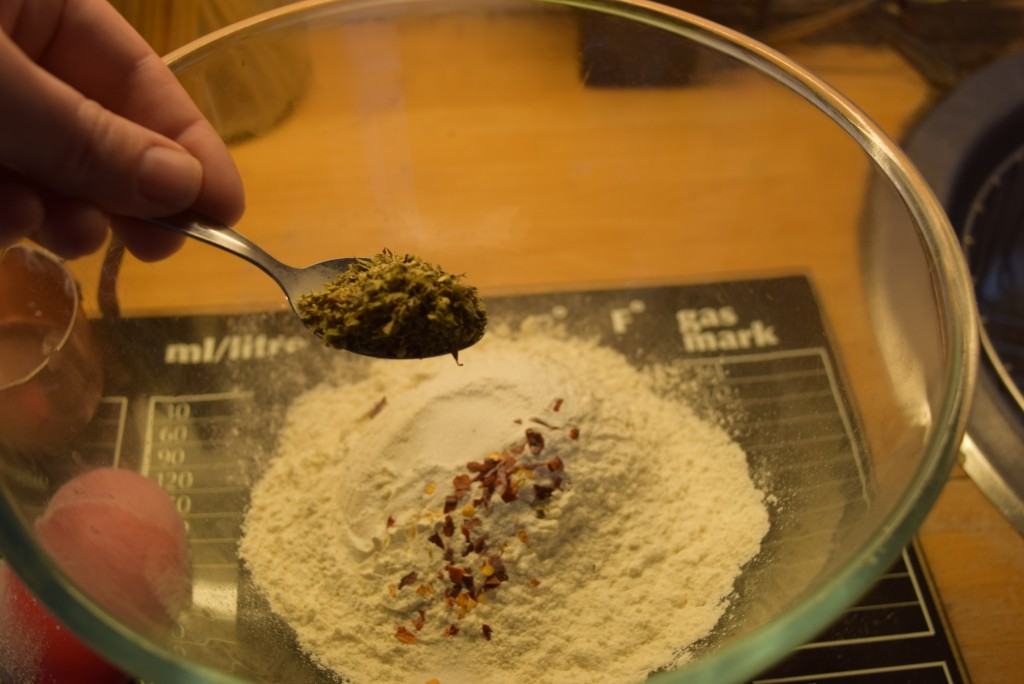 Next grate your cheese and the apple. I am so lazy I didn't even bother peeling the apple. Any cheese would be delicious, I imagine, a nice bit of leftover Stilton, for example.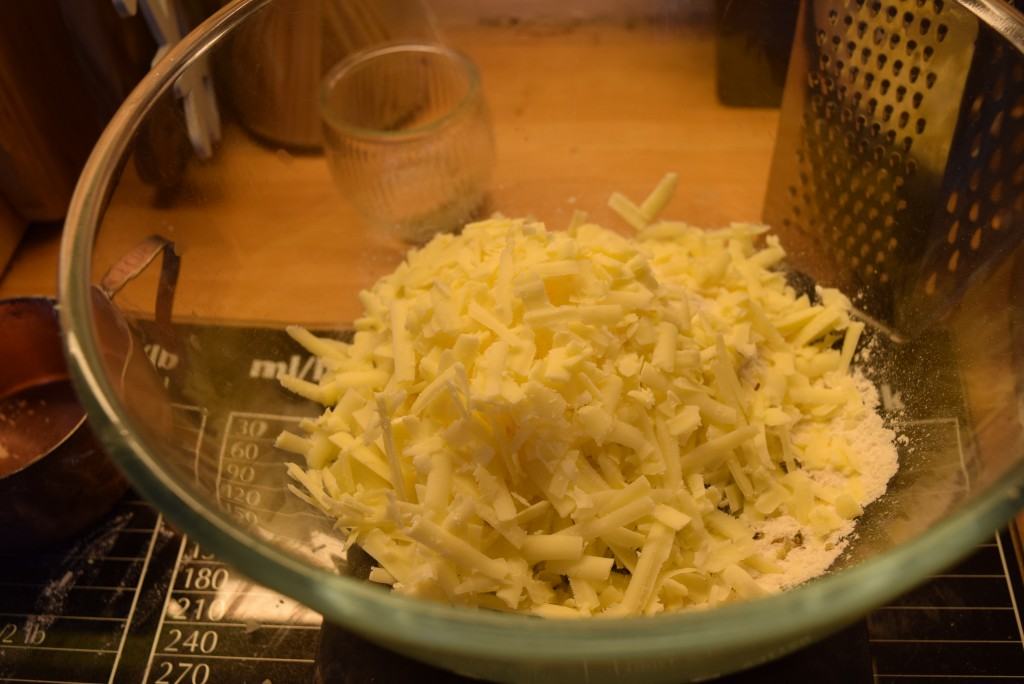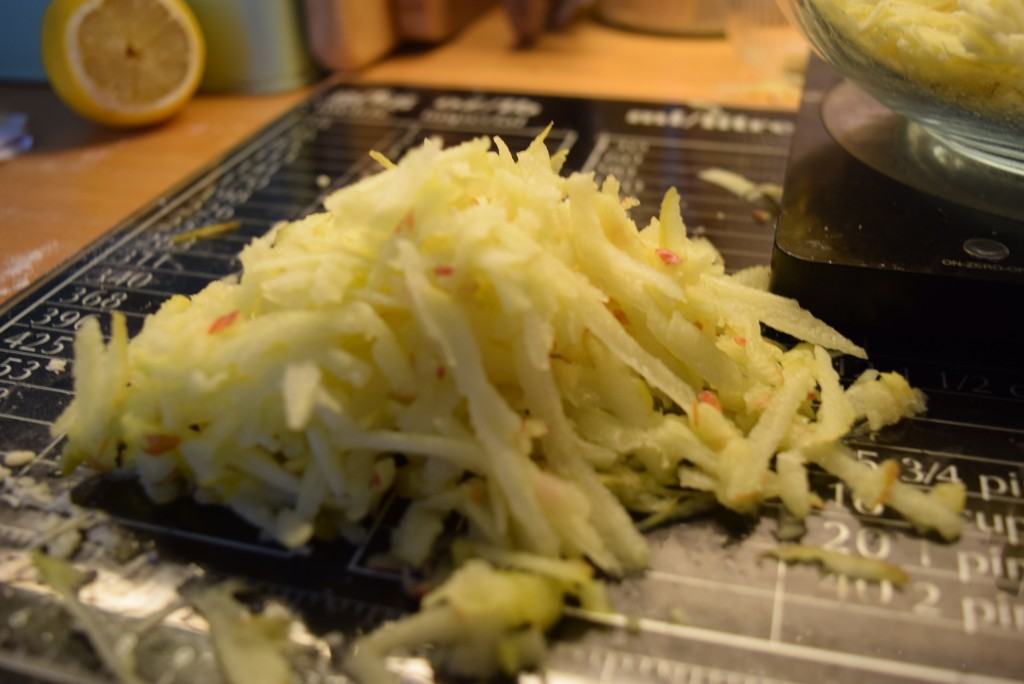 Add these to the mixture with the sausage meat and the melted butter.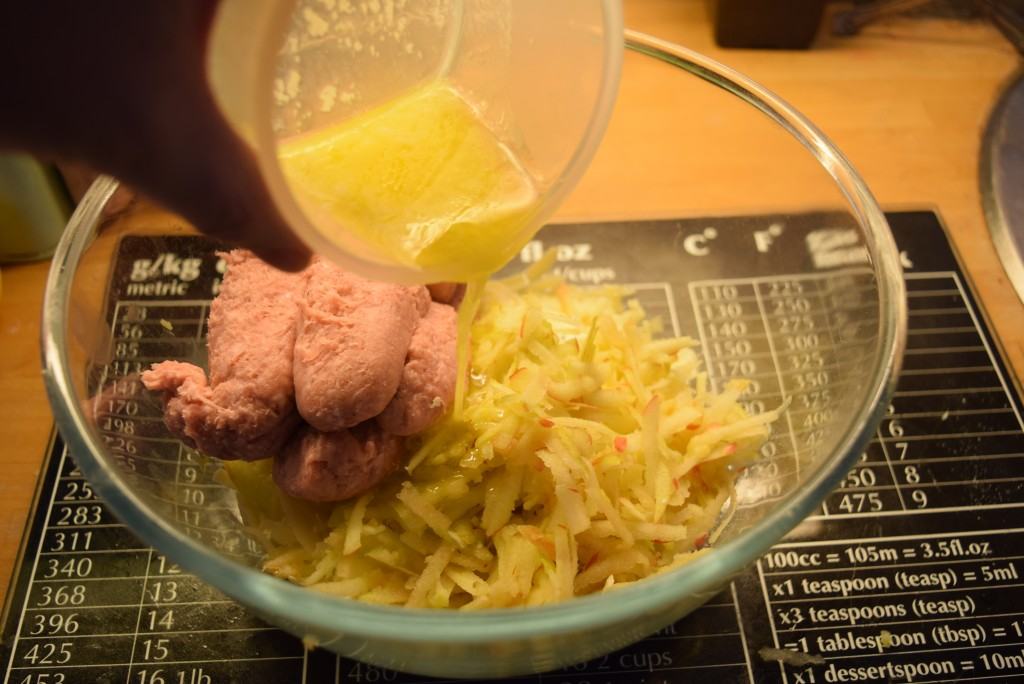 Next, you can go in with a spoon if you are squeamish or hands if not. I went hands because that's the kind of girl I am.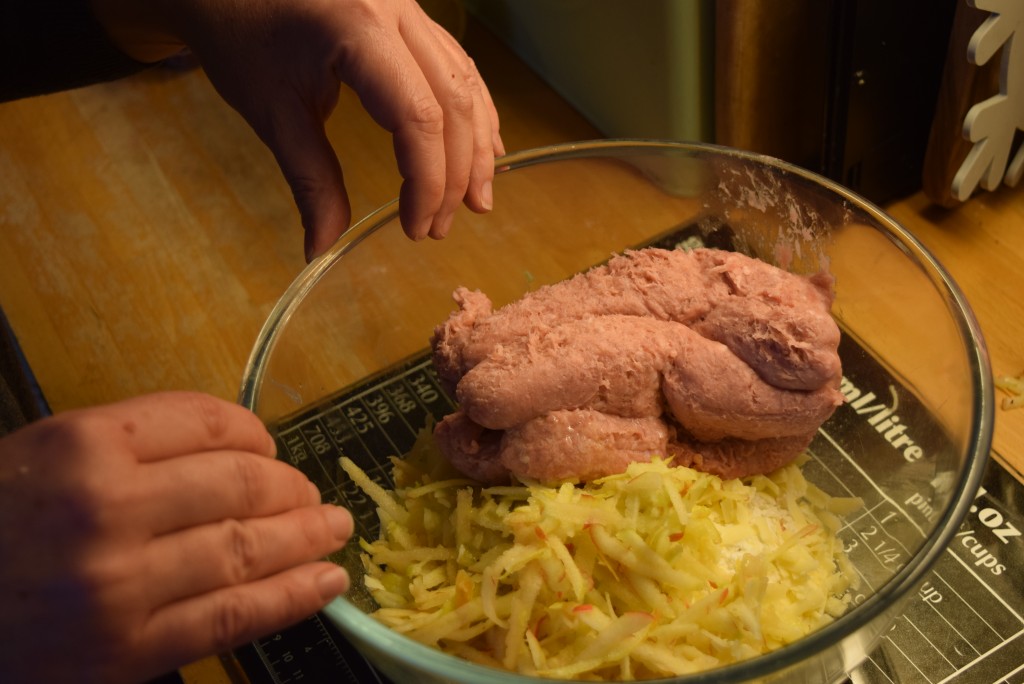 I won't even mention how manly my hands look here.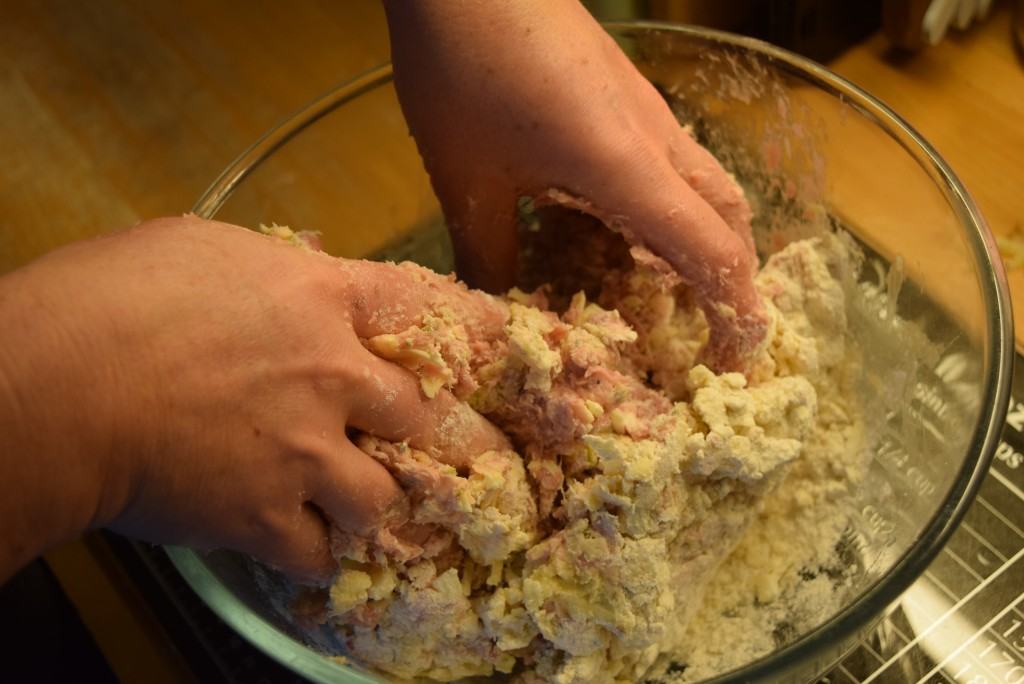 Fashion the mixture into a thoroughly mixed ball then spoon big tablespoons into your well buttered or oiled mini muffin tins.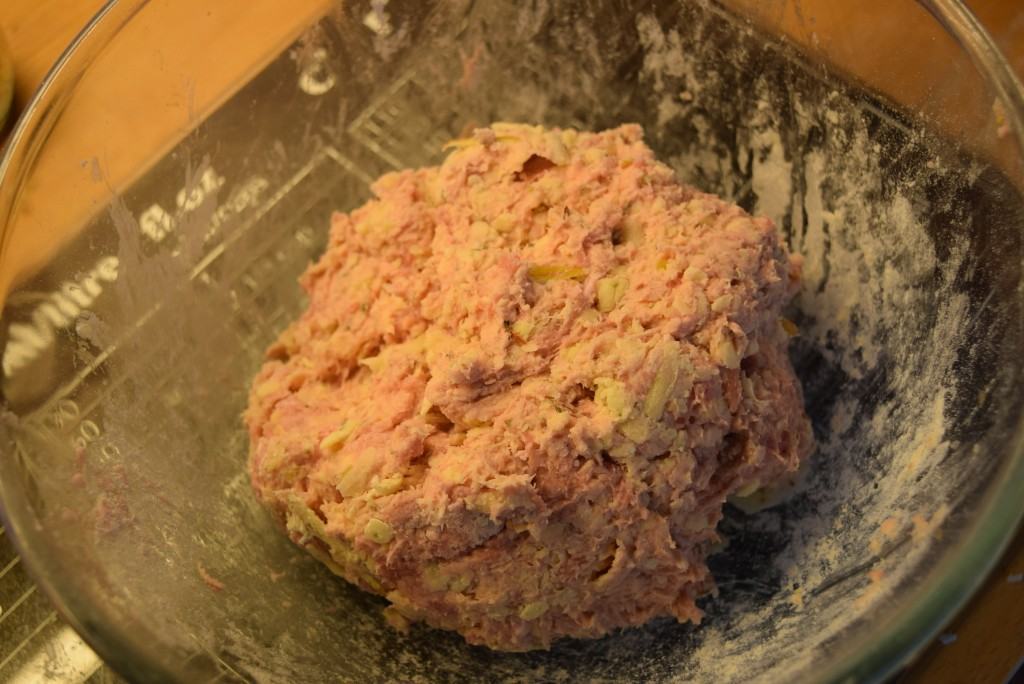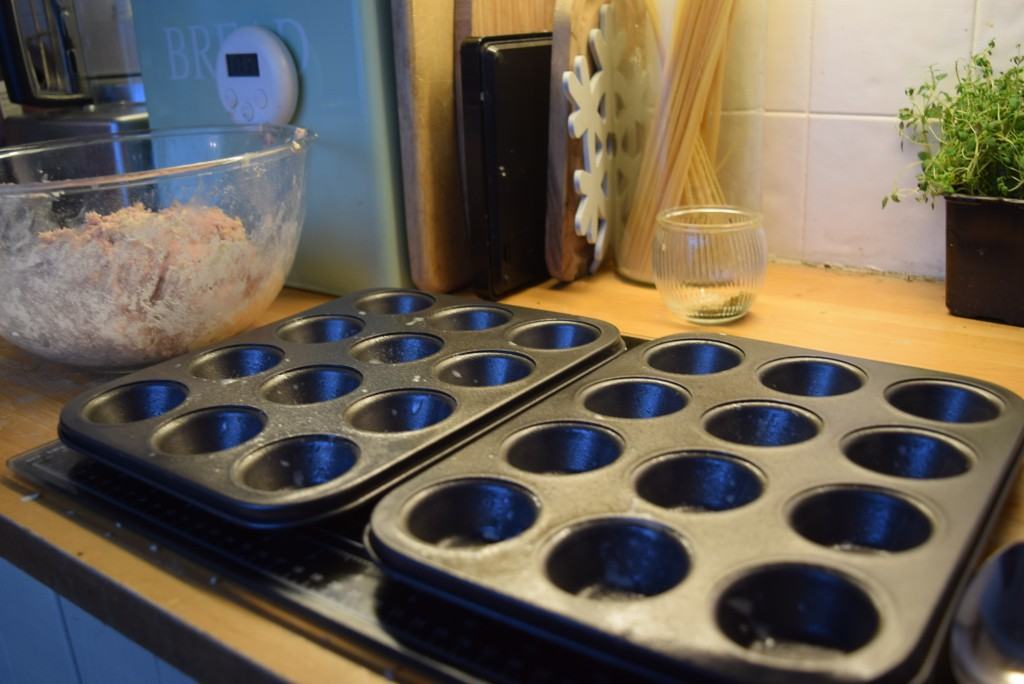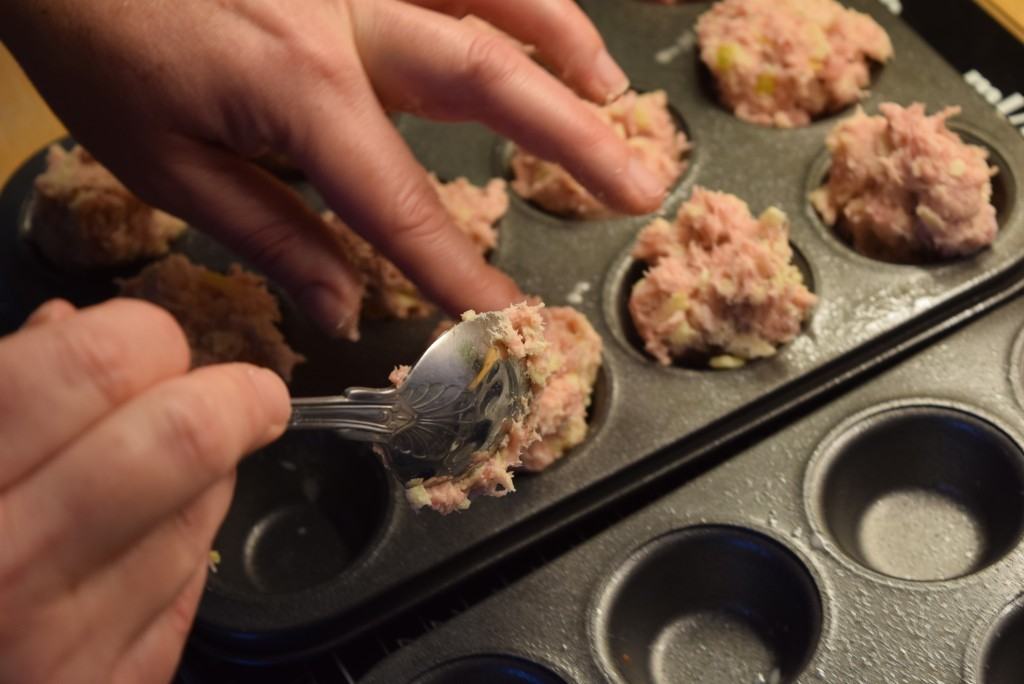 Be prepared to be up to your wrists in mixture by now. I filled the cups quite generously to make quite big balls *really* but you could make smaller ones. If you don't have mini muffins tins, just roll the mixture into good sized balls and place on a lined baking sheet.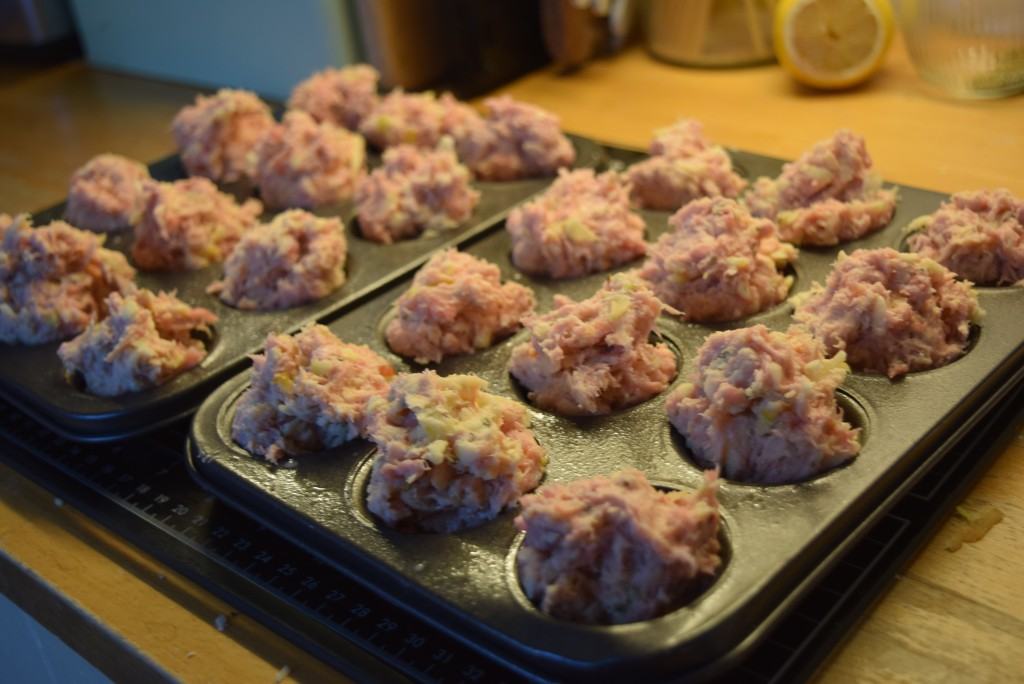 Bake these porky nibbles for around 25 minutes or until golden, sizzling and smelling super.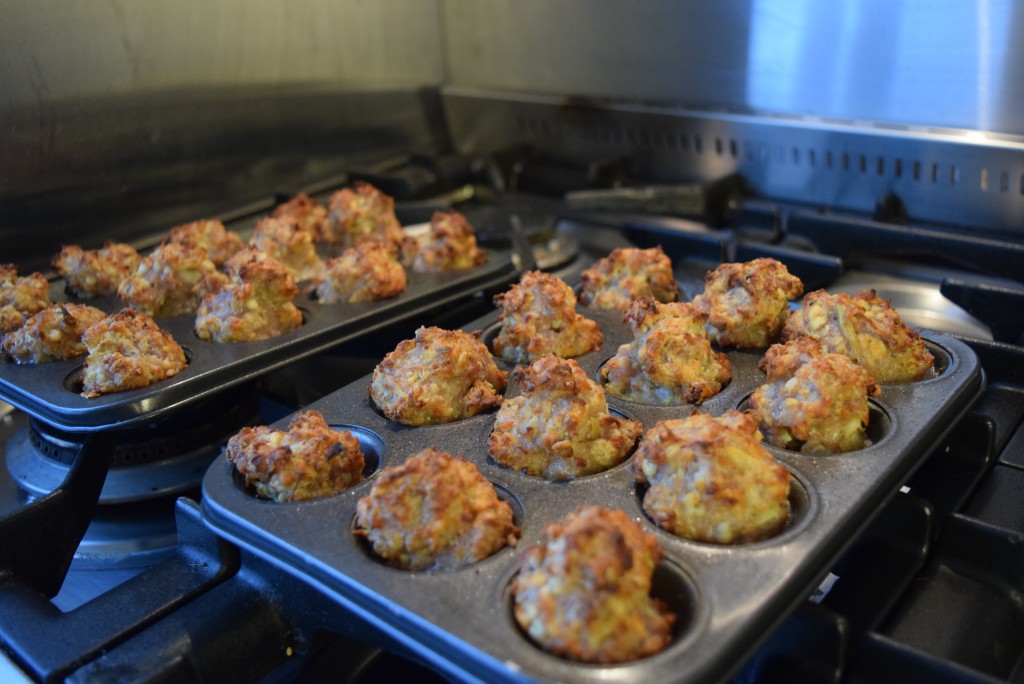 Serve whilst piping hot, sprinkled with a fresh herb of some nature and with a chutney or ketchup dip if you fancy. And, of course, a glass of fizz.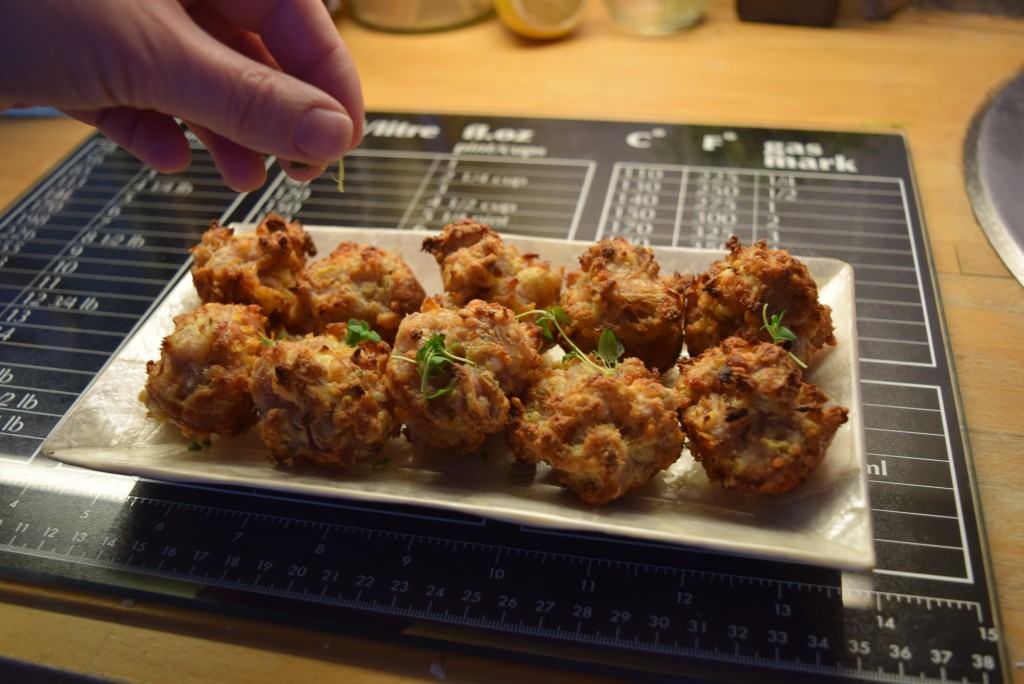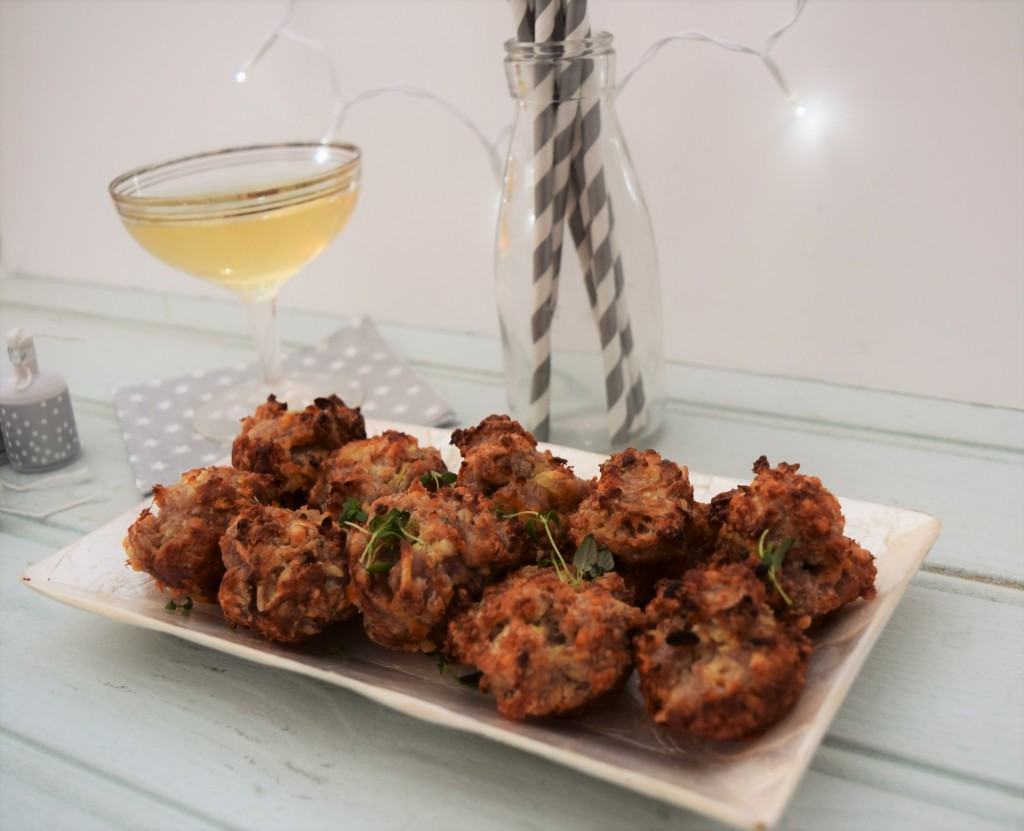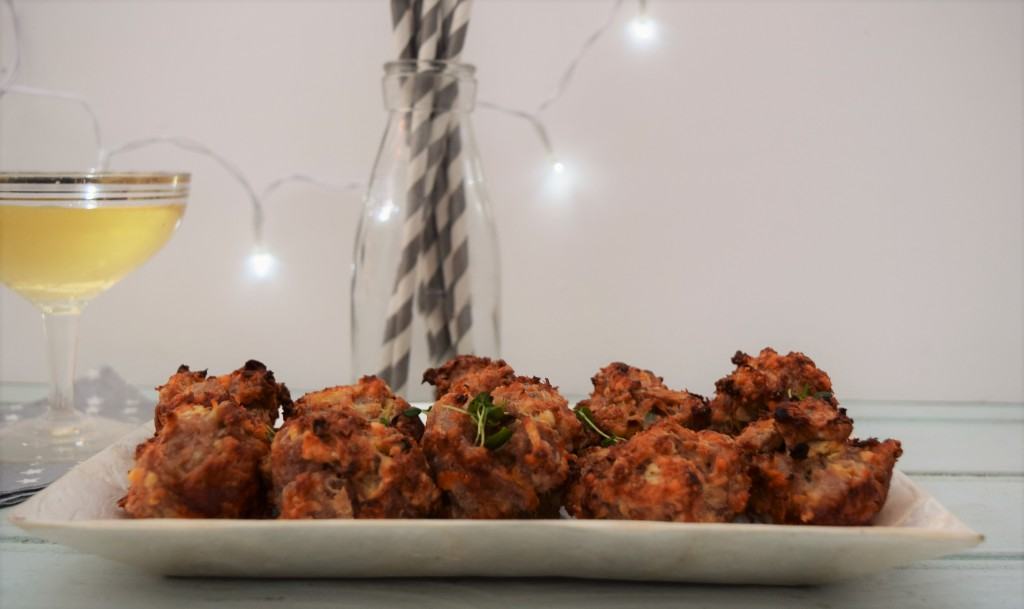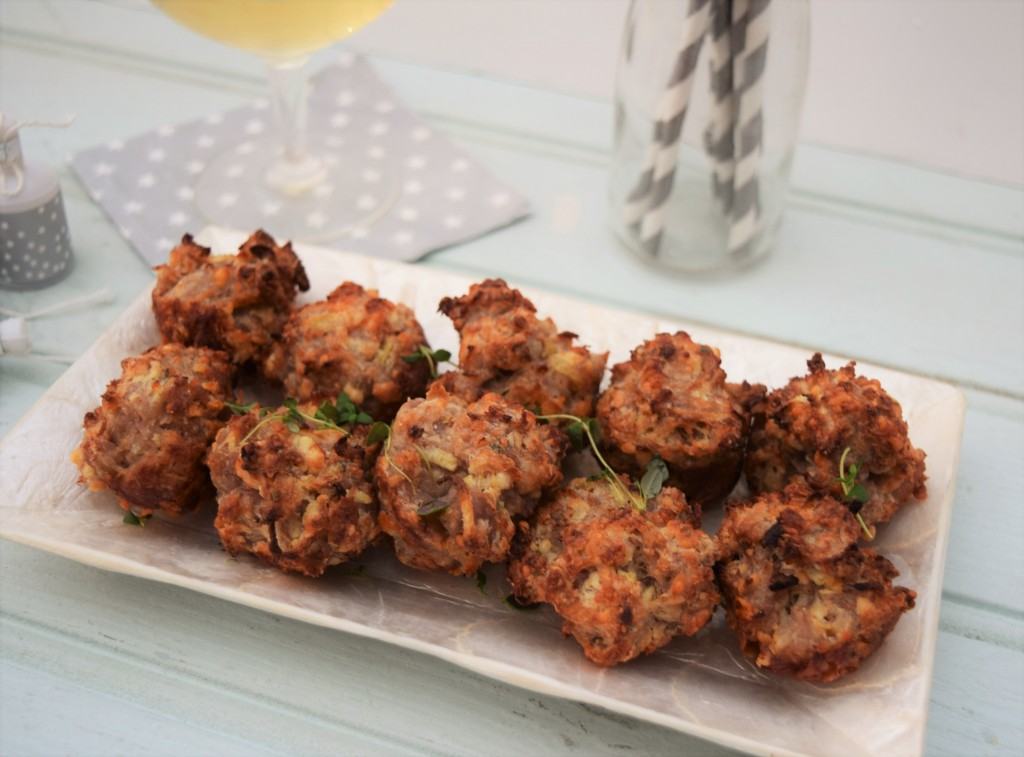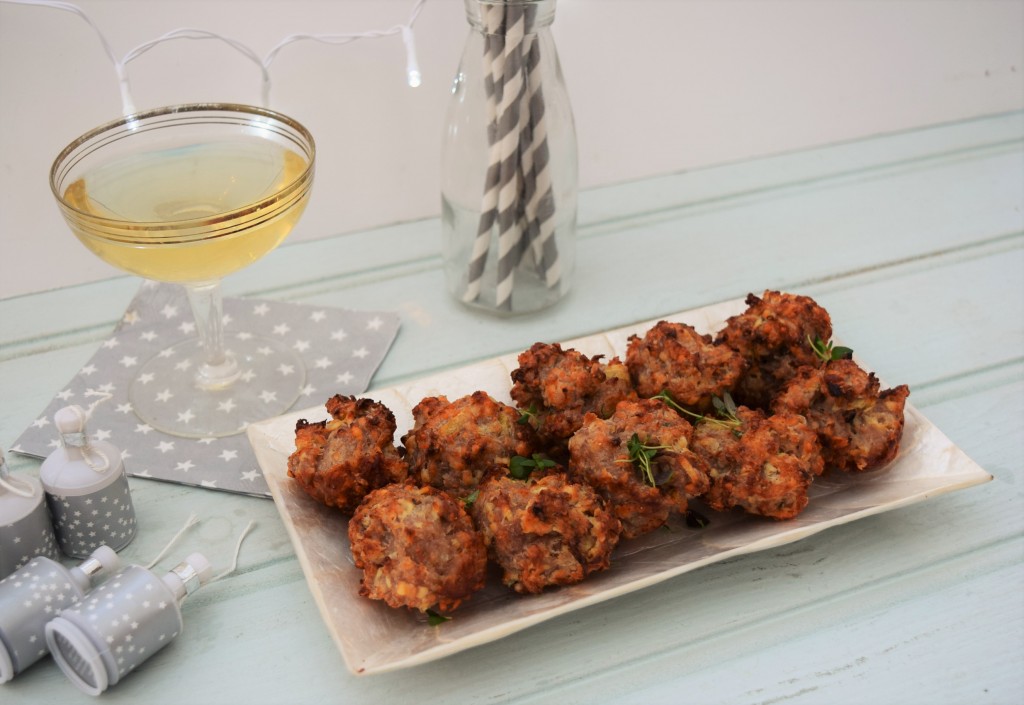 These are a perfect way to see in 2016, although you may have to set a new year's resolution to give them up on the 1st January as they are super addictive.
Lucy x
Sausage and Apple Balls Recipe
Makes 24 to 30 big balls *tee hee*
150g plain flour
1 1/2 teaspoons baking powder
1/2 teaspoon salt
Good pinch of dried chilli flakes
2 teaspoons dried oregano
good pinch or shake black pepper
100g cheese, grated, I used strong cheddar but go with whatever you have to hand
1 apple, grated, no need to peel
500g sausage meat
50g butter, melted
Serve with chutney or ketchup to dip, if you like and a fresh herb garnish

Pre heat the oven to 160 degrees fan assisted
Take a large glass bowl and weigh in the plain flour, baking powder, salt, chilli, oregano and pepper. Give it a stir then add the grated cheese and grated apple. Pop in the sausage meat and melted butter then go in with a spoon or your hands to thoroughly mix everything together. Butter or oil two mini muffin trays then put large spoonfuls of the mixture into each hole or roll into balls and place on a lined baking sheet. Bake for around 25 minutes or until golden brown, sizzling and smelling wonderful. Serve good and hot with chutney, cranberry sauce or ketchup as a dip with a fresh herb garnish. These also freeze brilliantly in a food bag for a month or so.