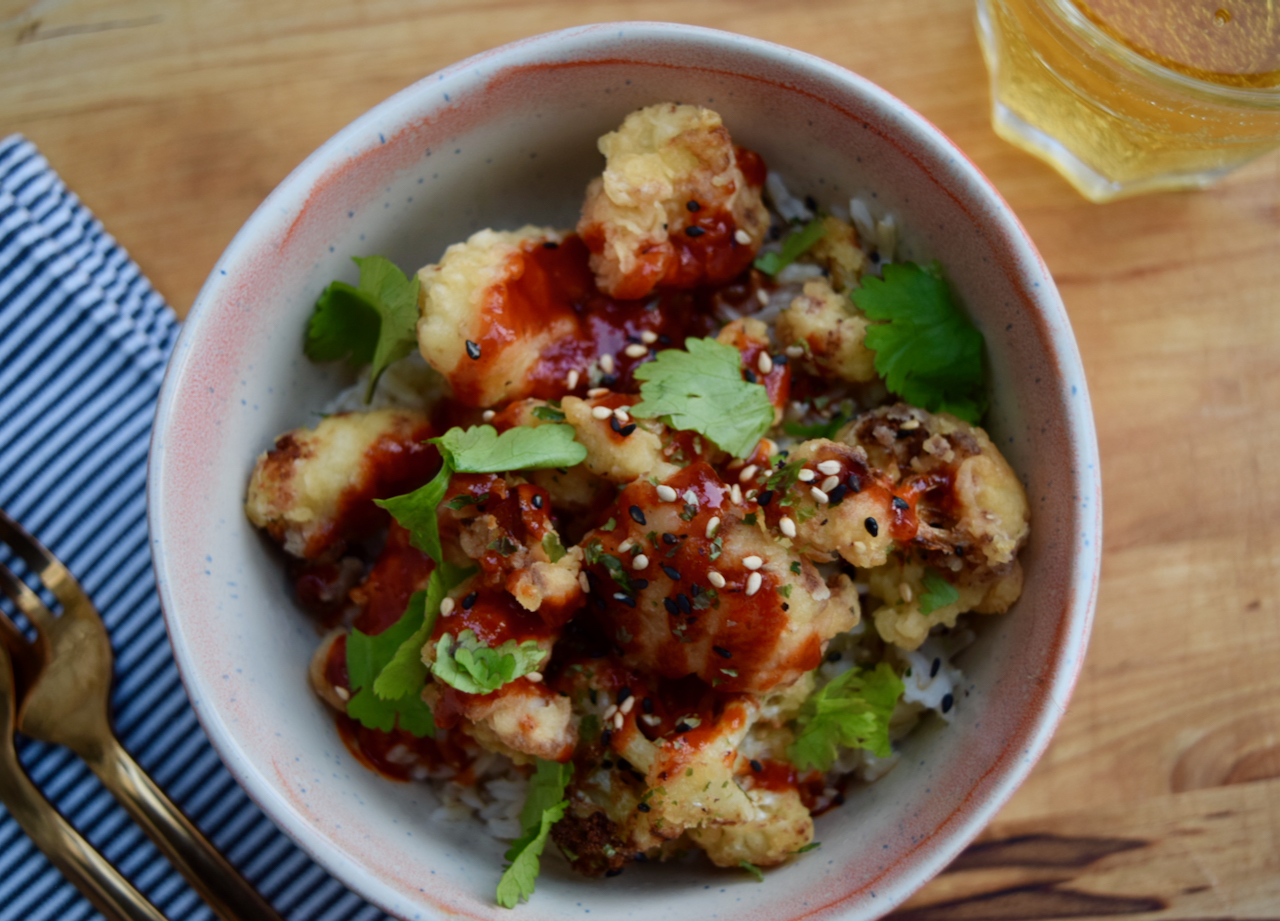 Korean Fried Cauliflower recipe
We're big lovers of anything fried. You could batter an old flip flop and we'd eat it. Fried chicken, calamari, chips, they all feel like a treat because for me, deep frying always seems like a bit of a drama plus they have unhealthy connotations. Korean Fried Cauliflower, however, can't possibly be unhealthy though can it? Because it's cauliflower and it's vegetarian, so go ahead and fill your boots.
I love cauliflower. a) it's cheap b) you can slather it in cheese sauce and c) everyone in our house likes it, so it's a huge win. Now I know you can batter it, deep fry it and serve it with a sweet, spicy korean sauce I think I love it even more. The cauliflower is crisp and tender and only takes minutes to fry. The sauce features Nigella's new favourite ingredient the unpronounceable gochujang; a spicy fermented paste which brings so much flavour to the table. Along with some soy and honey, the sweet and spiciness is just what the fried cauliflower needs. I have the lovely Pure Wow to thank for my deep fried new best friend.
I was expecting at least 2 out of 3 no thank you's for this recipe, what with it being a meat free affair, but it got a resounding 3 yes's. Even from George who thought it was chicken.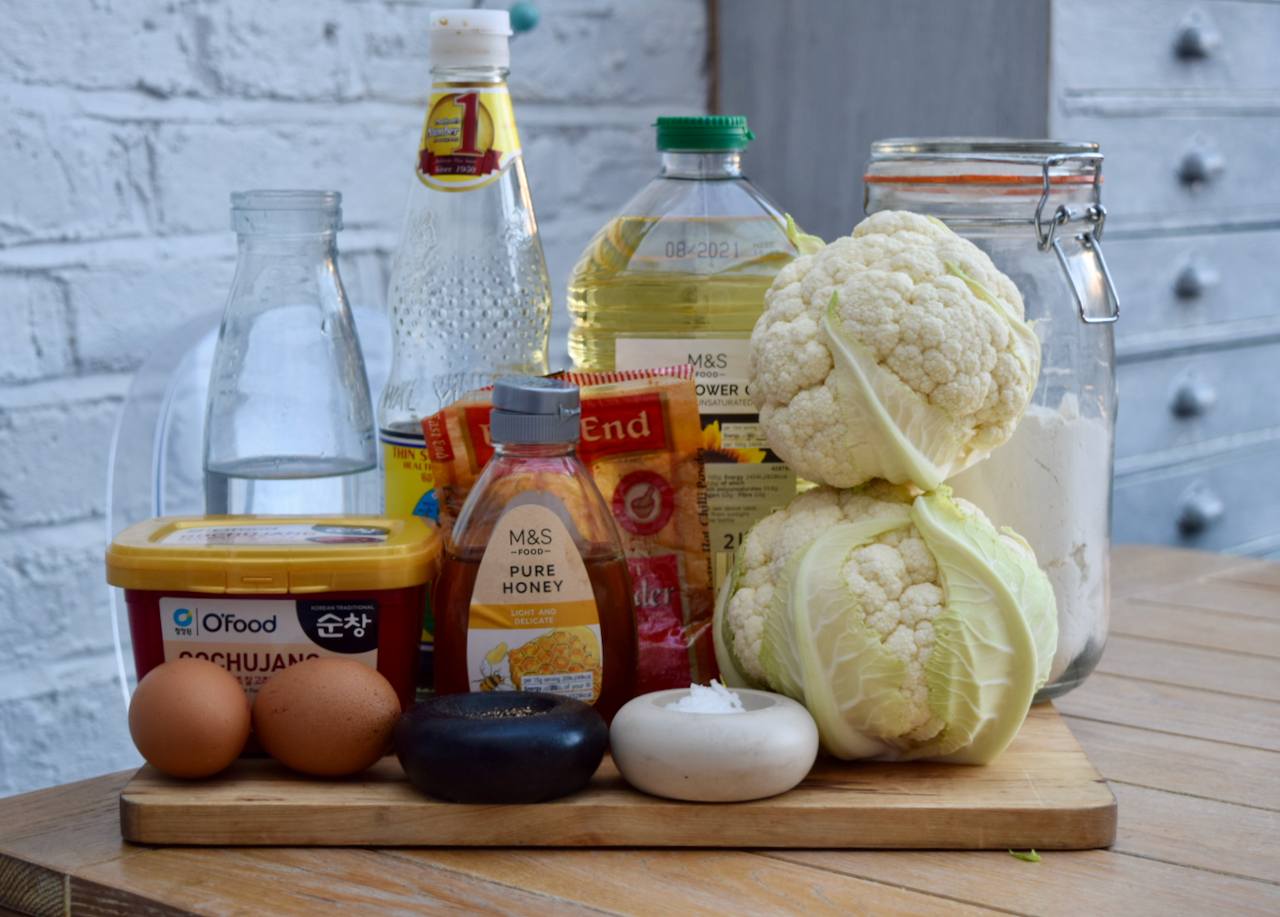 This line up looks quite busy, but it's actually all rather simple and wholemeal. I used one and a half smaller cauliflowers and that was plenty for 4. The gochujang paste for the sauce is now available at most supermarkets or from Amazon and is brilliant for spicing up almost everything.
Make a start on this recipe with the aforementioned sauce. Pop the gochujang, soy, honey and water in a small pan and slowly bring up to the simmer on the hob.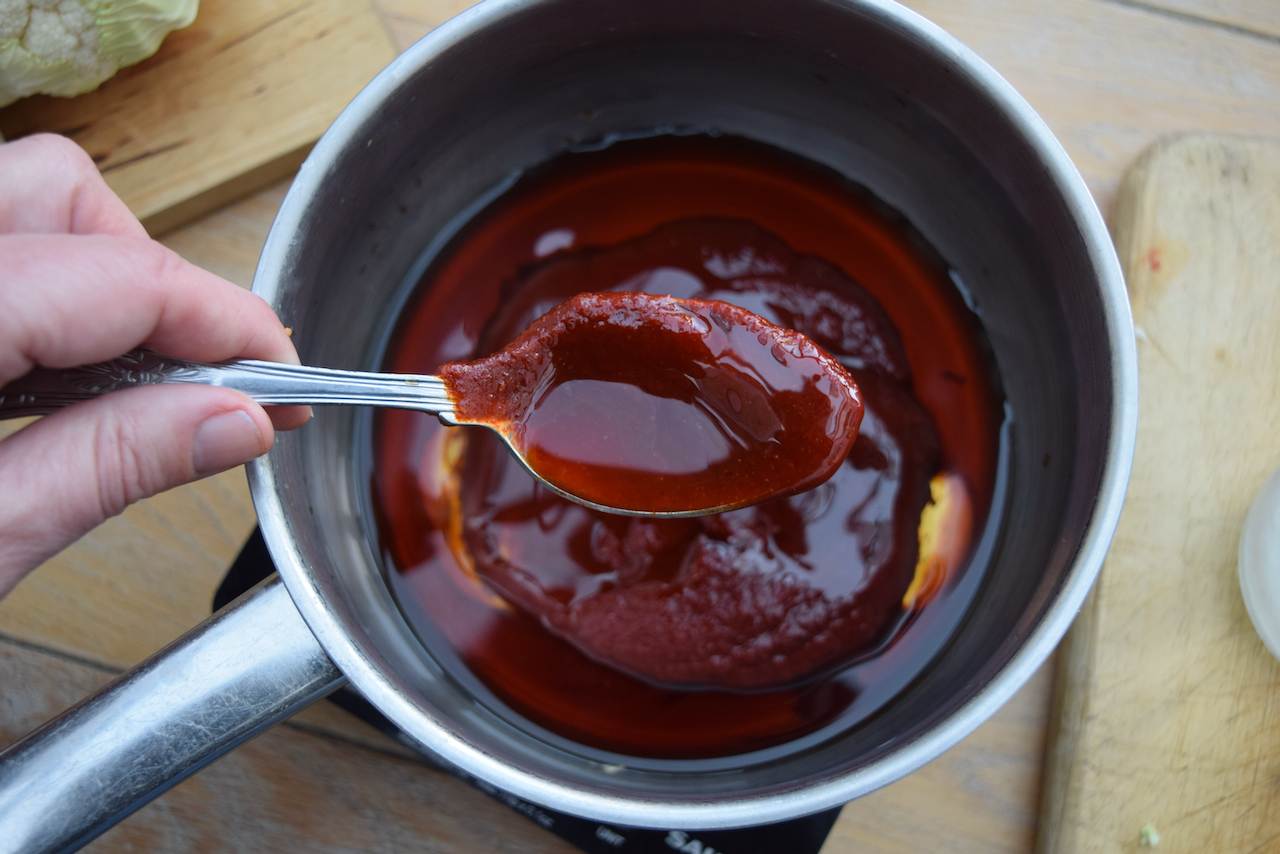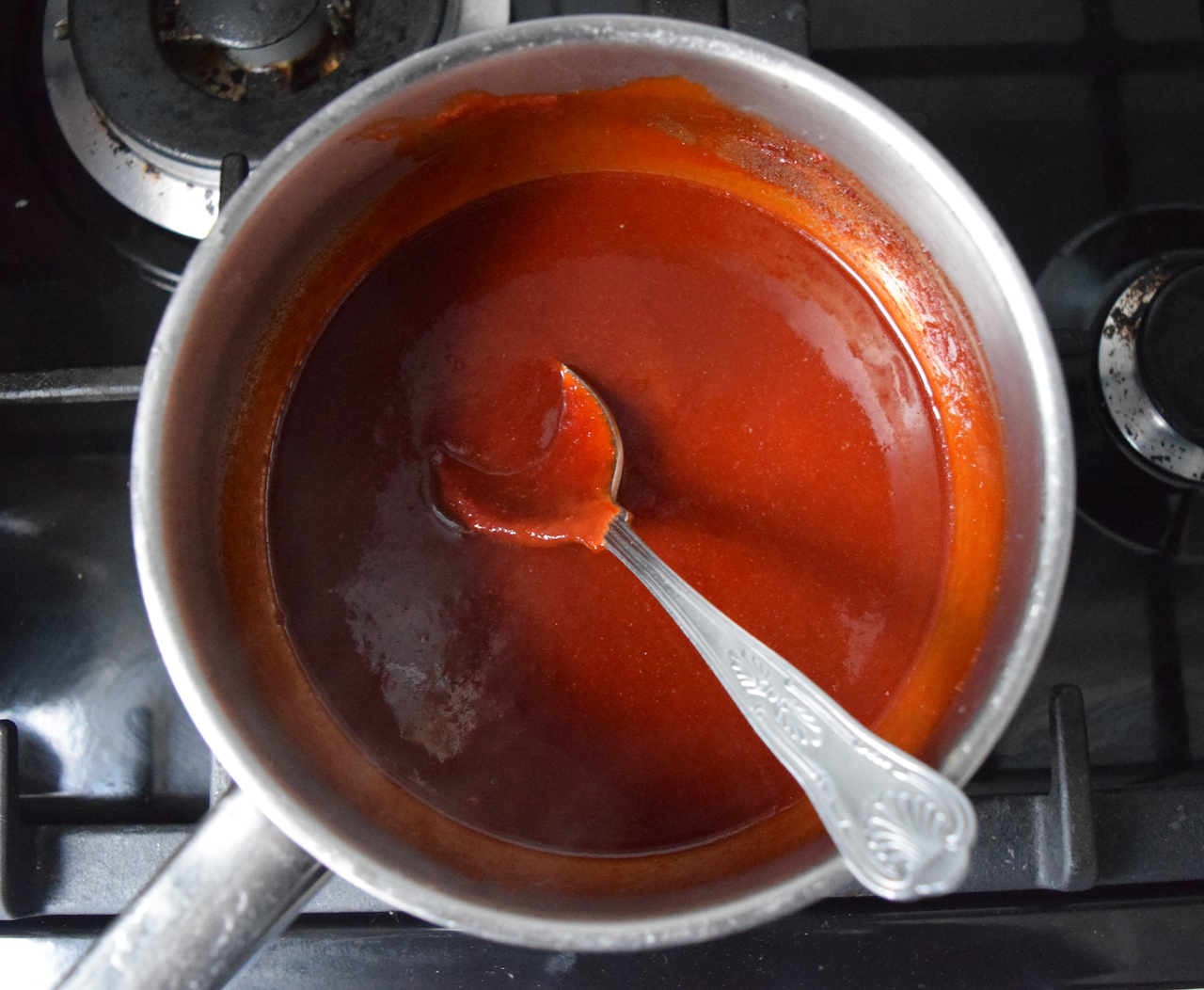 So vibrant and uplifting. And that's it for the sauce. Turn off the heat for the moment, you can briefly reheat it just before serving.
Pre heat your oven for keeping the cauliflower warm later, line a large baking sheet with kitchen paper and heat around 2 inches of vegetable oil in a high sided pan.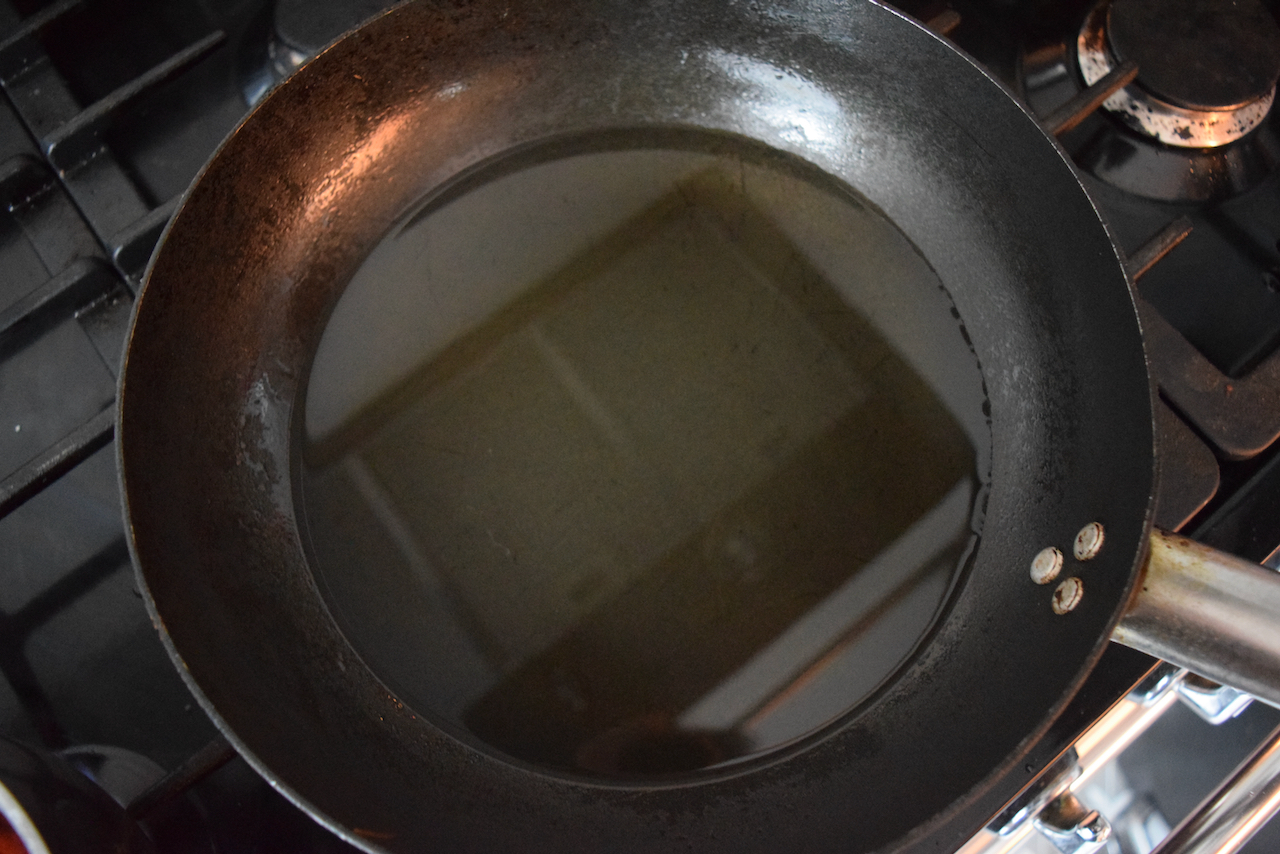 Cut off the outer leaves, remove the stalk and break your cauliflower into bite sized florets.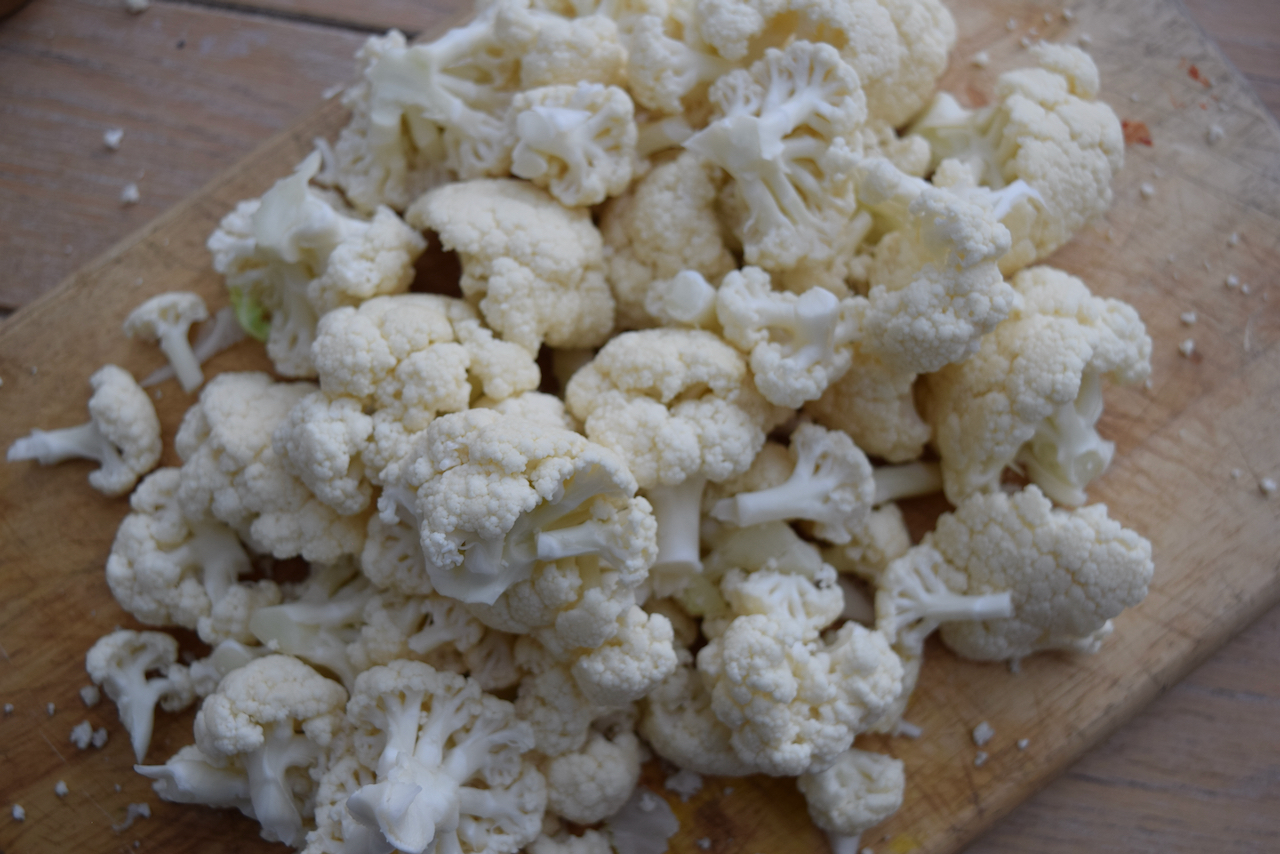 In one bowl whisk the two eggs and in another mix the flour, salt and pepper and the pinch of chilli powder.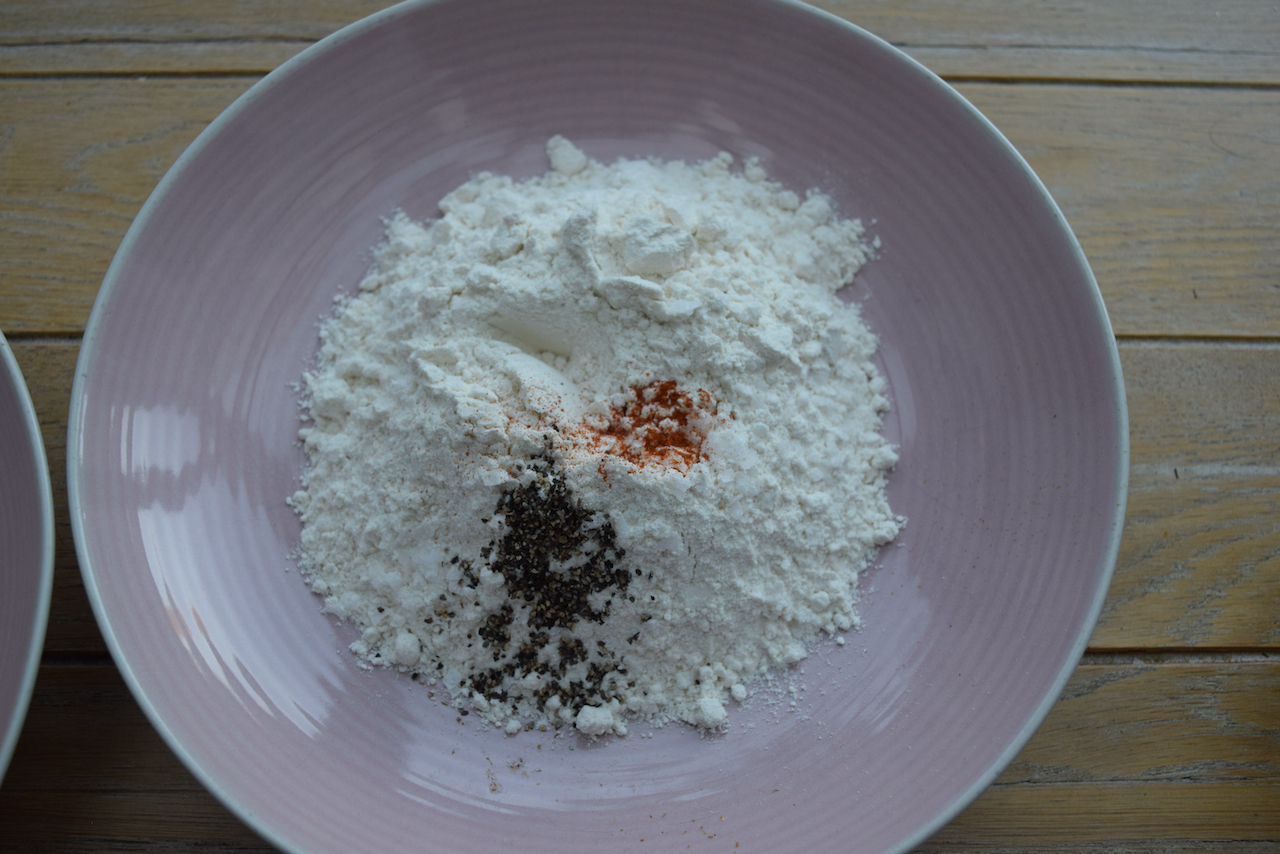 Now dip your florets in the egg first then into the seasoned flour and continue until it's all battered.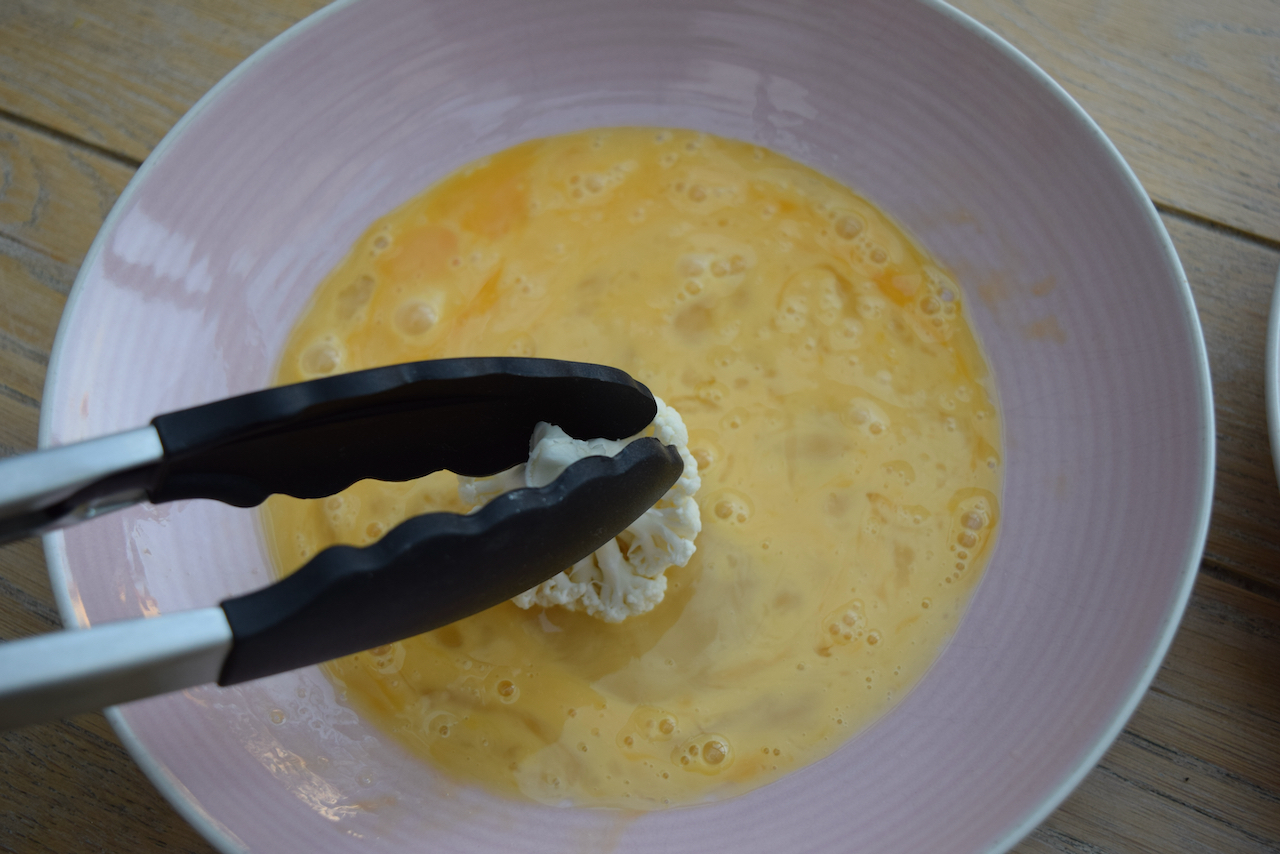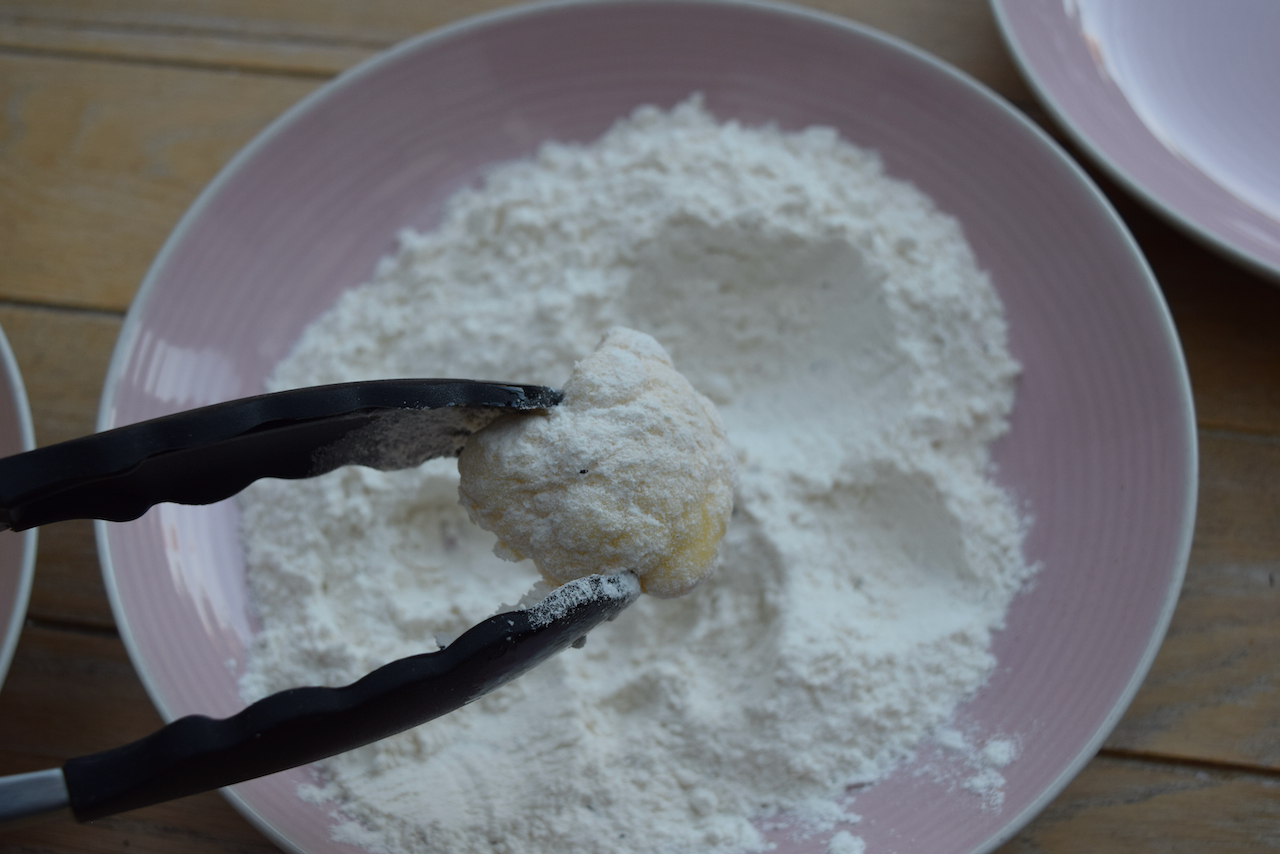 Using tongs ensured you don't batter your whole hand *like I usually do*.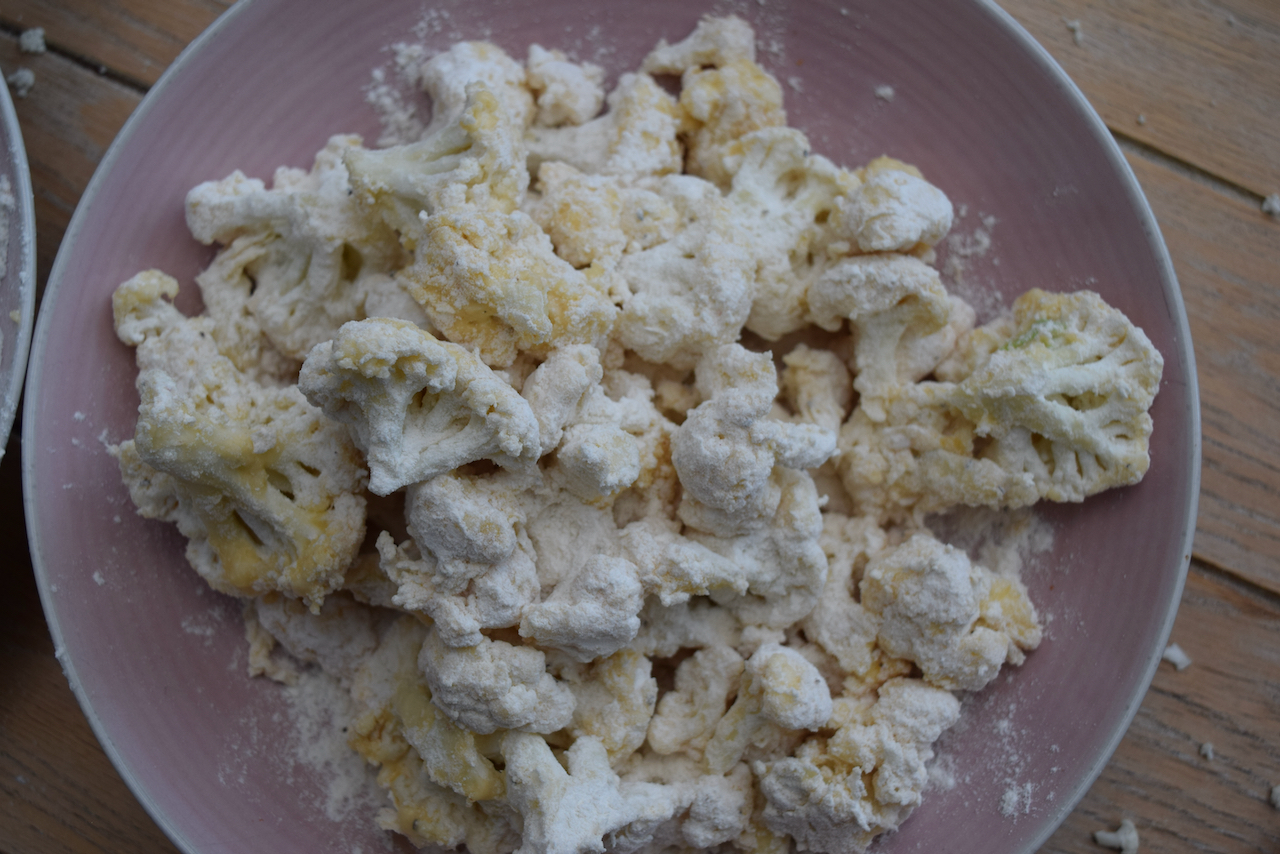 Test the oil temperature by dropping in a tiny bit of cauliflower to see if it sizzles. Once hot, drop in a few florets at a time and cook, moving frequently, until golden and crisp. This should take around 3 to 4 minutes per batch.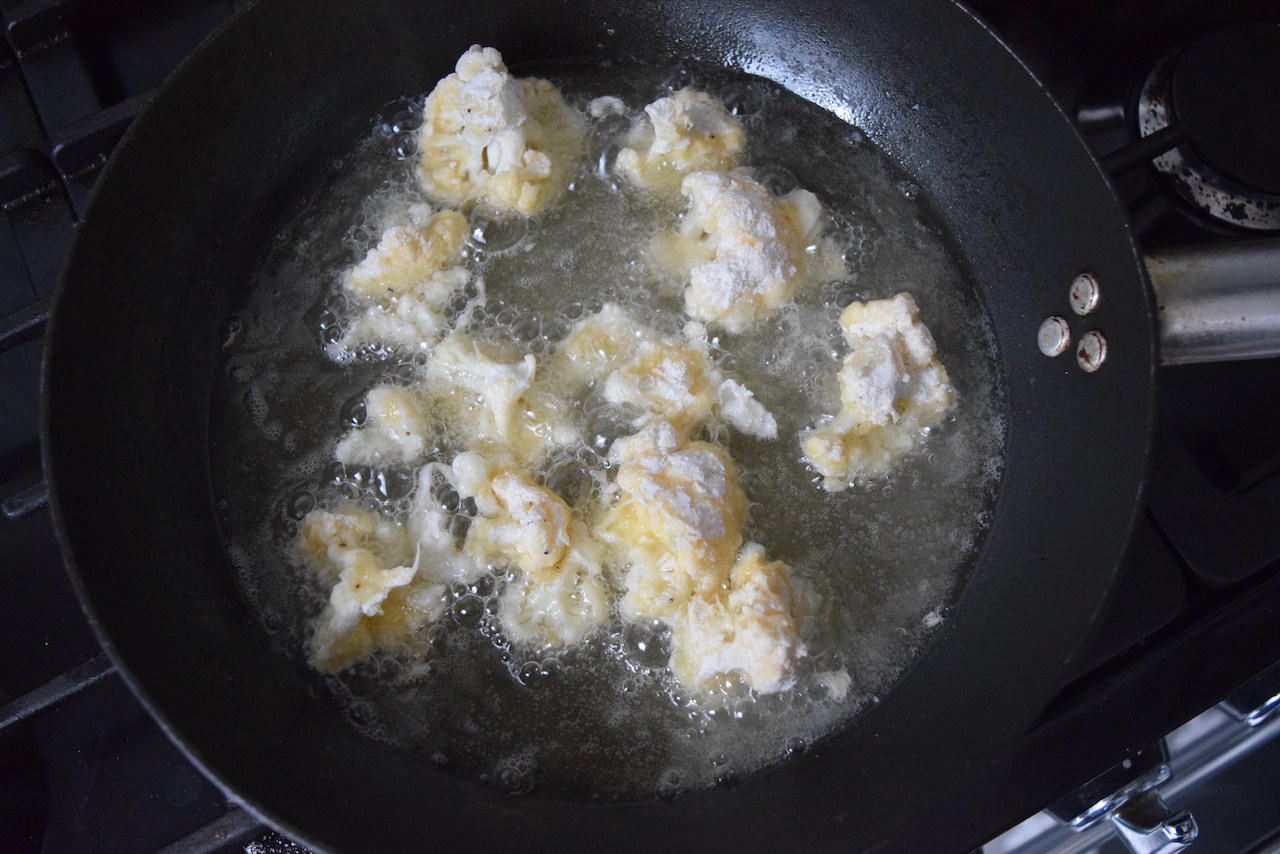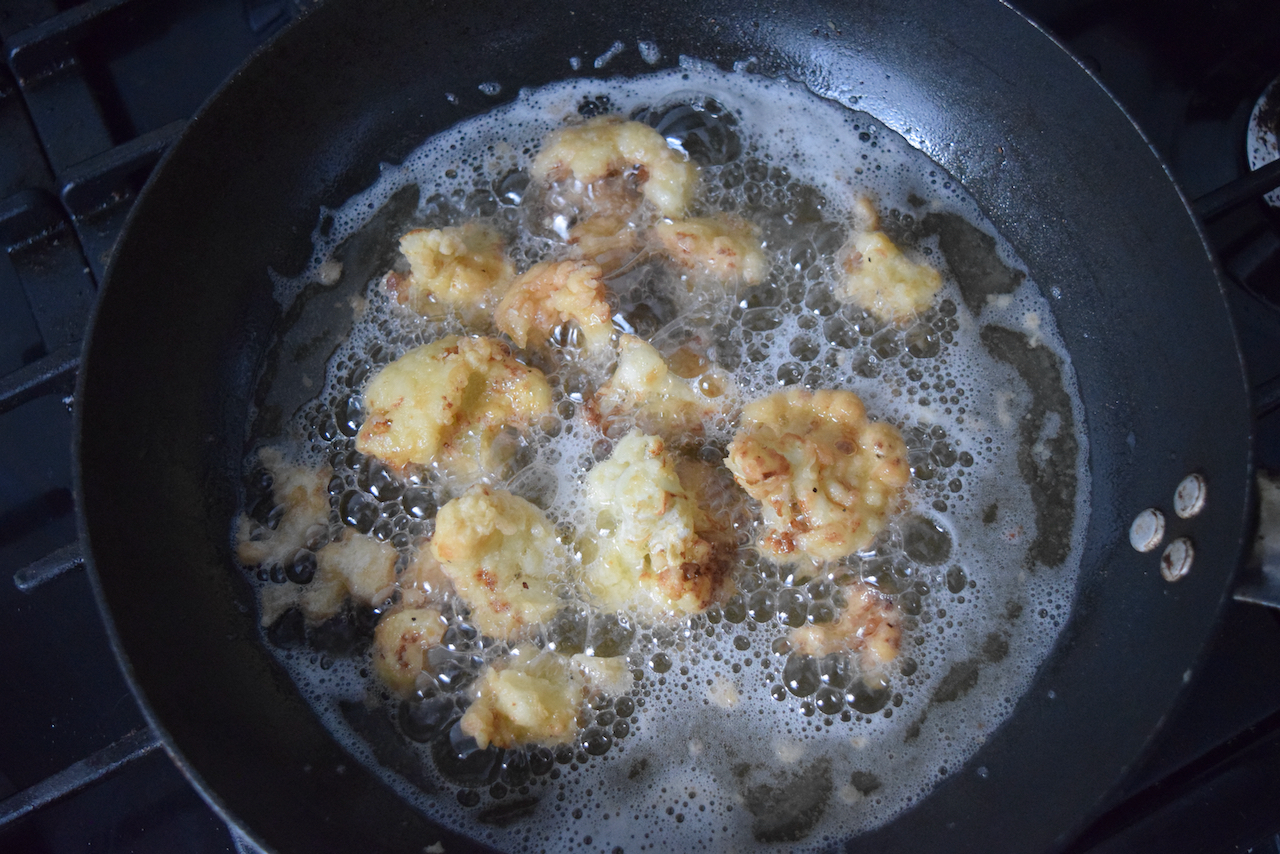 Using a slotted spoon, remove the cauliflower to your kitchen paper lined tray and pop in the oven to keep warm while you finish cooking the rest of the batch.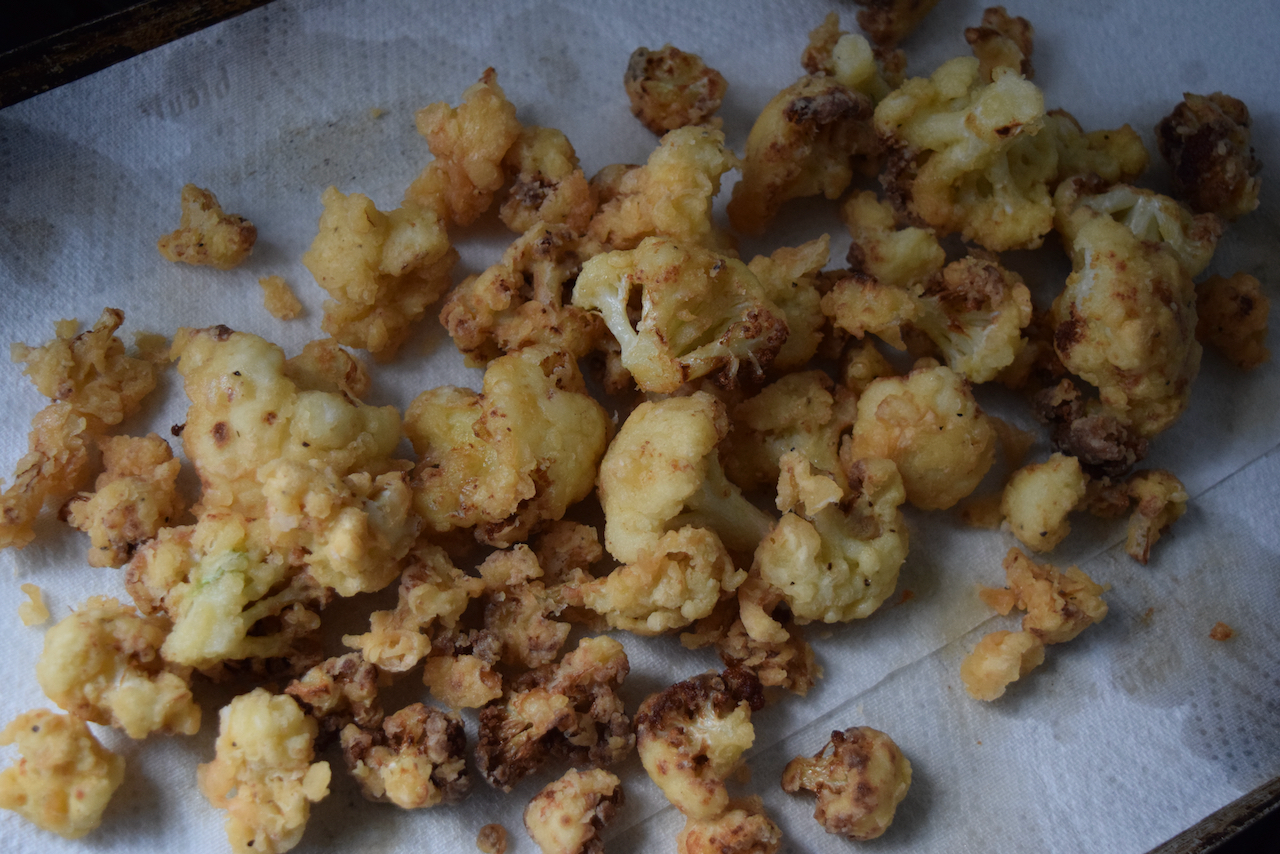 Just before you serve, sprinkle the hot cauliflower with sesame seeds or furikake.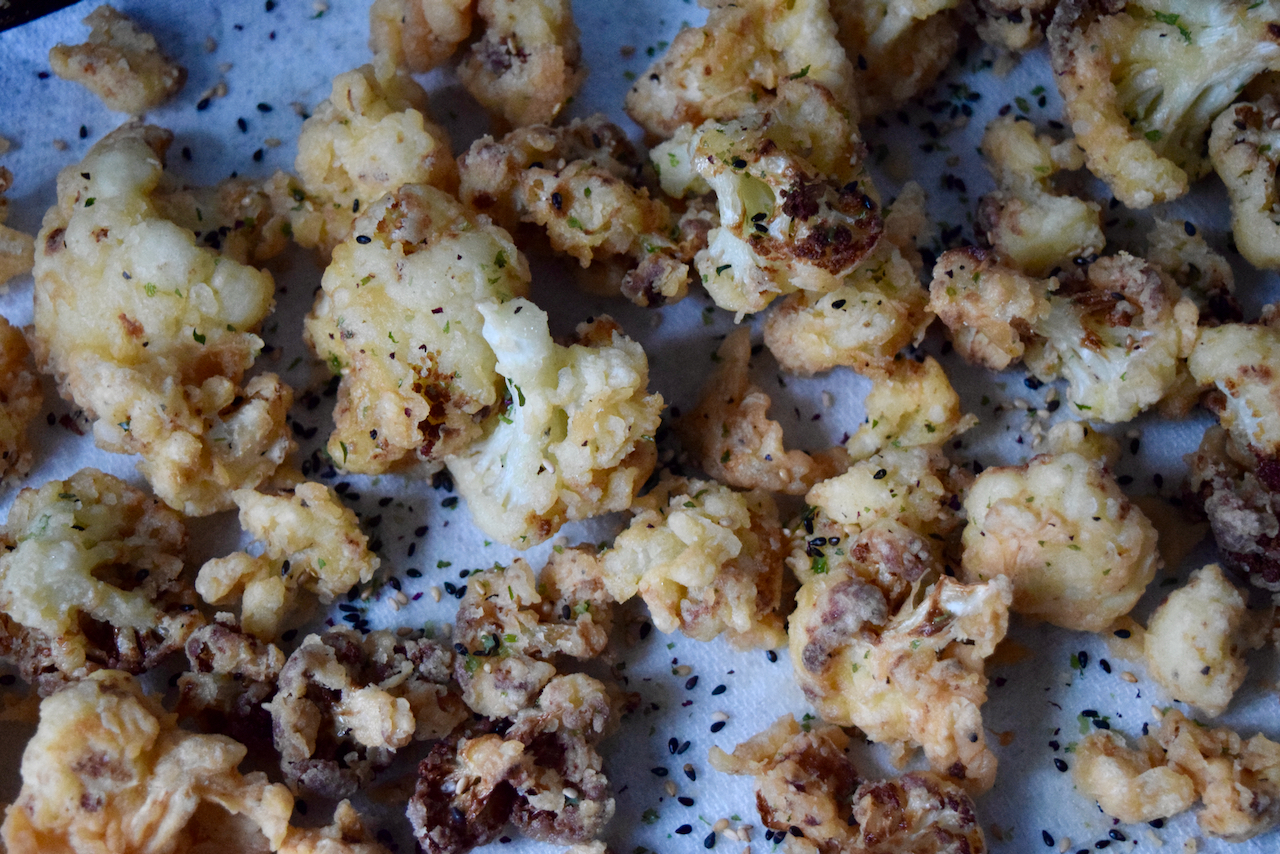 Give your spicy, lively sauce a brief reheat then serve your cauliflower with some rice and a generous, slathering of the sauce. Some fresh coriander is always lovely, if you have it.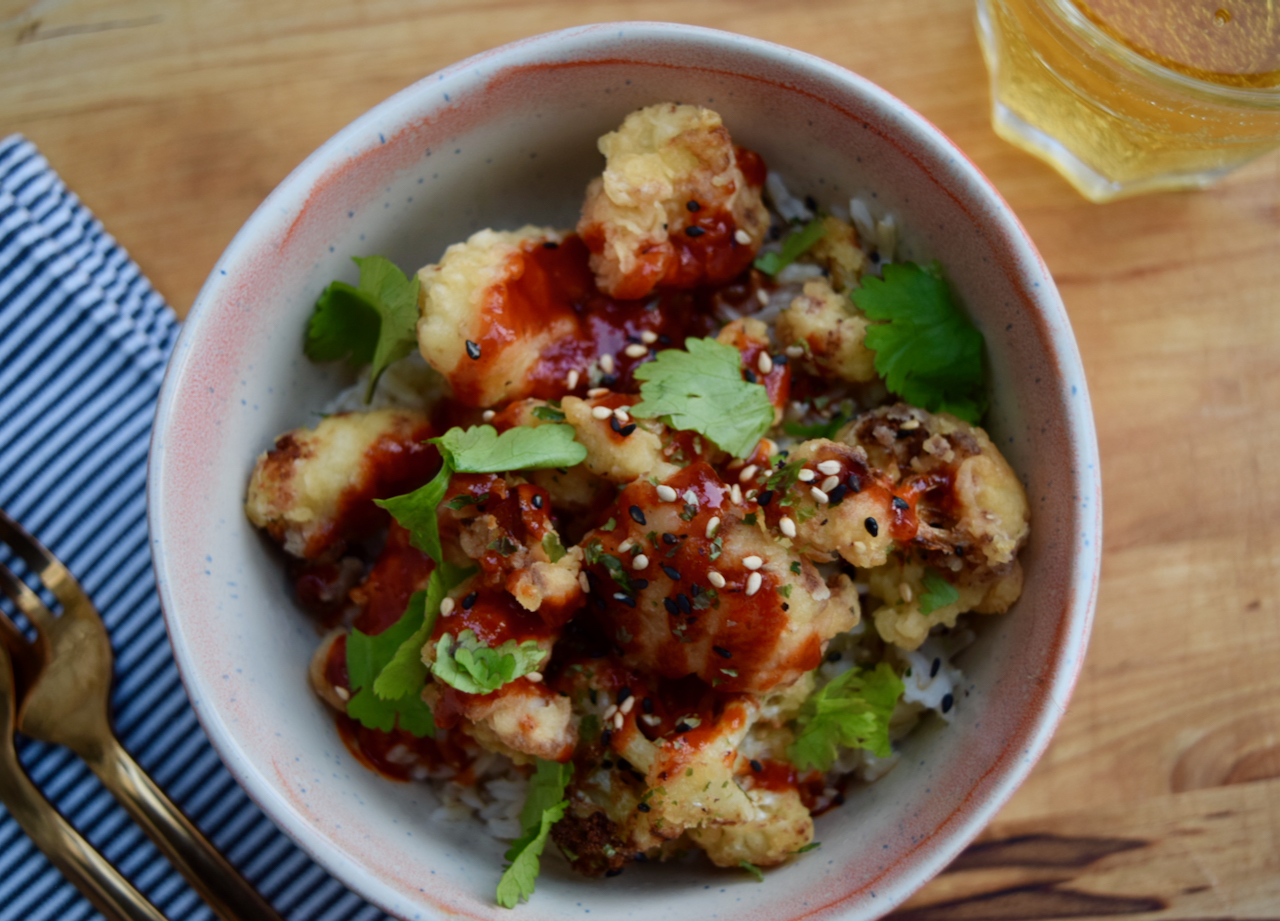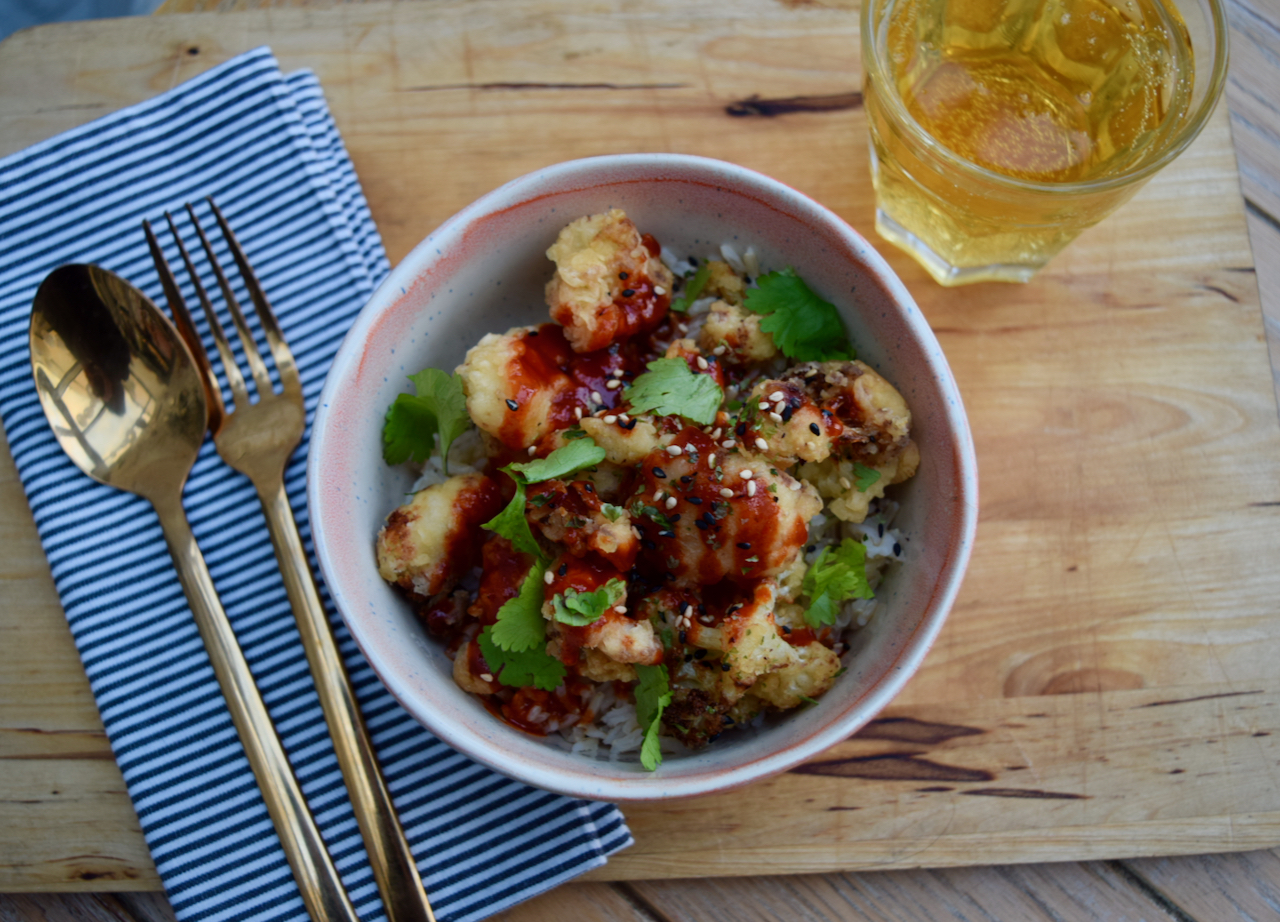 A beer is super with this, if your January is not dry.
If you're trying not to eat so much meat this new year then who knew KFC would be the way forward. The C on this occasion being cauliflower; unless you're George of course.
Lucy x
Korean Fried Cauliflower recipe
Serves a generous 4
You will just need bowls and pans for this
Korean Sauce
125ml gochujang, Korean chilli paste
60ml soy sauce, light is best, use less if yours is dark
2 tablespoon honey
4 tablespoons water
Cauliflower
Vegetable oil for frying
1 large or 2 smaller heads of cauliflower
2 eggs
120g plain flour
1 teaspoon salt
1/2 teaspoon black pepper
a pinch chilli powder
Sesame seeds or furikake and fresh coriander to garnish
Rice to serve
Start with the sauce. Add the gochujang, soy, honey and water to a small pan, stir well and gently bring up to the simmer. Take off the heat but leave in the pan as you'll need to re-heat once the cauliflower is ready.
For the cauliflower, remove the outer leaves and stalks then cut the florets into small bite sized pieces. In your first bowl beat the 2 eggs and in another mix the flour, salt, pepper and chilli powder.
Pour around 2 inches of oil into a high sided pan and heat over a medium high heat and line a large baking sheet with kitchen paper. Take your cauliflower florets and dip them into the egg first then the flour, ensuring each piece is well coated. Test the oil is hot enough by dropping in a tiny bit of cauliflower and if it sizzles and starts to brown the oil is ready. Cook a handful of pieces at a time, turning regularly, for around 3 minutes or until golden and crisp. Lay the crisp cauliflower onto your kitchen paper lined tray to drain and pop into a warm oven while you cook the rest of the batch.
Sprinkle with sesame seeds or furikake and serve, piping hot, over rice drizzled generously with the warm spicy sauce.