Simple Goan Fish Curry Recipe
I have never been to Goa and given the phenomenal overspend on our kitchen refit, never am I likely to. The staple food of this Indian state is fish curry and rice, predominantly coconut based. And I am not bloody surprised it's a staple, this Simple Goan Fish Curry is completely delicious, and given half the chance, I would eat this every day. My sister and I were walking the dogs yesterday and bemoaning our weekly meal routines and how our children eat the same dishes week in week out. We try to sneak new and interesting meals in, but they are mostly rejected by one or other of our numerous boys. Curry, however is, on the whole, welcomed with open arms and mouths. My family love a bit of spice and I don't want to sing my own praises, but Ben who is notoriously light on the compliment front said this Goan Fish Curry was the best thing I have ever cooked.
So, whilst beaming with pride, I thought I'd better make this simple dish and share it with you asap so you too can reap the cheek glowing rewards from your family. This lightly spiced curry can be made with any firm fish you have to hand. My favourite Ocado had some cod loins on offer so I used those, but go with any fish robust enough to stand up to a gentle simmer in the spiced coconut gravy. The spices are ground up with garlic and ginger, I used my NutriBullet, but a pestle and Mortar would also be good. These are simmered with the soft coconut milk and green chilli to create a gently warm and comforting dish which may become a staple dish for your family too. This curry is a meddled with version of one from the perfect Diana Henry, no relative, whose recipes and books I adore, do seek her out and be in awe.
This Goan Fish Curry is quick and simple enough to whip up for your family during the week, faddy mealtime requirements permitting, or fancy enough to serve for guests. I have served this to both groups, all of whom gave it a very warm reception and that's not just because it's quite spicy and their mouths were on fire.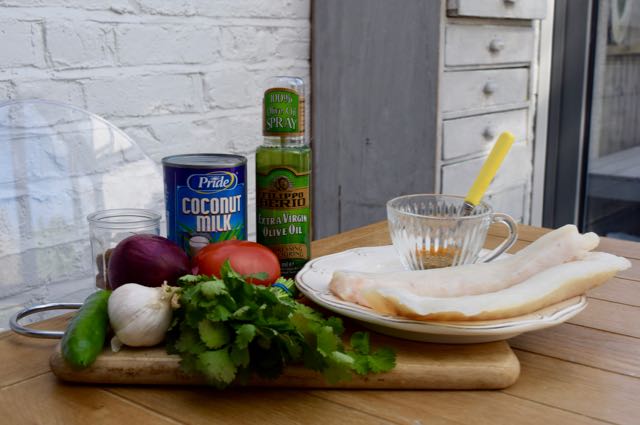 Not a frightening line up for this curry, although there are a few spices hiding in that pretty tea cup, although they were all in my cupboard, no special trips to Waitrose were made during the making of this post.
If you are serving this with rice, get this on the stove simmering while you make a start on your Goan Curry. Take your small food chopper, blender or pestle and mortar and add the peeled garlic and ginger. Do feel free to use lazy versions from a jar if you'd rather, I was just showing off with the fresh.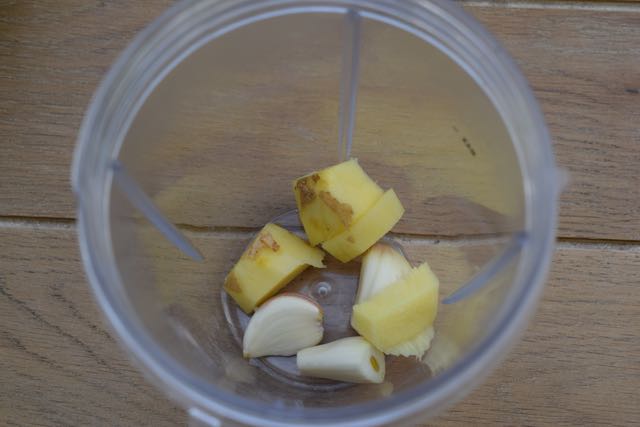 Tip in the spices next. These include ground coriander, cumin, chilli flakes and turmeric with all it's healing qualities.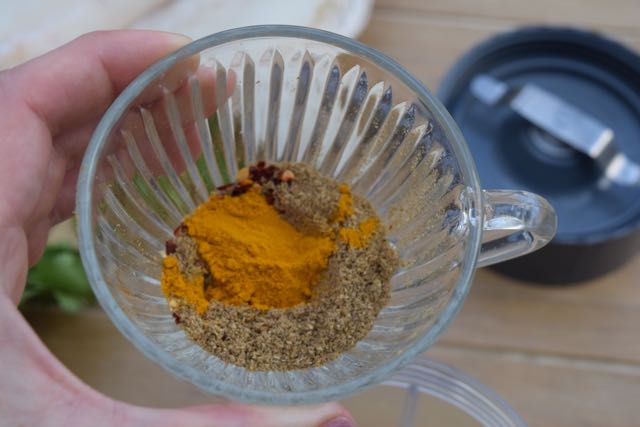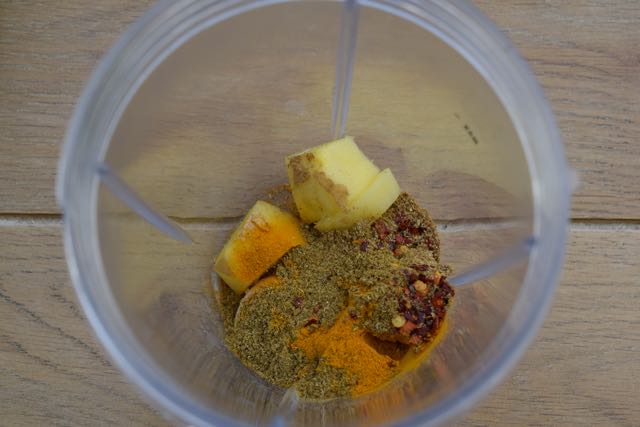 Process until you have a sort of unpromising looking, dusty dry paste then pop to one side while you prepare the curry base.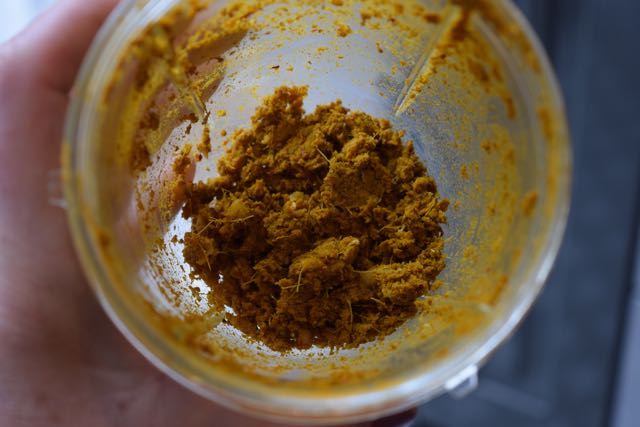 Take a large frying pan or sauce pan and add a couple of tablespoons of oil. Fry a finely chopped red onion until it's just starting to soften and brown at the edges. Ted's scared of the smoke alarm and feels the need to not leave my side whilst I am frying in case it goes off. He's not in my way at all.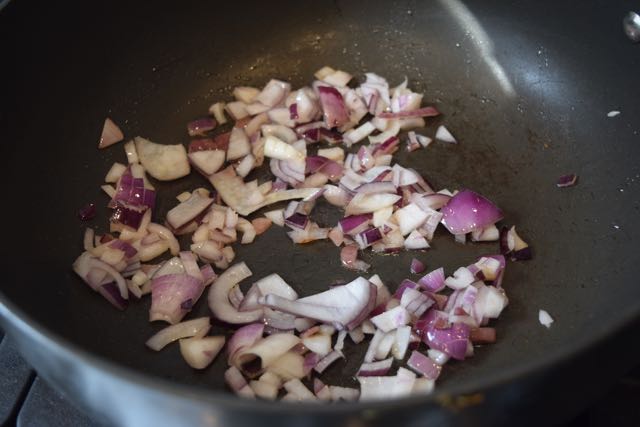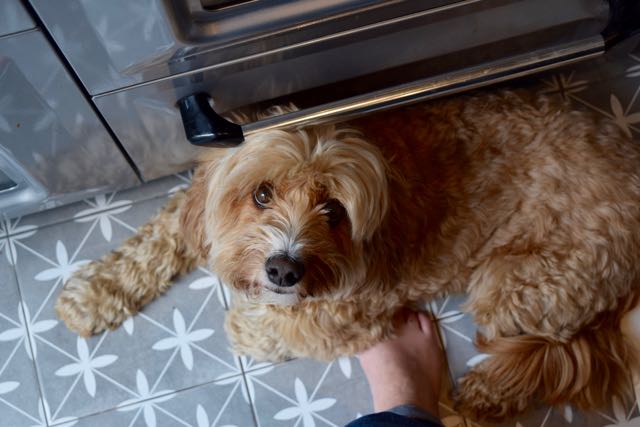 Next, tip in the chopped tomato and the spice mix and cook until the mixture becomes a thicker, dry-ish paste.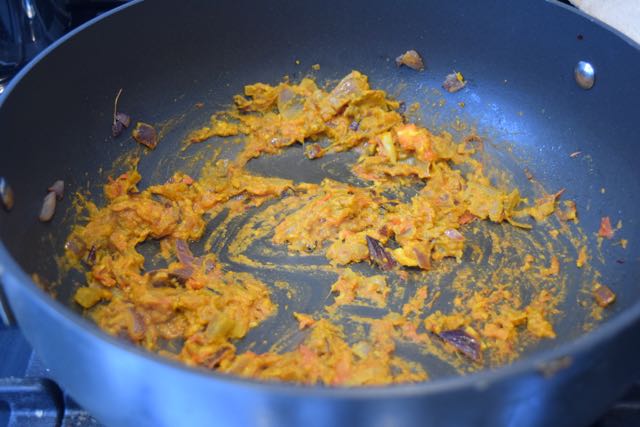 Pour in the coconut milk then stir in the brown sugar, lime juice and thinly sliced green chilli for a touch of additional heat.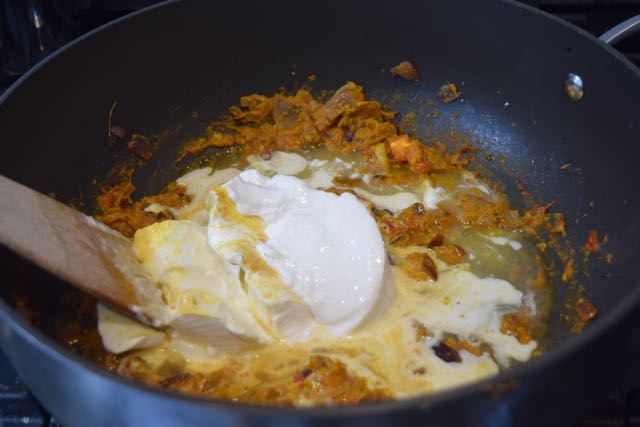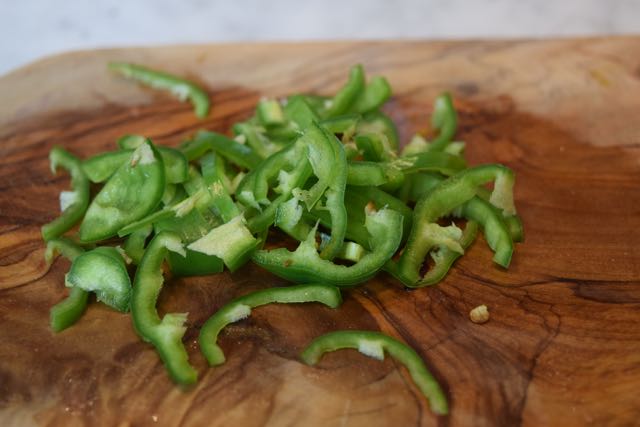 Simmer for 5 minutes to allow the coconut curry base to thicken a little then add in your chosen fish.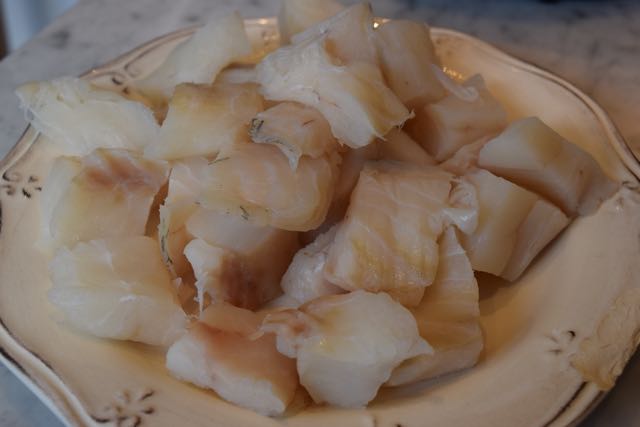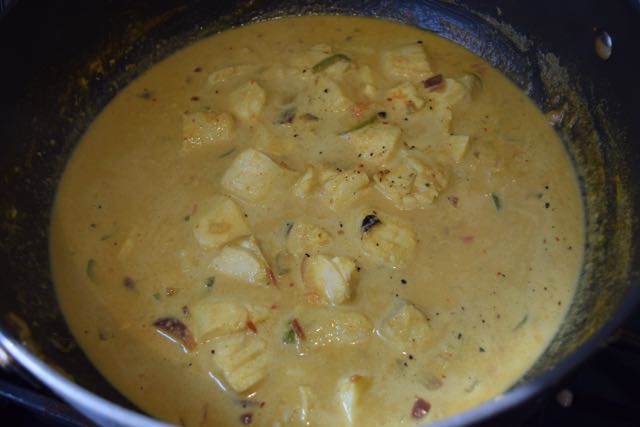 The fish will only take around 4 to 5 minutes to cook. Finish this simple, but most flavoursome curry with a good handful of roughly chopped fresh coriander and salt and pepper, if needed. I had a good few mouthfuls before I could decide just how much it needed.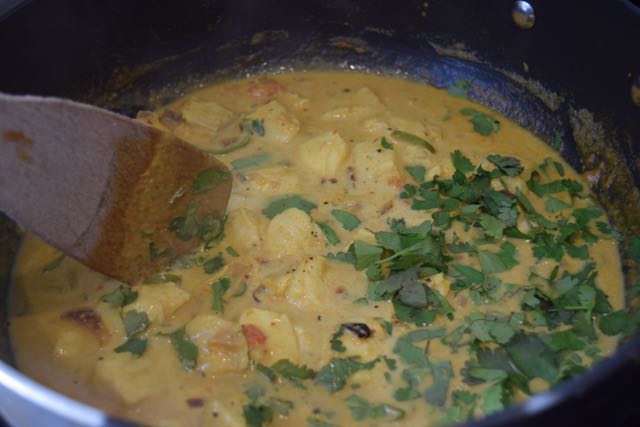 Serve this, piping hot and in a hot bowl or plate if it's for my Mother who is maniacal about a hot plate, with rice, noodles or some flatbread.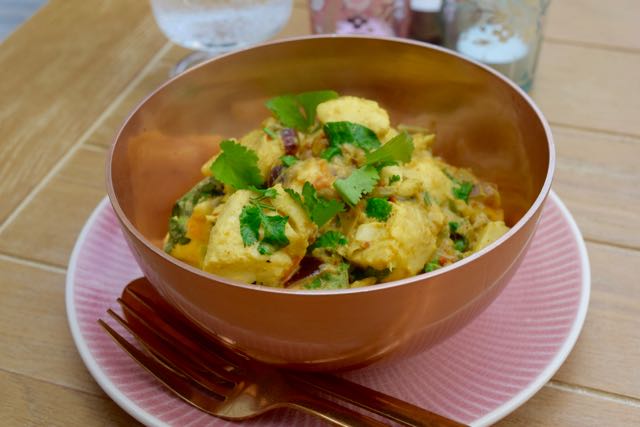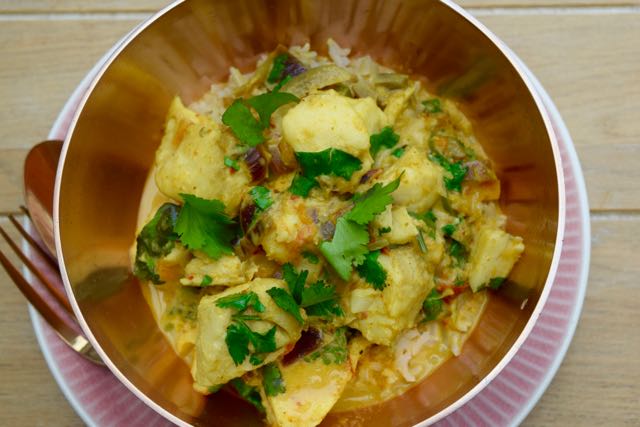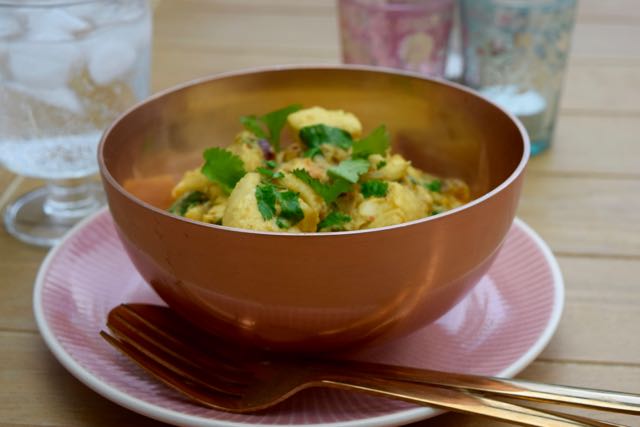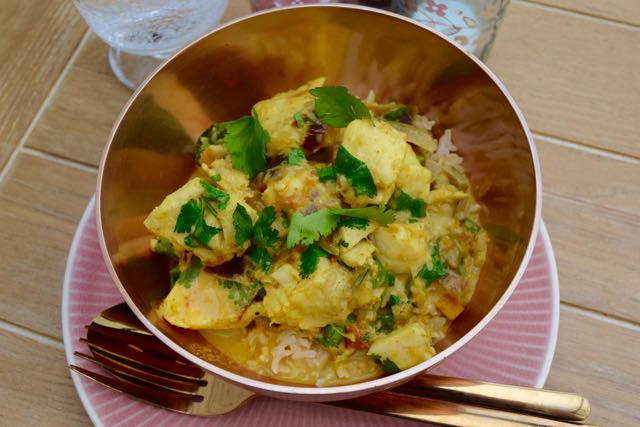 I love still finding recipes and dishes which I get excited about. When I feel like this, I find myself cooking my NBF dish for anyone who passes through our kitchen. So brace yourself, if you're coming for supper soon, I hope you like curry and don't wear a white top or trousers.
Lucy x
This post features an affiliate link to Amazon, whereby if you buy through this feature, Lucy Loves will make a tiny commission, at no extra cost to you, to put towards the up keep of this blog.
Simple Goan Fish Curry Recipe
Serves 3 to 4, appetite dependent 
You will need a small chopper or blender and a large frying pan
Spice Paste
2 teaspoons ground coriander
1 teaspoon ground cumin
1 teaspoon turmeric
1 teaspoon chilli flakes
3 to 4 garlic cloves, peeled
1 inch fresh ginger, peeled, or a heaped teaspoon from a jar
Curry
2 tablespoons oil
1 large red onion, finely chopped
1 large plum tomato, chopped
1 x 400ml tin coconut milk
1 tablespoon soft brown sugar
1 green chilli, thinly sliced
juice of half a lime
500g to 600g white fish, cod, pollock, haddock, coley, something firm, cubed
a handful fresh coriander, roughly chopped
salt and pepper
Rice, noodles or breads with some more fresh coriander to serve
In a small chopper or blender add the ground coriander, cumin, chilli flakes, peeled ginger and garlic cloves. Process until you have a sort of dusty paste then pop to one side for the moment.
In a large frying pan heat 2 tablespoons of oil and add the chopped red onion. Cook until soft and just starting to brown at the edges. Add the spice mix and the chopped tomato and cook until the mixture is a sort of dry paste, just a couple of minutes.
Pour in the coconut milk, stir well then add the brown sugar, lime juice and sliced green chilli. Simmer for 5 minutes or until the sauce has thickened slightly then drop in the fish. Cook for a further 4 to 5 minutes or until your fish is just cooked.
Check for seasoning then stir though the chopped fresh coriander. Serve piping hot with your chosen carb and some extra freshly chopped coriander.