Singapore Style Noodle Soup Recipe
This week, I have been creating recipes using some wonderful treats from those kind people at Wing Yip. They sent me a hamper of goodies from their Oriental Food Markets and asked me to fashion some ideas using these best sellers. I love a challenge so embraced this with open arms and with thanks to Wing Yip.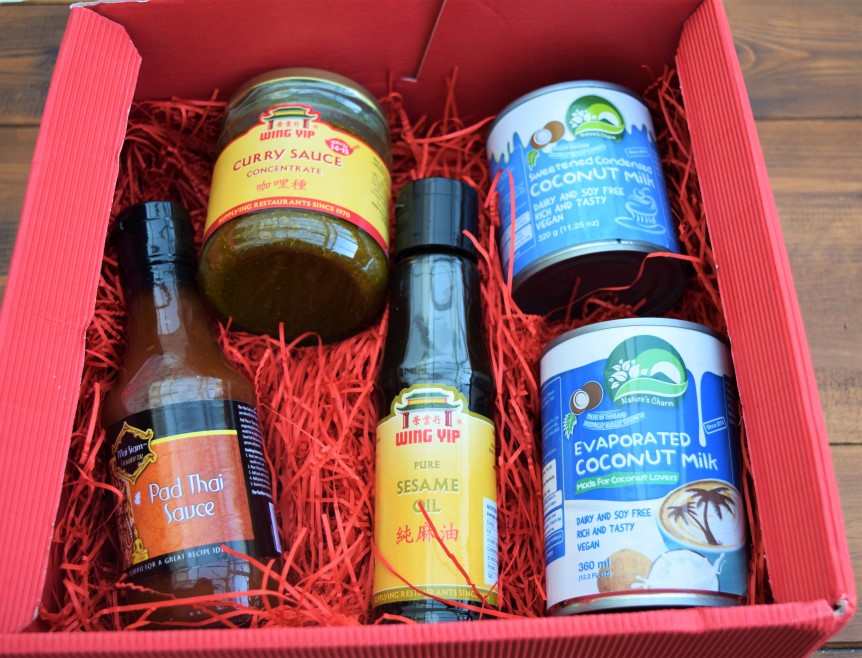 George is a huge fan of Singapore noodles, but only the ones from the supermarket chilled cabinet, he thinks the ones from Chinese restaurants contain too many alarming vegetables. So I decided to create this Singapore Style Chicken Noodle Soup in his honour, and it works brilliantly with the Curry Sauce and Sesame Oil from my Wing Yip treat box. This curry paste is the type you could use for Katsu Chicken Curry, but it worked amazingly in my soup, adding a slight thickness and just enough warmth and spice. The sesame oil added a wonderful savoury taste to the final dish.
This rich, lightly curried broth contains soft rice noodles, crisp vegetables and I chose chicken to add to mine. Prawns would be amazing too, or just leave out for a vegetarian soup. Tailor your vegetable choices to suit any fussy eaters *Georges* you have in the house. He just about tolerates peppers, but randomly enjoys spinach, so I stuck with these. I also added some carrots as an excuse to play with my new vegetable Spiralizer.
This is so quick to make, but full of comfort and flavour, just perfect for the cooler autumn evenings. Ignore the fact we are meant to have a mini heatwave this week, as I am trying to create a romantic autumnal soup based mise-en-scène * I did Film Studies A Level can you tell?*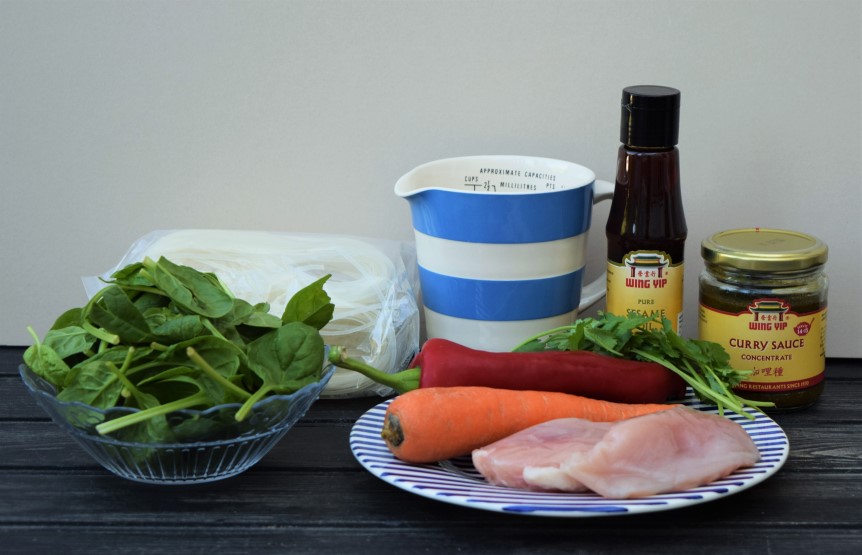 Here's my incredibly simple soup ingredients line up. Including my delicious samples from Wing Yip. I used thick rice noodles but go with egg ones, udon, you decide, this is a great recipe for using up store cupboard bits and bobs.
Make a start on this soup by taking a large saucepan and adding some oil. Heat over a medium flame then add your chopped chicken breasts, or prawns if you would prefer.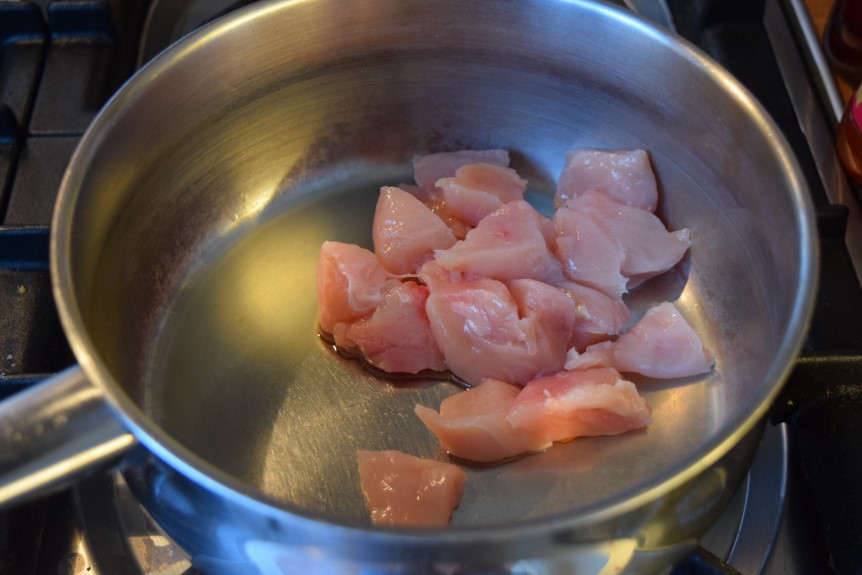 Sauté until just starting to cook through and turn a little golden, bearing in mind the prawns will take much less time to cook than the chicken.
Next up, stir through the curry paste. Mix this well then pour on the chicken or vegetable stock.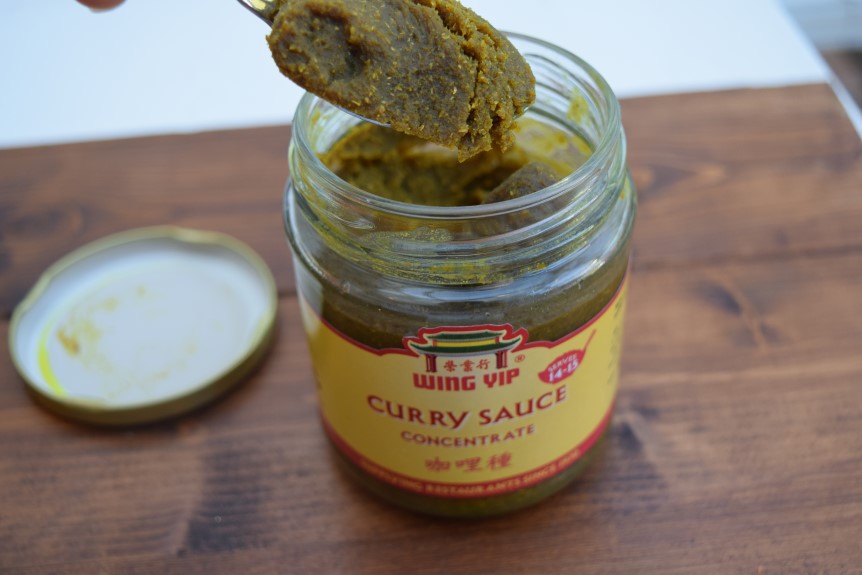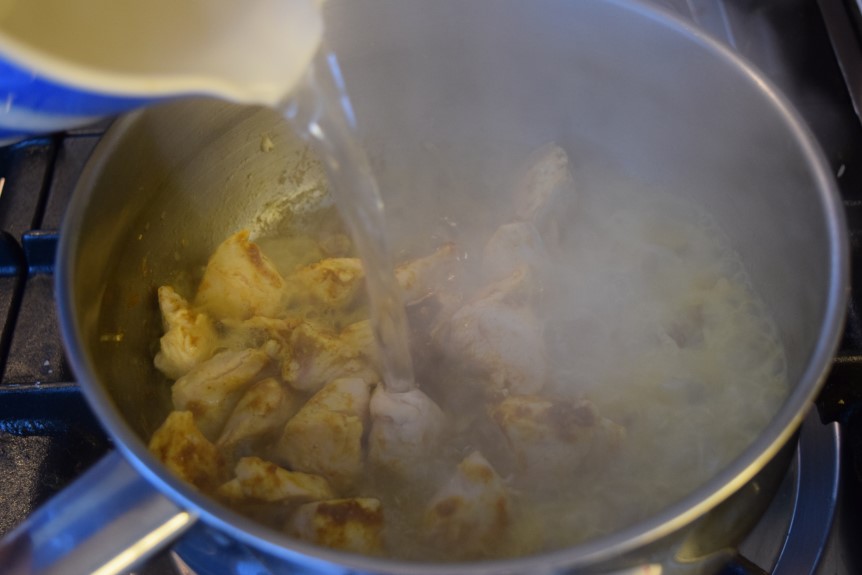 Bring up to the simmer while you prepare your delicious child, or fussy adult friendly vegetables.
Ta-dah, marvel over my newly found spiralizer skills. George and I spent a happy 20 minutes spiralizing anything within a 10 yard radius, although I drew the line at black pudding.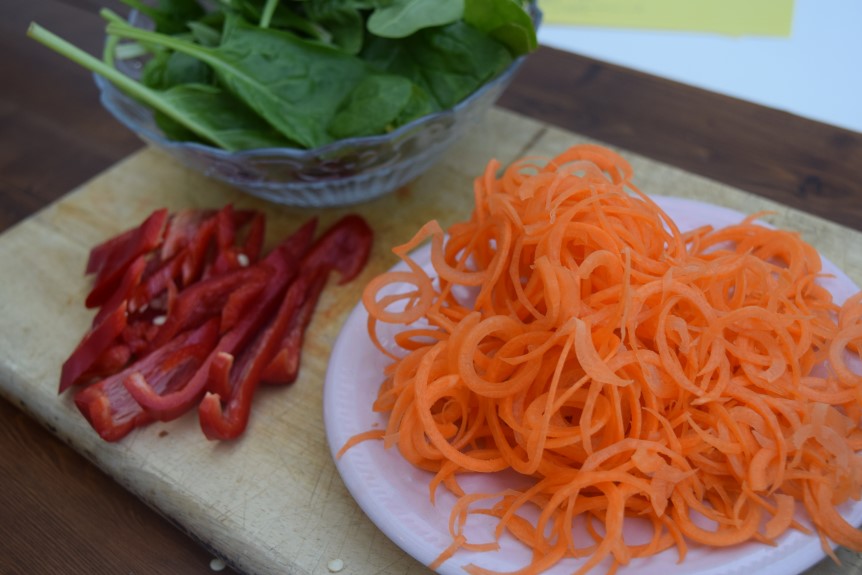 Tip these, along with your noodles, into your fragrant soup base, stir then add in the toasty scented sesame oil. Simmer for a couple more minutes to finish cooking the chicken and vegetables.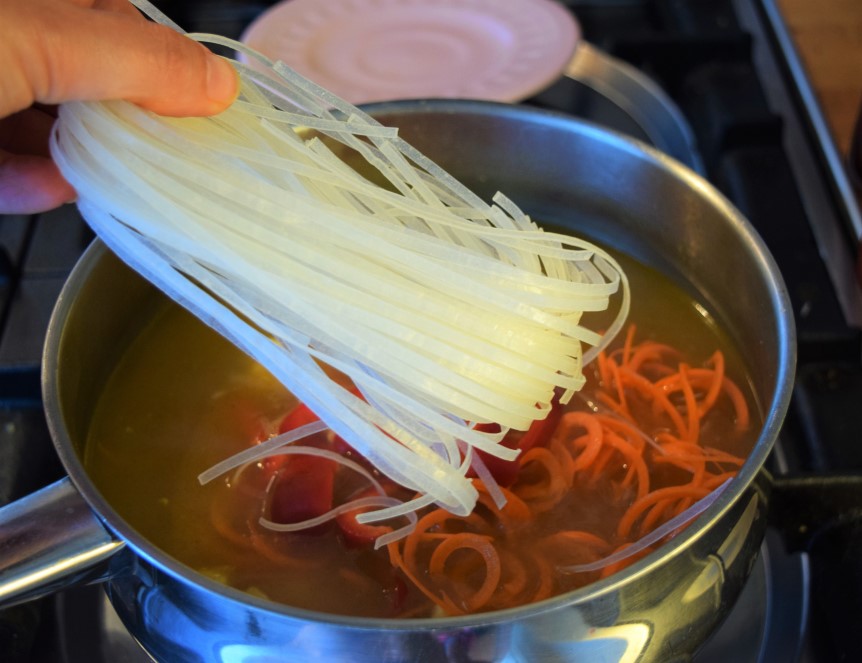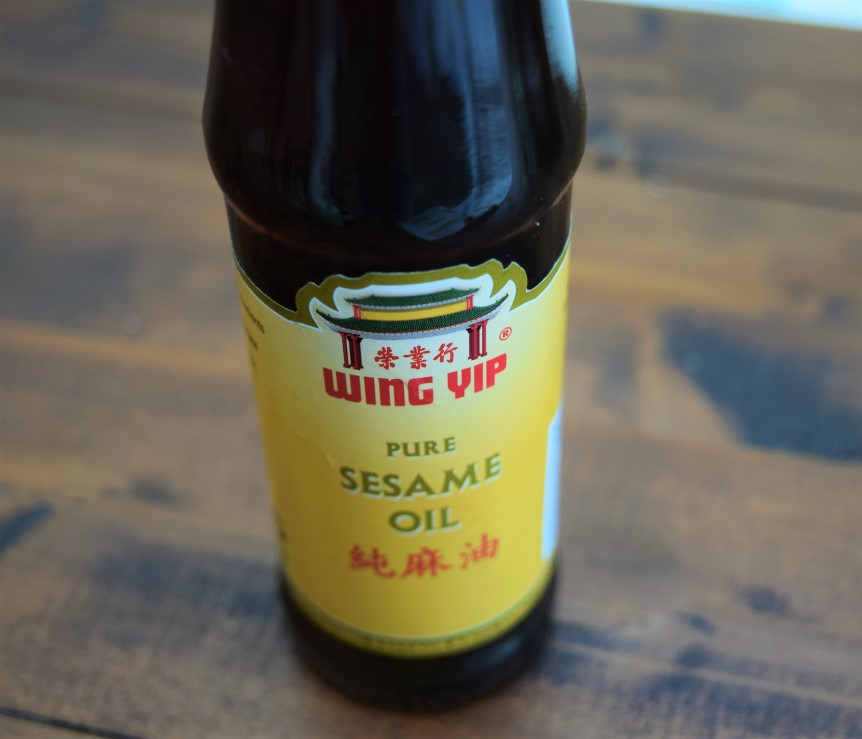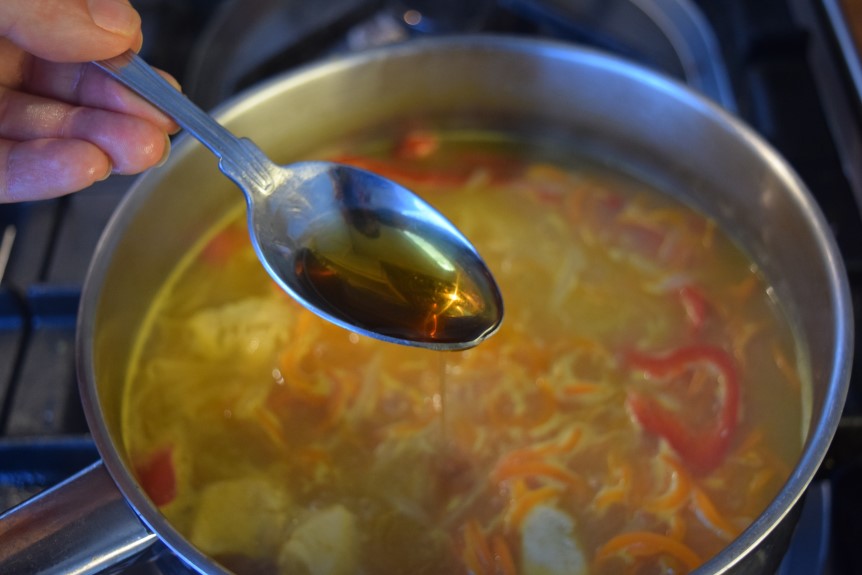 Finally, add in a handful of spinach leaves, stir, wilt for a further minute, then, serve, piping hot, in warmed bowls with a coriander garnish, if you wish.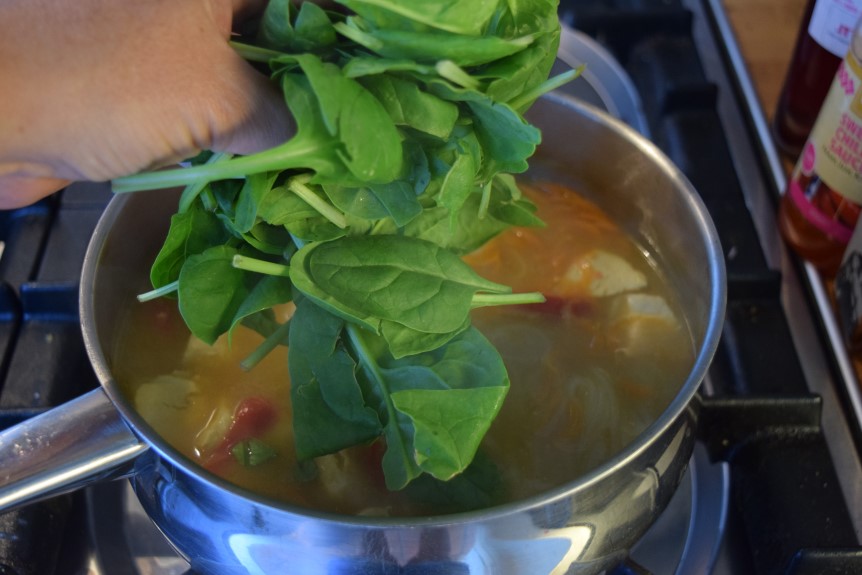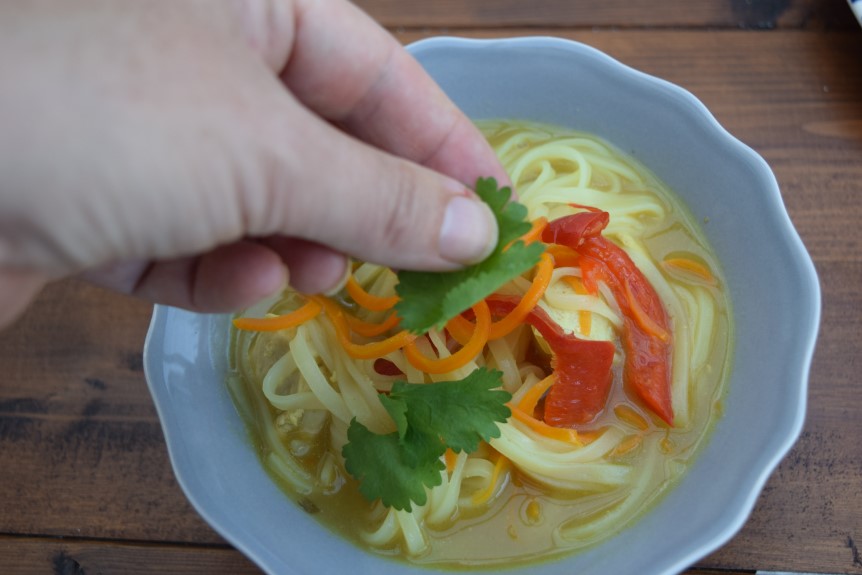 This was inhaled by the whole family, I didn't even get a bowl myself, which is not uncommon in our house.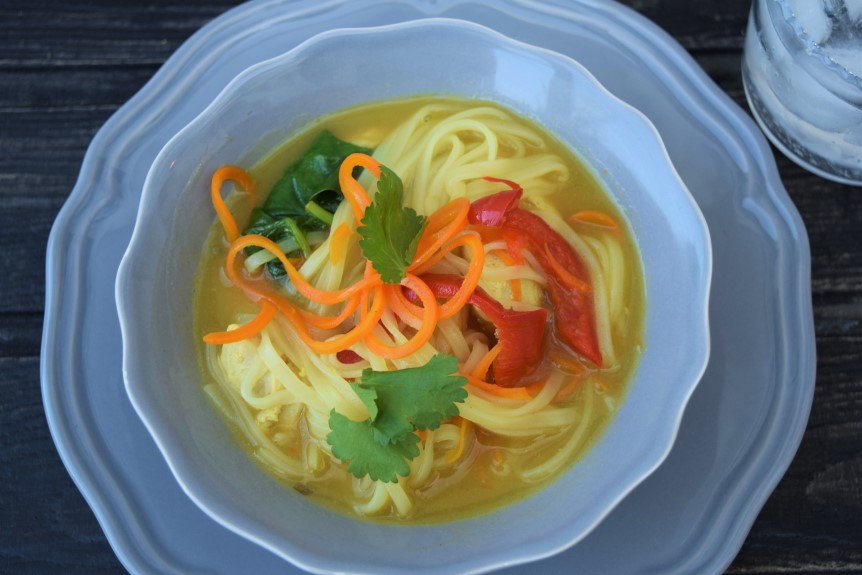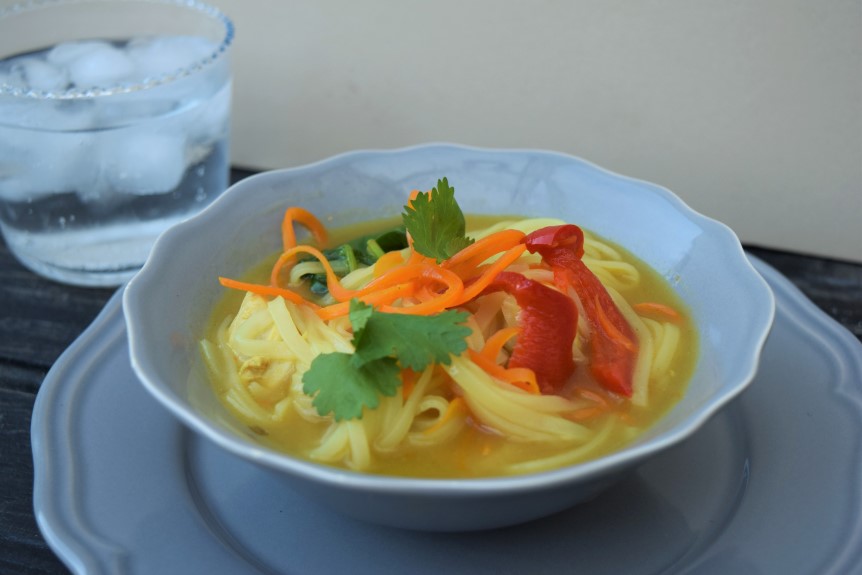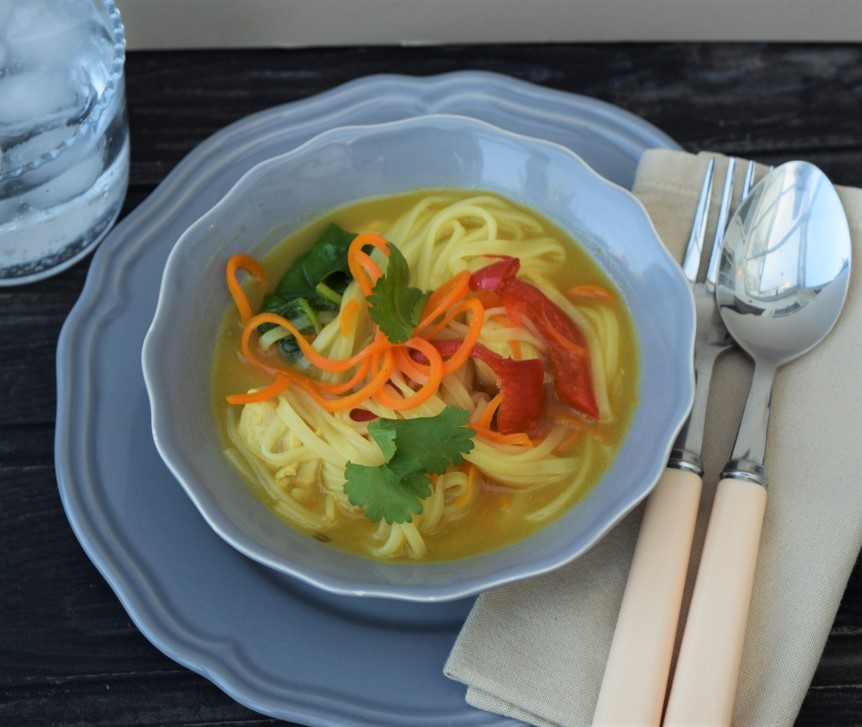 This Singapore Style Noodle Soup has been given the George Fussy Eater Seal of Approval and believe you me, these awards are very rarely given out. A big thank you to Wing Yip for the inspiration for this recipe, although with such delicious ingredients, it's not hard to create wonderful dishes.
Lucy x
Wing Yip kindly provided me with ingredients to try this week, however, all the opinions and ramblings are, as always, unbiased and my own.
Singapore Style Noodle Soup Recipe
Serves 3 to 4 , appetite dependent
You will just need a nice big saucepan
1 tablespoon oil, I used flavoured wok oil
2 small or 1 large chicken breast, cubed
2 teaspoons curry paste, I used a Wing Yip Curry Concentrate
1 litre chicken or vegetable stock
1 tablespoon Wing Yip sesame oil
1 large carrot, chopped or spiralized if you have one
1 small red pepper, cut into strips
a small handful fresh spinach
Optional other vegetables to add could be bean sprouts, spring onions, you choose
100g rice noodles, or any other noodle you prefer
Salt and pepper or soy sauce to taste
Fresh coriander to garnish
Take a large saucepan and add a tablespoon of oil. Add your cubed chicken breasts and stir fry for 2 minutes or until just starting to cook through. Stir in the curry paste, mixing well then pour in the chicken stock.
Bring to the simmer then add your chosen vegetables and noodles. Cook for a further 2 to 3 minutes until the vegetables are cooked through. Stir in a tablespoon of sesame oil and your spinach, cook for another minute then serve in big bowlfuls, garnished with some fresh coriander.