Spooky White Chocolate Popcorn Recipe
It's been a busy week, it's half term and it's the run up to Halloween. Both these things equal me being out of pocket. Trick or Treating is off the menu for my boys now what with one of them being a man and the other one looking like one. No one would want to see George at their door on Halloween because a) he's quite tall and if he was dressed as a zombie would be terrifying and b) to give him enough sweets to fill him up would cost the poor residents of south west London around £50, he has a huge appetite for sugar. So this year, it's all over priced amusement parks and night clubs serving odd coloured cocktails for my boys. But that doesn't stop me wanting to decorate the house with faux spider webs and fill a huge bowl with lurid jelly sweets. Likewise, I can't let Halloween pass without posting a recipe including amusing eyes and food colouring, so get stuck into my Spooky White Chocolate Popcorn Recipe.
Popping corn at home is one of my favourite things to do. It's actually quite a healthy treat if you don't then slather it in butter, golden syrup and sea salt. It's quick, incredibly cheap and bloody delicious. So when I found this brilliant recipe on the Tesco website, with thanks, I knew this Spooky White Chocolate Popcorn was going to be my Halloween treat of choice. Simply pop the corn in a pan on the stove then coat in white chocolate coloured to whatever spooky shade you choose. I went for green and purple, as these look classically spooky to me, however, my fancy coloured pastes were slightly too subtle and I ended up mixing quite a few colours to get the correct shades. The little bottles of liquid colours would probably be best here, just use as many drops as you like until your frightening colour of choice is achieved. Then add some coloured sugar sprinkles or glitter and some staring eyes for added fun. I got my edible eyes from Amazon, but should you prefer you can make your own from white chocolate buttons and a black icing pen without too much drama.
Not only is this a brilliant Halloween treat I can safely say it's bloody delicious. Not expecting it to taste amazing I tentatively ate a handful and then spent the rest of the afternoon with my hand in the cauldron. The only thing to stop me snaffling was when Clyde started eating it and finished it off before I got another look in.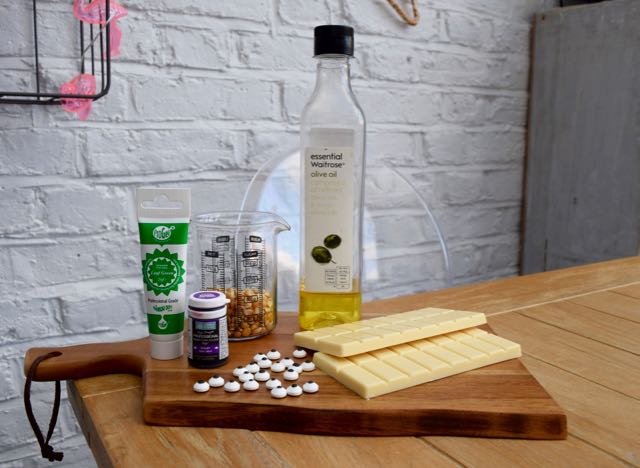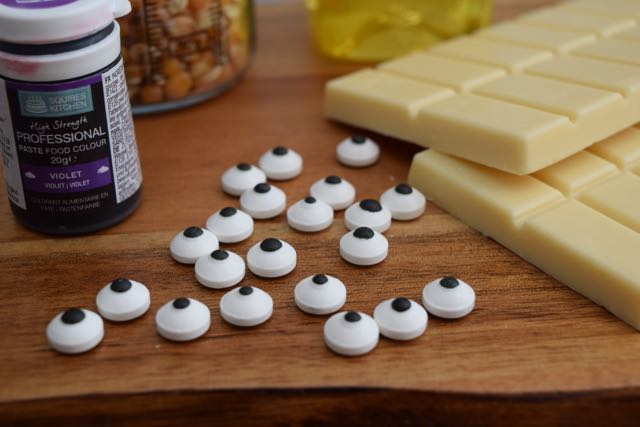 Here's my scary line up for the popcorn including these brilliant edible eyes. Beware, they watch you while you sneak giant handfuls of the corn.
Make a start on this treat by heating a tablespoon of oil in a large lidded saucepan over a medium heat. When the oil is hot, tip in the popcorn.
Pop the lid on and give the pan a good shake. Keep it moving until the corn starts popping then shake occasionally so it doesn't burn. This will take between 3 to 5 minutes, remove the pan from the heat when the popping sound stops.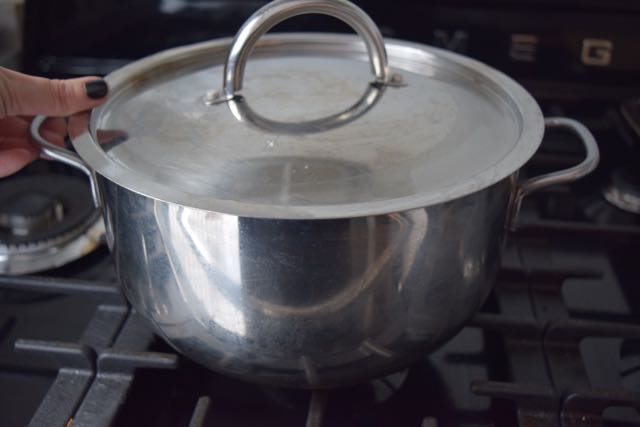 Don't burn your fingers on this, use a tea towel. I have asbestos fingers and wanted to show off my week old manicure.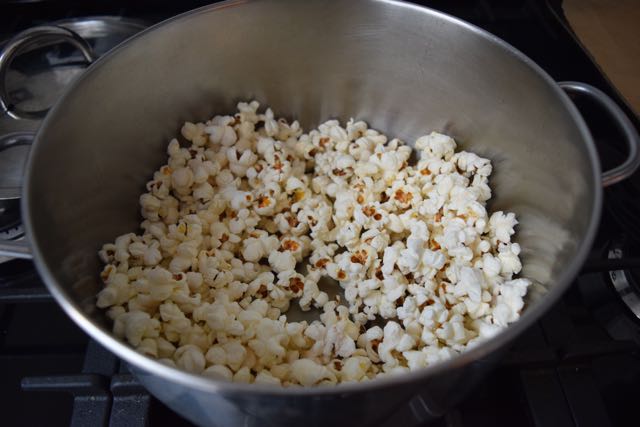 Tip the corn onto a lined baking tray to cool and at this point you can pick out any un-popped corn kernels. These can be real teeth breakers if you leave them in.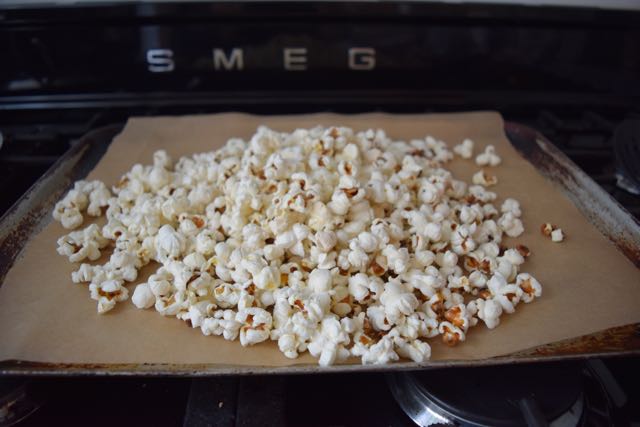 Now for the chocolate and spookiness. Take a bowl and add the white chocolate. Melt this in the microwave in 30 second bursts or over a pan of simmering water until just starting to meld together. Keep an eye on it, as white chocolate can burn easily.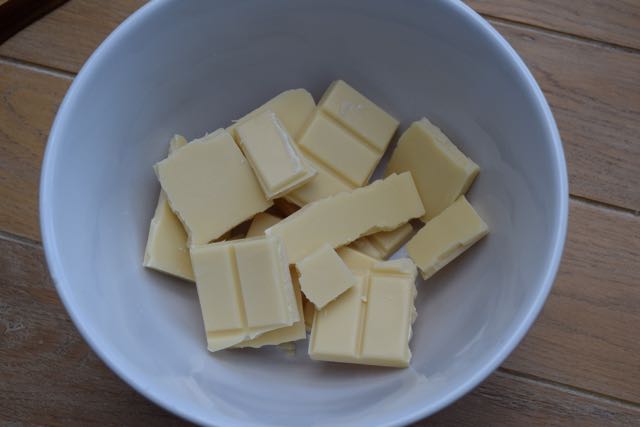 Depending on how many colours you are using, divide the melted chocolate up into separate bowls. Now add your food colourings of choice. I went purple and green, why wouldn't you?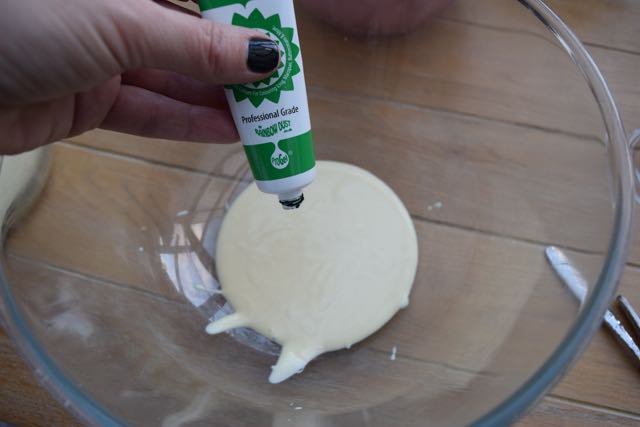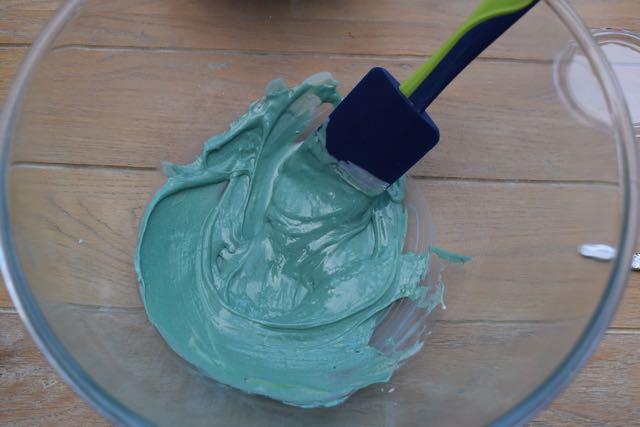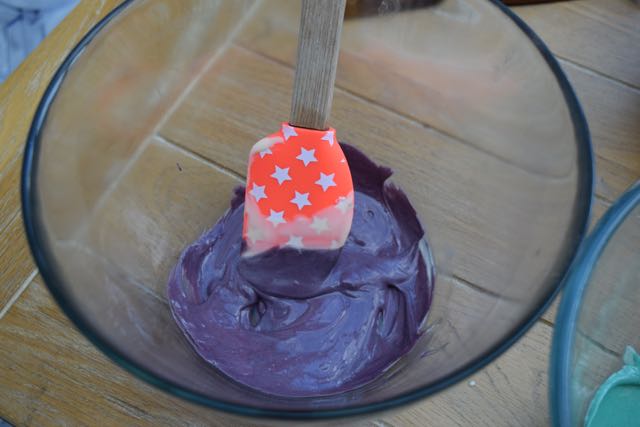 This was not quite the spooky green I was after as it turned out to be khaki so I had to call in some yellow, likewise my purple got a touch of pink added and it all got a bit art GCSE.
Tip in the popped corn and coat evenly, not worrying if some accidentally falls into your mouth.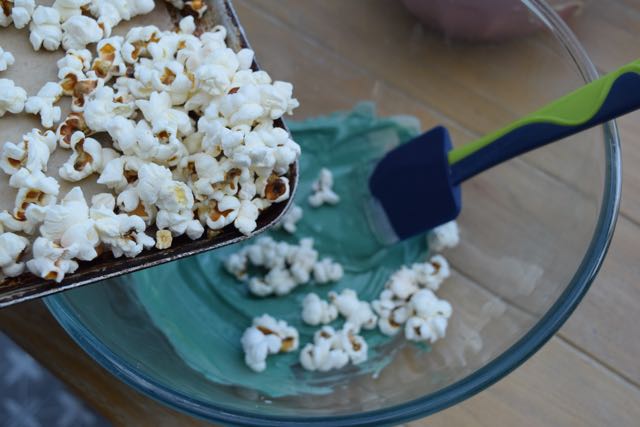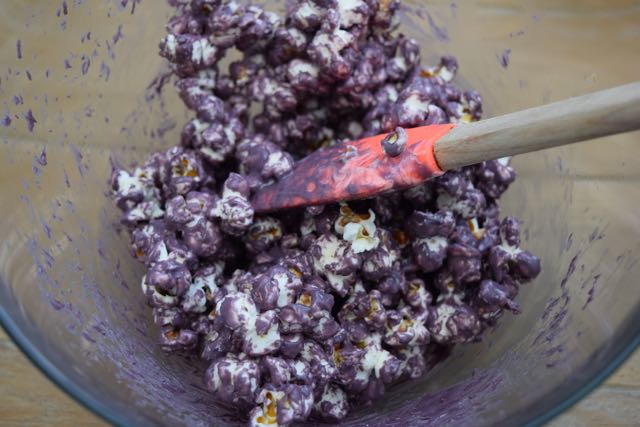 Tip your coated corn back onto the lined baking tray and add your spooky eyes and any sprinkley bits you fancy.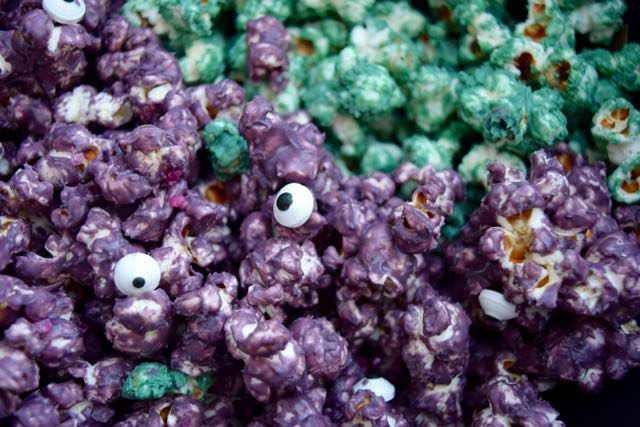 Pour into a cauldron if you have one, or any other Halloween based receptacle. Let the children devour this by the handful, if they can wrestle it away from you, that is.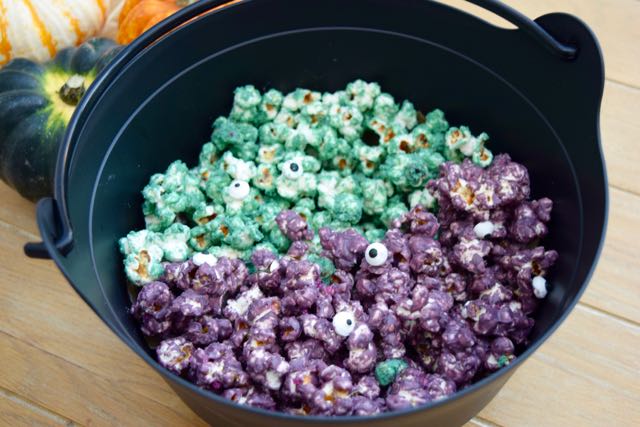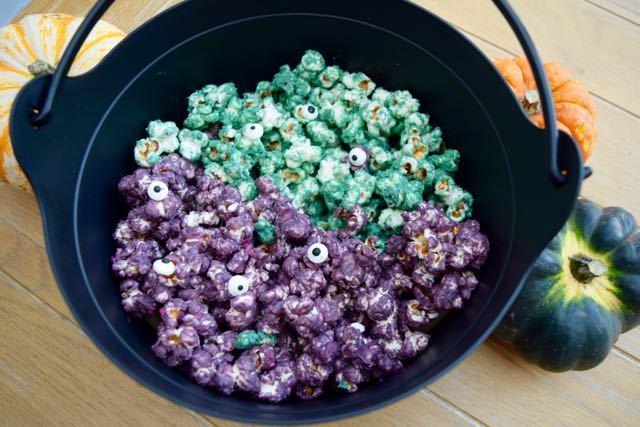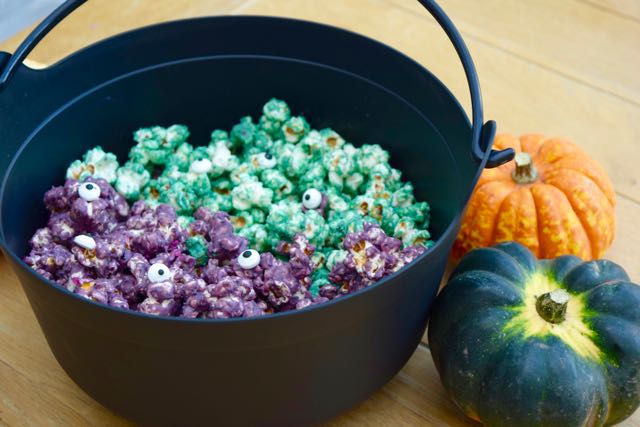 I fear I may have eaten three quarters of this batch. It is now sitting around my waistline in a spooky popcorn shaped spare tyre. But it's worth it. This is most certainly a treat not a trick.
Lucy x
This post contains an affiliate link to Amazon. If you buy via this link, Lucy Loves will receive a tiny commission, at no extra cost to you, to buy more spooky eyes. Thank you. 
Spooky White Chocolate Popcorn Recipe
Serves anywhere between 1 to 4 hungry children/adults
1 tablespoon oil
70g popping corn
200g white chocolate
Green food colouring, or use two colours or three even
Edible eyes, or fashion your own using white chocolate buttons and black icing pens
Spinkles and glitter if you like, to decorate
Take a large saucepan and heat the tablespoon of oil over a medium heat. When the oil is shimmering, tip in the popping corn and put the lid on. Give the pan a good shake to ensure the corn is coated in oil. Keep shaking until the corn starts popping then shake occasionally to ensure the corn doesn't burn. It should take around 3 to 5 minutes for the corn to have popped completely. Turn the heat off when the sound of the corn popping stops.
Tip the cooked corn onto a lined baking sheet to cool.
In the meantime, melt the white chocolate in a microwave in either 30 second bursts or over a pan of simmering water. Check every 3o seconds to make sure the chocolate doesn't burn or take off the simmering pan once the chocolate has just started to melt completely.
If using more than one colour divide the chocolate into 2 or 3 bowls and stir in enough food colouring until the white chocolate is the colour you require. Tip in the cooled popcorn and coat in each coloured chocolate, stirring well to ensure good coverage.
Spread the coloured corn onto the baking tray and decorate with sprinkles and edible eyes for added spookiness. The corn is best eaten on the same day which shouldn't be a problem.
SaveSave
SaveSave
SaveSave
SaveSave