Summer Fruit Sponge Recipe
I enjoy nothing more than a large slab of sponge cake. Just plain, but not boring, vanilla sponge cake. It doesn't have to be too light, dense is good too. It just has to be simple and delicious. I make lots of cakes, some with chocolate chips, some coffee flavoured, some laced with caramel but really all I actually want to eat is a big piece of vanilla sponge cake. So step forward and take centre stage my Summer Fruit Sponge.
This recipe, courtesy of those wonderful types at The Kitchn, with thanks to them, is a total keeper. This is my dream bake in so many ways. This sponge cake itself is not too light and not too heavy but has a wonderful buttery, vanilla flavour. Top this dream sponge with lightly sweetened, whipped double and sour creams and adorn with the summer fruit of your choice and you need provide me with no other pudding options for the rest of my life and I would be happy. A bit dramatic I know, but wait until you've tried this for yourself before handing me a BAFTA.
I chose a couple of my favourites to decorate this cake. Those being nectarines for their intense fruity, almost floral taste and some blueberries for colour as well as flavour. But the options here for fruit add ons are endless, especially at this time of the year where soft and wonderful fruits are abundant. The other complete bonus regarding my dream Summer Fruit Sponge is the sheer quantity this makes. This is a wonderful big dish of a cake, serving as many as 12 people. Or one Lucy. If you are asked to take a pud to a lunch party, this is your man. Not only will people love you for bringing this amazing dessert with you, but having to share it with other guests will stop you troughing the whole lot yourself.
Here's the line up for the soft slab of loveliness. Minus the eggs which I forgot, because none of us are perfect, least of all me.
Let's crack on with this simple sponge cake then we can deal with the mouthwatering cream and fruit topping later. Pre heat your oven to 160 degrees and butter a 9inch by 13inch dish ready for the cake. I am led to believe in new money this dish is 33cm x 23cm. Next, take your soft butter and caster sugar and cream this in your stand mixer or in a large bowl with a spoon, until lighter in colour and texture.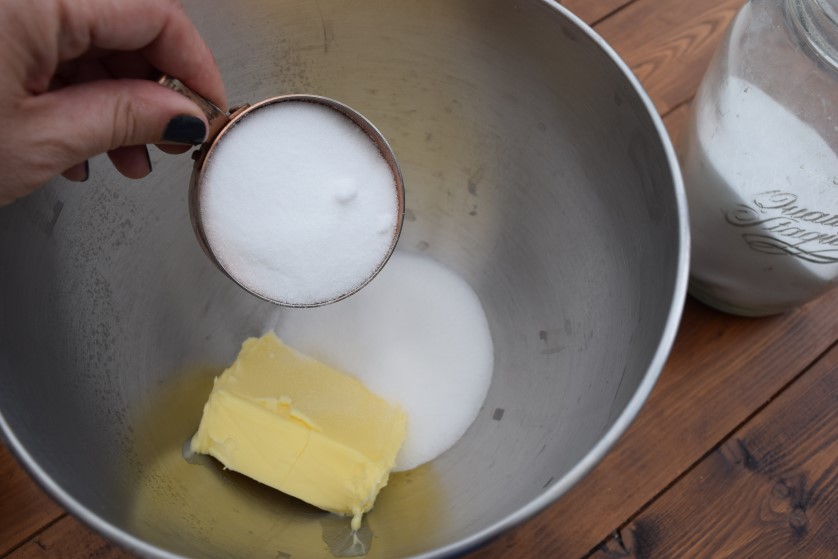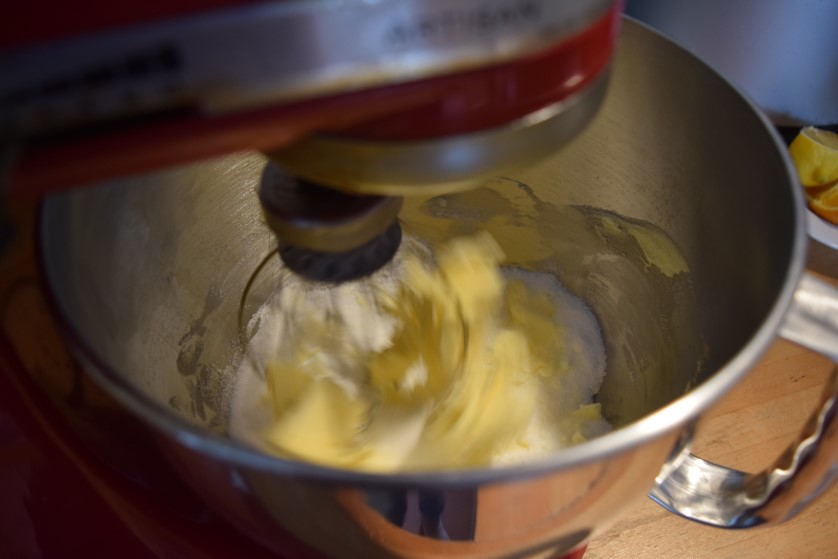 Next, add the eggs, one at a time, and mix into the butter and sugar.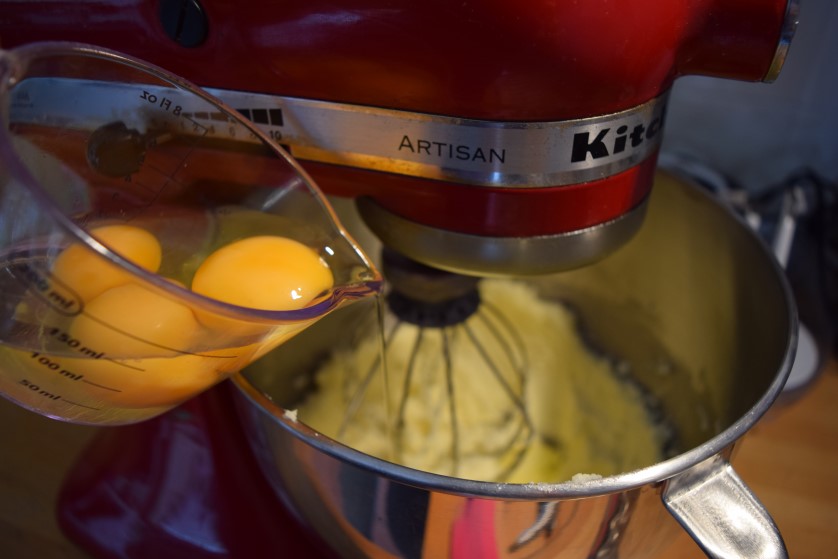 Beat this mixture until it is light and creamy. Tip in the plain flour, baking powder and salt and give the mix another beating. Finally pour in the milk and vanilla and beat again.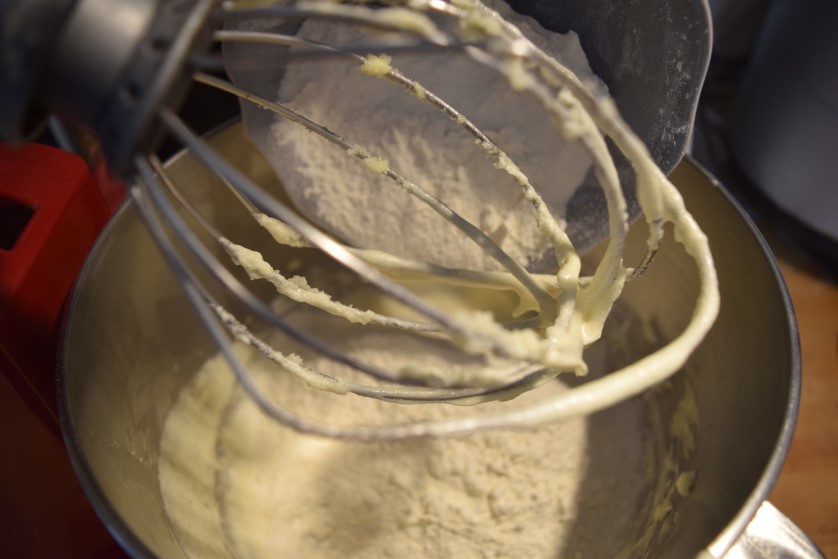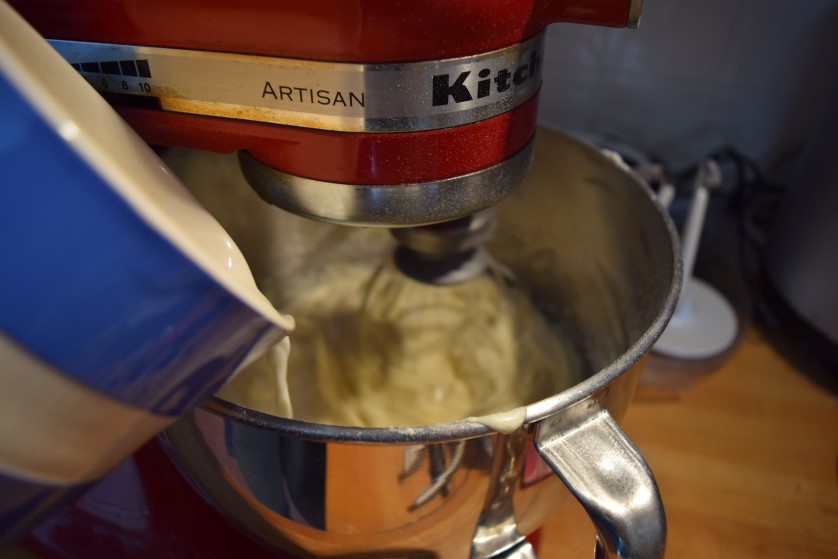 The next bit is slightly rogue but bear with. Beat this at low speed *elbow grease at the ready* for 30 seconds then on medium speed for a further 3 minutes. The mixture may start to look curdled but by the time it's finished, it should be creamier.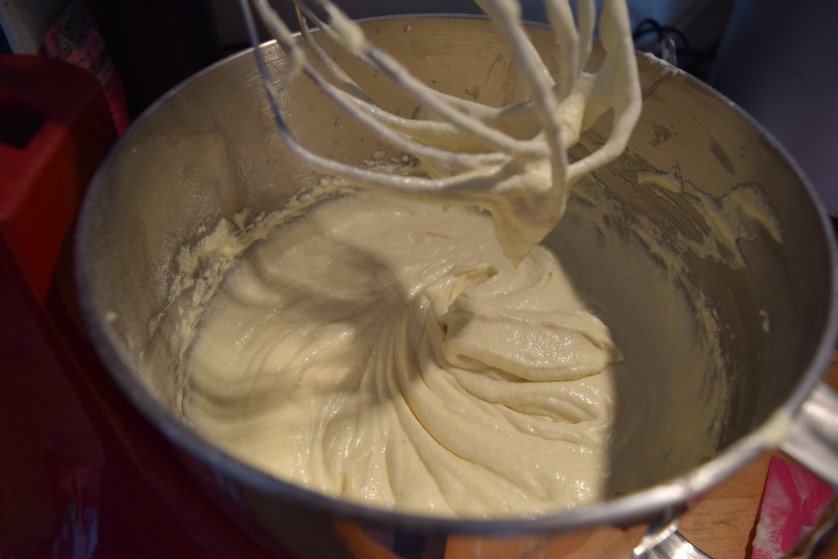 Pour this creamy mixture into your buttered dish and pop in the oven for between 40 and 50 minutes. Mine was done at nearer 50 minutes, but keep an eye on it. The cake is done when golden and firm to the touch and a skewer comes out clean when poked in the middle.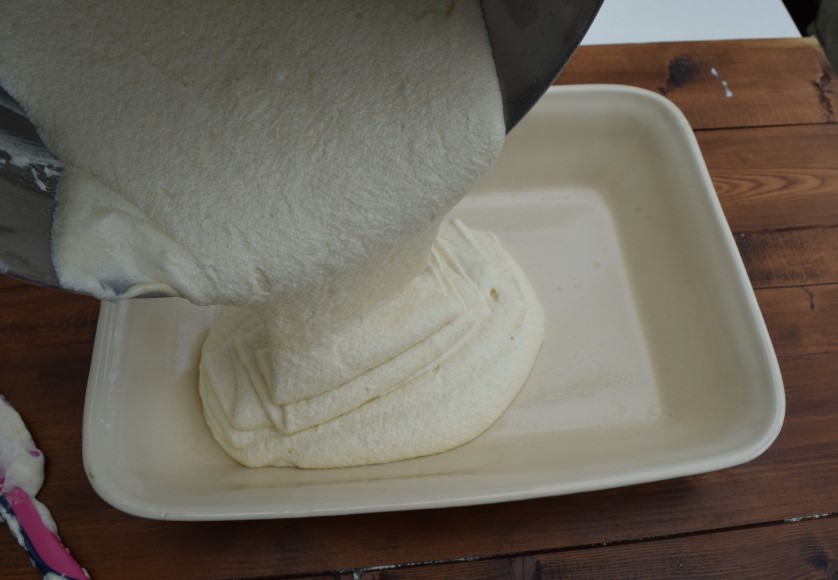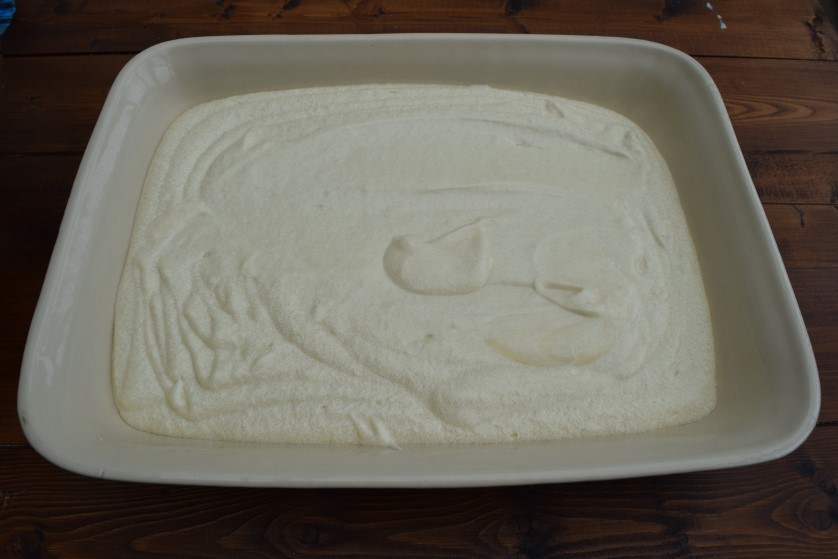 This big dish of golden sponge is so tasty, I could eat this straight from the dish.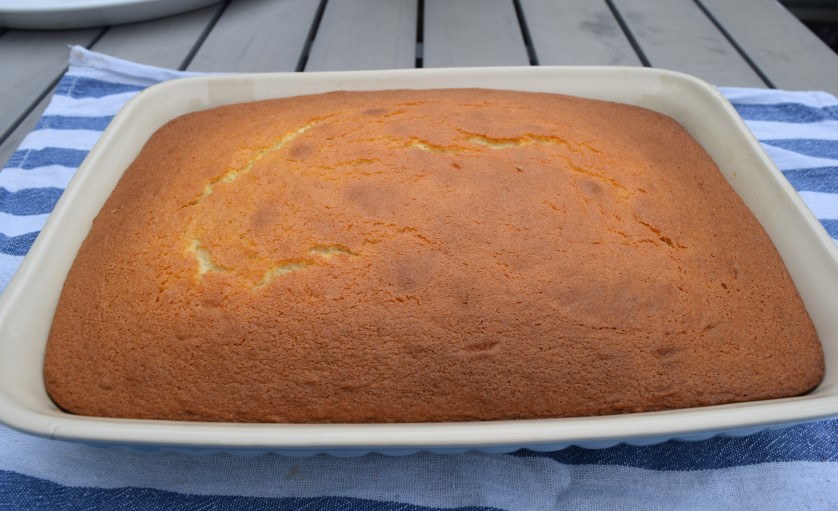 Leave this for an unbearable hour to cool down completely. Distract yourself during this endless waiting time by preparing the cream and fruit.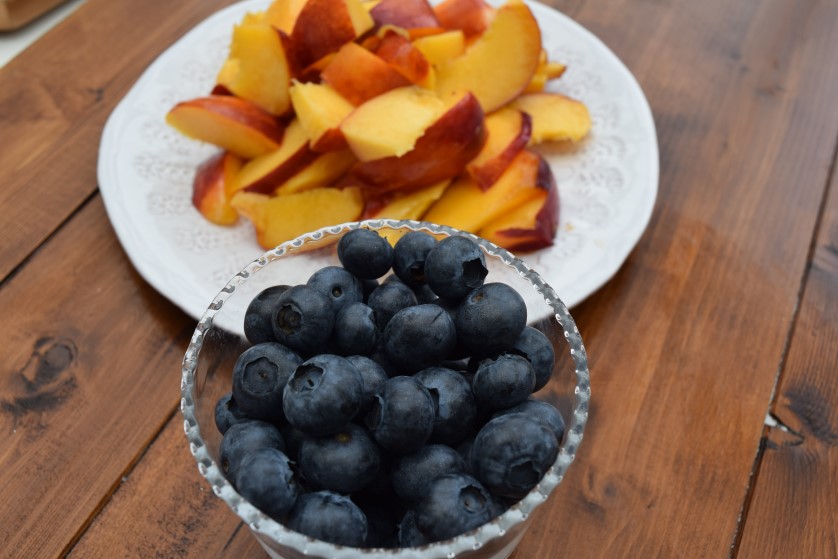 For the topping, simply whisk together both creams, icing sugar and a pinch of salt. Whisk until you have a soft peak style texture.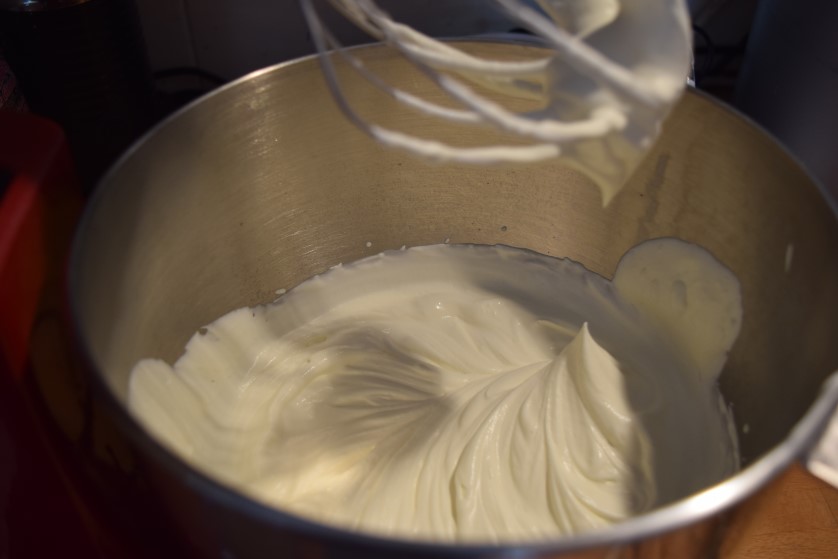 Trying not to quality control huge mouthfuls of this, spread it onto the top of your cooled cake and level the top in a sort of peaky fashion.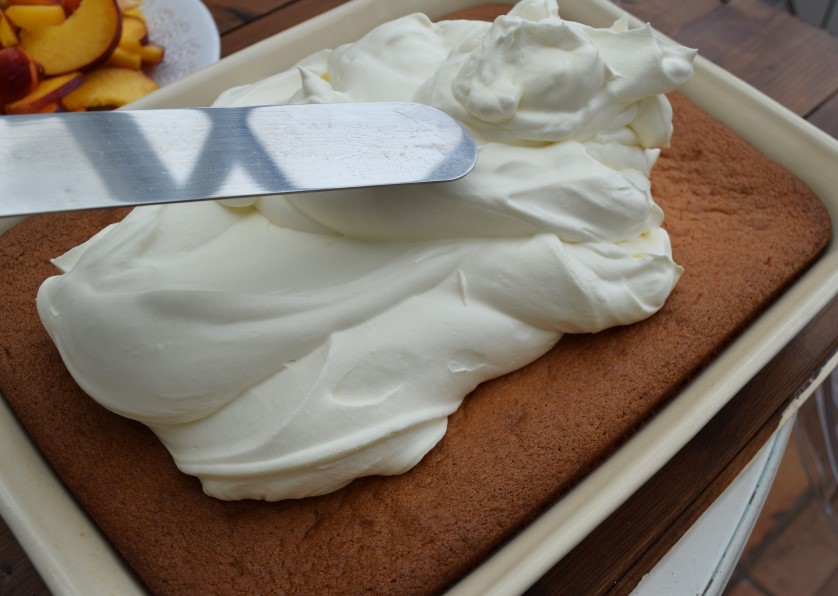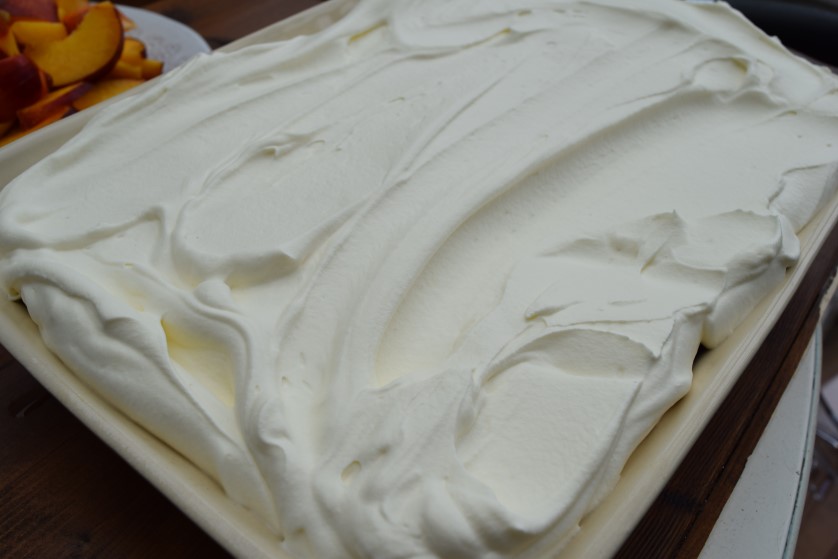 Artfully distribute your fruit choices over the top of this two creams layer. Or plonk it all on the top as best you can manage, like me.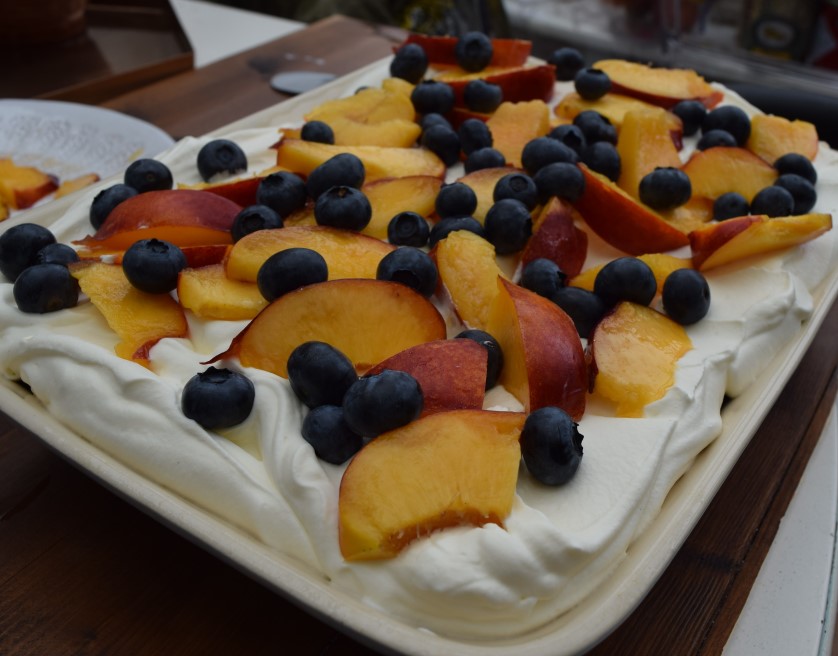 I then couldn't resist a sprinkle of edible glitter and a handful of rose petals, because that's the sort of person I am. Serve this to your drooling guests in wonderful great big slabs and they will love you forever.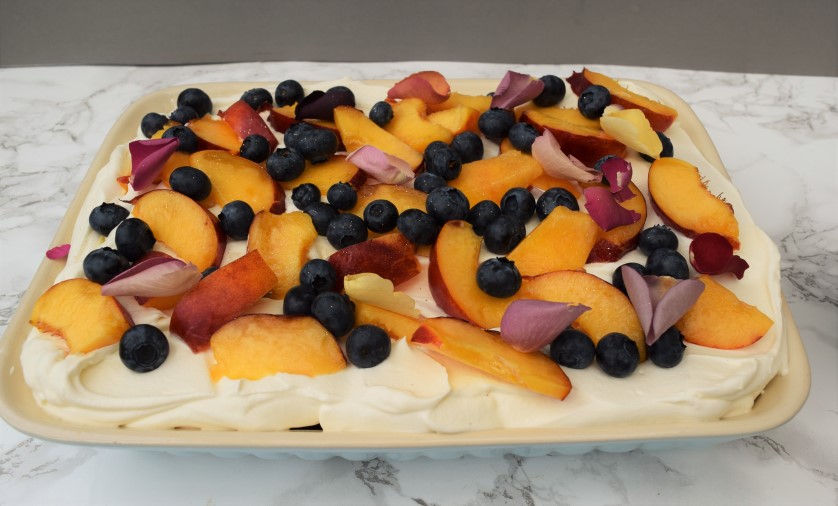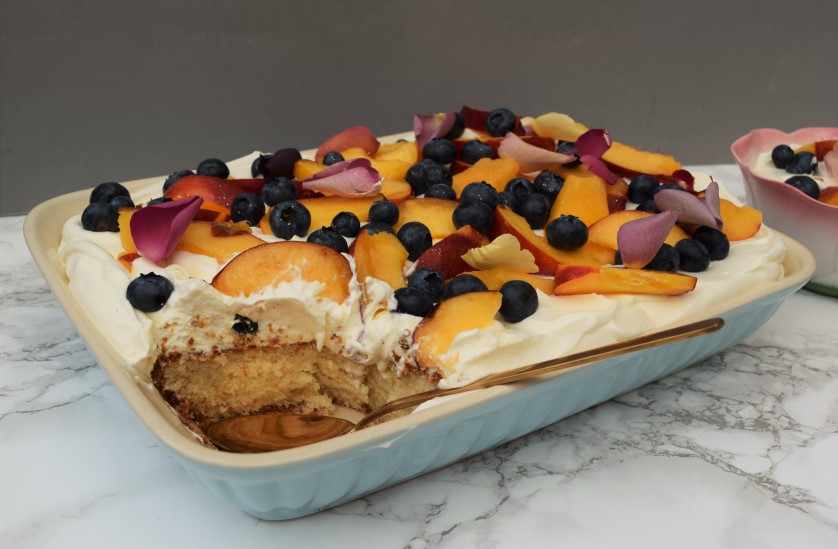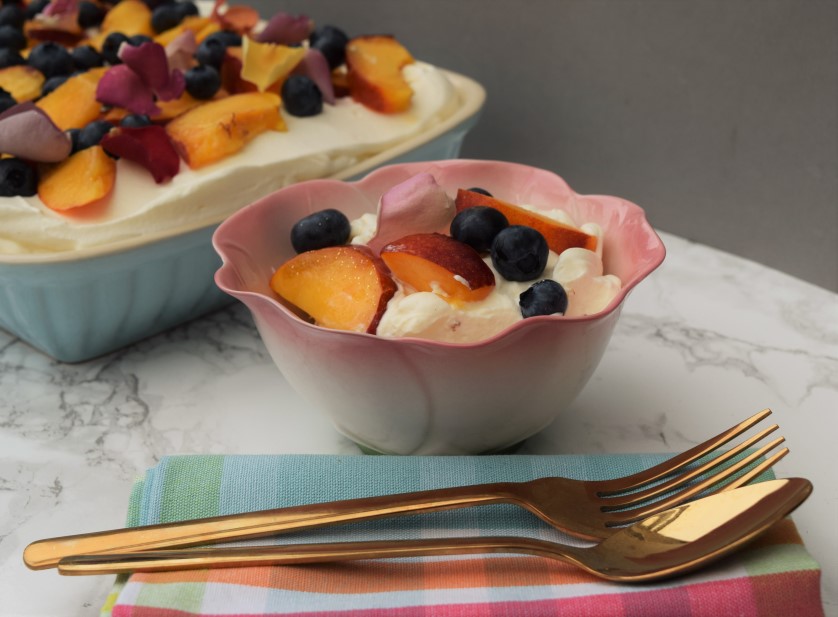 The summer, albeit cold and wet, is all about meeting up and eating with friends. This is the perfect dessert to share with those you love. This could, of course, mean eating it all yourself, but share it with others if you must.
Lucy x
Summer Fruit Sponge Recipe
You will need a stand or hand mixer or a bowl and a whisk
Serves a crowd, 10 to 12 guests
115g soft butter
300g caster sugar
3 eggs
280g plain flour
1 teaspoon salt
3 1/2 teaspoons baking powder
300ml whole milk
2 teaspoons vanilla extract
For the Cream Topping
500ml double cream
125ml sour cream
60g icing sugar
pinch of salt
A selection of fruit of your choice, I used 3 nectarines and a handful of blueberries, but you decide.
Pre heat your oven to 160 degrees fan assisted and butter a 9inch x 13inch tin or baking dish
Using your mixer or a bowl and a wooden spoon, cream together the soft butter and sugar until lighter in colour and texture.
Add the eggs one by one then beat until creamy. Mix in the flour, baking powder and salt followed by the milk and vanilla extract. Beat the cake on a low setting for 30 seconds then at medium speed for 3 minutes. The mixture may look curdled but don't panic, it will be fine after a beating. Pour and scrape into your buttered dish, level the top then bake for 40 to 50 minutes, or until firm, golden and a skewer comes out clean when poked in the middle.
While this is cooking, make the cream topping. Whisk together both creams, icing sugar and salt until they hold soft peaks. Prepare the fruit of your choice then put both this and the cream in the fridge until needed.
When your cake is cooked, leave this to cool fully before covering with the cream topping and fruit. Keep the cake in the fridge until needed. Serve in giant slabs, dusted with glitter and rose petals if you like. Any *ha ha* left overs keep well in the fridge for up to 5 days.