Whisky Butterscotch Pudding Recipe
When I was young, as I know I have mentioned before, puddings were few and far between. Fruit, yoghurt, jelly at best, all slim pickings really. Until the invention of Angel Delight that is. Once this innovative and speedy dessert creation appeared, pudding could be ready and delicious in less than half an hour. Angel Delight still exists now, but it's all low sugar this, no artificial colouring that, which has slightly taken the naff shine of what was a fab pudding circa the 1970's. So this week, with Burns Night in mind, I bring you this Whisky Butterscotch Pudding.
Butterscotch Angel Delight was by far the most superior of flavours, not for me the elegant pink of the strawberry or vivid yellow banana varieties. And here's where the inspiration for this dessert came from via the brilliant Great British Chefs website. This version, however, is a mildly boozey butterscotch mousse like affair. It's sweet, caramel based and sets firm in a cross between a custard and a thick mousse. I upped the whisky content to make it slightly more grown up, but leave it out if you have younger diners or don't want to include the alcohol. Top this with some whipped cream and cacao nibs if you have them for a super elegant  version of this innovative 70's classic.
This recipe is quite washing up heavy, but lacks any real drama, you don't even have to make a complicated caramel. So if you have a bit of extra time on your hands, and some Marigolds, this is the pudding for you. I will be making Clyde a haggis based supper this Burns Night, he loves it. However, sadly, as George and I saw off 4 of the 6 puds this weekend there won't be a Whisky Butterscotch Pudding to see off for dessert.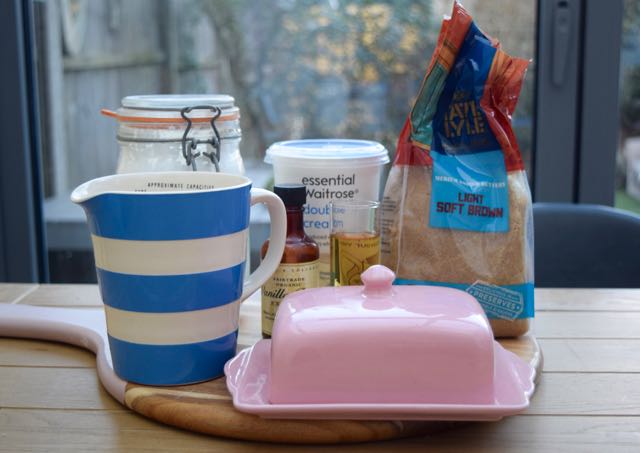 This is a nice small ingredients collection for such a glamorous looking pudding. This recipe makes at least 6, but if you use little espresso style cups to serve, you could stretch it to 8. It's also super rich, so smaller servings, on this rare occasion, are a good idea.
Make a start with the butterscotch pudding base. Take a large saucepan and add 30g of the butter allocation. Heat over a low heat until melted and just starting to turn golden brown.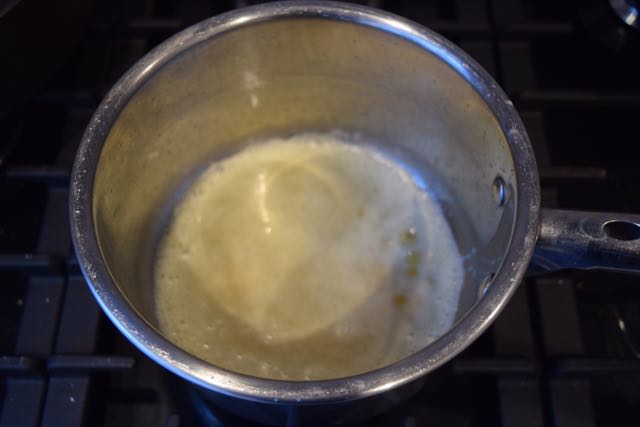 Remove from the heat and whisk in the brown sugar and salt. The original recipe called for dark brown sugar but I only had light and the recipe worked fine, so I would use whichever you have.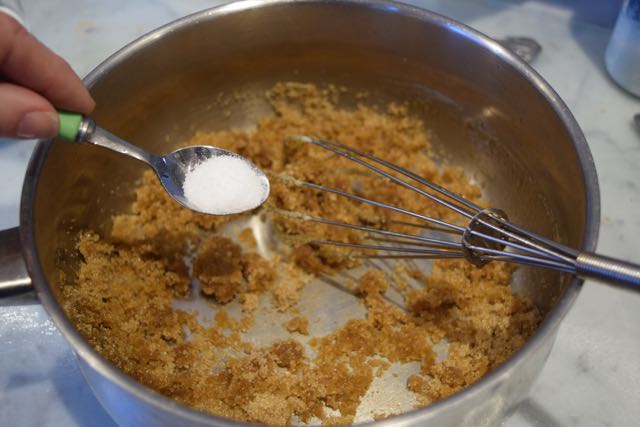 Next pour in 150ml of your double cream allocation and whisk until everything is well blended.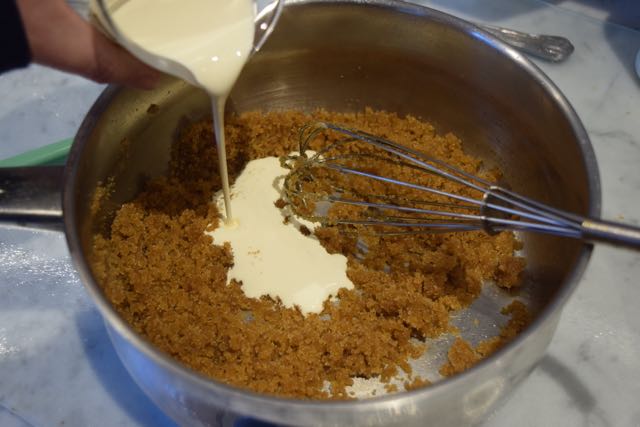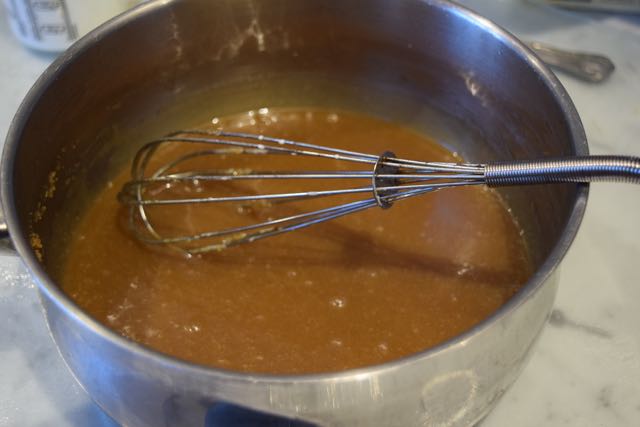 Pop this to one side for a moment while you whisk 3 tablespoons of cornflour with 50ml of the milk to form a smooth paste. Whisk this into the butterscotch mixture until smooth then pour in the rest of the 300ml of milk.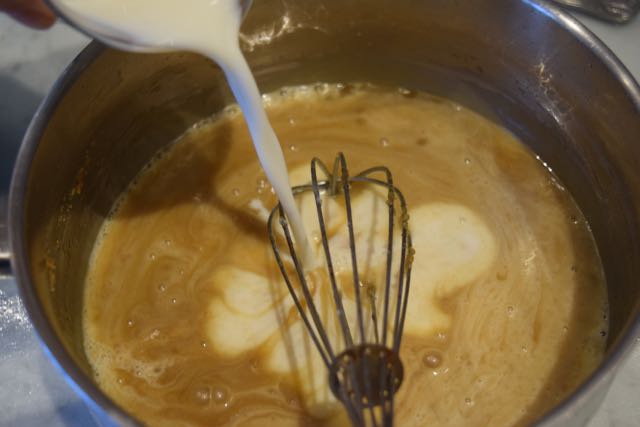 Return this to the stove and bring up to the simmer over a low heat. Once it comes to the boil, simmer for 3 minutes until thickening then remove from the heat.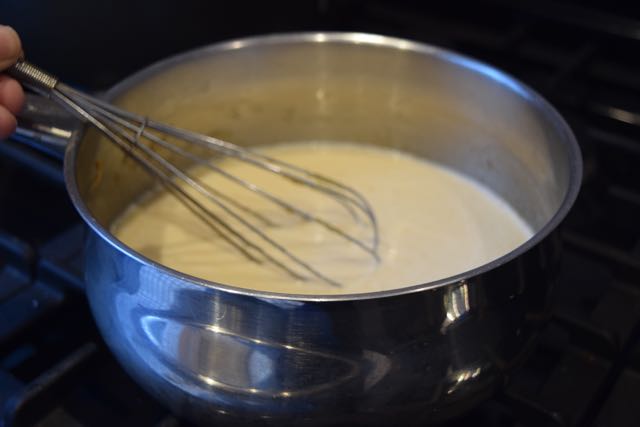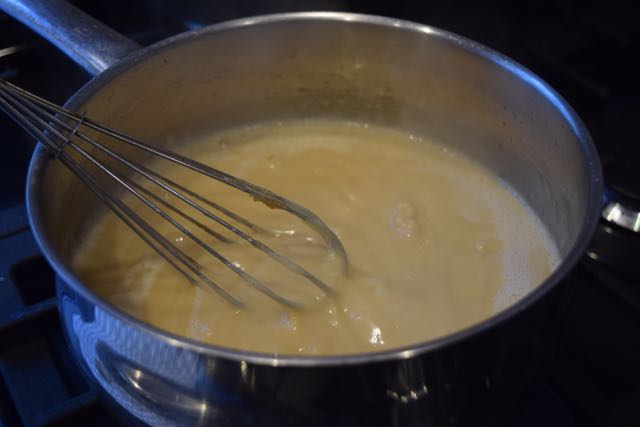 Once off the heat, whisk in the last 15g of butter, vanilla extract and 2 tablespoons of whisky if you are feeling decadent.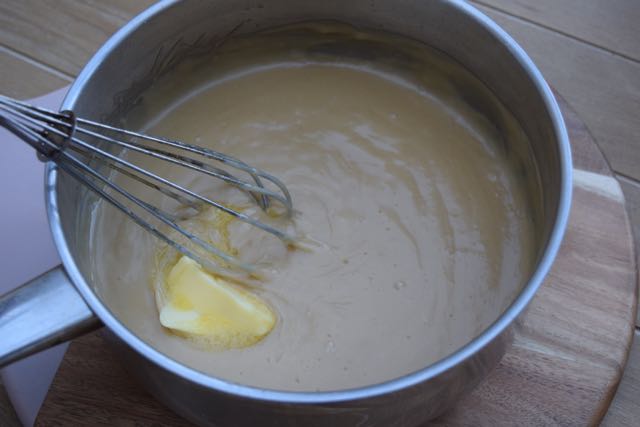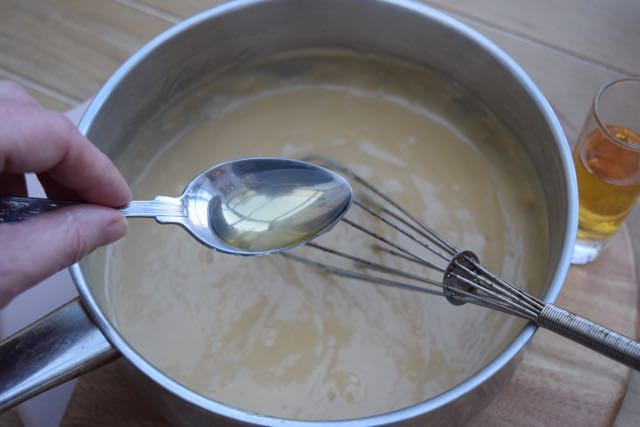 Cover the top of the pudding with cling film to prevent an old school skin forming then leave somewhere cold to cool for half an hour or so.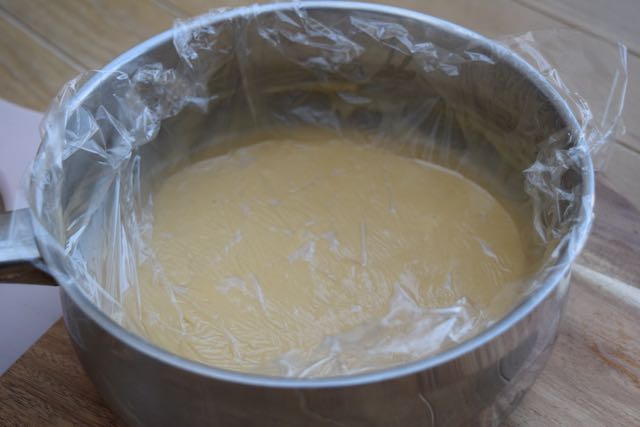 Whilst this is cooling, whip the remaining 2ooml of double cream with the final tablespoon or so of whisky. You just want it to be lightly whipped here.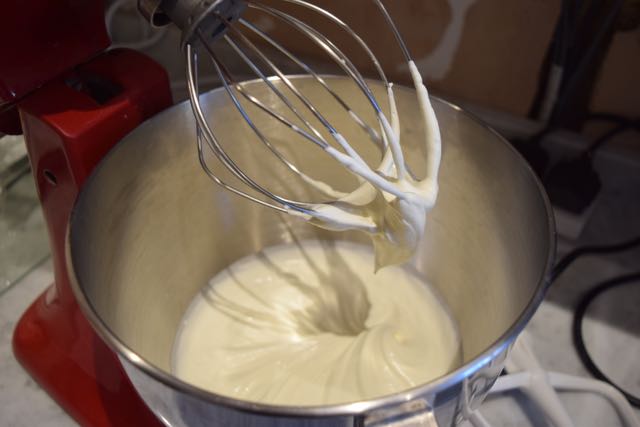 When the butterscotch pudding had cooled slightly, whisk in two thirds of the cream. I left my pudding to cool for too long so my dessert looked rather like it had cellulite issues. I would recommend whisking in the cream while the pudding is still warm-ish and of a looser consistency.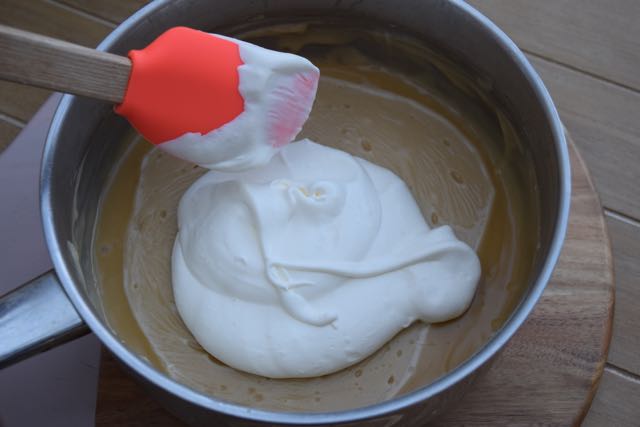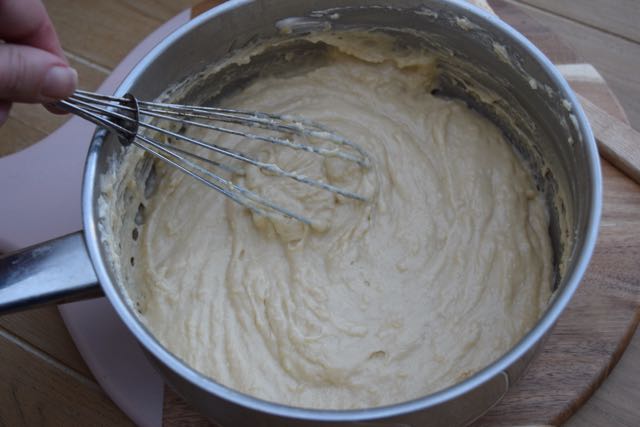 Attractively blob this into whichever dishes or glasses you choose to use then finish each one with a dollop of the whisky whipped cream. Finish with a sprinkling of cacao nibs, grated chocolate or even an old school Flake.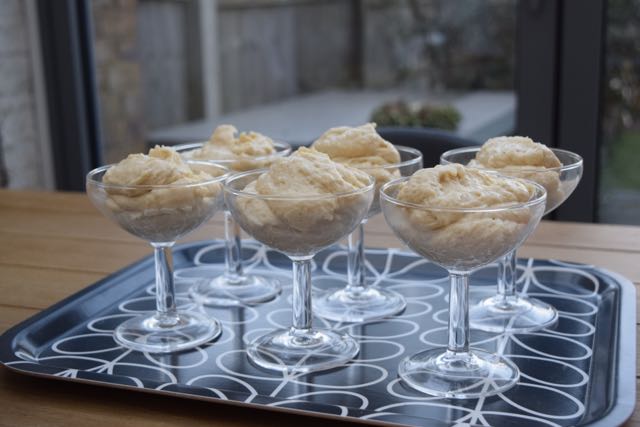 Aah, nasty pink cold wintery hand.
Keep these refrigerated until needed. Which won't be long I can assure you.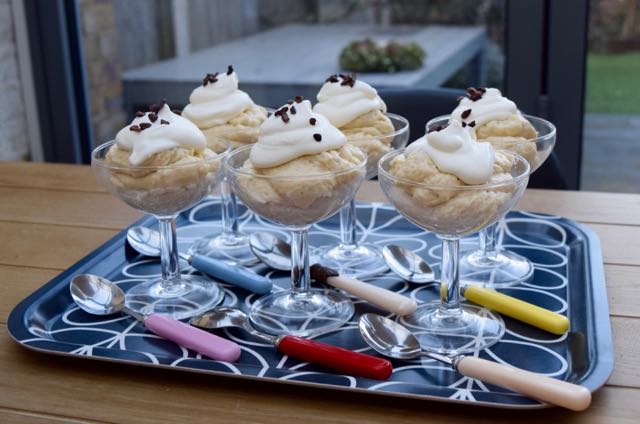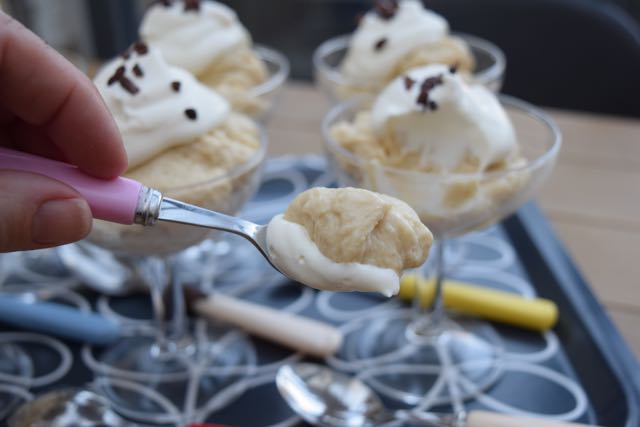 This pudding is super tasty. It takes butterscotch Angel Delight into a new realm and beyond. The festive addition of whisky gives this pud a grown up edge and makes you wish it was Burns Night every night. Although, having eaten two, my waist line is glad it's not.
Lucy x
Whisky Butterscotch Pudding Recipe
Makes 6 puds
You will need a hand or stand whisk
45g butter
150g dark brown sugar, I only had light brown and it was fine
3/4 teaspoon salt
450ml double cream
3 tablespoons cornflour
350ml milk
1 teaspoon vanilla extract
3 tablespoons whisky
cacao nibs or grated chocolate to garnish
Melt 30g of the butter in a large saucepan and cook for a minute or 2 until just turning golden. Stir in the sugar and salt then take off the heat. Whisk in 150ml of the double cream until smooth.
In another bowl, whisk 50ml of the milk into the 3 tablespoons of cornflour until smooth. Whisk this into the butter, sugar, cream mixture then whisk in the final 3ooml of milk. Return to the heat and bring to the simmer. Cook on a low heat for three minutes until bubbling and thickened. Remove from the heat and whisk in the last 15g butter, 2 tablespoons of the whisky and the vanilla extract. Leave to cool slightly, covered in cling film so a skin doesn't form.
Whisk the final 300ml double cream into soft peaks with the last tablespoon of whisky. Before the butterscotch mixture is completely set, whisk in two thirds of the whipped cream, whisking well so it doesn't go lumpy. Spoon into glasses or dishes then finish with a blob of the last of the whipped cream and garnish with cacao nibs or grated chocolate.
Chill until needed. They keep for a couple of days in the fridge but do firm up quite a bit.