White Bean, Bacon and Truffle Soup Recipe
Clyde often feels slightly aggrieved being served soup. It's classed as not quite a meal, more of a snack and in his mind, could be hugely improved if served alongside steak and chips. George and I, however, could live on soup. It's a staple for us, lunch, supper, after school, if there's soup in the house, we will eat it. This White Bean, Bacon and Truffle Soup, however, is a total game changer where Clyde and soup are concerned. Despite it's frugal bean based origins, this soup is elegant, sophisticated and tastes scrumptious.
A dear friend of mine, who is an incredible cook, made this soup for a dinner party I was lucky enough to be at, around 5 years ago. I loved it, had seconds and begged her for the recipe, which was from a wonderful book called Starters by Shane Osborn. She kindly shared it with me then I promptly never made it myself but kept talking about it, thinking about it but just not finding the window to fashion my own batch. Until now, of course, and that's down, in the main, to the wonderful people at Truffle Hunter. I was kindly, and with huge thanks, sent a sample of their divine Black Truffle Oil and their Truffle Salt and knew this was the push I needed to make this divine soup. Their truffle products are perfect, fragrant, earthy and intense. They add an aroma and flavour to this White Bean, Bacon and Truffle soup which is musky, rich and shouldn't be reserved for food snobs. The soup takes time to prepare, but it's so worth it, the flavours are intense, rich and so much more than just soup. The bacon adds such a savoury edge, the beans and cream create a silky texture and it's beyond moreish. I annoyingly squandered a bowl on George, who is usually happy with a tin of Heinz. Not anymore, he loved this so much, I could now be making it on a weekly basis. Clyde, usually indifferent to the charm of soup, has been well and truly wooed too, by this rich and elegant dish.
I know it's only soup and I am making quite a drama out of it, but until you've tasted this White Bean, Bacon and Truffle Soup you won't understand quite how tempting it is. Now, if that isn't incentive enough to treat yourself and your guests to this joy of a dish over Christmas, I don't know what is.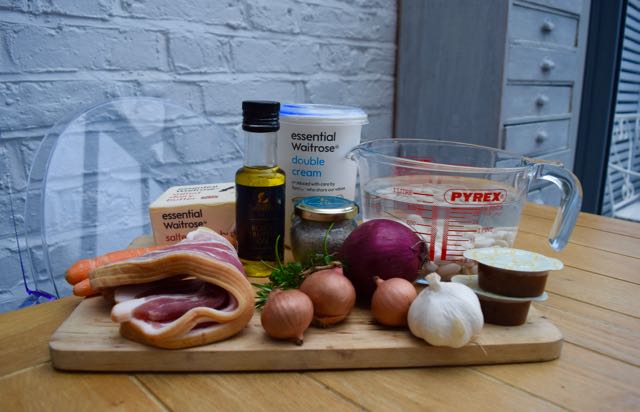 Here's the line up, nothing too daunting, apart from having to peel the bloody shallots, they are annoying, but worth it for sweetness and flavour.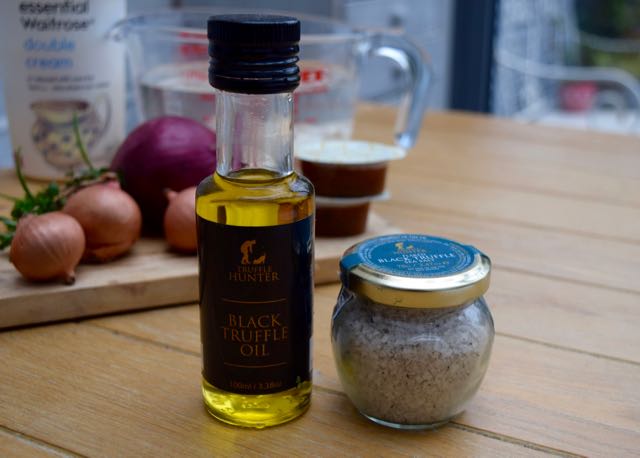 These two lovelies are the real scene stealers. Truffle Hunters make wonderful truffle based products and they aren't super pricey which had always put me off buying truffle based treats in the past. These are easily accessible and taste amazing, adding such a hit of truffle flavour to chicken, meat, soups or game.
There's a tiny bit of planning ahead with this recipe, but some things are worth a touch of thought. Dried beans are used in this soup for their flavour and quality, so you need to soak these in lots of water overnight to rehydrate. You could probably use tinned beans, but you would have to Google the quantity to use versus dried beans. Btw, I used dried Cannellini beans and they were perfect for this.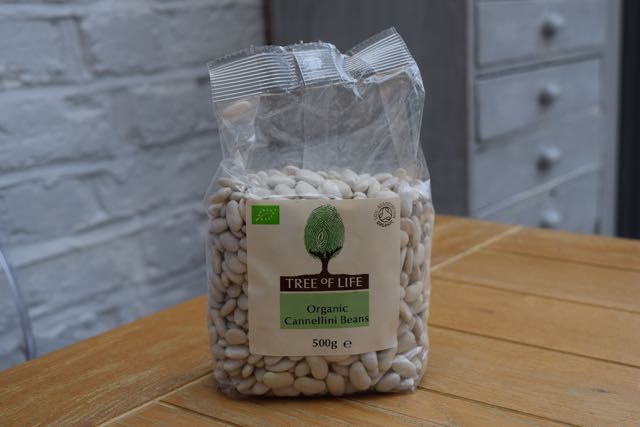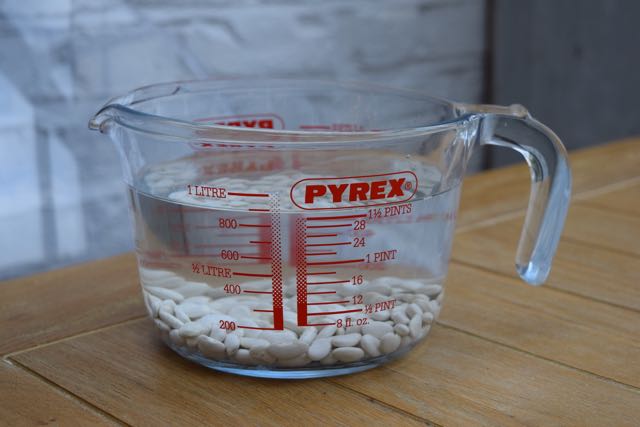 The next day, when you are ready to make this so-much-more-than-soup dish, drain your beans and add them to a large saucepan. Cover with water and bring to the boil, then drain and return to the same large pan.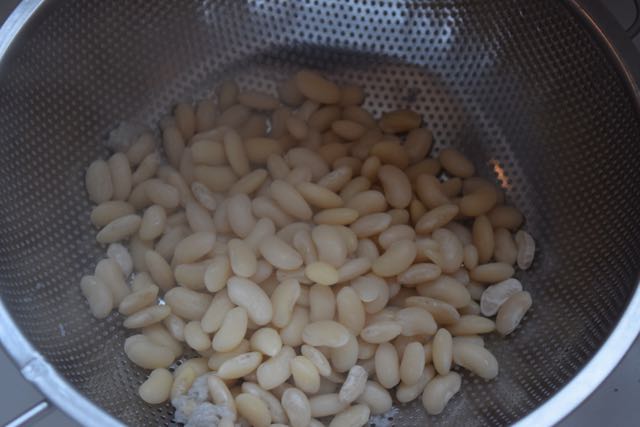 Along with the beans, add to the pan your halved small bulb of garlic, reserving the other half for later, onion, carrots, the sprigs of rosemary, thyme and parsley. Pop in 100g of the bacon, roughly chopped, then pour on the generous 2 litres of chicken stock.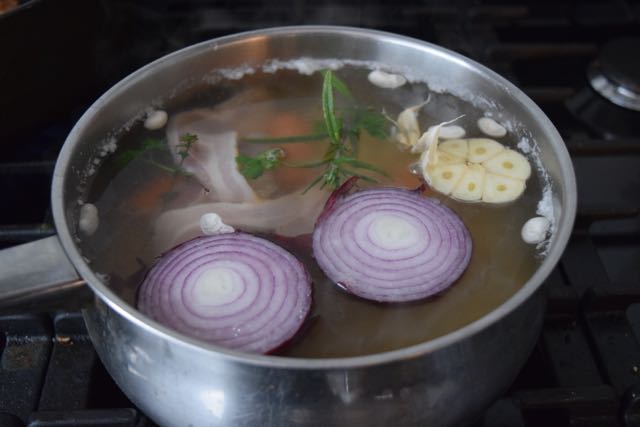 Bring up to the simmer then put a lid on and cook for around one and a half to two hours, or until the beans are cooked through.
When the bean cooking time is nearly up, make a start on the body of the soup. Melt the butter in a large pan and then add the finely-ish chopped shallots, the rest of the chopped bacon, thyme leaves and the other half of the garlic, again, chopped.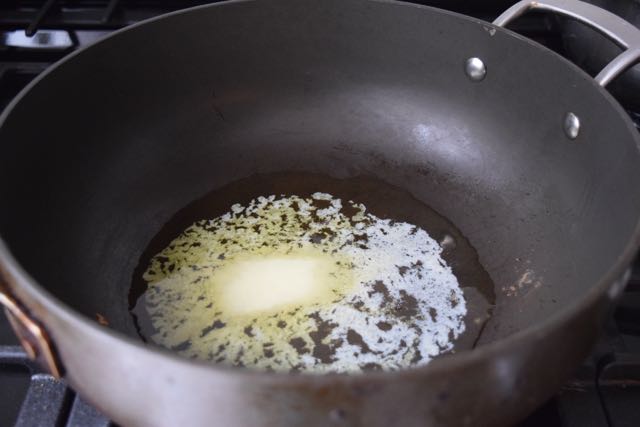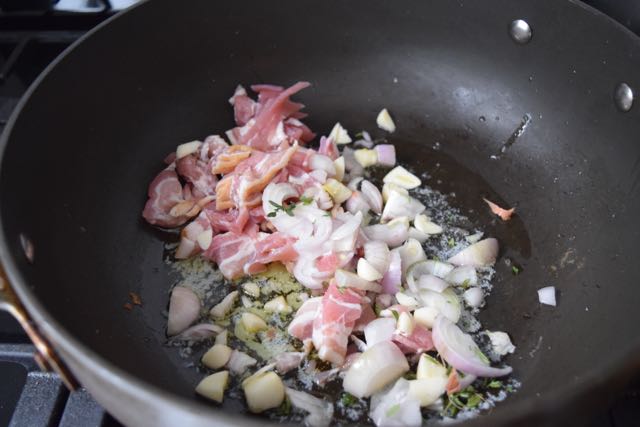 Stir well, then turn down the heat, put the lid on and sweat the whole lot down for around 10 minutes or until the shallots are soft.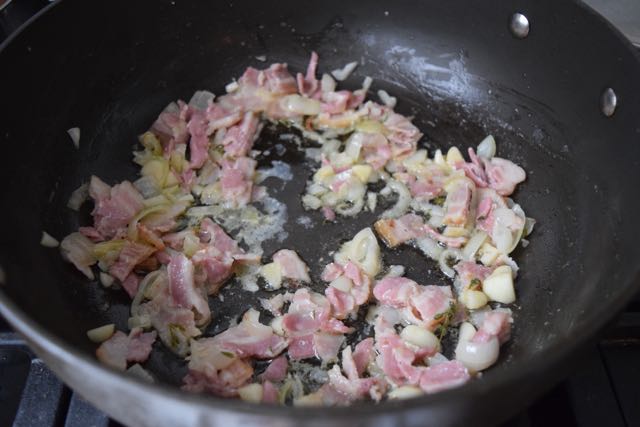 While this is happening, take your beans and carefully remove the onions, carrots and herb sprigs from the beans and stock. I left the bacon in as the recipe didn't specify and I always feel you can never have too much bacon in a recipe.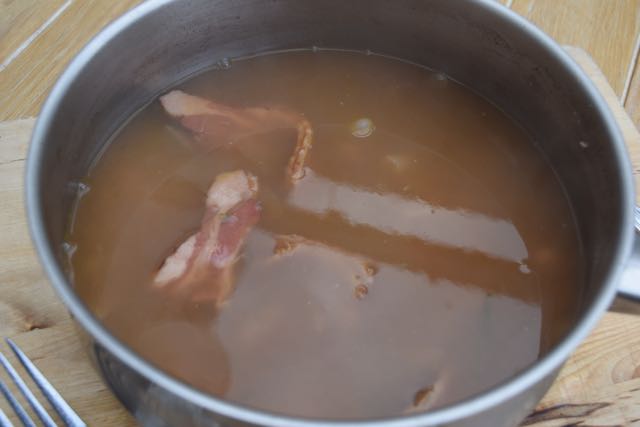 Bear with me as it all looks a little pond water like at this stage.
Back to the shallots. Once they have softened, pour in the beans and the stock and stir in the double cream.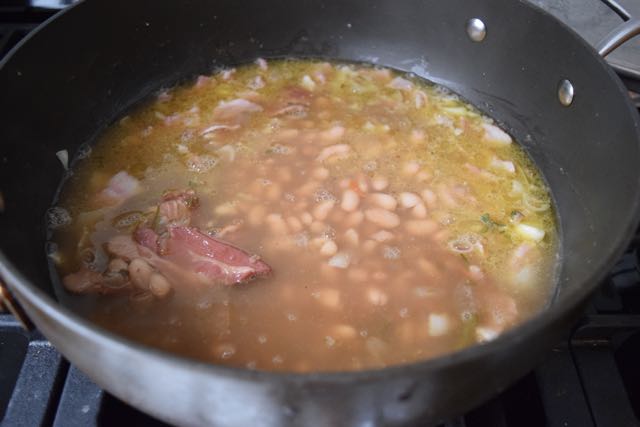 Bring this back up to the simmer and pop a lid on for a further 15 minutes. Once this time is up blitz the luscious soup in your blender in batches or with a stick or hand blender.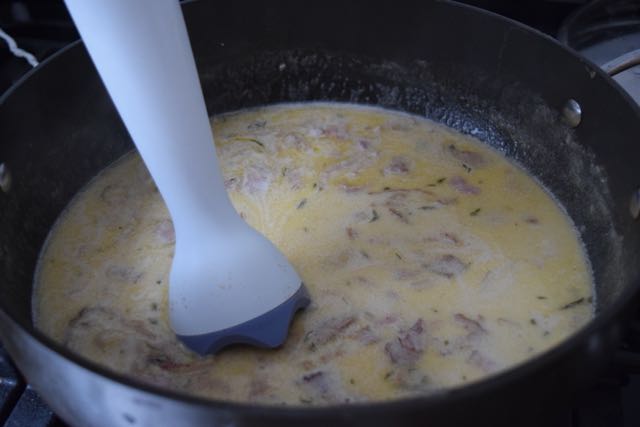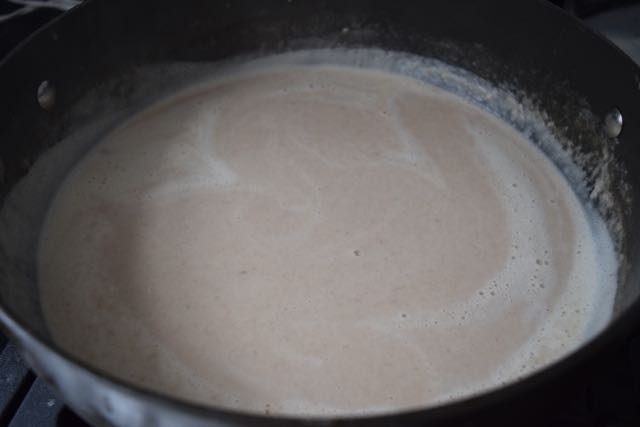 In the final important flourish, taste, then season with Truffle salt and pepper then stir through the tablespoon of truffle oil. Serve in warmed bowls garnished with a few further drops of the flavour filled oil.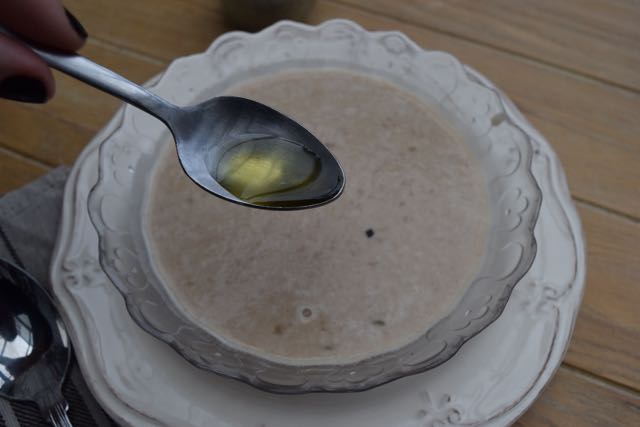 This soup looks so incongruous but I can assure you, it tastes Michelin starred.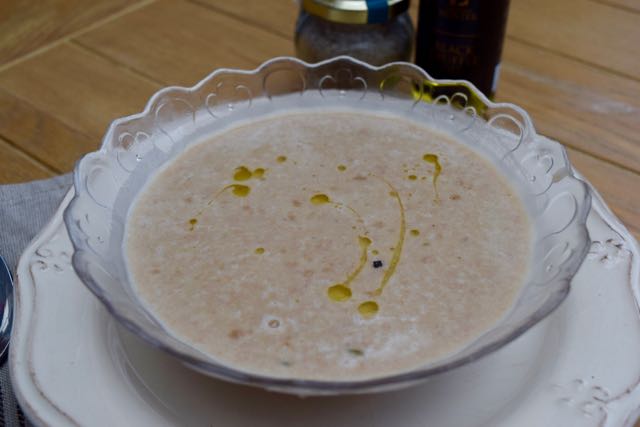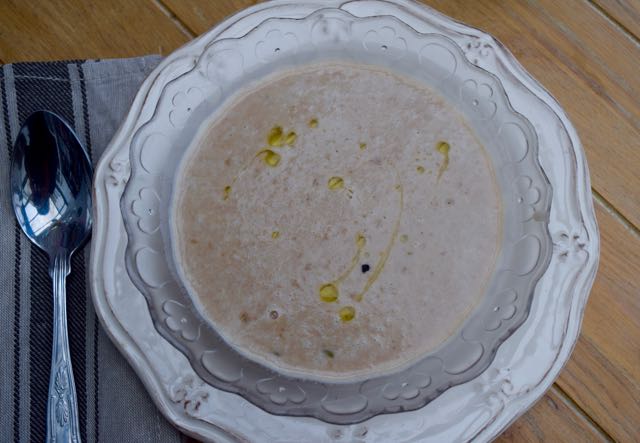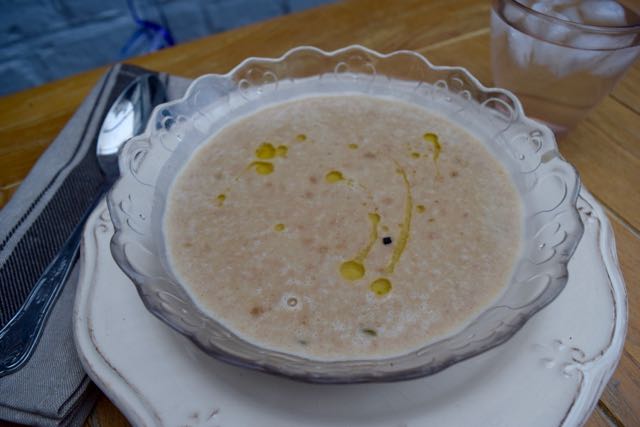 As I write this post, my mouth is watering at the prospect of a large bowl of this elegant White Bean, Bacon and Truffle Soup. Sadly, I am up to my arse in mincemeat and eggnog so I will just have to wait for a break in the seasonal madness to treat us all to another batch.
A big thank you to Truffle Hunter for the introduction to drama-free truffle based delights.
Lucy x
Truffle Hunter kindly provided me with some black truffle oil and truffle salt, however, all opinions and ramblings are, as always, my own.
White Bean, Bacon and Truffle Soup Recipe
Serves 4 generously 
You will need a hand or standard blender
125g white beans, haricot or cannellini, soaked overnight in lots of water
Whole small head garlic, if large just use half
1 small onion, no need to peel, just halve
2 carrots, no need to peel just top and tail
A sprig of fresh rosemary, thyme and parsley
200g streaky bacon or pancetta
2 litres chicken stock
50g butter
3 to 4 small shallots, peeled and finely chopped
1 sprig fresh thyme
100ml double cream
1 tablespoon truffle oil, plus extra for drizzling
Truffle salt and pepper, to taste
Make a start the night before you are making this soup by soaking your chosen white beans in lots of cold water.
The following day drain the beans then add to the pan and cover with cold water. Bring to the boil then drain again. Next, add the drained beans back to your large saucepan along with half a whole garlic bulb cut in half around the waist, the onion, no need to peel just halve it, the carrots and 3 herb sprigs. Roughly chop half the bacon and also add to the pan along with the chicken stock. Bring up to the simmer then put on a lid and cook for around 1 and a half hours to 2 hours or until the beans are cooked through. Put the beans to one side to cool slightly.
In another large pan heat the 50g butter and add the chopped shallots, the rest of the finely chopped bacon, the other half of the garlic finely chopped and the leaves from the sprig of thyme. Stir well, turn the heat down slightly and pop on a lid to sweat off for 10 minutes or so, until the shallots have softened.
Remove the carrots, onion, garlic and herb sprigs, but leave in the bacon, from the beans and stock pot. Once the shallots have softened pour in the beans, stock and bacon, along with the cream, and bring up to the simmer. Put the lid on and cook for a further 15 minutes then cool slightly before pureeing with your hand blender or in batches in your blender. Taste, then season with truffle salt, if you have it, and freshly ground black pepper.
Stir in the truffle oil then serve, piping hot, in bowls drizzled with a couple more drops of the truffle oil.
SaveSave
SaveSave
SaveSave
SaveSave
SaveSave
SaveSave
SaveSave