Summer Mango and Halloumi Slaw Recipe
We have been incredibly spoilt this long weekend with the warm, sunny weather. Such a treat but as it does every year, the sunshine has caught me with my trousers down. Well not so much down, more up, turned up. As soon as the weather heats up, I panic, having worn nothing but a polo neck and jeans for the last 6 months, God knows what I am meant to be wearing once the temperature rises. I am still podgy so hot pants are ruled out again for the 30th year running, I have hairy legs and I do not have a single summer outfit worth wearing. So, as usual, my only concession to summer dressing is rolling the turn up on my jeans a touch higher and removing my vest. And I start to want to eat salads, and this one is a total beauty. This Mango and Halloumi Slaw is a meddled with gem from the master, Ottolenghi, with huge thanks.
My lovely friend prepared this salad for me a couple of weeks ago and I embarrassingly inhaled bowl after bowl of it and then couldn't stop thinking about it for days after. It is a hearty mix of savoy and red cabbage, with some soft, sweet mango and the added crunch of caramelised nuts. The salad is packed with plenty of fresh summery mint and coriander for a fragrant hit then dressed with a maple sesame combo and some sliced fresh red chilli. I added some fried halloumi to bulk this out into a main course, but if you'd rather this was a side dish, just leave it out. Or if you are a whole hearted meat eater serve this with some roast chicken or marinated pork steaks. Be careful with the caramelised nuts, they are bloody addictive. It's almost worth making double, safe in the knowledge you'll be picking at them whilst you prepare the rest of the salad.
This is the sort of salad you want to devour in big spoonfuls straight from the bowl with reckless abandon. Not that reckless abandon is often associated with eating a salad, but just wait until you try this one.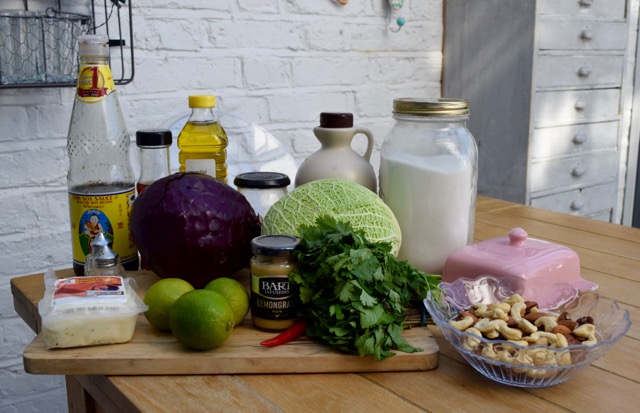 This line up doesn't necessarily scream salad of the year, but you are going to have to take my word for it on this one. Especially as my mango was in the garden ripening up, so it missed the photo call. Like I said, you don't have to include the halloumi, but it does add some squeaky delicious bulk and it's always super popular with everyone who crosses it's path. Particularly George who had to have his hand slapped away from this batch.
Make a start on this fresh main course salad by making the dressing. Take a small sauce pan and measure in the fresh lime juice, lemongrass, either lazy or freshly chopped, and the maple syrup.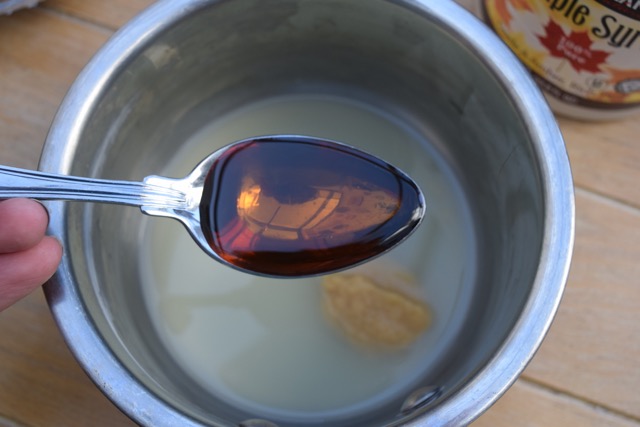 Add the sesame oil, soy sauce and chilli flakes then pop on the hob and bring up to the boil. Simmer for 5 to 10 minutes or until syrupy then leave to cool. If you used fresh lemongrass, you will need to sieve the dressing at this stage.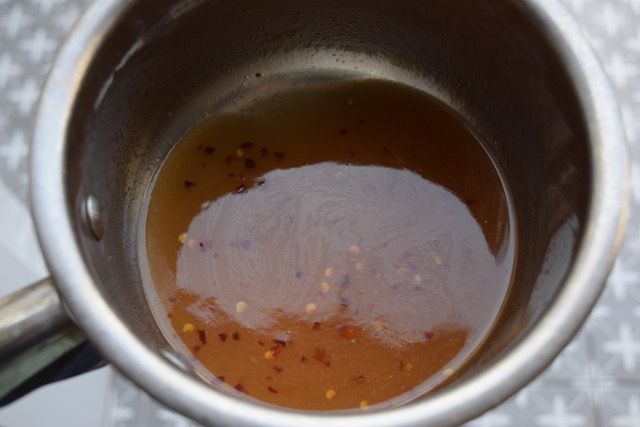 Once cooled, whisk in the light olive oil to finish the dressing.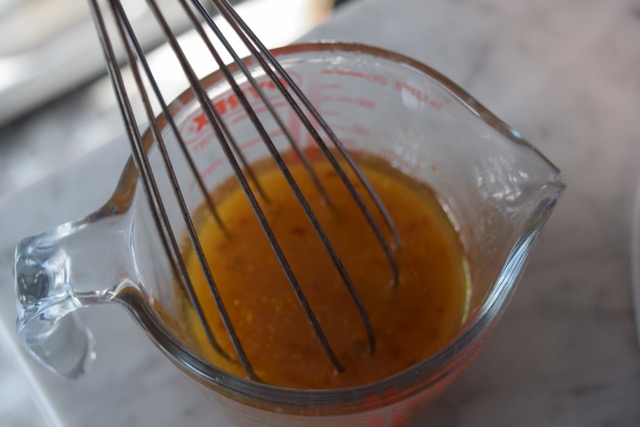 Next it's nuts. I had a right old mixture in my cupboard so I used a combination of almonds, cashews and pecans, but the original recipe called for macadamias, so the choice is yours. Lightly toast your selection first in a small, dry frying pan, just until lightly golden. Next, add the butter then once melted stir through the sugar, salt and chilli flakes.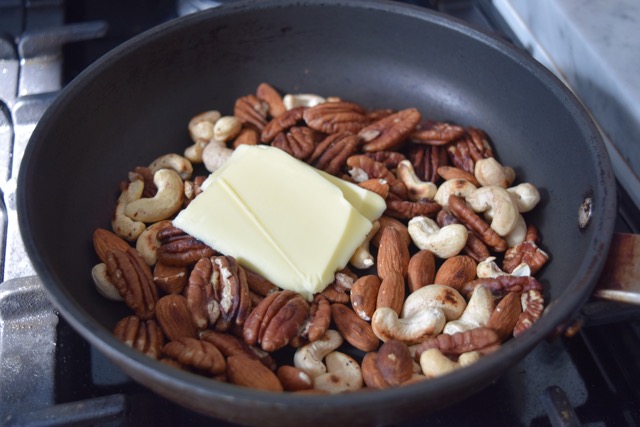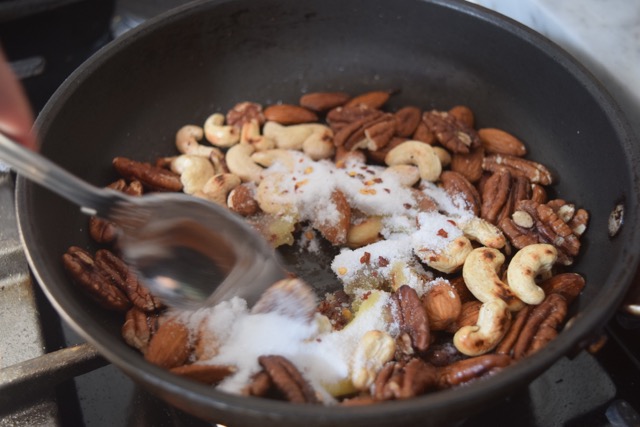 Cook the sugary, buttery nuts for a couple of minutes until the sugar caramelises and turns golden brown. Tip the nuts onto a board lined with baking paper and leave to cool. Once cooled, chop roughly.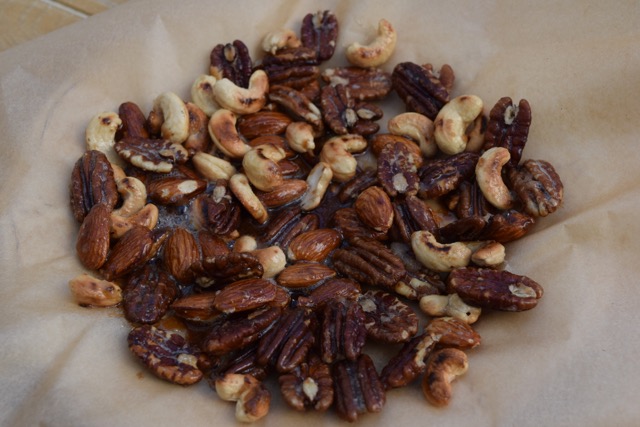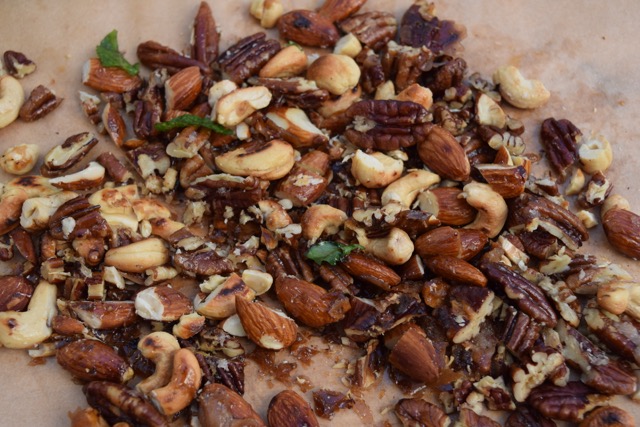 Now for the body of the salad, chop the savoy and red cabbages, probably a little finer than I did, mine definitely erred on the rustic.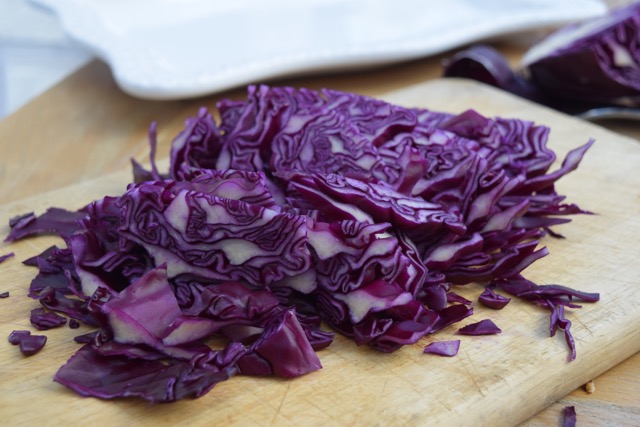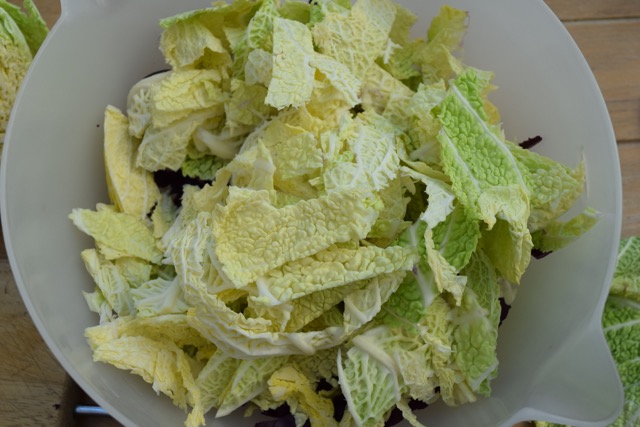 Mix these together in a large bowl with the chopped mint, coriander, finely sliced chilli and your lovely sweet nuts *if you haven't eaten them all*.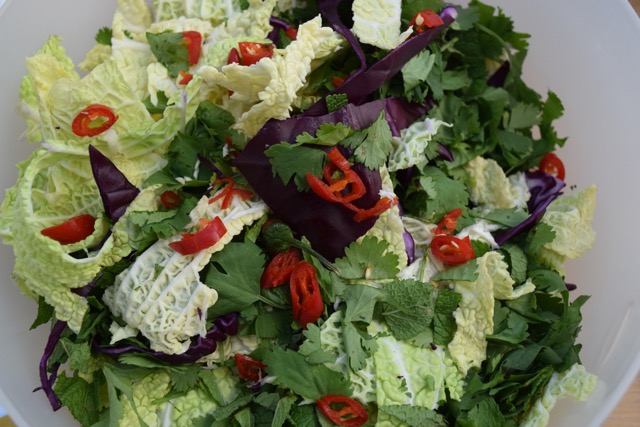 In a final flourish, get your slightly under ripe mango from the garden where you were hoping it would ripen up, slice it then add to the bowl along with the beautiful dressing.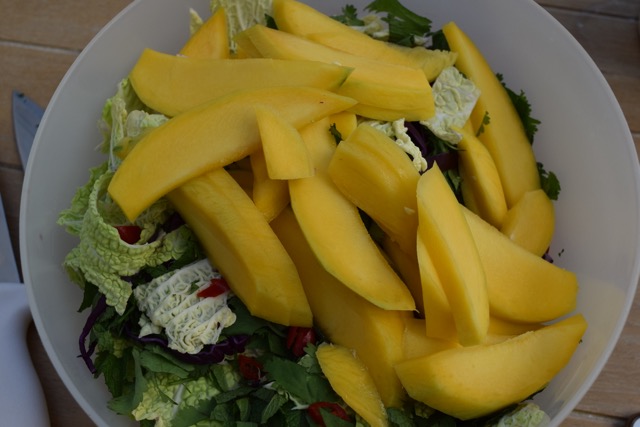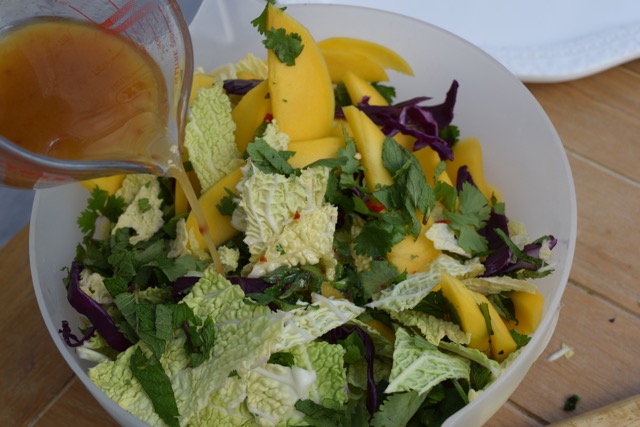 If you are serving your slaw with halloumi, then toast in a hot dry frying pan for 1 to 2 minutes on each side until just turning golden and toasty.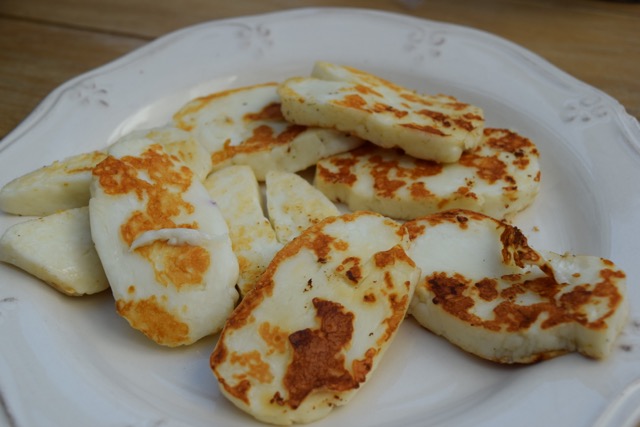 Slap halloumi thieving hands away from the hot cheese for a moment longer. Turn your slaw out onto a presentation plate or bowl then place the toasted halloumi artistically around the dish. Or just sling it on, it all tastes the same. Devour this fresh tasting, summer style dish, even if it's pissing down, it will still be amazing.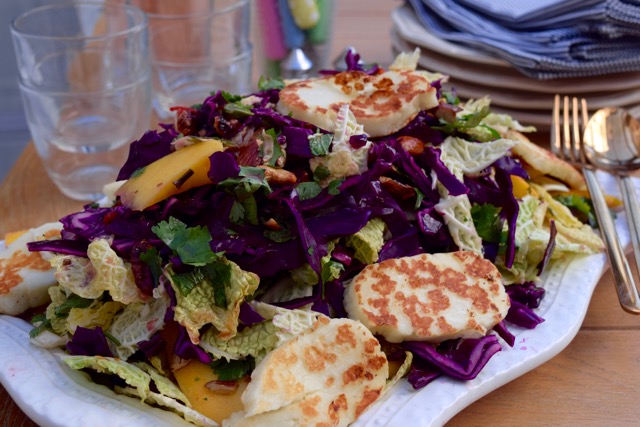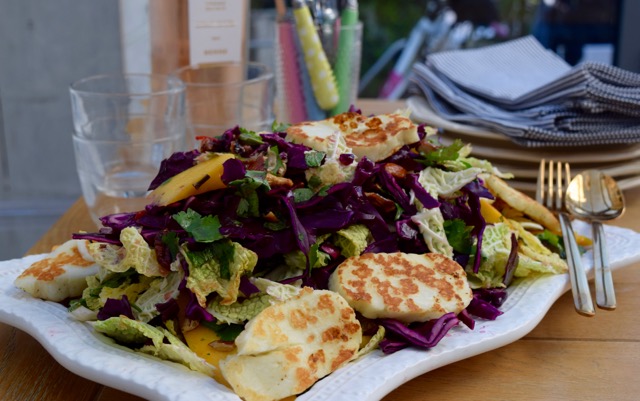 You know what I'm like when I find a new recipe I love, it will be Mango and Halloumi Slaw for every meal. With it's nutty sweet crunch, touch of fruit and a bite of chilli, every sense is catered for here and I have fallen in love all over again.
Lucy x
Summer Mango and Halloumi Slaw Recipe
Serves 4 to 6, generously
You won't need any exciting equipment
Dressing
100ml lime juice
1 stick of lemongrass, chopped, or 1 teaspoon lazy lemongrass from a jar
3 tablespoons maple syrup
2 tablespoons sesame oil
1 teaspoon soy sauce
1/2 teaspoon chilli flakes
4 tablespoons light olive oil
Salad
150g nuts, I used a mixture of cashews, almonds and pecans
10g butter
2 tablespoons caster sugar
1/2 teaspoon salt
1/2 teaspoon chilli flakes
Approx 200g savoy cabbage leaves, chopped
Approx 300g red cabbage, chopped
1 mango, peeled and sliced
1 small red chilli, sliced
3 tablespoons chopped fresh mint
3 tablespoon chopped fresh coriander
250g halloumi cheese, sliced, optional
Make a start by making the dressing. Take a small saucepan and add the lime juice, lemongrass, maple syrup, sesame oil, soy and chilli flakes.  Bring up the boil then simmer for 5 to 10 minutes to reduce the mixture until it has a syrupy quality then leave to cool. Sieve to remove any stalky pieces of lemongrass then whisk in the oil and pop to one side.
For the salad, start with the nuts. Add them to a small frying pan and toast for a minute or two until just starting to colour. Add the butter then once melted add the caster sugar, salt and chilli flakes. Stir then leave until the mixture caramelises over a low heat, but keep an eye on it as this will turn quickly and should only take a minute or two. Once golden, turn the nuts out onto a lined tray and leave to cool. Once cool, roughly chop.
To assemble the salad mix the sliced savoy and red cabbage leaves, the peeled and sliced mango and the finely sliced red chilli. Combine well with your hands then add the chopped herbs and chopped caramelised nuts and mix again.
Cook the halloumi slices in a dry frying pan over a medium high heat until golden. This should take around 1 to 2 minutes at the most on each side.
Dress the salad with the dressing then tip onto a presentation plate or bowl and artistically/rustically adorn with the halloumi slices. Devour the salad. Any leftovers keep covered in the fridge for further enjoyment for a couple more days, although the halloumi does go a little rubbery so I'd eat that in the first sitting, which is no real hardship.