Devils on Horseback in Blankets Recipe
Time is now of the essence and this time next week your Christmas preparations will have reached a new and frenzied level. I have all but finished my shopping, Clyde is on wrapping duty as we speak and I have made more mince pies than I care to mention. Ben is back from uni so the house looks like a bomb site and George is on a go slow and sulking because he still has a week at school. I am out every night this week, so the anything that needs doing has to be done this evening, so my Sunday night is anything but relaxing. That said, I have just poured myself a Whisky Mac and am salivating at my photos of these Devils on Horseback in Blankets, so it's not all doom and gloom and bah humbug in this house.
Devils on Horseback in Blankets are a new phenomenon to me and the concept of the lovely BBC Good Food, with thanks. They are the lovechild of the pig in blanket and the devil on horseback and make the most perfect seasonal nibble. Nothing bad ever resulted from being wrapped in bacon. The fact this recipe also includes sausages, a touch of booze and some dried fruit, only serves to add even more deliciousness into the equation. The prunes and apricots have a little time plumping in some wine and are then tucked up with a sausage and a mustardy half rasher of bacon. These are then baked until bronzed and smelling divine and are perfect served with a glass of fizz or as part of your Christmas day feast. The combination of fruit and meat is one of my absolute favourites. The salty bacon, sweet dried fruit, the spice of mustard and the comforting sausage are just the best of friends and now, one of my new best friends.
This nibble is quick and simple. You don't want to be buggering around with complicated recipes this close to the big day, I have neither the time nor the inclination for more Christmas kerfuffle than is entirely necessary.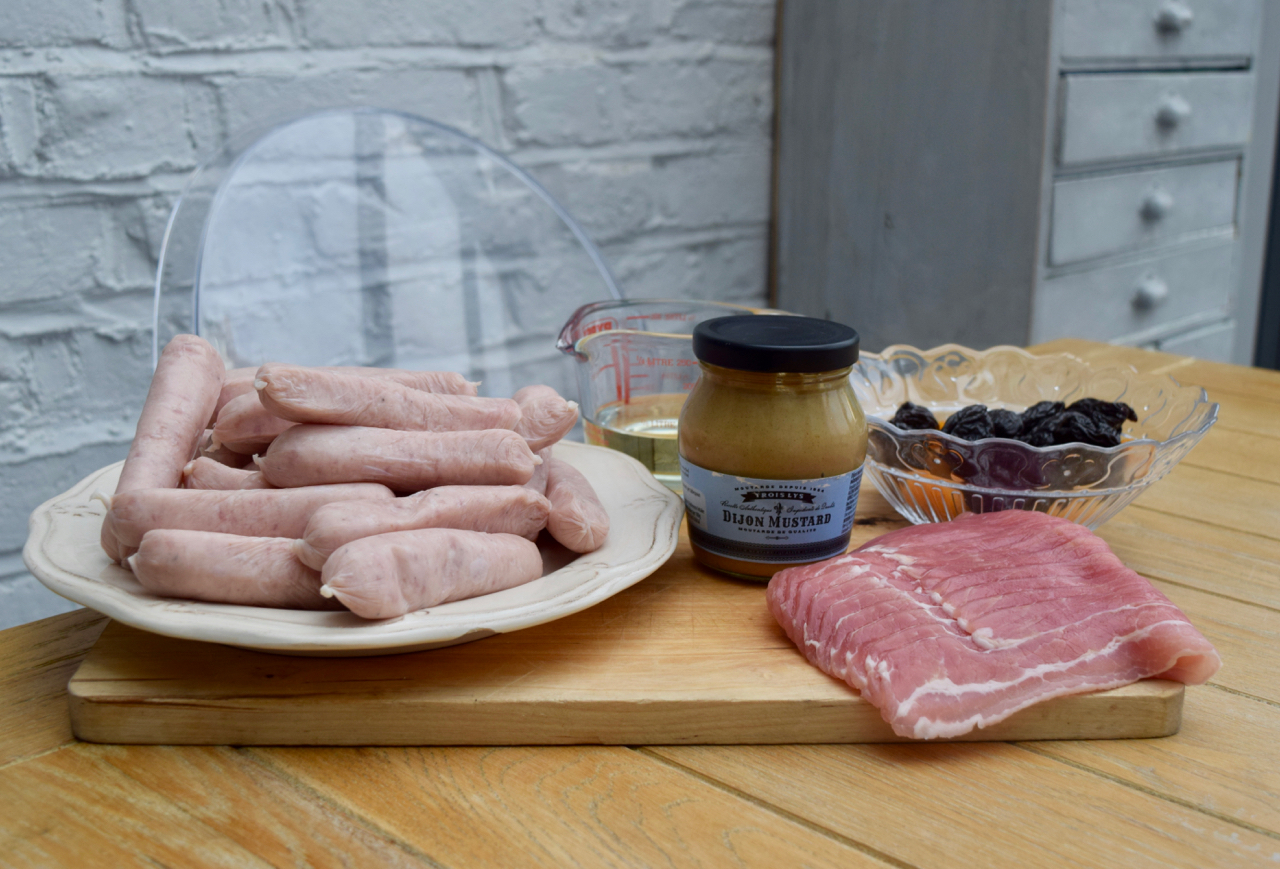 Nothing complicated to see here, not the week before Christmas. I chose Dijon mustard, but English would stick more with the traditions of this recipe.
Let's keep it simple by starting with your dried fruit. To add plumpness *which I will certainly do over Christmas* soak your prunes and apricots in some white wine or orange juice for anywhere from 1 to 3 hours, dependent on just how balls to the wall you are. Mine got a scant hour and they were just fine.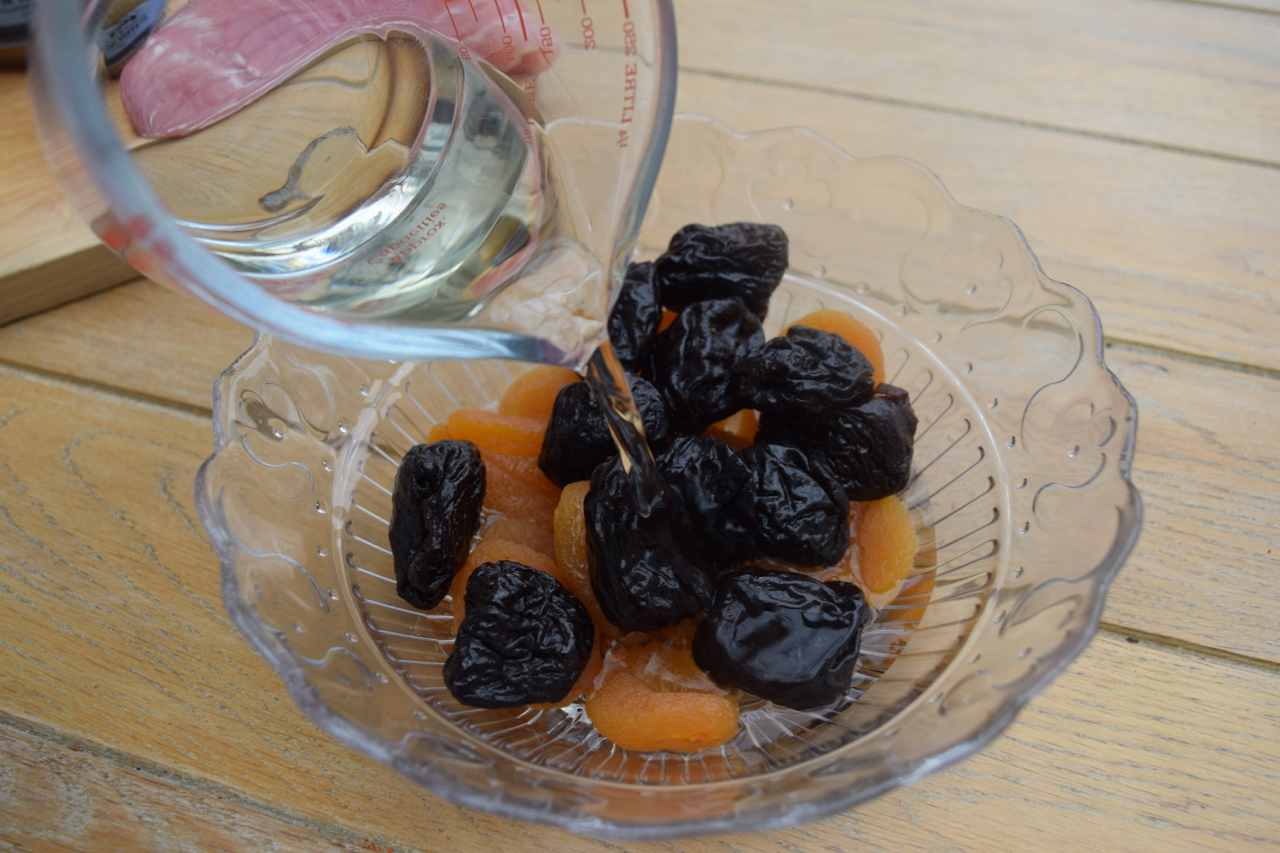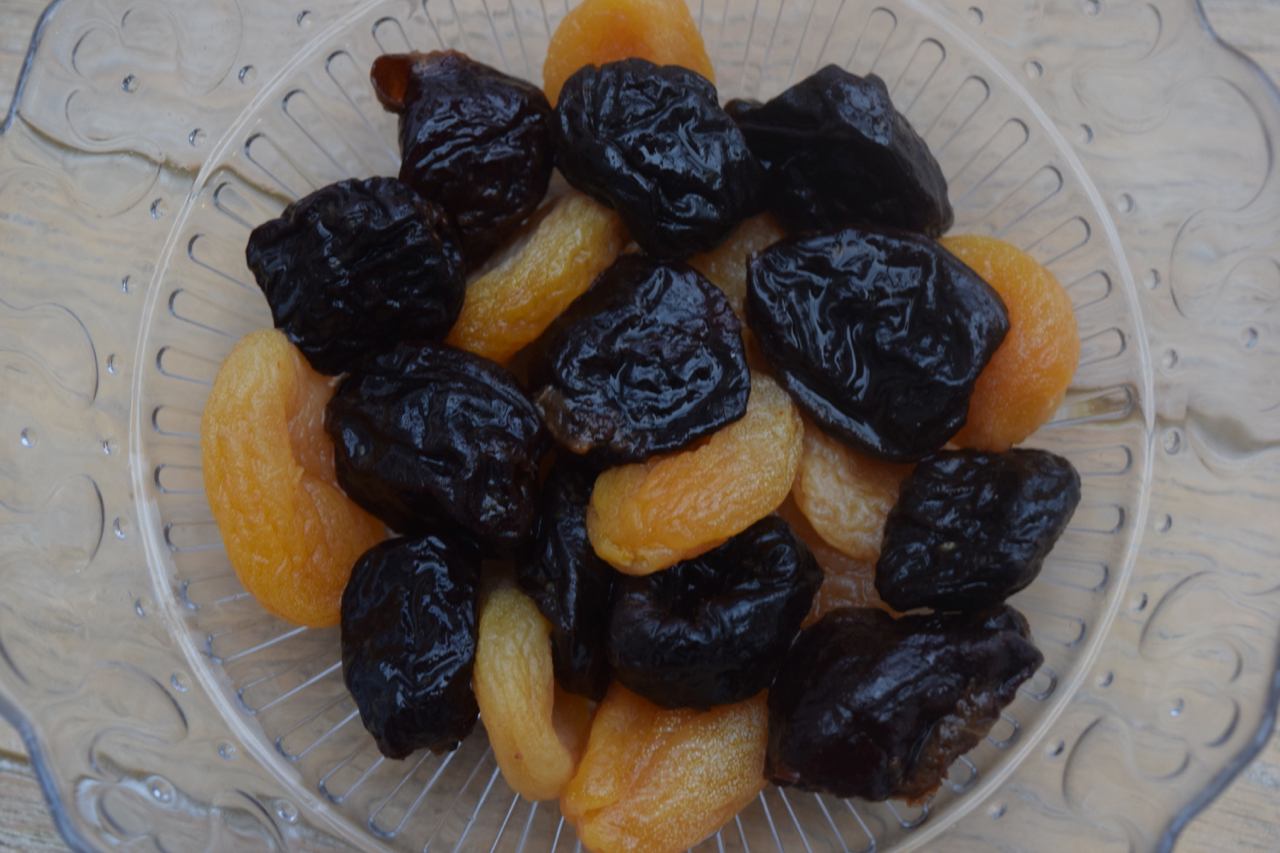 Once your fruits are soft, drain them, then you are ready to assemble. Pre heat your oven to 180 degrees fan and take a baking tray and foil it and oil it. Cut your rashers of streaky bacon in half to create 24 shorter rashers.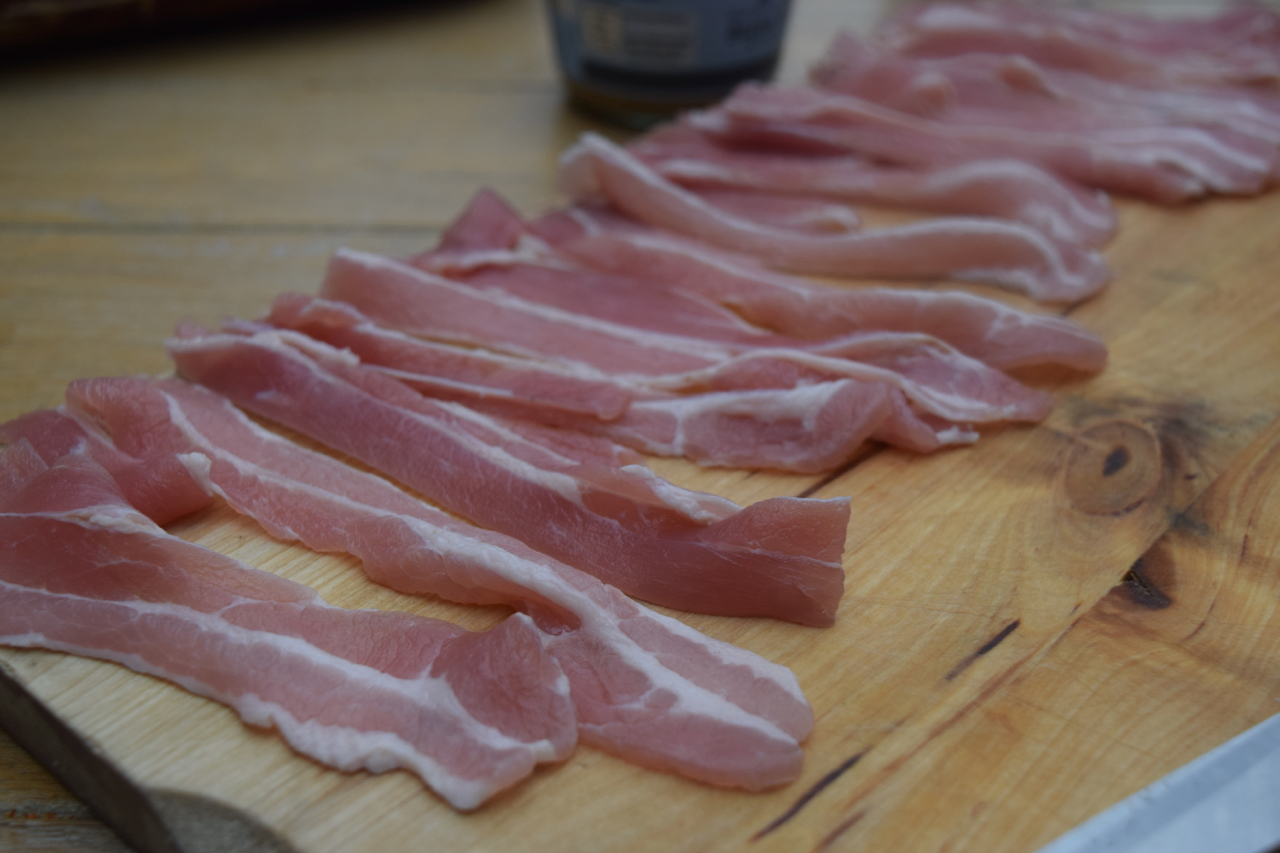 Daub each half rasher in your chosen mustard.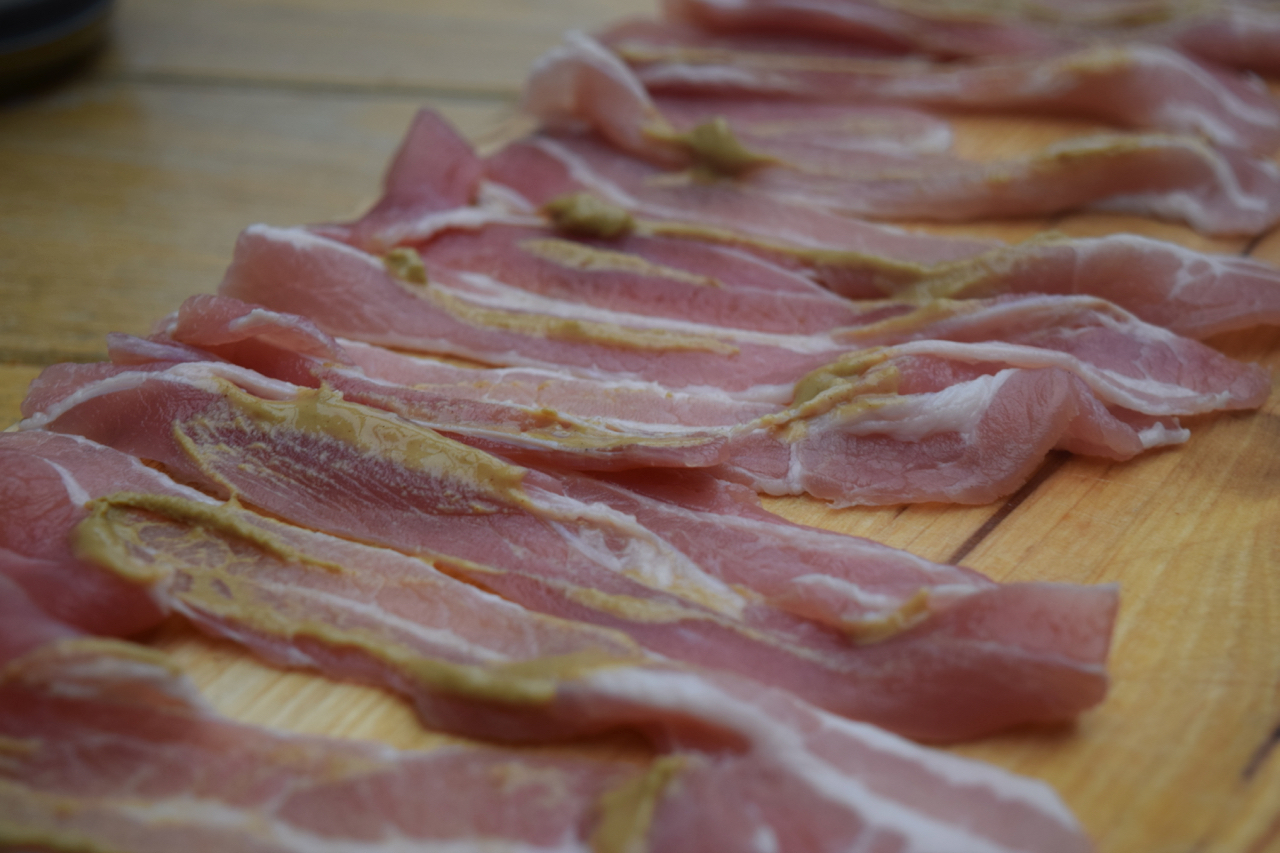 Now, take one of your chipolatas and hold a soaked prune or apricot in the middle of the sausage. Take a rasher of mustardy bacon and wrap it around the fruit, making sure it's tight then place on your baking sheet, bacon seam side down.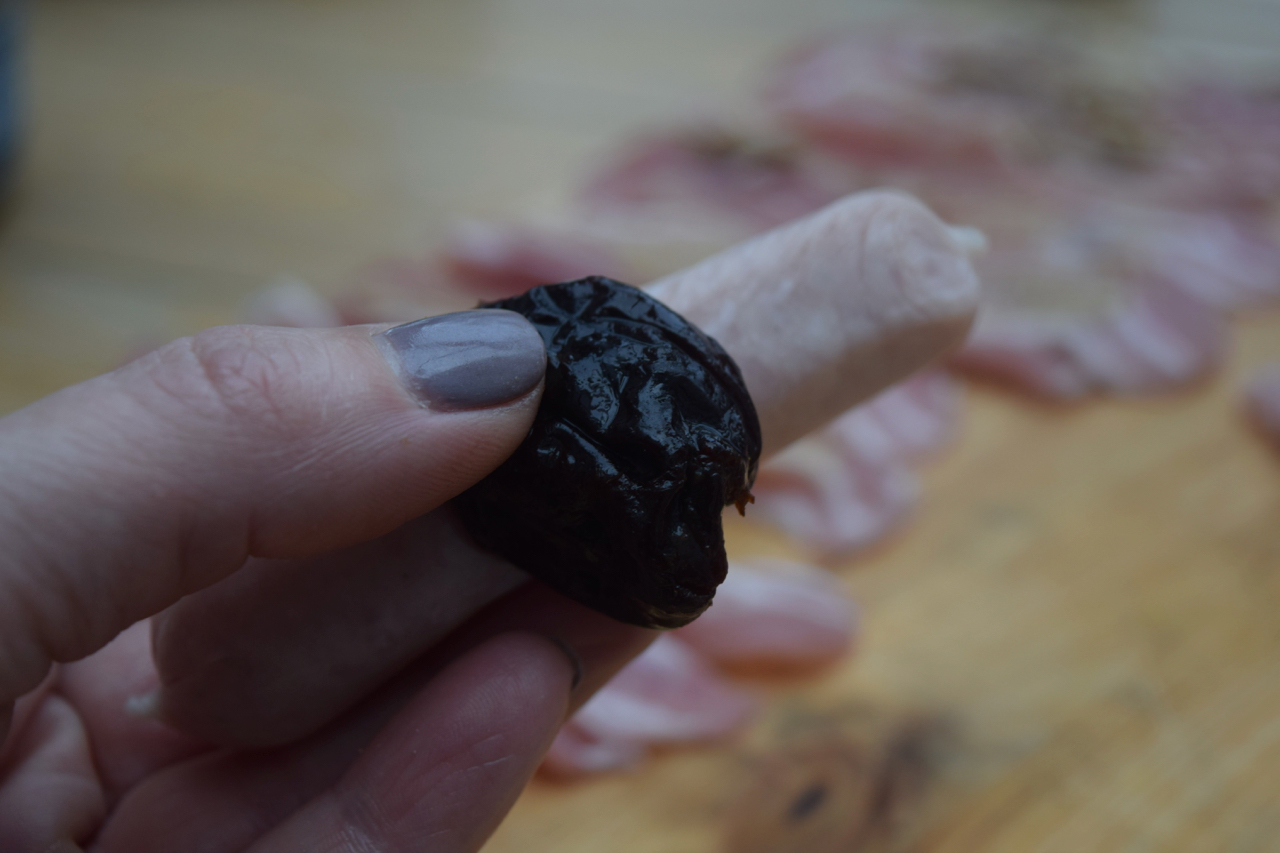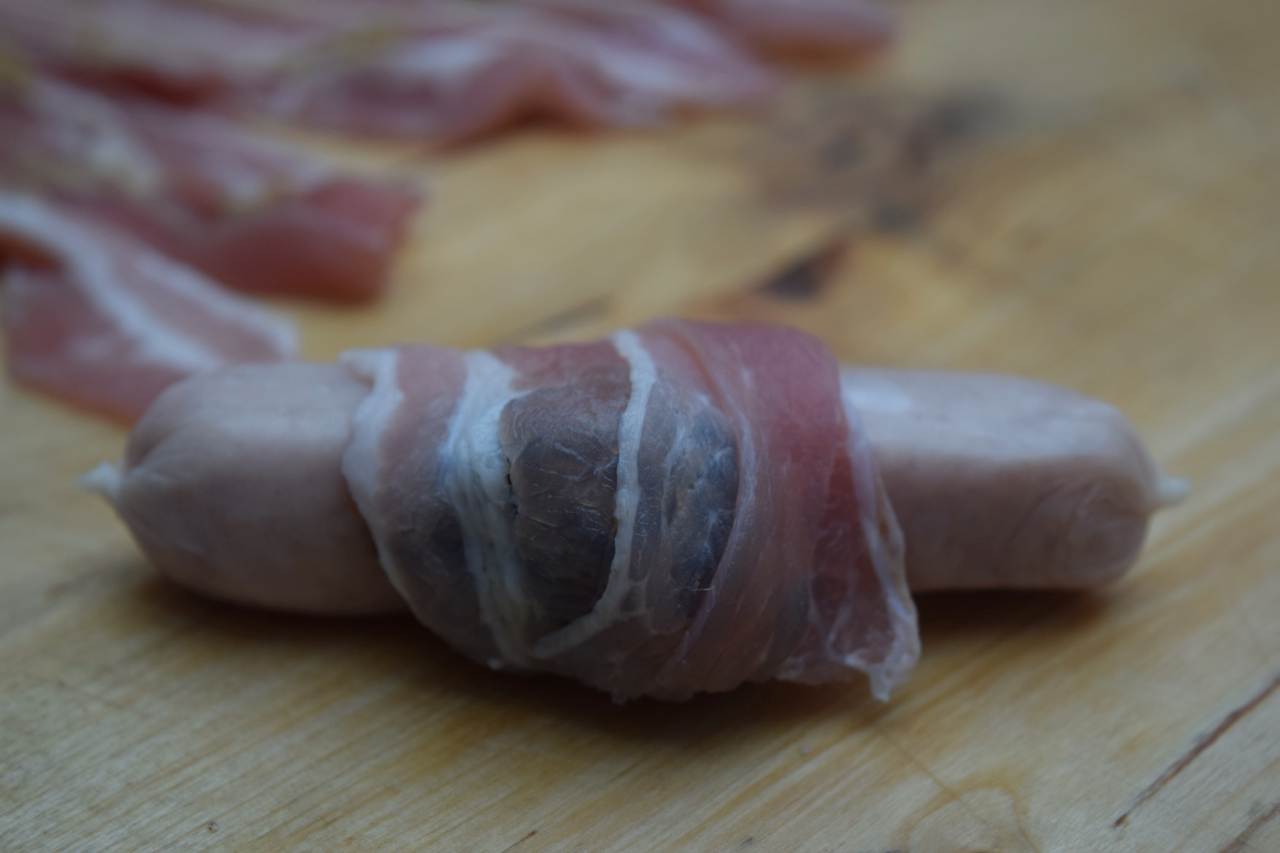 Finish the other 23 pigs then bake for 15 to 20 minutes in your hot oven. Your finished Devils on Horseback in Blankets will be golden, crisp and making your mouth water.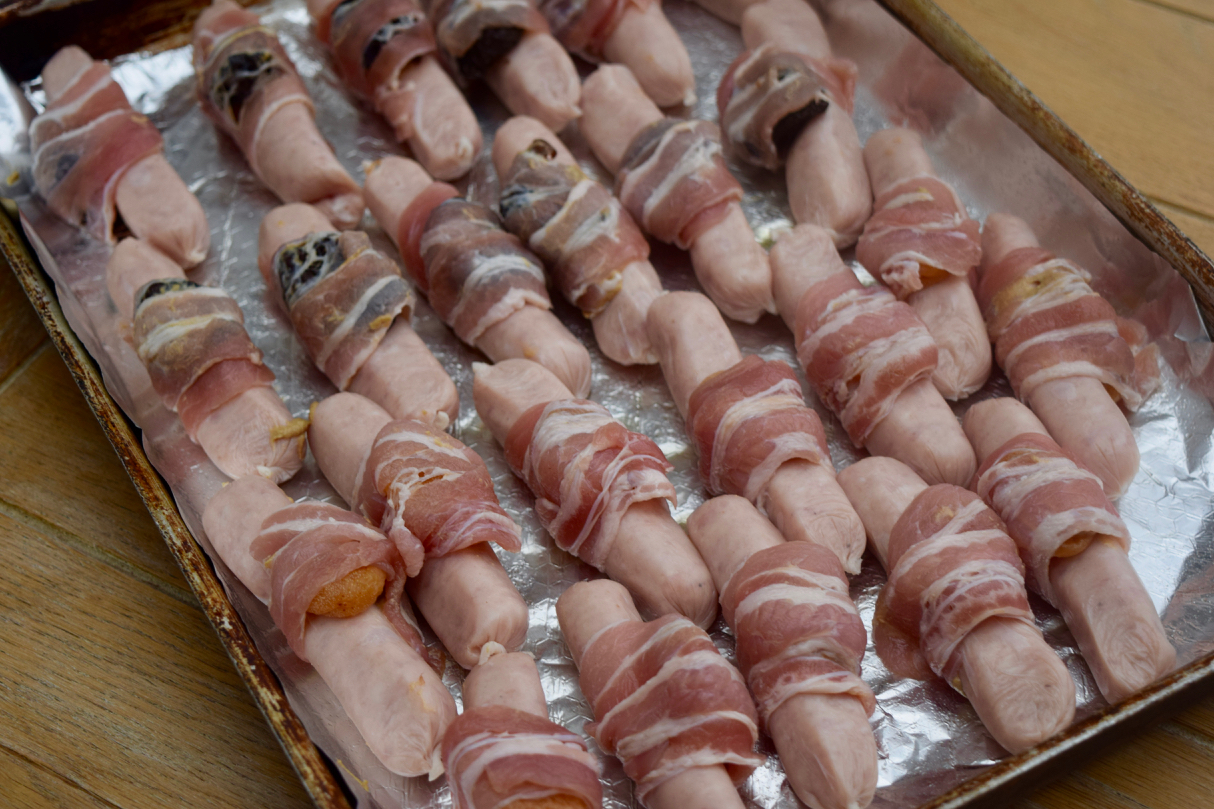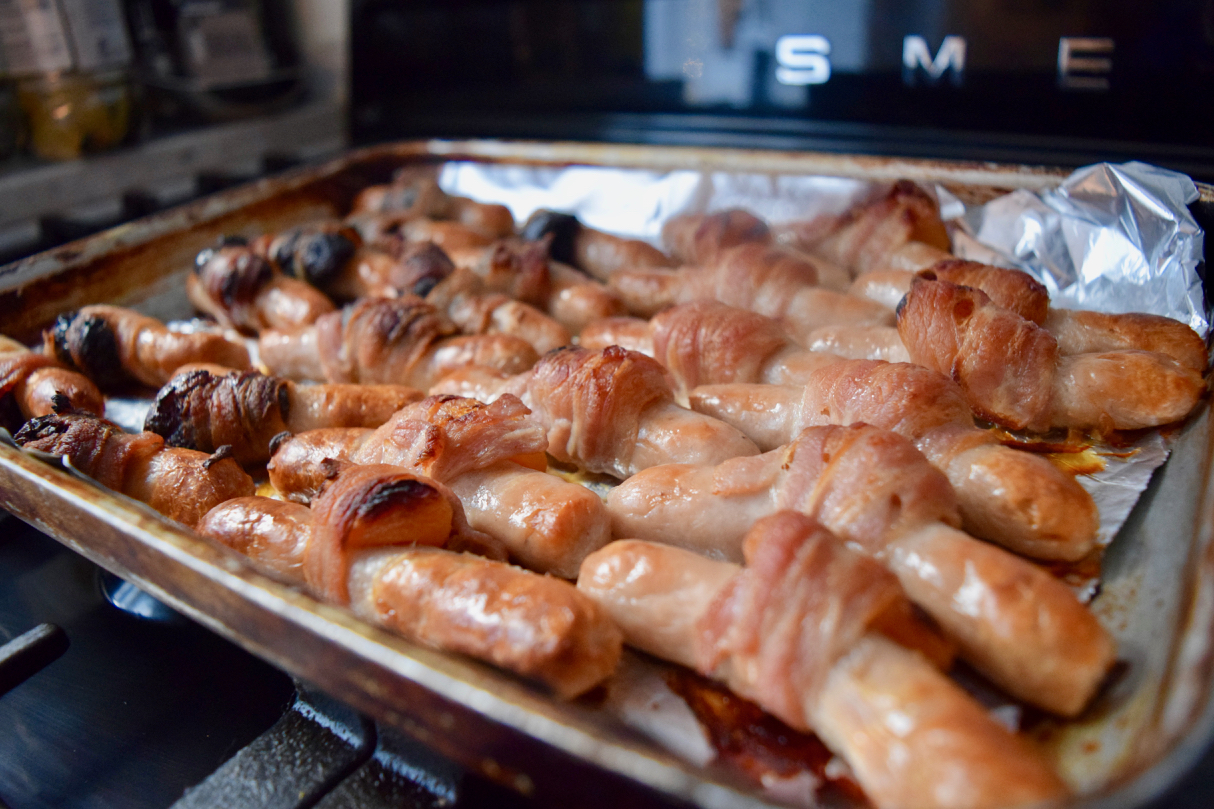 I served my pigs as a pre supper nibble, but these are perfect with a glass of fizz or you can also serve these over the standard pigs in blankets as part of your festive feast. Garnish with some fresh herbs if you like.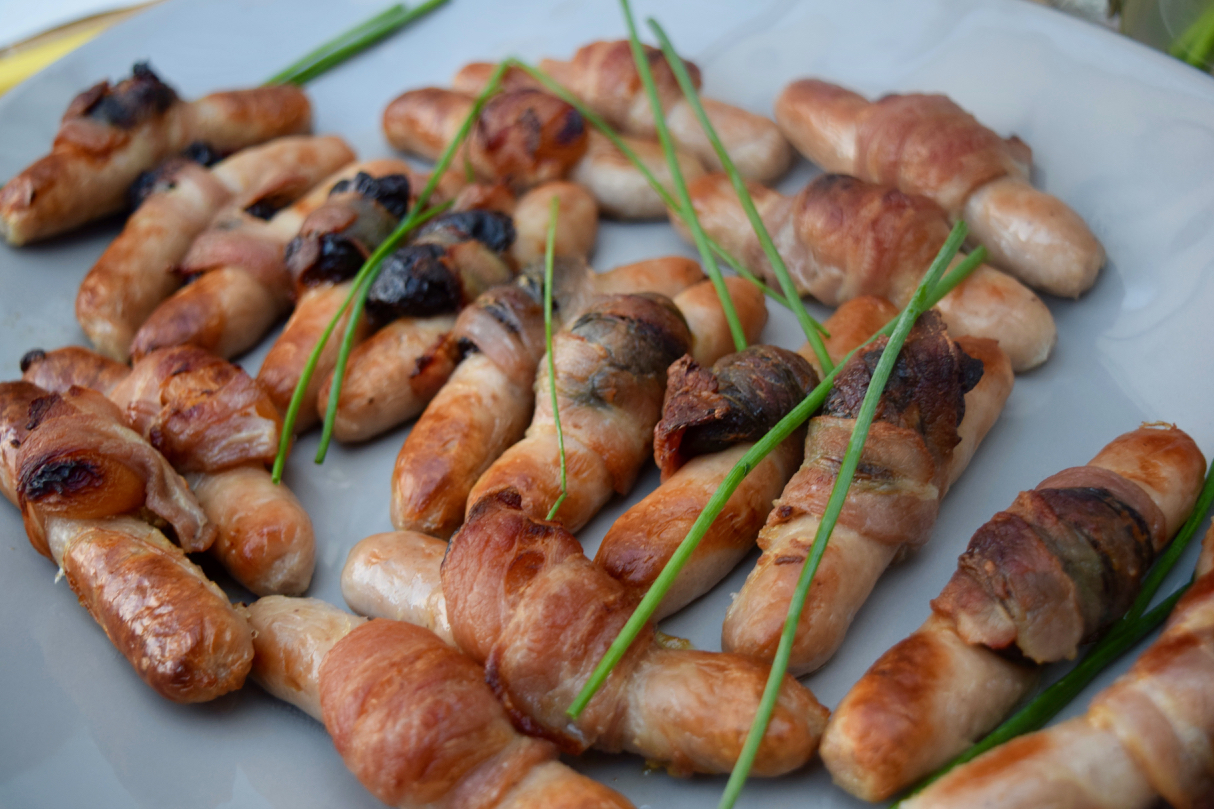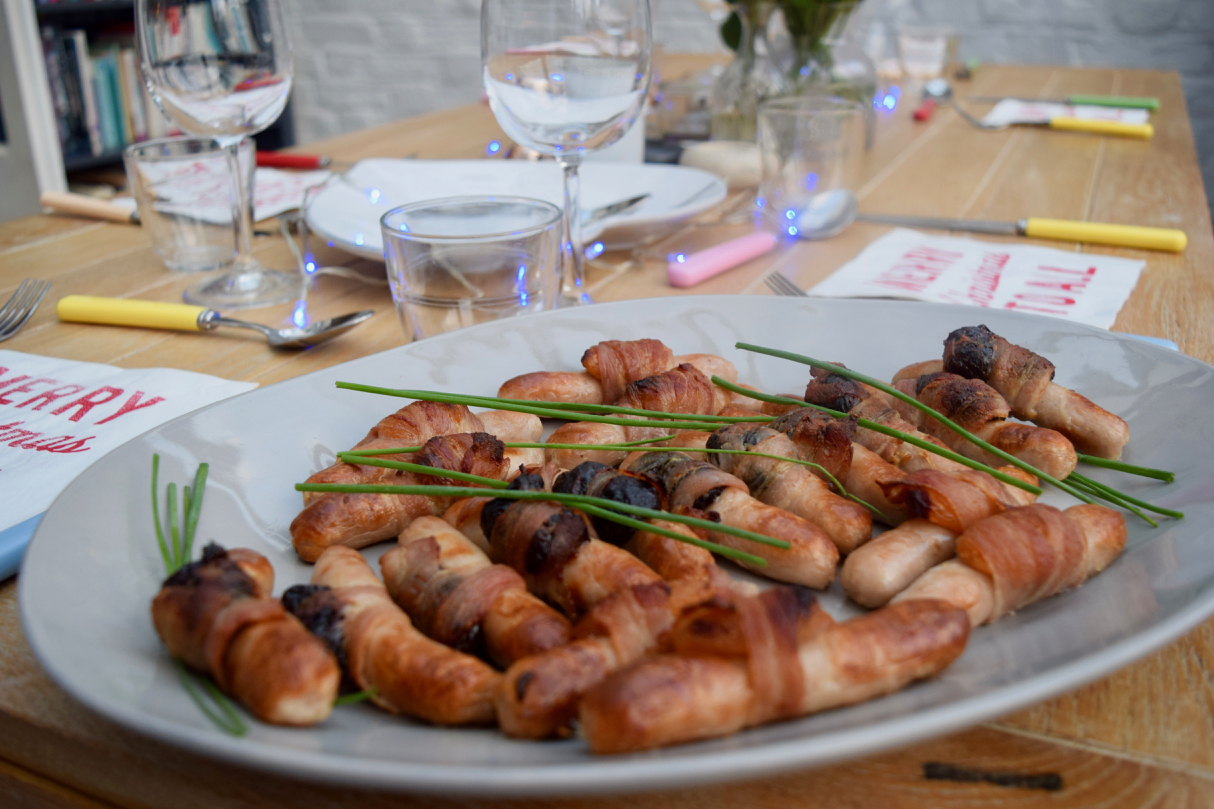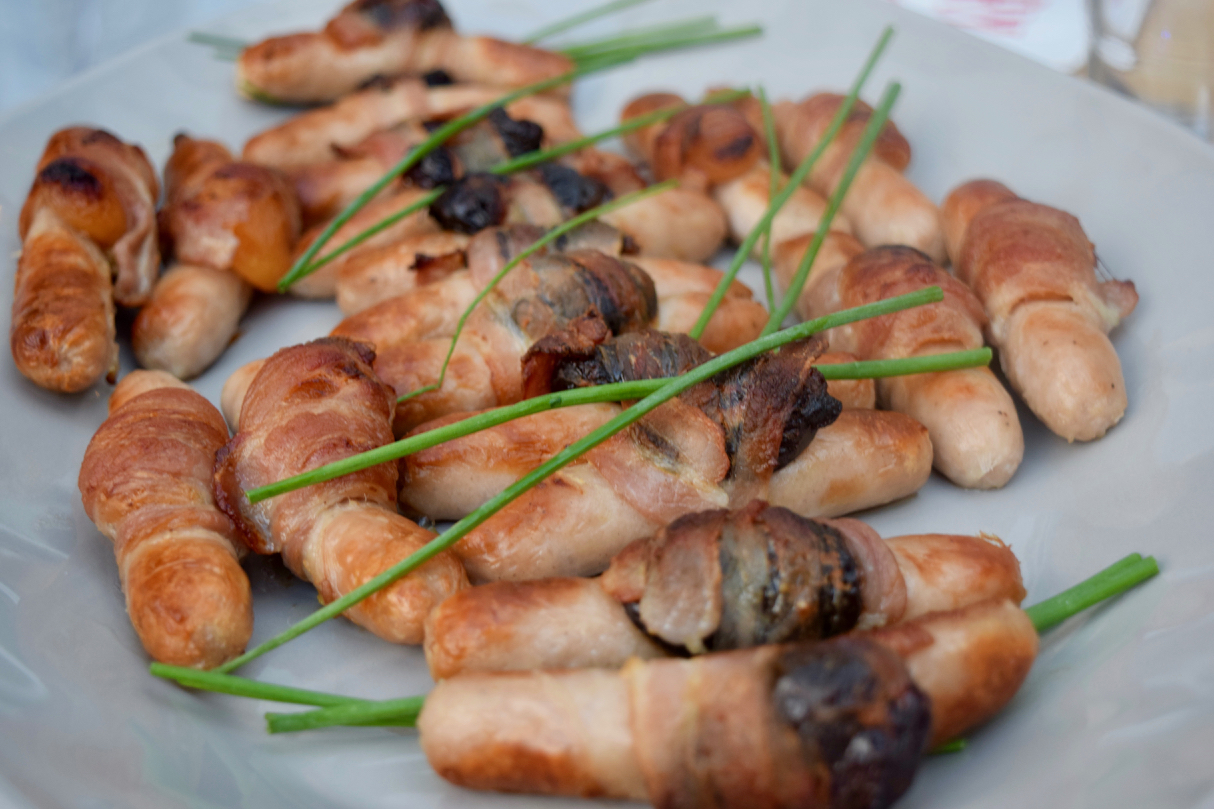 These are quite sublime. Classics if you please. And, at a time when you may not be thinking about your 5 a day, surely the prune or apricot count for something?
Lucy x
Devils on Horseback in Blankets Recipe
Makes 24
You will only need a lined baking tray
12 prunes
12 dried apricots
100ml white wine or orange juice
12 rashers streaky bacon
1 tablespoon mustard, I used Dijon
24 chipolata sausages
A little olive for drizzling
A herb garnish, if you like
Take your prunes and dried apricots and pop into a small bowl. Pour over the white wine or orange juice and leave to soak for at least an hour, 3 if you have time.
Once the soaking time is up, drain the fruit, then pre heat your oven to 180 degrees fan assisted and line a large baking sheet with foil and brush with oil. Cut your rashers of streaky bacon in half to make 24 shorter pieces. Spread each piece with a touch of mustard.
To assemble your devils take a chipolata and a prune or apricot and place the fruit in the middle of the sausage. Take your mustardy bacon and wrap it tightly around the fruit and place, seam side down, onto the greased foil. Continue with the rest of your fruit, chipolatas and bacon.
Drizzle the sausages with some olive oil then bake for around 15 to 20 minutes in your hot oven until the bacon is crisp and the sausages are golden. Serve piping hot, with cocktail sticks or napkins, on a serving platter with a fresh herb garnish.