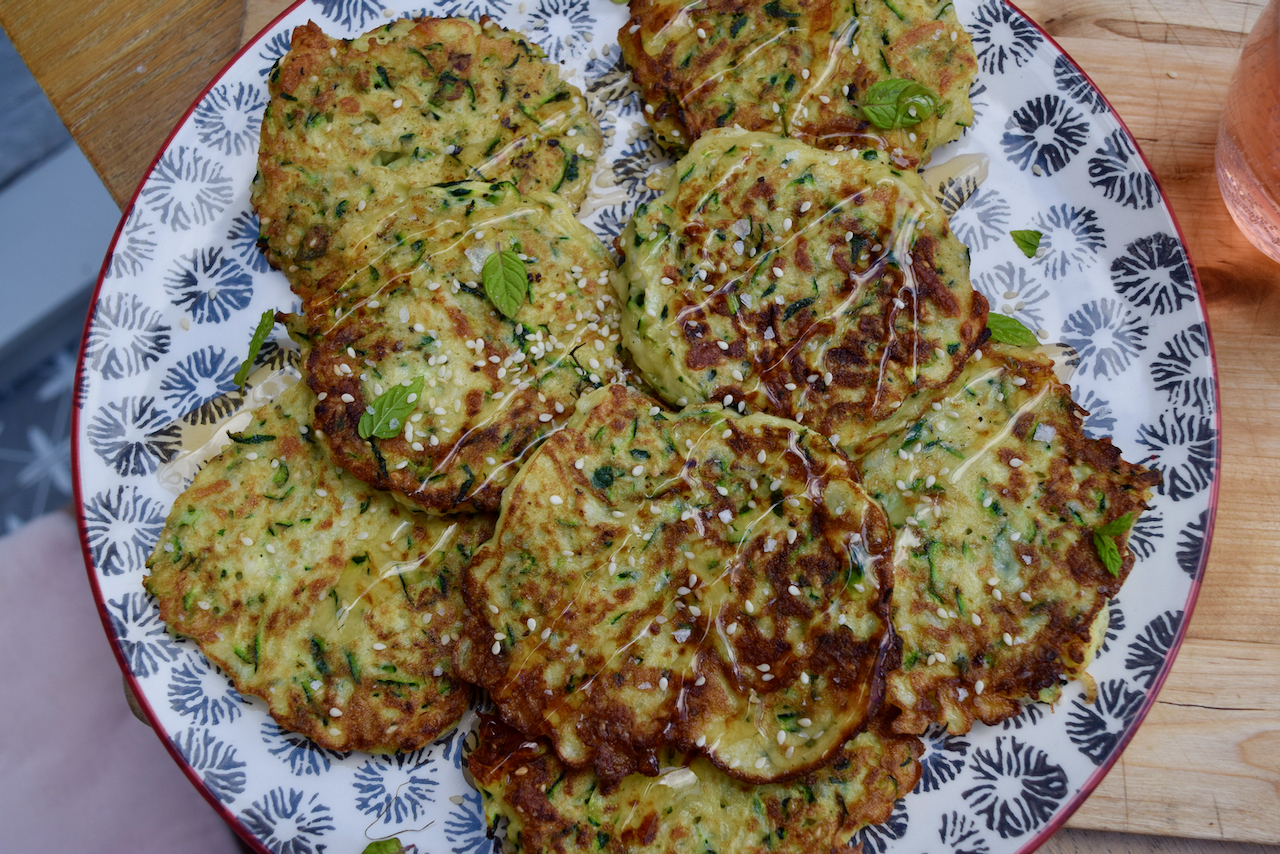 Courgette and Halloumi Pancakes recipe
It's Monday and I'm exhausted. Since we have been allowed to interact with friends and family, we have been busy with socially distant drinks in our garden. I have mostly been munching crisps and drinking rosé for the past week, so it's time to consider eating something with a modicum of health to it. These Courgette and Halloumi Pancakes, make the perfect nibble with drinks, or if you haven't given up on meals completely, have them for brunch, lunch or supper.
I don't know a single person who doesn't love Halloumi *cue someone telling me how much they hate it*. In these pancakes everyone's favourite squeaky cheese loses the squeak but you still get a lovely salty bite from it's presence. The courgettes add much needed vitamins and colour with a nutty bite from some sesame seeds. My pancakes were made from a heaped tablespoon of batter, making them 3 bite size, perfect as a side, summer lunch or I nibbled plenty of these, hot from the pan, with the honey drizzle running down my arm. Big thanks to BBC Good Food for the recipe inspiration today.
Drinks with much missed friends in the garden are so the way forward as we ease out of lockdown. Sadly, if you offer your guests these Courgette and Halloumi Pancakes, they may never bugger off.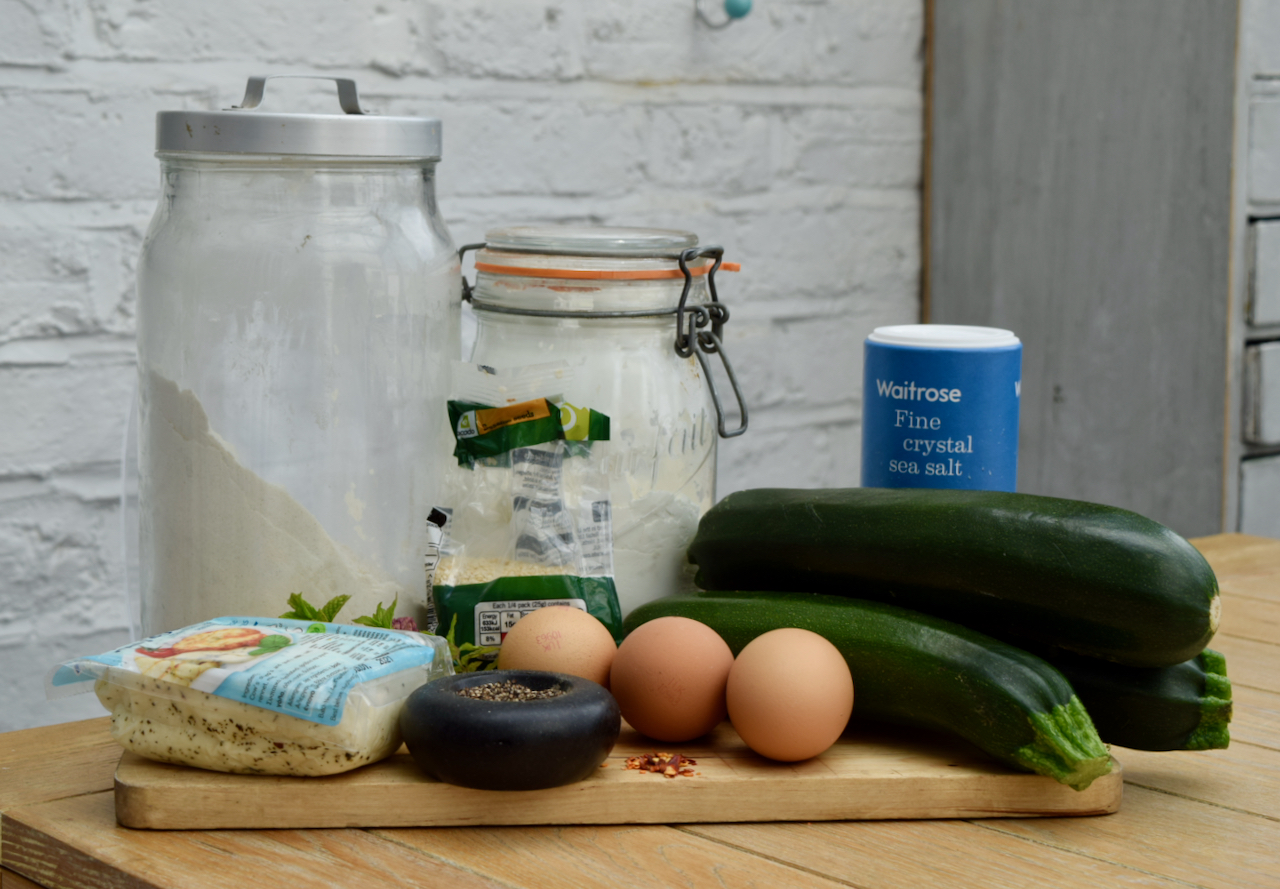 Courgettes are so lovely at the moment, and they're plentiful, unlike halloumi which I almost have to keep under lock and key to stop George eating it.
Start with the courgettes. Trim the ends then grate into a colander placed over a bowl. Stir through the salt then leave to drain for 30 minutes.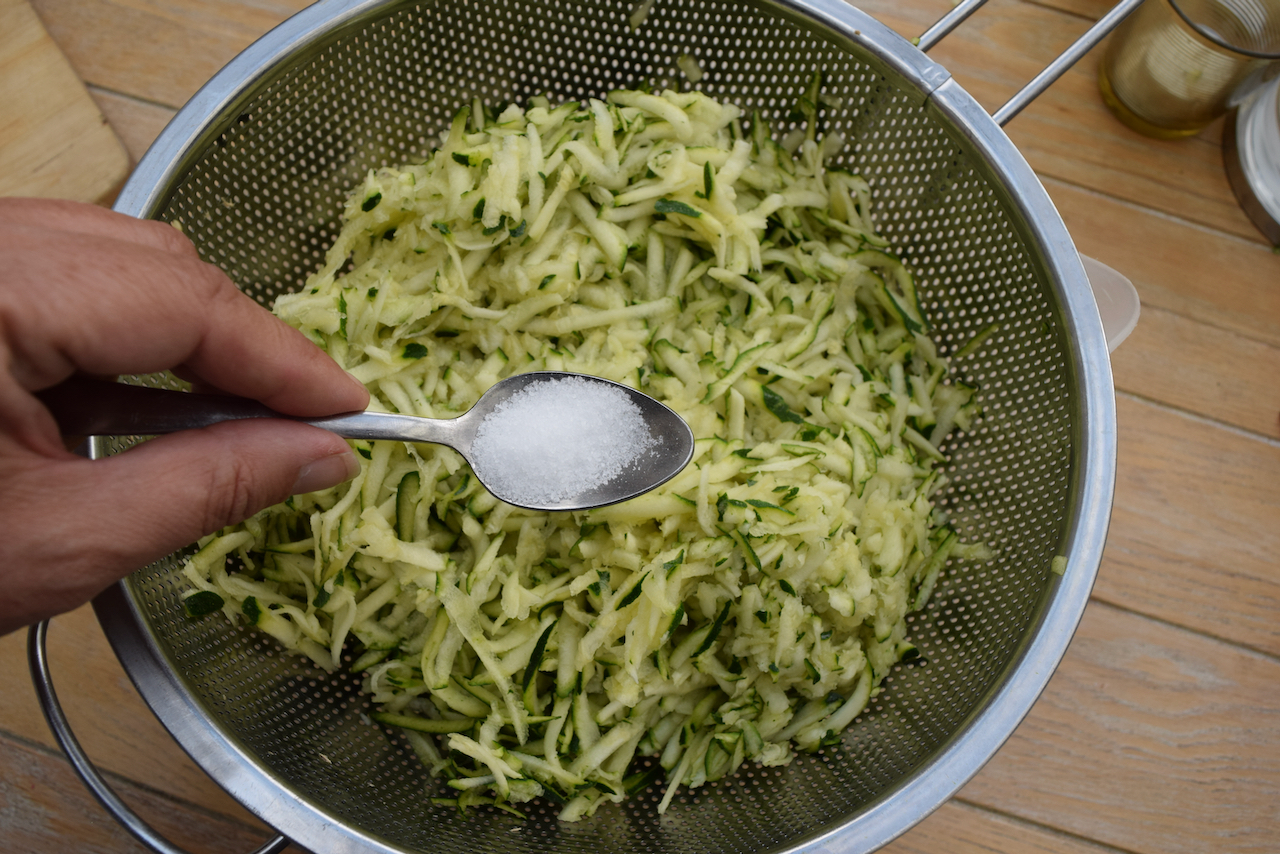 While the courgettes drain, measure your self raising flour, cornflour, chilli flakes, salt, pepper, sesame seeds and fresh mint into a large bowl and mix to combine.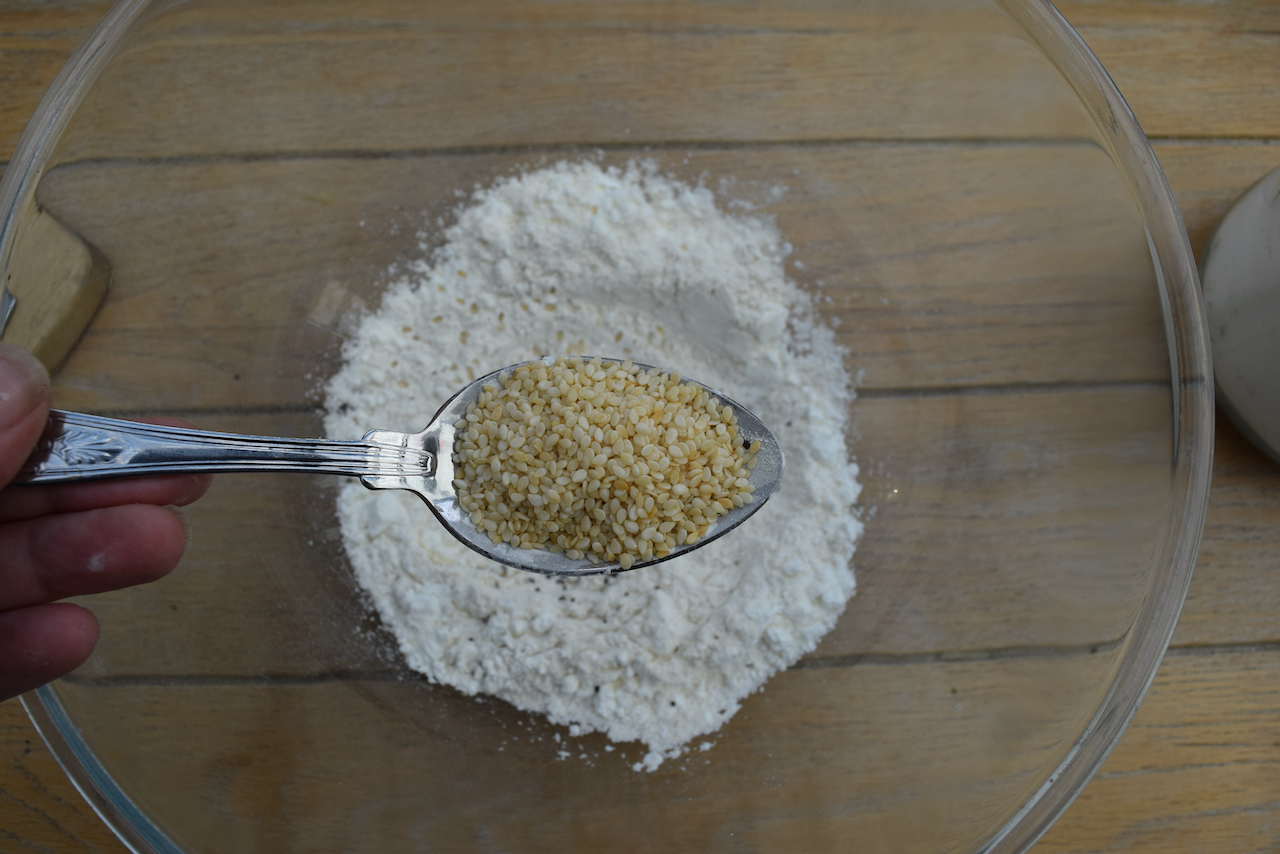 Pop the dry ingredient to one side. When the courgette draining time's up, go in with your hands and press and squeeze to remove most of the liquid. You want your grated courgettes to be as dry as possible.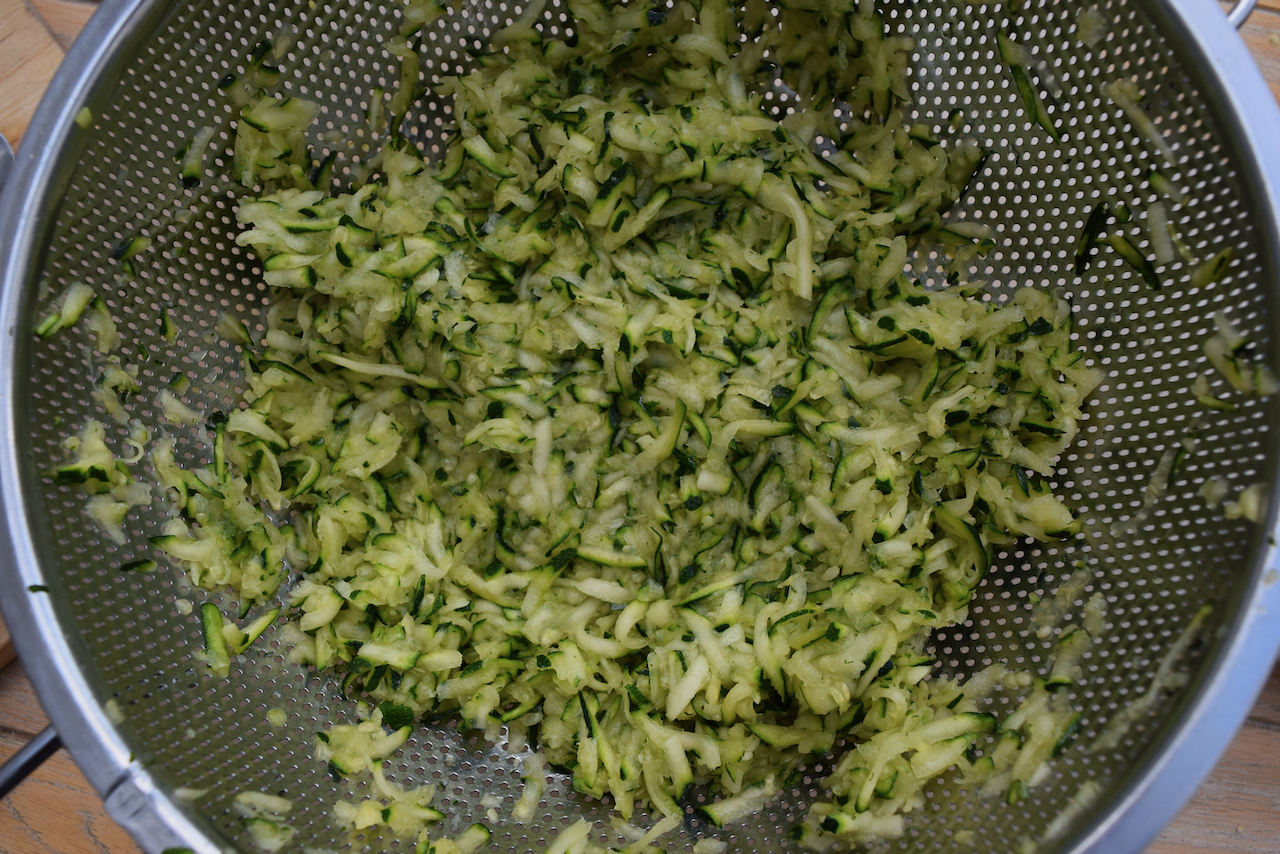 Back away from the courgettes for the mo whilst you grate the halloumi.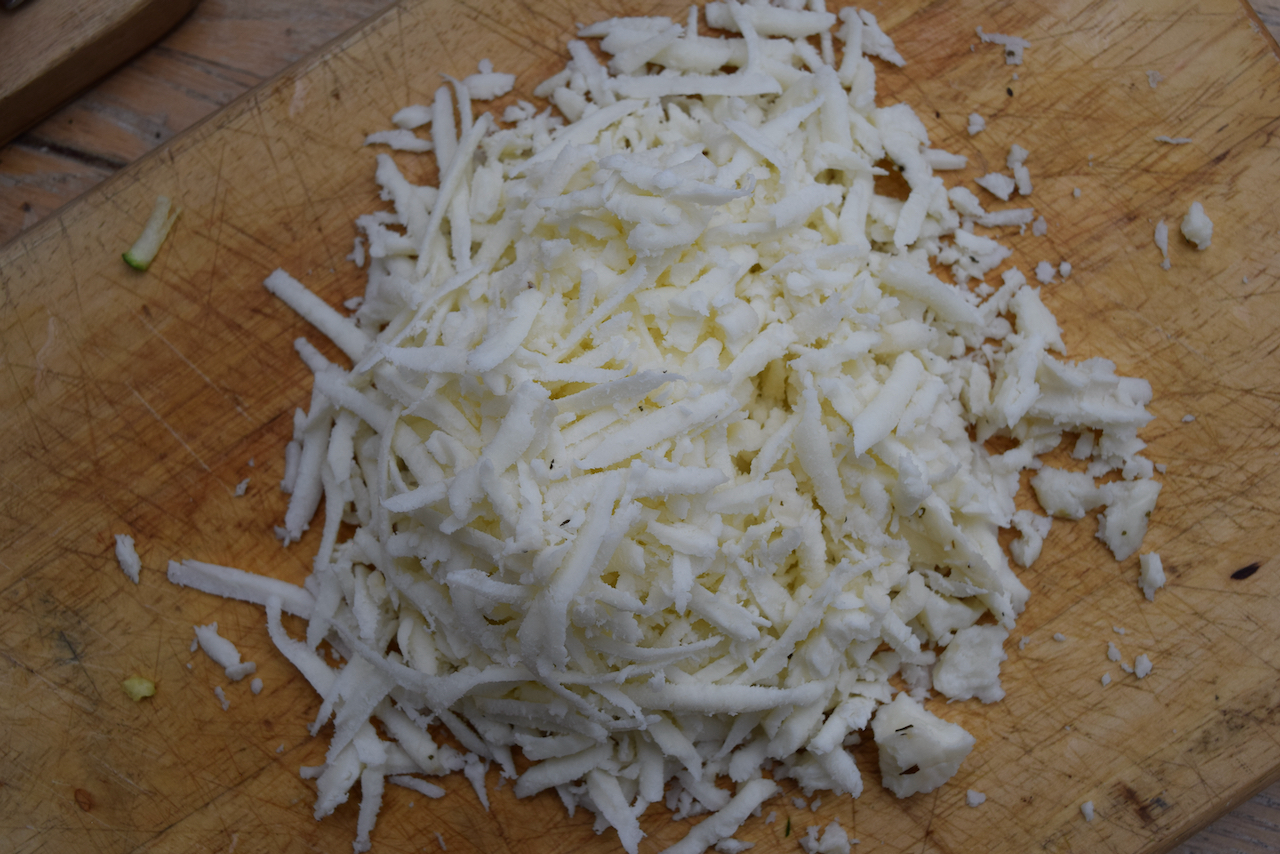 Now tip the halloumi into the flour mix along with your drained courgettes.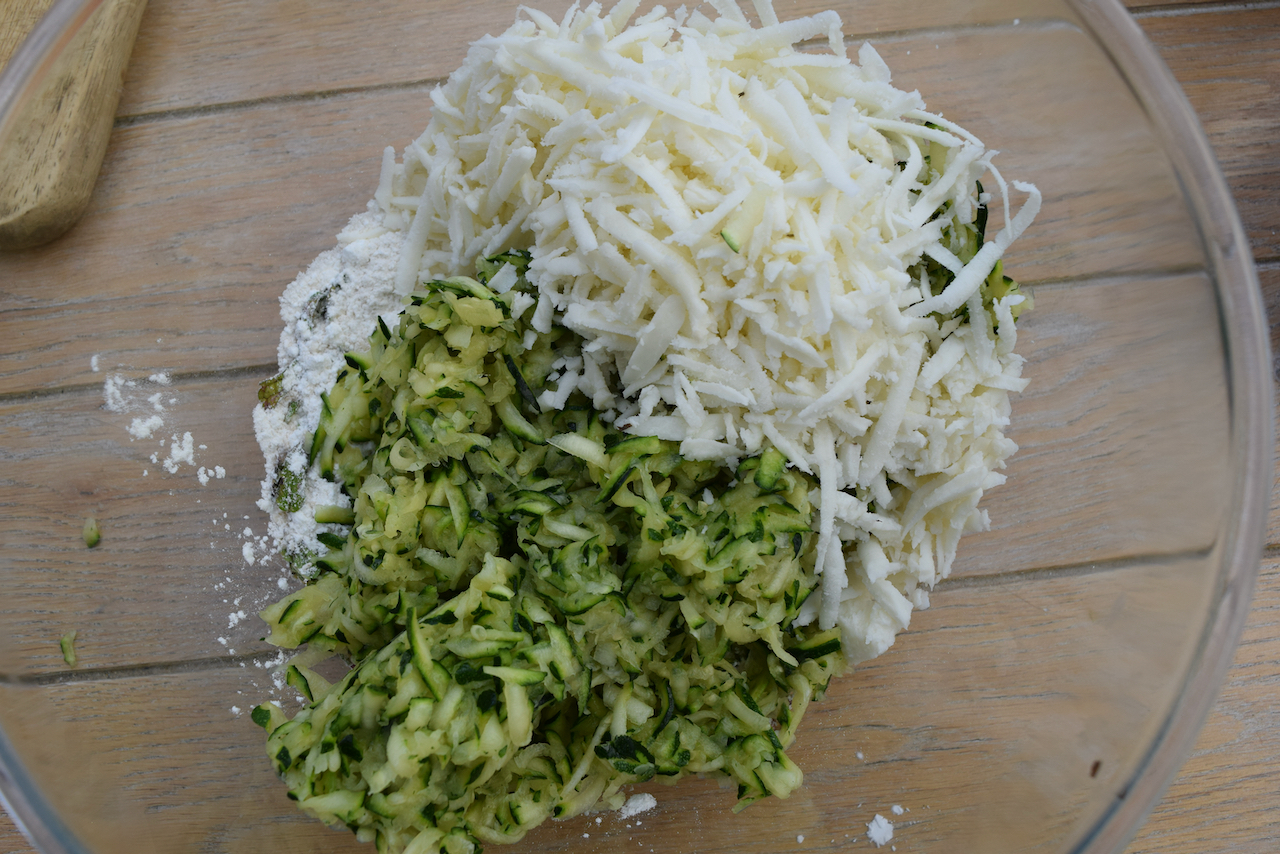 Give this a good mix then go in with the 3 eggs and combine the whole lot using a fork until you have a wet-ish batter.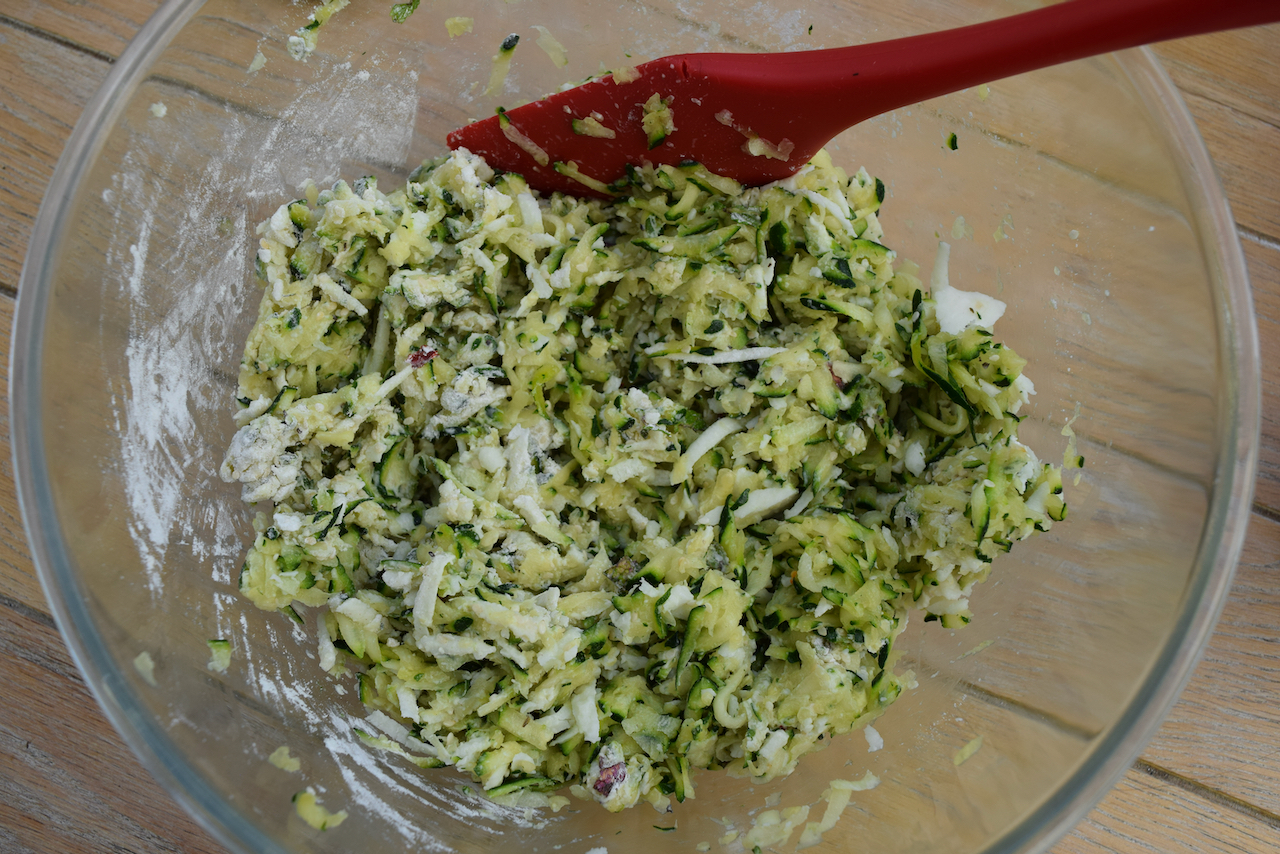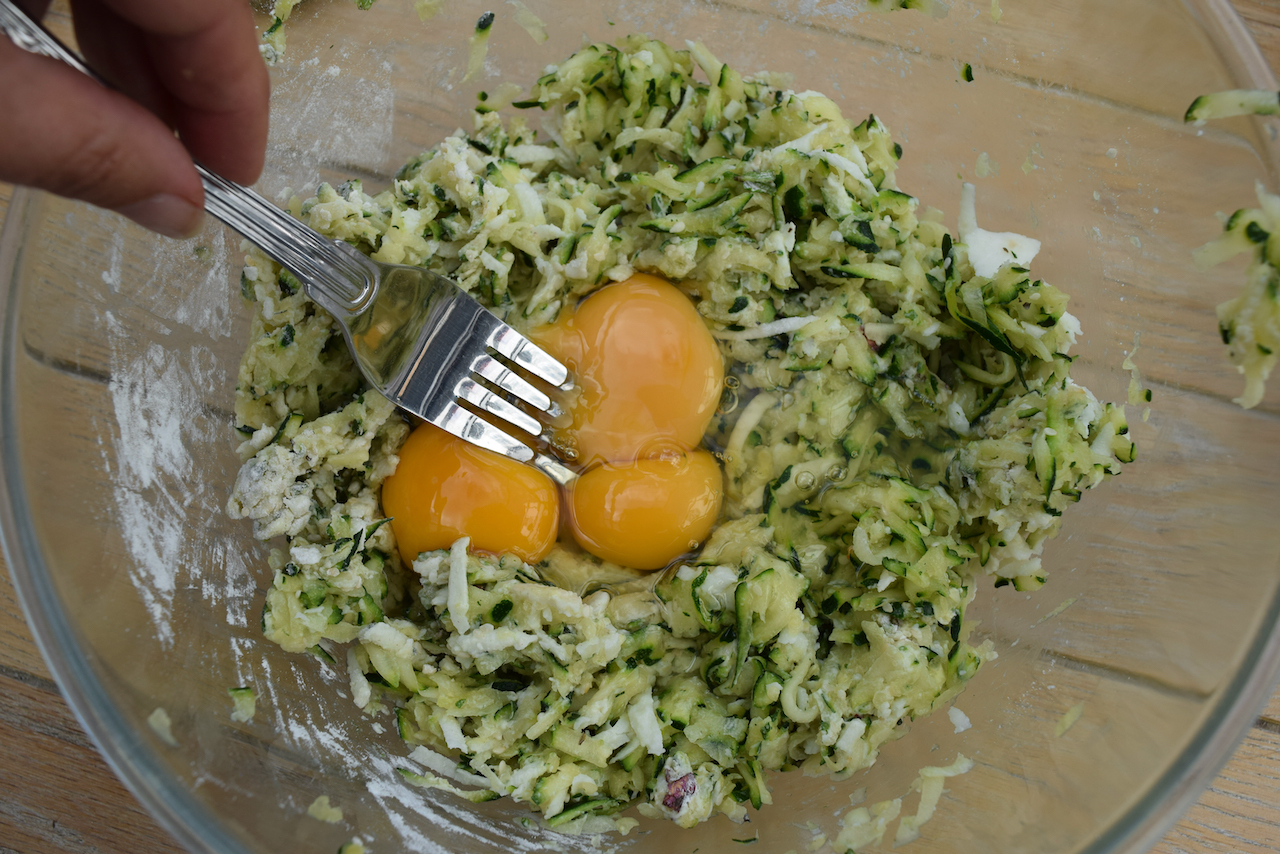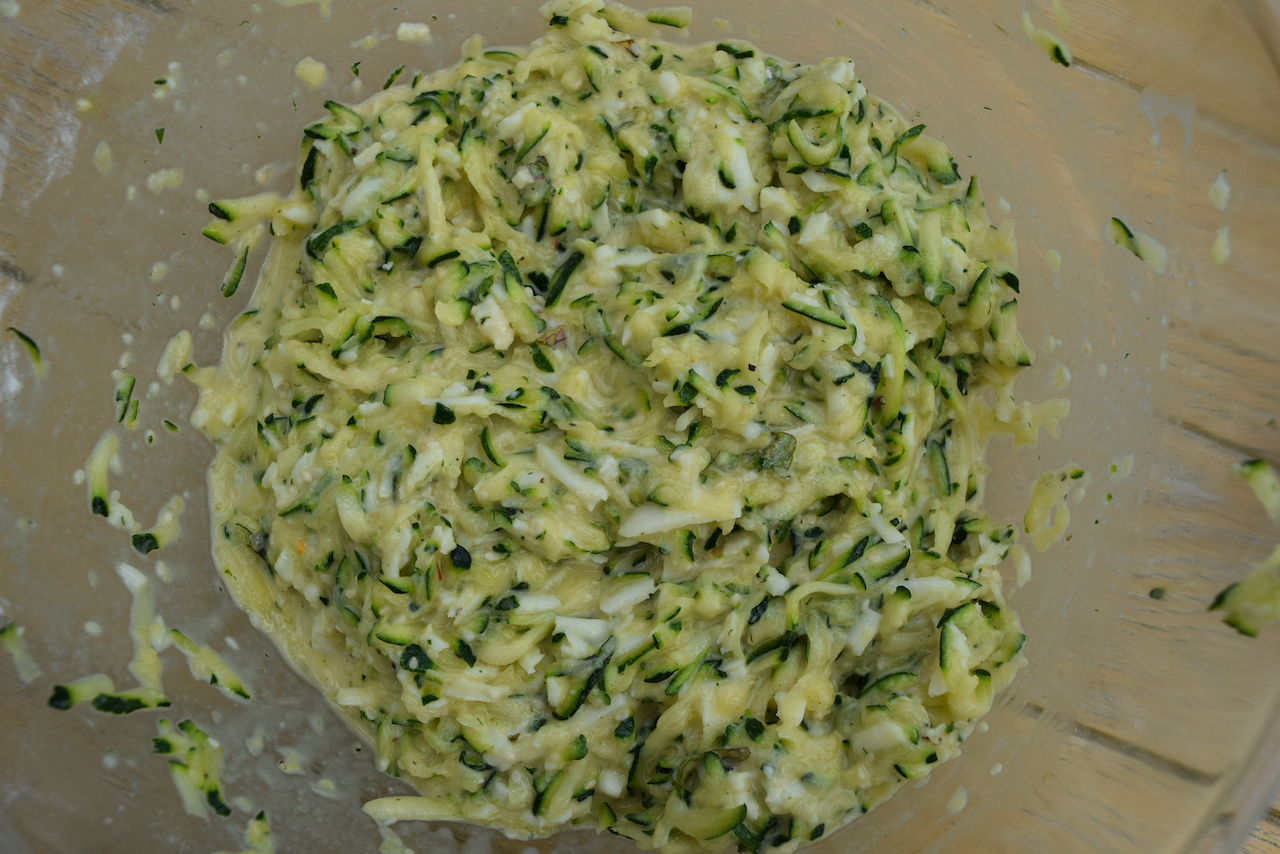 Heat up a lovely non stick pan over a medium high heat with a tablespoon of oil swirled in it. Then it's time to fry. I used a heaped tablespoon of mixture for my size of pancakes but if you want them for smaller, bite sized nibbles, go with a teaspoons worth.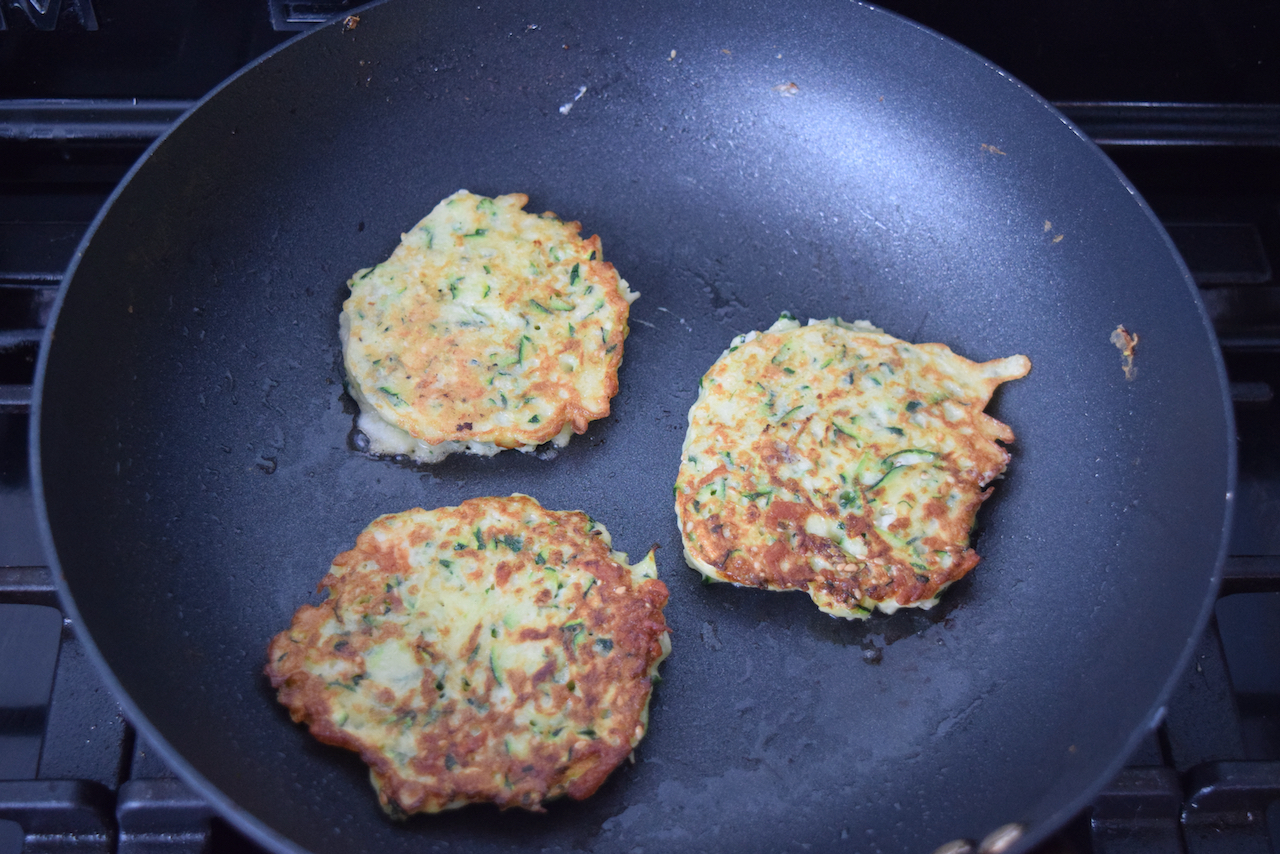 Cook for 2 to 3 minutes on each side until your pancakes are golden and firm. Keep them warm in the oven while you finish the batch.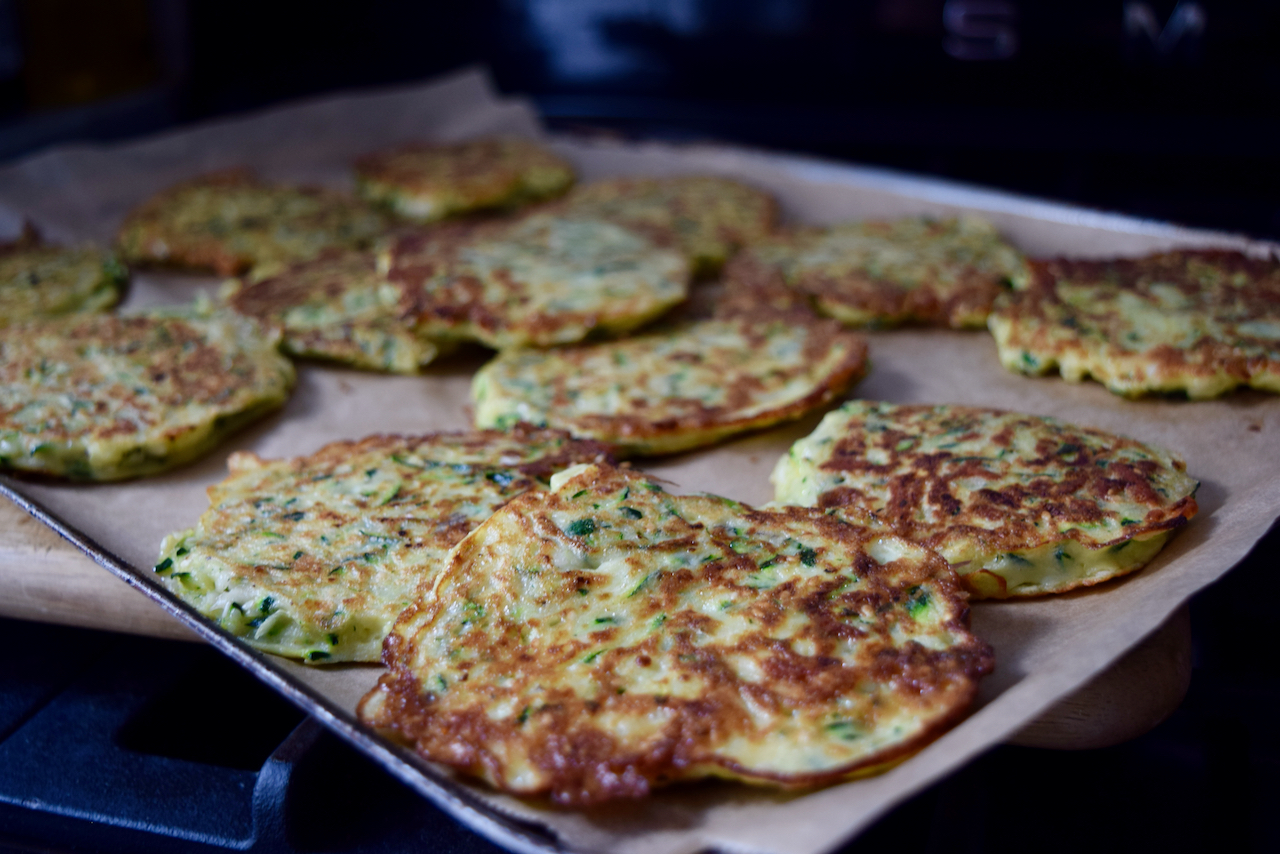 Serve these beauties piping hot drizzled with a touch of honey and a sprinkling of sesame seeds and fresh mint, if you like. Or dip into sweet chilli sauce, or serve with salad, or a fried egg, the opportunities are endless.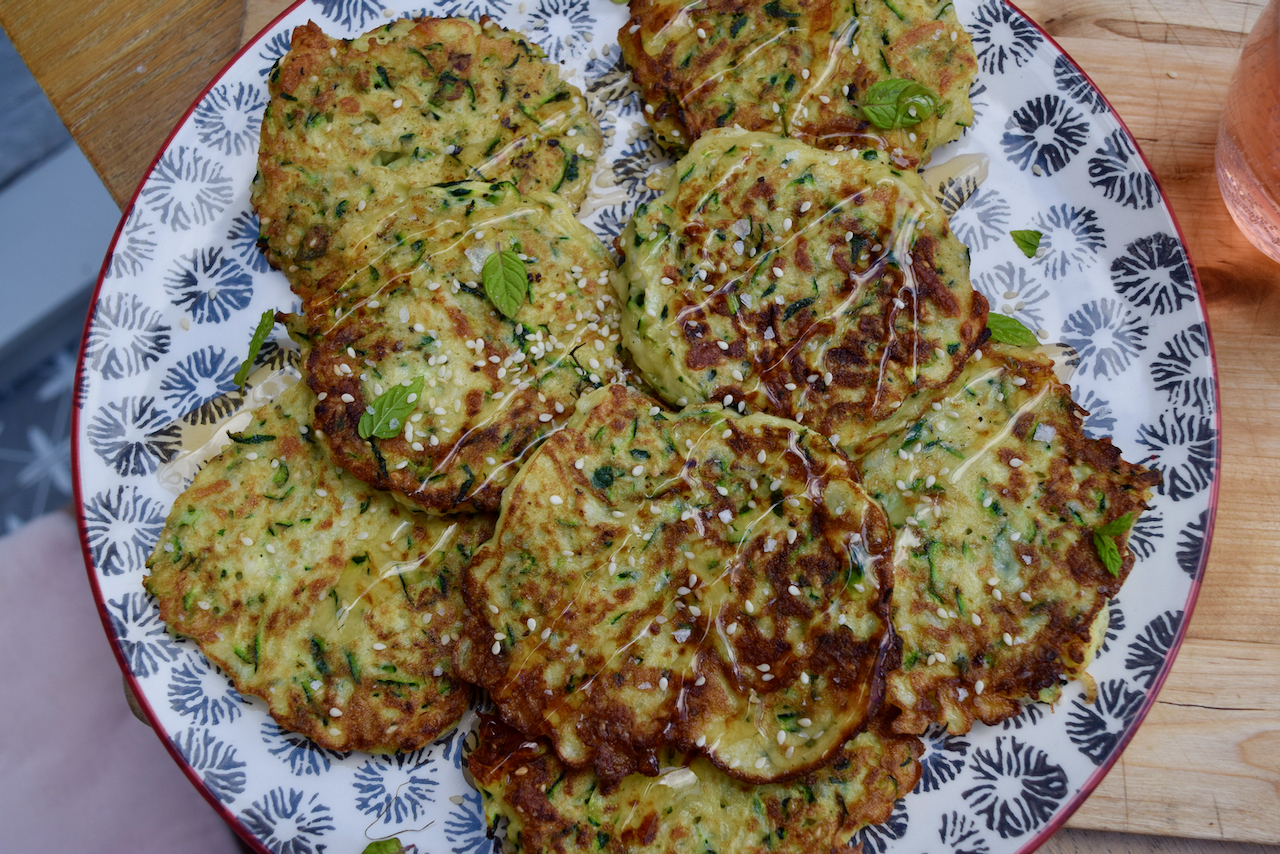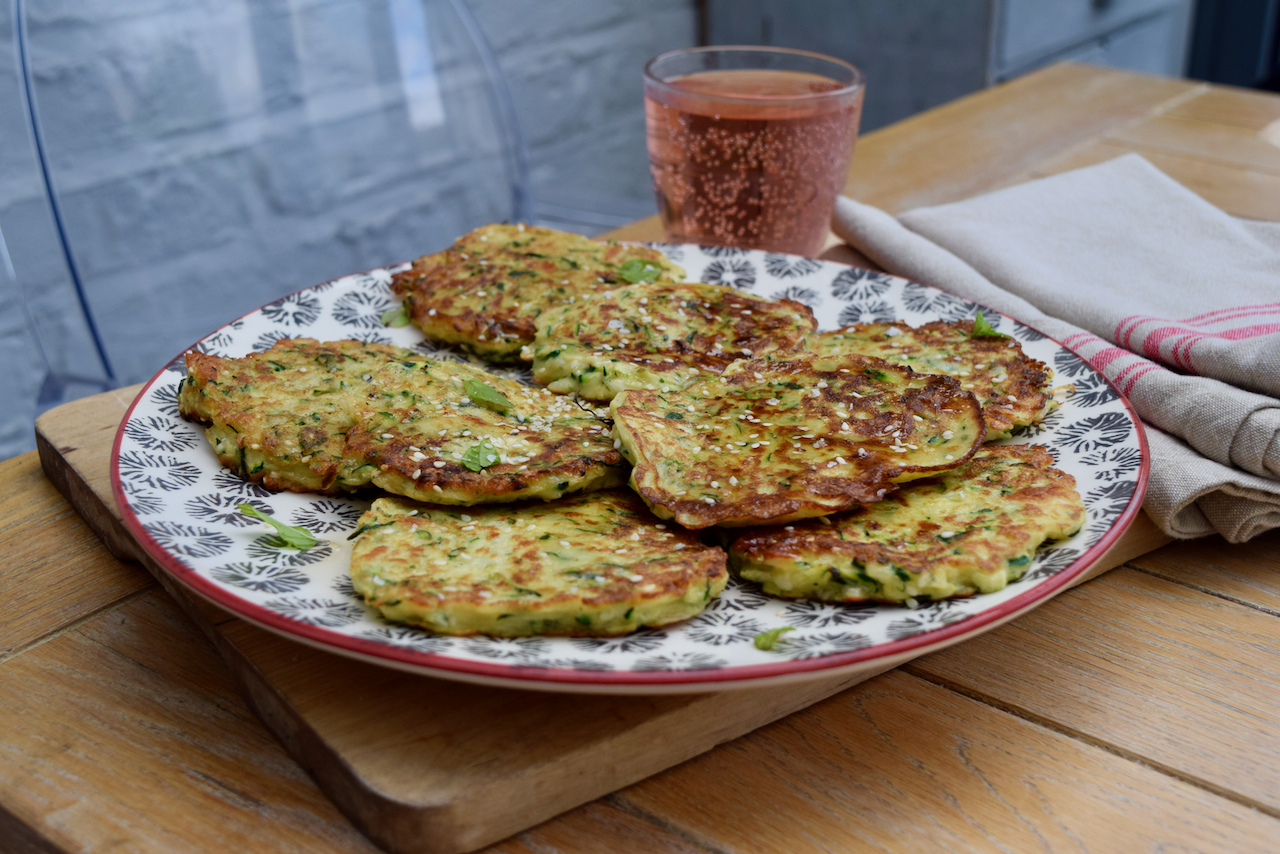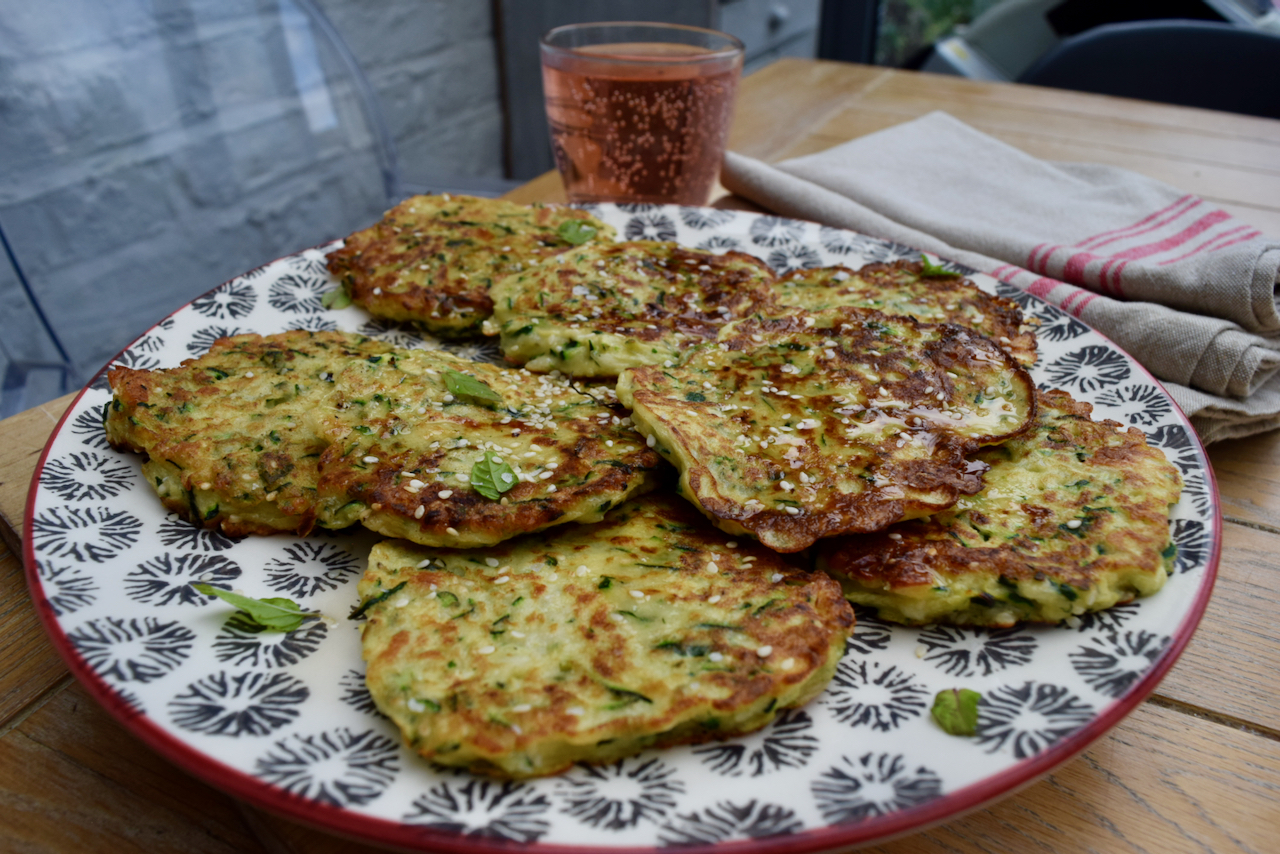 I love a fritter or a pancake of any nature. One which incorporates the lovely halloumi, however, is a total win bonus. Tuck right in.
Lucy x
Courgette and Halloumi Pancakes recipe
Makes 12 to 15, or more if smaller for a nibble
You will only need a grater, bowls and a frying pan
3 medium courgettes
1 scant teaspoon salt
50g self raising flour
30g cornflour
3 tablespoons sesame seeds
A good pinch chilli flakes
1/4 teaspoon pepper
1/2 teaspoon salt
3 teaspoons chopped fresh mint
180g halloumi, grated
3 eggs
Oil, for frying
A drizzle of honey, fresh mint and sesame seeds to garnish or sweet chilli sauce, salad, a fried egg, endless possibilities
Take your courgettes, trim the ends, then grate into a large colander, placed over a bowl. Sprinkle with the teaspoon of salt, stir, then leave for 30 minutes to drain. When the time's up, using your hands, press and squeeze the grated courgette to extract most of the water.
In a large bowl mix the self raising flour, cornflour, sesame seeds, chilli flakes, 1/2 teaspoon of salt, pepper and fresh mint. Add the grated halloumi then stir in the drained courgettes. Stir well then add the eggs and mix the whole lot with a fork until you have a loose batter.
Take a large frying pan and heat over a medium high flame. Add a generous tablespoon of oil, swirl to coat the pan, then add tablespoons of the batter to the pan and press down to flatten. Cook for 2 to 3 minutes on each side or until golden and firm. Repeat with the rest of the batter, keeping your cooked pancakes warm in a low oven while you do so.
Serve your pancakes with a drizzle of honey and a sprinkling of some more sesame seeds and fresh mint. These can be a nibble if you make them small, a side with some barbecued meat or a vegetarian main course with some salad or a fried egg.