Barbados Cream Recipe
Barbados Cream was one of my Mother's absolute stalwart puds in the 70's. God knows what yoghurt, cream and brown sugar has to do with the Caribbean, but this creamy, delectable dessert screamed sophistication to me and my sister as we sneaked big mouthfuls after our parents dinner guests had gone home. When I decided to make this for Lucy Loves, I even had to look for a recipe because other than some yoghurt, some double cream and some brown sugar I had no idea of the actual recipe. I can, however, assure you even though we had a yoghurt maker circa 1976, we definitely did not use homemade yoghurt in our version. Back in the present day, I have recreated Madeleine's Barbados Cream, but this time I have utilised my favourite new toy, my Instant Pot electric pressure cooker, to make it using my own, home grown yoghurt.
Overachiever I hear you cry? Well maybe just a little bit, but I made my own yoghurt for my Barbados Creams for a couple of reasons. a) I had massively over ordered on milk so had a fridge full b) I wondered what the Yoghurt button on my Instant Pot actually did and c) we do rather hack through yoghurt in our house so surely it has to be more economical to make your own. Ramble over, you don't have to make yoghurt of course, unless you want to play with your new Instant Pot, if you have one. But do make the no effort it takes to make this Barbados Cream because it's bloody delicious and embarrassingly simple. You can make it in tiny pots or a large bowl or trough. Choose to include any seasonal fruit of your choice; I went with strawberries and nectarines, 2 of my top 5 summer fruits. The fruit followed by the yoghurt and cream is then topped with a generous layer/sprinkling of dark brown sugar to form a wonderful caramel style layer. So quick, so simple this is a vintage classic in my mind. A big thank you to Waitrose for the assistance with quantities on this recipe and to Kitchen Chicks for the Instant Pot yoghurt guidance.
If you have an occasion coming up which cries out for a super speedy, seasonal pud, this Barbados Cream is the pud for you. It was good enough for my mother in the 1970's, then it's good enough for me for summer 2017.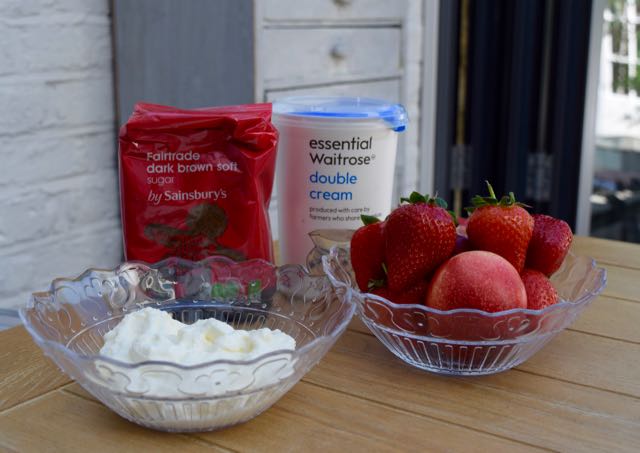 Here's the line up including my over achieving homemade Instant Pot Yoghurt. Don't feel you have to make your own here, although it is fun and tastes bloody delicious, so if you do have an Instant Pot, then give it a go, as follows. If not ignore this next section and cut to the lovely photo of chopped fruit.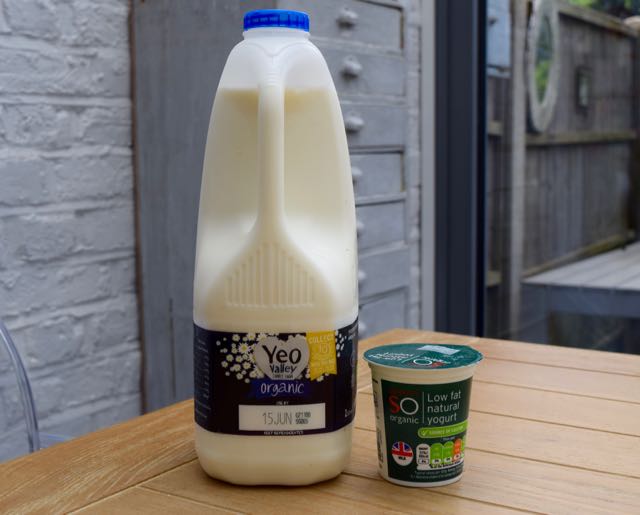 Hardly a tricky line up for the actual yoghurt itself.  All rather simple really if you have a brilliant Instant Pot that is. Make a start with this by pouring the whole 2 litres of milk into the pot of the Instant Pot.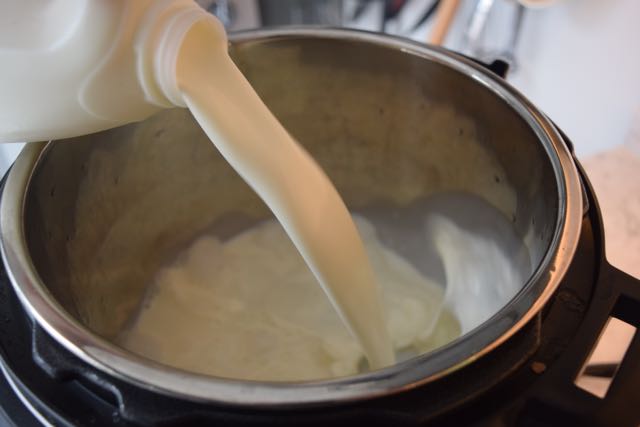 Attach the lid and press the Yoghurt button until it reads BOIL. Then leave until your lovely Instant Pot bleeps to signify the milk has come up to temperature.
Once the bleep has gone off, take the pot out of the machine and stir well, leaving it to cool on the side for an hour or so, or until you can comfortably dip your little finger into the milk without burning it *health and safety warning, don't dip it in and burn your finger for goodness sake*.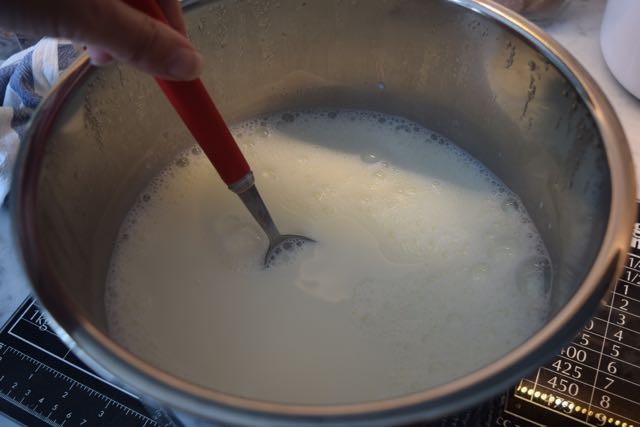 When it's at the correct temp, whisk in the live yoghurt. I chose an organic one, it was more than likely on offer, but just pick any yoghurt with live cultures.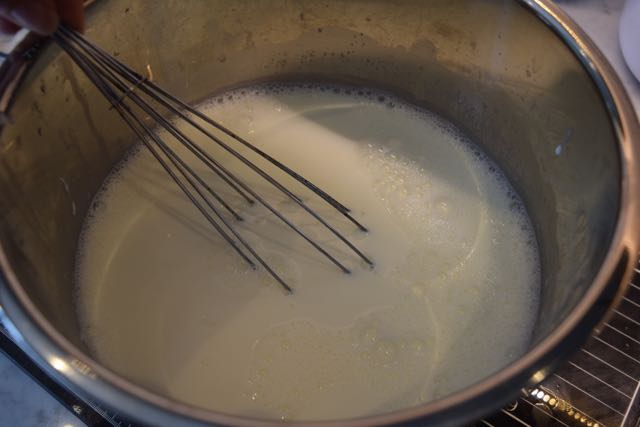 Return the pot to the Instant Pot base and put the lid on. Press the Yoghurt button again until it says 08:00 hours then leave the machine to do it's thing. When it's ready the dial will read 0:00 and count up to the 8 hour mark over time. The Instant Pot will bleep when it's ready. The best time to do this is just before you go to bed, or first thing in the morning so you have all day or all night for the yoghurty process to quietly work.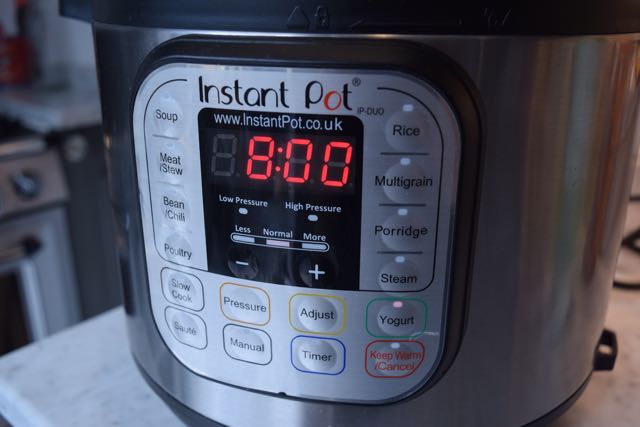 When the machine bleeps, remove the lid and marvel at the bloody great big pan full of rich, creamy yoghurt you have fashioned out of nothing. You can strain the yoghurt now if you like, this will give a thicker Greek style consistency. I have bought a straining bag, because when I get a new toy, I need all the gubbins that goes with it. However, you could use a colander and a bit of muslin or new cleaning cloth.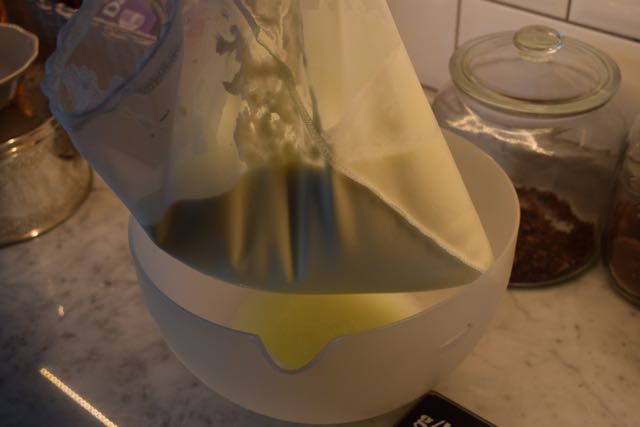 Leave to chill completely in the fridge before using in the Barbados Cream, or just slather in honey and a sprinkle of nuts or granola.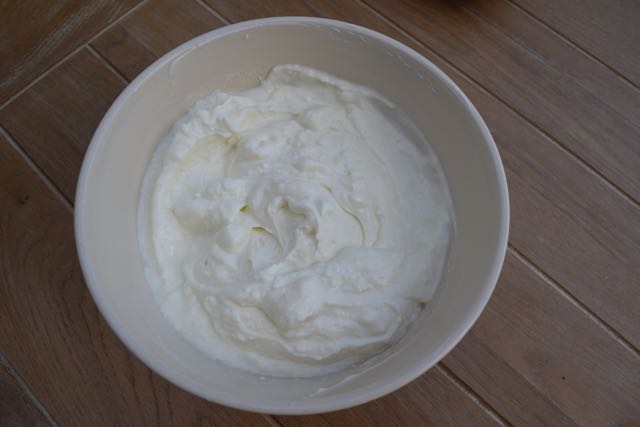 I had to stop myself from just inhaling the whole bowl and to Hell with the Barbados Cream. But, I have a duty to you all so I just cracked on through with the recipe.
Take your fragrant summer fruits and chop them into bite sized pieces. Place these in the receptacle of your choice, for me this was little pots, but a big, elegant trifle sort of bowl would work well. Toss in a little chopped mint if you like. I do like.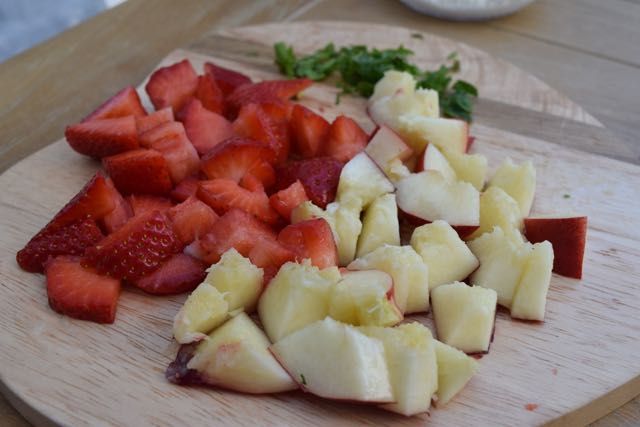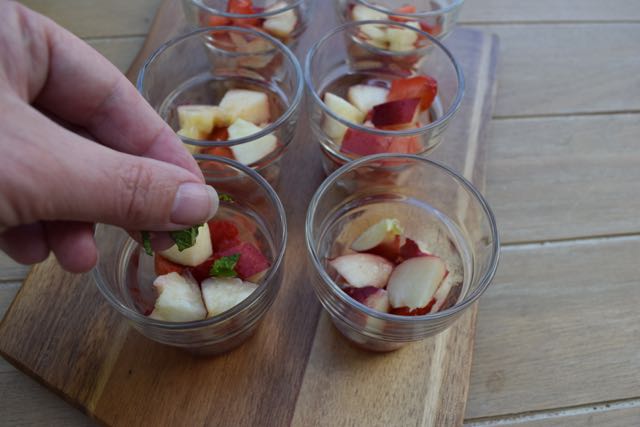 Now, lightly whip the double cream in your stand mixer, bowl with an electric hand whisk or manual whisk. You don't want stiff peaks here, just nice and floppy, a light whippng if you will.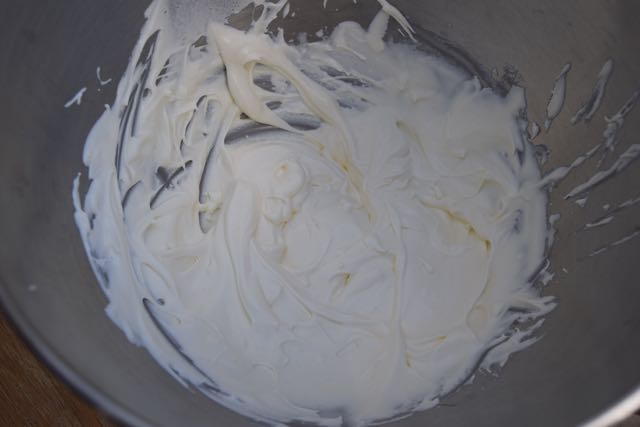 Fold in your underachieving shop yoghurt or overachieving homemade yoghurt then top your fruit pots or bowl with the cream mix.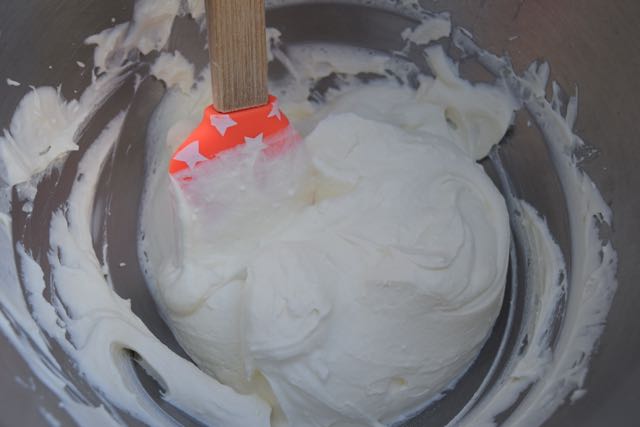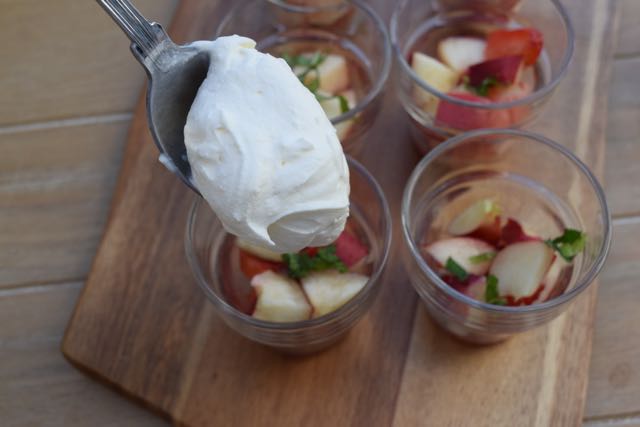 Level the top of the pots or large bowl and then spoon on the generous layer of brown sugar. In small pots use around 3/4 to 1 teaspoon per pot.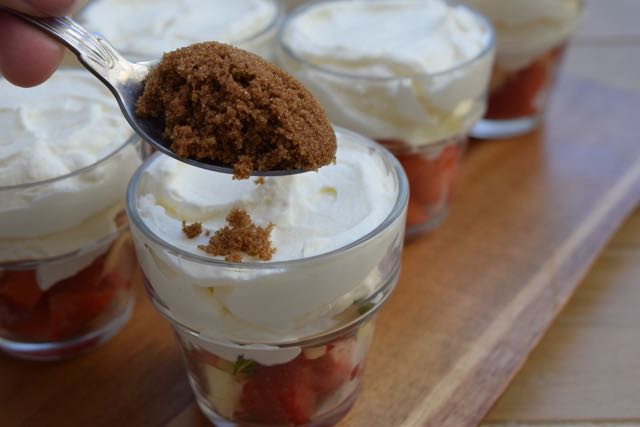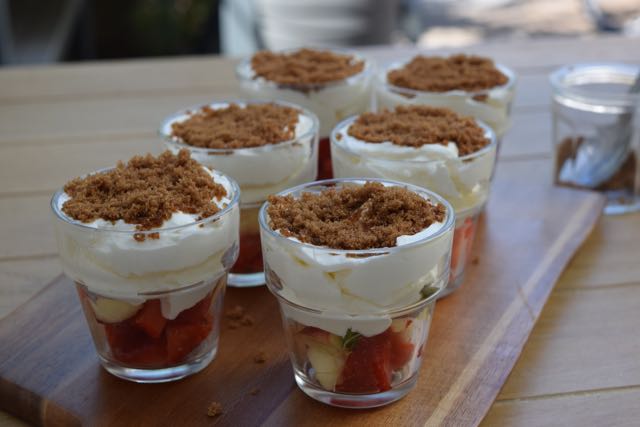 Pop your creams into the fridge for at least two hours to completely chill down and so the brown sugar sort of melts into the creamy yoghurt mixture to fashion a caramelly topping. Serve in large dollops or in the tiny pots, with a shortbread or amaretti on the side, if you like.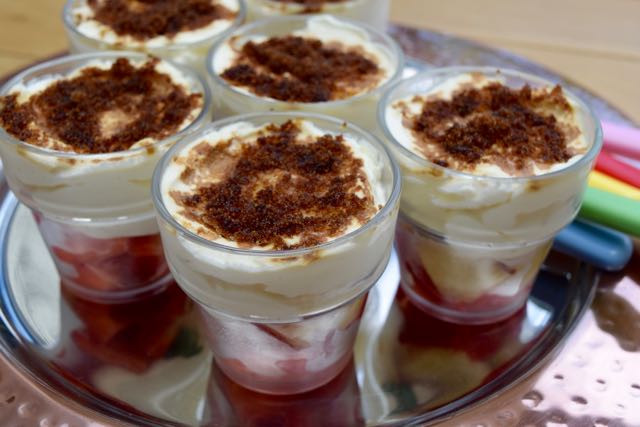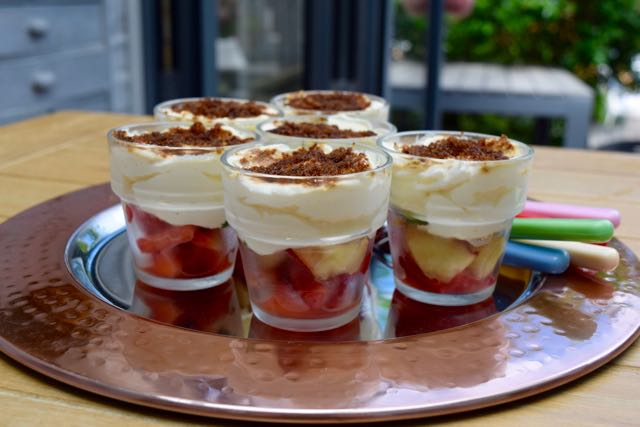 Now I have mastered yoghurt in my Instant Pot, prepare for a deluge of other electric pressure cooker recipes. At the moment, if it can't be made in the IP, I'm not interested. But don't feel under any pressure *pardon the pun*, this super simple recipe works with or without smug homemade yoghurt. And it comes directly from my family's table to yours, and hopefully it will become a classic with you too.
Lucy
This post contains an affiliate link to Amazon. Should you wish to buy through this link Lucy Loves will receive a tiny commission to help fund my blog, at no extra cost to you.
Barbados Cream Recipe
Make enough for 4 to 6, either in tiny pots or one larger bowl
You won't need any challenging equipment, other than if you are making your own yoghurt then you will need an Instant Pot
Instant Pot Yoghurt
2 litres full fat milk
60ml live yoghurt, plain, unflavoured
Barbados Cream
A selection of fruit, to include strawberries, raspberries, nectarines, blueberries, use your favourites, chopped into small pieces
1 tablespoon chopped fresh mint
200ml double cream
150ml yoghurt, homemade or good quality plain yoghurt
6 teaspoons dark, soft brown sugar
Serve with shortbreads or some little baked item, if you like
If you would like to make the yoghurt, make a start at least a day in advance. Pour the 2 litres of milk into the metal post and close the lid firmly. Press the Yoghurt button and adjust until it says BOIL then leave for the pot to do it's thing. When the bleep sounds to signify it's ready, remove the hot milk, still in the pot, from the Instant Pot and leave on the counter to cool down. Stirring regularly helps it to cool, it should take around an hour to get to the correct temperature. Putting your little finger into the milk is a good gauge, you should be able to do so without burning yourself.
Once the milk is at the correct temperature, whisk in the yoghurt until well blended, then return the pot to the Instant Pot and replace the lid. Press the Yoghurt Button again until the display reads 8:00 hours. This will start to count up from 0:00 when the machine comes up to temperature. Leave the Instant Pot for 8 hours. When the beeper goes, your yoghurt is ready to go either in the fridge or to be strained if you like it on the thick side. I have a straining bag but muslin or a clean dish cloth in a colander will also do the trick to thicken your yoghurt. I left mine for around an hour and a half and that gave the consistency of Greek Yoghurt. Leave to chill in the fridge once strained. Then it's ready to use.
For the Barbados Cream, either take some tiny pots or one large bowl and chop up your chosen fruit. I used a 2 nectarines and some strawberries and placed them in the base of the pots. If you like, add a couple of finely chopped mint leaves to the fruit.
For the topping, take your double cream and lightly whip in a stand mixer or a bowl with an electric hand mixer or whisk. You don't want stiff peaks you want the cream to just be loosely whipped. Fold in the yoghurt then spoon the mixture onto the fruit base and level the tops. Sprinkle the top of each pudding with dark brown sugar and pop in the fridge for at least two hours. These will keep for a day or two in the fridge, if covered with cling film.
Serve with a little biscuit on the side if you like.
SaveSave
SaveSave
SaveSave
SaveSave