Homemade Nakd Bars Recipe
After starting the week with some delicious slices of my Seeded Brown Loaf, I felt I should continue on my whiff of health theme. Especially given my recipes of late have been rather beef and chocolate based. Also, I can't even bear to say it, there are only 7 Fridays before Christmas and those trousers I bought in a size too small as they were in the sale aren't getting any baggier. So, in order to keep away from the festive packets of mince pies in the office, I am sharing my Homemade Nakd Bars recipe with you today.
Nakd Bars *that really is how they spell it* are delicious healthy treats predominantly made from fruit and nuts. I have quite a penchant for them and they are not cheap. Nakd Bars are the sort of treat you don't feel too guilty eating, other than if you are me, who always thinks I could make these myself for half the price. So, I did make them for half the price. My Homemade Nakd Bars are date, raisin and cashew based with a couple of spoonfuls of cocoa nibs thrown in to assuage any chocolate cravings you may be experiencing *just me then*. These couldn't be simpler to make,  just process all the ingredients until a healthy rubble is formed, press, chill, then fashion them into bars or balls. This recipe came to me via Rosanna's Kitchen, with thanks for saving me from spending half my grocery budget on the real Nakd Bars.
You could make these tasty treats from any of your favourite nuts and dried fruits. Almonds and cranberries are delicious or apricots and pistachios could work, just keep the same ratio of fruit to nuts and include some dates as their sticking-together qualities are needed so the bars hold their shape. These Homemade Nakd Bars keep wonderfully in the fridge. I try to ration myself to one a day, but sometimes *always* will power is low.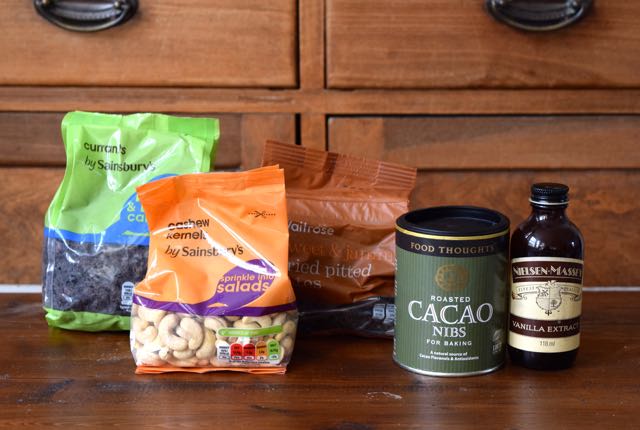 Easy peasy lemon squeezy. What a delicious and simple set of ingredients for my Nakd Bars. I meant to buy raisins or sultanas and got currants by mistake but they were just as tasty. It's hard to believe that you can make something so tasty from such a wholemeal selection of items.
Make a start with your own Nakd Bars by lining a loaf tin with cling film or baking paper. Next, take your food processor or feisty blender and add the dates and raisins/currants/sultanas or dried cranberries.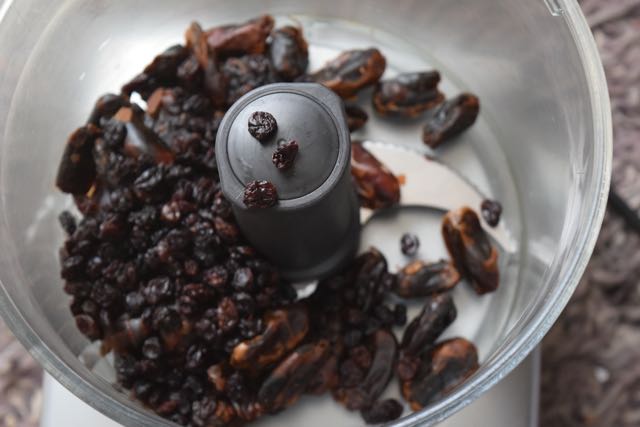 Add the cashews nuts and either cocoa powder or cocoa nibs then add vanilla extract or paste for added flavour.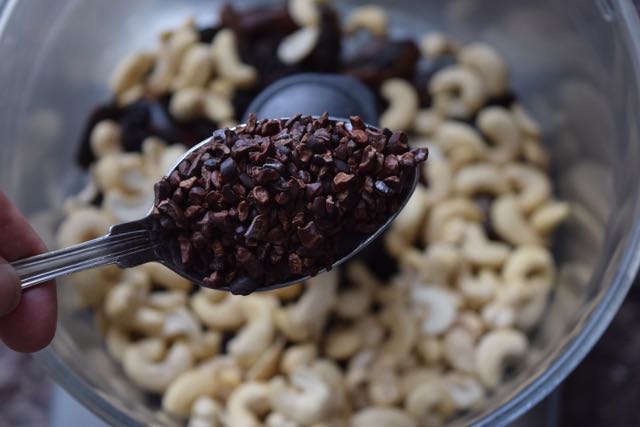 I hadn't used cocoa nibs before, they are super tasty, like tiny nuggets of rich chocolate flavour.
Process this nutritious little collection together until they form a rubble like texture. When you press it together the mixture should hold its shape.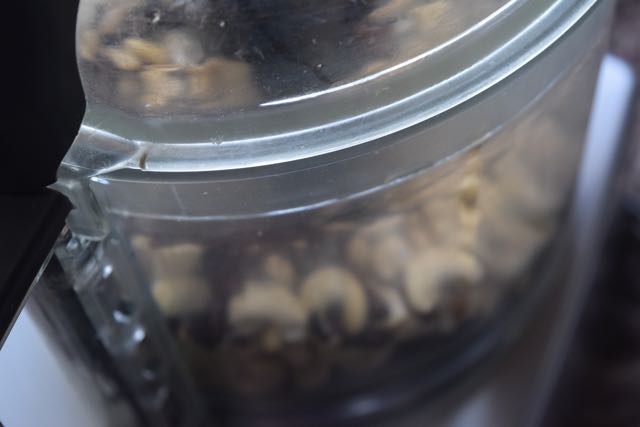 Press this rubble into your lined loaf tin and smooth the top.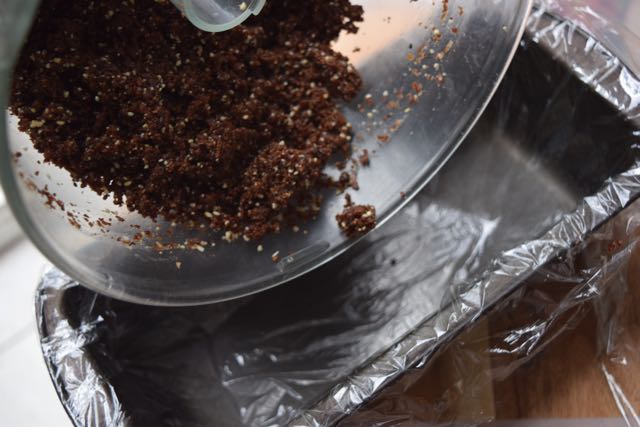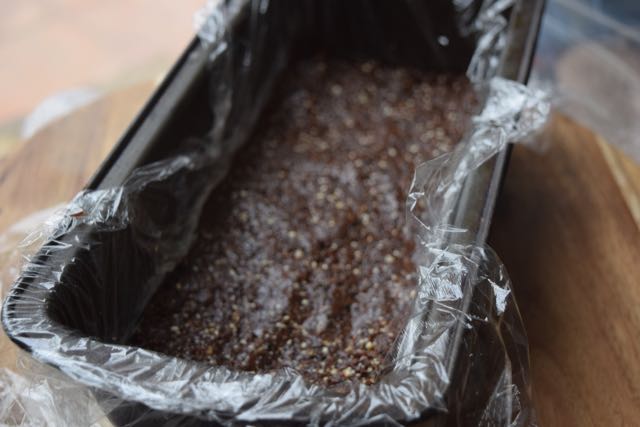 Leave to set in the fridge for an hour before turning out and cutting into bar shapes.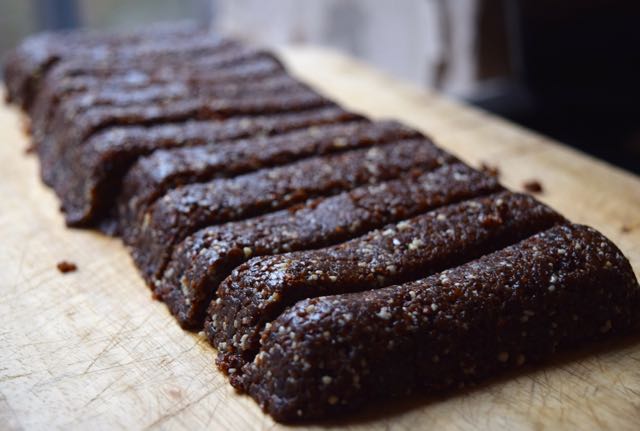 I wrapped my bars in grease proof paper and stored them in a tin in the fridge. These wholesome treats keep for at least three to four weeks, unless you eat two a day, like me.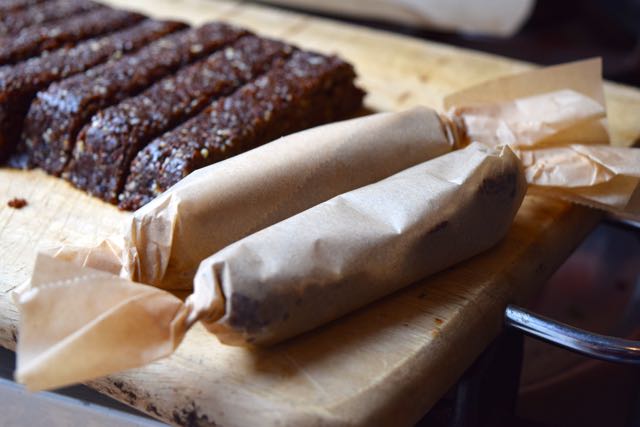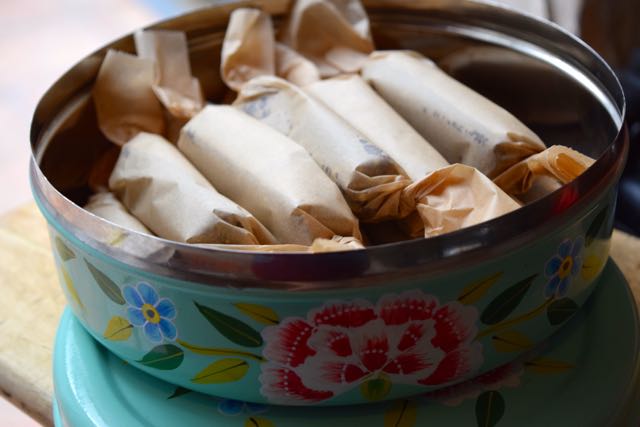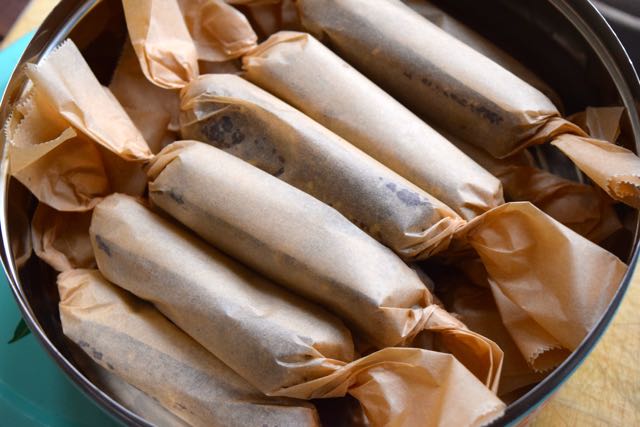 Just out of interest I entered these ingredients into My Fitness Pal which calculates the calories in recipes. Each serving is only 170 calories so that's not too bad for something so filling and completely tasty. And you won't feel too guilty should you accidentally eat a second.
Lucy x
Homemade Nakd Bars Recipe
You will need a food processor or blender
You will need a 1kg loaf tin, lined with cling film
This makes around 12 bars
175g dried dates, chopped roughly if they are large
150g raisins or sultanas, or use double the amount of dates if you don't like raisins
225g cashew nuts
2 tablespoons cocoa powder or cocoa nibs if you have them
1 teaspoon vanilla extract
Roughly chop the dates if they are quite big and add them to your food processor or strong blender. Follow in with the raisins if using, along with the cashews, cocoa powder or nibs and vanilla extract.
Process until the mixture comes together in a sort of rubble like texture. Press the blended fruit and nuts into the cling film lined tin in an even layer. Leave to chill and set for around an hour before cutting into bars and wrapping in greaseproof paper. You could also roll these into balls if you would prefer. Eat these whenever you need a delicious energy boost.
These can be kept, well wrapped, in the fridge for 3 to 4 weeks.