Nectar Savvy Lifestyle Luxury Christmas Dinner Party
When Nectar contacted me last week and asked if I'd like to take part in their dream Christmas dinner party challenge, I leapt at the chance. Here at Lucy Loves HQ, we love a dinner party. They kindly offered me Nectar points to pay for my creations, so, after my initial idea to spend it all on 9 bottles of gin and a packet of Twiglets, I embraced their challenge.
So, this week, Lucy Loves comes to you in conjunction with Nectar and I am passing on, from my heavily laden Christmas dinner party table, to yours, all my tips and tricks for creating a luxury Christmas dinner party without breaking the already depleted bank. I spent this weekend creating a wonderful dinner party for four guests, where we enjoyed festive drinks, nibbles and three courses of deliciousness. I also used some of my points to create a luxurious table setting to provide a spoily ambience for my guests. More tips and details on this sort of business as the week goes on.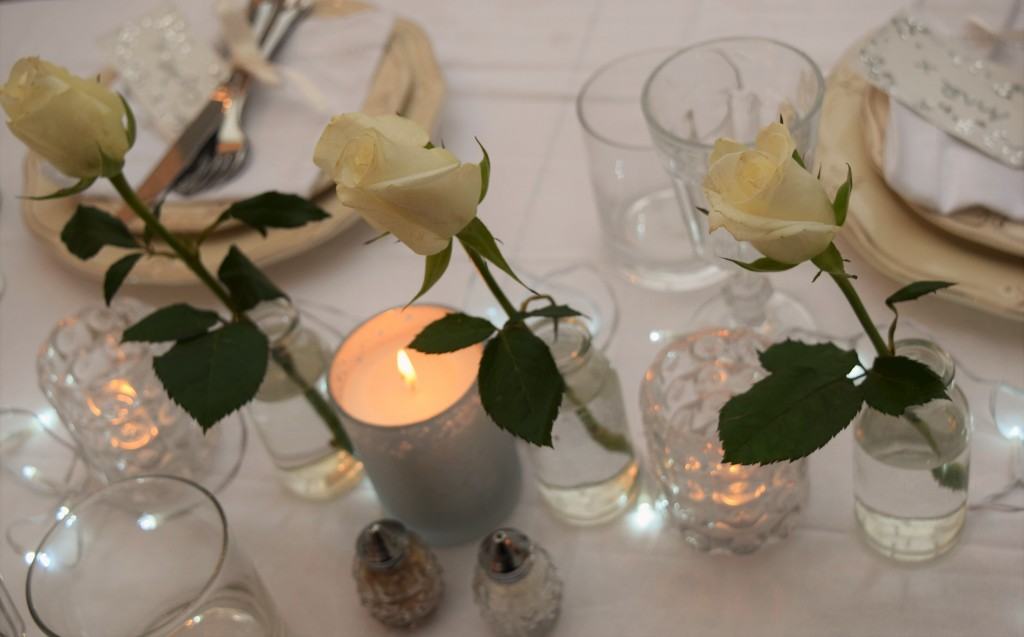 I love having people to dinner, to the point Clyde quite gets cross with me for putting too much entertaining in our diary. He has a point though, as having people over, even if you are only having a kitchen supper, can prove ridiculously costly. By the time you have bought drinks and the wherewithal for a glam two or threes courses, there is rarely any change from £100.00. But there are ways you can cut down on the costly side of things and still provide an evening for your lovely friends that has a touch of wow to it. I spent around £50.00 of my budget buying a beautiful white cotton hemstitched cloth and napkins, some stylish tumblers, elegant cutlery and some table finishing accessories. All these little things, which I bought from Argos and Homebase, add a touch of glamour, without huge expense, to your dinner table and can sometimes distract from any below par cooking which may or may not occur.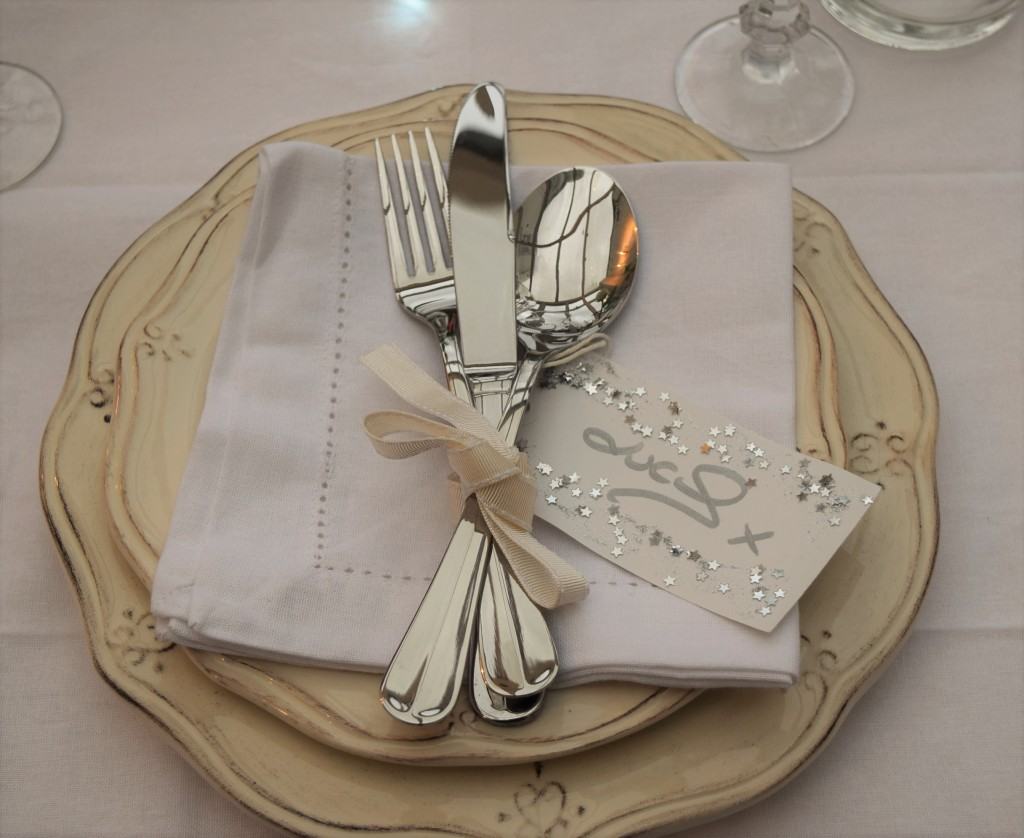 I think it's great to start a dinner party with a cocktail and a handmade nibble. Especially if it's midweek or a friday and you just can't be arsed to make a first course. I do love a cocktail *who knew* and at this time of the year fizz is a super popular choice. Nothing says luxury like a magnum of Prosecco, think Formula One, except I had the good manners to use a glass not spray it over my dinner guests. This Taste the Difference Conegliano Prosecco is delicious and less than £15.00 for a magnum. To keep my luxury dinner party seasonal I served my fizz with fresh pomegranate fruit and juice. This adds a touch of bite and freshness and was terribly drinkable. You could also serve this straight up or add in peach or blood orange juices. We have an embarassingly large array of drinks in our cabinet so I also like serving a Sloe Gin and tonic or a complete favourite in our house, a Dark and Stormy.
Full recipe details are at end of these ramblings.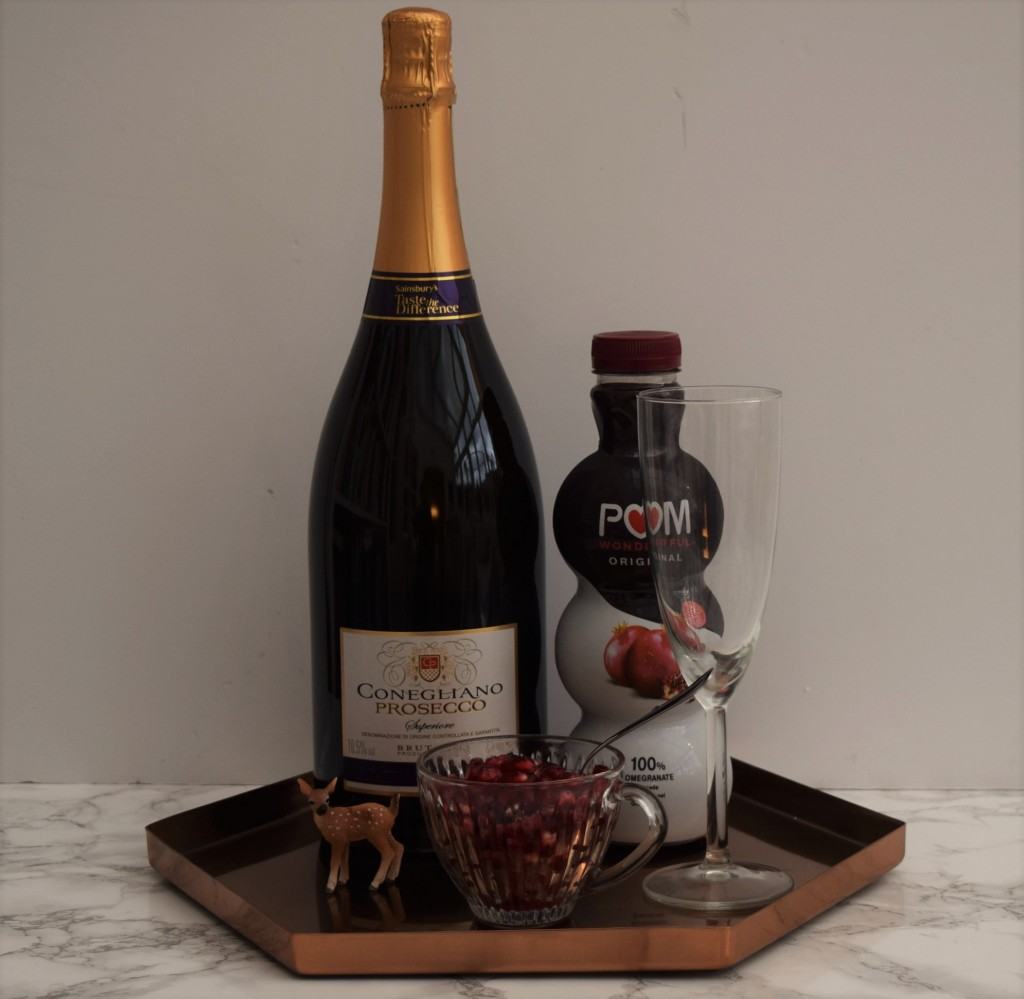 Here's that aforementioned Magnum in all it's enormous glory. And a tiny reindeer for festive purposes only. For this wonderfully simple cocktail, just add a spoonful of pomegranate seeds into the bottom of your flute or coupe glass.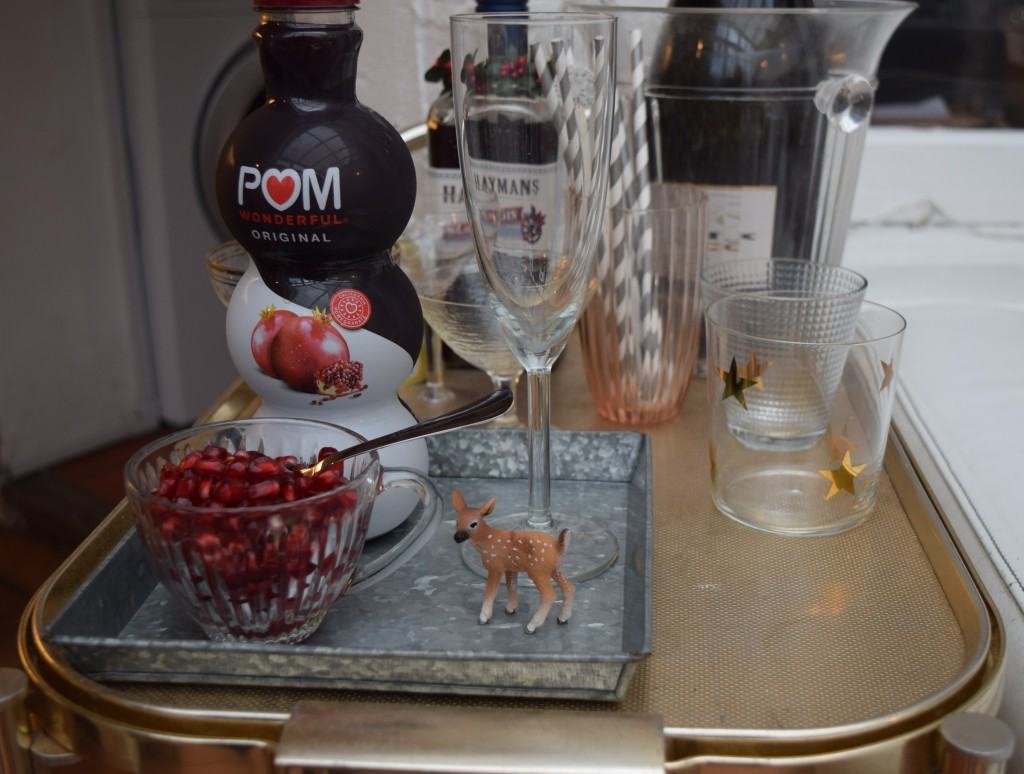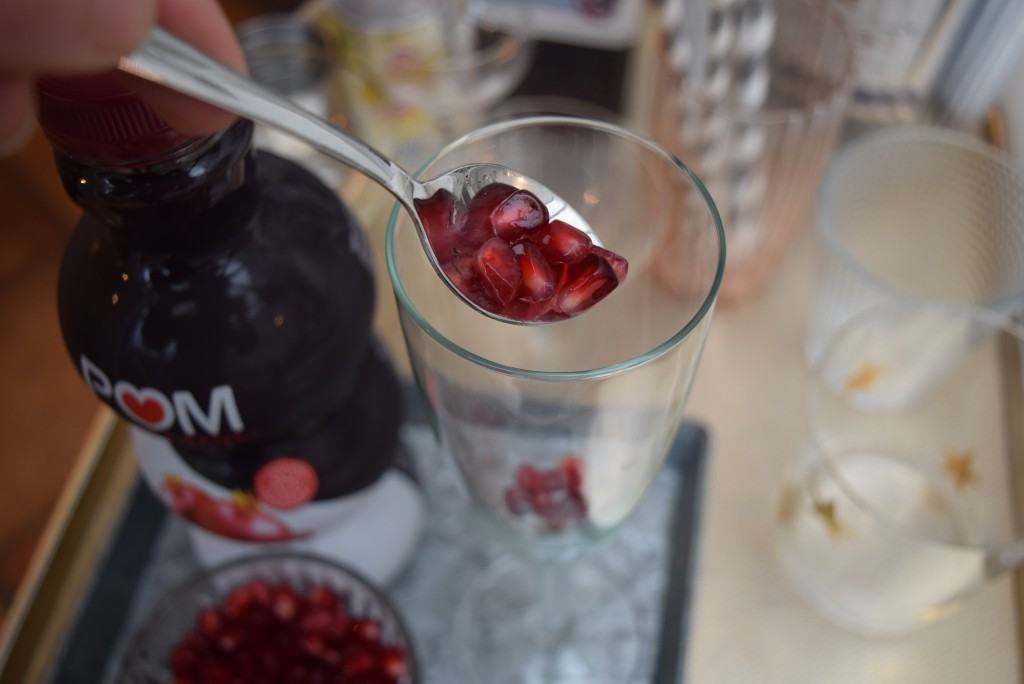 Pour in around an inch or 50ml of fresh pomegranate juice then top up with your wonderful chilled Prosecco.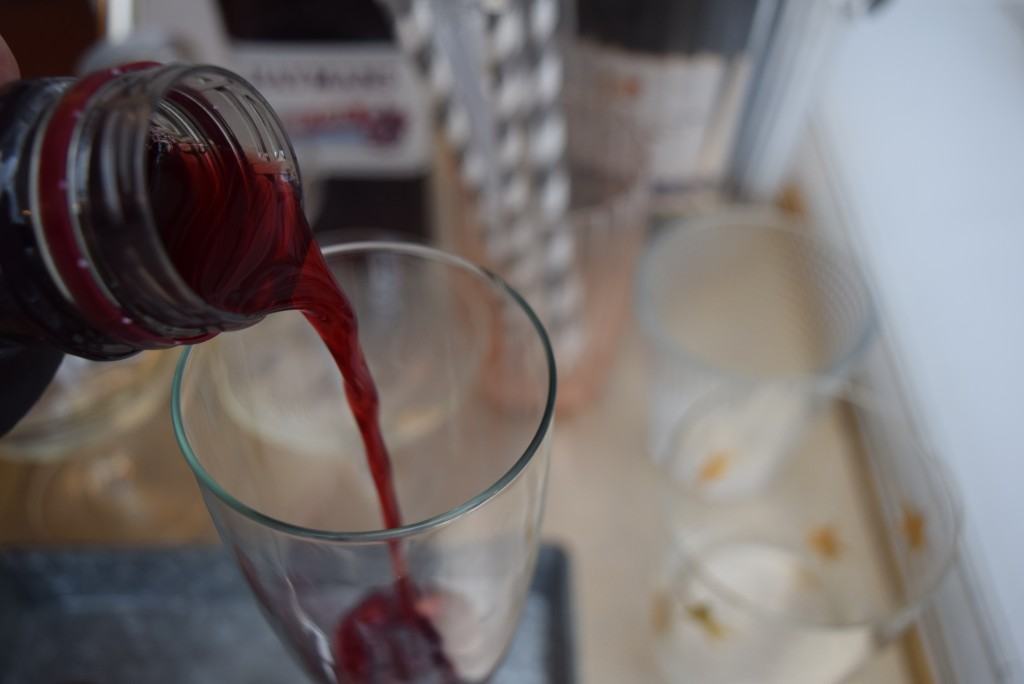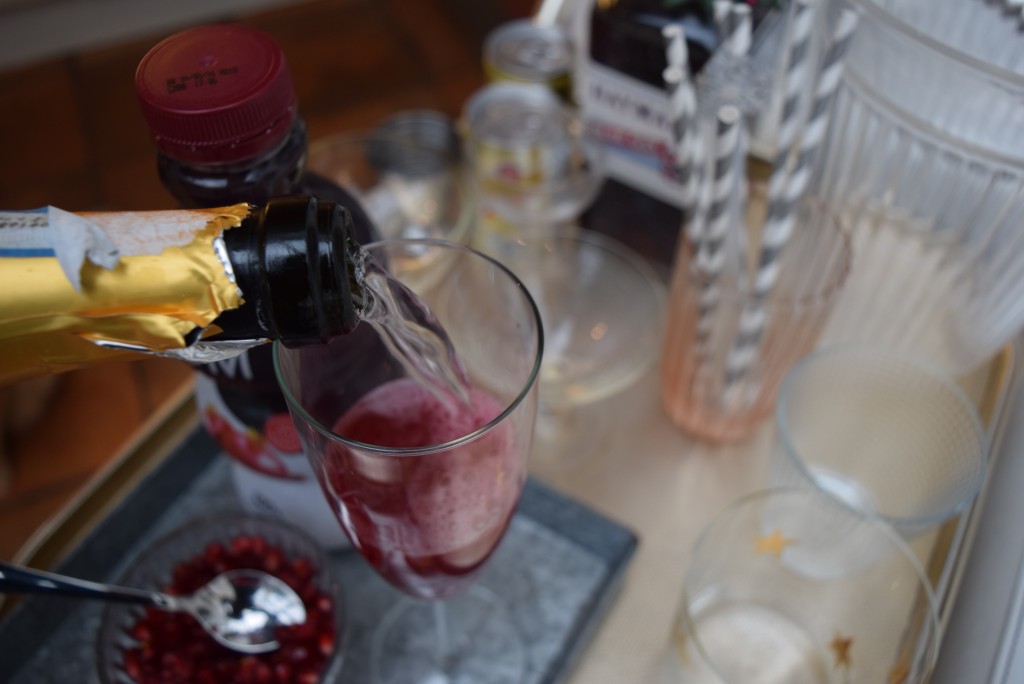 This is a wonderfully sippable, delicious drink to enjoy with friends and family and with a magnum, you can be as sociable as you like.
The next treat served at my luxurious Christmas dinner party was the highly seasonal Fig and Blue Cheese Biscuits. I love serving a handmade tit-bit with a drink and this one is care of Food 52 and their tasty recipe. Even if you are just forking up a dip to serve with crisps or these Lucy Loves favourite Cheese Nibbles, people always appreciate the not-much-effort you've made and they do taste heaps better than shop bought.
These beautiful Fig and Blue Cheese Biscuits are super tasty and can be thrown together in the food processor in a matter of moments. You can then stand back and take the oohs and aahs from your guests as they nibble on soft blue cheese flavoured shortbread, topped with a blob of fig chutney. Make lots though, they won't last, and if they do, they also freeze brilliantly.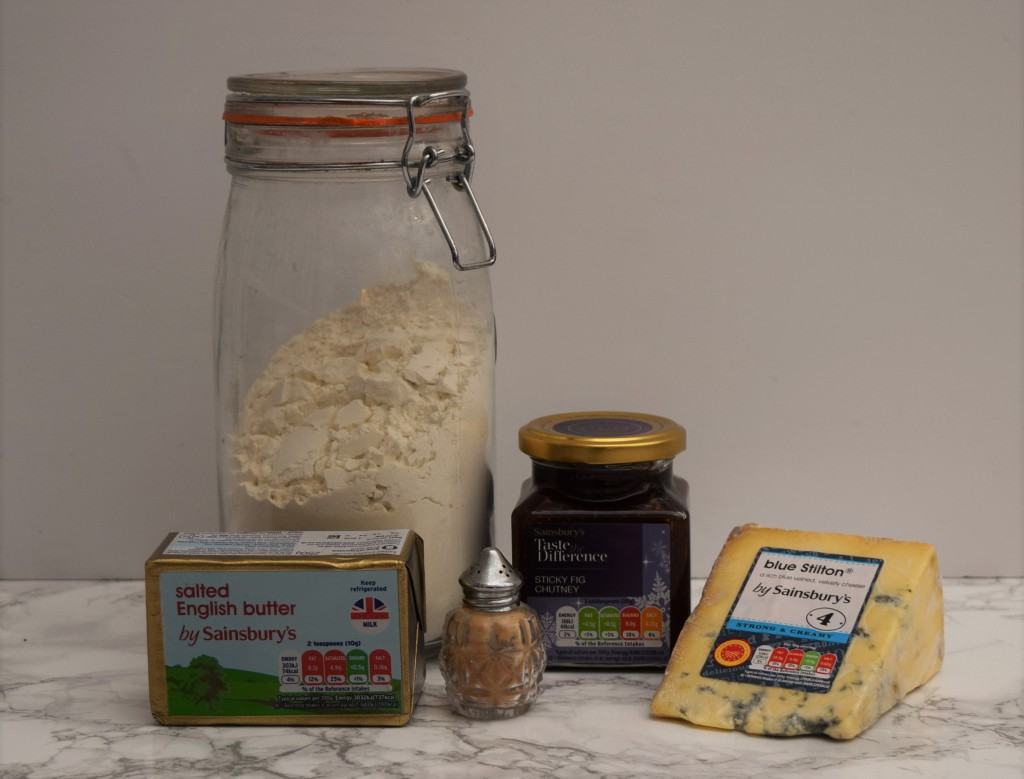 Here's the line up for these savoury nibbles. Sainbury's kindly furnished me with some super tasty Stilton here and a brilliant Sticky Fig Chutney, along with the rest of the ingredients for my luxury dinner party.
This is speedily made in the food processor but could also be made just as proficiently by hand. Pop all the ingredients, minus the chutney into the processor and whizz until a soft dough is formed. By hand, rub the same ingredients into the flour, until it comes together.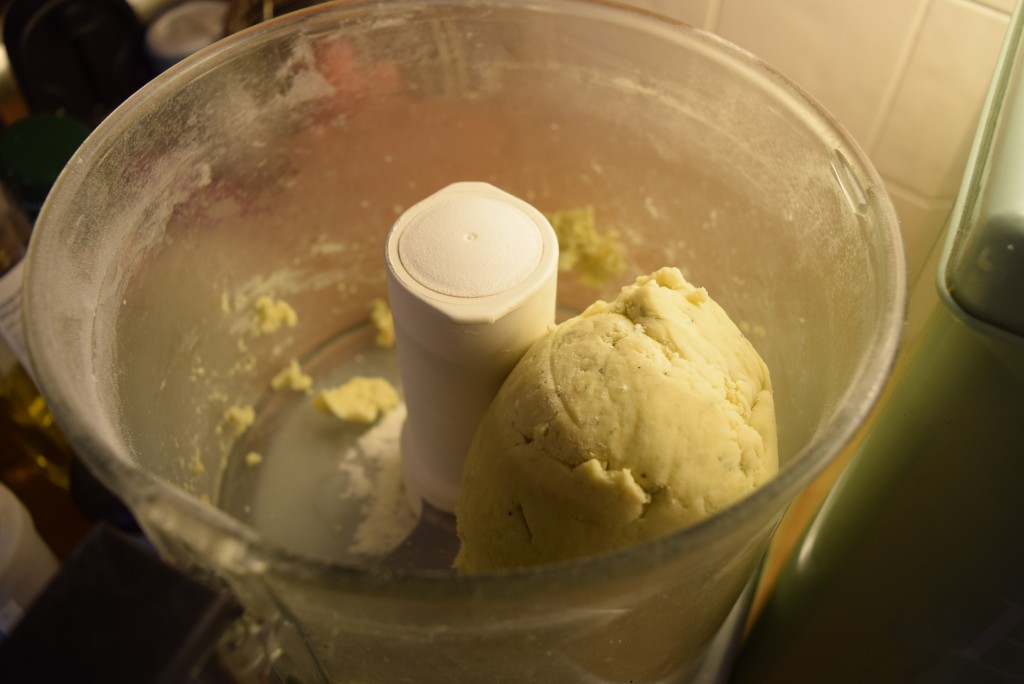 Pop the soft dough onto your board with some flour and knead for a moment. Then roll out to the thickness of around a centimetre then cut into small discs.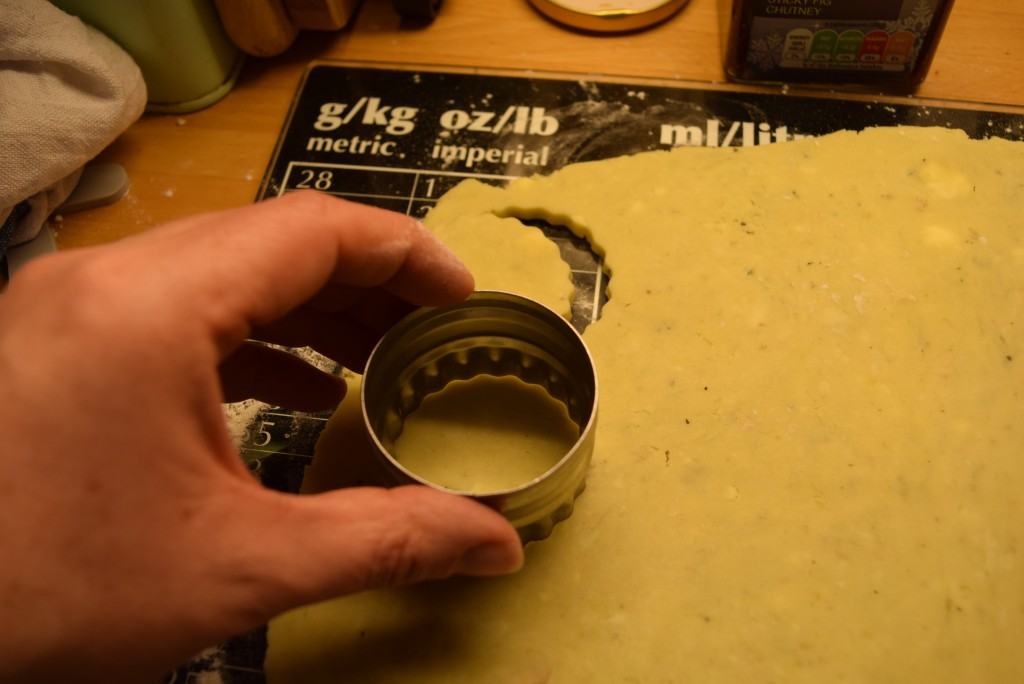 Pop these on a lined baking sheet or two. Then, with the back of a spoon or just use your fingertip, press an indent into the middle of each biccie.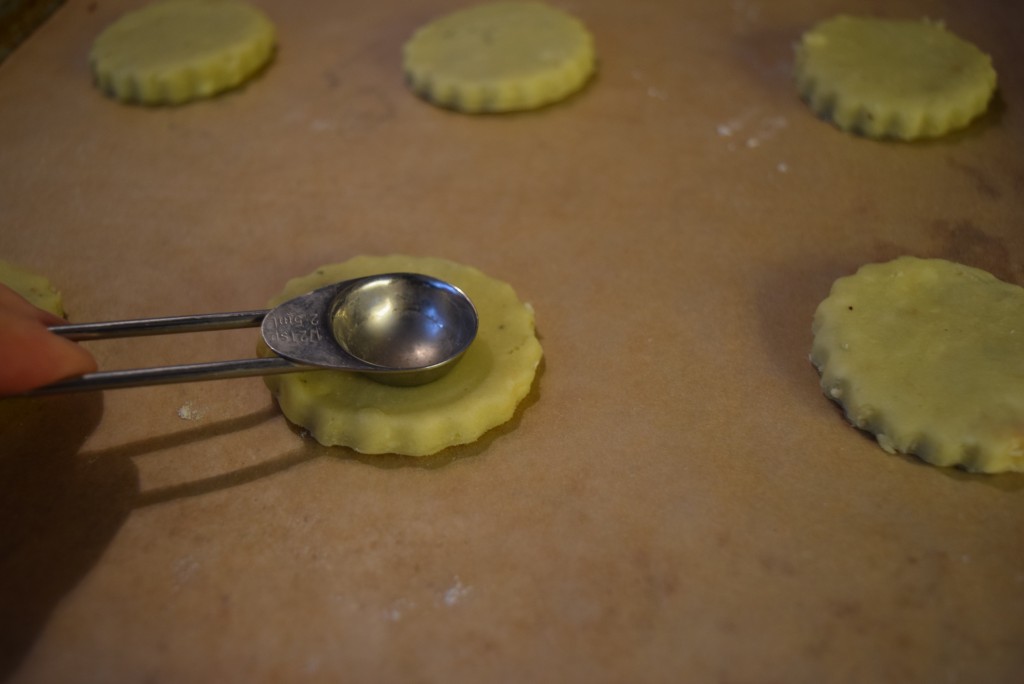 Fill these tiny recesses with a scant half teaspoon of the Sticky Fig Chutney then pop in the oven for around 12 to 14 minutes. They are cooked when crisp, browning and smelling divine.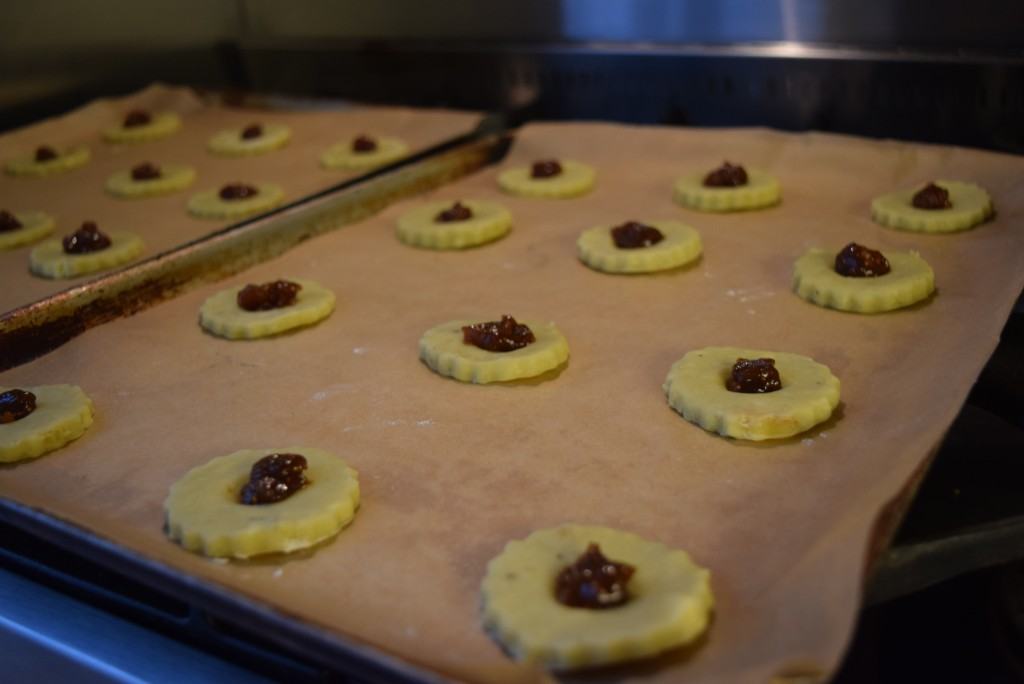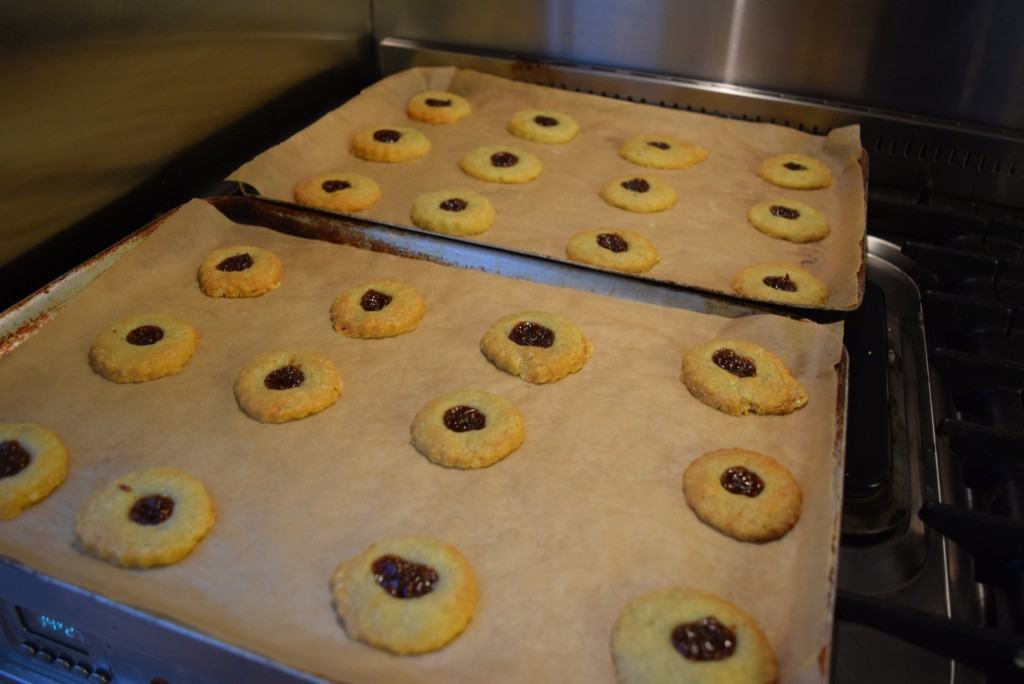 If you haven't eaten them all straight from the tray, serve these beauties with the Pomegranate Fizz or your seasonal apperitif of choice.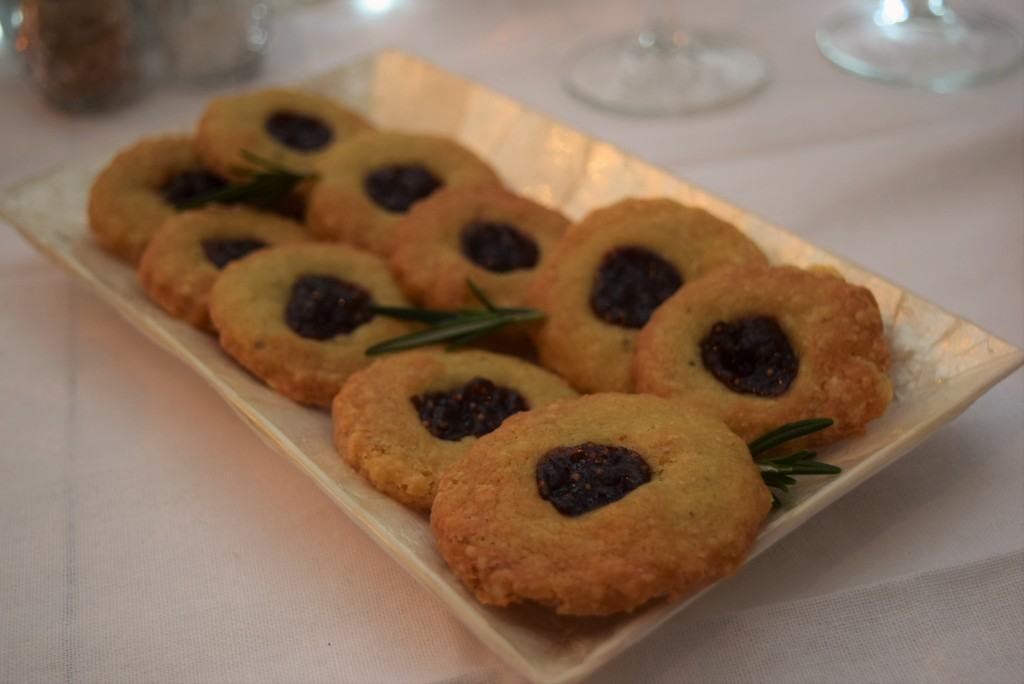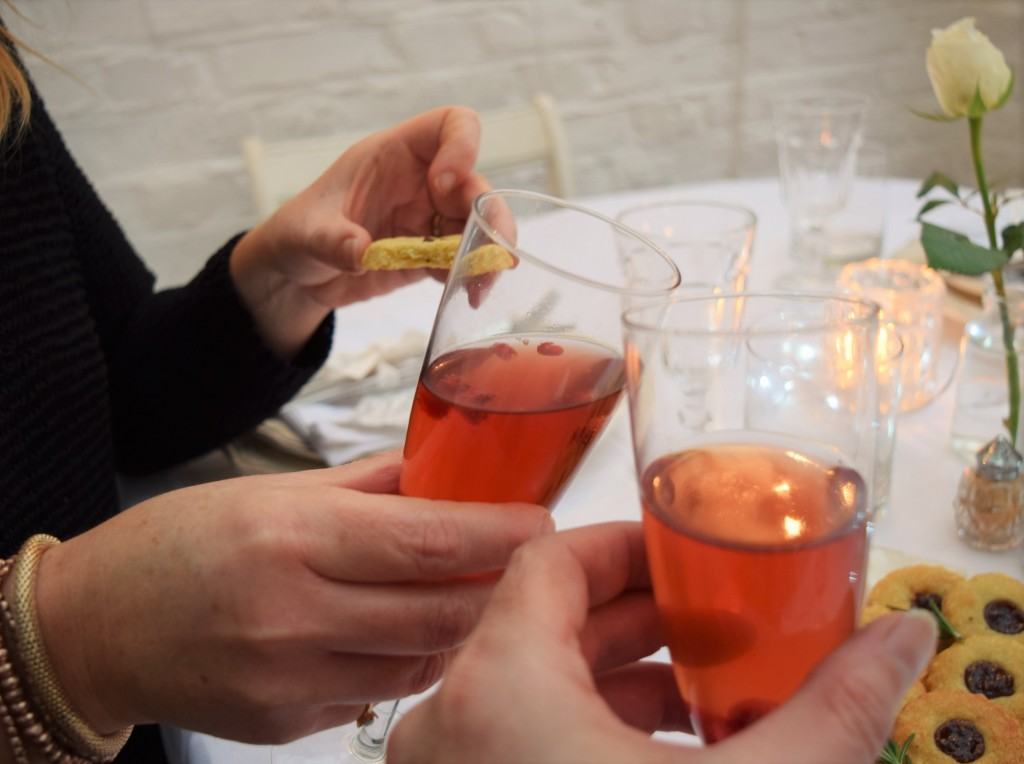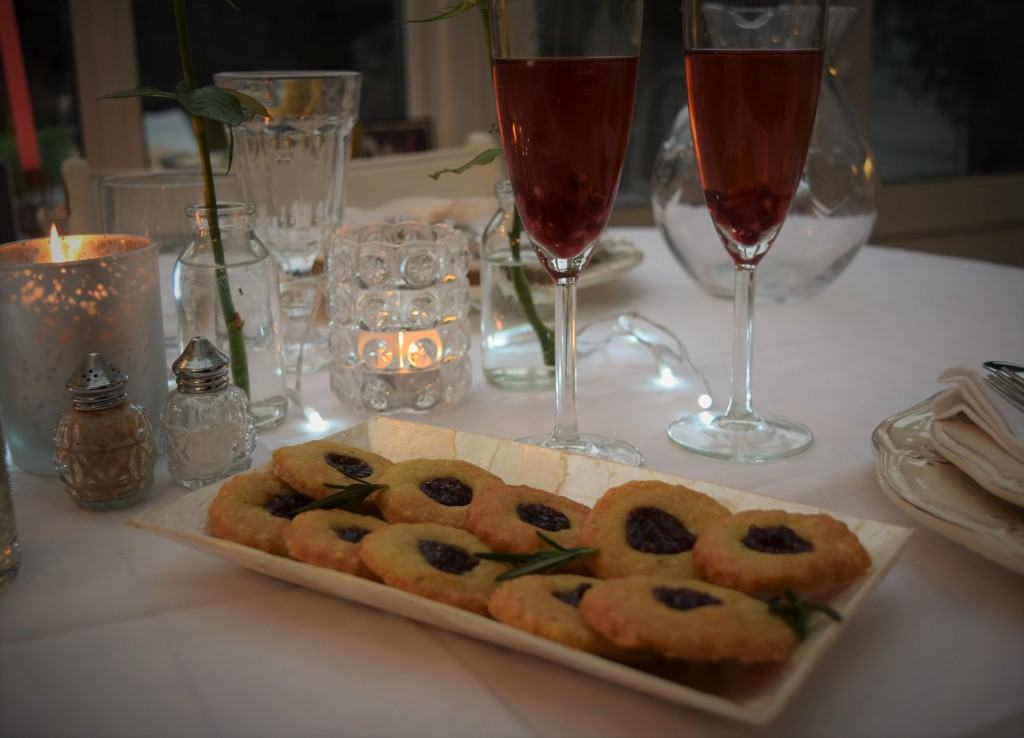 I have loved spoiling my guests this weekend with these super luxurious Christmas treats, care of kind Nectar Points. There will be more recipes and ramblings as the week goes on.
Lucy x
Nectar kindly provided me with £120 worth of Nectar points to create my masterpieces. However all opinions and ramblings are, as always, my own.
Pomegranante Fizz
Makes quite a few glasses, six from a regular bottle of Prosecco
A chilled bottle or Magnum of Prosecco – or substitute Ginger Ale for drivers or non-drinkers
Pomegranate juice, an inch or around 50ml per glass
Pomegranate seeds, a spoonful in each glass
Put the seeds in a flute or coupe glass, add the splash of pomegranate juice and top up with the super chilled Prosecco. Sip and enjoy one or two more.
Fig and Blue Cheese Biscuits
Makes around 24 to 30 biscuits, size dependent
You will need a food processor, if you have one, and lined baking sheets
130g plain flour, plus a little extra for dusting your work surface
113g softened butter
125g Stilton or other blue cheese, crumbled
a good pinch or grind black pepper
A jar of Fig chutney or jam, you will need about 3 to 5 tablespoons
Pre heat your oven to around 160 degrees fan assisted.
Put all the ingredients, minus the chutney, into your food processor and blitz until a ball of dough forms or rub everything into the flour by hand until dough-like. Knead on your work surface with a little extra flour until smooth.
Roll out to a thickness of around 1 cm and press out circles or shapes of your choosing and place on a lined baking tray. Make an indent in the middle of each biscuit with the back of a spoon or your finger and fill with a scant half teaspoon of the chutney. Bake for 12 to 14 minutes or until crisp, browning and bubbling. Leave to cool if you can bear to. Store in airtight tin for a couple of days or freeze layered between baking paper in a plastic container.